Dining in Gatlinburg & Pigeon Forge
In the South, as in many other cultures, food is not just for sustenance but an expression of love, culture, heritage, and much more.
What better way for you and your family to experience the warmth, culture, and heritage of the Great Smoky Mountain Region than to feast and savor some of the best it has to offer in regional cuisine and dining.
From hearty breakfast meals that start your day right, to craft brews, local ingredient directed menus, to delectable desserts all created with that extra special ingredient that you can't find anywhere else.
Breakfast & Brunch
Breakfast is a serious undertaking in the South, especially in a region with a long history of farming. Breakfast has long been a hearty and substantial meal, meant to stick to the stomach and last for a long day's labor or at least until lunch time.
Even though farming is done on a larger scale these days and less on homesteads, the Great Smoky Mountain region continues this tradition of a large spread for breakfast and dining out for breakfast is a great way to experience the regional and cultural cuisine of the area. From flaky biscuits made with homemade red eye gravy to buttermilk pancakes stacked high, you are sure to find many options leave you feeling satisfied, full and ready for a long day of fun and relaxation!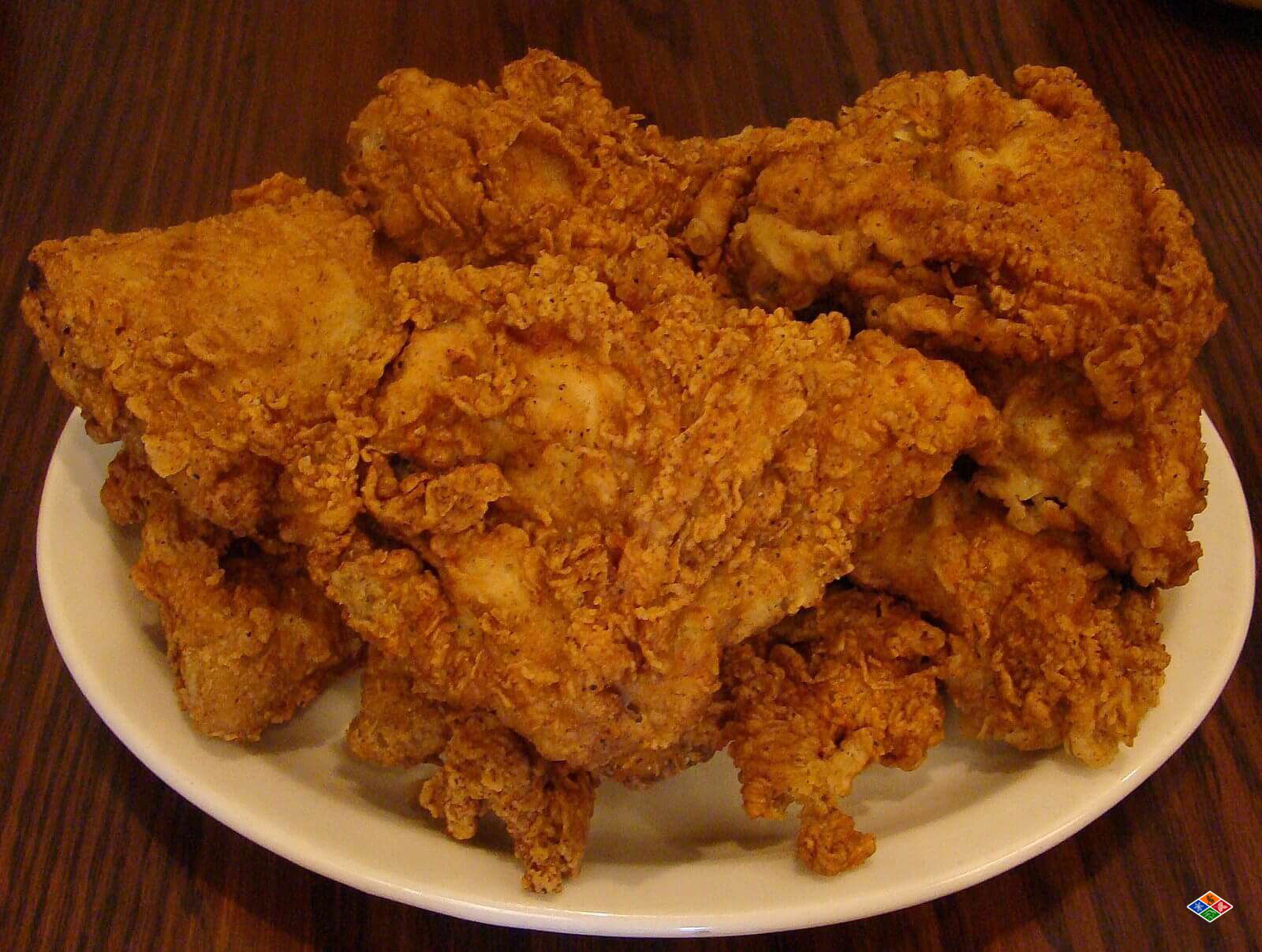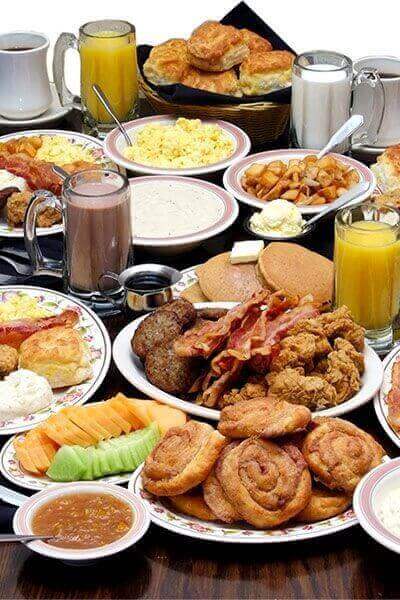 While this down home restaurant serves up bountiful Southern cooking family style, for breakfast, lunch and dinner, the breakfast is a family affair not to miss. Their divine dishes are all derived from owner's the Johnson family's great-grandmother (known as Mama to the family) and prepared fresh daily from scratch.
This all you can eat breakfast feast includes Pinwheels, Fresh Fruit, Bacon, Sausage Patties, Chicken Tenders, Cheese Grits, Hash Brown Casserole, Biscuits and Gravy, Sweet Potato Pancakes, Buttermilk Pancakes, Scrambled Eggs and Baked Cinnamon Apples. Peach or Strawberry Butter. There's no way you can leave hungry.
As owner Kelly Johnson conveys, "Mama's Farmhouse is very special and dear to us. "Mama" was what my father called his Great Grandmother. Not only do we use her recipe to recreate her amazing food, but the restaurant itself is decorated with old family pictures from our family and the actual family china is displayed on the wall."
Dedicated to family friendly and fun, kids under 5 always eat free at Mama's Farmhouse.
"We're are locally owned, not a chain restaurants. When you go on vacation you want to experience something new instead of eating at a chain restaurant. We are happy to share our family experience and love of this region with guests. We strive to make all of our restaurants family friendly. For example at Mama's Farmhouse kids under 5 always eat free. This is something we like to do because we understand vacation dollars are finite, and we want guests to the region to be able to maximize their experience"
In case you are craving more you can come back for their lunch or dinner, for another round of family style.
Venue name:
Mama's Farmhouse
Address:
208 Pickel Street Pigeon Forge, TN 37863
Price:
Kid's Age 5 and Under Always FREE!
Mountain Lodge Restaurant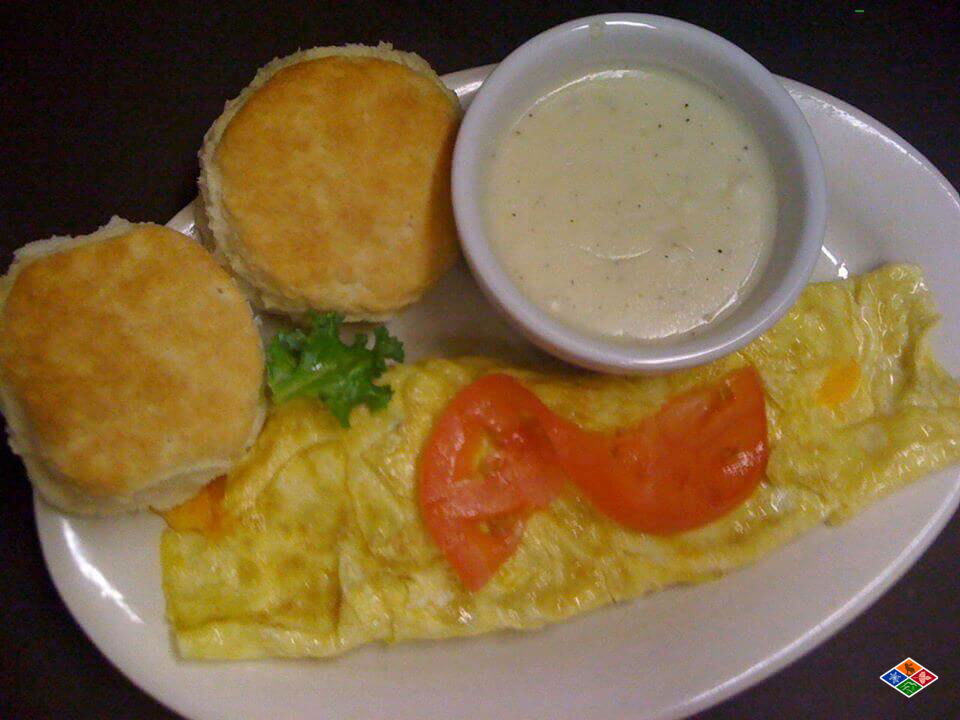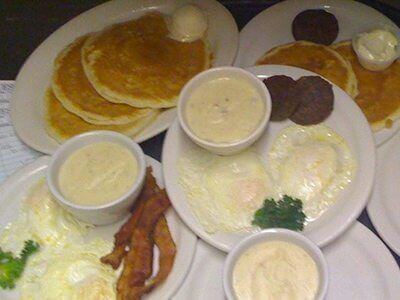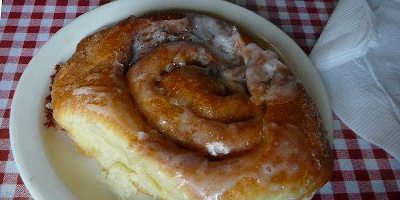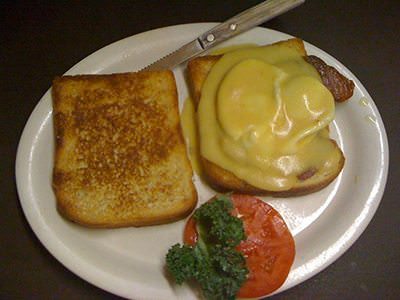 Owners Ron and Jennifer Smith sum up their restaurant best when they say, "It's Good home cookin' by good home folks." Located on the edge of Gatlinburg, Mountain Lodge Restaurant is a favorite among locals and visitors to the Great Smoky Mountains in the know. Serving delicious southern home cooking with a warm smile is something the owners and staff have perfected at this truly authentic Mom and Pops place. As the owners attest, "[We are]…extremely family friendly. We are southern born and bred and we treat your family like it is our family. We believe in treating all of our guest in the manner in which we would want to be treated."
From robust breakfast options like their amazing biscuits and gravy, pancakes, omelets and more to their scrumptious meat and two options, the food at Mountain Lodge restaurant is bursting with flavor and love that goes into each dish. As Jennifer Smith explains, "I believe the thing that sets us apart is Ron's expertise in the kitchen. He has about 45 years of experience cooking so he has it mastered. He arrives at work at 4:00 a.m. so that he can make everything from scratch. He has trained a great kitchen crew to care like he does….the thing that makes our food delicious and appealing is care that goes in every recipe. I also know that it is Ron's standard in the purchasing of the food. If you do not buy quality ingredients then you cannot serve a quality meal."
In addition to their delectable food, Mountain Lodge Restaurant has a team of staff dedicated to customer service. As Mrs. Smith goes on to describe, "The Mountain Lodge has an amazing staff. Our servers pride themselves in fast friendly service. We do things a little different in the fact that our servers work as a team. Every server cares about every table of guests whether it is in their section or not."
For a true taste of the region, its history, culture and people; as well as hearty, delicious meal that you won't forget Mountain Lodge Restaurant is local joint you must not miss. As Mrs. Smith concludes, "We want the guests in our restaurant to feel like they're sitting at home in their own kitchen and eating their own mother or grandmother's cooking. We have been in business for 27 years and are in our 28th year. They do not call it comfort food for no reason. We love to see the joy on people's faces when we can bring back great memories of their favorite diner they ate at when they were growing up!"
Venue name:
Mountain Lodge Restaurant
Address:
913 E Parkway Gatlinburg, TN 37738
Log Cabin Pancake House
A breakfast or brunch meal at the Log Cabin Pancake House, is a step back in time. A time when life was simple, breakfast was big, and service was always served up with a mile. At the Log Cabin Pancake House you can remedy that morning sweet tooth or grumbling gut with a variety of hearty breakfast selections.. Whether it's good old fashioned pancakes or specialty French crepes, Log Cabin Pancake House features a menu with a variety of pancake combinations. From more traditional selections like chocolate chip pancakes to more exotic Caribbean pancakes with bananas and coconut, there is something for everyone here. There's even whole wheat pancakes for those seeking a healthier option.
The menu also offers Belgian waffles of many varieties. Be adventurous and try something new, like the unique chopped ham waffle. For those people in your party that prefer a more savory morning meal, there are plenty of good old-country breakfasts, with eggs, grits, biscuits and gravy to boot.
Venue name:
Log Cabin Pancake House
Address:
327 Historic Nature Trail, Gatlinburg, TN 37738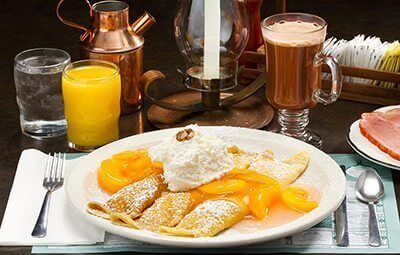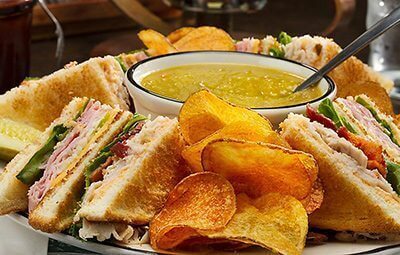 For many visitors to the Gatlinburg area, a meal at the Pancake Pantry is a time honored tradition; this pancake house has been on the block since 1960. The Pancake Pantry is Tennessee's first full fledged Pancake House. They made from scratch dishes, most importantly pancakes are topped with the best real butter, freshly made whipped cream, and a made-from-scratch syrups and compotes. This breakfast/brunch spot has long been a favorite of visitors to the Gatlinburg area. Guests are in love with the century old building located in the heart of downtown Gatlinburg just adjacent to the Village Shops.
Their menu features anything from old-fashioned buttermilk pancakes to new favorites such as the Austrian-Apple Walnut stack served with an apple cider compote. This is just one of over twenty-four different pancakes varieties to choose from. The restaurant also specializes in omelets and waffles. And for those choosing to dine later in the day burgers, sandwiches, soups and salads are available.
Venue name:
Pancake Pantry
Address:
628 Parkway, Gatlinburg, TN 37738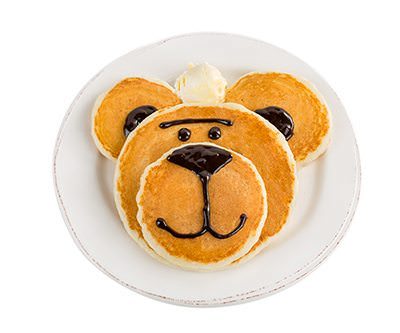 This pancake house has made a quite a name for itself. It has been voted best pancakes in the state of Tennessee by Delish.com and made the list for Southern Living Magazine's "South's Best Flavors."Flapjacks Pancake House has been serving up pancakes to hungry hikers, like the owner Brent himself, and guests to the area since 2001.
Now with six locations throughout the Pigeon Forge and the Gatlinburg area, you can't miss this breakfast restaurant around every bend. Serving a wide range of pancake options such as local specialties like Wild Mountain Blueberry pancakes to fun and super sweet varieties like Peanut butter cup & Chocolate chip pancakes. No doubt, there is something for everyone at Flapjack's Pancake House. Flapjack's also serves waffles and French toast, and don't miss their "Campfire Skillets." These savory treats include different combinations of eggs and fixins' served over a skillet of potatoes. Now that is something to sing about!
Venue name:
Flapjack's Pancake House
Address:
146 Parkway (Before Traffic Light 1) Gatlinburg, TN 37738
Little House of Pancakes
A favorite spot among the locals, Little House of Pancakes serves breakfast and lunch all day. Featuring an assortment of fruit pancakes, plus waffles and French toast, their menu features the best of in country breakfast cooking. Don't miss their big country breakfast platters or try their "Panhandler omelet," for a treat. For those looking for lunch fare there's chicken tenders, catfish, country fried steak with all the traditional southern fixings, in addition to homemade soups, salads, and burgers.
Venue name:
Little House of Pancakes
Address:
807 East Pkwy, Gatlinburg, TN 37738
International Cuisine
For visitors to the Great Smoky Mountain region looking to spice up their visit and try cuisine from around the globe, there are many locally owned restaurants that feature international fare. While the authentic recipes and flavors may hail from other lands, these dishes are still served up with the same warmth and friendly service you will find in regional food stops.
Thai Basil
Locally owned and operated, Thai Basil prides itself in offering healthy, delicious and authentic Thai food on their lunch and dinner menu. Their delicious Thai selections range from stir-fry, curries, noodle dishes, soups, dumplings, salads, and much more.
They are dedicated to their mission to introduce several new flavorful, healthy food options to the local area. We have a wide variety of authentic Thai dishes, freshly cooked to order, that you must taste for yourself. We Thai Basil offers many vegetarian and vegan options as well. So for an authentic taste of Thailand, don't miss your chance to check out the cuisine at Thai Basil.
They also offer a child's menu and delicious desserts.
Address:
530 Winfield Dunn Parkway, Sevierville, TN 37862
Smokies Cuban Cafe
A real "Mom and Pops" place, this authentic Cuban Cuisine has been compared to Cuban cafes in Miami, famous for their Cuban Food. Although unassuming from the decor and outside, this authentic Cuban cuisine does not disappoint. Opened in 2011, this relaxed, family style café loves to get to know their customers.
In addition they offer take out, catering, and delivery to many parts of Sevier County. Owners, the Borges Family, proudly prepare their food with love and devotion. They believe their food represent our family traditions from generation to generation! All our meals are cooked daily and while your order may take a couple of minutes longer you will be able to enjoy real home cooking made to order. Smokies Cuban Café offers a variety of traditional dishes as well as the signature sandwiches…
Venue name:
Smokies Cuban Cafe
Address:
3526 Parkway, Pigeon Forge, TN 37863
The Hofbrauhaus Restaurant & The Cheese Cupboard
Opened since 1969, The Hofbrauhaus Restaurant & The Cheese Cupboard take Gatlinburg tourist back to the Old World, Old World Europe that is. Featuring a wide variety of imported and domestic cheese, crackers and scrumptious chocolates-direct from Switzerland and Germany, The Cheese Cupboard is the perfect place to rest your feet and have an afternoon snack. In addition The Cheese Cupboard offers cold drinks, gourmet mustards, hot sauces and even old-fashioned Kosher dill pickles.
If you have a heartier appetite head up stairs above the Cheese Cupboard by The Hofbrauhaus Restaurant. This is the perfect place to enjoy a cold beer and the The Hofbrauhaus signature Super Reuben or delight in one of their other hot specialty sandwiches such as the Hoagie, Turkey, or Pastrami.
Venue name:
Hofbrauhaus Restaurant & The Cheese Cupboard
Address:
634 Parkway #14, Gatlinburg, TN 37738
The Fox and Parrot Tavern
A little bit off the main tourist area, this local tavern is a hidden gem that is well known among locals and beer connoisseurs. This authentic British Pub is a favorite among locals and visitors alike.
The Fox and Parrot prides itself on being a true British pub or tavern, but not a "bar." Over the pond in Great Britain a pub is a place to take your family for a pint or a meal or both. A pub or tavern is a place or community space where people come together, often at the heart of many medieval towns, to talk, commune, eat and drink. Owner Brian Papworth sought to recreate this when he opened The Fox and Parrot Tavern outside Gatlinburg.
Inspired by a personal trip to England and his fascination with British ales, Brian opened The Fox & Parrot Tavern on September 9, 1998.Serving an impressive selection of imported and domestic beers, ales and ciders, The Fox and Parrot really has made their pub a beer lover's destination. We have a wide selection of ales, lagers, stouts, and porters from the British Isles, Germany, Jamaica, and the US.
The Fox and Parrot not only serves a large quantity of British beer and ales, but this extends to their food menu. As noted on their website, "We could Americanize the British recipes or try to make them "our own version" – but that would be turning our back on the pub tradition. Our recipes were literally brought across the pond from the UK and are as authentic as locally available ingredients will allow."
The made from scratch menu is as authentic as possible serving up dishes like: Bangers & Mash, Welsh Rabbit, The traditional Scotch Egg-Hard boiled egg surrounded by a Scottish pork sausage jacket, and of course Fish and Chips.
Just like in Britain, the Fox and Parrot is not a rowdy bar just for 20 somethings and hardcore party hounds. Instead the Fox and Parrot holds is true to its pub roots and loves for guests to bring their families. Yes, guests are encouraged to bring the kids and enjoy this tavern just as a family would in England.
Venue name:
The Fox and Parrot Tavern
Address:
1065 Glades Road, Gatlinburg, TN 37738
China Town Restaurant
This Chinese Restaurant located just between Pigeon Forge and Sevierville, consistently received accolades for it's very fresh flavors and ingredients.
Offering many of the traditional Chinese favorites from chicken, beef, pork and vegetarian stir fry, to lo mein, specialty fried rice, soups, dumplings and much more. China Town Restaurant also features the very authentic whole "Peking Duck" with homemade duck sauce.
Everything is cooked to order, and if you would like take-out or express dine in China Town features online ordering to expedite your cuisine!
Venue name:
China Town Restaurant
Address:
525 Parkway, Sevierville, TN 37862
Villa Zapata Mexican Cantina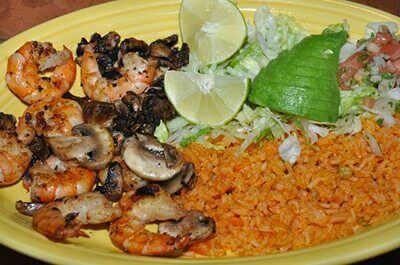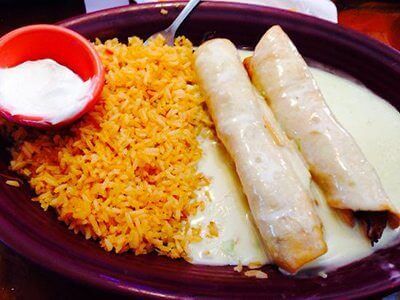 Known for their generous portions, Villa Zapata Mexican Cantina, serves up the best in authentic Mexican cuisine.
Villa Zapata Mexican Cantina features amazing enchiladas, burritos, combinations plates, and of course delicious sizzling fajitas. In addition they have divine house specialties such as the unique Chilaquiles de Pollo made with Tortilla chips cooked in our special hot tomatillo sauce, with chicken and cheese. Served with rice, lettuce, tomatoes & guacamole.
Don't miss the very authentic, seafood entrée, Ceviche de Camaron. This dish includes fresh chilled cooked shrimp marinated in lime juice, mixed with pico de gallo, avocado, cucumbers and accompanied with tostadas.
They also offer lighter fare such as salads, soups and plenty of antojitos- appetizers. For a truly unique appetizer be sure to order the Tacos Toreados. This tantalizing appetizer features three grilled corn tortilla tacos filled with refried beans and cotija cheese with a side of guacamole, jalapenos, pico de gallo and chile toreado (fresh jalapeno deep fried).
Villa Zapata Mexican Cantina serves lunch and dinner daily, offers guests free Wi-Fi and Sports fans can enjoy watching any of 5 HDTVs mounted in the restaurant to catch their favorite game or get sports updates.
Venue name:
Villa Zapata Mexican Cantina
Address:
136 Community Center Drive, Pigeon, TN 37863
Kinkaku Japanese Steak House & Sushi Bar
Families seeking some entertainment and delicious Japanese food need look no further than Kinkaku Japanese Steak House and Sushi Bar. This restaurant is perfect for families, large groups, parties and friends looking to dine and have fun.
The old adage, "Don't play with your food," does not apply here! Enjoy watching your delectable Hibachi style plates being created before your eyes by skilled chefs as flip, toss, turn and chop to create your delicious Japanese entree.
Sushi lovers seeking a more intimate and low key dining experience can enjoy a meal and drink Samurai's Sushi Bar. Guests can enjoy a fantastic selection of sake and Japanese beers while watching their sushi being made to order Special Maki rolls such as the Smoky Mountain Roll, Dragon Roll, Spider Roll and more. A deal not to miss is Kinkaku's sushi special-3 roll sushi-special for $15.95!
Venue name:
Kinkaku Japanese Steak House & Sushi Bar
Address:
3152 Parkway, Suite 1, Pigeon, TN 37863
Big Daddy's Pizzeria
With three locations in the Great Smoky Mountains area, Gatlinburg, Pigeon Forge and Sevierville, you can see why locals love this Johnson family owned Pizzeria. These locally owned Pizzerias have developed a following for their delicious pizzas made to order with the freshest ingredients. As co-owner Kelly Johnson describes, "Our pizzerias have no freezers on premises. Everything is fresh, everything is homemade! The dough is handcrafted, in fact we have a whole room just to make dough. We use a real wood burning oven to add extra flavor and Tons of fresh toppings. We love creating crazy pizza combinations and experimenting, and of course we create the classics too.
Families with children and teens will love the Pigeon Forge Big Daddy's that features a an attached building with an incredible arcade. While their pizza is being created kids can enjoy fun and games in this incredible arcade attached to the restaurant. This arcade is accessible only via the restaurant.
Venue name:
Big Daddy's Pizzeria
Address:
714 River Road, Gatlinburg, TN 37738
Nino's Pizzeria & Eatery
Ranked one of the top 3 Restaurants in Sevierville, Locals tout this as one of the top Italian eateries in the area.
In addition to a selection of pies, white included, and hot and cold subs. They also include a gluten free pizza crust. Nino's serves up delicious Italian classic such as tasty Lasagna Eggplant Parmesan.
Nino means boy in Italian, Owner, Jerry Maltese has fond memories of his Italian grandparents referring to his father this way growing up. Jerry is able to share his love for family and Italian heritage through realizing his dream and opening Nino's. in March 2014 Jerry and his wife Christine realized their dream by opening Nino's Pizzeria & Eatery. It's been a hit every since.
Venue name:
Nino's Pizzeria & Eatery
Address:
105 Long Springs Rd, Sevierville, TN 37876
Sweet Treats
Sweets are there own food group in the South. A Sunday Dinner meal (actually Sunday lunch) is never complete without a cake, pie, cobbler or some type of scrumptious, sugary dessert down here. The Great Smoky Mountains area has a wealth of sweet treats, desserts, bakeries sure to satisfy every sweet tooth.
The Wild Plum Tea Room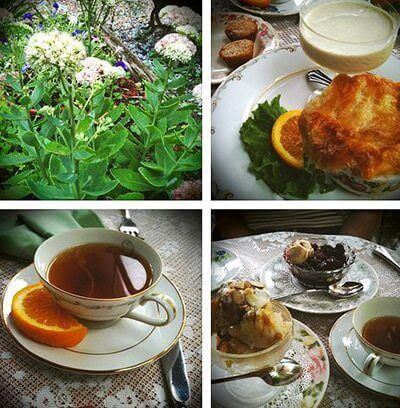 This Austrian-Style Tea room is a gem of a dining experience nestled in the historic Arts & Crafts Community of Gatlinburg. The creation of this dining experience came from the famous teahouses common in the mountains of Austria. The custom was that these teahouses became gathering places for locals to gather, share stories, and have whatever was made fresh that day.
The Wild Plum Tea Room seeks to continue this legacy in the heart of the Great Smoky Mountains. There menu features delectable daily Chef specials, soups, salads, desserts and more. In addition they feature vegetarian, vegan, and food-allergy options. The recipes used at the Wild Plum come from generations of family, friends and neighbors, passed down and prepared with much love and care. In addition and the menu is likely to change daily as they seek to innovate and use Wild Plum uses many fresh and local ingredients.
As noted on their website, "Our menu changes often so you never know what we might have in store for you. We are well known for our chicken salad, wild plum tea (served hot or cold), delectable sandwiches and soups, and of course our wild plum muffins. You can also choose from our fine selection of wines and domestic and imported beers to enjoy with your meal, a cup of Wild Plum tea, or enjoy any of our other beverage offerings."
Even your pooch can enjoy a cup of tea or light lunch with you. The Wild Plum is dog friendly and offers deck dining for guests accompanied by their canine friends.
Venue name:
Wild Plum Tea Room
Address:
555 Buckhorn Road, Gatlinburg TN, 37738

Opened in 2012 by the local Kelly Family (owners of Bennett's BBQ, Big Daddy's Pizzeria, and Alamo Steakhouse), this family friendly dessert stop combines your ice cream and fair favorites.
Mad Dog Creamery features a wide-variety of hand dipped premium ice-cream, sundaes, banana splits, floats, and one of the best handmade milkshakes around. As co-owner Kelly Johnson describe, "We have delicious, high quality creamy ice cream, and we are famous for our hand-dipped milk shakes. We do milkshakes in all flavors."
To top it off Mad Dog Creamery features fresh made funnel cakes, a to die for homemade waffle cone hand-dipped in chocolate, espresso drinks, and affogatos.
Also don't miss their "Chocolate Dream Cones" rolled in sprinkles or their fresh-made funnel cake with ice cream on top. With fun ice cream flavors like Banana Pudding and Pumpkin Spice, you can't go wrong!
Venue name:
Mad Dog's Creamery
Address:
3048 Parkway, Pigeon Forge, TN 37863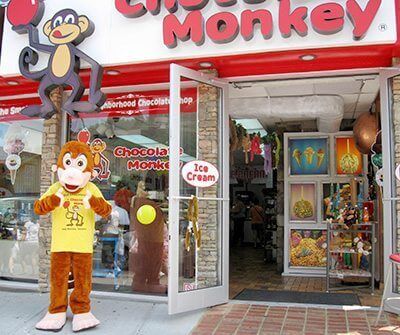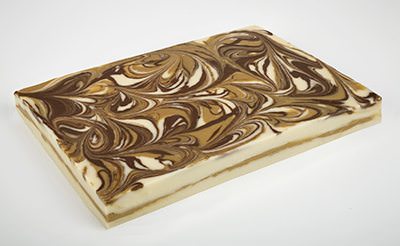 If you are a chocoholic like many, The Chocolate Monkey is the perfect candy store for you, and with three locations in the Great Smoky Mountains area, you are in luck.
Owners, Steve and Mei Shuen Branham along with brother John and sister-in-law Mary Branham combined their years of experience in both retail and customer service and their love their sweets to open their first Chocolate Monkey in February, 2009. They worked with veteran candy makers to create and perfect their recipes.
The huge success of The Chocolate Monkey led them to open several more locations. In March, 2010 they opened their second Chocolate Monkey in the middle of downtown Gatlinburg and In March, 2013 the fifth Chocolate Monkey was opened in Sevierville, Tennessee.
Famous for their creamy, delectable fudge, made with real butter and cream, this candy shop also features giant hand-dipped Caramel apples of all flavors and varieties in addition to other chocolate and candy treats. As noted on their website: "All of our products are created the old fashioned way using the best ingredients such as real cream and butter. Our giant caramel apples are one of our star attractions. They are covered in our own homemade caramel and topped with various combinations of candy, chocolate and nuts resulting in an incredible work of delicious art. Our real cream and butter fudge has been a huge hit with customers who know great fudge. The rich flavor and creaminess of our fudge has many of our competitors scratching their heads. We have definitely moved great fudge to another level."
Venue name:
Chocolate Monkey
Address:
702 Parkway #1, Gatlinburg, TN 37738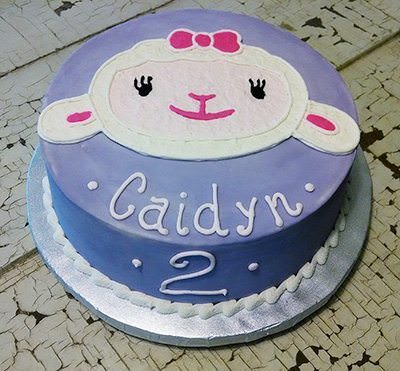 This local bakery is a favorite spot to savor the sweets and relieve that sweet tooth craving. Cakes by Bakin Bishop is well known for their delightful customer service, warm and friendly and their delicious cupcakes.
You can pick your cake flavor, icing flavor and topping, and chat with the owners while they create and frost your custom cupcake.
They also feature delicious homemade cinnamon rolls and breads. In addition if you have an occasion to celebrate on your vacation they feature beautiful decorate event cakes for birthdays, weddings anniversaries and more.
Venue name:
Cakes by Bakin' Bishop
Address:
862 Wears Valley Rd, Pigeon Forge, TN 37863

A Tennessee original, Gigi's cupcakes originated in Nashville, Tennessee. Owner Gina "Gigi" Butler moved to Nashville with high hopes of becoming a country singer. That dream was soon supplanted by Gigi's small home order cupcake business that blossomed into a booming Cupcake Franchise with over twelve locations across the state of Tennessee and beyond.
Gigi's cupcakes are a time test family recipe favorites. Don't miss their delicious piled high icing and some of their favorite combinations such as Peanut Butter Cup, Scarlett's Red Velvet, White Midnight Magic, Banana Cream Pie and more.
Venue name:
Gigi's Cupcakes
Address:
2430 Teaster Lane, #103, Pigeon Forge, TN 37863

For a truly phenomenal, fresh made donut you can't find anywhere else, the Donut Friar is a must do during your Smoky Mountain vacation. This one-of-a-kind shop located in The Villages Shops of downtown Gatlinburg offers the best in made from scratch donuts, cinnamon bread, and pastries daily.
They open at 5 am, for you early risers. Beware though, these are not just any donuts; they are sinfully delicious and will make it hard to have just one.
Venue name:
The Donut Friar
Address:
634 Parkway #15 (The Village Shops), Gatlinburg, TN 37738
Upscale Dining
Vacations are a time to spoil yourself, relax and be transported in both mind and body to new places and scenery. The Smoky Mountain area offers several upscale dining options with incredible food and structures that will truly transport guests in both atmosphere and flavor.
The Restaurant at the Lodge at Buckberry Creek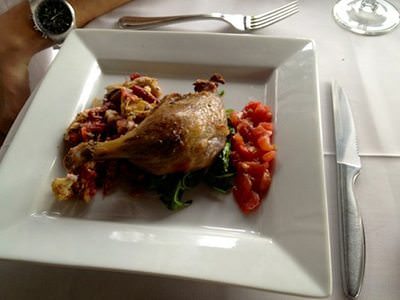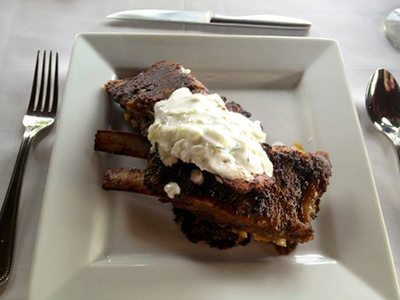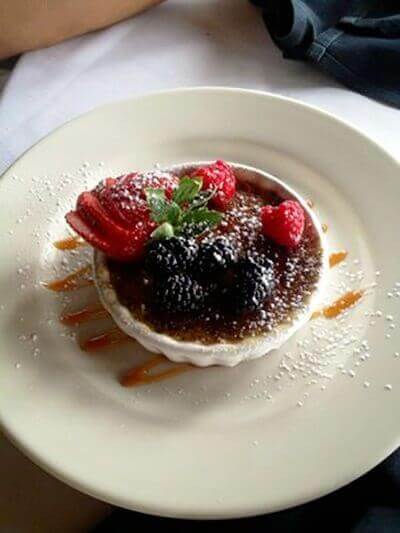 For a truly exceptional dining experience and adventure for your taste buds, the Restaurant at the Lodge at Buckberry Creek is a warm, friendly atmosphere with a superb menu and breath taking views of the Great Smoky mountains.
Described as a restaurant with 'rustic elegance'. Sales & Marketing Manager Christine Dean explains, "Guests feel as though they have stepped back in time to a traditional mountain lodge with natural décor and appointments. Dinner is relaxed and intimate, with an emphasis on service. The dining decks offer a very tranquil setting at sundown, and especially during breakfast as the sun rises and the birds start their day. The short drive up the mountain is well worth it, to enjoy what has been called the "one of the best kept secrets in the Smokies".
"Because The Lodge at Buckberry Creek (opened in 2005) outdoor dining at its best with truly memorable views of Mt. LeConte and the Great Smoky Mountains, our restaurant is the perfect dining decision," Mrs. Dean continues, "We have one of the only fine dining restaurants in the Smokies. It is accompanied by a full bar, and absolutely stunning views of the Great Smoky Mountains National Park, especially Mt. LeConte. As it is just minutes from the parkway in Gatlinburg, it is very accessible throughout the year, but above and away from the more hectic atmosphere downtown. In the warmer months, guests can dine outside on covered decks; in the winter they enjoy fireside seating. Our menu changes daily, allowing the chef and his staff to prepare and present the best of the season."
One of the few truly fine dining experiences in the area, the Restaurant at the Lodge at Buckberry Creek prepares their food with the utmost care and expertise. This restaurant really stands apart from other dining experiences in the Great Smoky Mountains area. As Sales & Marketing Manager Christine Dean explains, "Unless you go to a metropolitan area, or an exclusive resort, there is not a similar restaurant in our area. The chef crafts a small seasonal menu each day to create a composed dining experience, and working with the restaurant manager, selects wine pairings for each selection. This way, the staff can focus on every dish – taste, presentation, and service – at a relaxed and leisurely pace."
Their innovative menu changes daily, using only the freshest local and seasonal ingredients. Christine details why their food and crafted menu is truly unique, "The cuisine has been described as "refined mountain cuisine" that reinterprets Southern comfort foods and regional favorites using unexpected and delicious blends of international flavors and textures."
Guests might be surprised that such fine dining is not exclusively created for adults. In fact The Restaurant at the Lodge at Buckberry Creek prides itself on upscale food and service, but in a warm friendly environment. Therefore, families are welcome and encouraged. As Christine notes, "We do offer a children's menu at dinner. It gives parents the opportunity to enjoy a delectable and leisurely meal, and still provide their children with recognizable comfort foods, albeit slightly elevated in style. The chef loves when the Mac & Cheese is ordered, because then he has to taste a portion!"
If you are really seeking a staff committed to superior service, the staff at The Restaurant at the Lodge at Buckberry Creek will not disappoint. This family owned and operated lodge and restaurant employs a highly staff committed to serving their guests with the utmost in hospitality.
Venue name:
The Restaurant at the Lodge At Buckberry Creek
Address:
961 Campbell Lead Rd, Gatlinburg, TN 37738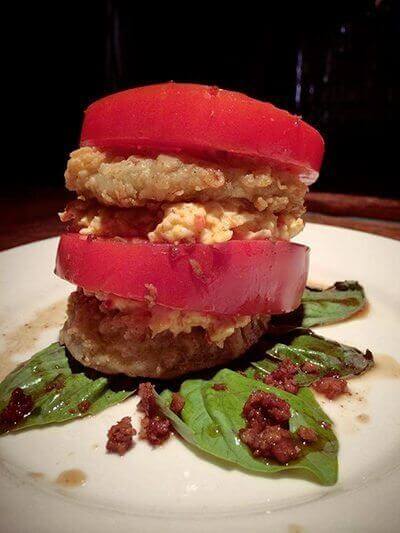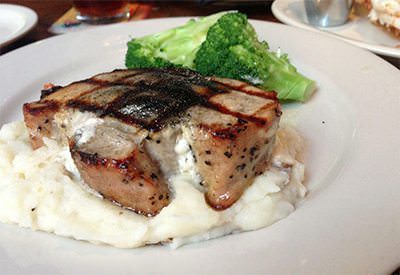 One of the premier steakhouses in the area, The Cherokee Grill, offers top-notch steaks and prime rib in picturesque. As Kelsey Chase, Marketing Director for Copper Cellar Family of Restaurants explains, "The Cherokee Grill is one of Gatlinburg's Great Steakhouses located in the heart of the Smoky Mountains. You won't find a fresher steak or seafood in Gatlinburg! It is located just off the Parkway with plenty of parking."
A favorite upscale dining experience, Cherokee Grill presents an upscale mountain lodge atmosphere with an exterior built with stone and brick, and an interior accented with granite and walnut. Cherokee Grill is known for their great selection of hand cut steaks and Prime Rib. As Mrs. Chase describes, "The quality and freshness of the product we serve can't be beat. The menu has something for everyone. Many of the dishes are slow cooked on the grill or the rotisserie"
For a special night or occasion, The Cherokee Grill offers up something different and unique. As Mrs. Chase concludes, "Cherokee Grill is a level above most dinning in the Gatlinburg area. The beautiful restaurant sits overlooking the Parkway with a great atmosphere. You can't go wrong sitting beside the wonderful stone fireplace or up in the beautiful lounge!"
Venue name:
The Cherokee Grill
Address:
1002 Parkway, Gatlinburg, TN 37738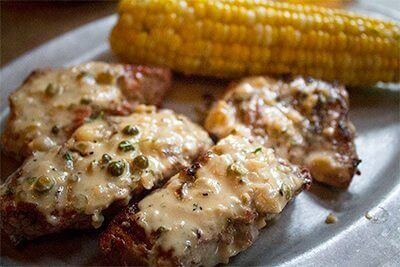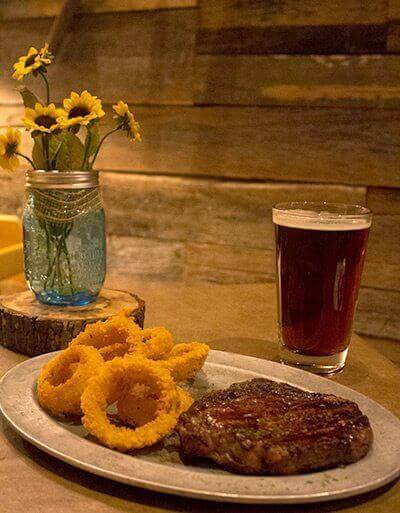 Located just 200 yards from the entrance to the Great Smoky Mountains National Park, the concept and design of The Park Grill is outstanding from start to finish. The structure itself, both interior and exterior, is unique and artistic in design and ambience.
Designed to showcase and compliment natural environment and beauty of the mountains, the restaurant itself feels like a majestic mountain lodge. As Sue Bock Marketing & Executive Assistant to Geoffrey A. Wolpert, Owner notes, "The Park Grill offers a memorable dining experience with extraordinary food and service in an atmosphere that is warm and inviting. The Park Grill captures the spirit of the Smokies!"
This upscale grill serves the highest in quality steaks, local mountain trout and more. As Bock describes, "We serve aged, never frozen, heavy western steaks and fresh mountain trout, along with a generous, 'all you care to eat' salad bar that is included with most entrées. All the grilling takes place on a wood burning grill fired with Real Tennessee Hickory charcoal."
The superior food not only keeps visitors to the area coming back, but the incredible service sets them apart. As Mrs. Bock notes, "We have team service – all servers work together to take care of tables and our guests."
While the food and service is amazing, it's the whole dining experience and the structure of the restaurant itself that makes a meal at the Park Grill a must. As Mrs. Bock concludes, "The Park Grill is designed to be reminiscent of a majestic national park lodge. Most of the large National Parks have grand lodges. Great Smoky Mountains National Park is lacking a lodge, so The Park Grill was designed to be the grand lodge of the Smokies. Our guests will dine on deliciously crafted food while sitting in a massive mountain lodge with photographs and artifacts reflecting and honoring the history of the National Park and earlier inhabitants of the Smokies. This makes for a truly unforgettable dining experience!"
Address:
1110 Parkway, Gatlinburg, TN 37738