Gatlinburg Scenic Drives
This age old, American pastime will inspire as you drive with your loved ones amidst the grandeur of the unforgettable Appalachian Mountain chain; nothing but you, your loved ones in a car amidst the land sky. So jump into the car and enjoy a relaxing drive along some of the most beautiful roadways that the country has to offer.With majestic mountain peaks brushing the clouds, sweeping valleys, and mature hardwood forests reaching to the horizon, the Great Smoky Mountain region is one of the most breathtaking natural wonders in the Southeast. What better way to experience the panoramic views, ridgeline rides, and scenic vistas of this spectacular landscape than by setting out on an auto tour?
Newfound Gap Road
Highlights:
Panoramic views of the Great Smoky Mountains National Park
Newfound Gap Overlook at 5,046 feet
The Appalachian Trail
Access to Clingman's Dome Road that takes visitors to the highest point in the Smokies
Rockefeller Memorial
Connecting Gatlinburg, Tennessee with Cherokee, North Carolina, Newfound Gap Road takes travelers up and over one of the highest points in the park, at 5,046. This road climbs and descends over 3,000 feet along the way. As cars climb this winding road they will pass through a variety of ecosystems, from cove hardwood, pine-oak, and northern hardwood forest to evergreen-spruce fur forest at the highest point 5,046 feet.
Driving up from Gatlinburg side, visitors will encounter Clingman's Dome Road. This road takes guests along a winding seven mile stretch up to access the trail to climb to Clingman's Dome, the highest point in the Smokies.
Though just 33-miles long, this curvy mountain road, a favorite tourist attraction, usually takes about an hour to travel one way. At nearly a mile high, visitors will notice the significant drop in temperature as they reach the pinnacle of this scenic road, Newfound Gap Overlook. Temperatures can vary as much as 10 degrees Fahrenheit from the Newfound Gap to the roads starting points in Gatlinburg and/or Cherokee. The Newfound Gap provides a large parking lot with restrooms and an overlook with an incredible panoramic view.
The Appalachian Trail crosses over Newfound Gap Road, and straddles the state line between North Carolina and Tennessee for quite some time. Auto touring guests that want to stretch their legs can enjoy a short hike along the famous AT, which can be accessed from Newfound Gap Overlook.
Also, don't miss the Rockefeller Memorial. This memorial commemorates the generous $5 million donation from the Rockefeller Foundation that to helped to complete land acquisitions necessary to open the park. This is also the site where Franklin D. Roosevelt gave an address to inaugurate the park on September 2, 1940.
Directions to Newfound Gap Road from I-40 Tennessee to Gatlinburg Entrance:
From interstate highway I-40 take Exit 407 (Sevierville) to TN-66 South.
At the Sevierville intersection, continue straight onto US-441 South.
Follow US-441 through Sevierville and Pigeon Forge into park.
Continue to follow US Highway 441 which turns into Newfound Gap Road and follow up and over to Cherokee
Directions to Newfound Gap Road from North Carolina I-40 to Cherokee Entrance:
From the north: From interstate highway I-40, take Exit 27 to US-74 West towards Waynesville.
Turn onto US-19 and proceed through Maggie Valley to Cherokee.
Turn onto US-441 North at Cherokee and follow into the park.
This road, US-441, turns into Newfound Gap Road and follow up and over to Gatlinburg.
Cherohala Skyway
Highlights:
15 picnic areas and overlooks
Range of elevation variation from 900 to 5400 feet above sea level
Bald River Falls
Opened and dedicated in 1996 this skyway, designated as a National Scenic Byway, connects Highway 143 in Robbinsville, North Carolina to Highway 165 in Tellico Plains, Tennessee.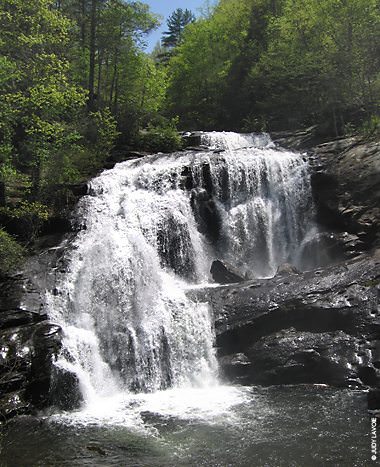 Auto tourists traveling down this scenic skyway will travel through the Cherokee and Nantahala National Forests, and have the opportunity to experience a wide variety of elevation along the way, ranging from 900 feet above sea level to 5400 feet at Haw's Knob on the North Carolina/Tennessee line.
Located near the Tellico Plains end of the skyway in the Nantahala National Forests, visitors Bald River Falls is a spectacular waterfall cascading from nearly a hundred feet to the rocks below. Situated in the beautiful Bald River Gorge these falls can be viewed from the car or accessed by a short hike. A photo must for your auto tour on the Cherohala Skyway!
Directions to Bald River Falls:
From I-75 take Highway 68 South to Tellico Plains.
Turn East on Cherohala Skyway,
Turn Right on Tellico River Rd. go five miles, National Forest Service Rd. 210. Parking is available.
Directions to Skyway:
From Asheville, NC to Cherohala Skyway:
Follow US 74 west for approximately 70 miles,
Turn north onto US 129.
Take US 129 to Robbinsville, NC. Merge onto NC-143.
Follow NC-143 for 12 miles to the beginning of the Cherohala Skyway at Santeetlah Gap.
From Knoxville, TN to Cherohala Skyway:
Take I-75 southwest to Sweetwater.
Get on TN-68 and go south-west to Tellico Plains.
Take TN-165 through Tellico Plains to where the byway begins.
Highlights:
Wildflowers (in season)
Scenic Mountain views
Picnic and camping area at the top
Easily accessible via the Blue Ridge Parkway, this breathtaking road winds gently up from the Blue Ridge Parkway gaining 2500 feet in elevation back into the Great Smoky Mountain National Park.
During the summer visitors are likely to see bounties of wildflowers; especially magnificent azalea displays. The fall reveals a kaleidoscope of colors as leaves change into a multitude of reds, oranges and yellows. There are plenty of overlooks where you can park your car and take photos of spectacular mountain vistas all around along the way.
Directions:
Access to Balsam Mountain is provided at milepost 58 off the Blue Ridge Parkway.
At milepost 458, take the Heintooga Ridge Road for 8 miles up the mountain.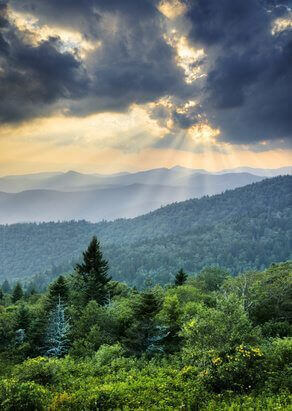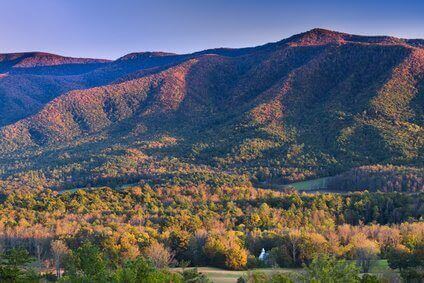 Highlights:
Wildlife viewing
Historic buildings
Trailhead to Abrams Falls
By far the most popular scenic drive in the Great Smoky Mountains National Park, its fame is earned for a reason. This broad valley is one of the best places to view wildlife in the park, and this eleven mile loop contains a plethora of historic sites and buildings. These historic buildings offer visitors a glimpse of the life of early settlers.
Situated along this 11 mile route visitors can stop and explore three different churches, a working grist mill, barns, log houses, and other restored 18th and 19th century buildings.
As you drive along this scenic loop keep your eyes peeled for wildlife romping by like bear, wild turkey, fox, and deer. If your passengers are up for a hike be sure not to miss Abrams Falls. This 5-mile loop is not easy, but the luminous falls at the trails end fall into a crystalline pool and are Kodak worth, making the hike well worth your efforts.
Directions from Gatlinburg
From the Sugarland Visitor Center, just beyond the Gatlinburg entrance to the Great Smoky Mountains National Park , make a right on Little River Road.
Stay on this road for about 25 miles, and it dead-ends into Cades Cove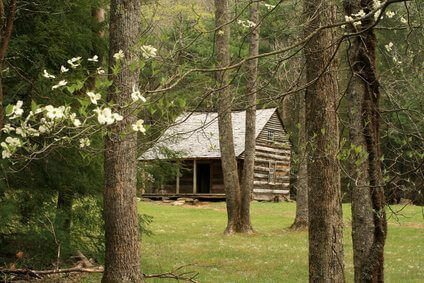 Cataloochee Valley Road
Highlights:
Wildlife viewing, especially elk
Historic buildings
Scenic mountain valley
This rugged gravel road is not for the faint of heart. This winding road will have you ascending mile high peaks with sharp turns on a narrow gravel road with no guard rails. But the thrilling climb is well worth it once you cross over the ridge and into Cataloochee Valley.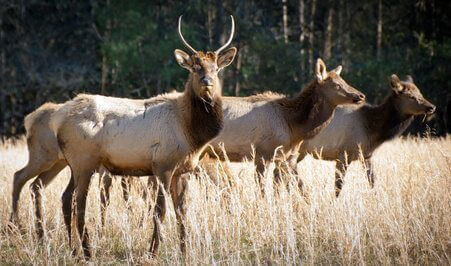 Surrounded by 6,000 foot peaks this rugged mountain terrain adds grandeur to this pristine valley nestled below. This isolated valley was once one of the most prosperous settlements in the Great Smoky Mountains area with a populations of 1,200 people in 1910.
Today visitors can view numerous types of wildlife, most notably the elk , reintroduced back into the park in 2001. This experimental restoration project has been a huge success, and herds of elk can be seen in the valley, most commonly near dusk and dawn.
On your drive through the valley you can visit such as a historic school, churches, barn, and several Appalachian homesteads. For detailed information about each historic site be sure to pick up a Self-guiding Auto Tour Booklet on Cataloochee Valley at one of the Great Smoky Mountain National parks' visitor centers.
Directions:
Take I-40 to exit #20 and travel .2 miles on route 276.
Turn right onto Cove Creek Road and follow the signs to Cataloochee Valley; not just for wintertime, visit the area during spring and fall for glimpses of wildflowers and changing leaves. Be careful to observe the posted speed limit, this area is rife with wildlife that occasionally finds itself wandering onto the road.
Foothills Parkway
Highlights:
Spectacular views of the Great Smoky Mountains National Park
Scenic overlooks of the Tennessee Valley and surrounding countryside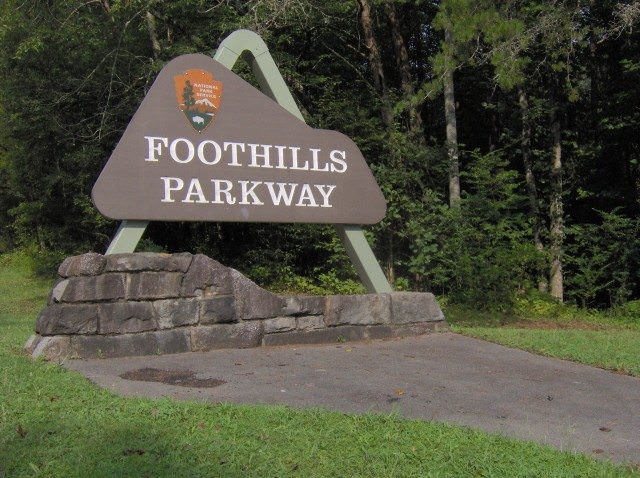 Approved by Congress in 1944, Foothills Parkway is located in the mountainous foothills of the Tennessee Valley. This parkway travels below and parallel to the Great Smoky Mountains offering spectacular views of the Great Smoky Mountains from the outside, looking in.
Originally designed to be a continuous parkway traveling through Sevier, Blount and Cocke Counties running the entire distance from I-40 to Chilhowee there are four segments of this parkway and one that still remains unfinished due to funding and legislative challenges.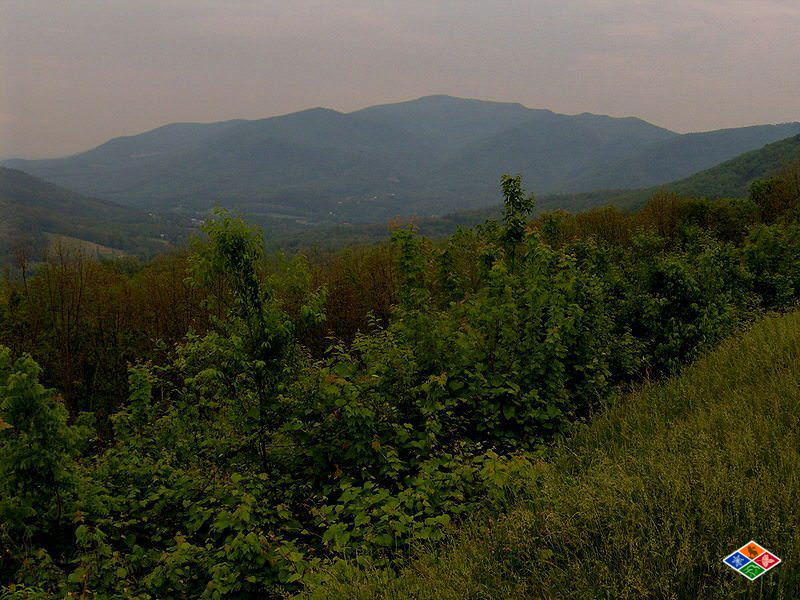 This 5.5 mile portion of the Foothills Parkway is located in Cocke County Tennessee. It runs from Cosby, Tennessee to Highway I-40 Exit #443. Auto touring enthusiast will observe gorgeous views of the Cosby Valley and Newport from your car windows.
Along this section of the parkway, nestled just alongside, and below the Great Smoky Mountains National Park visitors can stop to see the famous peaks in the park Greenbrier Pinnacle, Mount Guyot and Mount Cammerer towering above them.
Directions:
This portion of the parkway can be accessed from I-40 Exit #443 or from 321 outside of Cosby, TN.
This 17 mile stretch of Foothills Parkway travels along the backbone of the Chilhowee Mountain between Chilhowee Lake and the town of Townsend in Blount County, Tennessee. Visitors will experience the beautiful Chilhowee Valley and be amazed by the sheer volume of green expanse that stretches out from these mountains.
Visitors to this section of the parkway will be able to view the beauty of the Great Smoky Mountain National Park to the southeast and the expansive and grand valley lands of the Tennessee River Valley bordered by the long plateau of the Cumberland Mountains to the northwest.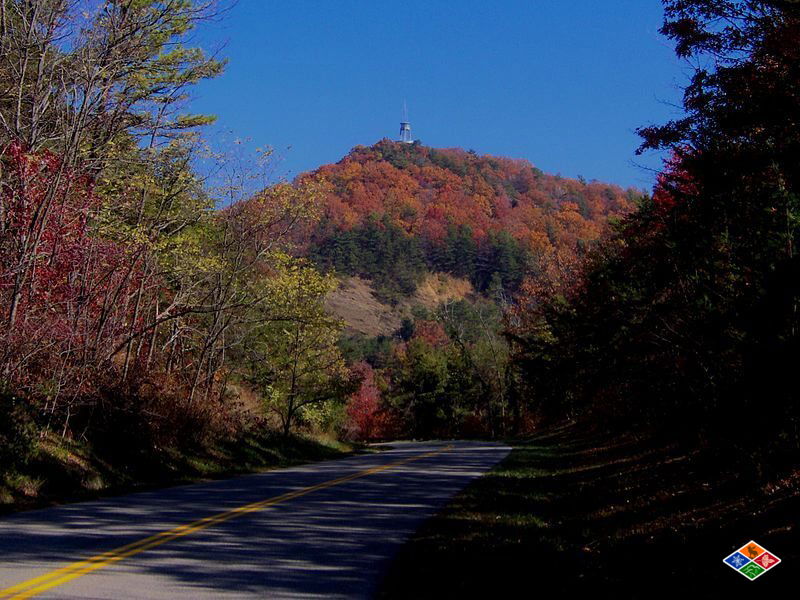 Ambitious travelers seeking to stretch their legs can take the fifteen minute hike up to the Look Rock from the Look Rock Overlook and take in the scenic mountainscape below.
Directions from Gatlinburg:
From 421 in Gatlinburg take Wears Valley Road 14 miles to highway 321in Townsend, TN. Turn right onto 321 from Wears Valley Road, and the entrance to the Foothills Parkway is well marked from Hwy 321.
Rich Mountain Road
Highlights:
Off the Beaten Path
Shagbark Hickory Trees
Overlook of the Primitive Baptist Church in Cades cove
Oak forests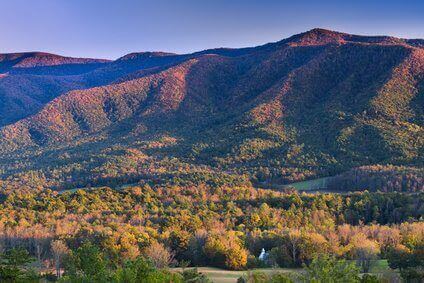 This 8 mile, one way road winds several miles up and over Rich Mountain Gap. This road was once an Indian Trail. Later in the 1800s, it was the main wagon road and access to Cades Cove from Tuckaleechee Cove (Townsend). Today, this road is now a little known spur road from the Popular Cade's Cove Loop. If you are looking to get away from traffic and tourists, this road is a great escape.
On the way up be sure to drive slowly and stop at stop at the overlook which offers incredible views of Cades Cove and the picturesque Primitive Baptist church. Many prize winning photographs have been snapped from this spot. As you climb this beautiful ridge you will oak-dominated forests line the roadside, but be sure to keep your eyes peeled for the elusive shagbark hickory trees that are a rarity in the Great Smoky Mountains National Park.
Directions from Gatlinburg:
From the Sugarland Visitor Center, just beyond the Gatlinburg entrance to the Great Smoky Mountains National Park , make a right on Little River Road.
Stay on this road for about 25 miles, and it dead-ends into Cades Cove.
Follow Cades Cove Loop almost to the halfway point, and the entrance to this road is across from the Cades Cove Missionary Baptist Church.
Roaring Fork Motor Rail
Highlights:
Wildflower viewing in the spring
Historic buildings
Waterfalls
Access to "Bud" Ogle self-guiding nature trail
The "wet weather" waterfall, Place of a Thousand Drips
This narrow, winding motor/nature trail follows one of the larger and faster flowing streams in the Great Smoky Mountains National Park, Roaring Fork. This one way, 6-mile long loop takes about one hour to traverse. Traffic is very slow, and for a good reason. This motor/nature trail offers a little bit of everything, from manmade sites like historic buildings, grist mills, and log cabins to natural wonders such as old-growth forests, mountain streams and waterfalls.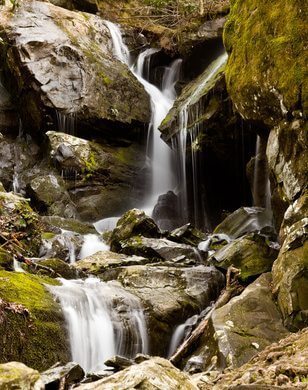 Just before entering the motor/nature trail take a quick stop at the "Bud" Ogle self-guiding nature trail. Visitors can talk a short walk through an original mountain farmstead and scenic hardwood forest. Don't miss the stream side tub mill and Ogle's handcrafted wooden flume plumbing system.
The grand finale of this motor/nature trail is the "wet weather" water fall known as Place of a Thousand Drips, stop #15 along the route. During wet weather this picturesque waterfall is Kodak moment waiting to happen. This water fall cascades and drips over numerous rocks and through many channels, creating a thousand drips. A highly photographed spot, this waterfall is a favorite in the park and one not to miss.
Directions:
Turn onto Historic Nature Trail Road at Gatlinburg traffic light #8 and take the road all the way to the Cherokee Orchard entrance.
The entrance to the motor nature trail is located a short distance past the parking areas for Rainbow Falls.
Check out the Seasonal Road Schedule when planning to take a scenic drive, the schedule helps you to stay up to date with road closures and links to road conditions.