Gatlinburg Fishing
The Great Smoky Mountains is a fisherman's paradise. In fact its rivers, streams and tributaries are some of the last remaining wild trout habitats in the Eastern United States. With over 2,000 miles of streams within the park boundaries, the Great Smoky Mountains offers a wide variety of angler (fisherman) experiences. From isolated headwater trout streams to larger, cool water smallmouth bass streams, there is something for anglers of all ages and skill sets.
As Brad Dodson Fly Fishing Specialist from the Southeast's famous fly fishing shop Hunter Banks Company notes, "I consider the Great Smoky Mountains National Park one of the, is the best wild trout fishing locations east of the Rocky Mountains. There are hundreds of miles of fishable trout water that hold big populations of fish. Some of the Great Smoky Mountains National Park gets relatively little fishing pressure because of inaccessibility [which means these waters are not overfished]."
As co-owner of Little River Outfitters Fly Shop & Fly Fishing School Daniel Drake adds, "The Great Smoky Mountains area is a great place to fish because of public access being a national park and many of the better streams are easily accessible by roads." As Mr. Drake continues, "If you have no experience fly fishing hiring a local guide is a great way to start. Fishing in the Smokies is not easy. It takes some time to figure it out. Spending the day with a local guide will make learning much faster."
The Gatlinburg area offers a wealth of expert knowledge on fishing. You can choose to research on your own or get an insider's expertise by hiring a local guide or visiting an area fly fishing shop. Both the Smoky Mountain Angler or Little River Outfitters Fly Fishing Shop & Fly Fishing School are great places to start.
Smoky Mountain Angler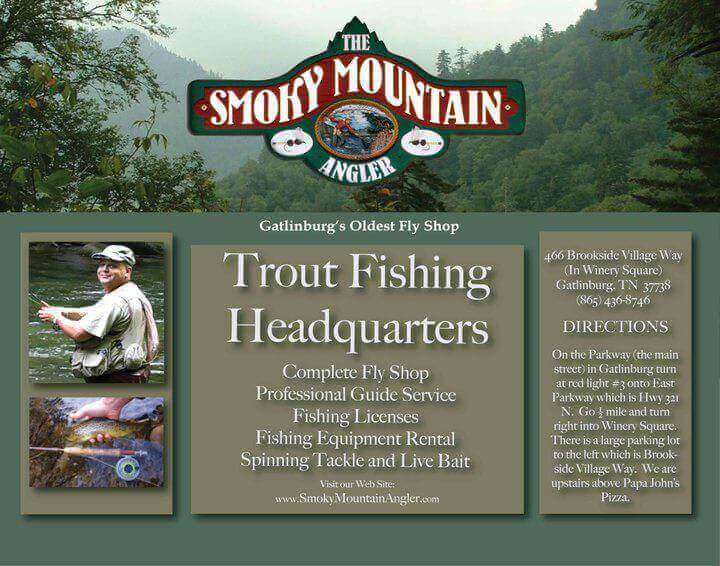 Located near downtown in Winery Square, Smoky Mountain Angler is the oldest and most esteemed fly fishing shop in Sevier County. Operating since 1998, this shop is a TWRA license agent, offers rental gear, guide service and local hand tied flies.
Smoky Mountain Angler is a favorite fly fishing hangout for many area fly fishermen in the know in Gatlinburg. This one-stop-shop has everything you need to equip yourself for your fly fishing expedition or hire a guide to take you out.
You can also check out their online "Fishing Report" to find out what fish fly fishermen are catching and on what type of flies.
In addition, Smoky Mountain Angler offers a fantastic guide service. An authorized fishing guide service by the Great Smoky Mountains National Park Smoky Mountain Angler lives by their motto, "Professional, personable and very proficient."
With years of experience fishing in the Gatlinburg area, Smoky Mountain Angler guides offer expert teaching for techniques for catching wild mountain trout. They are skilled at working with fly fishermen of all levels from very beginner to seasoned veteran. They also stay abreast of the latest and greatest fishing holes, as well as what types of flies trout are biting on. Guides can take out 1-3 clients at a time, and Smoky Mountain Angler offers half and full day trips.
Little River Outfitters Fly Fishing Shop & Fly Fishing School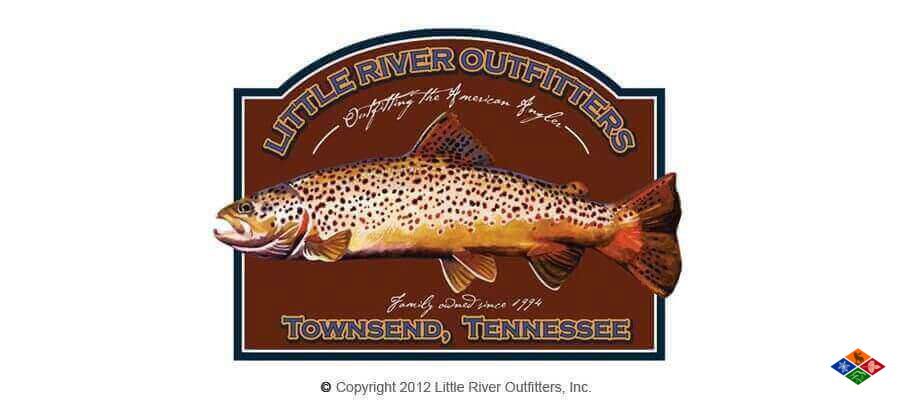 Little River Outfitters, opened in 1994, is also a favorite informational spot for locals and visiting fishermen to East Tennessee. They specialize in helping novice through to advanced anglers (fisherman) take advantage of the great wealth of wild water fishing areas in the Great Smoky Mountains National Park and all over Eastern Tennessee.
Located in Townsend near the Cades Cove entrance to the Great Smoky Mountains National park this outfitter, fly shop, and fly fishing school has built themselves a lasting reputation for their experienced staff, fishing gear, and more.
One-of-a-kind for the area, Little River Outfitters boasts an impressive fly fishing school with a classroom built-in onsite. This Is a great place to begin with fly fishing courses for beginners; as well as classes divided into beginner, intermediate, and advanced levels. They also offer a fly-tying class. Recently, they have offered a course Aquatic Entomology for Anglers taught by Dr. Brad Cook, professor of biology and Tennessee Technological Institute.
Their website features an online store, daily fishing report, and an ever popular message board where anglers ask questions, offer tips, and report on their fishing adventures via categories.
Types of Trout in the Great Smoky Mountains
Native Brook Trout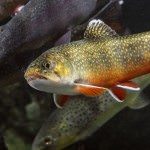 The only trout, native to the Southern Appalachian, are Native Brook Trout. Brook trout live in higher elevations and are harder to find. These trout are brightly colored and smaller than other trout, but catching a Native Brook Trout is considered quite an accomplishment by local fly fisherman standards. The rarest (hardest to find), you have to know where they are in order to catch them.
 Wild Smoky Mountains Rainbow Trout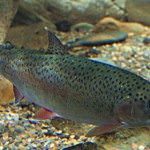 Though introduced to the Great Smoky Mountains National Park by outside source, this trout is the most common trout found in Smoky Mountain streams. These rainbow beauties prefer the faster flowing, cool waters, common on many of the larger mountain streams.
Wild Smoky Mountain Brown Trout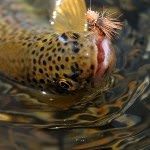 The biggest trout in the park, Brown Trout tend to feed at dark and they can tolerate warmer water temperatures than other trout. Because of their larger size though, these trout they can be harder to catch and land. These trout like to hide in shady spots, under structures and near river banks.
5 Fly Must Haves
These flies are must have for any serious anglers. Highly recognized for their versatility and ability to land fish in many different environments, but especially in the Great Smoky Mountains. According to Brad Dodson, Fisheries technician and fly fishing expert, prospective anglers and serious fisherman should definitely consider using these when fly fishing in the Great Smoky Mountains.
Dry Flies (Float)
1. Royal Wulff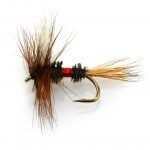 This dry fly pattern was first tied by Lee Wullf and used for many years with great success. This buggy, dry fly imitates many mayflies and terrestrials. This fly can be fished in slow or fast water, and is known is also known to be successful in rough water.
 2. Parachute Adams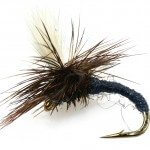 This fly is a must for fly fisherman. One of the most versatile of all dry flies, the Parachute Adams is a famous dry fly for catching fish of all sizes all over the world. It's popularity comes from its ability to imitate many members of the mayfly and caddis families. This fly is also versatile in a variety of streams with swift or slow moving water. Learn more.
 3. Yellow Stimulator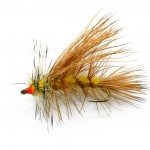 The Yellow Stimulator is another angler must. It's true inventor is up for debate. Though many people credit, famous West coast angler Randall Kaufman, others claim that Jim Slattery tied the first pattern. What is not debated is the Stimulators versatility, buoyancy, and ability to be fished in very fast and slower streams. Like the Parachute Adams, this fly is extremely versatile as it represents many things appealing to the fish. Learn more.
Wet (Sink)
4. Prince Nymph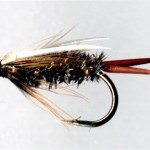 Developed by Doug Prince in the 1930s, the Prince Nymph is ranked by many to be one of the top flies of all time. The design can give the impression of a stonefly, backswimmer, or dark mayfly nymph, whatever the impression this fly is a favorite with the fish. Mostly used in fast water, this fly can be used in warm water as well.
5. Green Copper John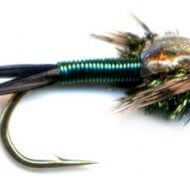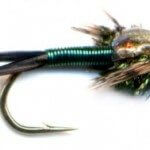 Created by John Barr of Boulder, Colorado, this newer and very popular fly has been a hit in the fly fishing kingdom. This fly sinks quickly and can be used as a deep water dropper. Fish can't seem to resist this flashy fly. It is best used in areas where stoneflies and mayflies are common, and can even be used in some lakes. Learn more.
Best Streams for Fly Fishing Beginners
East Prong of the Little River
Best Fly Fishing Streams for Intermediate and Advanced
LeConte Creek, Roaring Fork Creek and Dudley Creek are smaller than some of the more major streams in the park. However, these streams are heavily stocked with trout by the City of Gatlinburg and are also good areas to catch trout. Find out more information
Fishing With The Family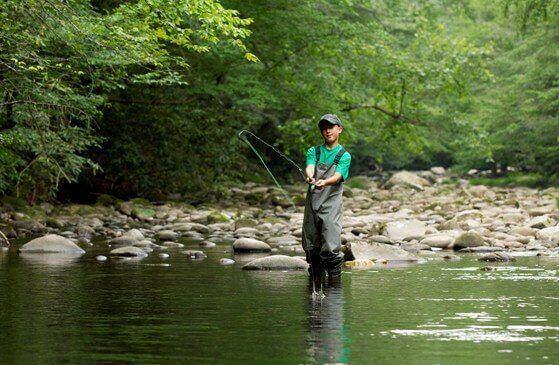 Kids love to fish too. The thrill of that tug on the line, their hearts racing with the anticipation of catching a sneaky fish. However, fly fishing can be a challenge for little tikes or older family members that may have trouble with stream access, equipment needs, and complicated casting techniques. The Gatlinburg area offers many options that are calmer more relaxed fishing endeavors that take some of the pressure off the parents.
For the little ones or older ones in your clan consider taking them to one of these other local options, and enjoy watching the kiddos squealing with excitement or your older loved ones chuckling with pleasure at their catch.
Tuckaleechee Trout Farm & Restaurant
Owned by Larry and Sue Smith, Tuckaleechee Trout Farm & Restaurant is a favorite place to fish and catch your dinner. Located in Townsend Tennessee, just outside of the Cades Cove entrance of the Great Smoky National Park, this trout farm features several spring fed ponds. Its ponds pump a 1,000 of gallons per minute, and they are routinely stocked with trout.
You can help your young ones pull one in, and if they want they can contribute to your evening meal. Tuckaleechee Restaurant will clean and dress your fresh caught trout and serve it with their seasonal vegetables and fresh hushpuppies. They are so quite famous for their scrumptious Blackberry Cobbler.
English Mountain Trout Farm & Grill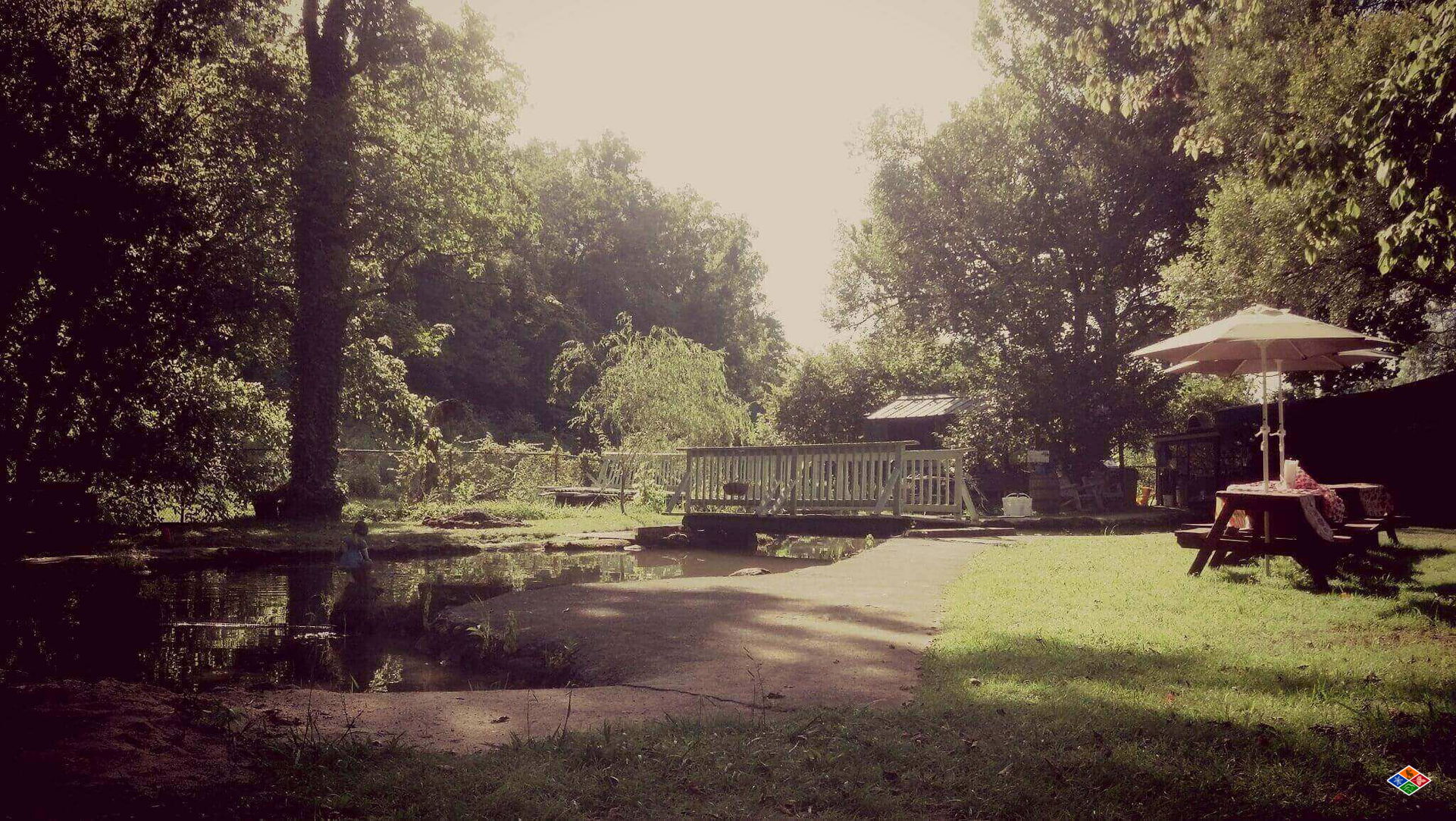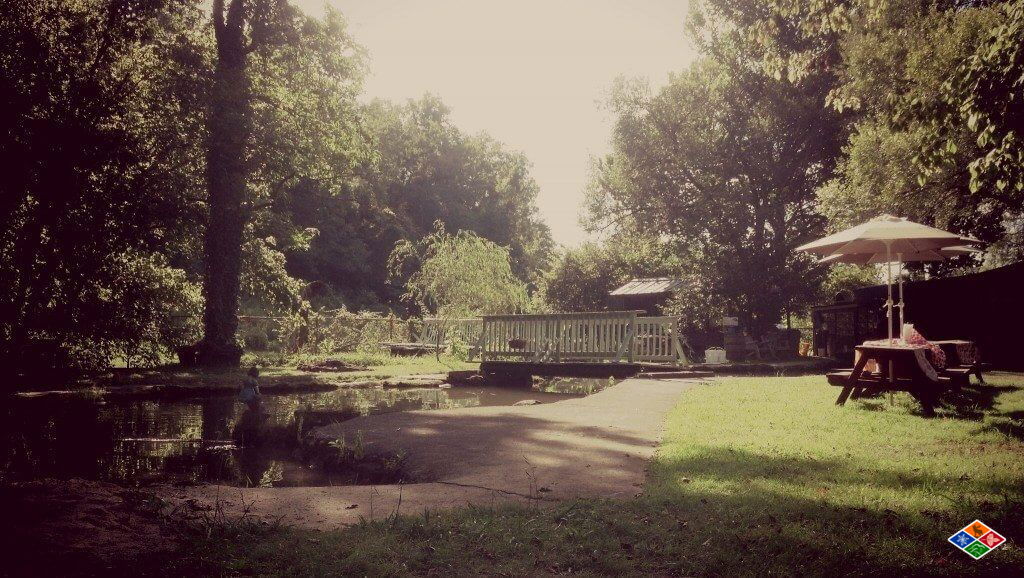 English Mountain Trout Farm & Grill is located in Sevierville, Tennessee. This local joint has a trout pond fed by a freshwater stream and is chocked full of delicious rainbow trout.
Your family can catch trout, have them dressed and clean, and then move on to the grill. The English Mountain Trout Farm Grill features a variety of options for devouring your catch. For example your fresh fish can be fried or blackened.
Big Rock Dude Ranch at Ponderosa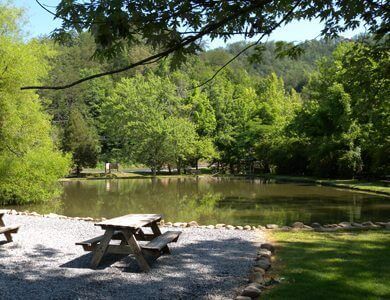 Not only does this area dude ranch feature horseback riding, A.T.V. trips, and a petting zoo; but they offer family fishing right on the ranch.
For family members that are excited to catch fish, but not so keen on eating it, this spot is perfect. The large pond at Big Rock Dude Ranch is stocked with Blue Gill, Croppy, Catfish, and Bass. This pond is catch and release, so your loved ones can have the thrill of pulling it in, and then feel happy about returning the slippery fellow to his home.
Big Rock Dude Ranch supplies everything you need for your family fishing experience including rod, reel, and bait. Also, no fishing license is required and your fishing pass is good for a week so your family can return to fish to their heart's delight.
Herbert Holt Park
For those seeking a more authentic fishing experience that is kid friendly, Herbert Holt Park is the place for you.
This Gatlinburg City Park offers fishing for children and the disabled only. This park is also the site of The City of Gatlinburg Trout raising facility. Your family can see where the city raises the rainbow trout to be stocked in area streams.
In addition to the park's covered pavilions, picnic tables, horseshoe pit, grill, walking trails, and a playground area, this park features designated fishing areas for children; as well as a small fishing pier with handicap access. For this fishing experience your family will need to bring their own fishing equipment and bait; as well as purchase a fishing permit. Learn more here.
** Other designated children's fishing areas include North Gatlinburg Park and Mynatt Park. Both of these sites are marked with signs which indicate the boundaries and are heavily stocked with trout.
FISHING REGULATIONS: Tennessee Trout Fishing License Requirements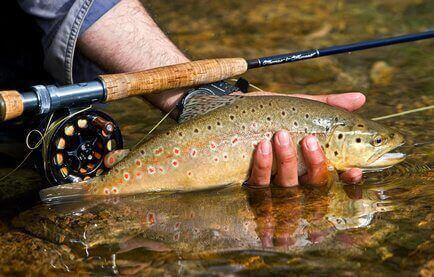 During the open fishing season (April 1- November 30th) anglers can fish anywhere in the Gatlinburg City limits or the Great Smoky Mountains National Park as long as they possess a valid fishing license. The one exception is Thursdays, when you cannot fish within the Gatlinburg City limits. The City of Gatlinburg has its own trout farm and stocks rivers and streams on Thursdays; therefore fishing inside the city limits on these days is off limits. These are good days to fish inside the park.
Gatlinburg City Fishing Regulations
On top of the state of Tennessee Fishing License requirements, a local permit is required for residents between 13 and 64 years of age, and for non-residents 13 years of age and above.
Tennessee Residents
Age 12 & under- NO LICENSE OR PERMIT IS REQUIRED
Age 13-15 need Gatlinburg Permit + Junior Hunt, Fish, Trap license Type 2
Age 16-64 need Gatlinburg Permit + Annual Hunting and Fishing license permit type (01) or County of Residence (Type 20) or One Day fishing (Type 21)
Age 65 or older need Permanent Senior Citizen Hunt/Fish/Trap (Type 166 or an Annual Senior Citizen Permit (Type 167)
Non-Tennessee Residents
Age 12 & under- NO LICENSE OR PERMIT IS REQUIRED
Age 13-15 need Gatlinburg Permit + Non resident Junior Hunt, Fish, Trap license Type 2
Age 16 or older need Non resident Gatlinburg Permit + Annual Hunting and Fishing license permit type (01) or County of Residence (Type 20) or One Day fishing (Type 21)
Age 65 or older need)Non-resident Gatlinburg One-day (Type 97) ONLY or a combination of the following: Gatlinburg One-day (Type 99) or Three-day (Type 97)
+ one of these Non-resident licenses: Three Day All Fish (Type 78); Ten-day All Fish (Type 80); or Annual All Fish (Type 81)
Please note there is no exception for over 65 non-residents.
Seasonal Regulations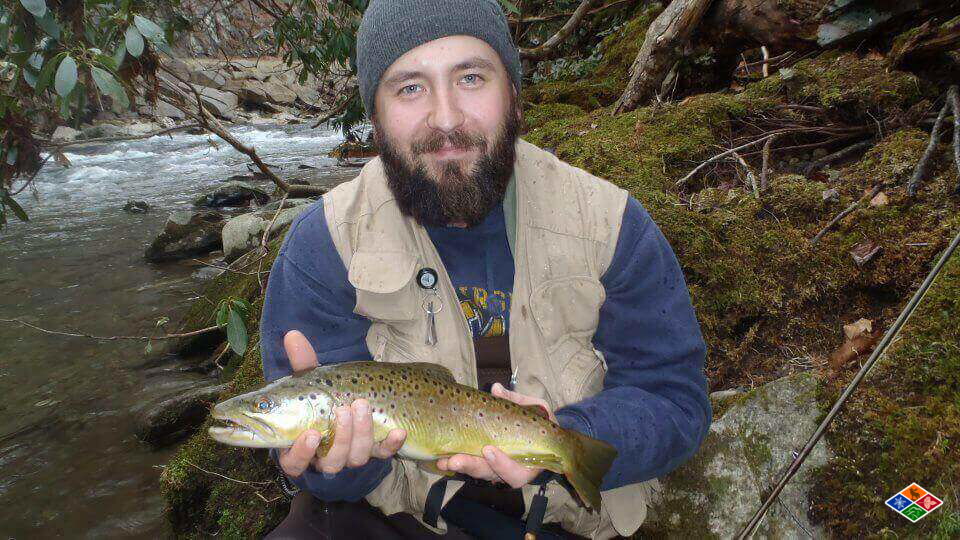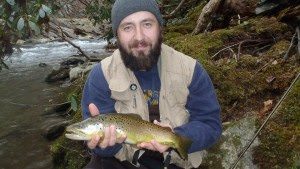 Fishing is permitted year round in the Great Smoky Mountains National Park, though spring and fall are the best times to land trout. Fishing is allowed from 30 minutes before sunrise, to 30 minutes after sunset.
Open Fishing season: April 1st – November 30th
Daily Number of Fish that a fisherman can catch and Keep (Creel Limit)
Anglers (fishermen) can catch a maximum of five (5) trout per person for General Streams and two (2) trout per child on Children's streams. Total limit of trout per fisherman is 5.
Catch and Release Season: December 1 through March 31
All fish caught must be released immediately unharmed to the water. Possession of any trout is strictly forbidden.
Only single-hook artificial lures can be used during this season. The use of or possession of any live bait is prohibited.
(Definition of bait: any living or dead organism, or prepared substance, designed to attract fish by taste or odor. Bait can include, but is not limited to, fish, fish eggs, crayfish, worms, grubs, crickets, corn, cheese, bread, pork rinds, putty or paste-type products and flavors or scents applied to or impregnated into artificial lures.)
For more information on Fishing Regulations in the Gatlinburg area: VISIT WWW.GATLINBURG.COM
GET INTO GEAR: Tips for Beginners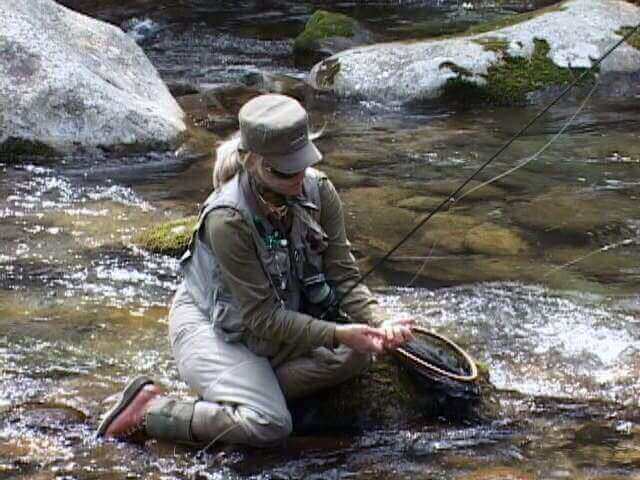 Like any sport having the right gear is an important part of fly fishing.
Co-owner of Little River Outfitters Fly Shop & Fly Fishing School Daniel Drake makes some important recommends;
"Polarized sunglasses will aid in seeing the flies and cutting glare off the water's surface.
Tapered leaders and tippet are good to have with.
A comfortable, supportive pair of wading boots.
Felt soles give the best traction on Smokies streams.
Extra care needs to be taken with any wading boot and waders to clean them when going to different watershed areas as to not transfer invasive species.
Dry fly floatant either gel floatants like Loon Aquel or a powder floatant like Frog's Fanny or Loon Top Ride will help keep dry flies floating longer.
Also for aging anglers a flip down magnifier can be very helpful."
Here is a basic checklist of what you need to get started:
Fly Rod
Fly Reel
Fly Line
Backing, Leader, Tippet
Flies
Waders
Wading boots
Nippers
Hemostats
Floatant
Polarized sunglasses (optional)
Tips for Beginners
Mr. Drake offers this advice, "For someone just starting out I would tell them not to get overwhelmed. Rods don't have to be $800. You don't need to know the Latin names of all the streamside bugs. Find a local fly shop that will help with your questions. Have fun with it. Fly Fishing is a lifelong learning experience."
Brad Dodson, Fly Fishing Specialist, adds this steadfast advice, "The two most important rules for beginners are: keep your line tight, keep your fly in the water."
Other Guide Service
R&R Fly Fishing PO Box 60 Townsend, TN 37882 | (865) 448-0467
Gatlinburg's Fishing Stock Project
http://www.yoursmokies.com/smokymountainnationalparkfishrestoration.html