Moonshiners have long lived on the other side of the law, working to support themselves and survive in often harsh terrain and struggling economies. For these reasons and many more, Eastern Tennessee has served as perfect sanctuary for moonshiners, with its rugged landscape of the Great Smokey Mountains, deep hollers, coves, that have created some of the best places to hide a still from the law.
Recently shows like Discovery Channels "Moonshiners" have highlighted this outlaw way of life and the trials and tribulations of making a good moonshine.  Many of the reality shows biggest stars are shown making their powerful brew in the backwoods of Tennessee.
Tennessee has already cemented its place on the map for its legendary and internationally famous Tennessee Whiskey, most notably Jack Daniel's. Jack Daniel's is made in Lynchburg, Tennessee which ironically is located in a dry county where this famous spirit can't be consumed in restaurants or stores.
However, recent Tennessee legislation and legalization of moonshine distilleries, has put some new distilleries on the map that are bound to be some competitions for the other well-known Tennessee whiskeys. This long outlawed spirit is basking in the lime-light and as new micro-distilleries making legal 'shine are popping up all over Eastern Tennessee and Western North Carolina.
On your next visit to the Great Smoky Mountains you can take part in an age-old tradition and learn more about the heritage of Moonshine by visiting a local distillery, taking a tour, and even buying some authentic moonshine as treasured souvenir.
History of Moonshine in the Southeast:
A long running theme in the moonshininig business is Government Control of the alcohol trade. Moonshining became more prevalent in early America as many farmers realized they could get their corn to market and profit more by distilling it into spirits.
The federal government quickly caught on and realized that imposing a tax on liquor and spirits would be a great way to pay for the long and costly American Revolution. The "whiskey tax" that ensued was very unpopular and eventually led to the "Whiskey Rebellion" in Western Pennsylvania. While President George Washington quickly put an end to the "Whiskey Rebellion" in Pennsylvania by sending in troops, that did not stop moonshiners from making shine. Following this rebellion, many farmers continued to ignore the law and continued to make shine in hiding, while other farmers decided to leave the north in order to pursue their livelihood, unbothered by the law.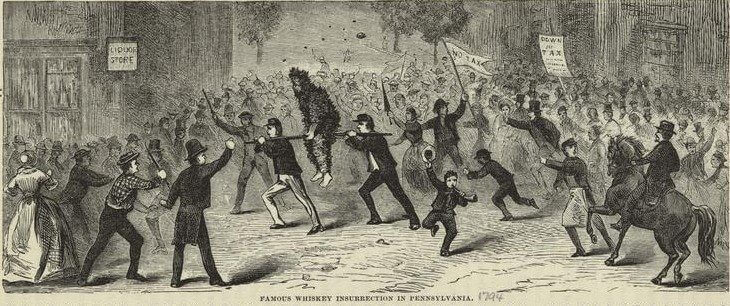 Many of these early American moonshiners packed up their belongings, including their stills and headed to the remote Appalachian Mountains down South. Many of the early moonshiners that settled or re-settled (via the northeast) to the South were of Scot-Irish decent with a long legacy of whiskey making in their blood. These Scot-Irish immigrants not only brought a hearty survivalist mentality, but they possessed established distilling skills and traditions they had brought with them from the old world of Ireland and Scotland. These immigrants which settled found what they were looking for in Western North Carolina and Eastern Tennessee: cheap land, remoteness, and distance from authorities, and a place to do as they pleased.
Not only was the remoteness of the Appalachia appealing to bootleggers looking to distance themselves from the law, but corn, one of the main ingredients in moonshine, was an abundant and easier to grow crop in backwoods there. This combined with poor or in-obedient local law enforcement became the perfect alchemy for moonshine production in the Appalachian Mountains of the South.
However, even in the South moonshiners couldn't completely outrun taxes. New and even higher liquor taxes sent many moonshiners further into the woods trying to evade the taxes on their spirits. In 1860 when the government imposed an extremely high excise tax to fund the civil war, many heated battles between moonshiners and local law enforcement as well as IRS collectors grew violent and frequent in the rural South.
Moonshiners were known not only to threaten law enforcement and tax collectors, but they also threatened locals who might give away their secret location of their hideouts and stills. These battles, stories, secrets and outlaws thus began the creation of many tall tales, myths and legends about moonshiners and the run-ins with the law all over the South much like the Wild West.
However, towards the end of the 19th century moonshiners not only to live outside the law, but on the outskirts of good society as the temperance movement gained momentum. This movement, that sought to ban alcohol altogether continued to build steam during the early 1900's and resulted in Nationwide Prohibition in 1920.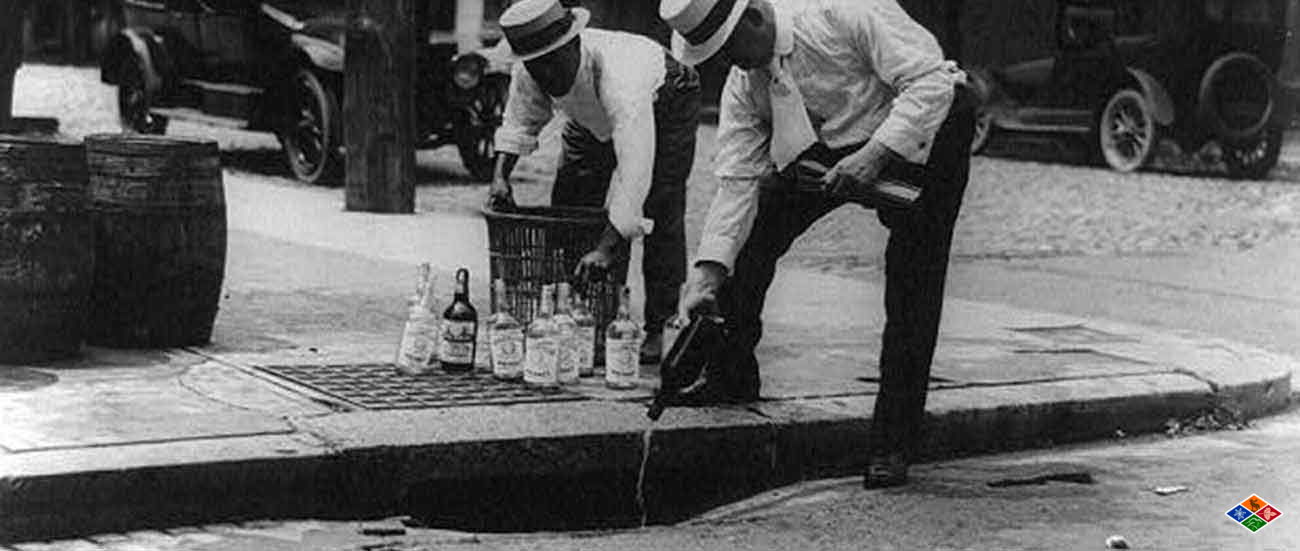 Prohibition was a remarkable time for moonshine and moonshiners. With "no legal alcohol" for sale, public demand for moonshine skyrocketed. This new demand and potential for profit quickly affected the quality of moonshine and what had once been a small-scale trade run by a one-man outfit or family was being taken over by big time criminals and mobsters, many who didn't care about the quality or care that went into the making of moonshine.
These big time traders and mobsters skipped much of the filtering process and cut corners making some lethal shine known as "rotgut" or "Mean Whisky." As Asheville Distilling Company owner and distiller Troy Ball explains, "The mobsters were trying to make moonshine faster to meet demand and reduce chances of getting caught….they used a lot of sugar in their moonshine making the quality poorer. Also, natural toxins occur in fermentation of grains, during the first 10% of whiskey that comes off the still-later in distillation whiskey starts running clean. However, the mobsters didn't always take the time to distill these off and often these deadly toxins were mixed in with the moonshine they sold."
This lower quality moonshine could cause serious injuries or even death. These were caused by the poor distillation process as well as poisonous additives, contaminants and bacteria that occurred during the mass moonshine production. A common medical condition that resulted from ingesting this bad shine was called "Jake Leg" It caused partial paralyses of the feet and legs.
Though the repeal of Prohibition decreased the demand for moonshine, moonshiners continued to make it throughout the 1950s and 1960s.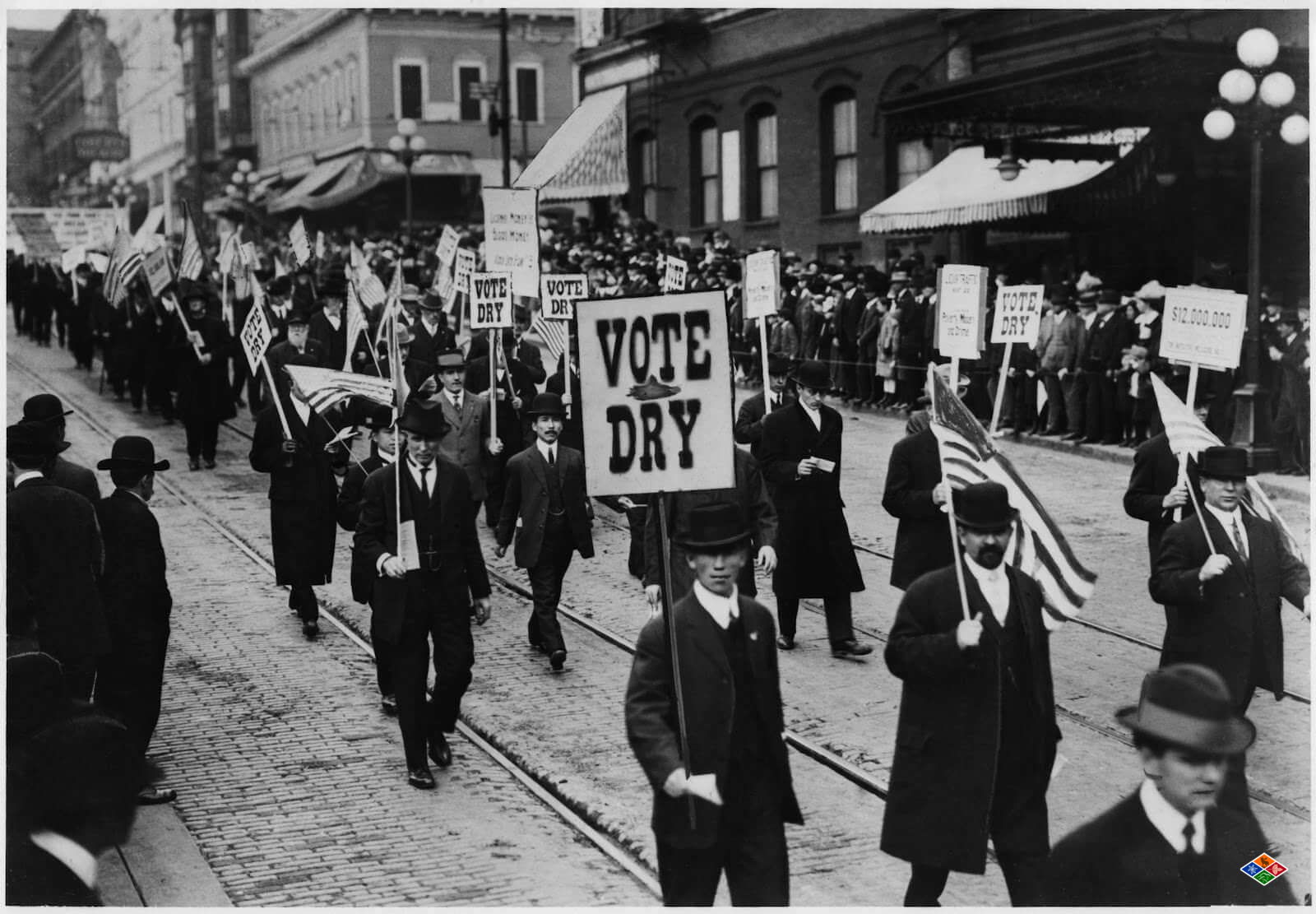 By the end of prohibition, the era of hiding and hauling moonshine by horse and wagon had seen its final days. Moonshiners and their haulers or runners had traded their horse and wagon for sleek, high-powered cars. These cars were especially designed with hollowed out interiors for storage and high powered engines for quick get-always from the law. These cars were driven by skilled drivers known as "whiskey trippers." The same folks that made white whiskey runs through the curvy back country roads, mountain hollers of North Carolina and like areas began to race when they weren't running whiskey.
Thus many of the original stars of auto-stock car racing got their start hauling moonshine. One such NASCAR legend Junior Johnson, hailing from Wilkes County North Carolina, began to hone his auto-racing skills running moonshine for his dad very early on from his family home. Early in his NASCAR career, shortly after winning big at the Altamont-Schenectady Fairgrounds in upstate New York, Junior returned home to North Carolina and was arrested for his participation in the family trade. He served 11 months in federal prison. However, as soon as he was released he went right back to racing and moonshining.
To learn more about the connection between moonshine and NASCAR read "Real NASCAR: White Lightning, Red Clay, and Big Bill France" by Daniel S. Pierce.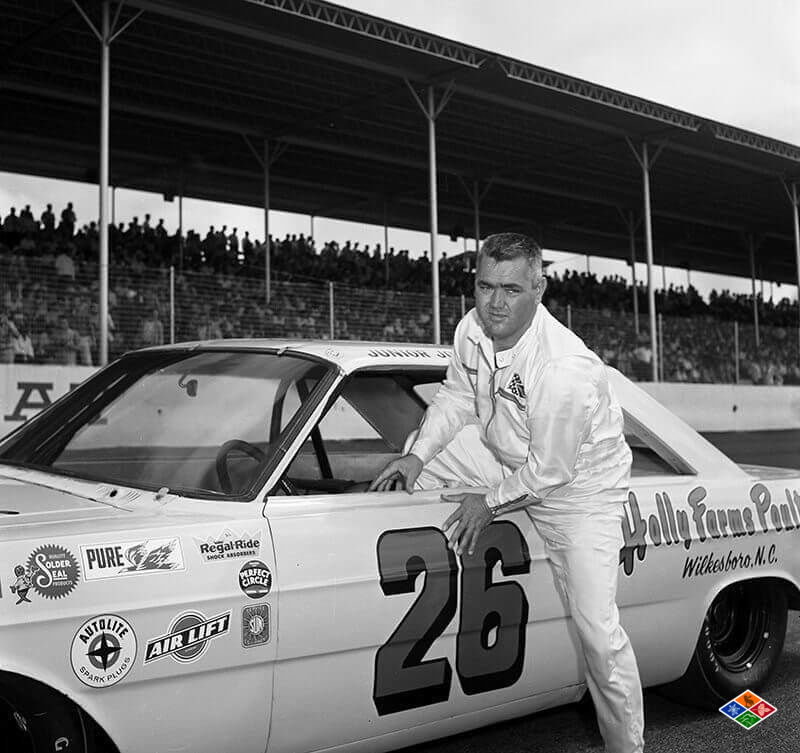 History of Moonshine in Tennessee
Tennessee has long been a hotbed for moonshine making, especially more rural Eastern Tennessee with its secluded mountain hideaways and hollers. Blount, Carter, Fentress, Cocke, Hancock, Polk and Scott counties have long dominated the moonshining trade in Tennessee. In fact, at one time Cocke County Tennessee just up the road from Gatlinburg was considered the moonshining capital of the United States.
Eastern Tennessee specifically boasts a long legacy of moonshiners, hiding out and making shine under moonlight in the backwoods hollers, ridges and coves of the Great Smoky Mountains. Even the famous University of Tennessee fight song "Rocky Top" anthem boasts about stills and getting moonshine on old "Rocky Top," a well-known peak in the Great Smoky Mountains.
This was a trade dominated not only by men, but also some legendary renegade women. Specifically, the infamous Mollie Miller who hailed form Eastern Tennessee. She is quite notorious for killing countless tax revenuers and informants to the government.
However, the most famous modern day moonshiner and mythical character to make and trade shine in Eastern Tennessee is Popcorn Sutton.
Tennessee has long been a whiskey state, legal or not. Not only was there the backwoods, underground mash made by small subsistence farmers, but before the great temperance and prohibition movements Tennessee had was considered one of the states for Tennessee distillation and manufacturing. Tennessee was then home to many famous distilleries, the largest being Cascade (later known as George Dickel), Jack Daniel, Greenbrier and J.S. Brown Distilleries.
The only two distilleries that survived prohibition were Jack Daniel and George Dickel until recently. However, in 2009 passed a bill that expanded the areas in the state that could produce and distill spirits. The law allowed distilleries to be permitted in any county in the state already allowing liquor stores and liquor by the drink. Since this time new distilleries are popping up all over Tennessee.
Micro-distilleries in Eastern Tennessee/Western North Carolina
For many people living in the Southern Appalachian Mountains moonshine is not just local lore and legacy, but it's part of their family heritage.  Many locals have a family member living or not that made and passed down moonshine recipes.
However, now some of these families are turning these long held secret recipes into profitable sales with the Tennessee law that allows distilleries to operate legally. As the NPR article "Moonshine as a Money Maker: Eastern Tennessee Will Drink to That" emphasizes the Great Smoky Mountain Area holds a special claim to moonshine making that no other part of the country can claim, "[Making moonshine in] ..the Smoky Mountains is the most traditional…[it's] central to the character of the region…In eastern Tennessee and the Smokies, you find people who respect the production of moonshine as a craft and its folkloric traditions. That's what's different about it [from other states and regions that make it]."
Get In On The Moonshine Action While Visiting the Great Smoky Mountains:
Ole Smoky Moonshine Distillery
Like many new micro-distilleries Ole Smoky has roots in moonshining and has honed the art of whiskey making through generations in the Great Smoky Mountains region.  As co-founder of Ole Smoky Tennessee Moonshine Joe Baker notes on their website, "We have an incredibly rich history with making liquor. It's an important part of who we are."
Unlike their ancestors, owners of Ole Smoky have gotten to practice their trade on the right side of the law as they proudly became the first federally licensed distillery in the history of East Tennessee.
Since being the first licensed distillery to open in East Tennessee Ole Smoky has experienced rapid growth. According to their website, "In early 2013 Ole Smoky quadrupled its bottling capacity to keep up with rising demand with the addition of a 20,000-sq. ft. facility near its original distillery, The Holler. Its products are now available in 49 states and Canada."
In addition to expanding its bottling capacity Ole Smoky has expanded from one to two Great Smoky Mountain locations for guests to enjoy their moonshine and experience its traditions. Visitors to the area can visit their home hub and distillery known as the "Holler" in downtown Gatlinburg that features a distillery, tasting bar and retail store or stop by their newest location in Pigeon Forge. Guests at this location can expect to see moonshine stills working away as well as talk with master distillers and sample some of the famous Ole Smoky Moonshine. In addition this location features live music and events.
Opened since October 2014, "The Ole Smoky Barn" is Ole Smoky Distillery's new outpost at the Island of Pigeon Forge. At 6,000 square feet, this location is a bit smaller than the downtown Gatlinburg hub, it still boasts a distillery, tasting room, merchandise and more. In fact the Pigeon Forge location, built on a corner lot, features a significant glass windows that allow 180 degrees of natural light to highlight the barnwood and similar finishes inside. Moonshine made at the Barn is jarred, labeled and sold onsite. Like the Gatlinburg location the Pigeon Forge venue has a stage featuring live bluegrass music.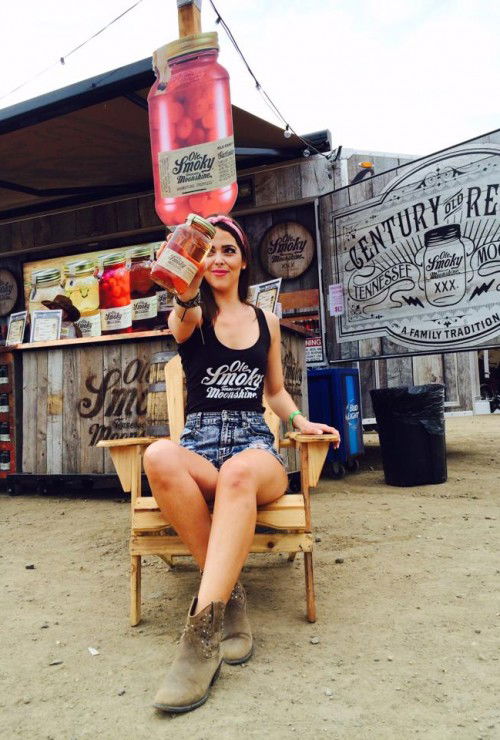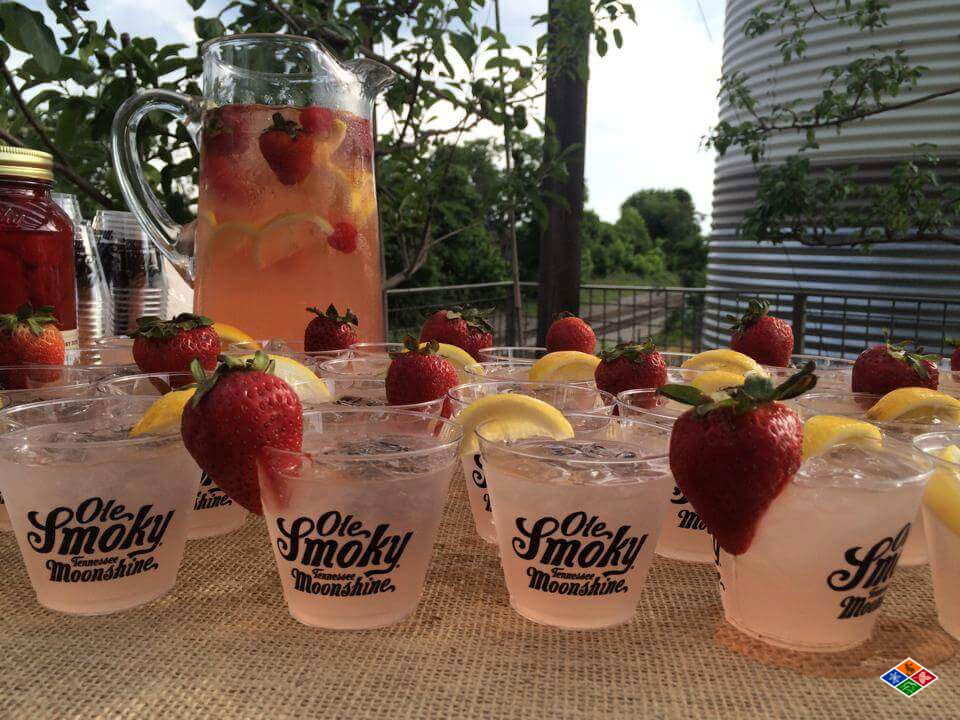 Since they have been in the business the longest in East Tennessee, it's no surprise that this distillery offers over 20 types of moonshine. Ole Smoky's current products include:
Six 100+ Proof Choices:
Ole Smoky Tennessee Moonshine Original "…hundred-year-old recipe produces a white whisky as smooth and bright."
Moonshine Cherries
White Lightnin' "…Made with 100% neutral grains intended to be highly mixable, White Lightnin' can spark up every cocktail. It adds a more striking shot than those ordinary options like gin or vodka"
Harley-Davidson Road House Customs
Blue Flame "…At 128 proof, it's clear, clean and exactly what moonshine should be…"
Moonshine Peaches
Six 60-100 Proof Choices:
Lemon Drop Lightnin' "a tart and tangy wonderful concoction that combines our White Lightnin' Moonshine with our favorite lemonade…"
Strawberry Lightnin'
Hunch Punch Lightnin' "…a delicious and potent concoction that combines our smooth moonshine with a summertime blend of juices from oranges, pineapples and cherries…"
Big Orange
Cinnamon
Apple Pie
Ten 35-60 Proof Choices:
Apple Pie
Blackberry "…blackberries create a smooth yet spirited flavor with a kick"
Peach
Pineapple
Sweet Tea
Pumpkin Pie
Shine Nog
Butterscotch "…Buttery and rich, this lip-smacking liquid goodness delivers a sweet and salty vanilla flavor that goes great over ice"
Pina Colada
Margarita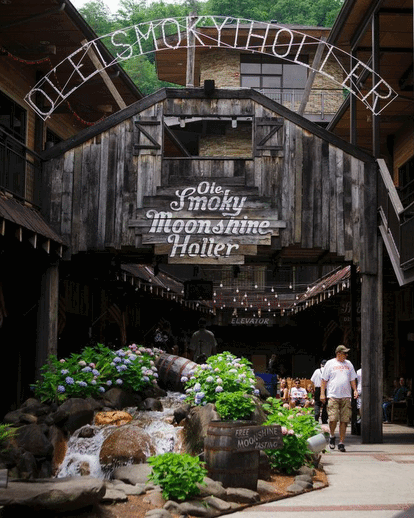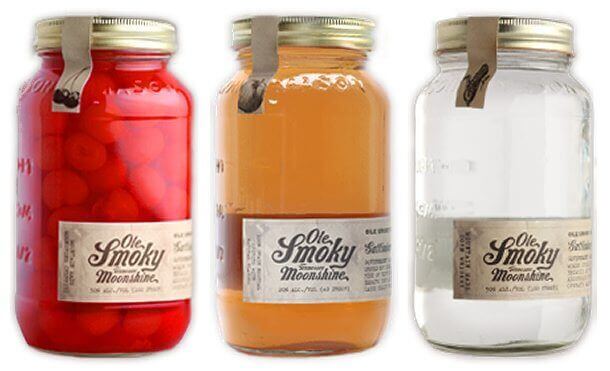 Venue name:
Ole Smoky Moonshine Holler
Address:
Ole Smoky Moonshine 903 Parkway Gatlinburg, TN 37738
Hours:
Monday – Sunday 10:00am - 10:00pm
Old Forge Distillery
Much like the pioneers that settled the Great Smoky Mountains area, Old Forge Distillery continues the tradition of making moonshine by using fresh stone ground quality grains in their distillation process. This combined with modern distiller knowledge and tried and true recipes, passed down for generations, helps create their quality product not to be missed.
Opened in 2014 Old Forge Distillery located is just near the original "Old Mill" in Pigeon Forge (now on the National Register of Historic Places) and begins creating distilled spirits using grains ground fresh from the Historic Old Mill.
Old Forge Distillery is housed in a historic barn that used to be a farm supply store. Guests will find copper column stills inside and watch as head distiller Keener Shanton creates his craft moonshine using pure mountain spring water and fresh-ground grains from the mill located nearby. According to their website, "Head Distiller Keener Shanton uses the art of vapor infusion to extract natural flavors and colors from roots, herbs, and spices when crafting the Tennessee Roots line, a series of innovative 80 proof small batch spirits."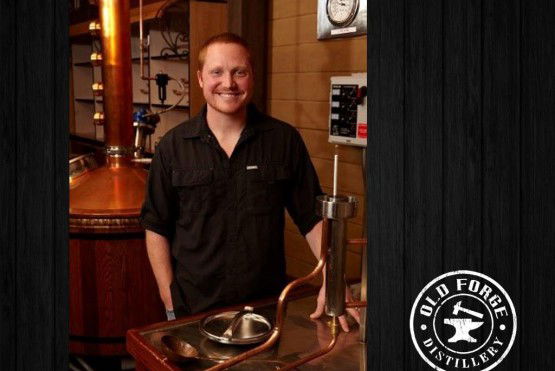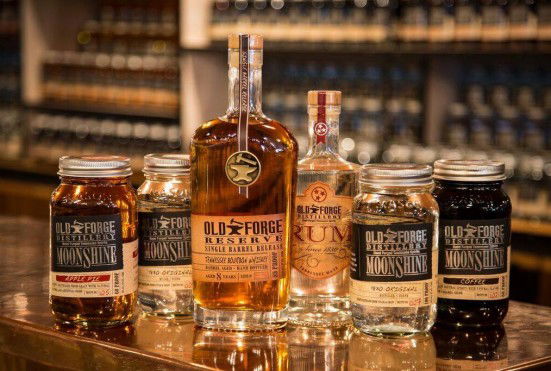 Guests to the distillery can saddle up to the Old Forge Tasting Bar, open daily, to taste some of this craft moonshine with unique flavored kinds such as: Chocolate, French Toast, and Coffee, inspired by recipes from The Old Mill Kitchens. Visitors can also enjoy browsing the store where hand forged knives and one-of-a-kind moonshine jugs handcrafted by Pigeon River Pottery can be purchased.
Old Forge Distillery current products include:
Three 100 Proof Choices:
1830 ORIGINAL Unaged Corn "stoneground premium Tennessee corn is distilled with pure, local Smoky Mountain spring water to yield a slightly sweeter, smooth, well-balanced moonshine"
1830 ORIGINAL Distiller's Blend "premium Tennessee corn, rye, and barley combined with pure Smoky Mountain spring water yields a complex, bold moonshine"
1830 ORIGINAL Miller's Blend "premium Tennessee corn, wheat, and barley combined with pure Smoky Mountain spring water yields a complex, mellow-tasting moonshine."
Six 60 Proof Choices:
Chocolate
French Toast "…sweet and spicy combination of cinnamon & maple flavors reminiscent of time-tested recipes straight from The Old Mill Restaurant."
Coffee "Premium roast coffee flavor inspired from imported coffee beans…"
Blackberry
Apple Pie
Peach- "Juicy peach flavor inspired by the handmade jellies at The Old Mill Kitchen."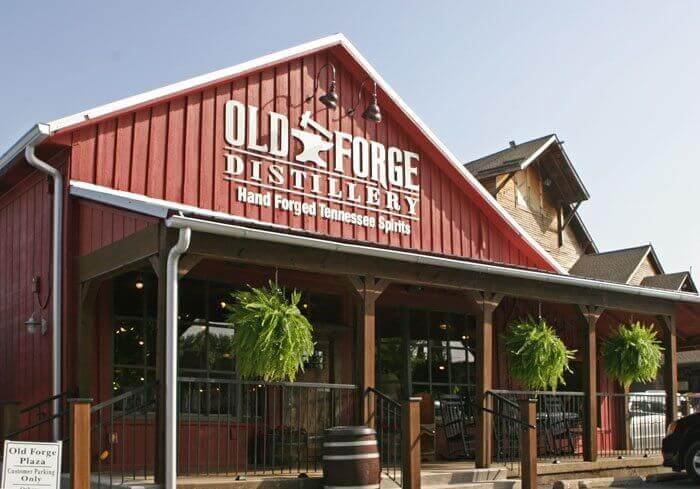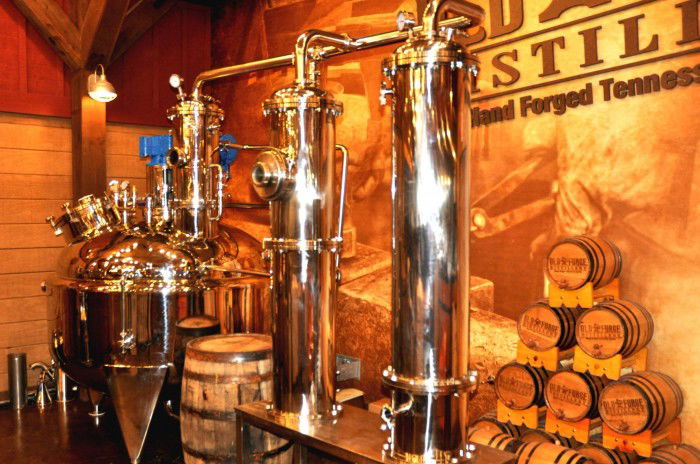 Venue name:
Old Forge Distillery
Address:
Old Forge Distillery 170 Old Mill Avenue, Pigeon Forge, TN 37868
Hours:
Monday- Saturday: 10:00 am - 9:00 pm | Sunday: 11:00 am - 6:00 pm
Sugarlands Distilling Company
Guests to Sugarlands Distilling Company not only have the opportunity not only to sample and some of the best moonshine the Great Smoky Mountains has to offer, but they get to be a part of a true Appalachian experience. This distillery in downtown Gatlinburg performs the age-old craft of distilling fine Sugarlands Shine. Its authentic spirits, barn-house location, and first-class entertainment offer visitors the complete Tennessee moonshine experience. Sugarlands Distilling Co. is a proud, locally owned, community–minded, "give-back" brand.
Opened in March of 2014, Sugarlands Distilling Company was founded by a group of people from East Tennessee who have a passion for distilling spirits, and a passion for the history and culture of the area. The founders wanted to create a distillery that not only produced quality spirits, but also served as a popular destination for travelers and locals alike.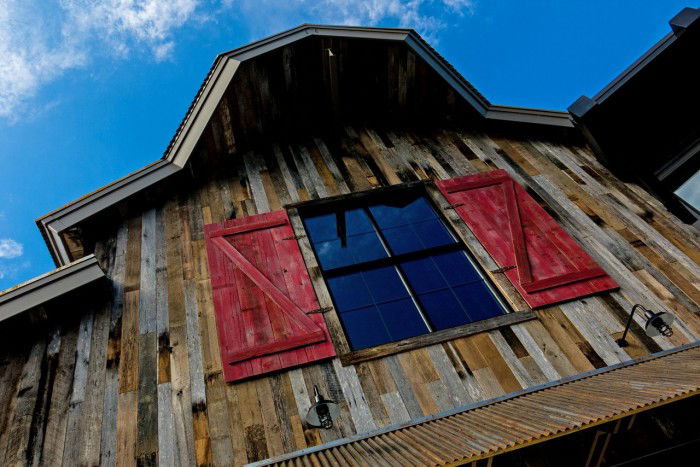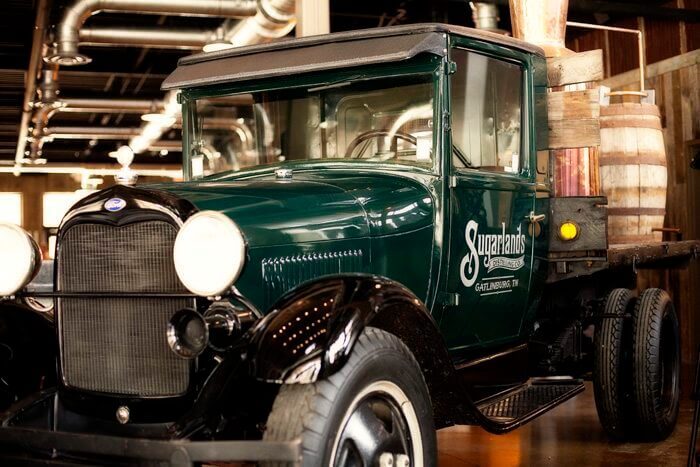 Thus, in addition to behind-the-scenes distilling tours, this distillery and store offer Appalachian storytelling, live music events and outdoor adventure tours to the local Sugarlands region, an area of the Great Smoky Mountains National Park, historically known as "moonshiners' paradise." As Jay Miller -Public Relations Coordinator for Sugarlands Distilling Company describes, "One way we express our connection to the history of the area is by providing guests with live bluegrass, country, and Americana music on our Back Porch Stage. We keep our calendar filled with regional and national musical acts, as well as talented local favorites. We highlight styles ranging from Appalachian Americana, old-timey, bluegrass pickin' jams to folk, acoustic, and singer-songwriter. The Back Porch is also home to the Smoky Mountain Storytellers Association, which brings tale tellers to the stage from as close as our backyard to the world over. To see a full list of upcoming events, visit our Happenings Page, here."
In addition, the company recently partnered with local moonshining legends Mark Ramsey and Digger Manes. The duo will join Jim Tom Hedrick, Steven Ray Tickle, and Mark Rogers as the newest members of the Legends Series. All five 'Legends' have starred on the hit Discovery Channel program Moonshiners.
All of these parts make Sugarlands a true destination experience for good moonshine and more. As Jay Miller continues, "We would like visitors to know that our distillery is a place they can visit anytime to have a genuinely good time. Although our free moonshine sampling is for adults over 21-years-old only, there is something for everyone to enjoy daily at the distillery. The distillery is a popular attraction where guests are invited to take behind the-scenes tours of the production, and purchase a variety of moonshine flavors, mountain merchandise, and apparel…The distillery in downtown Gatlinburg is currently ranked as the best distillery experience in the United States by TripAdvisor.com, and is #2 internationally, behind only Guinness…"
The distilling process at Sugarlands is nothing different than one would find in the early 20th century in the mountains just outside of Gatlinburg, Tennessee. (In fact, the name of the company was derived from an area near the distillery called, the Sugarlands-known for moonshine making).
Sugarlands Distilling Company uses only artisanal stone mill grinds grains in their products—like corn and rye. The meal made from these grains is then mixed with pure Smoky Mountain water and moved to their giant cooker. From there, the liquid is transferred to the fermenter to simmer for a few days. When the time is right that "wash" is pumped into the copper pot still, where it is heated and distilled. The alcohol vapor filters through the copper pipes and rises up through the plates of the distillation column, down through the chilling column to cool, and is finally poured out of the Spirit Safe. For an in depth explanation of this process visit their website.
Currently, Sugarlands Distilling Company offers more than eleven varieties of Sugarlands Shine and has implemented an ambitious whiskey project that aims to offer a variety of craft whiskeys beginning in 2016. Already their products have won 20 awards internationally in less than two years of operation. As Miller expounds, "Our distillers are masters of their craft, and have a passion for creating quality spirits not easily found elsewhere. They blend time tested recipes, passed down for generations, with the benefits of modern technology and superior ingredients. The desirability and appeal of our moonshine has been proven time and time again at domestic and international spirits competitions, where our moonshine has earned 20 awards since 2014."
Sugarlands Distilling Company current products include:
Two 100 Proof Choices:Silver Cloud "…starts with the subtle and authentic sweetness of fresh Tennessee corn and cane sugar then steadies itself into a soft, uniform flow and finishes with a crisp and polished kick familiar to shine drinkers everywhere."
Jim Tom Hedrick's Unaged Rye "…an earthy balance between spicy rye and toasted grains, yet packs a potent enough punch to keep you sippin'."
One 80 Proof Choice:
Mark & Diggers Rye Apple "…an exquisite invention from the hills of Tennessee. The spirit will fill your nose with nutmeg, allspice, and apple pastries. The taste will have you bobbing for Golden Delicious and Gala apples in a full-bodied, spicy river of rye"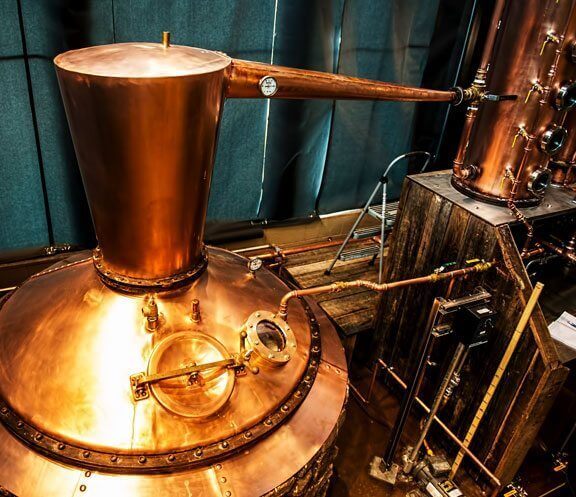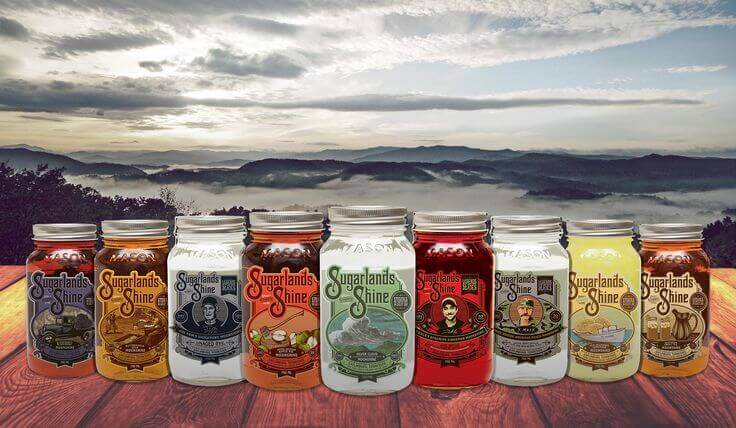 Two 70 Proof Choices:
Mark Rogers American Peach "boasts the natural taste of ripe summer peaches with a refined 70 proof moonshine. The result is a taste as rounded and velvety as a ripe summer peach ready for pickin'."
Tickle's Dynamite Cinnamon Moonshine "starts off sweet and ends with some heat. The drink meets the mouth like a candy coated hot coal and works as a spicy shot or a kick to any cocktail."
One 50 Proof Choice:
Appalachian Apple Pie "serves up zesty taste of fresh baked green apples between two layers of shortbread, accented with a lemon zest. The fresh snap of green apple rounds out into a quick citrus finish with a lingering caramel cushion."
Six 40 Proof Choice:
Butterscotch Gold "…brings out tastes of brown sugar, caramel, and vanilla that informs memories of kettle corn at the county fair. Slight hazelnut notes and a lingering cream flavor contribute to a long finish that cannot last long enough."
Blockader's Blackberry "…lends the natural flavors of ripe berries with the floral fragrances of honeysuckle and lavender that uniformly flows across the tongue for a long, nectarous finish. Also mixes well with your favorite cocktails."
Old Fashioned Lemonade "…meets the tongue with a lively citrus zest that warmly gives way to the sweetness of fresh lemonade, finishing with a vibrant bite of summer sunshine."
Southern Sweet Tea "…a balanced mixture of two traditional southern beverages: sweet tea and moonshine. Real cane sugar rounds out subtle pepper notes resulting in a sweet black tea with a pleasantly moderate bite."
Peanut Butter & Jelly "…Taste the fruity burst of concord grape jelly balanced out by delicious peanut butter (creamy or crunchy depending on your persuasion). It's a classic comfort combination shouting "howdy" to your inner child. It's nuts!
Blueberry Muffin "…tastes like newly picked blueberries buried in a freshly baked pastry with a hint of candied lemon peel."
Going above and beyond just making authentic and quality moonshine, Sugarlands Distilling Company is dedicated to giving back to the local community that has preserved this moonshine heritage. In the first year of operation founded their giveback program, MoonShare. As Jay Miller explains, "MoonShare is a nationwide giveback component of Sugarlands Distilling Co. that helps nonprofit organizations positively influence their communities through MoonShare grants, fundraisers, and donations. In 2015 alone, Sugarlands Distilling Co. donated $60,000 to nonprofit organizations across the country. Each month one organization was selected by the public to receive a $5,000 Moon Share Grant to put toward a charitable cause."
Venue name:
Sugarlands Distillery Company
Address:
Sugarlands Distillery Company 805 Parkway, Gatlinburg, TN 37738
Hours:
Monday - Thursday: 10:00 am - 10:00 pm | Friday & Saturday: 10:00 am - 11:00 pm | Sunday: Noon - 7 pm - Summer Distillery Hours Start May 22: Monday-Saturday: 10:00am-11:00pm | Sunday: Noon-7:00pm
Doc Collier Moonshine Distillery
Located in downtown Gatlinburg at traffic light #3, Doc Collier Moonshine Distillery boasts, "Gatlinburg's finest shine." This shop is set up just like an old country store, was created as a replica of the mercantile store where Doc Collier's Daddy originally sold moonshine.
While no official tours are available, due to the small size of this distillery, visitors can see some of the real equipment used by William "Doc" Collier and his family to make their legendary moonshine up in the mountains.
Doc Collier Moonshine is made with simple family recipes using corn, sugar and fresh English Mountain Spring Water attained right down the road from their partners-English Mountain Spring Water Company.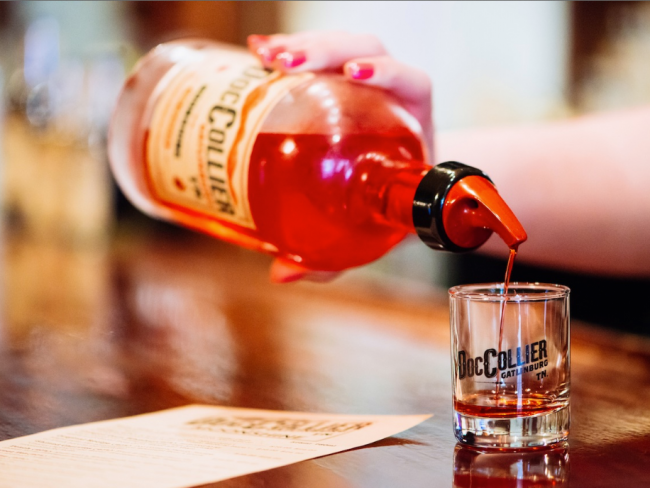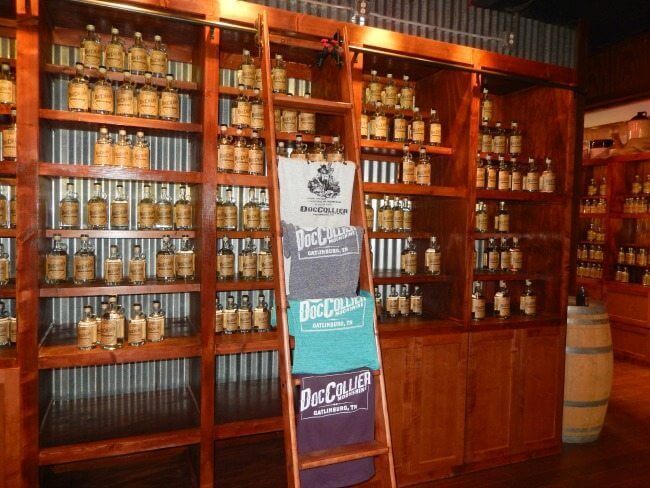 Visitors to the Shine Shop of legal drinking age are welcome to sample products at the store before purchasing them.
Doc Collier Moonshine current products include:
One 100 Proof Choice:
Moonshine Brandy: This limited run product of moonshine brandy uses local wine from the Rocky Top Wine Trail
Five 80 Proof Choices:
Unaged Corn Whiskey: Referred to as "Corn Liquor" or "White Lightning" this American spirit is produced from Corn, Water and Yeast
Original Recipe: Their signature Doc Collier's Family Recipe
'Shined Cherries: Fruit is imported from the "Cherry Capital of the World" Traverse City, MI. Soaked in moonshine for taste
Rum: A spirit distilled from Sugar Cane
Vodka: A form or European "Moonshine"
One 65 Proof Choice:
Firecracker: Their version of a Cinnamon Moonshine
Four 40 Proof Choices:
Peach: Made with a White Peach juice which was chosen for its sweetness and low acidity
Sweet Tea: Black Tea Leaf and Cane Sugar
Apple Pie: This ain't your Grandma's Dessert! Made with Red Delicious Apple Juice, Cinnamon, Nutmeg and Vanilla
Blackberry: Produced with Blackberry Juice, a little Sweet and Tart in taste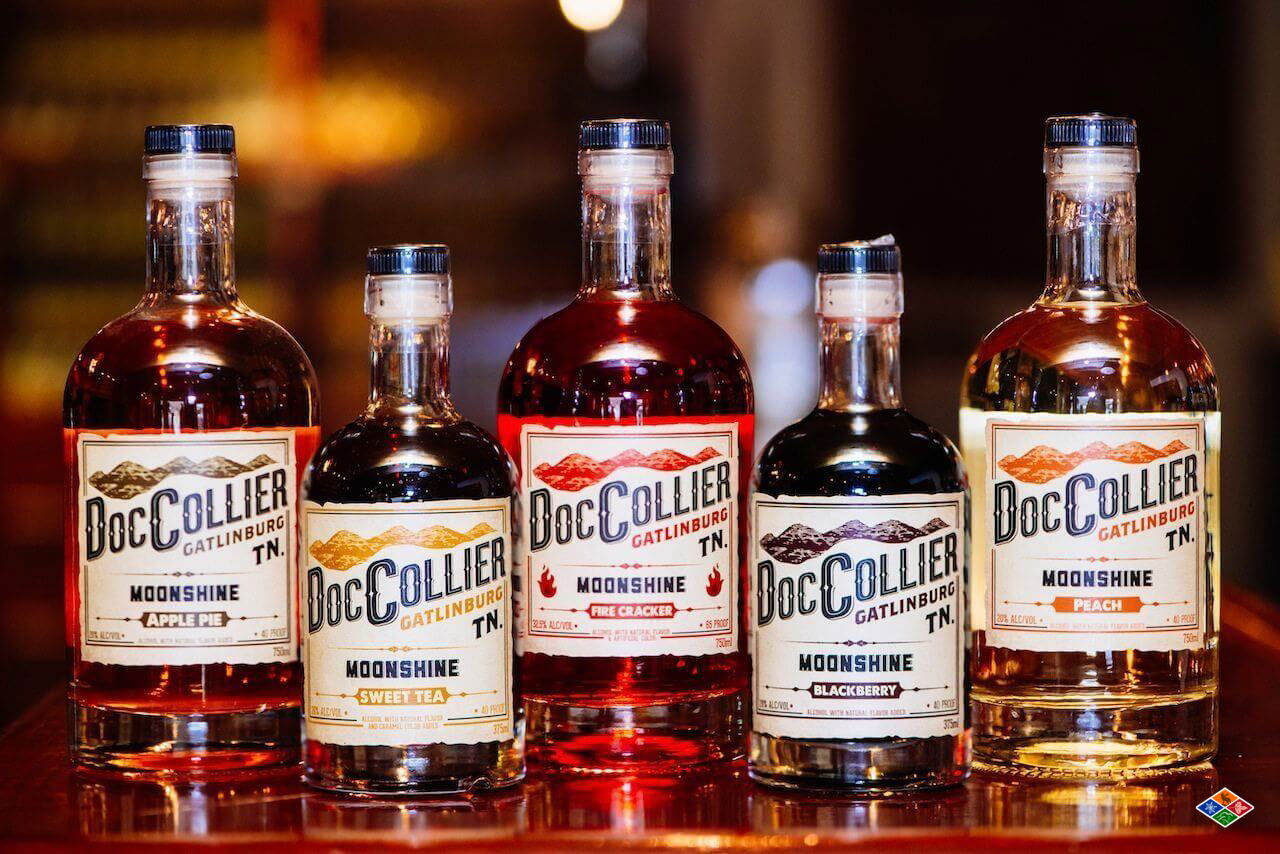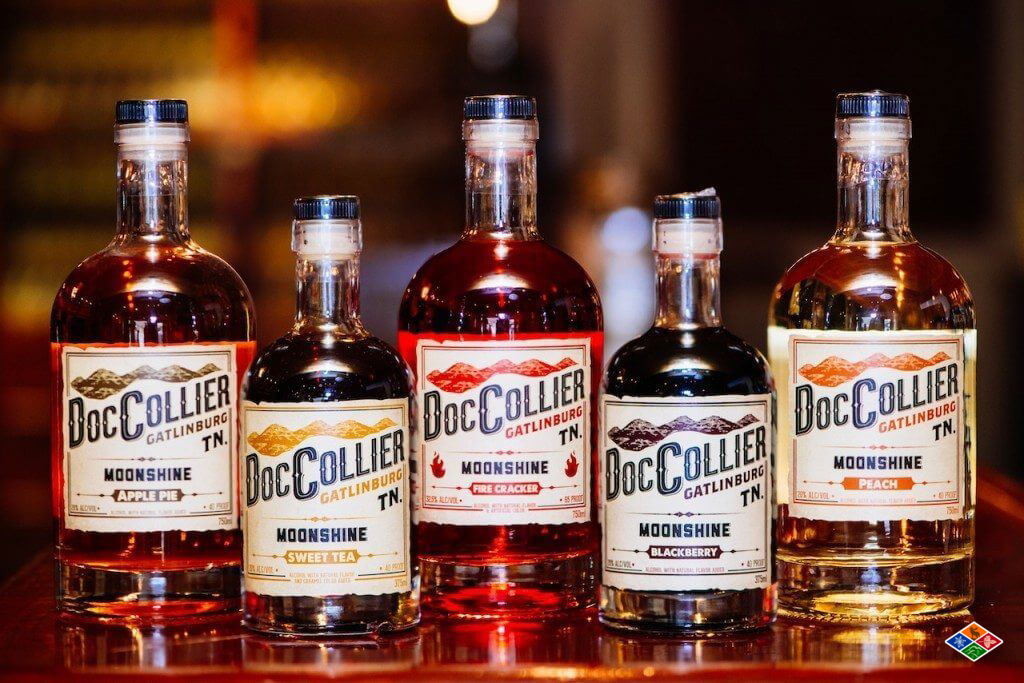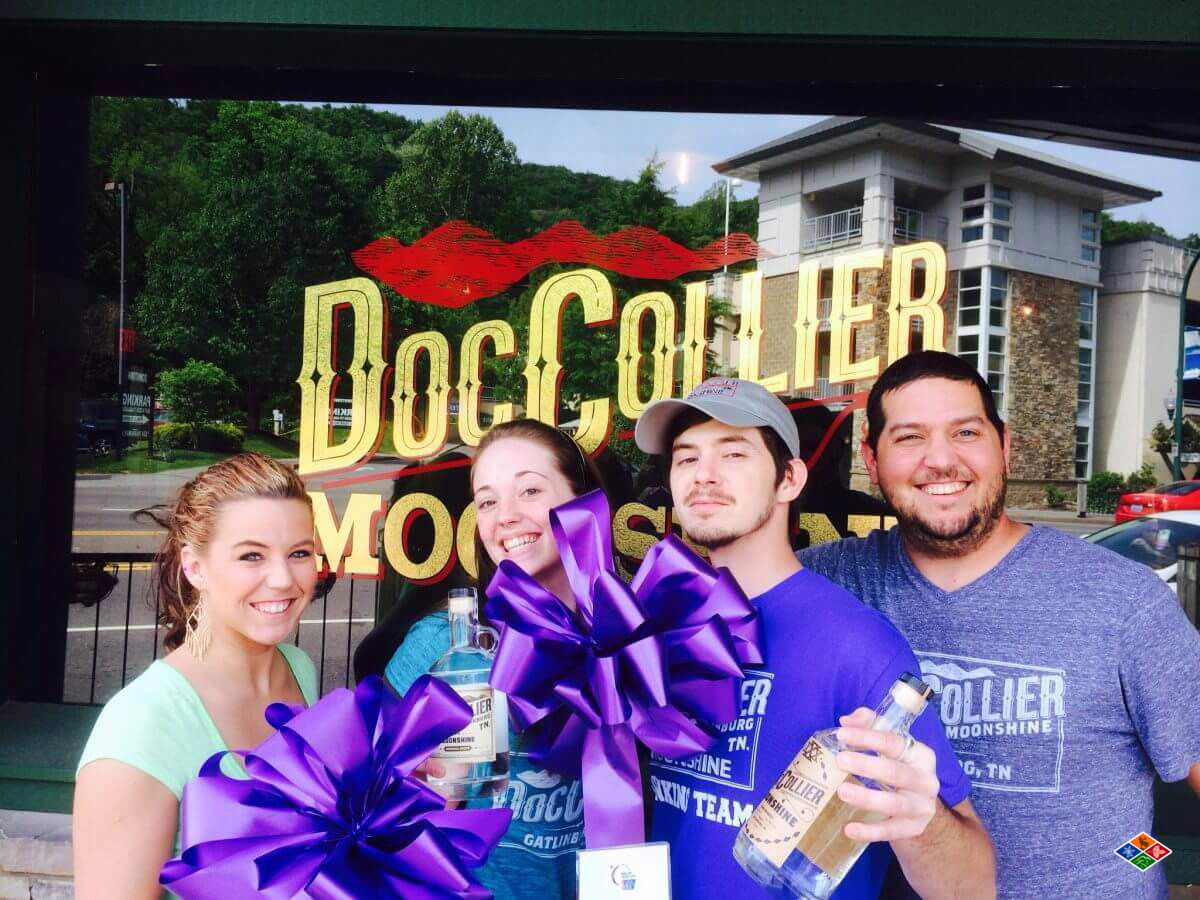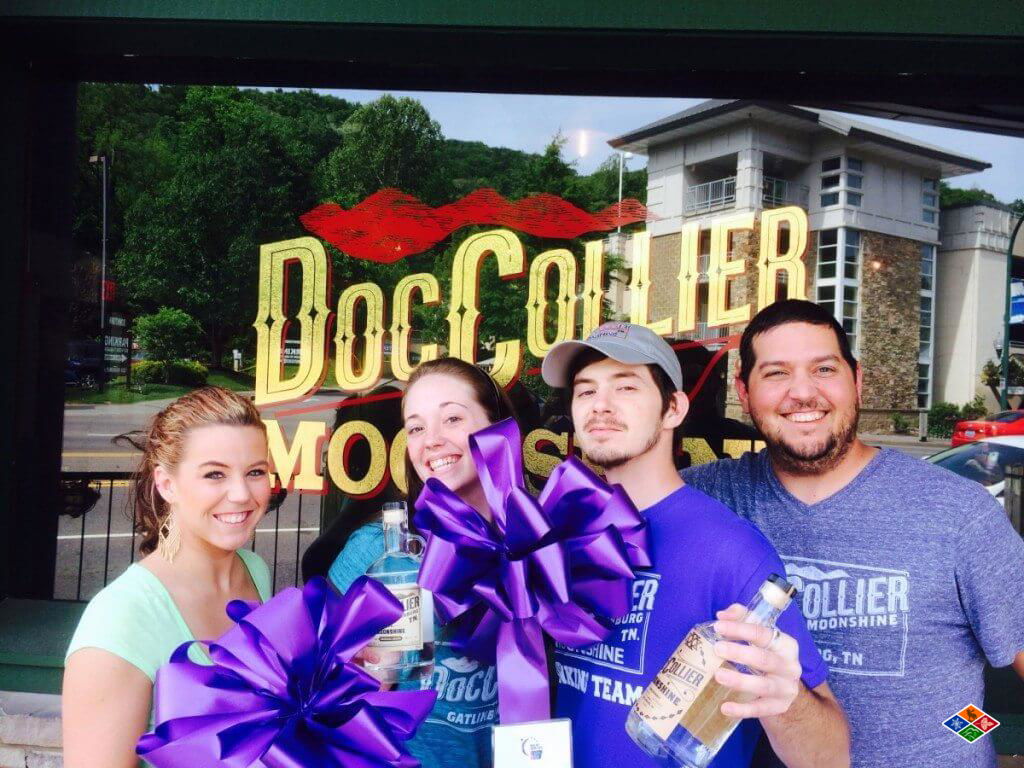 Venue name:
Doc Collier Moonshine Distillery
Address:
Doc Collier Moonshine Distillery 519 Parkway Gatlinburg, TN 37738
Hours:
Monday – Thursday 10:00 am – 9:00 pm | Friday & Saturday 10:00 am – 11:00 pm | Sunday 12:00 pm – 7:00 pm
Asheville Distilling Company: Troy & Sons
Opened in Asheville, North Carolina in 2011 Asheville Distilling Company Troy & Sons products are handcrafted American whisky is truly an artisan craft from start to finish. Not only does this distillery use heritage grains and corn from the local McEntire Family, but each step in the process has been tried, re-tested, and perfected to create a superior and quality final product for customers to enjoy.
Owner and distiller, Troy Ball got her start in moonshine legitimately, well alongside real moonshiners of Western North Carolina. "I became interested in moonshine when bought some land down in Madison County. Some of our kind neighbors started bringing us moonshine. I didn't like it at first, but the neighbors said 'they keep the good stuff at home."  
As Ball attests, "When I finally tried the 'good stuff' it was entirely different than any other moonshine I had tasted before, much smoother, nicer, easier to drink.  I had some girlfriends over and we shared "the good stuff" with them and they loved it. This piqued my interest. I wanted to learn more about how it was made."
This is where the dream was born.  After coming to the realization that you couldn't find this "keeper" moonshine at a liquor store Ball set out on a quest to make it herself.
After some inquiries about wanting to learn to make moonshine one of Ball's neighbors in Madison County introduced her to a man that agreed to take her under his wing and show her the process. She was also introduced to another guy who taught her how to build a still and create high-quality product.
As Ball describes, "After my training we fabricated a still at our home and my love of moonshine making began!"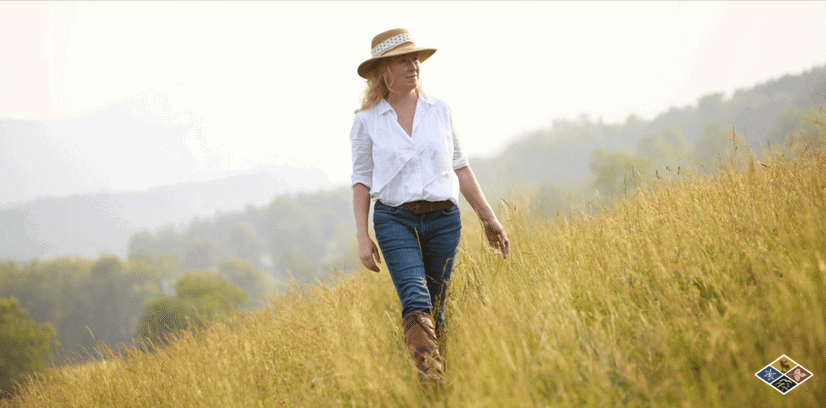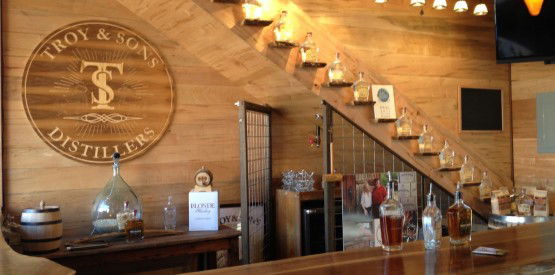 Before even opening Asheville Distilling Company, owner Troy Ball worked out of a barn in Old Fort to perfect her distillery's recipes. During this time in the Old Fort barn Ball tested many different types of recipes acquired from the North Carolina State Archives and residents from Madison to McDowell counties. As she describes, "This was our training ground. We tested our recipes on three different types of stills. We tested sprouted grains versus none, using sugar versus not, different types of corn, different milling techniques, and much more. I recorded and logged our results, and we use only the best recipes and methods in our recipes today!"
The excellence of Troy & Sons products comes not only from this great attention to detail and process that the distillery has honed, but also by using the finest ingredients. Before even beginning her test runs Ball partnered with John McEntire to use some of their heritage grains in the creation of her moonshine. The Asheville Distilling Company uses some of the McEntire family's rare Turkey Red Wheat and White Corn which has been cultivated for over two-hundred years. The Turkey Red Wheat is a rare grain which is delicate and sweet, and a challenge to grow. However it yields a softer, velvety tone in its whiskey products. While the white corn is known for being high in fat, yet short of sugar, a quality Asheville Distilling Company prizes in their recipes.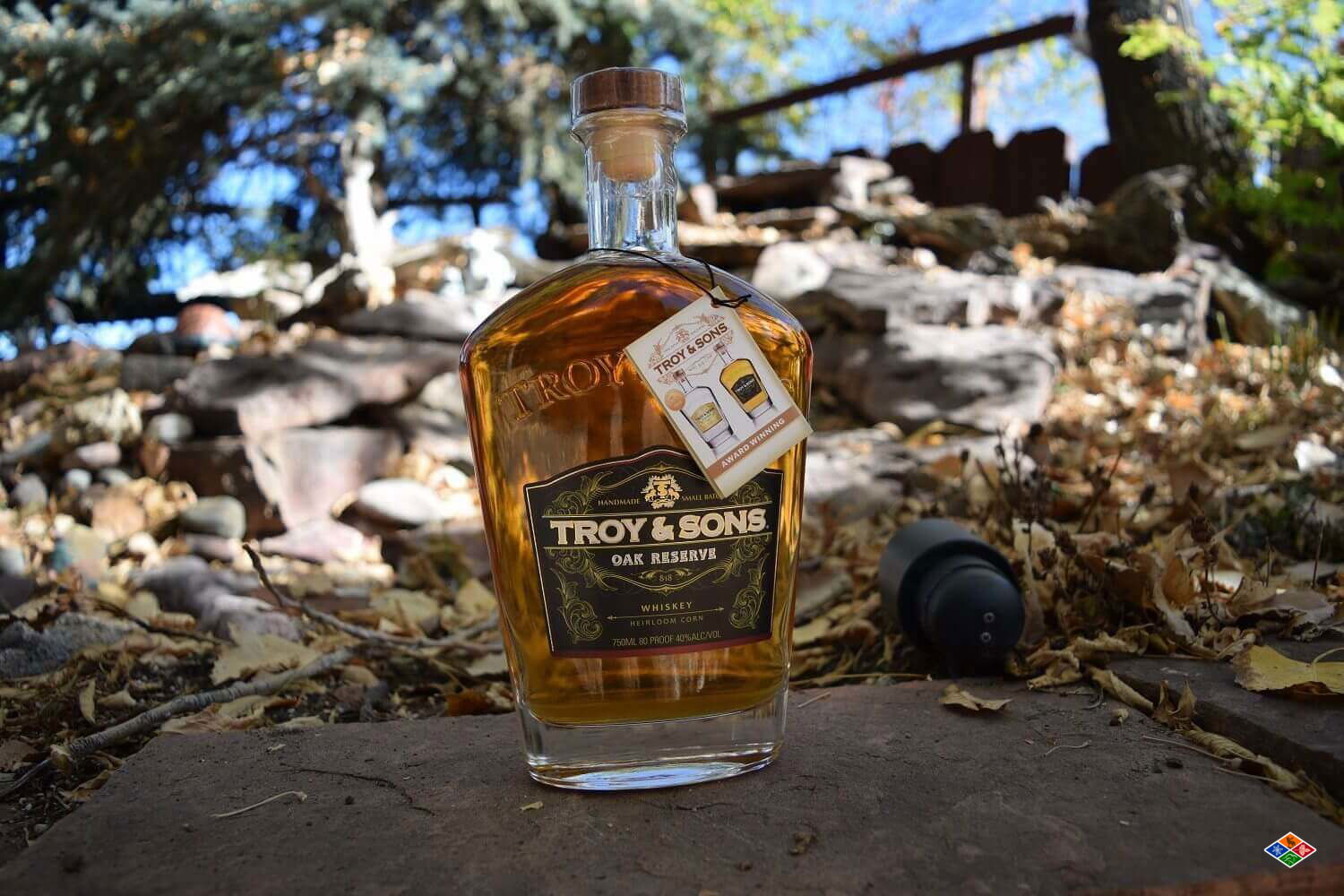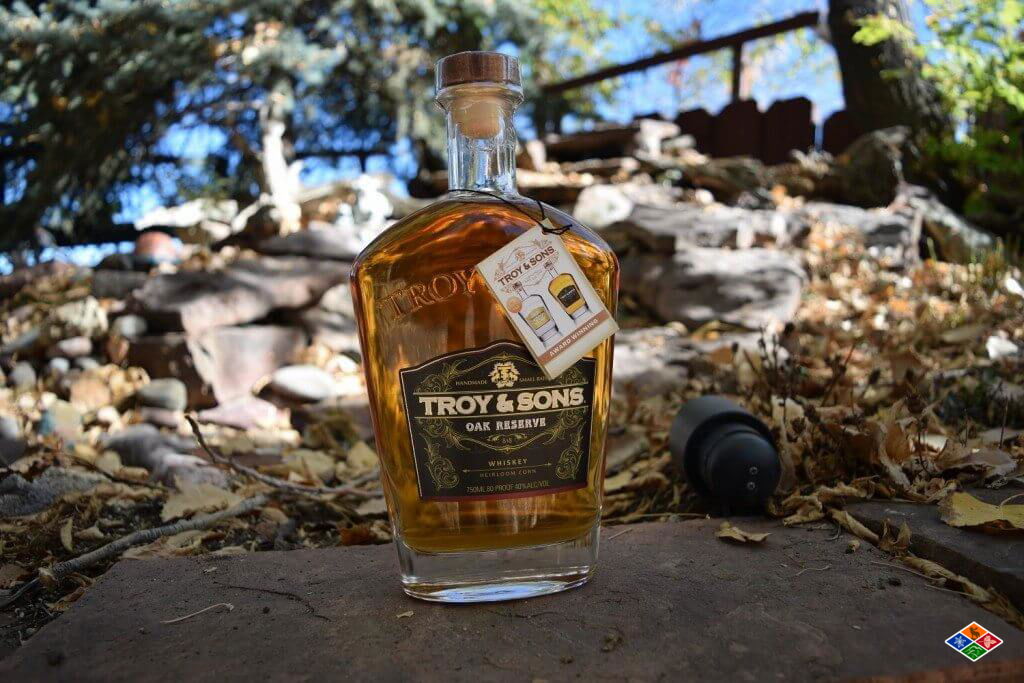 The distillation process and the products it creates are also very important to Asheville Distilling Company. You won't find the "Heads" or "Tails" of the distilling process in any Asheville Distilling Company products. The heads are the very first liquids to be distilled during this process, while the tails are the very last. Instead customers can savor the best, highest part of the whiskey distillation process known as the "pure hearts." As Ball explains, "The hearts is the whiskey at its purest state. This was the old man had brought me in Madison County, the high quality. You don't get the burn you get from most whiskeys. It's smooth, clean and absent of bite."
In their ardent effort to produce the highest quality product Asheville Distilling Company also uses a custom built still, constructed in Germany. This used in combination with the purest of Appalachian Mountain Spring water and a controlled temperature of one hundred and eighty degrees help create the quality product.
As Ball explains, "Asheville Distilling Company bottles all of our spirits at 80 proof, like a lot of Kentucky Whiskeys."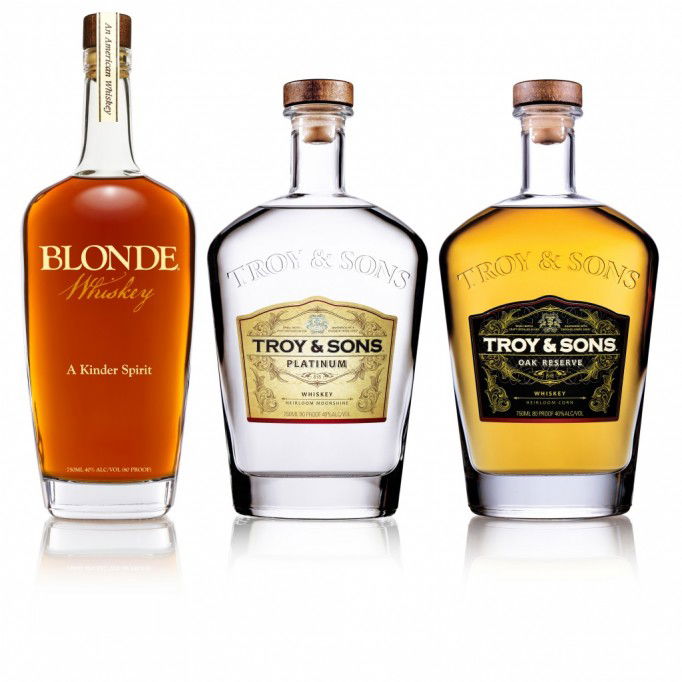 Troy & Sons current products include:
Five 80 Proof Choices:
Platinum-White Whiskey One of the finest moonshine in North America, owner Troy Ball explains, "It has a cult following in cool restaurants and dives nationwide. People have really love it and understand the quality of this product and how it's made."
Blonde Whiskey Made with rare heirloom Turkey Red Wheat and White Corn, grown on Peaceful Valley Farm in the lowland hills of Western North Carolina, the whiskey is more of a strawberry blonde in color. According to the Whiskey Review, "[This whiskey] has a strong oaky aroma that fades into light fruit, vanilla and maple notes."
Oak Reserve This whiskey is aged in bourbon barrels bringing forth flavors of caramel and sweet white oak and further enhancing the trademark smoothness you expect from Troy & Sons. Like our Troy & Sons Platinum, it is made with heirloom white corn and pure Appalachian spring water, and it gets its golden color from being the charred oak barrels.
Nectarine Whiskey The perfect spirit for summer cocktails, this fruit infused whiskey is one of Troy & Sons newest whiskey products.
Cinnamon Whiskey This spice infused whiskey will add a bit of heat to mixed drinks and warmth of spirit!
Venue name:
Asheville Distilling Troy & Sons
Address:
12 Old Charlotte Hwy, Suite T, Asheville, NC 28803
Hours:
Tours - Friday & Saturdays: 5:00 pm & 6:00 pm
Howling Moon Moonshine
Maggie Valley, the home to Howling Moon Moonshine has long been a place for legendary moonshine making. Home to many famous moonshiners such as Lewis Redmond and Popcorn Sutton, it's fitting that a micro-distillery should open in this parts, the only difference is this shine is legal.
In fact for owner Cody Bradford moonshine making runs thick in his blood. As he explains, "My family has made moonshine for hundreds of years.  I am from Burnsville, N.C. and my family roots go back here to the 1700's.  We have a lot of Scotch-Irish heritage…they [Scotch-Irish ancestors] brought their stills with them as that was a big part of their culture.  I actually use part of the still my great grandfather used and passed down through the family here at Howling Moon."
Not many distillers can claim the direct connection to moonshining roots that Cody Bradford does. He actually lives on part of a six-generation farm his early ancestors settled on. If anyone doubts Bradford's true connection to bootleggers, he's got proof. One his family members, Andy Bradford was actually busted and carted to jail for selling moonshine and his grave is still sits on the land Cody lives on today.   (To learn more about the Cody's family and Appalachian history see part of the "The Mountain Elder wisdom Project" segment to be featured in a documentary. The first in the series is available for sale at this website and it is called "The Land Still Speaks to Us")
Made with traditional family recipes, Howling Moon Moonshine is steeped in a legacy of the tried and true practiced art form of moonshine making. As owner and distiller Cody reiterates, "I want to continue the tradition by making traditional moonshine with family recipes…We can trace our recipe back over 150 years, when everything was hand made in these mountains with pride. We are as authentic as it gets.  We use oak barrels, a real moonshine still, local corn stone ground at a local mill, and we recycle our spent mash by using it as hog feed like moonshiners have done for generations." It wouldn't be true moonshine if it wasn't made in a still and Howling Moon uses stills based down to Cody through his family. As Cody continues, "My dad, uncle, grandfather, great uncle, great grandfather, and many cousins made moonshine.  I have several small stills that were passed down from various sides of the family.  One is very old and has a wooden top and bottom like a wooden barrel and the sides are made out of copper.  I decided to go legal with the family business now that it is legal to do so."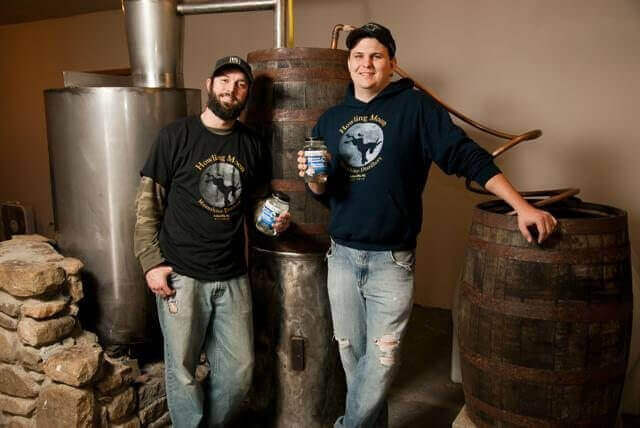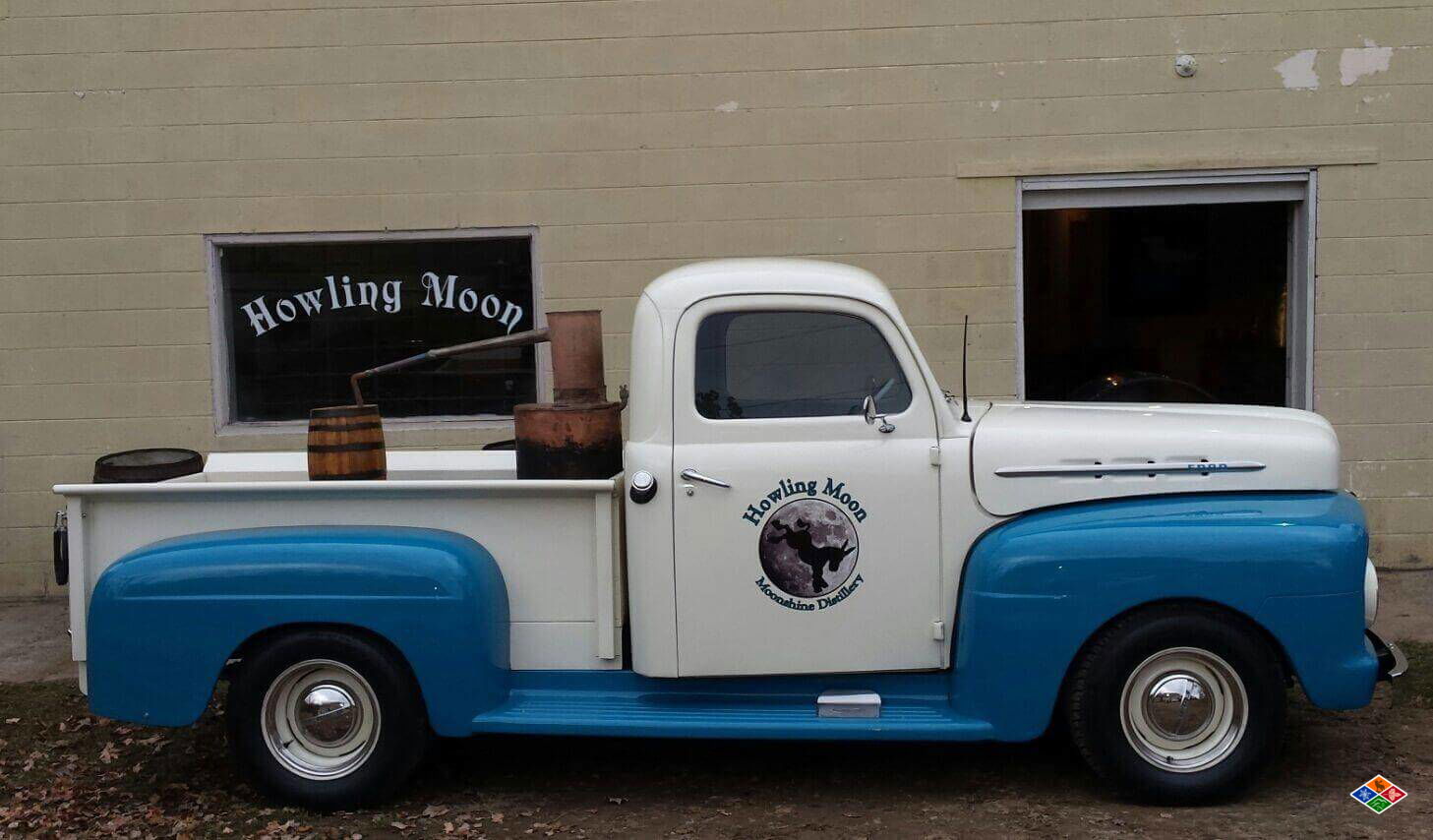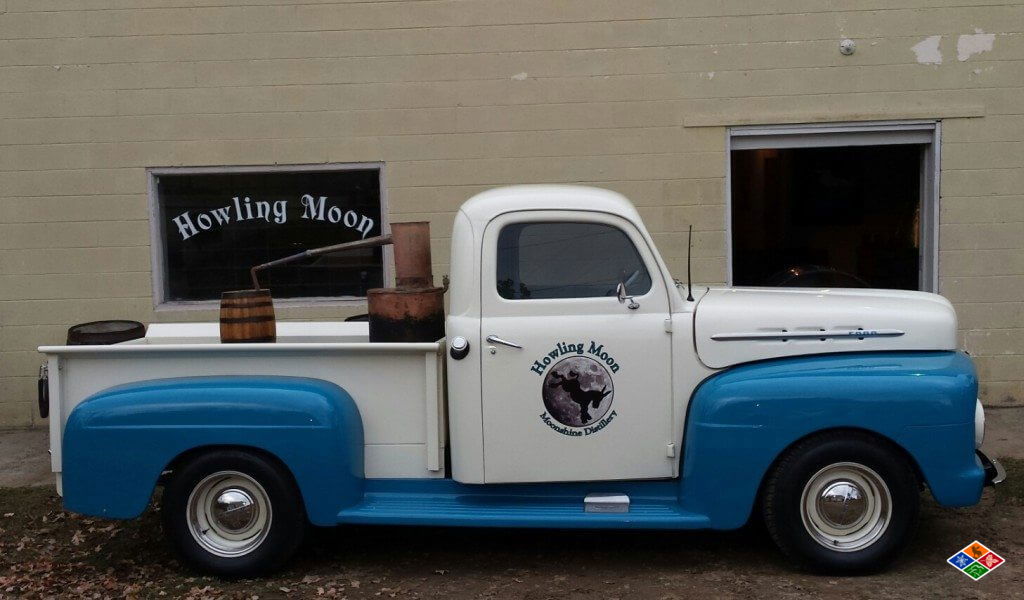 Using all natural ingredients in every step of the process, Howling Moon proudly makes its moonshine in at true moonshine still with fresh and natural ingredients, hand crafted not store bought, just as it would have been done over a hundred years ago. Classified by the government as a "distilled spirit" Cody has made a once outlawed family tradition and trade legit for the first time.
In addition to using traditional moonshine stills, Howling Moon also does not add artificial flavors to try and get a moonshine flavor or fruit flavor. As Cody explains, "Our stills do not strip the alcohol of its flavor and you can taste a sweet corn flavor in our moonshine. Our flavored products are made from our white moonshine. We just add real fruit and age it until it takes on the right color and flavors. We do not use any artificial flavors or colors in any of our products. Our distilling process is not as efficient and our yields are lower, but we are going for quality and authenticity not quantity. We have to know what we are doing and that is information that was passed down through generations and is not in any book on distilling you can buy today."
Determined to maintain their high quality and continue the love and care that goes into each batch, Howling Moon is still a smaller distillery only selling their products in North Carolina. In addition, their micro distillery does not offer tours at this time. You can purchase their moonshine at The Moonshine Grille.
Howling Moon current products include:
Three 100 Proof Choices:
Apple Pie Moonshine Howling Moon's bestseller, this 100 proof Mountain Moonshine is aged with apples and cinnamon and is all natural. As described in the Charlotte Observer: "Howling Moon Moonshine…The apple-pie version smelled of cinnamon and tasted of apples, but the drinker still knows it is moonshine."
White Moonshine This 100 proof white corn liquor is a bronze medal in the 2014 San Francisco International spirits competition. And according to the Charlotte Observer: "…[has] a clean smell with an initial sweet taste and a hint of corn at the end. It is a friendly, not overpowering, moonshine that would be good mixed or straight."
Strawberry Moonshine This 100 proof Mountain Moonshine aged in strawberries. It is all natural as well.
One 80 Proof Choice:
Moonshine Whiskey This is an 80 proof blended whiskey.