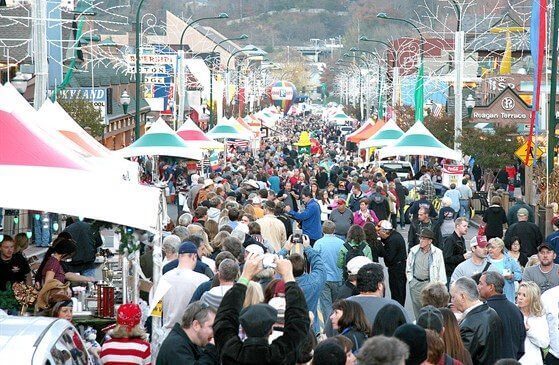 After this long difficult winter has gripped the entire country people are ready to come out of hibernation and get ready to shed some layers for spring. What better way to do that than a visit to Gatlinburg for SpringFest 2011? You have three months to enjoy SpringFest – from March 11 to June 6.
The Gatlinburg Department of Tourism joins forces with local merchants to celebrate this season in style each year by planning a variety of events for your family to participate in. To begin, you can walk down the main streets of the city and see thousands of flowers in baskets to brighten your mood. Take delight in the tulips, pansies, wave petunias, lantanas and so much more that add vibrant color and a gorgeous scent to any stroll downtown. On the nicer days you can even enjoy live entertainment that can be found right on the sidewalks of the Parkway, making even a casual walk downtown that much more exciting.
In April the crowds really start packing the Parkway for warmer weather and the Easter holiday. Make sure to remind yourself about the Easter Arts and Crafts Show held every year at the Convention Center by the Great Smoky Arts & Crafts Community. On Easter Day join the locals as they gather at Ober Gatlinburg to take in a sunrise service that is absolutely beautiful and inspiring. Just a few days later you can fill up your bellies at Gatlinburg's Ribfest & Wings that bring chefs and wannabe chefs from all over the South to this quaint mountain town.
Although there is so much more to enjoy during SpringFest we just wanted to give you a little teaser, wetting your appetite for everything that you can take part in while staying in your luxury Gatlinburg cabin rental. If you are ready to get into the mountains, breathe in that fresh mountain air and get your mind, body and soul ready for the warmer months then call or email us now to secure your favorite cabin for the spring season.