Gatlinburg Zip Lining
Imagine soaring over and through lush treetops with a bird's eye view of the dense forests and surrounding Great Smoky Mountains. Zip Lining, currently one of the most popular adventure sports worldwide, gives visitors to the Great Smoky Mountain a chance to experience the wonder and awe of the majestic mountains on a whole new level. There's nothing that quite compares to the thrill of zipping over and into one of the most bio-diverse places in the country (over 16,000 species of flowering plant and 66 species of mammal).
Zip Lining is sure to get your blood pumping and adrenaline flowing as you fly down mountains. It's an experience not to be missed during your Smoky Mountain vacation.
WE ASKED AREA ZIP LINING GUIDES/SPECIALISTS WHY ZIP LINING IS A MUST ON YOUR SMOKY MOUNTAIN VACATION AND HOW TO CHOOSE THE BEST ONE FOR YOU:
Marketing Director for Foxfire Mountain Adventure Park Mike Williams notes: "Zip Lining is a wonderful family experience for families and individuals. We have had guests as young as 6 and as old as 80. When you zipline you feel like you are actually flying through the air. [It] is a unique experience and one everyone should experience at least once."
As Andrew Wagner-PR/Marketing Director for CLIMB Works advises, "Zip lining is a must. …[It's important to] match the right zip line to the experience that you want to have. If you're limited on price and time you may want to choose a zip line that is short in duration but those tend to provide you a view of a parking lot or field. Whereas, if you have more time and higher budget that will allow you an experience to see the national park for a number of hours.
Smoky Mountain Zipline Guide Director, Part-owner and operator Ross "Bodhi" Ogle urges, "Ziplining is an experiential activity as opposed to just a vacation attraction. By this I mean, that when you get geared up into a harness and go on tour with trained guides that are not only entertaining, but safety conscious, you leave our property or many of the other ziplines in the area with a sense of accomplishment and a memorable experience. Ziplining is much more than a thrill ride down on the parkway, [It's a] high-flying family adventure that can be shared across the generations!"
Kevin Griffin, Marketing Director for Perry Smith Developments (Legacy Mountain and Adventure Park Ziplines) adds, "Zip Lining is a must because it allows families to pause and be with one another. In the busy world we live in parents don't always get to spend quality time with their children or each other for that matter. When you see a family member having fun, ziplining above the trees, seeing them doing something you never thought they would it really is amazing. When a parent watches their 7-year-old zipline across an 1,800 foot line over the Smoky Mountains it really is an amazing sight to see.
Zip Lining History
All the rage, Ziplining began in Costa Rica and has swept around the globe and through the United States as the latest adventure craze. It began in the lush rainforests of Costa Rica; its no wonder Zip lining is so popular in the Great Smoky Mountains. A temperate rainforest in and of itself, it makes perfect sense that people would desire to explore and fly over this lush forest floor and canopy to experience as the inventors of this adventure sport first did in Costa Rica.
Zip lining originated not as a sport but as a necessary means for people in mountainous regions such as the Andes, Himalayas and more to traverse steep ravines and move supplies from higher to lower elevations.
Mountain climbers have long been privy to the necessity of zip lining to carefully traverse over two steep points. In fact a Tyrolean traverse is a common mountaineering practice where a mountain climber shimmies across a line to cross between two steep points, sometimes without a pulley at all.
The inventors of the first "Zip Lines," built upon the Tyrolean technique by using the gravity of the slope to make the process a little quicker. In addition, this sport sprang from a practice of wildlife biologist. Many of these biologists strung up lines over rainforest canopies to investigate and study densely packed forests.
Zip lining (canopy tours) as an adventure sport was birthed in Costa Rica amidst the lush rainforest canopy and as part of the growing "Eco-tourism" boom that began there.
Today Zip Lining continues to grow in popularity; zip lines have sprung up throughout the United States and internationally. Visitors to the Great Smoky Mountains now have numerous choices to select from when planning a Zip Lining adventure. Read about these different companies to choose the best experience for you!
CLIMB WORKS CANOPY TOURS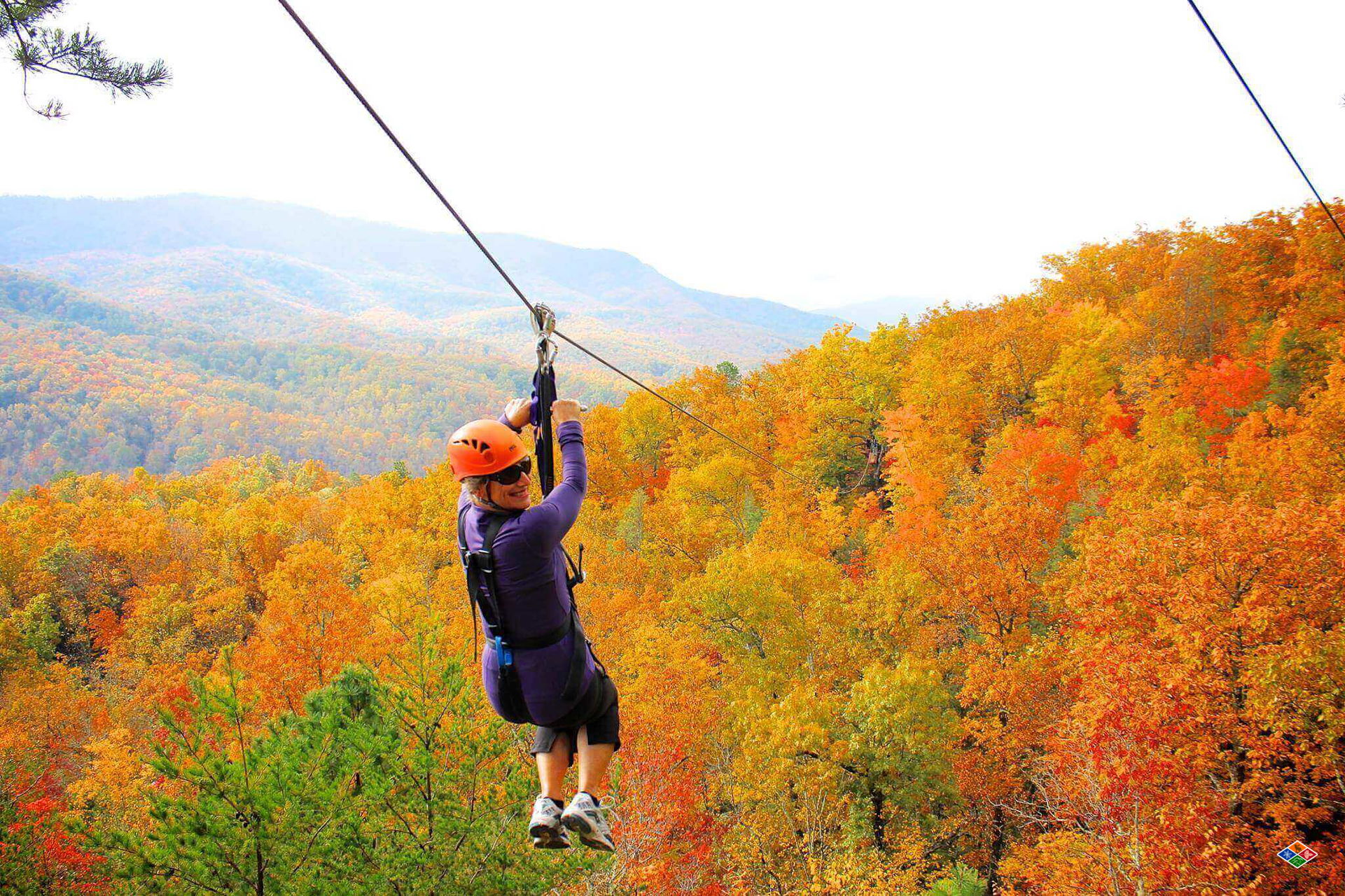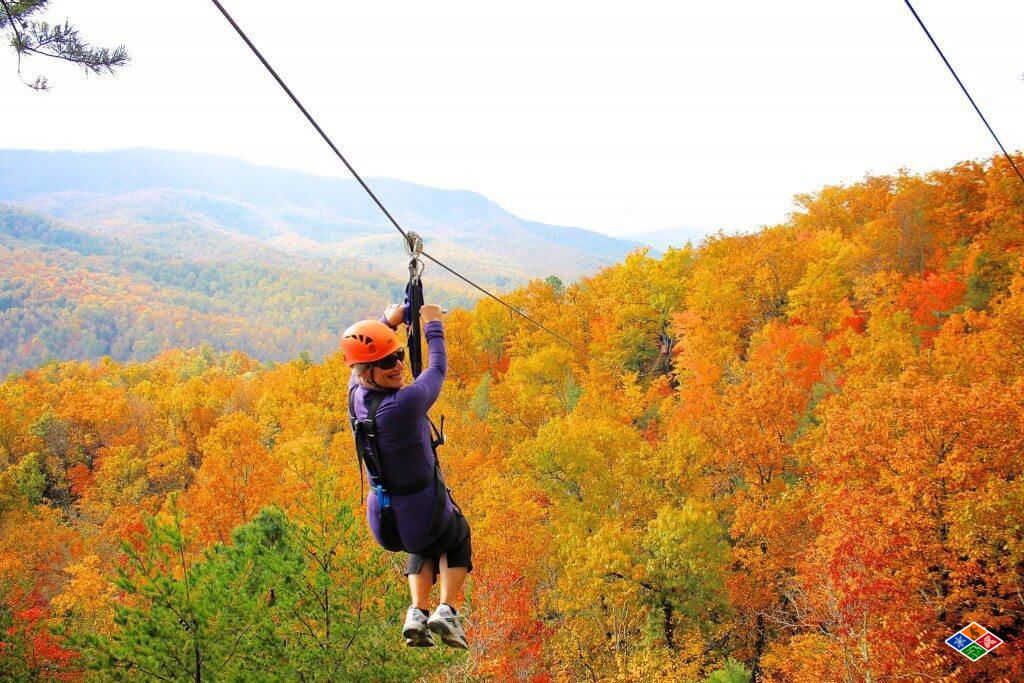 Unlike other companies that take you on mild trips a few feet off the ground, Climb Works lets their guests to commune with the birds. Their 2.5 hour tours goes through the canopy, allowing them to get a view of Gatlinburg like they have never seen before.
Owner of CLIMB Works Nick Thompson, started out by building zip lines and ropes courses for others around the country. After a while, he grew tired of traveling around and being away from home and decided to create a location of his own in Gatlinburg.
This canopy tour is perfect for the explorers who want to have an adventure while learning about wildlife at the same time. With a strong emphasis on learning about the natural wonders of the Great Smoky Mountains this tour sets itself apart from other guide companies with a really spectacular course. In addition it's located only 8 minutes from Elk Springs Resort.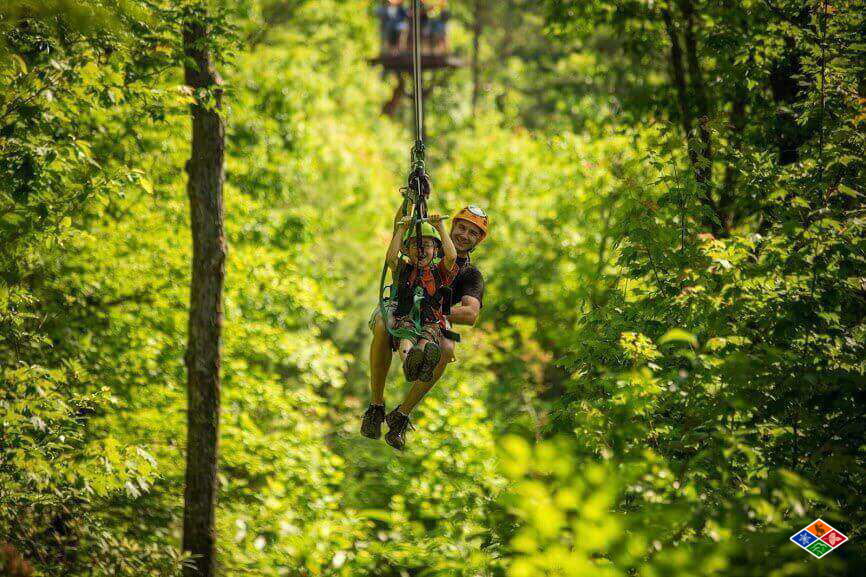 As Andrew Wagner Marketing Director for CLIMB Works PR/Marketing explains, "CLIMB Works is rated the #1 zip line canopy tour in the state of Tennessee on TripAdvisor, which is a pretty big accomplishment considering the large amount of opportunities throughout the state. It is the only true canopy tour that generally takes 2 1/2 hours with a group of 8-9 guests. The guests enjoy looking at the national park the entire time and hearing about the history and facts of the park and surrounding area from the guides who are with them."
This tour also begins with an exhilarating 4-wheel ride that takes you up to a mountaintop before you experience the breathtaking 2-1/2 mile ride down. As Andrew Wagner Marketing Director for CLIMB Works continues, "CLIMB Works specializes in offering the only true canopy tour in the area that you don't get disconnected in between and have to walk to another platform to start again. We also have our own braking system that allows the guest to fully relax and enjoy the zipping experience without having to glove brake and hit the oncoming platform incorrectly."
In addition they really work to make sure guests are at ease and comfortable before and during the experience. As Wagner explains, "Our guides are very well versed in helping any guest through the beginning jitters. We explain how we have our own braking system that slows everyone down as you come into the platform and we also have a ramp too which helps in the process. We mention that our harnesses are also top of the line with multiple connection points. These safety discussions set the guest at ease and we share how beautiful the scenery will be and they move past their nervousness.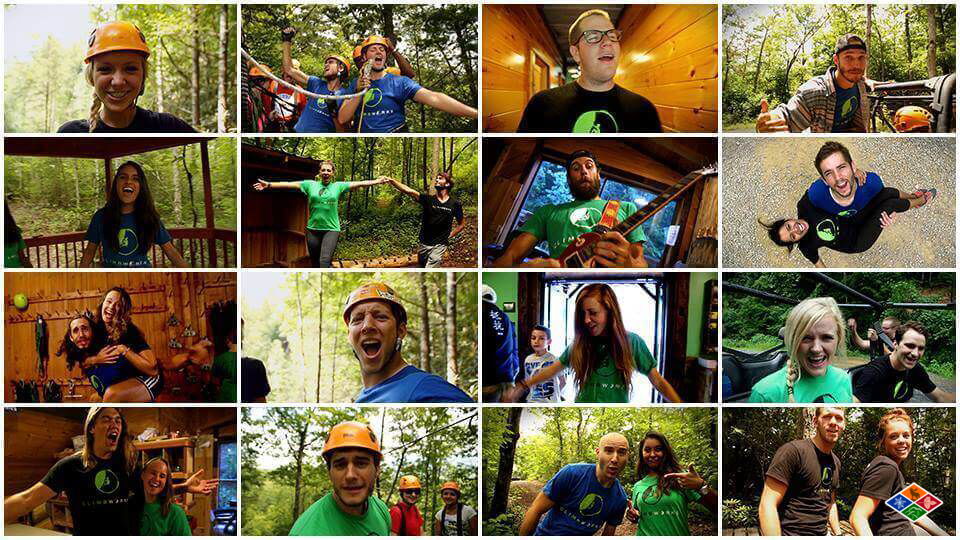 Their staff and guides go the extra mile to ensure guests feel ready, competent and knowledgeable before they even begin. As Wagner continues, "The staff at CLIMB Works is exceptional because they go through a very detailed training program that not everyone is cut out for and the individual learns very quickly if they want to stay and continue with CLIMB Works. For those who do, they are very outgoing in their personality to the guests and the staff member truly enjoys what their job entails each and every day. The staff meet new guests from around the country and the world visiting our area and enjoys educating them on the national park and helping them through their moments of fear too. "
CLIMB Works offers Canopy Tours for children ages 7 and up.
FOXFIRE MOUNTAIN ZIPLINES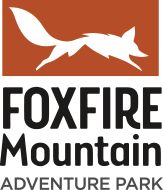 Known for some of the best "High-Adventure" value in the Great Smoky Mountains, Foxfire Mountain Ziplines has been ranked the "Top Zip Line" in the area by Hubpages with over 15 picturesque and thrilling and high mountain Zip Lines, it's no wonder this adventure park has attracted a lot of attention and accolades for their adrenaline pumping tours.
Foxfire Mountain was not always an adventure park. Foxfire Mountain was once a cattle farm but the drought of 2007 pushed feed prices to an unprecedented level and the owner sold the cattle. After a dream vacation to Alaska owner Marc rode a zip line, the rest is history. Marc and his wife decided to turn their farm into and adventure park. Brining their son and his family home to help, it became a family business and Foxfire Mountain Adventure Park was created. As Williams notes, "This is true agri-tourism at its best!"
FoxFire Mountain offers two types of adventure zip tours:
1. Their Canopy Tour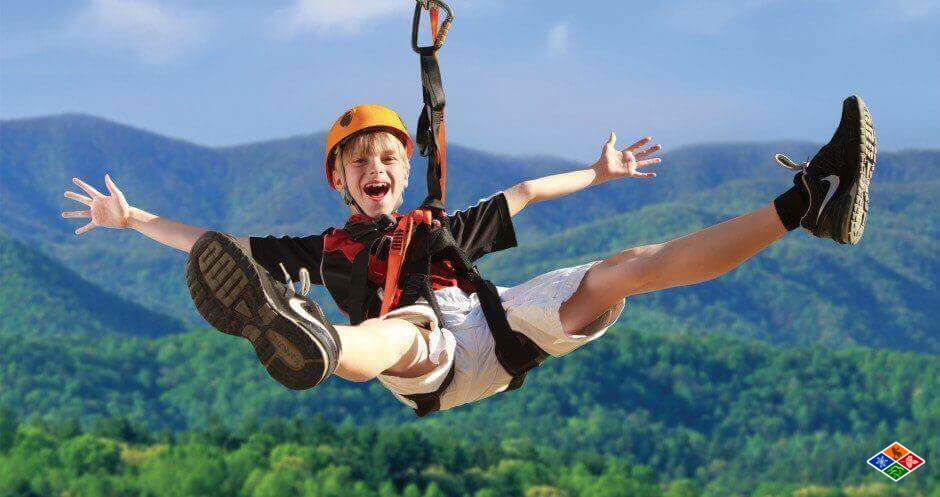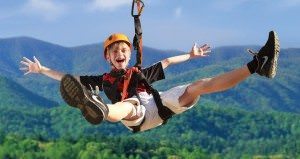 The 7-line Wilderness Canopy Tour starts out on a short beginner zip line that progresses to larger and larger zip lines until visitors become comfortable on an incredible quarter mile zip line 180 feet above the ground. In addition, this tour takes guests over a 75 foot waterfall. As noted on their website this is a true canopy tour where your feet never touch the ground as you zip from tree canopy to tree canopy through the forest, over creeks, waterfalls, and wildflower meadows. For two hours you will be totally immersed in the Smoky Mountains and her wonderful display of fall colors.
Marketing Director for Foxfire Mountain Adventure Park Mike Williams describes further, "Our 7 line is the most popular because it is such a great scenic tour. Our equipment makes a favorite with zippers because our equipment allows you to control whether or not you spin and we do the braking for you. You don't have to wear braking gloves."
2. The Mighty Goliath Tour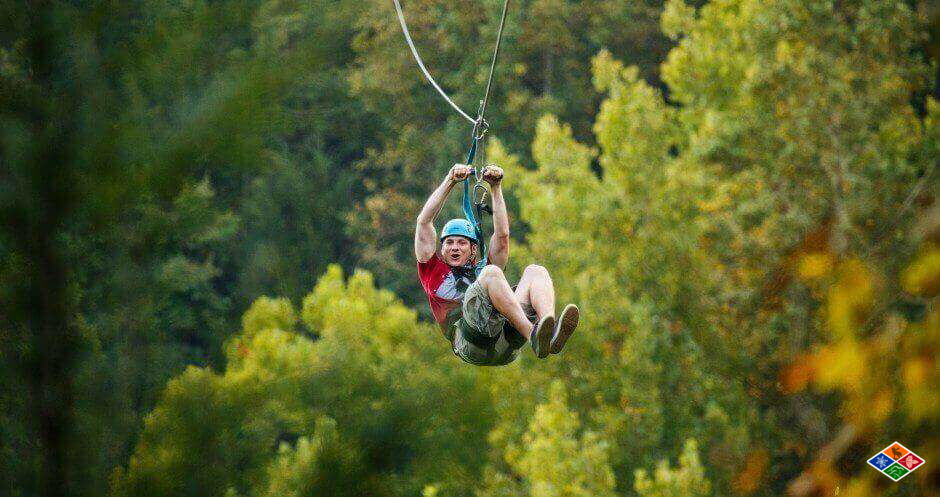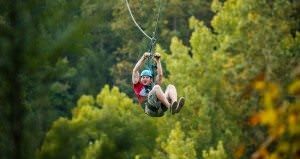 Notably the longest, highest zip lines east of the Mississippi, FoxFire Mountain's Goliath Canopy tour has guests zooming 475 feet above the ground. This tour features 5 mega zip lines two of which are 1/2 mile long and over 450 feet high. Guests actually get the chance to zip from one mountaintop to another, making it one of the most unique zip line tours in the area.
In addition to the more typical zip line tours Foxfire Mountain also has an additional Zipline not for the faint of heart called-The Scorpion Zipline. This exceptional add-on adventure gives guests a thrill in a different way. Guests will climb a 50-foot tower and jump, then a 1/2″ steel cable will catch them and send them flying 600 feet across the river to land comfortably on the side of Foxfire Mountain. Guests have the opportunity to do it over and over again for an hour while building their confidence up for more advanced zip lines.
Some people are hesitant to try this adventure sport because they are concerned about safety, Foxfire Mountain makes safety a priority so guests can enjoy the thrill and adventure of flying through the forest. As Mike Williams explains, "We tell them they have nothing to worry about. Once they are harnessed in there is no way they can fall. We have never had anyone fall, and we are very safety conscious. We also tell them don't look down. Just look at where you are going or look at the magnificent scenery around you and enjoy a smooth easy ride."
To ensure safety and a quality experience for guests Foxfire Mountain employs top notch staff and guides. As Mike concludes, "Our guides and staff are the most safety conscious you will ever meet. They undergo extensive training and the training is always ongoing. We have an excellent safety record which we are very proud of. Please check out our ratings on Tripadvisor."
Foxfire Mountain truly has an adventure experience for the whole family. As Mike Williams concludes, "We can take zip liners as young as age 6 who weigh as little as 45 pounds. We have other activities such as hiking trails and a kid's obstacle course as well as bear crawler tours that are perfect for children."
SMOKY MOUNTAIN ZIPLINES AND CANOPY TOURS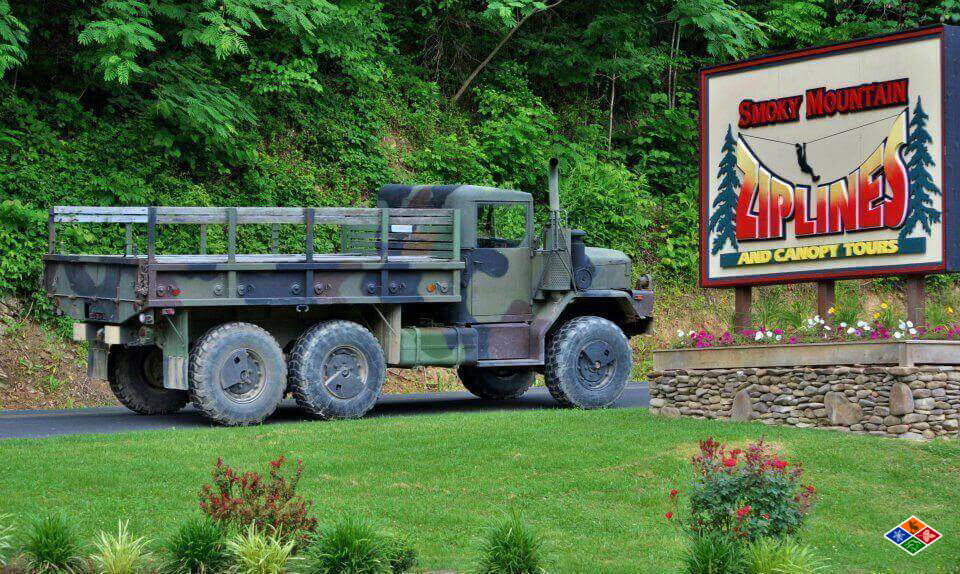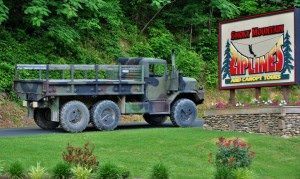 For vacationers seeking an even bigger thrill Smoky Mountain Ziplines and Canopy Tours boasts 23 lines where guests will reach speeds of up to 40 miles per hour. These 23 spectacular Ziplines lines include over 8,000 feet of cable strung at different heights through the majestic scenery of the Great Smoky Mountains.
Smoky Mountain Zipline Guide Director, Part-owner and operator Ross "Bodhi" Ogle describes, "We currently have 23 lines to offer across three different packages. We do not offer the highest or longest lines to be honest although we are in the process of trying to remedy that. We were the second course to open in town though. As one of the pioneers of our area in the zipline industry, our course was tailored to the town from which we sprang. Pigeon Forge is a family town and where other courses went for the thrill factor of placing tourists on long lines right out of the gate, our course took a more personal approach. We slowed things down a little bit. We start off nice and easy so that even grandma isn't afraid to give it a try. As our courses progress down our mountains our lines get longer and higher and faster growing as your confidence does also."
The land that Smoky Mountain Zip Lines currently inhabits was originally slated to be a cabin development. However, like many other area businesses things changed when the recession hit in 2007 to 2008 and the housing market failed in the area. The plans for the future cabin development was scrapped, and the owners – whom had had the zipline bug for a number of years – did some research. A year later construction began and Smoky Mountain Ziplines was born on August 21st, 2009.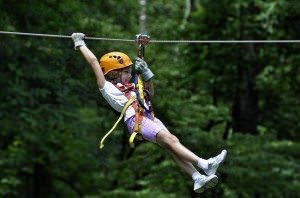 With 23 lines, Smoky Mountain Ziplines has a variety of different tours and experiences to choose from. From beginner to more thrilling and fast courses. As SMZ Guide Director Bodhi Ogle, explains, "Our most popular tour is our one and a half hour nine line tour. This tour has some of our courses best lines for a very reasonable price considering the services that are offered. At just short of three thousand foot of cable, you get to experience our hospitality and some of the best lines on our canopy tour side of the mountain. Originally when we opened we only featured a fourteen line tour and a full package tour, but as the years progressed we noticed a trend of people struggling to try and fit all of this wonderful area's attractions into too little time, so the nine line tour was born. This tour allowed those guests that were seeking to make the most of their time in the Smokies a chance to get the best ziplining in town at a price that was both easier on their wallet and offered more time for go karts and dinner shows."
Safety is a priority for Smoky Mountain Ziplines. As Bodhi Ogle notes, "We are an extremely safety minded company and all of our guides undergo a rigorous in house training program consisting of weeks not days and hours of on the job training, A dedicated core of our crew is also trained and certified in high angle and low angle rescue as well as operational rope rescue to the extent that even the local fire chief commended our efforts. All the guiding staff is first aid and car certified to boot. But to summarize all you really need to do is visit Tripadvisor and read some of our reviews. We don't have the longest line or the highest line or even the best view in the smokies, but we do have the best guide staff in town and the safest operation and we are the friendliest and I guarantee you that we'll take your family adventure to new heights."
The staff at Smoky Mountain Ziplines are not only concerned with safety, but they are determined to help every guest have a fun and memorable experience. As Bodhi Ogle ads, "I would say that our staff is our single most important feature. We would not exist if not for the dedicated efforts of our extended family. For one we really don't have employees; we're one big extended family. Our guides enjoy their jobs and care about what they do. Our course was built by us, and when something needs fixed we have the tools and the training on staff. We don't have to wait for the professionals to arrive because we are the professionals. We are organizational members of both the ACCT (Association of Challenge Course Technology) and the ASTM Standards developing association that is currently working on Tennessee's state regulation of ziplining. We also have an ACCT certified inspector on staff."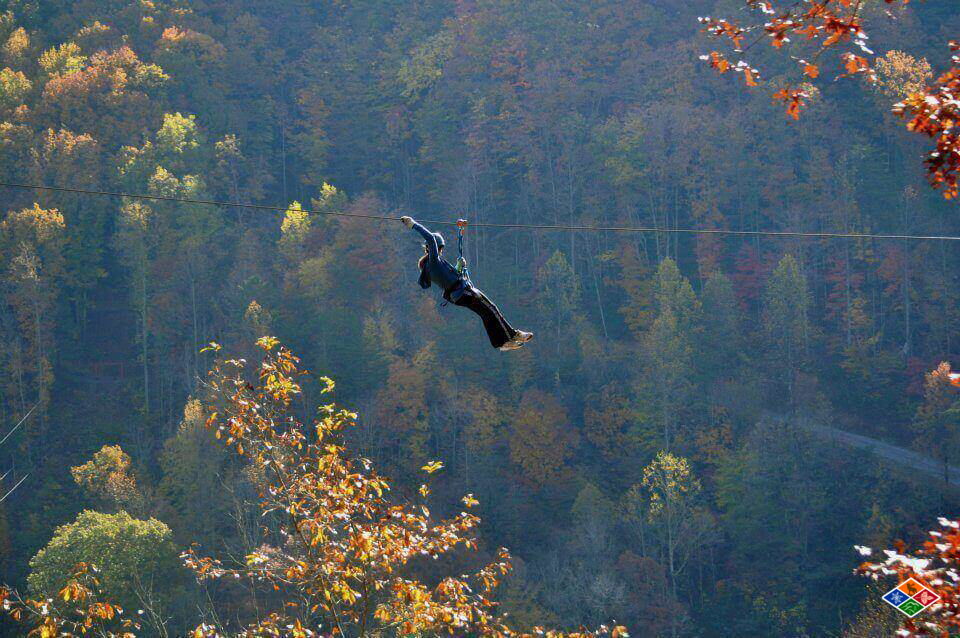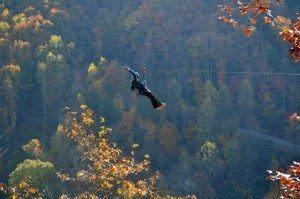 Smoky Mountain Ziplines strives to make their tours a family experience. As Bodhi Ogle explains, "At Smoky Mountain Ziplines we are all about families and kids of any age. We take tours with children as young as 5 years old all the way up to my personal record of 93. Children aged 5 to 7 must ride tandem with one of our certified guides, but our course allows us to ride children aged 8 and up and sixty pounds or more by themselves. In fact most of the time the children are less apprehensive than mom and dad. We also strive to hire guides that are family oriented and many of them have children of their own."
Hand-in-hand with their efforts to accommodate families, Smoky Mountain Ziplines understands that every family and vacationer works on a different budget. Therefore, they try to accommodate a variety of vacation budgets by offering many different packages. As Bodhi Ogle explains, "We have plenty of options for all budgets and ages. All of our tours feature the original army truck ride in a military deuce and a half as well as free drinks for everyone (zippers and waiters) at our base camp. Our three hour full package tour is also the longest tour and features more lines than any tour in the smokies. As an upgrade for either our nine line or 14 line tours or comprehensive with the full package tour, our super lines are still some of the fastest lines in town at speeds of up to an unexaggerated 40 mph."
Smoky Mountain Ziplines understands that many people may have reservations about zip-lining. As Bodhi concludes, this is their advice for someone who is on the fence: "I would say call us up, make a reservation with your name, phone number, and number of guests, (none of that we'll take your credit card and charge you if you don't show up stuff going on here.) When you get here, help yourself to complimentary soft drinks and clean bathrooms. Then we'll kindly gear you up in our harness room and drive you to the top of the mountain in our deuce and a half. Once we get you to the top we're gonna double check your gear and walk you through our safety speech. From there its two low and slow lines to get your wings under you. If after all that you still don't want to keep zipping down to line three, we'll happily come get you and give you all your money back. We do this because ziplining is something we heartfully enjoy here and we want everyone that comes out here and shares this with us to have not just a good time, but a great time."
LEGACY MOUNTAIN PREMIER ZIPLINES
Conveniently situated equidistant from Pigeon Forge and Gatlinburg off Middle Creek Road, Legacy Mountain Ziplines is spread over 400 acres of scenic foothills with incredible views just outside the busier hubs of Gatlinburg, Sevierville, and Pigeon Forge.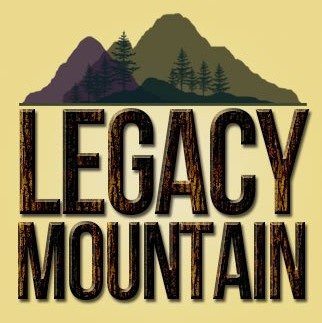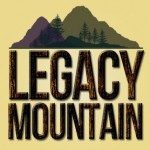 Perry Smith also owner of Adventure Ziplines created Legacy Mountain out of the desire to expand the thrill and adventure. As Marketing Director for Perry Smith Developments Kevin Griffin describes, "The success of (Adventure) ziplines made him realize that people really love to go ziplining, and he wanted to build a bigger version of the one at Adventure Park. With longer lines, the same redundant cable safety zipline, and higher elevations, Legacy Mountain Premier Ziplines has quickly become THE zipline to do when people are visiting the area. It's definitely the all-around type of Zip Lining experience."
Legacy Mountain features 7 ziplines up to 2,500 feet long. As Kevin Griffin details, "Legacy Mountain Premier Ziplines is a location like no other. The lines are some of the longest in the nation, the views are spectacular, and the guest receive a true ziplining experience. Memories that they can't get by zipping quickly to one tower to the next worrying about how to stop and then start again. Although that is a lot of fun, it does not allow the guest to zipline across a 2500 foot line and look all around and be awe-inspired by the views. People come to this area to see the Smoky Mountains and what better way to do that than to soar straight through the middle of it?"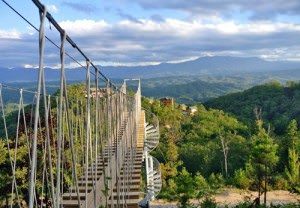 Legacy Mountain offers several types of tour, "Our most popular tour is our 7 line tours. People seem to really want to zipline on 7 lines. You would think more is better, however after a while time is a big concern of the visitors. We have additional lines we offer, however the saying 'too much of a good thing' is what most people tell us. The average 7 line tour for us is around 2 – 3 hours and that seems to be a great time frame to keep the guests happy."
Legacy Mountain proudly boasts a family friendly park where memories are created and everyone in the group will truly have an unforgettable experience. As Kevin Griffin notes, "We zipline individuals from 3 to 103. We are kid friendly and our professional guides will see that they have a blast. Perry Smith built the lines for families to have fun in the outdoors. We see little ones on our lines all the time and they are smiling from ear to ear having a blast!"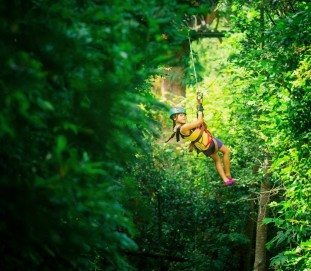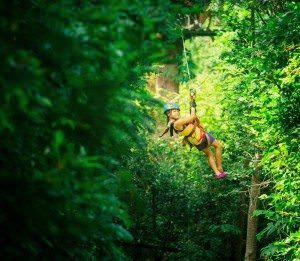 Many people have the desire to try Zip Lining, but feel a bit of trepidation. They may be afraid of heights or concerned with safety. Kevin Griffin relays how Legacy Mountain strives to help people overcome their fear and feel safe and secure, "We have people who are hesitant to zipline at the height and the fact only one cable separates them from them and the ground. I smile every time because if the guest knew how much weight the lines could hold with our dual cable system they would have no more fears about the cable breaking. It simply is not even an issue. Our guides check them throughout the week and we have two lines to make sure our guests are completely safe and have a peace of mind. As far as the height goes, I tell people if you are worried about the height and falling think about this. You are NEVER detached from the cable till your feet are on the ground. If you can take this moment and conquer your fear for 2 hours I promise you will have the most fun you have had in a long time. We do have people who are afraid of heights attempt the ziplines most of them complete the course with an amazing memory to share with their family members. It is a safe thrill ride. We wouldn't be one of the top attractions in this area if it wasn't safe."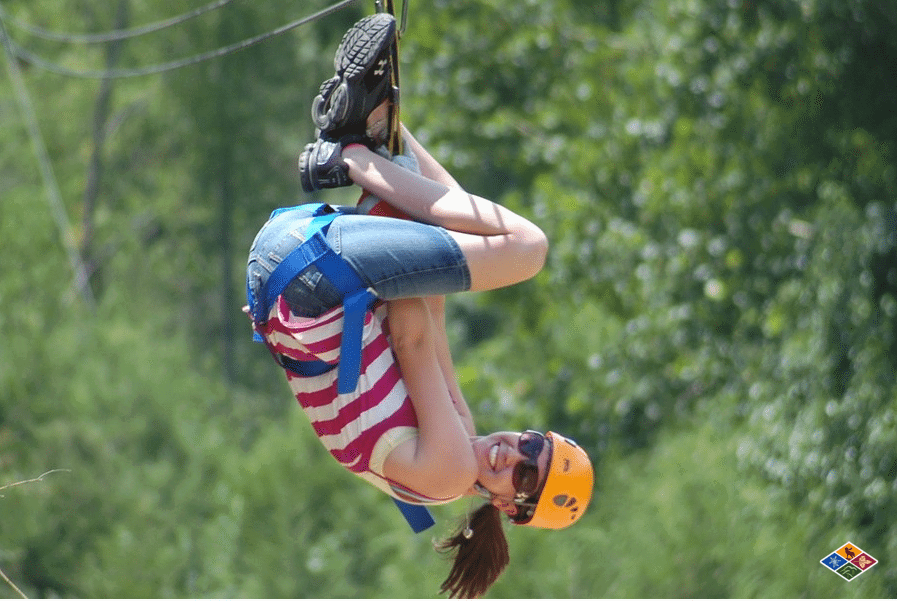 Legacy Mountain is able to ensure safety and fun by hiring only the most qualified staff, "Our guides are all trained by one main principle, Safety first and let the fun just happen. Our guides receive rave reviews all the time. I have guests tell me all the time, "When we come back we want our two guides again!" What they don't realize is the family from yesterday told me the same thing about a different set of our guides. Our guides want the guest to have their own level of fun. A family can have a diverse temperament when it comes to height and speed while ziplining for the family members who are not quite sure of all the excitement, our guides walk them through it calmly and will even zipline with them if they are really not sure about the whole experience. Then by the last few ziplines they are having a great time on their own. Then there is the other side of the spectrum where the family member may want to go fast and furious. Our guides will teach them the safe way to do just that so their experience is one they will remember forever. Hands down our guides are the stars of our location and we couldn't be prouder of them for the hard work they do every day while providing families with a fun and safe time while at our location."
Memories are made at Legacy Mountain. As Kevin Griffin concludes, "[we love to see families share the experience…] to see Mom or dad zipline in the kids eyes, when all they see them doing is the day to day routine, is a memory we create at Legacy Mountain Premier Ziplines."
ADVENTURE PARK ZIP LINES AT FIVE OAKS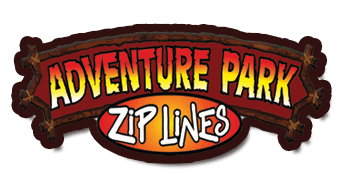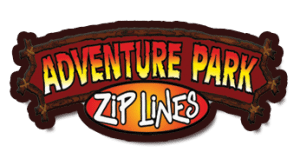 For families and those new to Zip lining, Adventure Park Zip Lines at Five Oaks is a great company to start with. Located in Sevierville, Tennessee, just across from Tanger Mall. As Marketing Director for Perry Smith Developments Kevin Griffin describes, "Adventure Park is across from The Tanger Outlet Mall and Legacy is nestle on the foothills of the National Park on 400 acres. We have two great ziplines with two different feels. Adventure Park is for families who are a first timer, wants to have a thrilling time, and then get on with the vacation to shop, eat, or see a show."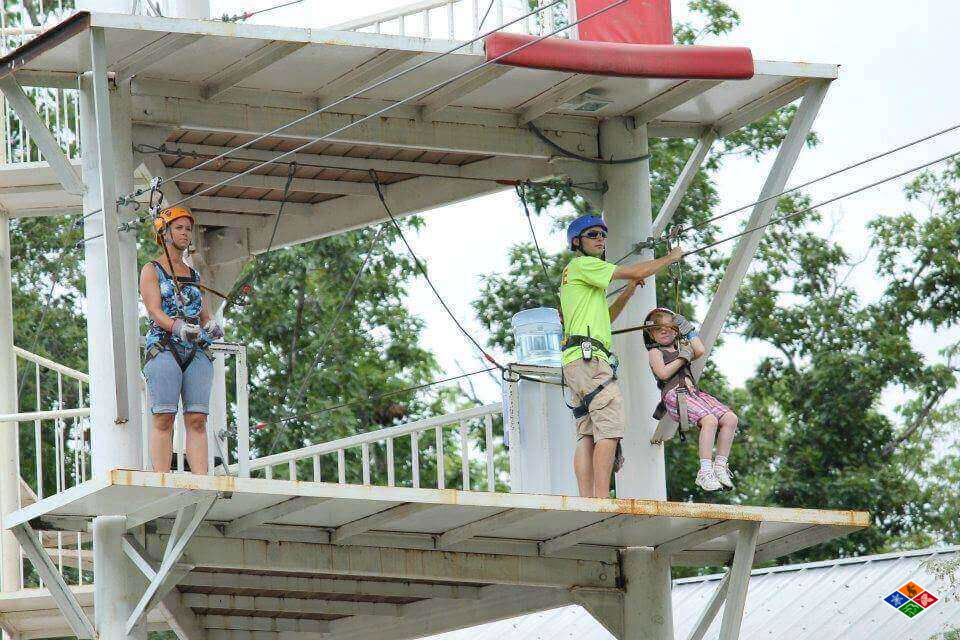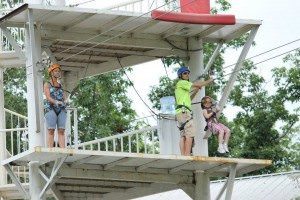 This adventure park features two Zip Lines from 450-2,000 feet long. The ziplines are super family friendly and can be used by anyone aged three and up. In addition its tours tare a bit shorter and more suitable for beginners and younger kids, with their main tour at 1.5 miles of zip line cable and a duration of about about 2 hours.
Are you afraid of the dark? If so this zip line adventure may not be for you. However, those adventure seekers looking for an even bigger thrill, Adventure Park offers nighttime zip lining at their 70-acre adventure park. With zip lines from 450 to 2,500 feet this zip line experience is sure to give you a night to remember.
GATLINBURG ZIPLINE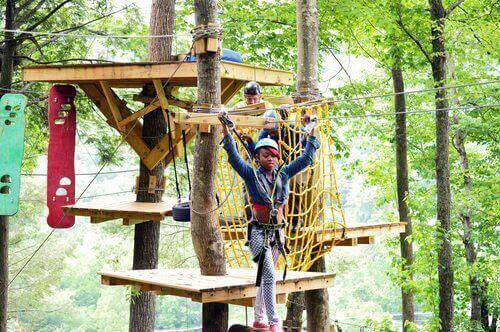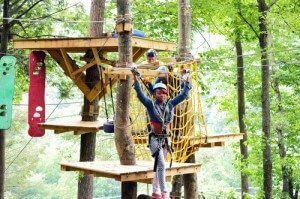 For visitors looking for a zip-line adventure for the whole family Gatlinburg Ziplines offers adventures for children as young as five years old who can zip line by themselves or tandem with a guide. This adventure company boasts nine zip lines, with an hour and half tour through the treetops. These nine different zip lines adventures are hung at an average of 700 feet high.
In addition this company has a Tree Trek you can combine with your Zipline adventure. This 27 obstacle treetop ropes course is truly unique. Participants work their way through a trip top maze with bridges, ladders, trapezes, logs and sky bridges high in the trees next to the National Park. This Tree Trek uses state of the art "smart belays" so no one is ever unclipped from an obstacle at any time.
WAHOO ZIPLINES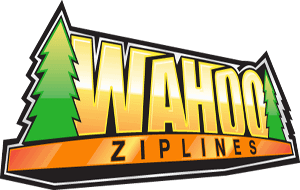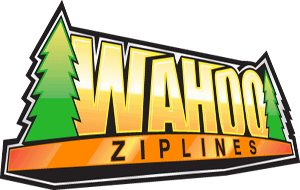 This company has been in business since 2008. Owner, Sterling Webb, trekked across the globe to experience a host of other zip lines before he returned to Sevierville to create his own signature ziplines for the area. With over two miles of cable, Wahoo Ziplines features six signature lines from 900 to 1600 feet long. This zip line experience will have you screaming, "Wahoo!" before you leave!