Whitewater Rafting in the Great Smoky
Experience a wilder side of the Smokies with a trip down the Pigeon River
Run the River Wild, and experience the wonder and thrill of the Great Smoky Mountains from a different vantage point, rambling the whitewater rapids of the Pigeon River. Nothing compares to the thrill of not knowing what lies just around river bend, the splash of water in your face, the experience of floating the river as explorers once traversed as they discovered new lands.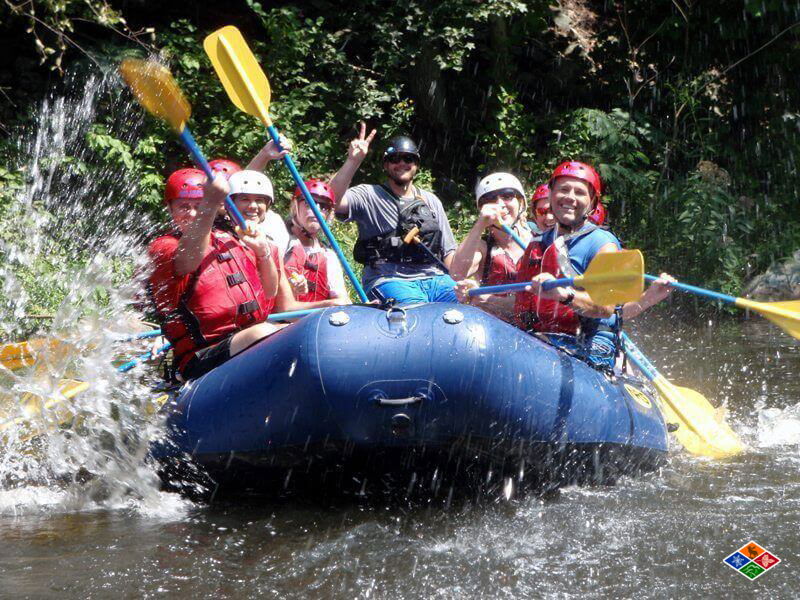 Adventure seekers can experience a wilder side of the Smokies when they take a whitewater rafting trip down the picturesque Pigeon River. Its twists and turns through deep gorge of the Great Smoky Mountains on the North Carolina/Tennessee border are unparalleled in beauty and wonder. Located just down the road from the Gatlinburg Pigeon Forge area, numerous whitewater rafting adventures allow visitors to experience nature and the national park on a whole new level.
The Pigeon River, located near the Gatlinburg/Pigeon Forge area, flows along the eastern boundary of the Great Smoky Mountain National Park. This incredible river features class II-IV rapids. Rapids with names like, "Accelerator, Lost Guide and Roller Coaster are gnarly rapids bound to guarantee a splash and fun. The damn controlled water release ensures white water rapid action Tuesday through Thursday and Saturday throughout the summer months.
The Gatlinburg area has numerous white water rafting options. There are numerous whitewater rafting companies and outfitters to choose from. Guests can opt for a leisurely roll down the river or a wilder ride to remember. There is truly something for everyone.
Rafters can choose their adventure on the upper or lower Pigeon River. The upper part of the Pigeon River will offer the adrenaline pumping thrill that those adrenaline junkies seek, while the lower Pigeon River will provide a more placid ride.
The Pigeon River features two sections: the Upper and Lower region. Beginning at the North Carolina state line, the Upper section of the river ends at Hartford, Tennessee. This section contains bigger and wilder rapids. The Lower section is known as the gentler part. This section starts at Hartford, TN and ends at Denton. As Dave Crawford, owner of Rapid Expeditions explains, "These sections are based on the class of rapids. The whitewater rafting scale is class I-VI. The Upper Pigeon is class III-IV and gives paddlers a great thrill and adventure but there is no experience needed. The minimum age for the Upper is 8. The Lower section is class I-II and is great for families with small children and for people who want to just relax and enjoy a nice float down the river."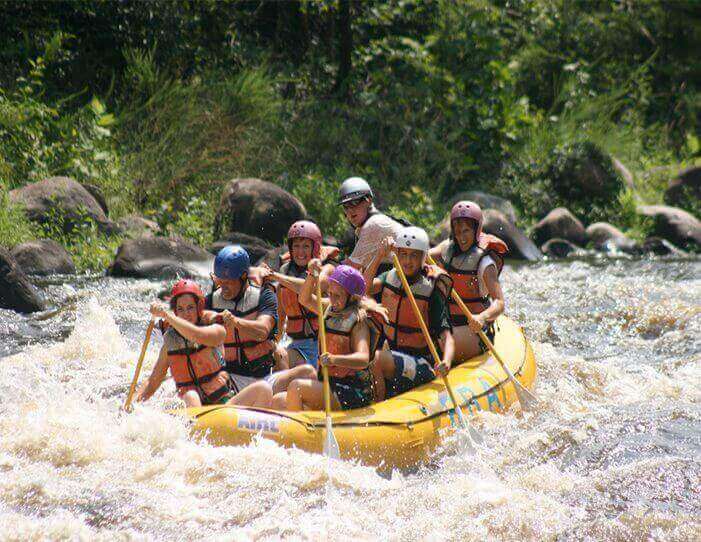 Local Whitewater/Kayaking Experts weigh in on why boating in the Great Smoky Mountains is so amazing:
NOC-The Nantahala Outdoor Center
The Nantahala Outdoor Center has a widespread reputation as one of the best outdoor adventure groups in the Appalachian Mountains. They have been leading white water rafting trips and outdoor adventures since 1972.
As Manager Ben Lethco describes, "NOC has been in operation for over 40 years. Nantahala Outdoor Center is one of the nation's largest outdoor recreation companies. Over a million guests visit NOC annually to embark on a diverse collection of more than 120 different whitewater rafting and land-based itineraries, learn to kayak at NOC's world-renowned Paddling School, travel to foreign countries with NOC's Adventure Travel program."
NOC Flagship Store Their Pigeon River outpost near Gatlinburg is one of the most popular spots offering one of the most condensed and fun filled white water rides in the area. This 2 and half hour trip, a five mile ride down the river, starts with a rapid named Powerhouse and continues through a scenic journey onto some even nastier rapids called "Lost Guide," and "The Accelerator." The NOC Pigeon River Outpost is also a favorite for its hot showers, picnic pavilion, store and they offer digital slideshow of your white water adventure for purchase.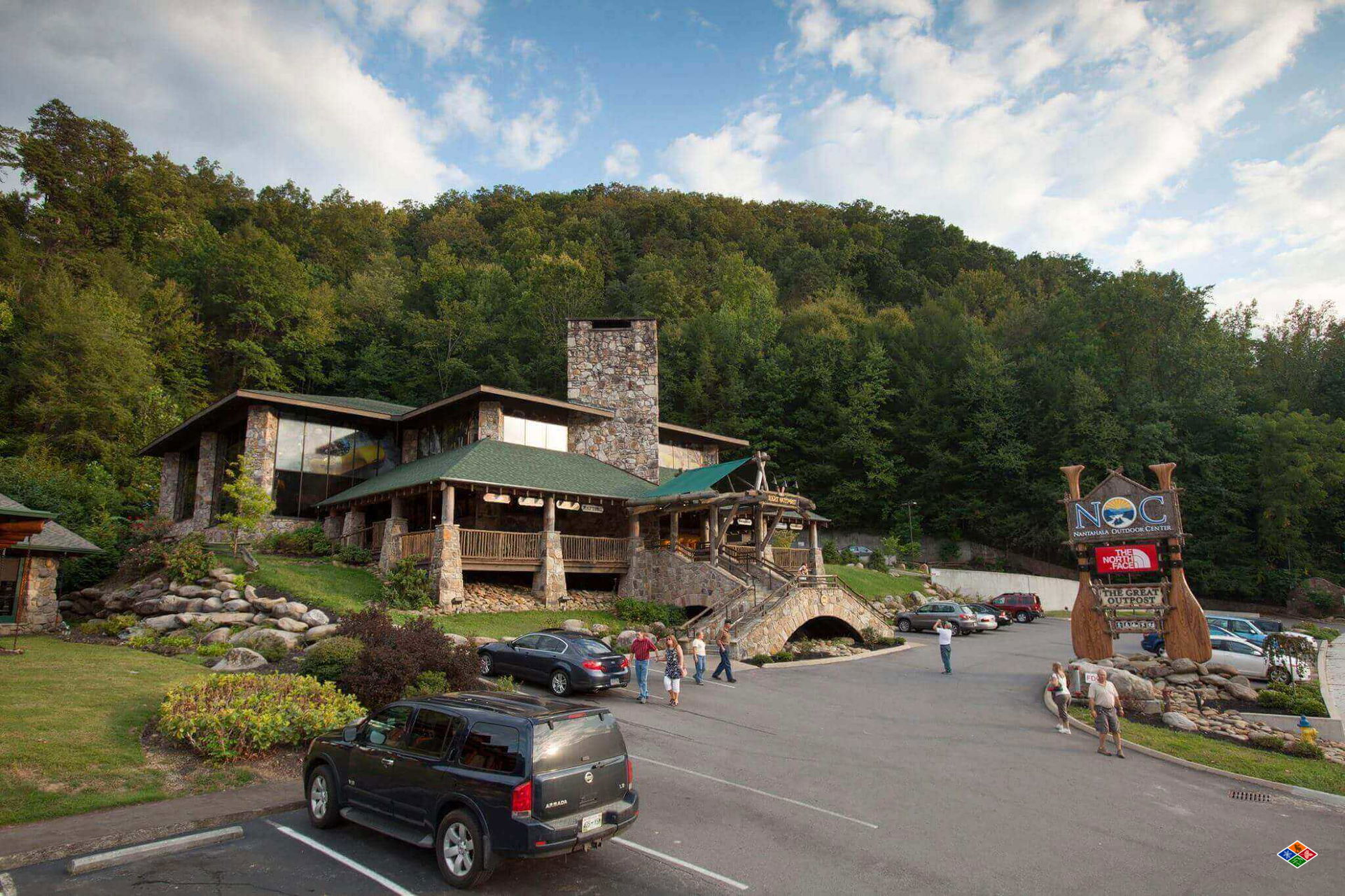 Not only does the NOC have a white-water outpost near Gatlinburg, but their newest LEED-certified flagship retail stores, is right in the heart of downtown Gatlinburg. This 18,000 square foot flagship store is strategically located just outside the downtown Gatlinburg entrance to the Great Smoky Mountains National Park. As Ben explains, "One of the reasons NOC has a store in Gatlinburg is to help guests experience the Great Smoky Mountains. We also are next door to the GSMNP entrance, making access to the Smokies a breeze. The store is a one stop shop for all your whitewater/hiking/backpacking needs. Our products range from gifts to gear, snacks to packs."
The NOC-Gatlinburg store offers everything visitors need to enjoy the park from essential outdoor gear and apparel to guided trips, signature gifts and more. As Manager Bent Lethco describes, "Here at NOC, one of our goals is to help people enjoy the outdoors. From rafting and kayaking to hiking and biking, NOC offers their guests the opportunity to explore the adventurous side of the outdoors and the adventurous side of themselves."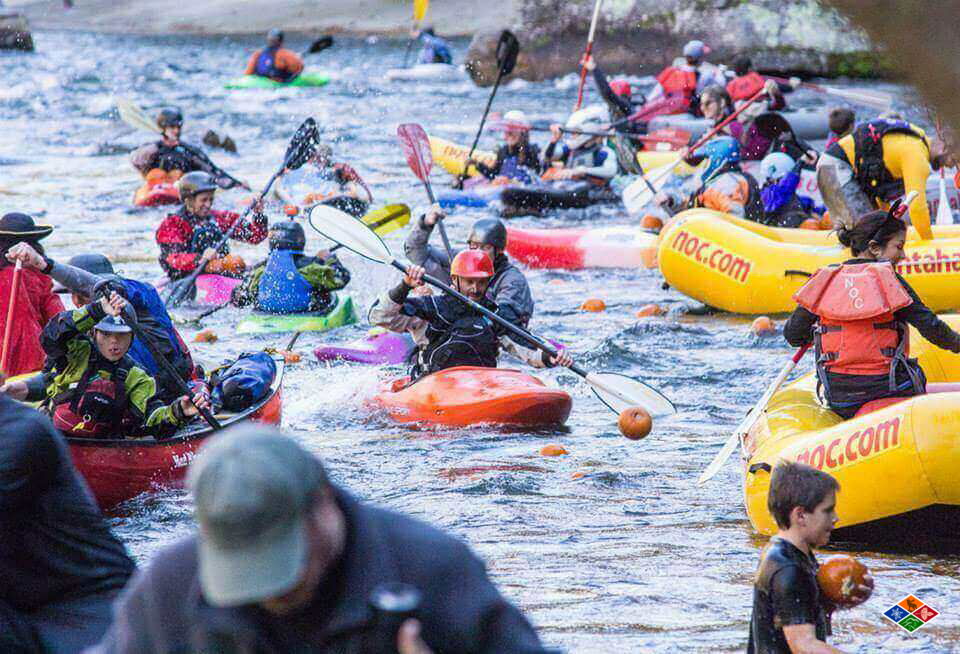 Additionally, for whitewater addicts that are seeking more rapid thrills in the surrounding mountains beyond the Smokies, NOC also has operates whitewater rafting trips on other Southeastern rivers such as: the Chattooga, Cheoah, French Broad, Nantahala, Nolichucky, and Ocoee.
NOC has honorably earned their reputation as the premier white water rafting company in the southeast with many accolades and awards. As Ben Lethco explains, "More people choose NOC than any other whitewater outfitter for a reason. It's because of our experience, unparalleled in the industry. 22 Olympians, including two Gold Medalists, have called NOC home. NOC has been recognized by The New York Times as the "Nation's Premiere Paddling School," "The Best Place to Learn" by Outside, and as "One of the Best Outfitters on Earth" by National Geographic ADVENTURE. NOC was the recipient of the 2012 OIA Outdoor Inspiration Award and it has hosted the International Canoe Federation 2012 World Cup and 2013 World Freestyle Kayaking Championships."
One of the most critical part of any good white water rafting experiences is your guide. They will be your conduit and guide into your wildness adventure, and NOC has some of the best. As Ben describes, "Our guides are among the most experienced in the nation. Among our guides, we also have Master guides. NOC Master Guides have completed NOC's exclusive skills development and advanced search and rescue course. In total, this intensive course requires 15 days of additional hard-skills development including Rescue3 International River Rescue Professional Certification and a SOLO Wilderness First Responder Certification. Participating guides are hand-selected by their peers and company management. With the graduating class currently at 45, more NOC Guides will complete this elite training course every year."
For outdoor adventure sports enthusiasts or those seeking more than the raft, NOC also offers a premier paddling school with superb paddle instruction trips.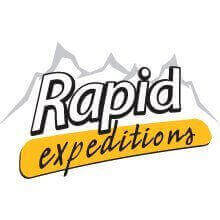 Rapid Expeditions has strong ties to Gatlinburg. Their owner, Dave Crawford, is also the head of the ski patrol at Ober Gatlinburg Ski Resort. This all-around outdoors-man opened Rapid Expeditions because he wanted to share his love the outdoors with visitors to the Great Smoky Mountain region. As Dave Crawford explains, "Rapid Expeditions has been in operation for eight years here on the Pigeon River. I come from a whitewater/kayaking background and have been kayaking for twenty years. I have been teaching/instructing for fourteen years. I found this company for sale and wanted to share the love of the outdoors with others and Rapid Expeditions was created."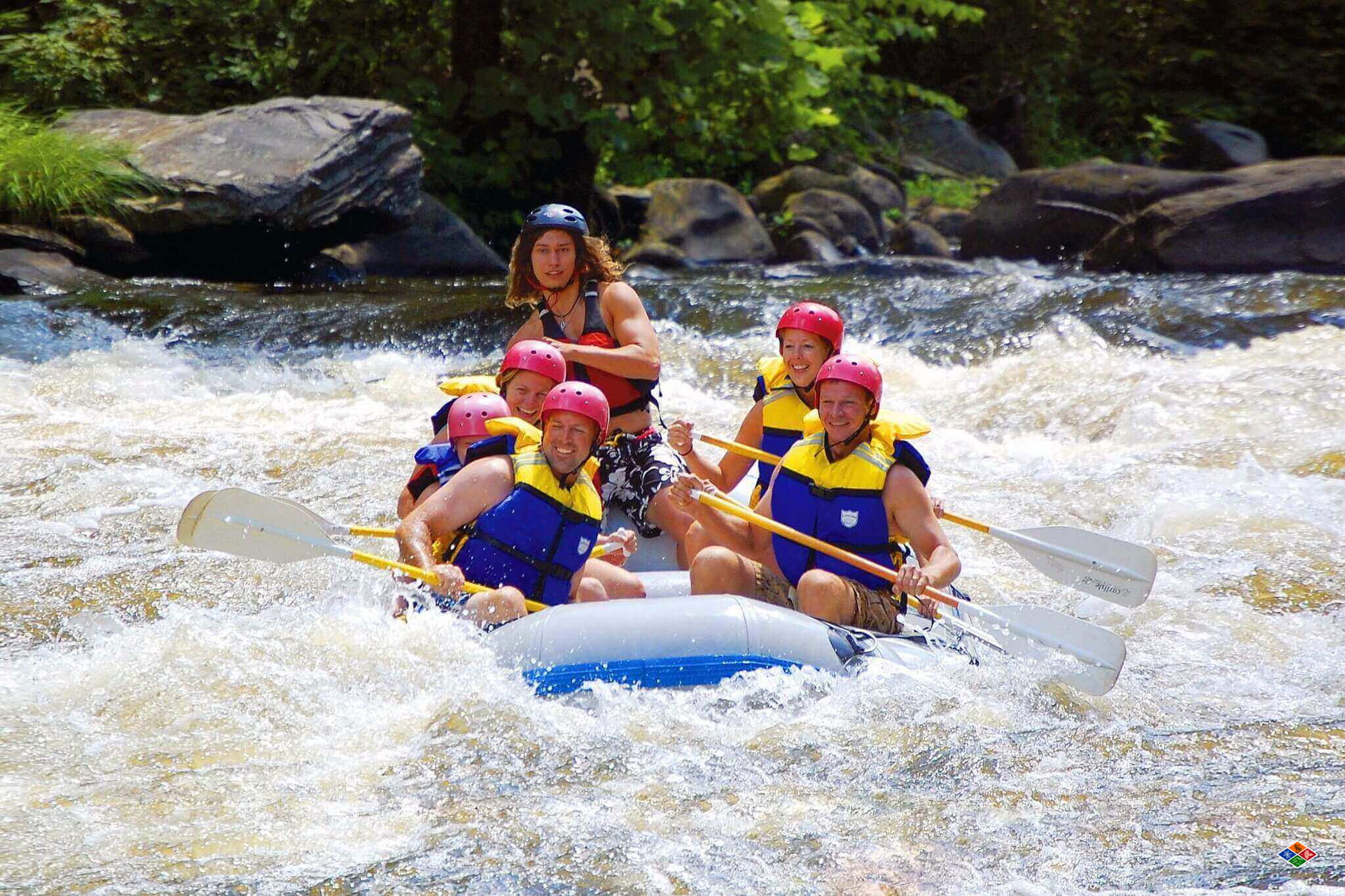 Rapid Expeditions proudly offers every guest an unforgettable whitewater experience where guides take the time to stop and explain natural scenery and water ways as well as letting guests take a dip if they so choose. With so many white-water rafting companies in town, Rapid Expeditions strives to set themselves apart. Dave describes, "There are eleven companies here on the Pigeon River here in Hartford. We are all running the same sections of river and are all providing memories that will not be forgotten. But here at Rapid Expeditions we really focus on the personal touch. We are a smaller company and can take extra time to get to know you on and off the river. When you come rafting at Rapid Expeditions you aren't trip number 32. We know you by your name and want to get to know our guest. Vacation is all about relaxing and enjoying the people you are with. Our staff provides this experience to our guest while enjoying the thrill of being on the river!"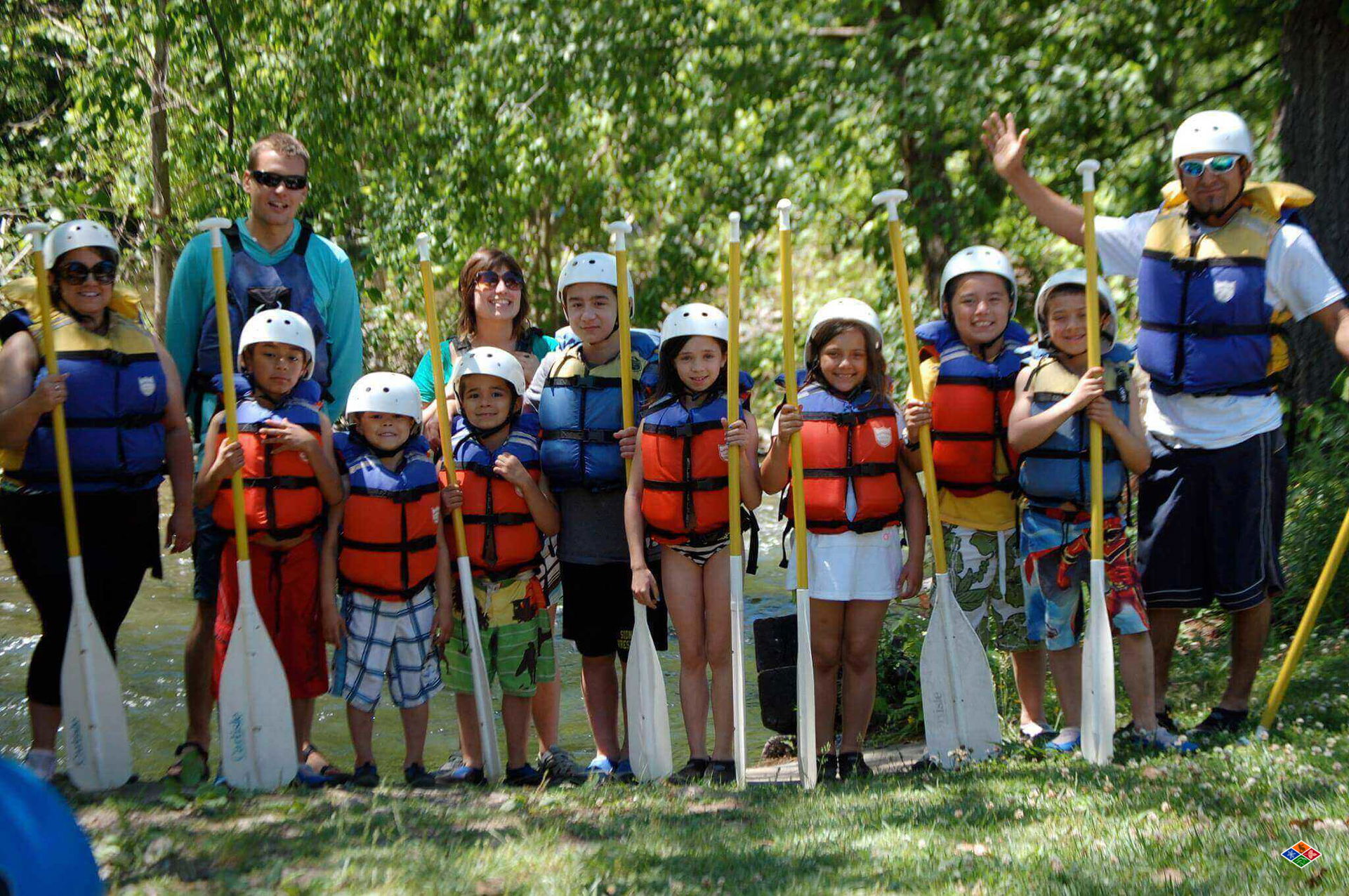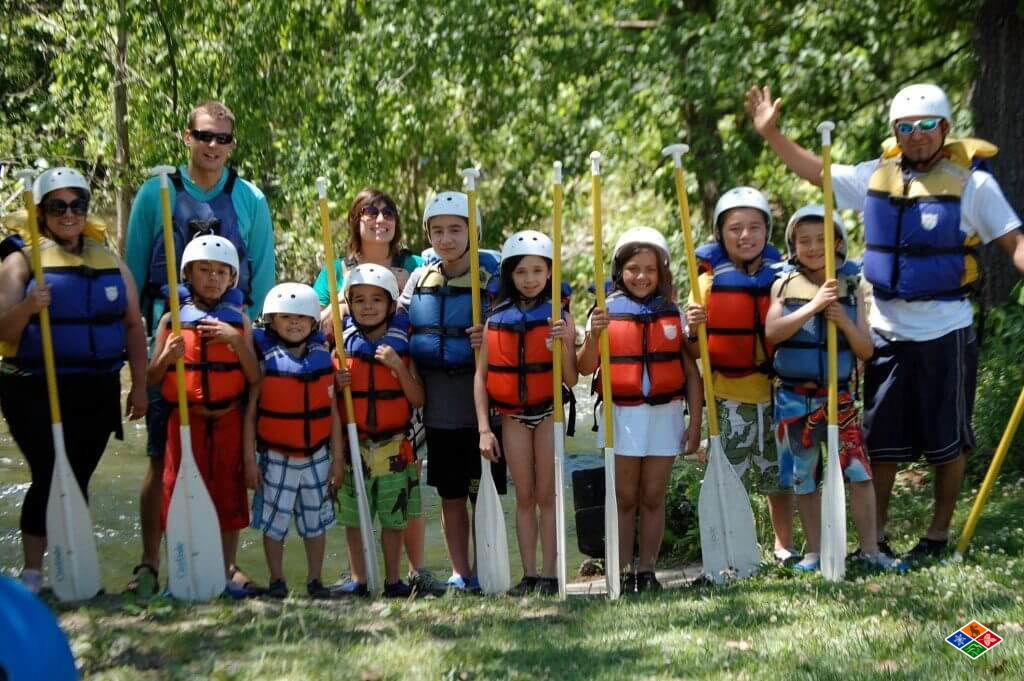 Rapid Expeditions offers guided trips on the Upper and Lower sections of the Pigeon River, and prides themselves on being a family friendly outfitter. As Dave assures, "Rapid Expeditions is family friendly. Most of our clients are families on vacation. We do create fun trips the whole family will remember. In addition we offer group rates to church groups, colleges, and other large groups visiting the Smokies."
When gearing up for a trip guests just need to follow these guidelines outlined by Dave, "We provide all the equipment needed when rafting/kayaking at Rapid Expeditions. Prepare to get wet and bring a change of clothes. The best type of clothing to wear in the outdoors is something synthetic. Synthetic clothing dries quickly. Cotton tends to stay wet which tends to make you cold."
For those seeking to get even closer to the water and experience an even more intense rapid ride, white water kayaking is an adrenaline booster for sure. A bit more technical and challenging than group rafting, there is no experience like being one with the rapids and waves. Rapid Expeditions give guests the chance to begin their kayaking journey or hone their skills. As Dave notes, "Rapid Expeditions has a fantastic kayaking school. Whether you are taking the beginner kayaking class or you would like to become a better whitewater kayaker, our kayak instructors will show you the skills needed. All of our instructor are ACA certified. (American Canoe Association)."
Rapid expeditions also boasts prime real-estate. Their location right on the Pigeon has a strategic advantage as guests can put their raft just steps from where they park by the Big Pigeon River, without an extra bus ride.
Rip Roaring Adventures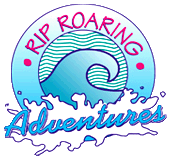 One of the newer rafting companies on the block, Heidi Williams openedRip Roaring Adventures on the Big Pigeon River shortly after being crowned Miss North Carolina in 1992. A few years later her father, Charlie took over the business, and Rip Roaring Adventures has now been providing thrilling whitewater rafting adventures for over 20 seasons for visitors to the Great Smoky Mountains and the Gatlinburg/Asheville region.
As Charlie Williams notes, "Rip Roaring Adventures is a small company and is able to offer more personal services for our guests. We provide a family an experienced local guide who understands the river, is knowledgeable about the area, its attractions and love what they do, setting Rip Roaring Adventures apart from all the rest."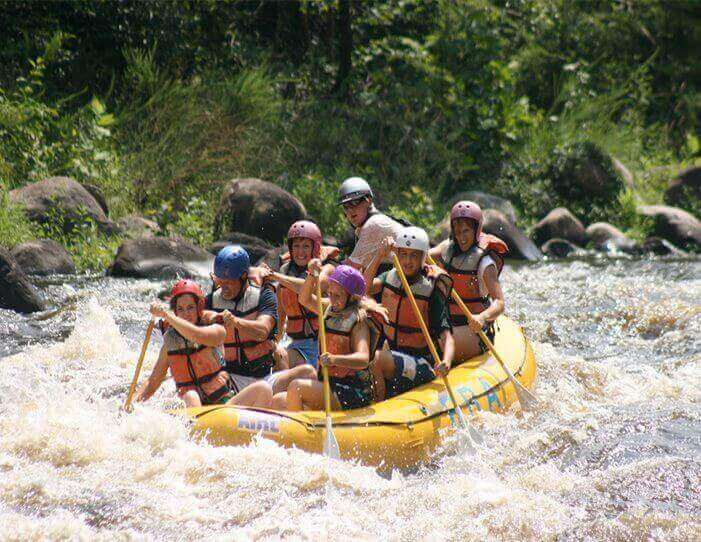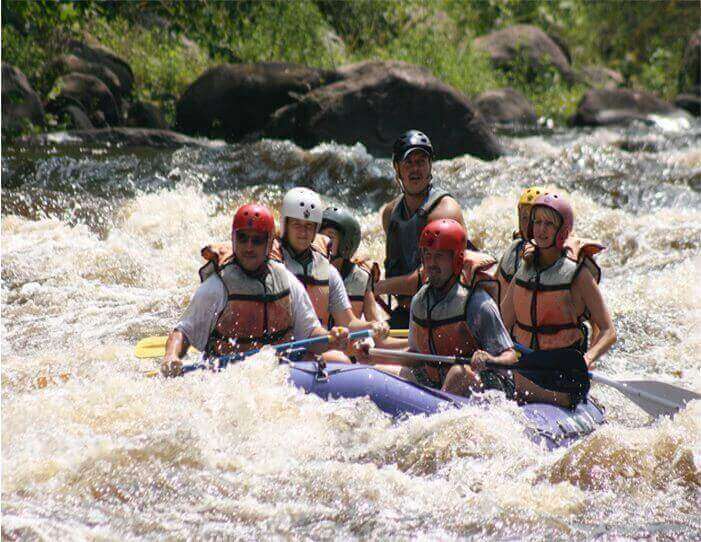 Rip Roaring offers two different levels of white water adventure. Williams describes, "The six and a half mile stretch of the Upper Big Pigeon provides a wilder, more intense ride running class III – IV, rapids; while the Lower Big Pigeon is less difficult allowing for younger children to take part the fun. Either trip gives a family the opportunity to enjoy the mountains and rivers of east Tennessee in a safe setting."
It's not necessary to get gear for your rafting adventure. As Williams explains "We provide a coast guard approved safety vest, helmet and paddle. However, guests will need to bring secure shoes such as tennis shoes, water shoes, river shoes or sandals with straps that go around the heels for safety, towels and change of clothes."
As Charlie concludes, "Rip Roaring Adventures is a family friendly because of the different trips offered. Our guides are trained to work with children of all ages. We offer group rates starting with groups of 10 or more."
Big Creek Expeditions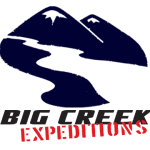 This rafting company located right on the North Carolina, Tennessee border was opened in 2004. It was started by a Knoxville architect that had passion for white water rafting and decided to open his own adventure outfitter. With some of the best professional guides around Big Creek Expeditions guarantees lots of laughs and maybe a splash at the end. Big Creek Expeditions features:
Upper and Lower River trips with options for relaxing and more adrenaline packed trips. They also offer adventure packages with raft/camp combinations as well as raft/zip line adventures.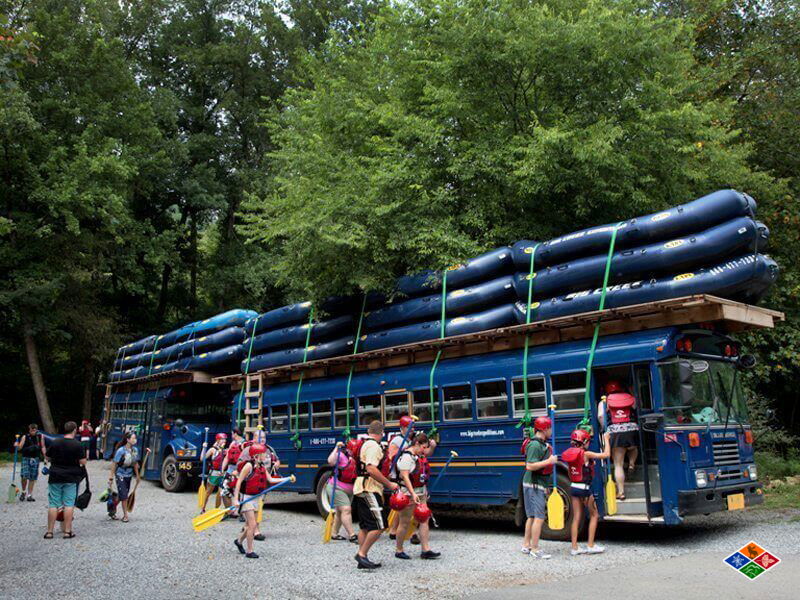 Smoky Mountain Outdoor
Guided whitewater and kayak trips on the upper and lower Big Pigeon River and,
Private kayaking lessons for individuals at all skill levels.
They have been operating for fifteen years and live by the motto: "We set the bar for service, safety, and FUN!" Smoky Mountains Outdoors also leads inflatable Kayak trips, and hike & Paddle adventures. So there is truly something for everyone.