Gatlinburg Swimming and Tubing
Many families debate over where to take their vacations each year, beach or mountains. While many families choose the endless waves of sunny beaches, just as many equally prefer a cooler retreat within dense forests and clear mountain streams. Who says you can't have both on your Smoky Mountain Vacation?
Not only does the Great Smoky Mountains take you to greater, and cooler heights, with peaks near 6,000 it offers some of the clearest, cleanest and most refreshing mountain waters, for swimming, tubing, splashing and more. So if you looking to beat the heat and cool off with a refreshing plunge or splash in a clear mountain pool or stream, never fear there are more water options than one might ever imagine in and near the Great Smoky Mountains National Park (GSMNP).
Tubing in the Great Smoky Mountains
For visitors seeking to experience the Great Smoky Mountains National Park (GSMNP) from a different vantage point, like floating or riding white water down a mountains stream, tubing is a fantastic option! The rivers and streams in and around the GSMNP offer a variety of wild white water rapids as well as gentler floats to enjoy the majesty of the mountains.
Not only can you lounge back and let the water do the work, but visitors can bask in the cool waters and roll down some ancient riverbeds while taking in the grandeur of lush forests, towering mountain peaks, and the serenity that with water and nature.
The Great Smoky Mountains Area features a wealth of tubing options so you can select just the right trip for you!
While some people rent their own tubes and create their own tubing adventure, numerous tubing companies offer guidance on specific routes provide shuttles, tube safety tips and more.
There are 3 major sections for Tubing in and near the Great Smoky Mountains National Park:
The Little River Townsend, Tennessee just outside the Townsend entrance to the park
The Deep Creek area of GSMNP near Bryson City, North Carolina
The Oconaluftee River near Cherokee, North Carolina
Additionally there is tubing in and around Pigeon Forge and Sevierville, Tennessee and Greenbrier.
THE LITTLE RIVER
TOWNSEND "Y" AREA-NEAR TOWNSEND, TENNESSEE
Rising up and out of the ridges of Clingman's Dome, the highest point in the park, The Little River twists and turns and flows over mountain boulders and through mountain forests towards the Townsend entrance of the Great Smoky Mountains National Park, where the Townsend Y is created by the confluence of Little River (flowing from the east) and Middle Prong of Little River (flowing from the west).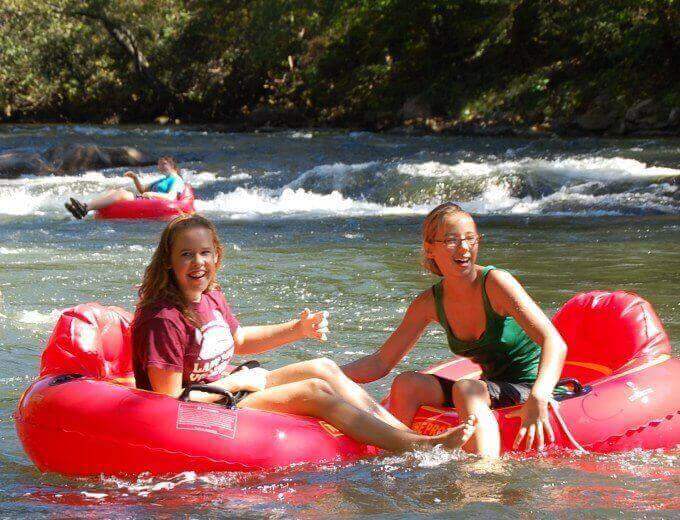 A favorite location for tubing and splashing, the "The Townsend Y," where the Little River and the Middle Prong of Little River join is one of the most easily accessed and popular tubing areas in the Great Smoky Mountains National Park.
Located just beyond the Townsend entrance to the Great Smoky Mountain National Park, the "The Townsend Y," is where many tubing trips begin their float trips back towards and through Townsend, Tennessee.
Want to go tubing in Townsend? Check out this list of outfitters.
DEEP CREEK
NEAR BRYSON CITY, NC
Located on the Western North Carolina side of the park, Deep Creek is considered some of the more adventurous tubing in the park. With water that originates in the mountains springs and flows through the rich and dense forests of the Great Smoky Mountains National Park, these waters too are known to be some of the purest and cleanest water in the Southeastern United States.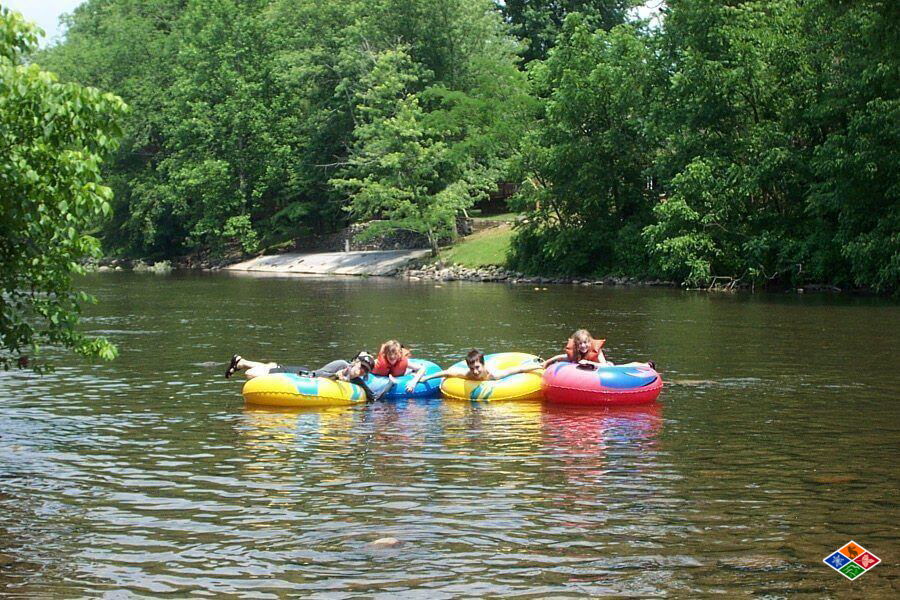 The Deep Creek Section of the park is located just outside Bryson City has been described as "Nature's Water Ride" and consists of 2 sections. The upper "whitewater" section of Deep Creek is known for it's rougher, wilder waters, especially after a good rain. This bumbling ride ends in a deep and wide swimming hole. The upper "whitewater" section flows from where Indian Creek joins Deep Creek through the narrow Deep Creek gorge.
As Naomi Lowman, owner of Deep Creek Lodge and Tubing Center notes, "There is a lot of allure in tubing in the (Great Smoky Mountains National Park GSMNP), rather than just any creek. Deep Creek is unique in that it is not your typical 'Lazy River' tubing. There are a few drops in the upper section that add some excitement for the adventures and there is the lower section where we recommend small children or people just looking to cool off and enjoy a day on the water. In addition there is a nice area where the water is about 10′, making for a great swimming area."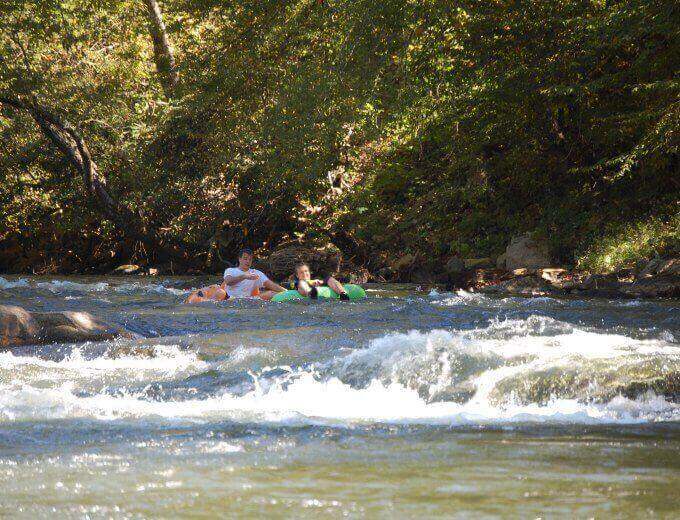 The Lower section, which begins at the swimming hole mentioned above, offers gentler and wider route, or a more lazy and loose ride where visitors can lounge and bask in the grandeur around them.
Most tube rental companies for Deep Creek are located along West Deep Creek Road. Tube companies offer numerous tube options from old-fashioned tire tubes, to tubes with seats or without, single or double and much more!
Once tubes are rented, Tubers can park at the Deep Creek trailhead, where they will carry their tube nearly a mile into the Great Smoky Mountains National Park, before beginning their journey downstream.
Bryson City has a number of Tubing companies and rental locations, if you're interested in checking out Deep Creek find a company by clicking here.
THE OCONALUFTEE RIVER
NEAR CHEROKEE, NC
For visitors wishing to experience a pristine river near the historic town of Cherokee, North Carolina the Oconaluftee River offers a fun and scenic float from this side of the park. Like other rivers in the park, the Oconaluftee River is considered one the cleanest and clearest rivers on the southeastern United States.
Flowing forth from the Cherokee side of the Great Smoky Mountains National Park, these pure waters travel up and out of the park and through the town of Cherokee, NC.
GREENBRIER: LITTLE PIGEON RIVER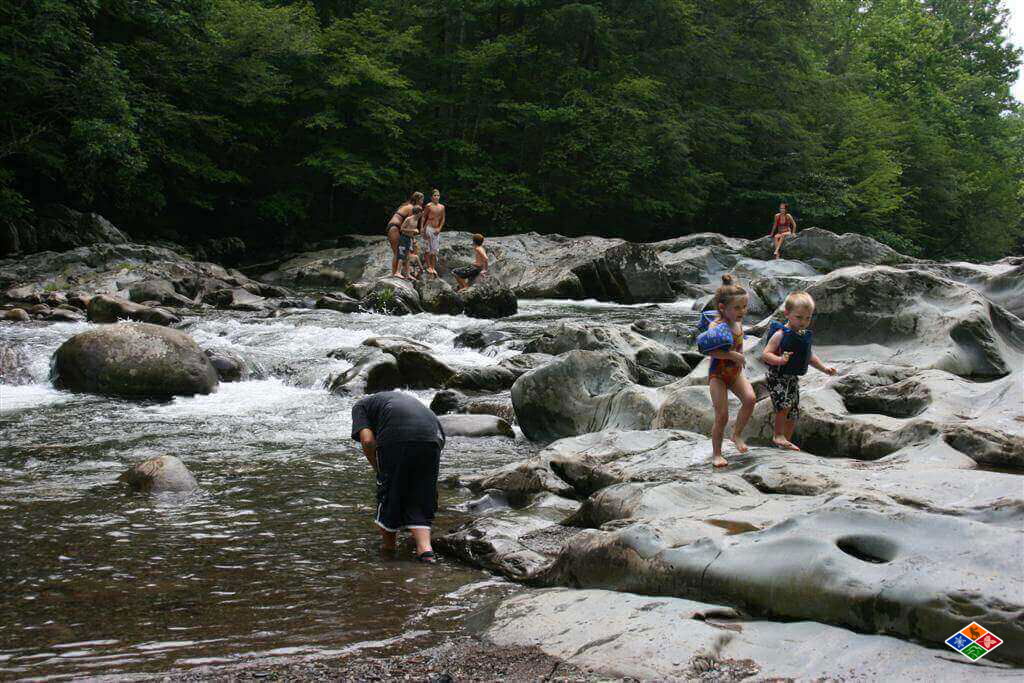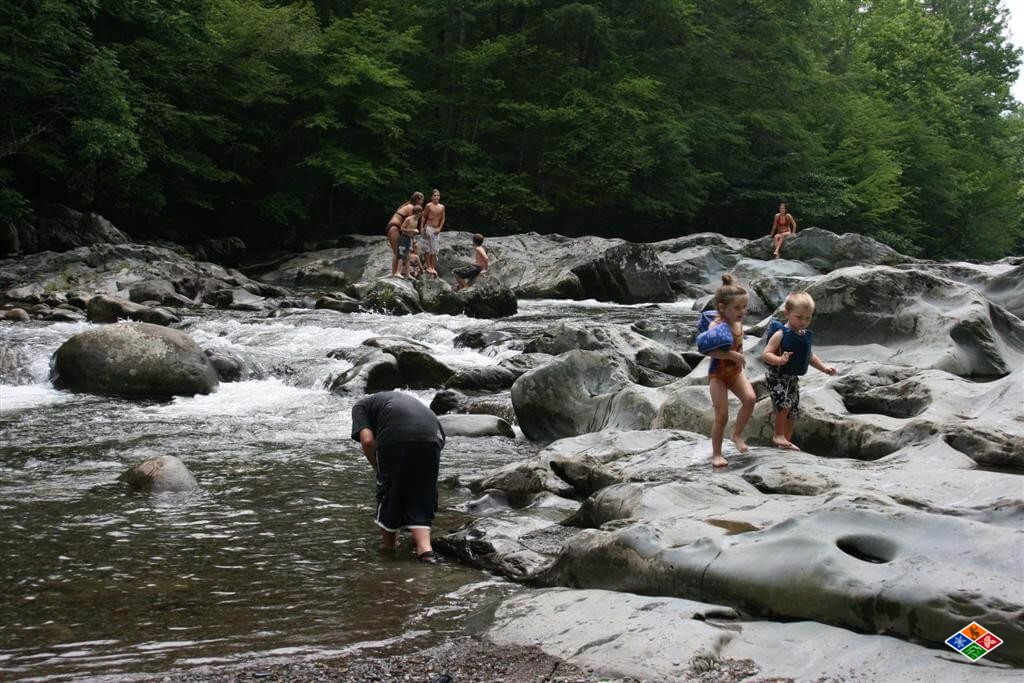 Located just up the road from Gatlinburg on 321. The Greenbrier area of the GSMNP can be reached just before arriving at Pittman Center, Tennessee. The Greenbrier area is a lesser known recreation area for tubing, swimming and splashing on The Little Pigeon River.
The Little Pigeon River is rumbling mountain river that flows over ancient stones, amidst dense forests. The Little Pigeon is fed by several tributaries which include: Injun Creek, Rhododendron Creek, Birds Branch, and West Prong.
While this isn't an official tubing route, you will see pull offs along Greenbrier Road where many locals and "tourists in the know" pull off to take a dip or hop in a tube.
Tubing Companies
DEEP CREEK AREA:
JJs Tube Rental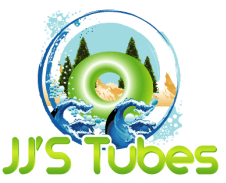 JJs Tube Rental, has a tried and true history tubing the scenic and pristine waters of the Deep Creek Area of the Great Smoky Mountains National Park. A family owned and run business, the Marr family knows tubing inside and out. "We have been in operation for 32 years. Our parents started the business and now my brother Jeff Mar and I run it. Our whole family work in education during the year, so this business really works well with our schedules. JJs Tube rental is named after my brother Jeff, and me Josh. It really is all in the family," notes Josh Marr.
Tubing in the Deep Creek area of the Great Smoky Mountains National Park is considered some of the most fun in the park. Not only do the crystal clear waters and tumbling rapids offer a refreshing romp in the water, but they also give visitors a chance to sit back, soak up the mountain water and take in the beauty around them. As Josh Mar confirms, "Tubing in the Smoky Mountains is so amazing because it provides a day of cheap family fun while enjoying some of the most beautiful scenery in the country!"
JJs Tube Rental is well known for their old-fashioned tubes, more like truck tire material that have hard plastic seats tied in the middle with rope. These more durable tubes are fit to ride and tame the rapids and keep you comfortable along the way. They also offer tubes without seats in the middle for those who want to dip their bottom, and tubes in kid and adult sizes.
As Josh Marr concludes, "JJs Tube Rentals is a great choice for a Deep Creek Tubing adventure. Our company is not only family owned, but family operated. On a given day 3 generations of our family may be working at the Barn. This is something special that you won't find at other places. We believe in treating people the right way, and we have a great time doing it!"
Venue name:
JJs Tube Rental
Address:
1401 West Deep Creek Road, Bryson City, NC 28713
Deep Creek Lodge & Creekside Tubing
One of the oldest Tube rental businesses in the area, Deep Creek Lodge and Creekside Tubing opened in 1941 and attracted tourists eager to test the mountain waters located in this area of the GSMNP. Owner of Deep Creek Lodge and Creekside Tubing, Naomi Lowman details some of this history, "[We] quickly became a popular destination for those who wanted to enjoy the national park… With guests of the lodge and campers coming in to enjoy the National Park, tubing was just naturally something people would love to do on the creek, and with the landscape offering such an exciting ride it started to bring in locals and visitors from all over the country. Our family specifically chose Deep Creek for a camping destination because of the tubing as far back as the early 60's. Commercial Tubing picked up quickly there after and we were renting tubes to locals and tourist."
Deep Creek Lodge and Tubing Center has continued the legacy of offering a family fun and the tubing gear needed to enjoy the beauty and wonder of the park. Located directly adjacent to the Deep Creek section and entrance the Great Smoky Mountains National Park, Deep Creek Lodge and Tubing Center offers a takeout spot right from the flowing creeks just as you exit the National Park. As Naomi describes, "Tubers and groups love the convenience of our prime location makes it easy for tubing transport and takeout. With us, the tubes do not have to be tied down to their car to be carried into the park and then returned back to the rental company that can be located further down the road. With us it's as simple as exiting the creek and turning in their tubes."
For tubers who have worked up an appetite battling the rapids or just lounging about, Deep Creek Lodge and Tubing Center offers a snack shop and pavilion where tubers can have a lunch, snack or meal located right beside the creek. The snack shop and pavilion feature a full sandwich menu of Burgers, Dogs, Chicken, Ice Cream, Snow cones, Slush Puppies, etc. As Naomi explains, "[Tubers] love to take a run or two, stop and have lunch and go another time or two."
Deep Creek Lodge and Tubing Center features a variety of tubes for the rider. Their selection includes traditional tubes, many of which have seats tied in , newer commercial PVC tubes, and some without backs and bottoms. In addition, they offer double tubes for guests wishing to float tandem.
As Naomi concludes, "Families and groups alike really love tubing with us Our creek access area allows even the smallest of children a chance to at least splash around in the water by the pavilion, have some ice cream and enjoy a fun day with the family. In addition, we have group rates for groups of at least 8 or more they will pay $1 less per person."
Venue name:
Deep Creek Lodge & Creekside Tubing
Address:
1881 West Deep Creek Rd, Bryson City, NC 28713
CHEROKEE AREA:
Cherokee Rapids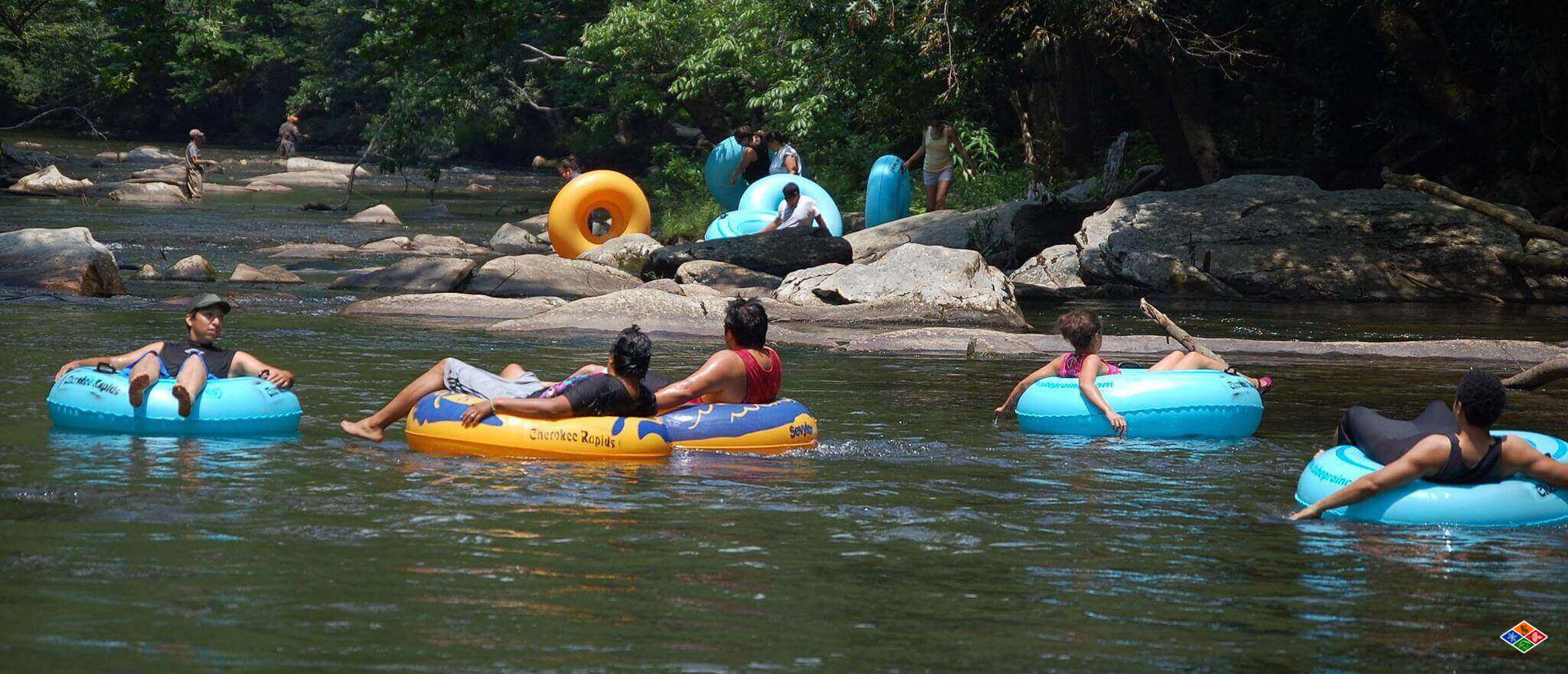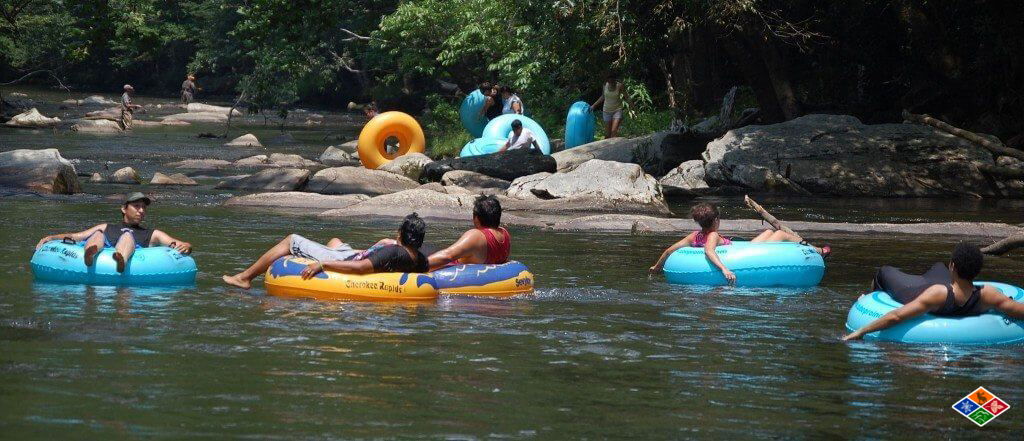 Cherokee Rapids is popular for offering one of the longest trips in the area and their famous "Big Cove" Route. This float trip starts two miles upstream from Cherokee Rapids Little Princess Location. Visitors are shuttled into the Great Smoky Mountains National Park and dropped just beyond the Cherokee Visitors Center. Here they will experience the resplendent nature as they float down the Oconaluftee River among the ancient woods and paths that Native Americans have traveled for thousands of years. Tubers will bumble along fun rapids, swimming holes and even a rope swing for two full miles before floating right up to the Little Princess Location.
For guests with smaller children, seeking a more relaxing float trip Cherokee Rapids offers the "Island" Route. This leisurely 2-mile trip includes begins at their Little Princess location and floats down through the town of Cherokee to Oconaluftee Islands River Park.
Venue name:
Cherokee Rapids
Address:
1681 Acquoni Rd Cherokee, NC 28719
Additional Cherokee Tube Companies:
Venue name:
Smoky Mountain Tubing
Address:
1847 Tsali Blvd., Cherokee , NC 28719
PIGEON FORGE/SEVIERVILLE AREA:
Smoky Mountain "River Romp"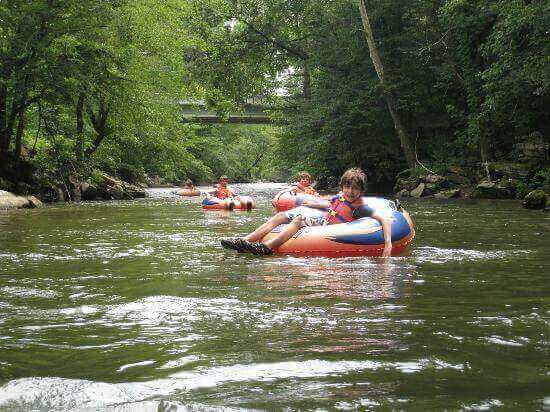 Located in Sevierville, less than 5 miles from Dollywood, River Romp offers a superb location on the banks of the Little Pigeon to take in magnificent scenery and serenity the Great Smoky Mountains imbue.
As owner Diane Renfroe explains, "Our family relocated to the area post-Katrina after vacationing here for over 25 years. The serenity and purity of the area has drawn us here since my childhood…There is solitude and grace in all the Nature which abounds here."
Romp seeks to share the wonder and beauty with guests that come to the Smoky Mountain area. As Diane explains, "River Romp seeks to share the adventure and picturesque mountains with visitors. Here visitors can enjoy a float on one of the cleanest rivers in the area; as well as, time spent with family, chatting, playing, laughing, savoring the serenity and beauty of these mountains."
Smokey Mountain River Romp River Romp has been in operation over 28 years. Originally, opened by the Bennett Family in Pigeon Forge under the name "River Run" with several locations, before becoming "River Romp" and settling in its current home at the "old grey barn" on Pittman Center Road in Sevierville.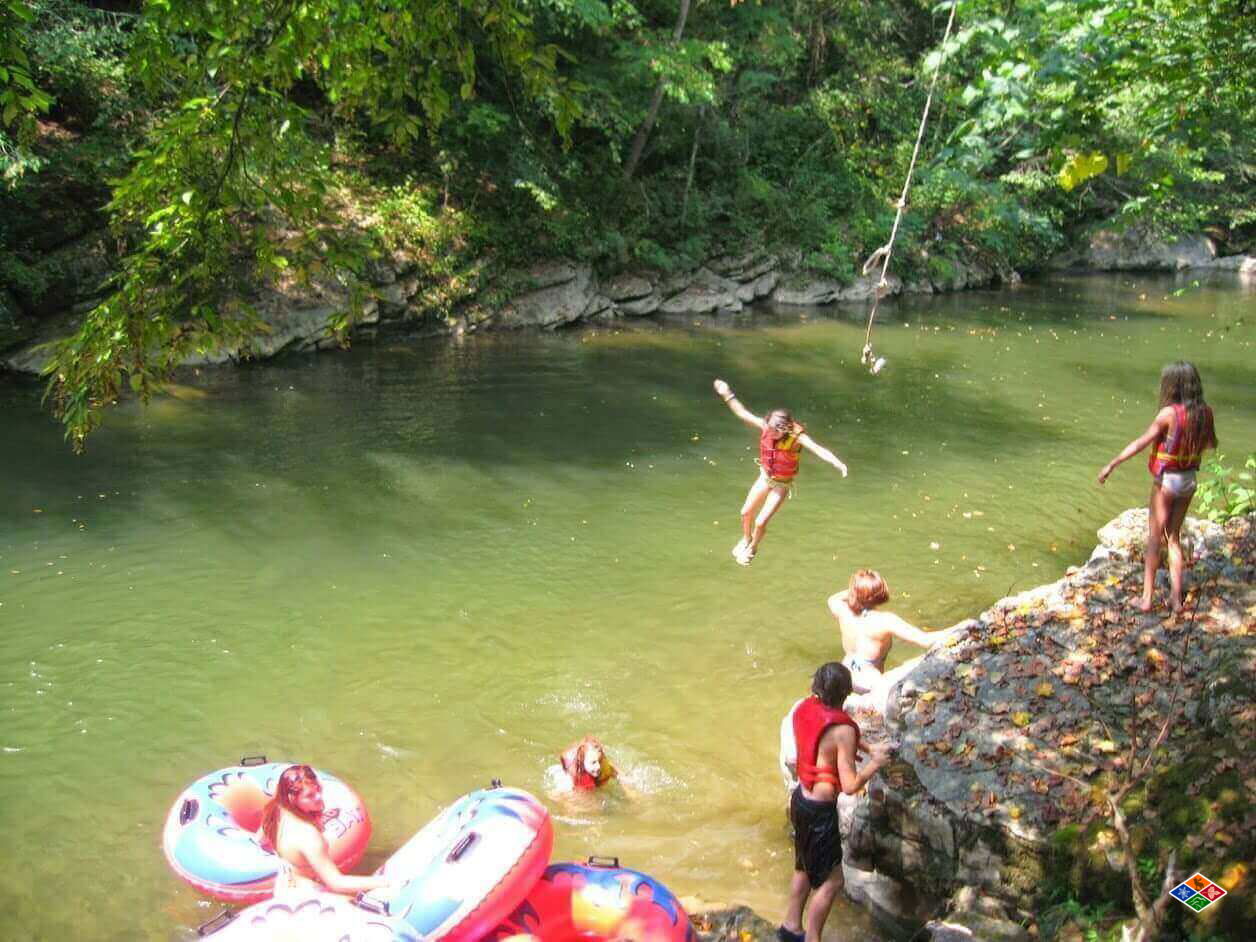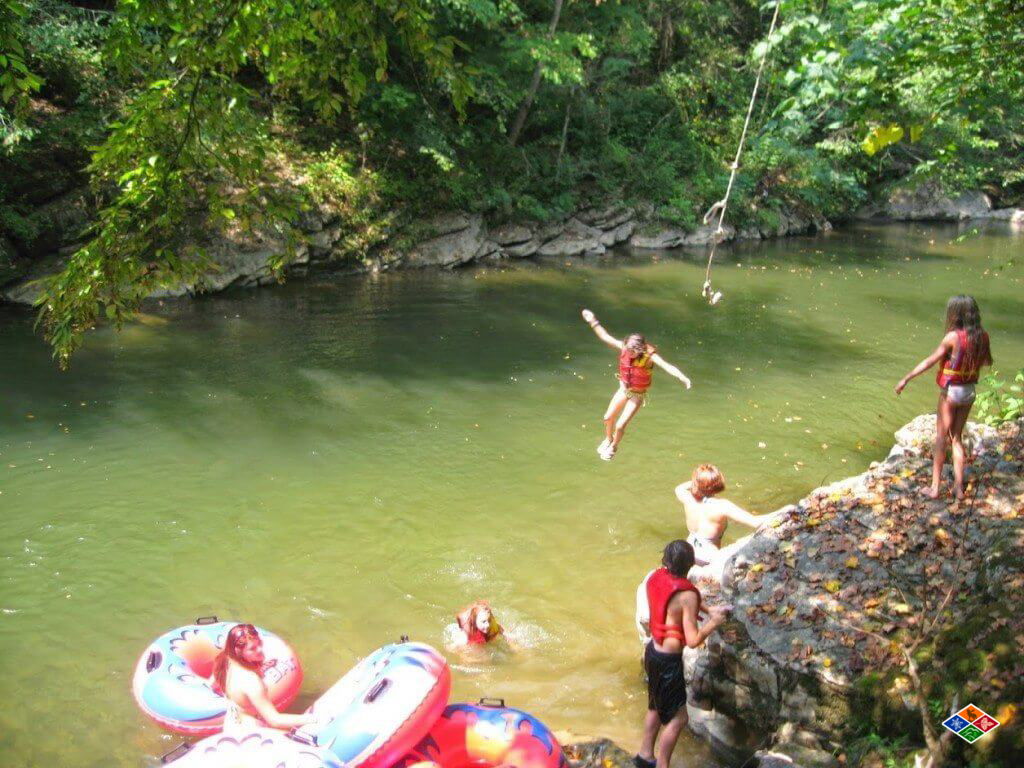 While there are many area tubing companies to choose from, River Romp sets themselves apart by making safety a priority. As Diane explains, "Having strong background in safety, we elected to place each guest's well being ahead of profit. Each day we monitor electronically our River conditions (height, flow, temperature, etc), as well as meteorological sites that will alert us to any lightening within a 30 mile radius, as well as any extreme weather anomalies."
River Romp is a great family tubing option as their route is milder, wider river with 7 swimming holes. Tubers can experience a terrific ride on this magnificent route down the Middle Prong of the Little Pigeon River which originates on Mt. Guyout, the 2nd highest mountain in Great Smoky Mountain National Park (Mt. Leconte being #1). This 2.43 miles long ride includes 7 swimming holes and 5 rippling waters.
Truly committed to helping guests have the best possible experience. River Romp River Technicians work diligently everyday to make sure guests have the best possible experience As Diane explains, "Our River Technicians check the river each morning, kayaking whether the river is slow, low, perfect, high or fast. Furthermore in the event there is floating debris, our River Techs clean up and dispose of any and all refuse. In addition, they personally clear any fallen trees or trees that float down after storms, to ensure the ease of flow and safety for our guest."
River Romp offers heavy duty ski tubes, in two different sizes, depending on the preference of guests. Additionally, guest are able to rent tubes to float their own coolers or rent one of our various size coolers to float with them to add to their enjoyment.
As Diane concludes, "In our fast paced electronic world, the time spent on the river with family and friends, allows those of us old enough to remember made up games and silly songs without electronic devices and affords families' the opportunity to share memories of their childhood, as well as create new memories for all."
Venue name:
Smoky Mountain 'River Romp'
Address:
1980 Pittman Center Road Sevierville, TN
Additional Pigeon Forge/Sevierville Tubing Companies:
Venue name:
Toobin' & Groovin'
Address:
3708 Wears Valley Road Sevierville, TN 37862
TOWNSEND TUBE COMPANIES:
Smoky Mountain River Rat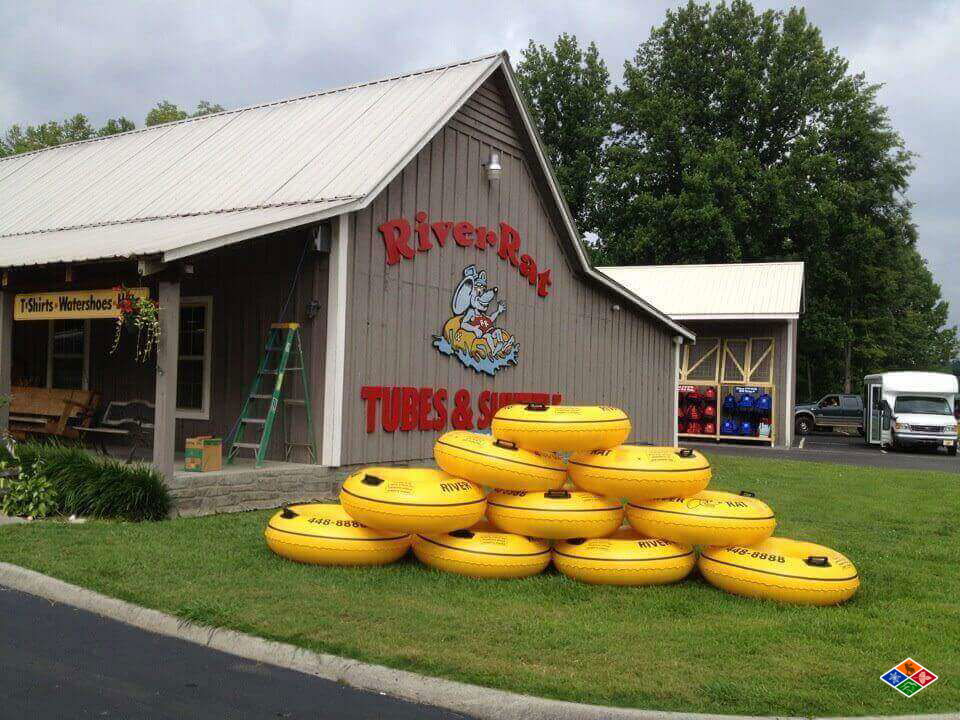 The Skidmores a.k.a. "The Shannons", graduates of East Tennessee State University, opened Smoky Mountain River Rat in 1995. This now thriving business is one of the top 3 attractions in Townsend, Tennessee near the Cades Cover end of the Great Smoky Mountains National Park.
Smoky Mountain River Rat offers two river trips on The Little River, on an upper and lower section. The Upper section, is considered the more adventurous and scenic route, with rolling rapids and swimming holes along the way. The lower section is a more relaxed ride and family friendly float with a rock jump, rope swing, and gentler rapids than the upper float.
For more information visit:
205 Wears Valley Road, Townsend, TN | http://www.smokymtnriverrat.com/
Additional Pigeon Townsend Tubing Companies:
Venue name:
Cowboy Tubing
Address:
8351 State Highway 73 Townsend, TN 37882
Address:
8303 Tennessee 73 Townsend, TN 37882
The Best Swimming Holes in Gatlinburg and The Great Smoky Mountains
For those seeking a plunge or dip instead of a ride down the river, the Great Smoky Mountains offers plenty of cool, clear swimming holes guaranteed to refresh and invigorate all whom splash and swim within them. For those who prefer to just dip their toes, there are plenty of swimming spots with warm rocks to bask on and let the babbling waters sooth and calm you.
MIDNIGHT HOLE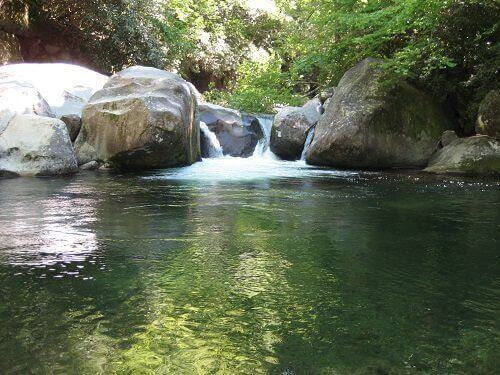 Midnight hole is one of the best-known swimming holes in the Great Smoky Mountains. Located at Big Creek on the North Carolina/Tennessee state line, just inside Great Smoky Mountains National Park, this swimming spot is formed where the creek flows between two large boulders. With the sun streaming through, the dark hue of this pool takes on dark shimmering light. The sparkling dark hue of these waters entices onlookers to take a cool dip.
The trail to this swimming hole follows an old railroad grade used to haul lumber out of the mountains during the logging boom. The hike to the Midnight hole is 1.4 miles. Before or after your dip, hike the extra half-mile up to view the spectacular Mouse Branch Falls. Located at the far side of Big Creek, these falls stand an impressive 45 feet high.
ABRAMS FALLS SWIMMING HOLE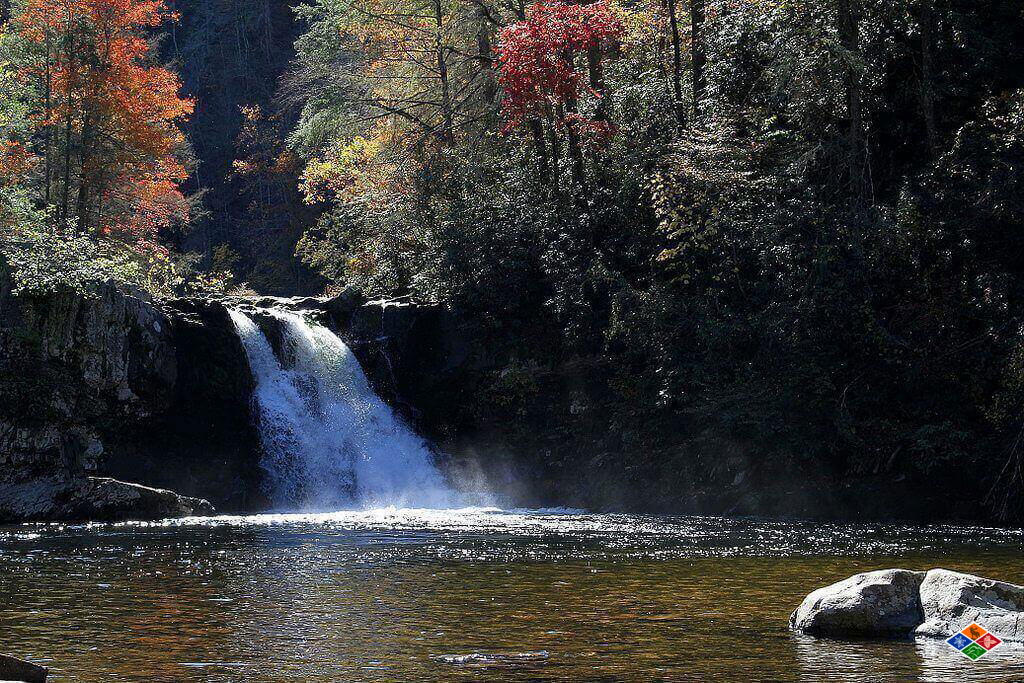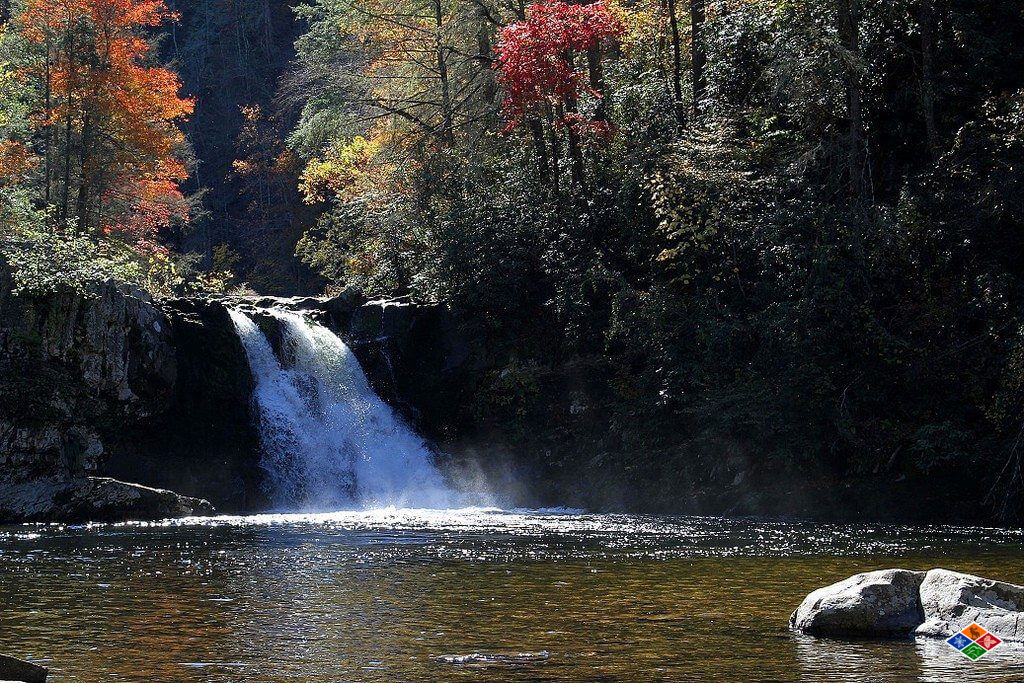 This waterfall and creek are named for Cherokee Chief Abram, or Abrams, whose village once stood several miles downstream. Located in Cades Cove, this swimming hole is a Kodak moment waiting to happen.
Although Abrams falls is only 20 feet high, the large volume of water rushing over the falls makes up for its lack of height. The water plunges into a large 100-foot pool at the base that sparkles with laughter and light.
While there is a bit of hike to this swimming hole, 2.5 miles from the trailhead, viewing Abrams Falls and lounging in the swimming hole make your arduous hike worth the effort. Don't forget your camera and swimsuit for this picture perfect spot!
METCALF BOTTOMS SWIMMING AREA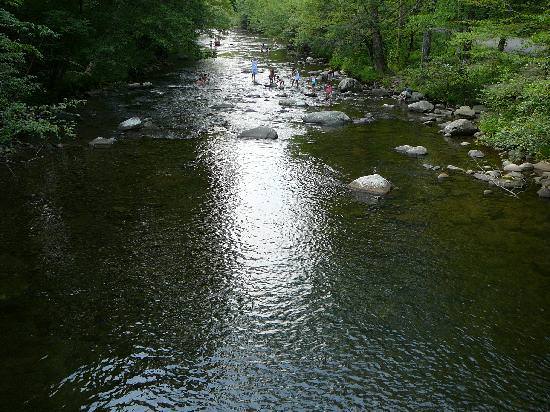 This picnic area located between Gatlinburg and Townsend offers great access to the Little Greenbrier River. Several shallow swimming holes are scattered along this picnic area. The area is wide and makes for a perfect spot to throw a tube into the water and relax. It's also the perfect swimming area to have a nice picnic, with many tables sitting along the water.
The Metcalf Bottoms are also close to many other attractions in the area, so you can fit in a swim, a picnic, a hike or even some antique shopping. From here you can drive or take the small hike up to the Little Greenbrier Schoolhouse and look at the old one room school house and then venture to the Walker Sisters Cabin (the cabin of the old teachers from the school house). Once you've finished swimming, take, Lyons Spring Road to Wears Valley. Here you will experience beautiful mountain views, cute antique stores, and some small local shops.
GREENBRIER SWIMMING HOLES ON THE LITTLE PIGEON RIVER
One of the clearest mountain rivers in the park, the West Prong of the Little Pigeon River flows through the Greenbrier area of the Great Smoky Mountains. This is a favorite spot for tubers and swimmers to splash and play in the pristine pools that collect below small rapids.
THE TOWNSEND Y SWIMMING AREA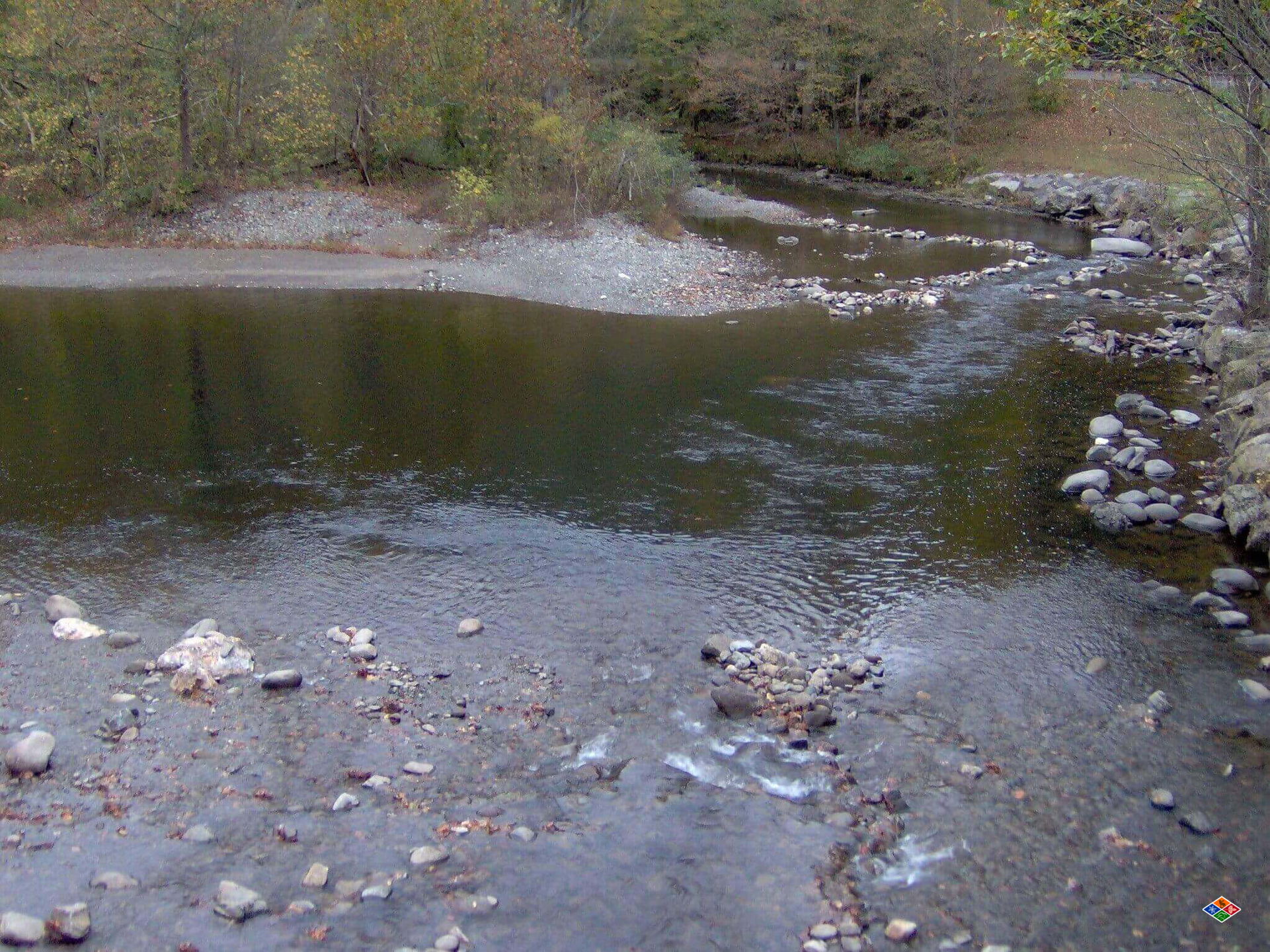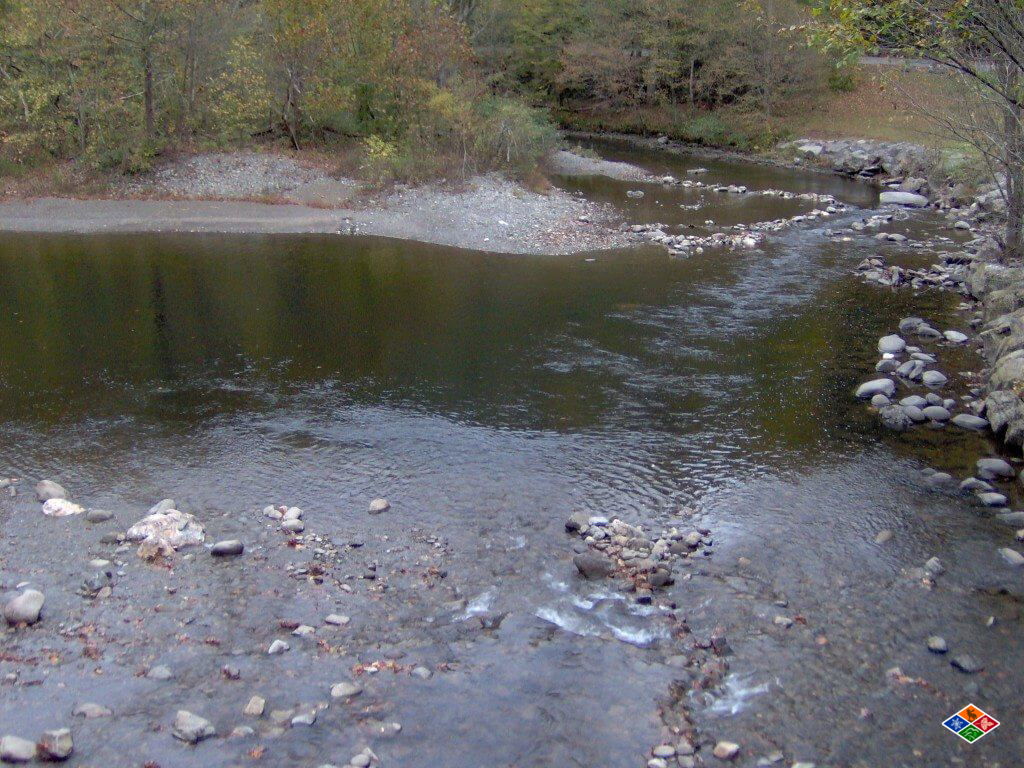 The Townsend Y is where the Little River and the Middle Prong of Little River join. Probably the most easily accessed and popular swimming hole, this wide pool is located provides fun for the whole family. Located just after the Townsend entrance to the Great Smoky Mountain National Park, this swimming area provides plenty of water to play in. Visitors can also sunbathe or enjoy a great picnic on the sloping hill above the pools and watch as sightseers enter the park.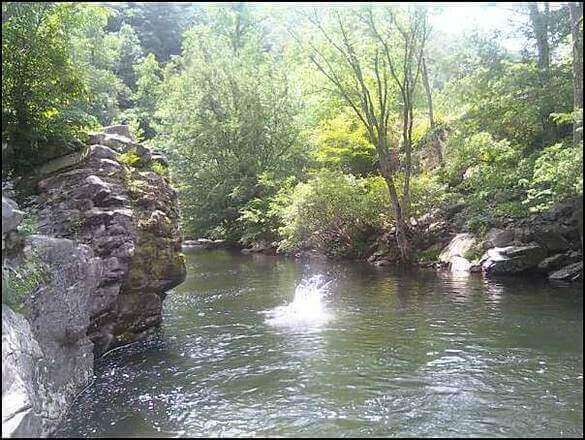 The Sinks – Roaring rapids and deep pools! Be careful and cautious here.
Local legend has it that there once was a logging train that derailed here and plummeted into the Little River. No train was ever recovered and since the mysterious crash occurred this area has been referred to as The Sinks. This is one of the easier swimming holes to access and as such is usually popular on hot summer days. The Sinks offers visitors a beautiful waterfall with small cliff and rocks that flow down into a reservoir below. This swimming hole is a mix of rapids and deep pools. Remember this area is very rocky, the waterfall is massive and there are often strong currents; be cautious and never go behind or around the waterfall as this is very dangerous.
Take a relaxing drive through the mountains and enjoy your views on your way to The Sinks. See the directions below to get to this swimming destination, depending on traffic it can take anywhere from 30 – 40 minutes to reach your destination. But the view alone is worth the drive.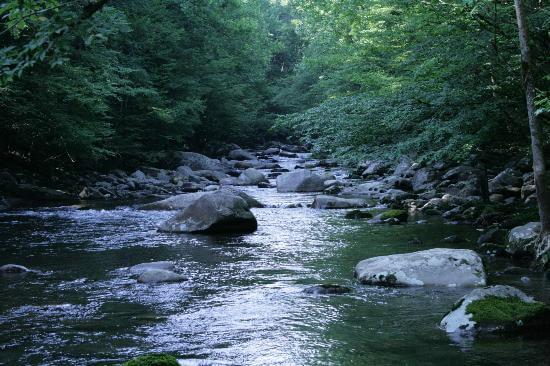 This swimming hole is for the adventurer and skilled hiker. The Chimney Top trail is one of the most popular hikes in the area and is great spot to enjoy a swim, beautiful mountain views, and a challenging 1,700 feet climb in a two mile radius (for more advanced hikers in good shape and not afraid of heights).
For those of you who are just looking for a place to cool off, this is where you can enjoy the refreshing Little Pigeon River. There are plenty of rocks to jump off into the river, however, be sure that the water levels are high enough for jumping (average level runs about six to eight feet deep). Glide into the nice cool waters and enjoy a lovely picnic with your family. The cascading waters are calming and a great relax. If you're there for the hike follow the trailhead and be prepared for an exciting and challenging excursion. This 2 mile hike is filled with a rocky ridge-line and once you reach the top a near 360 degree view that is stunning.
DEEP CREEK TRAIL SWIMMING HOLE
Also known for its tubing the Deep Creek Trail area offers some great swimming holes for those seeking a splash but not a ride. While you may see many tubers passing through, there is an excellent swimming hole where the creek is "deep," for those wishing to splash and swim.
Just over the bridge, nearly a100 feet to where the trail/old roadbed starts to climb uphill a little there will be rock outcroppings that make-up the creek bank. This is where you will see many tubers pulling out or putting in for their ride. This area however is also a great swimming spot because the water is deeper.
INDIAN CREEK FALLS SWIMMING HOLE
Located in the Deep Creek Section of the park. Indian Creek is a sweet mountain stream hat flows into Deep Creek between "Thomas Divide" and "Sunkota Ridge," just North of Bryson City. This refreshing swimming hole is located at the base of Indian Creek Falls.
This twenty-five foot waterfall cascades down slick rock into a clear pool. Perfect for dipping, splashing and cooling off. Visitors can bask in the beauty of the falls and splash around.
Good Old Fashion Swimming
PIGEON FORGE AQUATIC CENTER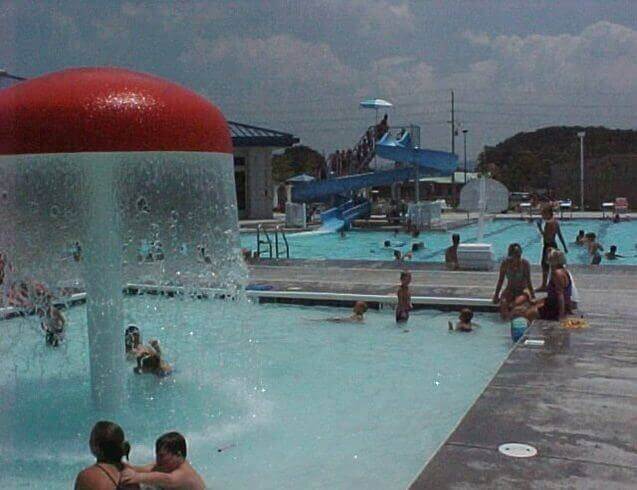 The city of Pigeon Forge features an impressive Aquatic Center with both an indoor and outdoor pool. A part of a larger, 86,000square foot Community Center, this Aquatic Center is open to both visitors and residents of the area. Daily, weekly and monthly passes can be purchased.
Pool guests can swirl down a super water slide and kids can splash and play in the kids pool with mushroom fountain and more.
SEVIERVILLE PARKS AND RECREATION FAMILY AQUATIC CENTER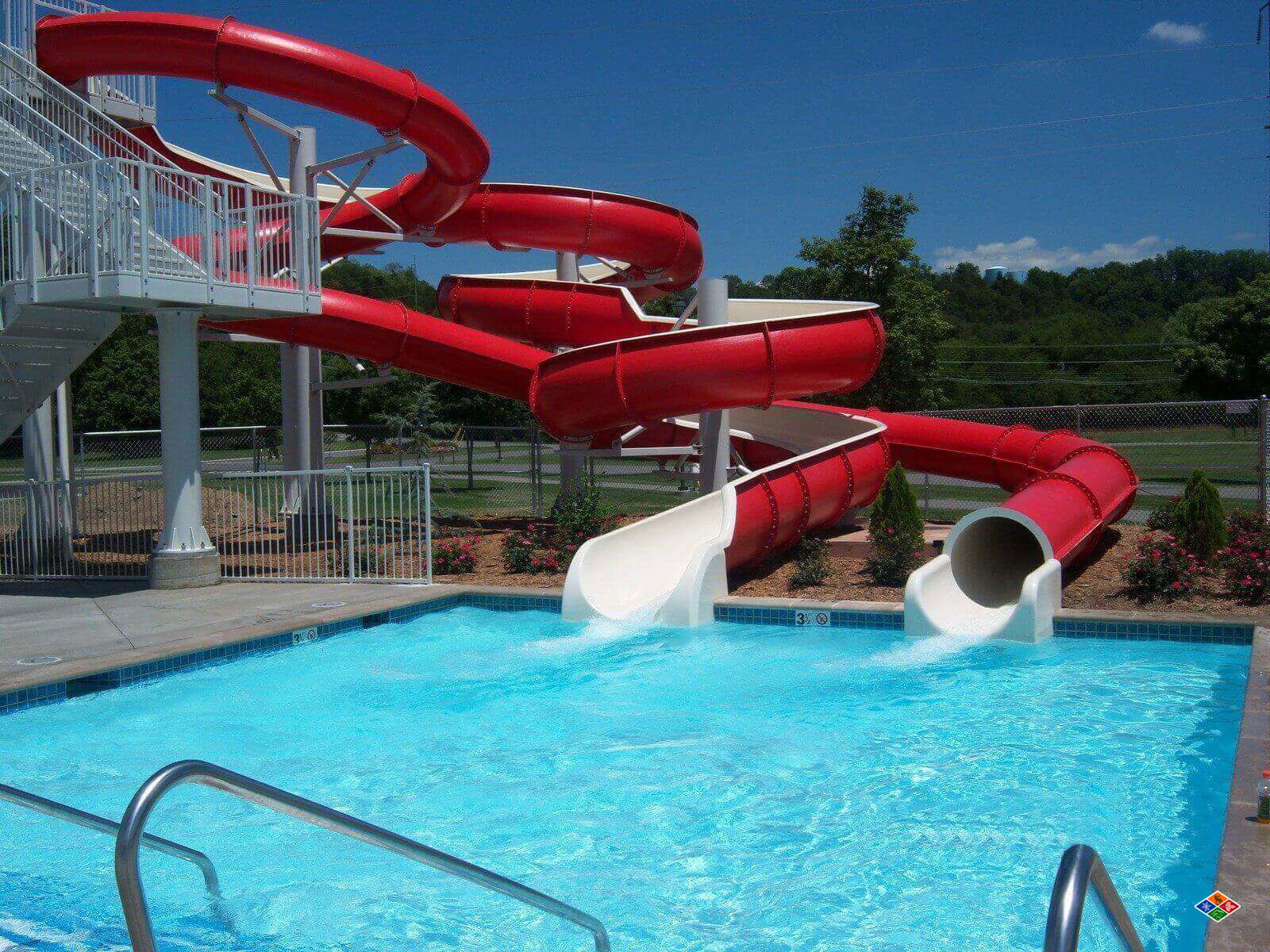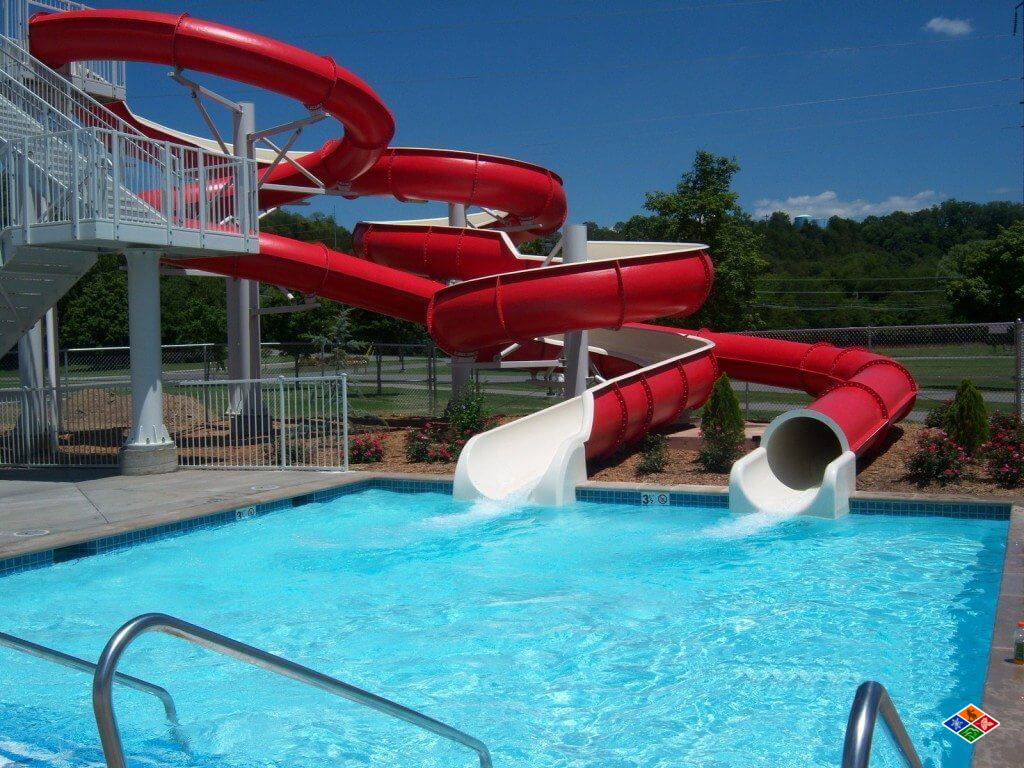 This newly renovated 25 meter outdoor pool features dual, side-by-side waterslides and plunge pool. It also offers an impressive splash pad area for the little ones in your group with fountains, flying water, sprinklers, and much more.
The Family Aquatic Center of Sevierville also offers a snack bar.
GATLINBURG COMMUNITY CENTER INDOOR SWIMMING POOL
Located just down the road from Elk Springs Resort the City of Gatlinburg offers an indoor swimming pool all year long. A great rainy day backup, this large pool is located in the Gatlinburg Community Center's52,000 square foot facility.
In addition to their indoor swimming pool, they also feature a bowling center, a fitness area, a gymnasium and racquetball courts.
Additional Swimming Attractions:
SPLASH COUNTRY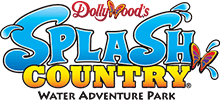 Dollywood's sister park – Splash Country, is a fantastic place to experience water fun! This wave of water park offers 23 water adventures, slides and thrill rides. There is something for everyone in the family, from the kiddie water playground areas such as "Cascades and Little Creek Falls" to more daring slides for those adrenaline junkies such as the park's tallest and fastest water slides, Fire Tower Falls.
You don't need to go the ocean to catch a wave, in fact you can do it right in the heart of the Great Smoky Mountains. At Dollywood's Splash Country you can ride the waves in their 25,000 square foot wave pool. If relaxation is what your are seeking grab a tube and kick back on the Downbound Float trip attraction, a 1,500 foot lazy river.
Families seeking a base camp and relaxing refuge while visiting Splash Country can rent a Retreat or Canopy rental located water and riverside in various parts of the park. In addition, because swimming works up such an appetite, there are twelve different dining options onsite to feed your hungry clan.
Venue name:
Splash Country
Address:
2700 Dollywood Parks Blvd. Pigeon Forge, TN 37863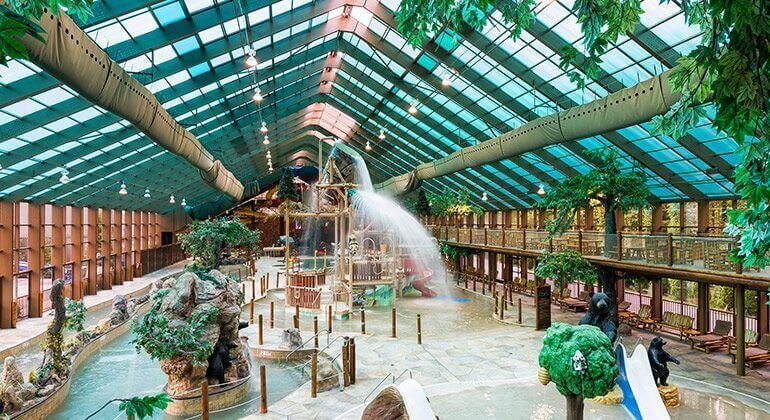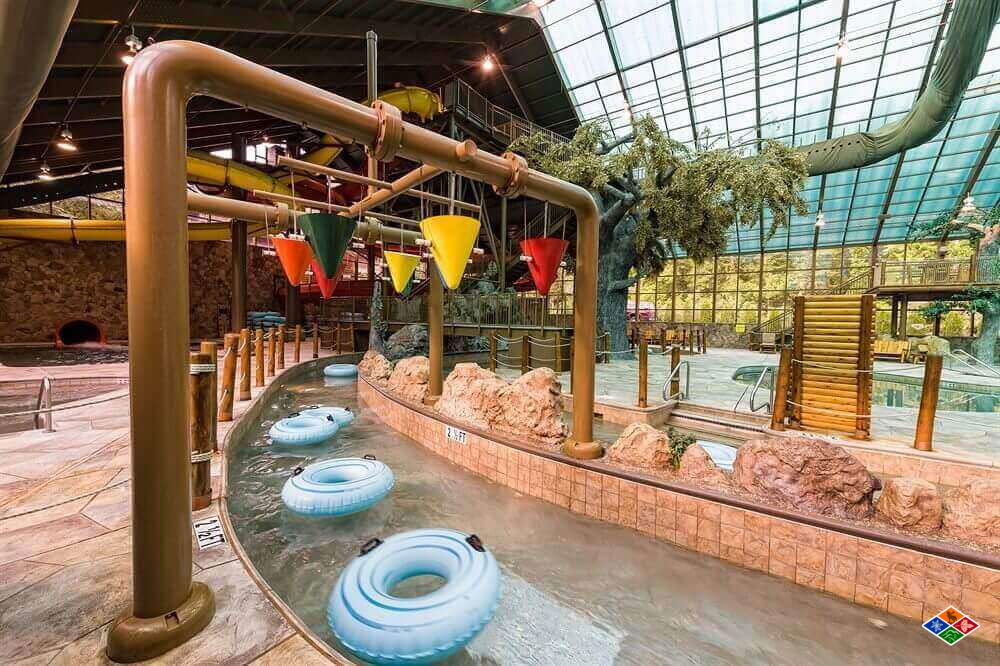 This all season indoor water park, can be enjoyed rain or shine, all year round. During warmer days this mountain themed water park even features a state of the art retractable roof, so visitors can enjoy the sunshine.
A family fun adventure, Wild Bear Falls offers plenty of places for the padres to kick back and watch the kids frolic and play, as well as adventure water rides for the whole family.
Wild Bear Falls features eight different attractions within the park to delight and divert the whole family.
A favorite with the kids, "Ramsey Cascades" is an interactive tree play house with two slippery slides, sprinklers, water spouts, and a 300-gallon water bucket that periodically dumps over the whole structure.
For the little tikes in your troop, Wild Bear Falls' "Little Pigeon River," is a spray playground exclusively for toddlers. No big kids allowed!
The 900 foot "Cades Cove" lazy river is also a favorite among guests who wish to kick back and cool off as the leisurely float in a tube. For those seeking a little more adventure on their tube, the "Clingman's Dome" ride offers 350 foot long tube slide that will have guest thrilled as they slip, slide and meaner down this slide.
For family members really ready for adventure and thrill the "Laurel Falls" body slide will take them twisting and turning them through a 300 foot fully enclosed body slide.
Moonshine Hallow and Grotto Falls are the perfect place for Mom and Dad to sit back and relax in these large hot tub areas, complete with jets and more.
Finally for families looking to swim and play to their hearts delight, the large "Swimming Hole" pool is perfect to dip under, doggy paddle, and even shoot some hoops at the water basketball area.
This 60,000 square foot indoor water park will not disappoint, and for guests seeking to dry off and fuel up, Wild Bear Falls also features a snack bar, gift shop and an arcade on the mezzanine level.
Venue name:
Wild Bear Falls
Address:
915 Westgate Resort Road Gatlinburg, TN 37738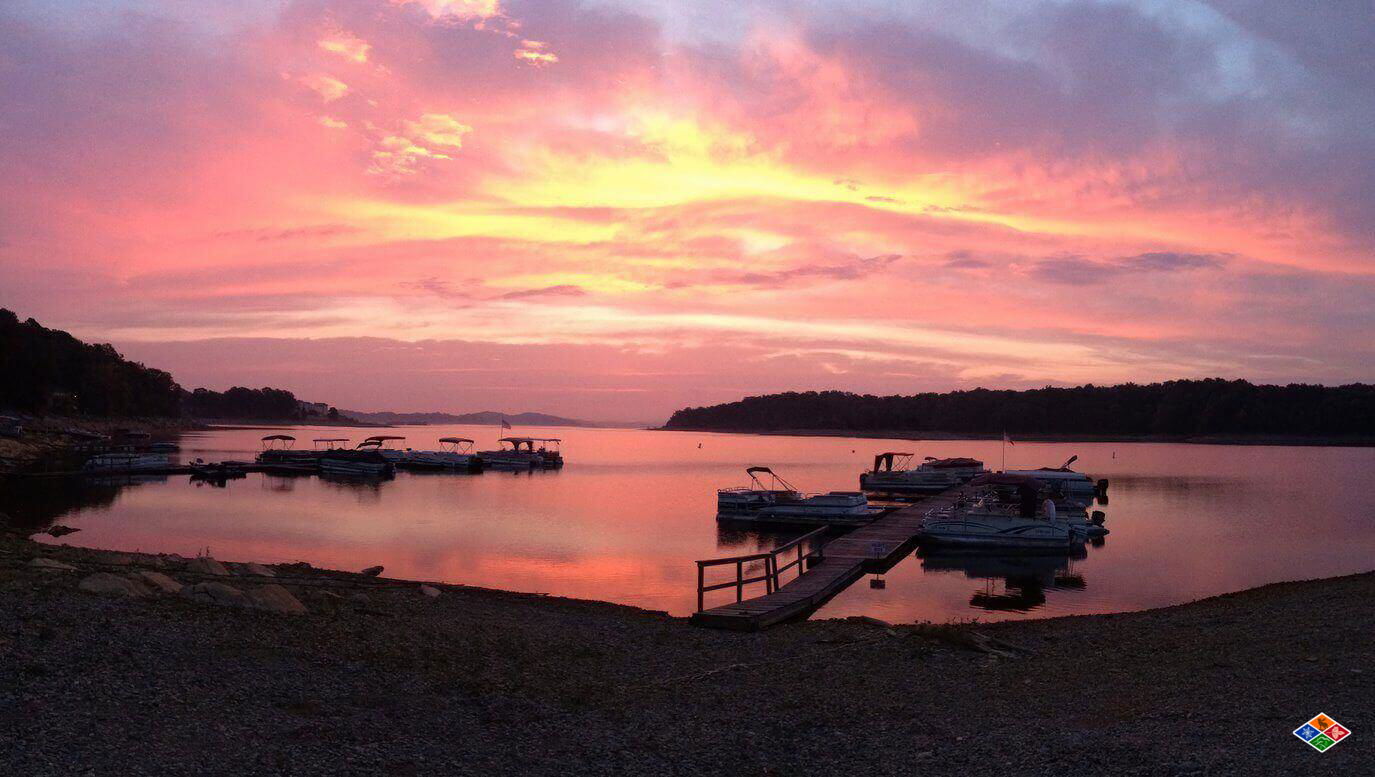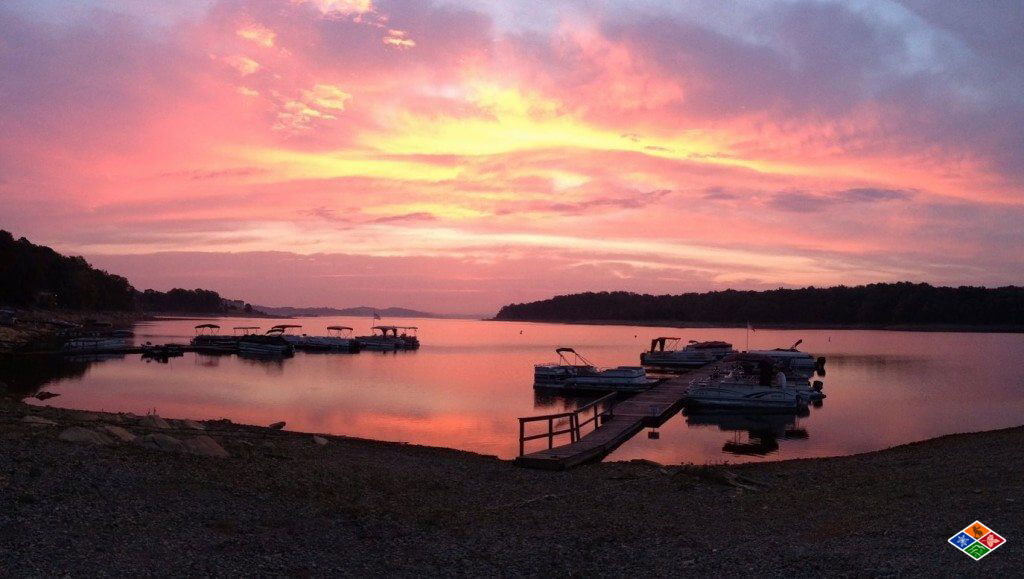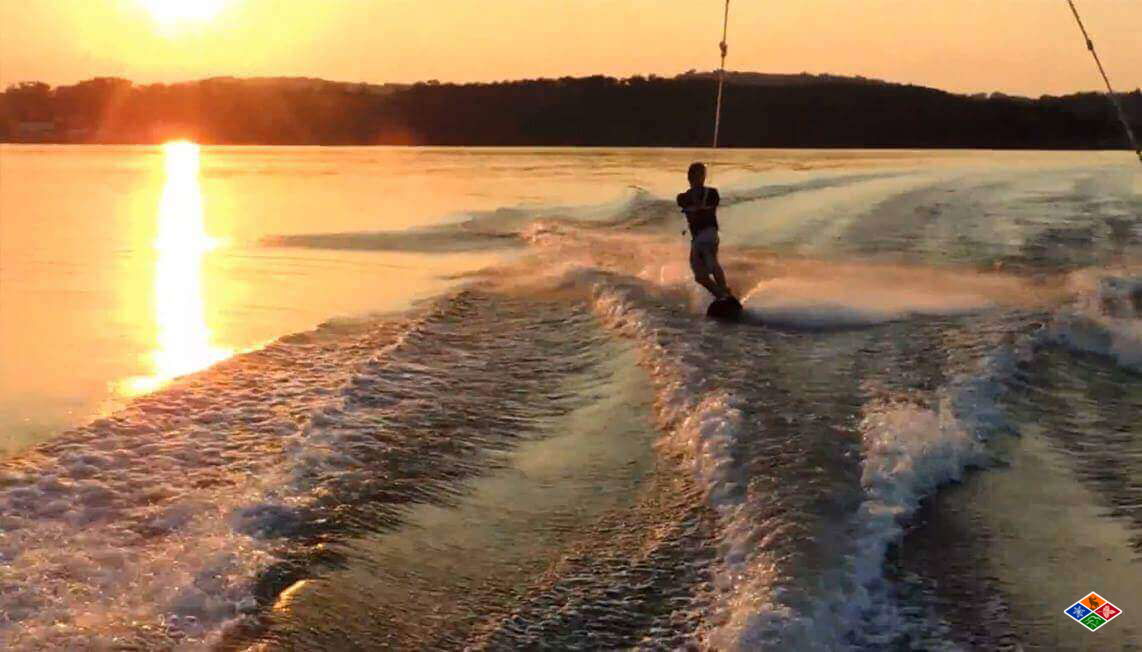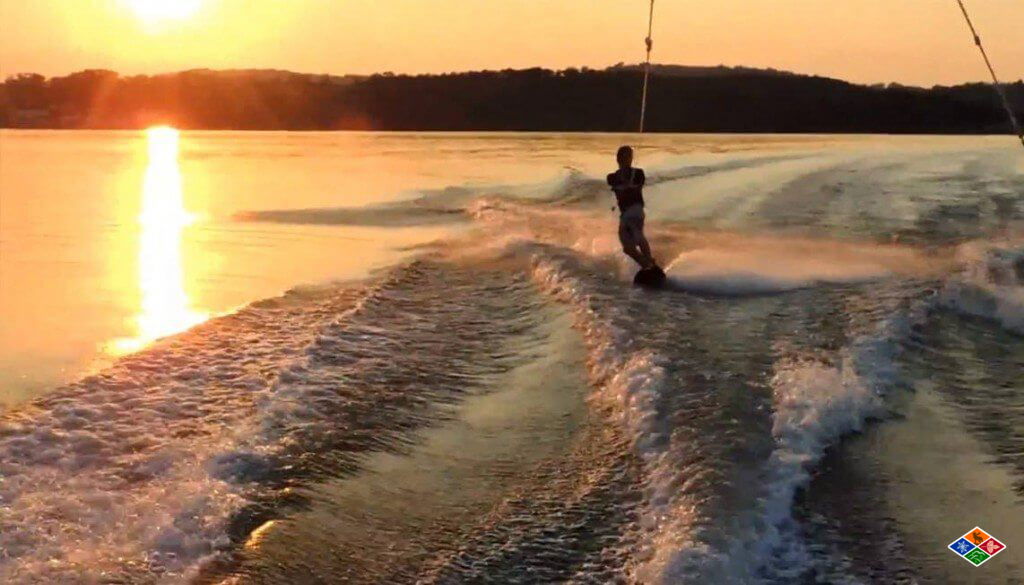 Conveniently located near Sevierville and Gatlinburg, Douglas Lake is a man-made lake that was created in 1943. This picturesque lake, located on the high Tennessee Plateau at the foot of the Great Smoky Mountains, offers guest the best in pure mountain air and clean water fun.
Douglas Lake features over 550 miles of shoreline, with a surface area of more than 30,000 acres. Fed by both the French Broad and Nolichucky Rivers, which both originate in the mountains of North Carolina and Tennessee, Douglas Lake's waters are cool and clean.
Though much of the shoreline is privately owned, Douglas Lake has marinas, boat slips, and TVA provides recreational facilities at Douglas Dam. This recreational area not only offers public swimming areas, but guests can have a picnic at the group pavilion and camping is also available here.
For guests really looking to amp up the water fun, there are numerous water sports that can be enjoyed on the lake. For boat, jet-ski, wake board, water skiing rental and more visit: