Gatlinburg Snow Sports
With some of the highest mountains in the Appalachian Mountain Chain Eastern Tennessee and Western North Carolina is home to fantastic skiing, snowboarding and tubing. In fact the Gatlinburg/Maggie Valley area is a Ski destination for the entire southeast, being the most accessible and fun way to experience winter sports for many surrounding and more southern states. As the Manager Bret Smith of Alpine Ski Center in Knoxville explains, "We have people come from all over to ski [in Eastern Tennessee and Western North Carolina]. A lot of people travel here from Alabama, Nashville, Memphis, and over on I-40. This is their first stop in the Mountains. We even have people that come from as far away as Miami, Florida."
With high elevations, area ski resorts have very consistent snow (both natural and man-made) all winter long. This creates superb and safer skiing conditions throughout the season. As Bret Smith notes, "People might be surprised that ski resorts around here have very consistent snow. The ski resorts can blow up to twelve inches of snow in one evening. It's hard to believe that several years ago Cataloochee Ski Area in Maggie Valley actually beat Vail Ski Resort out in Colorado in opening its slopes for skiing and snowboarding, by opening before Halloween."
Even though the Appalachian Mountains don't quite measure up to the Alps or Rocky Mountains in elevation, these rugged mountains still offer challenges for the advanced skier and snowboarder, as well as beginner and intermediate runs for all other skill levels. Bret Smith describes, "[Both Ober Gatlinburg Ski Resort and Cataloochee Ski area] have challenging terrain. We even black diamonds here."
Before you hit the slopes near Gatlinburg or just over the North Carolina line in Maggie Valley, Bret recommends popping into your local ski/snowboard shops for some tips and advice: "The local ski shops around here are a great resource for people visiting the area and planning a to participate in snowsports. We know the mountains, we can make reservations at the ski resorts, and we can recommend the best trails and runs for skiers/snowboards of all levels. We can even advise on the best trails and the best of times of days to do certain runs, when skiers are likely to encounter fewer people and safer conditions with little ice. In addition, we love to advise visitors on our favorite local shops, restaurants and more."
As Bret concludes, "One of the best things about skiing and snowboarding in this area is locals really have a passion for it. It's a way to enjoy the cold winter months in the mountains, and they wait all year to do these winter sports here." This is something visitors to the Great Smoky Mountains can relish and celebrate too, as the share in the joy of wintertime sports in the Great Smoky Mountains.
Gatlinburg Ski Shops
ALPINE SKI CENTER

Alpine Ski Center is one the leading ski and snowboard shops in the southeast. Since they opened their doors in the South in 1976, these stores have been devoted to offering superior service and gear to snow sports enthusiasts across the South.
Alpine Ski Center now has seven locations in North Carolina, Tennessee, and South Carolina. In addition to selling some of the best name brands in snowboarding and ski equipment and apparel, these stores offer ski and snowboard rental.
The Alpine Ski Center Knoxville, Tennessee was voted one of the top sixty snow sports shops in North America by the readers of Ski Magazine. In addition, the Alpine Ski Center Knoxville location is managed by Bret Smith who has been with the Alpine Ski Center Company for twenty-four years, a skier for thirty-four years, and a member of the Alpine Ski and Snowboard Test Demo Team for twenty-two years. When gearing and planning out your ski vacation in and around Gatlinburg, Alpine Ski Center Knoxville is a great place to visit for expert advice on the best trails, best gear, and take make reservations for your snowsports day.
When gearing up and selecting the best equipment for the slopes Manager Bret Smith advises, "Beginners need small easy to turn skis that allow the skier to progress their soft in flex to initiate the skis into the turn. Boards are based on weight, not height. We put customers on smaller boards because our slopes here [in Eastern Tennessee and Western North Carolina] are narrow, you're always turning. We also recommend lessons to develop good technique, so people are not struggling on their own."
SKIS AND TEES

Located in close proximity to Cataloochee Ski Area, Skis and Tees is a full service ski and snowboard shop just over the Tennessee/North Carolina line in Maggie Valley. Not only can Skis and Tees help you wax, sharpen and tune up your personal ski equipment, they sell the leading brands in ski and snowboard equipment for prospective skiers and snowboarders.
This is your one-stop-shop for rentals too. Skis and Tees rents ski, snowboard, and ski blade equipment for all skill levels; beginners to advanced abilities. They rent Burton and Ride snowboards and bindings, and Head, Rossignol, Volki, Salomon, and Atomic ski equipment.
In addition Skis and Tees keeps sales a wide variety of snow apparel and accessories as well as skateboards. As their motto goes, "Maggie Valleys place for Snowboards, Skis, Boots, Bindings, Skateboards, plus all the cool stuff needed to make you look good while you're out there…"
Gatlinburg Slopes
OBER GATLINBURG
The first and only ski resort in Tennessee, Ober Gatlinburg has been a local and tourist favorite since it opened its doors in 1962.Boasting some of the best skiing in the southeastern United States Ober Gatlinburg is a premiere, 4 seasons Ski resort and Amusement park.
Conveniently located in Gatlinburg, this ski resort offers nine ski trails serviced by two quads, one double and one service lift, so visitors spend less time in line and more time on the slopes. Guests to Ober Gatlinburg can drive to the park by taking Ski Mountain Road from Traffic Light #10 downtown or take the Aerial Tramway up from downtown Gatlinburg.
Ober Gatlinburg offers terrain for abilities and skill levels. From a beginner experiencing snow for the first time to the expert hitting the Black Diamonds and terrain park. Check out the Ober Gatlinburg slope report and trail map: http://www.obergatlinburg.com/ski/slope-report/.
As soon as the temperature drops each season Ober Gatlinburg is in business, with state of the art snow machines for all trails, this resort has the ability to make snow with mother nature has it in her cards or not.
Family owned and operated Ober Gatlinburg opened as Tennessee's first and only ski resort in 1962. The aerial tramway was constructed in 1973, and in 1975 Ober Gatlinburg became a year round attraction and was renamed Ober Gatlinburg Ski Resort and Amusement Park.
This resort continues to grow and stay committed to customer need. In response to customer interests and desires Ober Gatlinburg opened a Freestyle Terrain park 2009/2010.
SKI AND SNOWBOARD RENTAL
Ober Gatlinburg is a one stop shop for snow sports equipment rental. Boasting 1,800 pairs of shaped skis and over 400 snowboards. as well as a highly trained staff that makes customer fitting and satisfaction a priority. Rentals also include ski pants, helmets and jackets.
In addition, Ober Gatlinburg offers a courtesy safety check for visitors using personal equipment. For more information visit www.obergatlinburg.com/ski/rental or call (865) 436-5423.
GATLINBURG SNOWSPORTS CENTER
For beginner skier/snowboarders or visitors just looking to develop their slope skills, Ober Gatlinburg offers lessons for all levels at Gatlinburg's Snow Sport Center.
A proud member of the Professional Ski Instructors of America (PSIA) and the American Association of Snowboard Instructors (AASI) the Gatlinburg Snowsports Center employs only the most professional and quality instructors to help skiers and snowboarders of all levels, beginner through advanced, with a an emphasis on safety and fun.
All students are taught the essential skills for skiing and snowboarding such as gliding, slowing down, turning, and of course stopping, to ensure a fun and safe time on the slopes. To ensure the safety of all those on the slopes, a beginners course is mandatory for all first time skiers and snowboarders.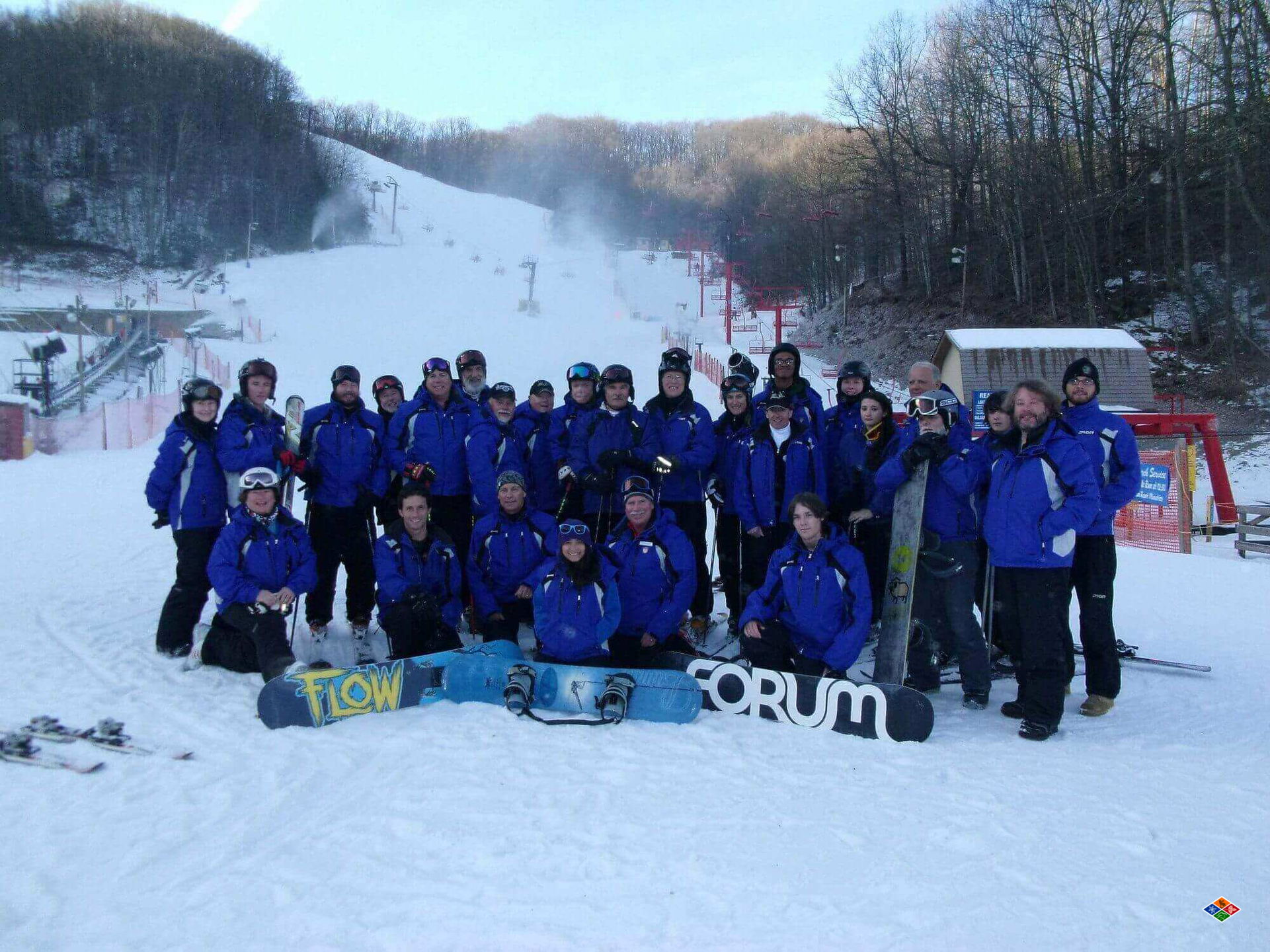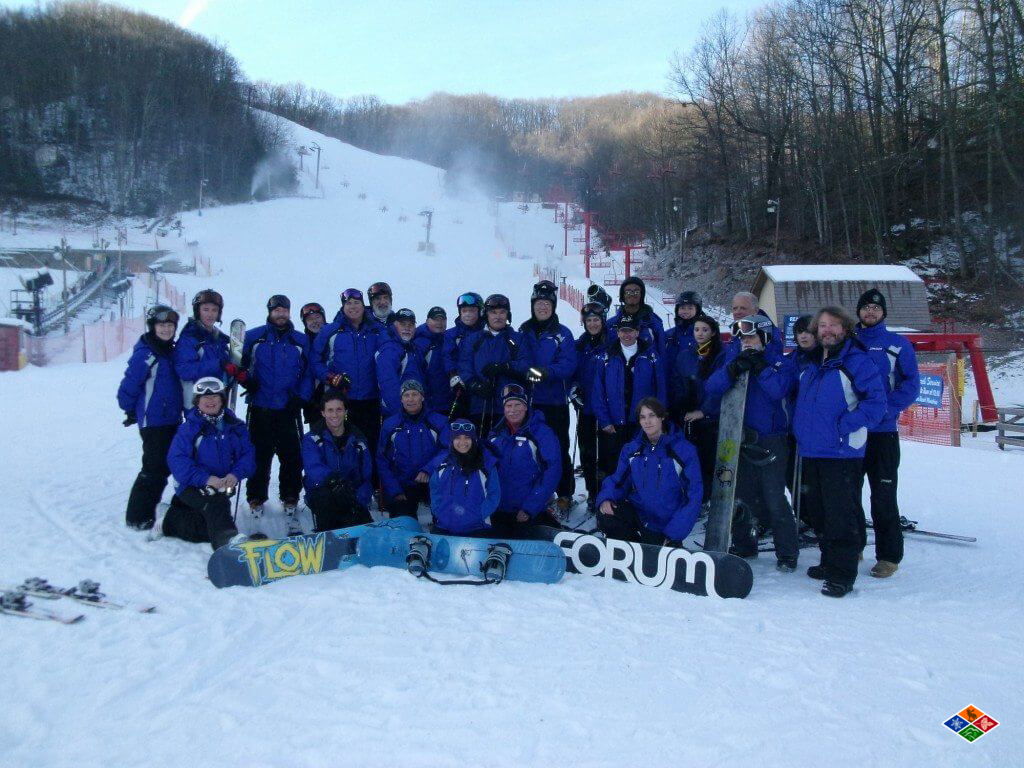 The Gatlinburg Snowsports Center offers both class and private lessons, in addition to lessons designed solely for children. For visitors to the area over an extended time, church groups, or corporate organizations seeking even more, the Gatlinburg Snowsports Center multi-week classes for those looking to develop and hone their skills over a period of time. The center even sponsors a race program for competitive skiers and snowboarders.
OBER GATLINBURG FREESTYLE TERRAIN PARK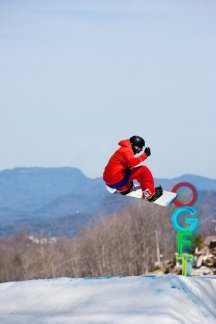 Opened for the 2009/2010 season, this freestyle terrain park has been a huge success. In fact the terrain park continues to grow each season. During the 2010/2011 season, the park went on to double the number of rails and boxes in the terrain park, as well as varying snow features such as table tops and spines available throughout the season.
Park staff work diligently to keep the features of the park freshly groomed throughout the day to ensure fun and safety.
Gatlinburg Freestyle Terrain Park also hosts a variety of special events throughout the season. Their signature competitions, Sunday Sessions, will take place on January 26th and February 23rd. These events have been scheduled later in the season to guarantee better snow conditions, and numerous prizes will be awarded at both events.
Other special events at Ober Gatlinburg Freestyle Terrain Park include a Ladies Day and "Free Flow Fridays." During Ladies Day a.k.a. "Belle to Bell Saturday/Nordica and Summer Demo Day" ladies will be invited to try out the latest and greatest skis and snowboards. The "Free Flow Fridays," are special events held at night under the lights at the terrain park where people are invited to casually compete and shred in a laid back atmosphere.
All scheduled events for the 2013-2014 season include:
2013 – 2014 Ober Gatlinburg Freestyle Terrain Park Event Schedule
November 22 – Back in Blue Rail Jam
January 11 – Belle to Belle Saturday/Nordica and Never Summer Demo Day
January 17 – Free Flow Friday
January 26 – Sunday Session
February 7 – Free Flow Friday
February 23 – Sunday Session
March 9 – Spring Fling
TUBING AT OBER GATLINBURG
For younger families or visitors seeking a snow adventure without all the gear and required coordination, tubing is a great alternative. Ober Gatlinburg has a fantastic tubing section where kids as young as 3 years old can take part in the fun of winter sports. Tubing lets guests experience the thrill of downhill sledding without having to haul yourself and your sled back up hill.
Children 3-5 years of age can ride with an adult, while children 6 years old and at least 42 inches tall are permitted to fly down the hill solo.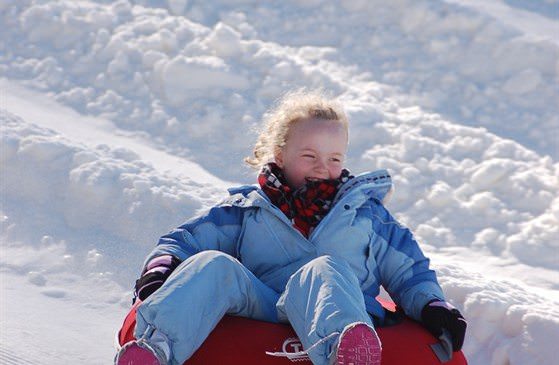 Tubing tickets are good for a one and half hour session, and include the rental of your tube. Ticket sales are first-come, first- serve basis (no reservations accepted). Tickets must be purchased in person at the Tubing Ticket Booth onsite at the tubing section of Ober Gatlinburg.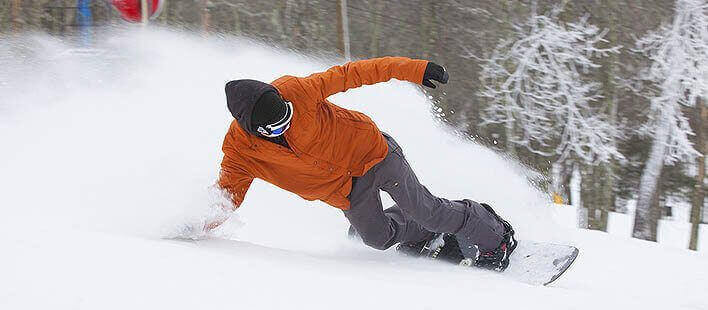 Founded by Tom Alexander in 1961, Cataloochee Ski Area was the first ski area in the state of North Carolina. Founder Tom Alexander, wanted to generate jobs for local during the winter months create some fun activities and diversions for the surrounding community. Currently open in its 53rd season, Cataloochee still embodies a down home spirit in a fun, relaxed atmosphere. This ski resort has continued to develop as a state-of-the-art ski destination in Western North Carolina.
Located in Maggie Valley, North Carolina, Cataloochee Ski Area is spread over fifty acres of mountains terrain, and has something for everyone. With a top elevation of 5,400 feet, and five lifts, the resort keeps ski traffic moving fluidly and makes fun and safety a priority for all guests on the mountain. The resort has designated "slow skiing areas" for beginners, and intermediate, advanced and black diamond trails for more skilled skiers and snowboarders. To see and read more about one of the mountains's 17 trails visit:Trail Map.
Snowmaking

Cataloochee Ski Area prides itself on their cutting edge snowmaking abilities. In fact Cataloochee's commitment to best snowmaking equipment and research in snow making technology has led them to be one of the first Ski Areas open on the entire East Coast for the past five years.
Though still dependent on mother nature for the right temperature and humidity, Cataloochee possesses two types of snowmaking guns that make continuous snowmaking possible throughout the ski season.
Their first type of snow gun uses water and compressed air and extreme pressure to spray an ultra-fine mist into the air where the water droplets freeze and turn to snow before it settles on the ground. The second type are the more commonly recognized, are fan guns. These are funnel in shape and consist of a large jet like fan and rows of water nozzles around the rim that inject water into the air flow. These incredible snow machines can make snow at the rate of up to 80 gallons of water a minute and blow it over a distance of 50 yards.
Cataloochee's snowmaking capabilities keep conditions good and safe for continuous snow sports fun day in and day out.
Rentals

Cataloochee Ski Area has a rental department with over 4,000 sets of ski and snowboard equipment. In addition, they feature a state-of-the-art boot drying system. In addition, guests can rent snowbibs and suits.
Ski rentals include skis, poles, and boots. Snowboard rentals include snowboards and boots. The rental price is the same for skis or snowboards. For other rental options guests can check out Cataloochee Ski & Sports in Maggie Valley.
Cataloochee Ski & Sports Shop in Maggie Valley
Located in Maggie Valley, Cataloochee Ski Area's new Ski & Sports Shop features ski, snowboard, helmet and ski jacket and bib rentals; everything you need for a day on the slopes.
The best part is visitors can purchase lift tickets for the next day and gear up completely the night before their ski date. This allows guests to hit the slopes immediately on the day they plan to ski or snowboard, without having to wait in any rental lines on the mountain.
Cataloochee Ski & Sports Shop also sells goggles, gloves, hats, sunglasses, and more apparel and accessories to complete any visit to the mountain. In addition, the shop offers specialty to items such as disposable cameras and a variety of memorabilia and souvenirs to commemorate your ski vacation.
Skiers & Riders Gear Checklist
This list of recommended items was compiled by Cataloochee Ski Area. As their website reminds guests, "it's easier to take clothes off if you get warmer than to find extras to put on if you are already cold."
Sunglasses
Goggles
Sunscreen
Lip Balm
Bag to carry change of clothing, boots, and extra equipment
Long Underwear
Ski Pants or Bib Pants
Outer Layer Jacket (Preferably waterproof/breathable shell)
Gloves or Mittens (Waterproof is preferred)
Neck Gaitor
Turtleneck
Sweater or fleece
Socks or Sock Liner (one thin to medium pair)
Vest (for insulation)
Face Mask
Change of clothes for after skiing or riding

Cataloochee Ski Area offers group class lessons for ages 8 and above. Classes are instructed by certified ski and snowboard instructors and skiers and snowboarders are matched with other students of their skill level. Classes are on a first come, first serve basis, reservations are not accepted.
For individuals who desire a more intensive, direct instruction Cataloochee offers private lessons. These lessons can be designed to meet the needs of skiers and snowboarders of all levels, beginner through advanced. A personal ski or snowboard instructor will customize a lesson based on the participants skill level and work with them to meet specific personal developmental and technique goals. Private lessons can run from one hour through an entire day long.
Classes/lessons for Younger Kids-Cat Trackers
Cataloochee Ski and Snowboard Cat Tracker Instructors are passionate about snowsports, and they love to share this joy with younger children apt to develop a life-long love for the sport.
Cat Tracker Instructors specialize in teaching kids ages 4-12 everything the need to know for skiing and snowboarding, with safety as a top priority. Cataloochee Ski Area's Children Snow School program is divided into 2 areas: Cat Trackers is designed for ski instruction for children ages 4-12, and the snowboard component is designed for children ages 8-12.
NASTAR Racing
Cataloochee Ski Area sponsors NASTAR Racing for competitive skiers. This public racing program provides recreational racers with the chance to compare their ability with members of the US Ski Team. NASTAR is the largest recreational ski race program in the world. The NASTAR program was developed by Ski Magazine in 1968, and Cataloochee Ski Area is one of over 120 ski resorts nationwide that participates in this program.

This fun, competitive program is available for skiers of all ability levels. It gives skiers the ability to compare themselves with each, regardless of when and where they race. This is made possible by establishing the National Standard on each NASTAR course, and through a racer handicap system. When skiers race NASTAR, they are eligible to win a Platinum, Gold, Silver or Bronze medal based on the handicap they earn.
Racing is on Sundays at Cataloochee Ski Area starting January 5, and on-Mountain registration begins at 11:00AM. Skiers can also register at the Ticket Center and pay for racing on the lower level of the lodge or pre-register online at Nastar.com. All races are subject to weather and slope conditions. Lift ticket/slope pass or a season pass is required to participate.
Cataloochee Challenge Cup Adult Racing Series
This year Cataloochee Ski Area is hosting an adult racing series for competitive skiers. Starting on January 9th, races will be held on Thursday at 7pm.
In this race series, individuals will race on a modified GS or Slalom course for the better of two runs. The top three challengers in both men's and women's age divisions will win prizes. Age categories are 21-29; 30-39; 40-49; 50 and over for both men and women.
Participants must be 21 years of age or older to participate. Helmets and goggles are required. Registration is open from 6 until 7:30pm. Racing begins at 7pm and ends when all racers have had two runs or at 8:30pm. Awards will immediately follow the end of each race.
Race Dates:
Thursday, January 9
Thursday, January 16
Thursday, January 23
Thursday, January 30
Thursday, February 6
Thursday, February 13
Thursday, February 20
Thursday, February 27
Tube World in Maggie Valley
A family memory maker, Tube World will conjure up memories of snow storms and sledding days of yore. The best part is you don't have to wait for Mother Nature to decide when to blow in a snowstorm. Bring the whole family to this tube park to experience the thrill of sledding without the hassle and work required on any regular sledding adventure. After zooming down a hill visitors merely have to step on a carpet lift to rise back to the top of the mountain for their next trip downhill.
For the little tikes in your clan that don't meet height requirements there is an alternative for fun. Tube World in Maggie Valley offers a Wee Bowl Snowplay area, so the little ones can still experience the same amount of fun as older siblings. Kiddie snow tubes can be rented for the Wee Bowl Snowplay area, and there are not height requirements here to take part in the fun.
Just as in the Cataloochee Ski Area, the same science in snowmaking is used to make sure these tube runs are well-groomed and perfect for sledding conditions. Located four miles from the Cataloochee Ski Area in Maggie Valley (just across from Ghost Town in the Sky), Tube World is fun for the whole family. Sessions run every two hours and last for 1 hour or 45 minutes. All tubers must be at least 42 inches to ride a tube, and no two person tubing is permitted.
Please note that tubing is on a first come, first serve basis, and if the session you wish to participate in is sold out you can purchase a session for later in the day.
To plan your tubing adventure visit: Tube World.
Snow Report & Webcam
Be sure to check out the daily "Snow Report," that lists the most up-to-dates conditions on the mountain, trails that are open, and skiing sessions available on a given day.Snow Report.