500Pigeon Forge and the Greater Smoky Mountain Region have long been a mecca of shopping, entertainment, outdoor adventure, and family fun. In fact, this area is one of the top vacation destinations in the country, and the closeby Great Smoky Mountains National Park is the most visited National Park in the nation.
One of the Newest and most state-of-the art additions to the area is the much anticipated entertainment, retail, event and lodging area – The Mountain Mile. This unprecedented development venture promises to be a vacationer's fantasy find complete with the best diversions, pastimes, and adventures all at one location.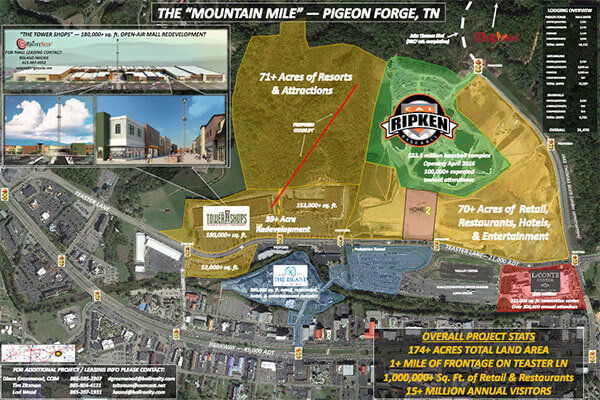 Located on Teaster Lane and Jake Thomas Blvd, right in the heart of Pigeon Forge, The Mountain Mile covers over one hundred and seventy-four acres. With over a mile of road frontage this will be a destination must for any visitor to the Smoky Mountain region and beyond. Anticipating over fifteen million visitors annually, this phenomenal one-stop experience is located across the street from the already incredibly popular, "The Island." This similar concept features over 300,000 square feet of restaurant, retail, lodging, and play with famous attractions such as the Paula Dean Store and Restaurant, Ole Smoky Moonshine Distillery and entertainment space, and The Margaritaville Island Hotel.
More than thirty-three acres of The Mountain Mile's vast track will be devoted to the Tower Shops, where an incredible array of retail stores will converge with the ultimate thrill Tower ride where guests can ascend one hundred and eighty-nine feet to the top and take it all in before zooming down.
This massive development already includes the immense "LeConte Center," a convention center with over 230,000 square feet that will host an estimated 300,000 visitors or more each year.
In addition, The Mountain Mile acreage features "The Cal Ripken Experience" Baseball Complex. Newly opened, this $22.5 million dollar project is a baseball fanatic's dream. Steeped in the core values of early baseball such as integrity, community, teamwork and perseverance (just to name a few) this complex hosts a variety of baseball tournaments, coach's clinics, baseball camps, and much more.
Finally, the yet to be finished seventy plus acres of Mountain Mile will continue to add rich array of restaurants, retail, hotels and additional entertainment. Not to mention adventures live entertainment venues, biking, hiking, cycling, and even skiing!
The Mountain Mile promises to be a truly unforgettable experience for guests seeking to maximize fun, leisure, adventure and more during their Smoky Mountain Vacation!