Gatlinburg Mountain Biking
With some of the highest elevations in the Southeast, it's no surprise that mountain biking is a popular pastime for area outdoor enthusiasts. With a variety of options from beginner to advanced the Greater Gatlinburg area in both Eastern Tennessee and Western North Carolina feature a huge array of mountain biking trails that climb mountain top ridge lines, hug winding curves, and offer a thrill like no other!
Area experts and enthusiasts weigh in on why Mountain Biking in the Southern Appalachia can't be beat:
Andrew Wagner of CLIMB Works in Gatlinburg, Tennessee notes, "Mountain biking in our terrain here in east Tennessee is unique to other parts of the country in that the dirt is always 'tacky' in that you have maximum traction. When you make turns on the bike the tire adheres to the ground so you can go fast and still be in control. Of course, it's beautiful out here too!"
Tim Patterson General Manager of Cycology Bicycles in Maryville, Tennessee explains, "I think the technical diversity of trails available and the variety of dense forest and grand vistas makes the area unique."
Scott Smith owner of Tennessee Mountain Valley Bikes describes, "The terrain and forests make mountain biking in East Tennessee and Western North Carolina wonderful. Our mountains are close together with a seemingly infinite topography. There are so many different things to see and experience. Our mountains have some of the greatest biodiversity of any forests in the world. Every season is different and they are all beautiful."
Diane Cutler co-owner of Bryson City Bikes notes, "Western North Carolina is a lush and wild area with considerable variation in topography. Combine this with sparse population and you experience the outdoor lover's dream: gorgeous riding without the crowds."
Kent Cranford, owner of Motion Makers Bicycle Shops in Asheville and Sylva, North Carolina adds, "Our terrain and climate [really set Western, North Carolina apart with mountain biking]. The mountains are small enough that oxygen debt isn't a problem like out west, yet the climbs can be even harder than the biggest terrain out west (westerners hate to hear that). The climate allows for year round riding and that can't be said in very many parts of the country."
Great Smoky Mountains Biking
Though the Great Smoky Mountains National Park does not "technically" have any mountain bike trails in the park, and biking on hiking trails is not permitted, there are several multi-use trails that offer fun and scenic rides for the beginner mountain bikers in your group.
Cades Cove Loop Road
This 11-mile one way trail offers riders a closer view of the enchanting mountain valley of Cades Cove. Bikers can view wildlife, visit historic buildings, and just enjoy the majesty of riding through this scenic bowl in the Great Smoky Mountains.
For mountain bikers there are three options that spur off of Cades Cove Loop Road.
Sparks Lane and Hyatt Lane shorten the loop and take you off the main 11-mile trail.
For more adventurous and experienced mountain bikers there is Rich Mountain Road just past Hyatt lane. This path will take riders up a steep climb on a gravel road to the park boundary at Rich Mountain Gap. This route is 7-miles one way.
Again for the seasoned mountain biker, there is the Forge Creek Road/Parsons Branch Road option. This gravel road, located just past the Cades Cove Visitors Center, leads bikers up a steep 5.4 climb to the crest of Hannah Mountain.
If you are visiting the Great Smoky Mountains National Park from the second weekend in May and to the second to last weekend in September be sure to bike Cades Cove Loop on Wednesdays and Saturday mornings when the loop is closed to automobiles.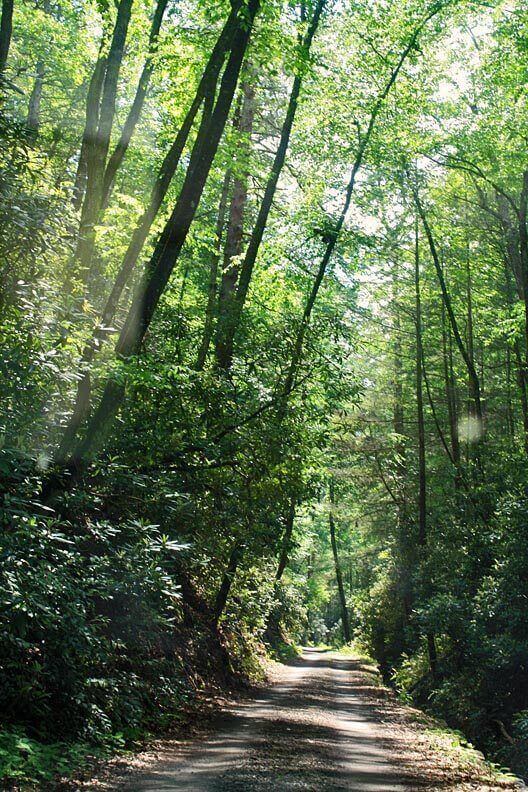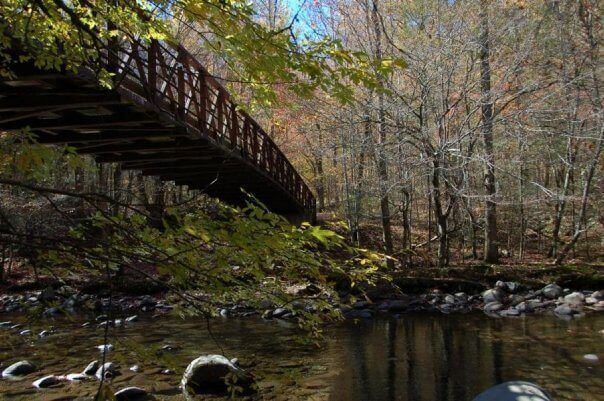 An easy trail better suited for a beginner mountain biker, the Gatlinburg Trail runs for 1.9 miles each way from the Sugarlands Visitor Center in Gatlinburg along the West Prong of the Little Pigeon River. This trail offers riders the peaceful presence of a mountain river in addition to several old historic foundations and chimneys to view.
Oconaluftee River Trail
This trail travels for 1.5 miles each way from the Oconaluftee Visitor Center to the outskirts of the City of Cherokee, NC. The Oconaluftee River Trail rolls over some small hills and winds through forests and along parts of the Ocunaluftee River.
Diane Cutler co-owner of Bryson City Bikes adds, "The Oconaluftee River Trail is great for beginners! It's a flat-(one of very few flat trails in western NC), packed dirt, multi-use trail along the Oconaluftee River, and it's just 3 miles out and back."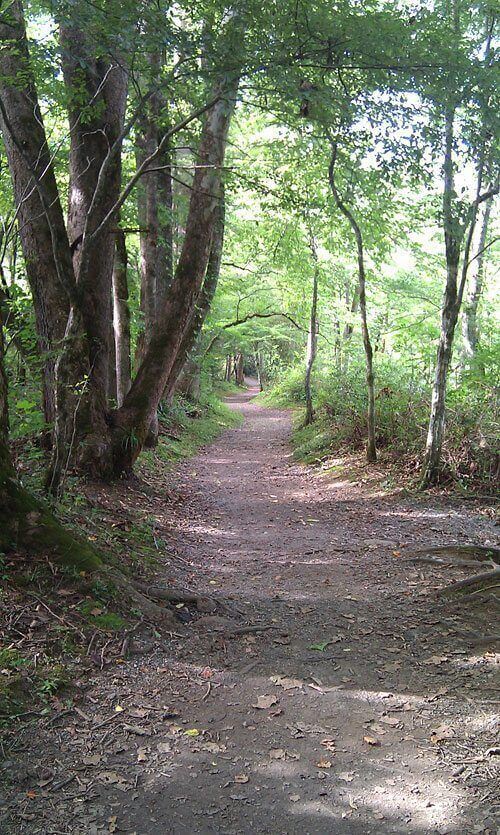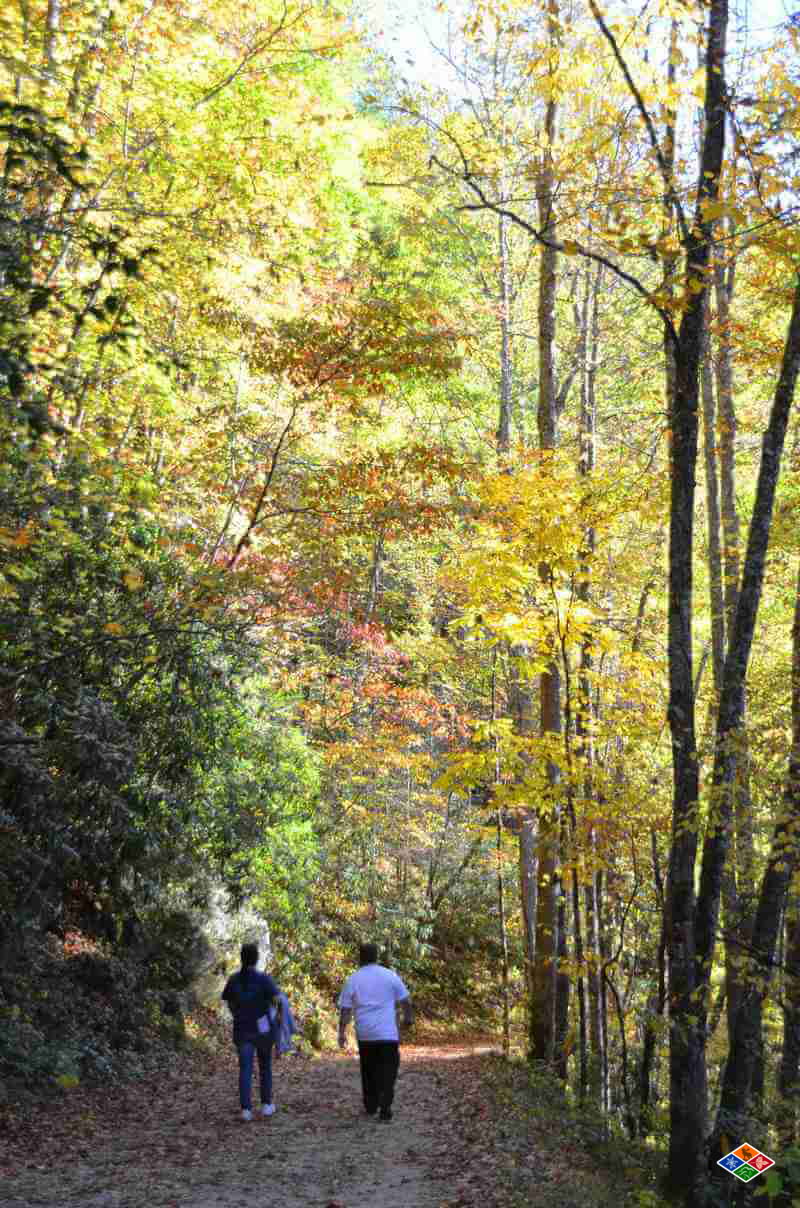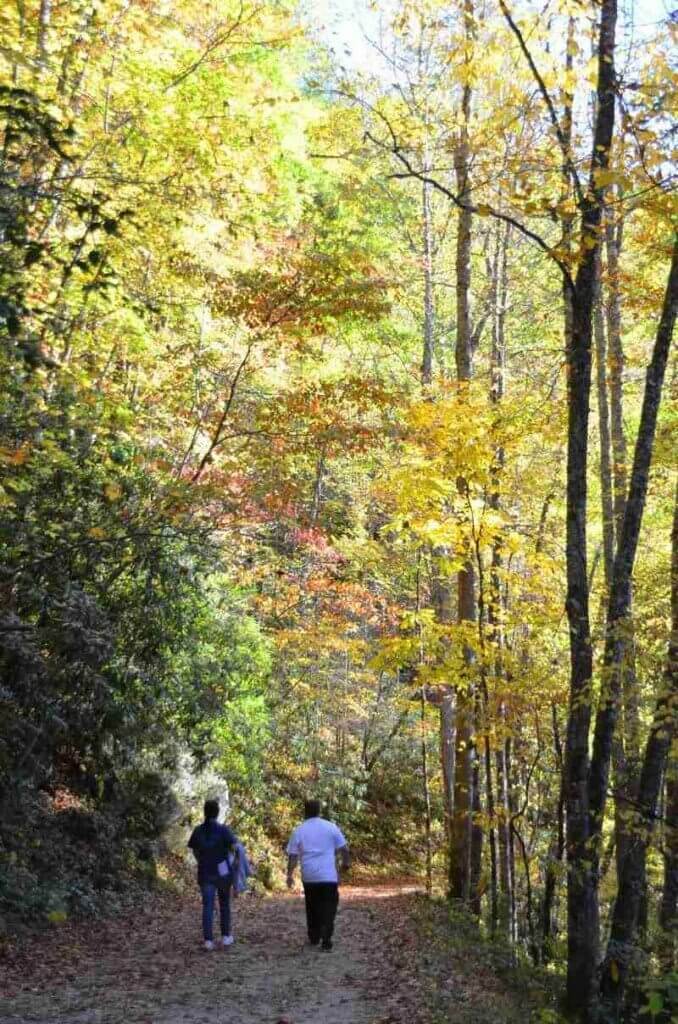 Considered one of the most beautiful rides in the area, and family friendly, Deep Creek Trail follows along crystal clear Deep Creek. Out and back, the trail is 4.5 miles.
Diane Cutler co-owner of Bryson City Bikes explains, "I call this a family friendly trail, not necessarily an EASY trail. There are two short but steep hills on the outbound leg. If you're not a hill climber or have small children, simply get off and push up the hills, the rest of the trail is well worth it!"
This trail located outside the Bryson City, NC part of the Great Smoky Mountains National Park rolls along the beautiful and tumbling falls of Deep Creek. Mountain Bikers are permitted to stay on Deep Creek and Indian Creek Trails until the roadbeds end and the trail treads begin.
Diane Cutler co-owner of Bryson City Bikes describes, "If you're looking for a few more miles to tack on to your Deep Creek ride and a little more of a workout, give Indian Creek a whirl. Less traveled than the Deep Creek Trail, this trail is tranquil and follows Indian Creek the entire two and a half miles up. And up is the operative word here; the trail is nearly all uphill, some gradual, some moderate, some a little steeper. But the workout is worth it because when you turn around, the return trip is all downhill."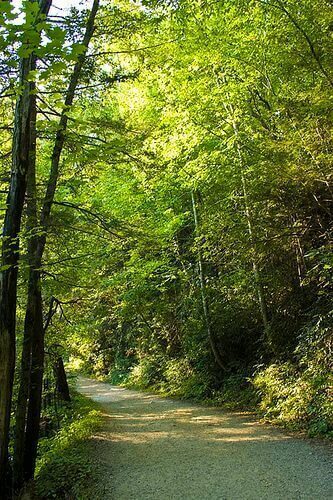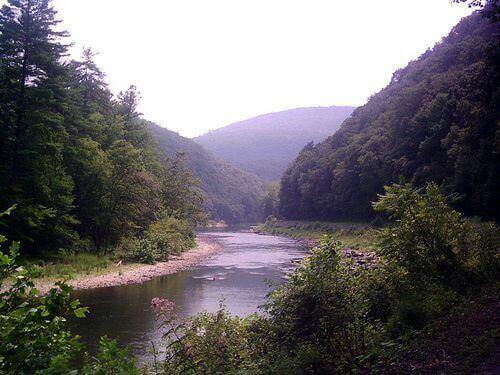 This scenic road/trail begins at Greenbriar, 6 miles East of Gatlinburg, near the Town of Pittman Center. Mountain Bikers can park at the Rangers Station just after turning onto Greenbriar Road and follow this road up 1 mile until it turns into gravel. From there the gravel road winds up the mountain along the scenic Porters Creek and through dense forest for an additional 5 miles to the Porters Creek and Ramsey Cascades trail head. Mountain Biking is not permitted on these trails.
Tsali Recreation Area Trail System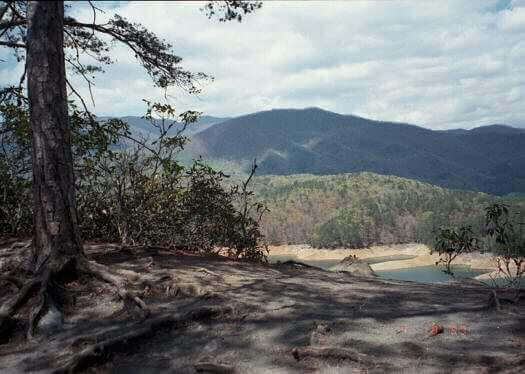 Consistently rated one of the top mountain biking destinations in the entire Eastern United States, Tsali is a mountain biker's dream. Thousands of visitors flock to this recreation area each year, located in Swain County North Carolina, to experience the 42 mile network of multi-use trails.
As Kent Cranford owner of Motion Makers bike store in Sylva and Asheville, North Carolina describes, "Tsali is the granddaddy of singletrack trails in the Southeast. Flowing along the shores of Lake Fontana looking across to the Great Smoky Mountains Park is an amazing ride."
Tsali's name comes from the Cherokee Indian Martyr who sacrificed his life so that his Cherokee people could stay in the Great Smoky Mountain Region after the US Government had ordered the removal of Cherokee Indians in 1838. Tsali along with several family members agreed to be executed in exchange for about 1,000 Cherokee remaining, who had hidden out in the mountains during the removal, to return to their native homes. Pronounced (SAH-lee) this legacy of courageous devotion and spirit to the land can be felt in the deep woods and scenic vistas that abound in this recreation area today.
The four-loop system, consists of mountain bike options from 4-12 miles, and offers a variety of landscapes and trail types from single track to old logging roads. In addition, there are several connector trails, gravel roads, and extension trails that give more options for rides on top of the main loop trails.
Tsali is known for its hard packed, single track trails that are well designed and maintained.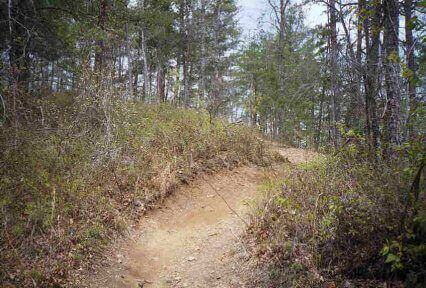 Tsali has a parking area, restrooms, campgrounds and picnic tables. In addition to mountain biking visitors can enjoy activities such as fishing and boating on Fontana Lake, horseback riding, and hiking.
As Diane Cutler co-owner of Bryson City Bikes explains, "Tsali never disappoints. With 42 miles of single track and four individual loops it is an intermediate, flowing, cross-country style trail system; you can see why Tsali is consistently rated one of the top ten mountain biking destination in the country."
Trails not to miss:
Thompson Loop Trail
Ranked moderate, this 7.3 mile trail single track takes riders through rugged wilderness, over stream crossings, and down old logging roads.
Mouse Branch Loop Trail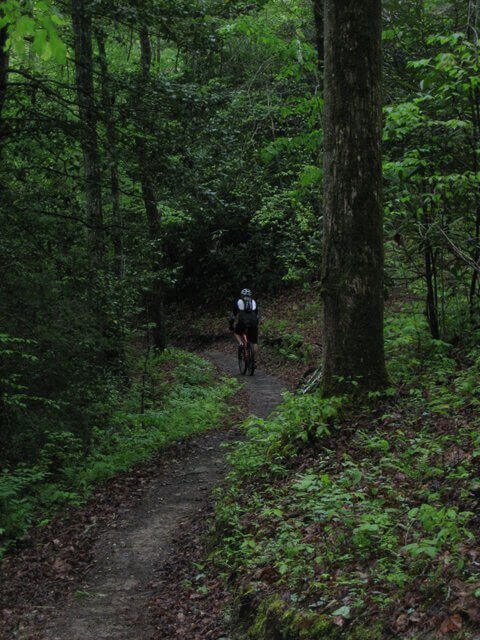 This 8.7 mile loop trail is also ranked moderate. It leads mountain bikers down old logging roads and along single track. Wildlife viewing is also possible on this trail with a chance to see wild turkey, deer and grouse in wildlife openings, in addition to old home sites.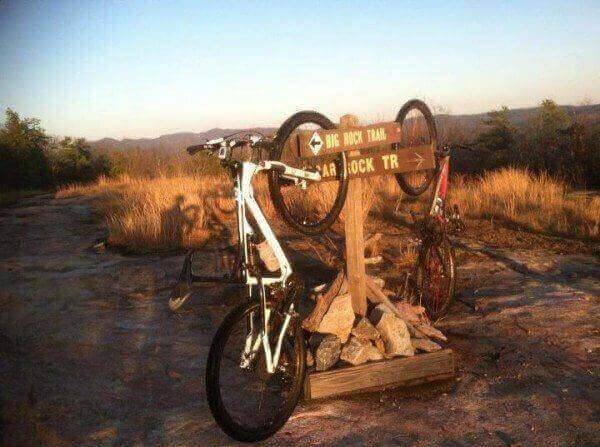 Located in Western North Carolina between Brevard and Hendersonville, DuPont State Recreational Forest is an outdoor adventure lover's dream playground. This 10,400 acre state forest features over 100 miles of unique trails. As Kent Cranford owner of Motion Makers Cycling in Sylvia describes, "DuPont has the most density of trails and beauty per mile because of the waterfall terrain. You can have your mind blown out there over and over again."
DuPont Forest offers both single track and easy forest road trails. Many of their trails are more traditional trails for the region that hug mountainous terrain through dense forest. However, these trails have the added bonus of featuring spectacular waterfalls trails as riders wind along the Little Pigeon River and its tributaries.
In addition DuPont Forest features the famous "slick rock!" This trail is similar in terrain to mountain biking trails found in Utah. Bikers ride over large granite domes interspersed with scrubby pine trees.
Trails in DuPont State Recreational Forest are multi-use (hiking, equestrian, biking), but good signage will guide mountain bikers on how to yield to others.
Trails not to miss:
DuPont Ridge Loop
Ranked as an intermediate mountain biking trail, this 6 mile trail in a fun and fluid downhill loop. Riders will climb the Jim Branch Trail through dense forests and go over the Isaac Heath Trail before coming to Buck Branch Road where they will take a left. Riders will pass Thomas Cemetery and continue on to take a left on Hooker Creek Trail. This is where the fun begins as riders connect to the Ridgeline Trail and get ready for a fast and thrilling downhill descent over small dips and curves. For more information visit:http://www.mtbproject.com/trail/1025374/dupont-ridgeline-loop
Airstrip Trail
One of the best known mounting biking trails in DuPont, this short single track trail, only .9 miles, is a favorite for many reasons. This trail is well-maintained with excellent switchbacks and sight lines, and though ranked intermediate, this trail is also good for advanced beginners due to the fact that there aren't many technical challenges. For more information visit: http://www.mtbproject.com/trail/577083/airstrip-trail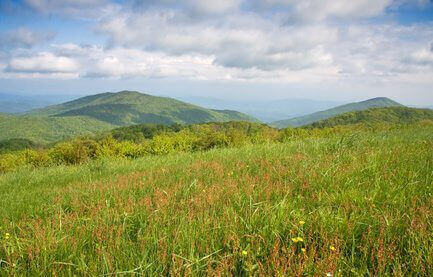 Pisgah National Forest is a wonder unto itself. Covering over 500,000 acres of dense mountainous terrain in Western North Carolina, this national forest contains breathtaking waterfalls, hardwood forests, steep ridgelines, whitewater rivers, and numerous trails. Pisgah National Forest is also known as the Cradle of Forestry-an American historic site, as it hosted the first school of forestry in the country.
Famous among mountain bikers in the Southeast, Pisgah National Forest is a mountain biker's paradise. With over 245 miles of trails this national forest offers a huge network of trails and gravel roads running all throughout this rugged wilderness.
Pisgah National Forest is divided up into three distinct districts: the Appalachian, Grandfather, and Pisgah districts. Though all three districts have some mountain biking trails and gravel roads open to cyclists, the majority of the mountain biking trails are found in the Pisgah Ranger District with trailheads at Bent Creek, Mills River, and Davidson River.
Trails not to miss:
Black Mountain Trail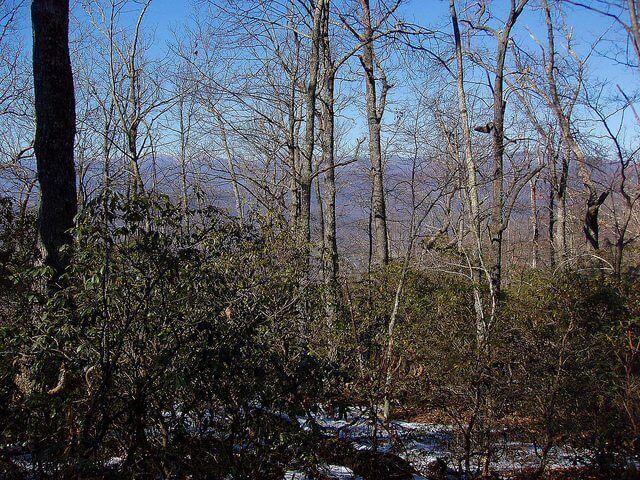 This 9.8 mile trail is rated difficult, and rightly so as it covers an elevation change of 1,900 feet. The first part of the trail is relatively easy, but this changes quickly as riders ascend 800 feet up and over Little Hickory Knob. From there the trail eases up a bit and drops down to Pressley Gap then onto Black Mountain and Clawhammer mountain (which has an especially nice view).The trail continues on to climb Soapstone Ridge and ends at Club Gab. As Scott Smith owner of Tennessee Valley Bikes notes, "[Black Mountain trail is …] tough and awesome with two summits, Clawhammer Mountain and Black Mountain and there are great views from each. This is one of my favorite trails of all time!" For more information visit:http://www.fs.usda.gov/recarea/nfsnc/recreation/bicycling/recarea/?recid=48322&actid=24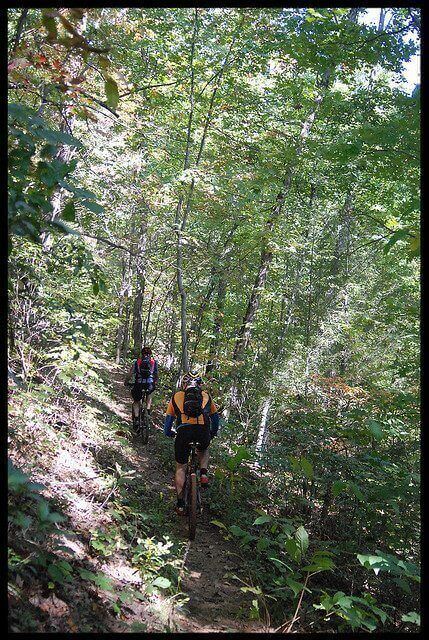 Rated moderate, this trail starts from the Bradley Creek Trail and scoots past the old Mullinax homeplace where there is a grassy opening and the remains of the house foundation. This trail continues as a side slope trail and winds around several gaps-Mullinax Gap, Laurel Gap, Horse Cove Gap and Squirrel Gap-then finally descends to Wolf Ford where it intersects with the South Mills River Trail. As Scott Smith describes, "[This as one of his other favorite trails in Pisgah…] Squirrel Gap cuts around the sides of Funnel Top Mountain and Rich Mountain and while very close to Black Mountain Trail it's totally different. Squirrel Gap is narrow, rooty and rocky East Coast single track at its best. Sometimes the trail seems to be only inches wide. To quote a good friend of mine after riding Squirrel, 'Tonight, you'll dream of roots.'" For more information visit:http://www.fs.usda.gov/recarea/nfsnc/recreation/bicycling/recarea/?recid=48350&actid=24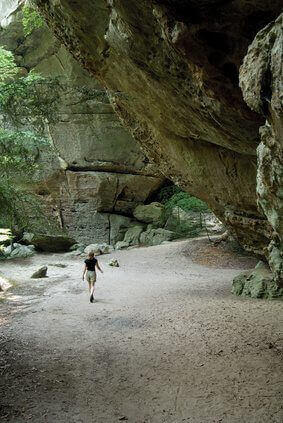 Covering over 125,000 acres of the Cumberland Plateau in Tennessee, Big South Fork Recreation area protects free-flowing Big South Fork of the Cumberland River and its tributaries. Known for its scenic gorges and sandstone bluffs, this national recreation area is filled with numerous natural and historic features, and is a popular play area for many outdoor recreation activities.
Skinny singletrack, doable hills, spectacular views, and known for being less populated than other mountain biking destinations, have made mountain biking increasingly more popular in Big South Fork. In addition, Big South Fork Mountain Bike Club has built and maintained more trails in this recreation area attracting more mountain bikers.
Big South Fork contains bike only trails, but mountain bikes are allowed on highway edges, backcountry roads and some horse trails. Thus, this recreation area provides many different options for mountain bikers of all levels. As Scott Smith adds, "[Big South Fork is a…] another great place for beginners looking for more of a backcountry experience, the Big South Fork trails has good mileage and beautiful views."
Trails not to miss:
Duncan Hollow Loop
This 5.3 mile trail features a wide variety of terrain, with some fun elements along the way to keep the rider excited. Appropriate for beginning riders and above, this trail leaves from the Brandy Creek Visitor Center and finishes on Duncan Hollow road. This trail is a combination of single track and gravel road. Riders will experience some fun downhill sections, a stream crossing, and a climb at the end of this loop. For more information visit: http://www.nps.gov/biso/planyourvisit/mountainbiketrails.htm
Grand Gap Loop and John Muir Loop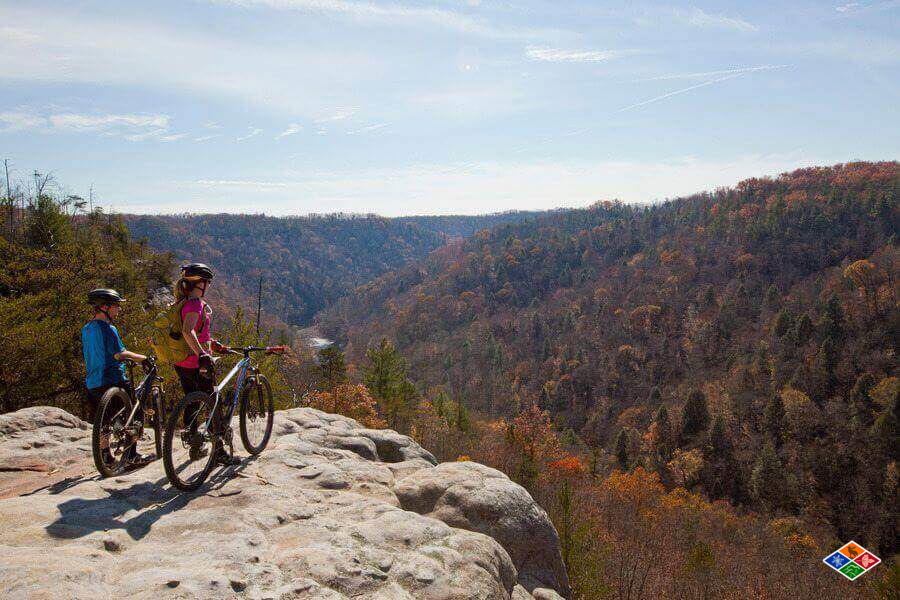 Great trails, the Grand Gap Loop and John Muir Loop, are excellent trails for beginner or intermediate riders, as they are both mostly flat and smooth single track. These trails can be combined and made into a longer ride. As Scott Smith describes this trail, "The Grand Gap to John Muir Loop is about eighteen miles of contour trail without any huge climbs. These trails also hold up really well when the weather is poor. Grand Gap is a contour trail that follows the rim of the Big South Fork River Gorge. It has spectacular views and nice trails that are good to ride in any weather." For more information visit: http://www.bigsouthforkbike.org/BikeTrails.html
Knoxville's Urban Wilderness
Just up the road from Gatlinburg, Knoxville's unique Urban Wilderness Trail is something not to miss. This unique urban playground, located just 3 miles from downtown Knoxville, has been designed for hikers, mountain bikers, and trail runners and will cover 1,000 acres of Urban Wilderness when fully developed. This wilderness area will include ten parks; feature over forty miles of recreational trails, four civil war sites, and diverse ecological features in addition to other recreational amenities.
Currently, the first phase of the project, the South Loop Trail is open. This trail offers 42 miles of natural surfaces that connects 5 parks and natural areas along with public and private venues. The main part of this trail is 12.5 mile loop that connects Ijams Nature Center and Forks of the River Wildlife Management Area. in addition, there are 30 miles of secondary trails built to accommodate users from beginner to advanced on dozens of trails of varying terrain.
These trails are great for mountain bikers, from beginner to advanced levels. As Scott Smith owner of Tennessee Mountain Valley Bikes notes, "South Knoxville's Urban Wilderness Trail System has about 40 miles of easy to moderate single track trails. Most of the new trails cut don't have extreme grades and are pretty wide. This is fun for both beginners and more advanced riders and the trails build rider confidence and speed… the system goes through six different properties and each one has its own unique feel and terrain. From the narrow, hand cut trails of Hastie to park to the unique man made topography of Meads Quarry each local has something different." For more information visit:http://www.outdoorknoxville.com/urban-wilderness
Trail not to miss:
The South Loop Trail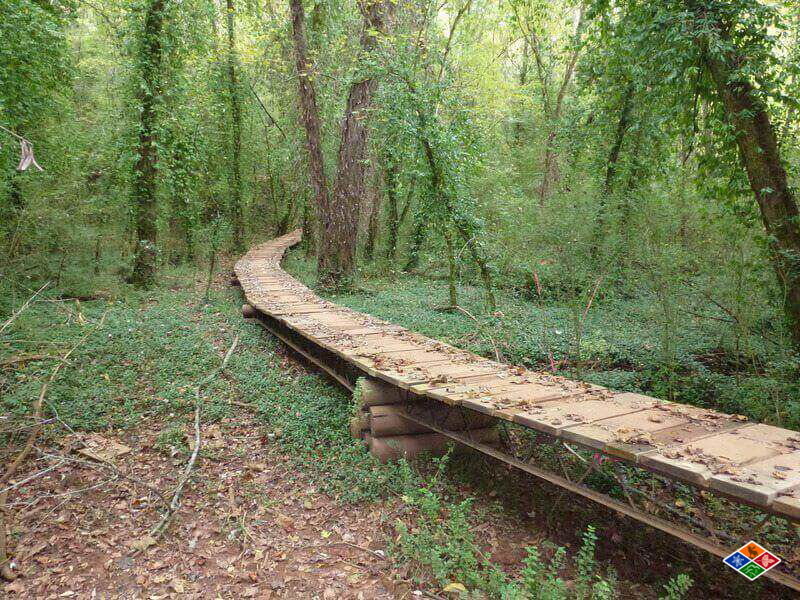 A great trail for mountain bikers of all levels the South Loop's main trail is 12.5 miles. Riders will experience a variety of single track, dirt roads and greenways. The main loop is rated easy to moderate, but for more advanced mountain bikers there are four additional trailheads within this system that lead to all different trial types and levels. These include Mead's Quarry, William Hastie Natural Area, Anderson School and Forks of the River Wildlife Management Area.
For more information visit: http://www.outdoorknoxville.com/urban-wilderness or http://www.mtbproject.com/trail/59266
CLIMB Works
Challenge, Learn, Inspire, Master, Believe- is the motto of this adventure outdoor business, located right in Gatlinburg. CLIMB Works offers zipline canopy tours in addition to mountain biking instruction/tours on their own private trail. As the CLIMB Works staff member Andrew Wagner notes, "CLIMB Works is a great place to mountain bike in Gatlinburg for visitors. Here, you merely need to show up. We take care of the rest; no need to load bikes on a car, travel to another destination, and navigate an unfamiliar trail system. At CLIMB Works, you get on a bike and ride carefree."
Since Gatlinburg, Tennessee features no other official mountain bike trails, CLIMB Works sought to change this. As Andrew describes, "CLIMB Works was poised to be a mountain bike destination; there are no other trails in the Gatlinburg vicinity, our land is ideally suited for trail and our internal resources and abilities would translate well to trail construction. And it's come to fruition; anyone of any ability with or without a bike can simply come and ride."
Trail not to miss:
CLIMB Works Flow Trail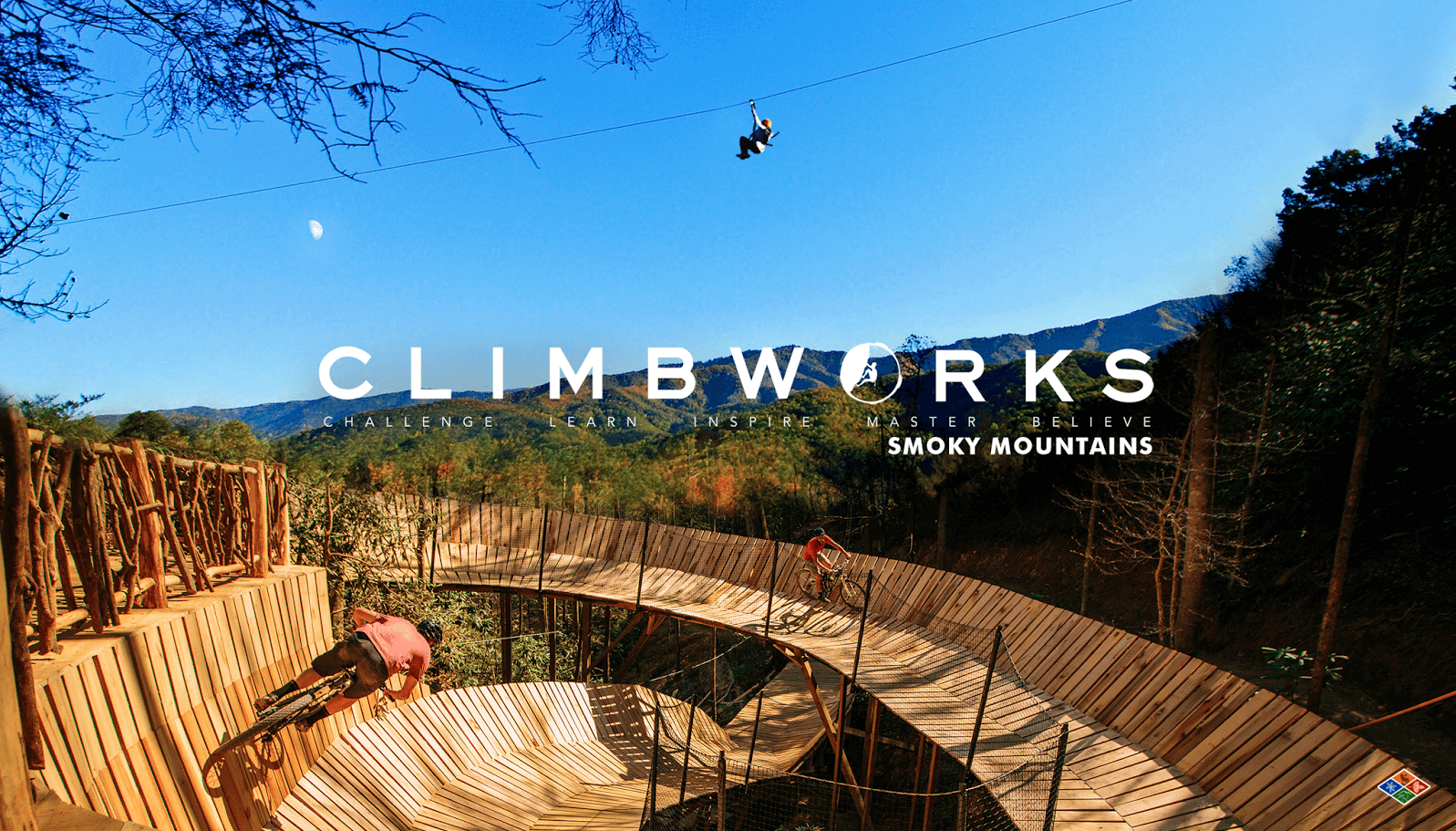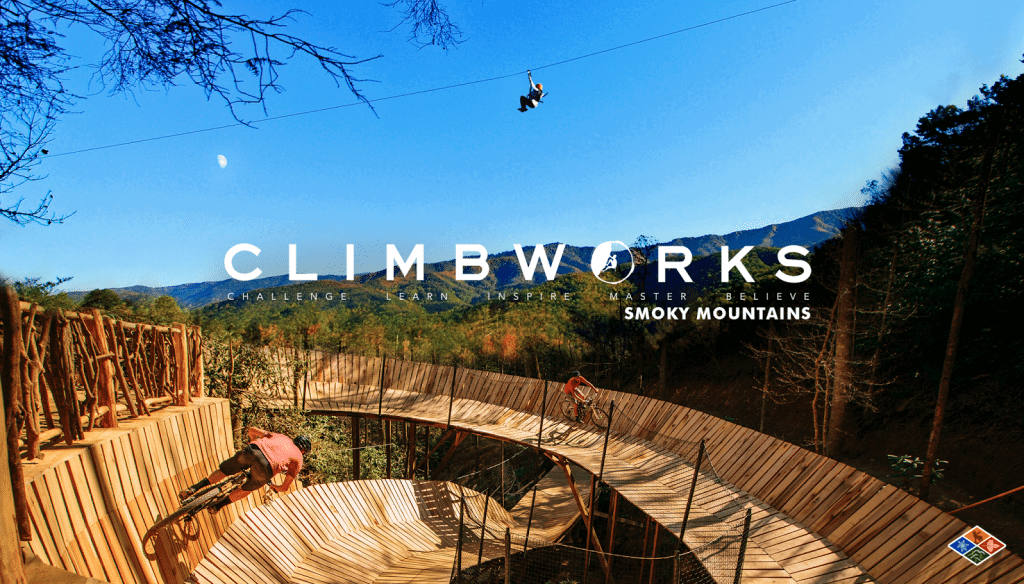 This state of the art trail features a two-mile green flow trail, practice loop and pump track, with an extensive, purpose built trail system in sight. The trail is packed with rollers, logs, bridges, and berms, and features the state-of-the art section called "The Curliest". All are rideable for beginners, and fun for experts.
Andrew explains the vision and design behind this trail, "When we were at the drawing board, we set out in the typical CLIMB Works fashion: to create the very best trail we could, something at the forefront of the industry. We started by hiring a world renowned mountain bike trail builder to help us with the design and contraction of the trail. Therein lies the difference between the common trail and ours: it is a trail specific for mountain biking. This means there is a "flow" and creates a unique sensation that's rare to experience mountain biking. What does all this mean? You will have so much fun on our trail!"
Area Mountain Biking Shops
Mountain Biking and Cycling shops are great resources for vacationers and tourists in the area. These shops provide a plethora of top-of-the-line gear and passionate sales associates who know and are eager to share the best information about mountain biking in the area.
Each of these shops specializes in different brands and areas of expertise, as well as their location to the areas you may be mountain biking in or near. Make them a destination before you hit the trail and they will make sure you have an unforgettable ride!
Cycology Bicycles-Maryville, TN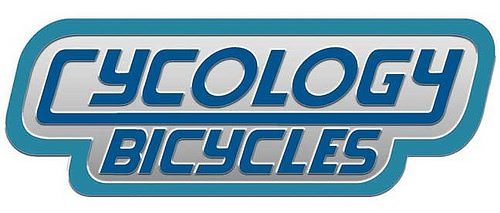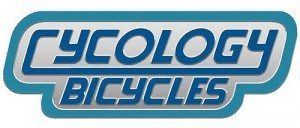 Located not far from Gatlinburg, Cycology Bicycles of Maryville, Tennessee has been operating since 1999. This store carries bikes for every member of the family, and is a great place to stop in for expert advice on biking in the Greater Gatlinburg area.
Cycology Bicycles features many top selling bike brands that include: TREK, Gary Fisher, Electra, Seven and Co-Motion. In addition they feature the some of the best and latest cycling apparel and accessories in the Southeast.
Visitors to the store can enjoy a free cup of locally roasted coffee while shopping or having their bike repaired at the fully equipped to bike service and repair shop.
In addition to sales and repair, Cycology Bicycles rents Trek Superfly's mountain bikes, $65 per day for a hardtail and $85 a day for full suspension, and they offer guided bike trips on road and off road.
For more information on renting and/or booking a bike trip e-mail:
Cycology Bicycles 2408 E Lamar Alexander Pkwy Maryville, TN 37804 | 865.681.4183
Book a Bike Trip: tim@cycologybicycles.com
Tennessee Valley Bikes-Knoxville, TN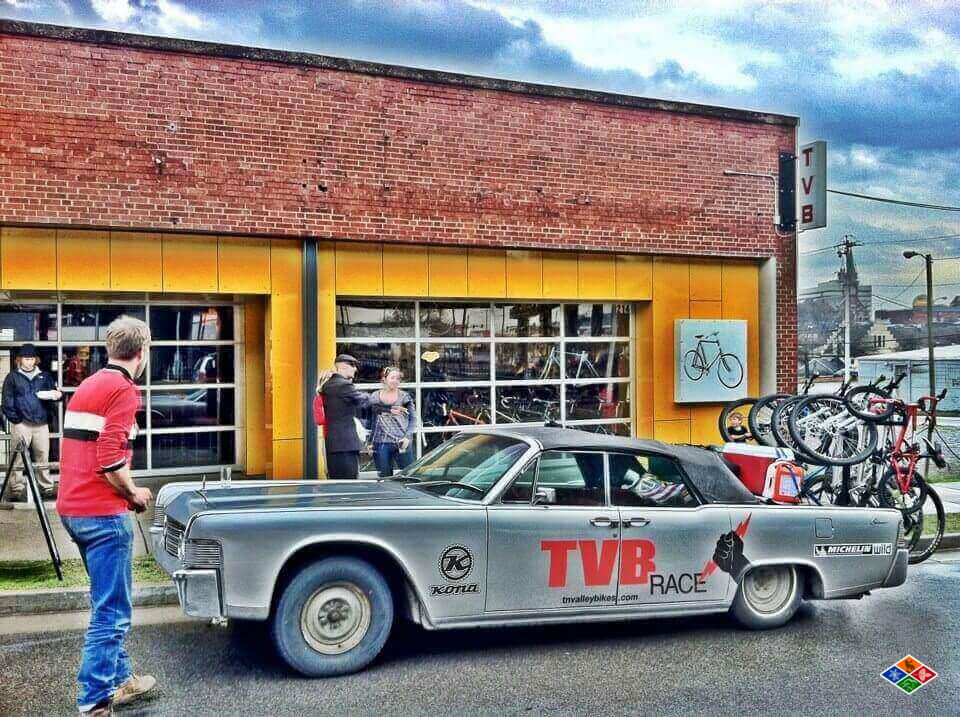 Voted Best Bike store in Knoxville for 2013 by the Knoxville Metro Pulse, Tennessee Valley Bikes (TVB) has a long standing reputation for superb customer service and some of the best biking merchandise in East Tennessee.
Tennessee Valley Bikes sales a variety of the top brands including: Surly, Scott, Salsa Cycles, Kona, and Breezer. In addition, the store currently offers demo Kona and Scott mountain bikes. This is a great service to interested customers who would like to test out different bike styles on the trail before they buy them.
For visitors to the area, especially those seeking to try out Knoxville's Urban Wilderness trails TVB rents Kona and Scott Bicycles in varying sizes to accommodate most adult riders.
Visit TVB at:
214 W Magnolia Ave Knoxville, Tennessee 37917 | 865-540-9979
Bryson City Bicycles- Bryson City, North Carolina
Known as the 'Tsali's Bike Shop', Bryson City Bicycles is your one-one-stop shop for bikes sales, rentals, gear, repair and much more. Located in the heart of downtown Bryson City, this store features top bikes brands such as Kona, Scott, 9niner, and Marin.
Laidback owners, Diane Cutler and Andy Zivinsky, have lived all over the country and chose to open their store in Western North Carolina as passionate mountain bikers and outdoors enthusiasts. They bring this contagious passion for biking and exploring the outdoors to their shop and share this with every customer that steps through the door.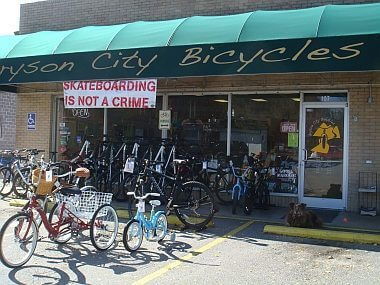 Located within minutes of the Deep Creek entrance to the Great Smoky Mountains National Park and with close proximity to Tsali Recreation Area, Bryson City Bicycles specializes in renting, repairing, and outfitting visitors to bike and explore the many biking trails in Western North Carolina area. As co-owner Diane Cutler explains, "We are a YEAR-ROUND full service bike shop with a great selection of bikes, gear and accessories and offer mountain bike rentals and same day repair for those vacationers who run into trouble on the trail and need help to get back out there fast!"
For more information visit:
157 Everett St./PO Box 250 Bryson City, NC 28713 | 828-488-1988
Motion Maker Bicycle Shop Sylva & Asheville, North Carolina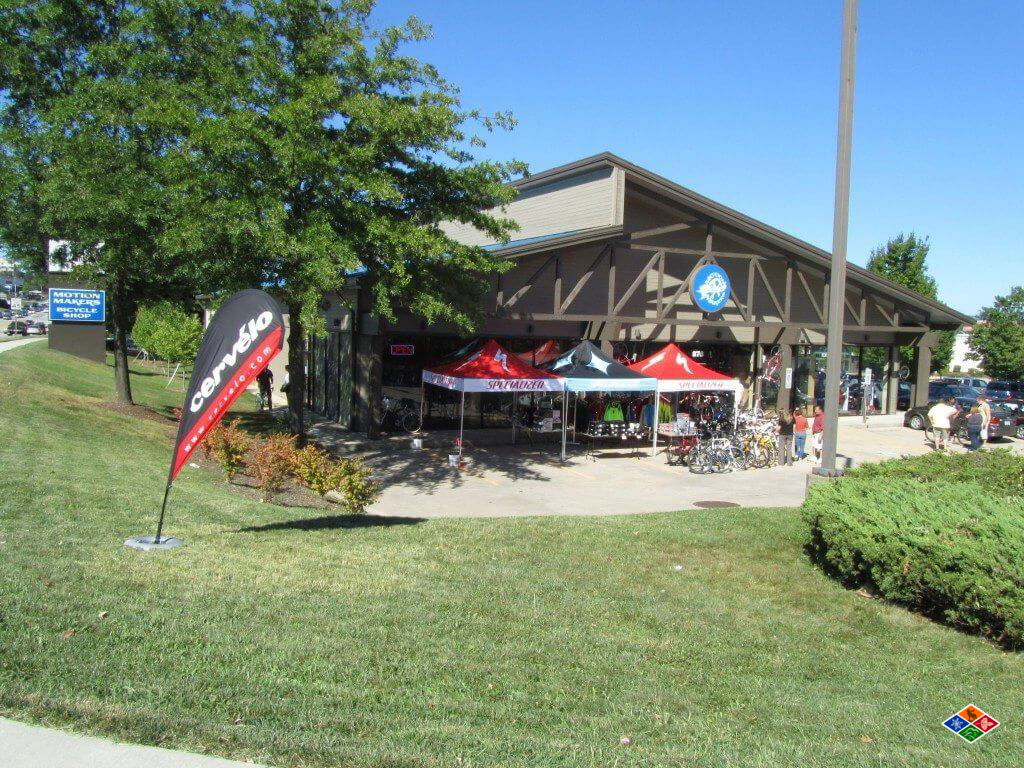 Opened in Sylva, North Carolina since 1986, this bicycle shop expanded and opened a sister store in Asheville in 2010.
Motion Maker Bicycle Shops are committed to unprecedented customer service. As their motto reiterates, "Everyone talks about great customer service, but we mean real, impassioned, 'how-can-we-help-you-and-we-mean-it', customer service."
Motion Maker Bicycle shops features many leading bike brands such as Specialized, Raleigh, Cervelo, Pivot, Moots and Ridley bicycles. Their shops also offer a wide variety of the best in cycling gear, accessories and more. They recently launched an online catalog so you can peruse and purchase items online without even stepping foot in a store. In addition to sales, Motion Makers Shops also offer bicycle repair and servicing and bicycle fitting service for all customers.
Visitors to Western North Carolina eager to hit the trail are welcome in their stores. As owner Kent Crawford reiterates, "[Visitors to the area should] definitely come see us. We have all the maps and advice about where to go. Special gear would depend on how far you want to go into the backcountry. We can advise on that too. We also rent bikes from basic 29″ Hardtails to multi-thousand $$ full-suspension rigs."
For more information visit:
Asheville, NC 878 Brevard Rd | 828-633-2227
Sylva, NC 552 West Main St | 828-586-6925