Arts and Crafts In Gatlinburg
The Great Smoky Mountains have a rich history of folk arts. The independent and self-reliant pioneers of the early 1800s that settled these parts have long been crafting items with resources and inspiration from the land around them. These self-sufficient stock of folk, began the tradition of craftsmanship and art that is still prolific today in these parts.
The legacy of the original pioneers that settled in East Tennessee, the wonder of the Great Smoky Mountains, and the skill of these folk artists is celebrated and revered in the greater Gatlinburg area. In fact, today the town of Gatlinburg hosts the nation's largest organization of independent artisans makes its home in Gatlinburg along the 8-mile Arts and Crafts Loop along Route 321, Buckhorn Road and Glades Road. These group of craftsmen are known as The Great Smoky Mountain Arts and Crafts Community.
The Great Smoky Mountain Arts and Crafts Community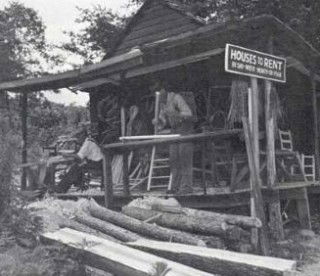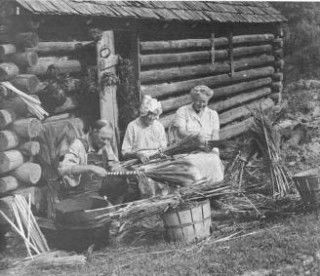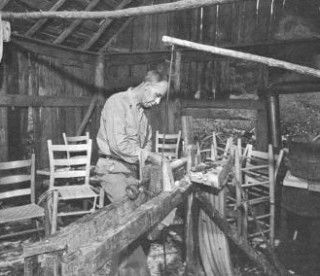 Founded in 1937, the Gatlinburg Arts & Crafts Community began as a group of area craftsman seeking to be closer to their places of creation amidst their tools and resources. Thus, after years of peddling their goods in downtown Gatlinburg, a group of local artisans decided they would invite tourists to come to them. These original artisans included: John Cowden (woodcarver), Lee Ogle (broom maker), and Noah McCarter (chair maker).
Today, the town of Gatlinburg is home to the nation's largest organization of independent artisans, over one hundred and twenty. These group of craftsmen are well known for their numerous talents which range anywhere from broom making to detailed oil painting to detailed hand-sculpted items.
Located on a convenient 8 mile loop road, this historic arts and crafts area has been designated a Tennessee Heritage Arts & Crafts Trail. Visitors to this area can experience the craftsman ship and artistry in person at the studios where these artists creates and become a part of the magic and tradition that runs deep in these parts.
Visitors will watch artists create a plethora of original collectibles and folk art such as candles, baskets, quilts, trolls, brooms, pottery, jewelry, dolls, ceramics, oak and willow baskets, scrimshaw, silver-smithing, leather, stained glass, wearable fashions, sculpture, lithographs, fine photography, frameable art, oils and watercolors.
A trip to the Great Smoky Mountain area is not complete without a visit to this historic and landmark community.
Visitors quickly followed and soon other craftsmen and artists joined the community opening workshops, studios, and galleries most of them right alongside or in their homes.

A. Jann Piesto Art
Her art has been described as "very colorful…loose and juicy…magical with just enough realism." Jann Peistos original writings and watercolors are delight to experience.
Using vibrant watercolors, Jan, splashes, dashes and generally recreate the feeling of someone at play. Her watercolor pieces depicting from flowers to flamingos lounging in a tub with wise and humorous sayings. As Jan details, "The whimsical side of my paintings is 'Gussie Mae', a cantankerous flamingo and 'Bootsie', a rather bedraggled angel. With my husband, mat cutter/framer and 'hiking buddy', Gene, one of us will be in the shop six days a week. Visit and leave with a fond memory or even a 'giggle'. It's all just water, paint and paper."
When asked about her creative process, Jan explains, "Creating is a process far longer than I remember. When one smears peanut butter around on the table or beats two sticks together, one is creating perhaps, even one's future. The sticks didn't guide me into music but the peanut butter led right into paint!"
Jan is also deeply inspired by the surrounding beauty and splendor of the Great Smoky Mountains. Jan describes, "Our National Park provides inspiration as I interpret the colors and moods into my paintings. Personally it's [(GSMNP)] my hangout!"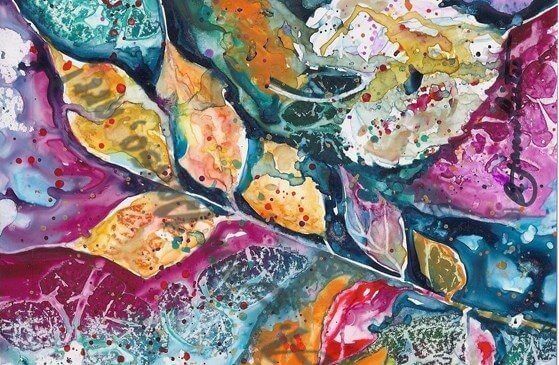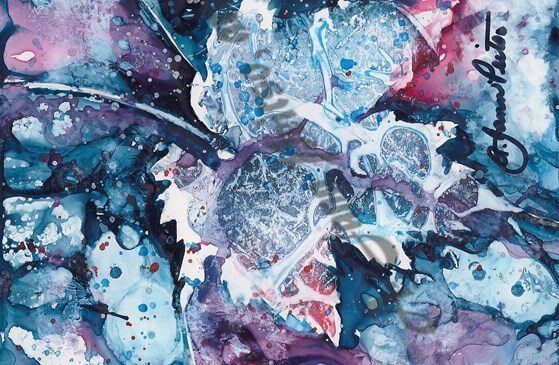 Jan's studio/gallery has been open for six years in the Arts & Crafts Community. However, she has been exhibiting at the local shows in the Gatlinburg Convention Center for many years. As Jan adds, "I traveled and exhibited at art shows and galleries rather than committing to one "brick and mortar for many years. However, I am now glad to be a part of the Arts & Crafts Community with a permanent home to display my work".
As an artist Jan draws her inspiration and creative muse from everything around her. As Jan conveys, "I absorb the stories of the people, I feel the presence of those who did live in what is now. The Park, I celebrate those lives in my quilt paintings and the small renderings of a wildflower or a memorable tree reaching and grabbing toward the heavens. I see colors play across the mountains and wish that I could interpret the sounds of the streams into each "swoosh" of the brushstroke."
Visiting Jan's studio in person is a must for all visitors to the Great Smoky Mountains Area. As Jan explains, "Visitors will be introduced to brightly-colored watercolors painted on a paper made from pulverized rock, encouraged to come in, paint with me and leave with their own "original", hear stories of mountain ancestors and their creativity in just living. Hopefully, those guests will gain a bit more knowledge about what carved and created this community of artisans and its surroundings."
Venue name:
A. Jann Piesto Art
Address:
170 Glades Rd Ste 5, Gatlinburg TN 37738
Buie's Pottery
Buie Pottery is Gatlinburg staple. She has been creating functional, handmade pottery & stoneware pieces since 1982. Buie herself puts her time and love into each piece. Each piece is custom made in Buie Pottery's new shop, located at the entrance to the Great Smoky Arts and Crafts Community.
When asked where Buie gets creative inspiration, she replies, "New ideas come from customers' requests, a lot of times."
Buie has been throwing pottery since the age of 17. After she graduated from the University of Tennessee where she graduated with a Bachelor of Fine Arts with honors in 1986. She started her own business and gallery in September of 1986. Throughout the years, she has been president of the historic Great Smoky Arts & Crafts Community, a member of the Gatlinburg Chamber of Commerce, and has served on various committees and councils for her city & community. Buie is also an avid Gatlinburg Garden Club member and supporter of the Smoky Mountain Area Rescue Ministry, Smoky Mountain Resort Ministry, and the Gatlinburg Chamber of Commerce. As Buie has been creating since 1982, and as she conveys, "I always loved it."
All Buie pottery is dishwasher, microwave, and oven-safe. For visitors to the area interested in shipping gifts or purchases home, Buie Pottery ships products anywhere in the continental U.S.  They are especially in packaging the pottery to ensure its safe arrival to your home.
In addition, it's a place where visitors can come and watch these artists work and create onsite. Buie Pottery's new location was built this building 7 years ago.  As Buie describes, "I love our new shop and Buie's landing. It is the main attraction for the people; 10 to 13 million per year enjoy the mountains."  Buie Pottery's new location at the entrance to the Great Smoky Mountains Arts & Crafts Community.  However Buie started renting in Gatlinburg, many years ago at a location next to her current store about 150 yards away. Buie's Pottery is a part of the destination shopping spot known as Buie's Landing.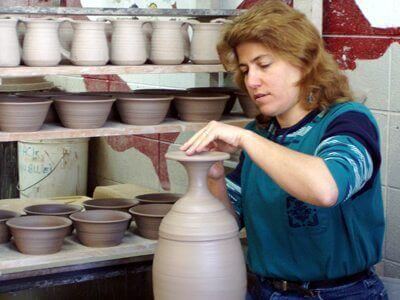 One of the area's newest shopping centers, Buie's Landing features locally made crafts and artwork from local artists Landing is home to 6 local working artists and crafters. It contains galleries featuring hand-made pottery, the Smokies' best original palette knife paintings and prints, jewelry, hand-crafted baskets, hand-tooled leather items and purses, photographic prints of the Smokies, original bronze and cast sculpture, beautiful floral designs, glass rosemaling, innovative wood turnings, painted slate, hand-painted calligraphy, and much more.
When asked why visitors to the Great Smoky Mountain area should make her shop a must Buie replies, "Because I make the best pottery in Gatlinburg, all handmade, for the lowest price. I am #1 on the art and craft loop, many customers visit with us first, then visit more shops in the loop. Many times, they return and tell us that and buy. Thank you, customers! I love this area and I enjoy making useful pottery for people."
Address:
1360 E. Parkway, Ste 1, Gatlinburg TN 37738
Hours:
Monday through Saturday from 9:30 am - 5:30 pm | Sunday 10:30 am - 3:30 pm
Holloway's Country Home (and Quilts!)
Maria Holloway's custom quilts and designs are available at two Smoky Mountain Locations. As Maria explains, "My present location at Stewart Gallery works well as I can showcase my work and direct folks out to my main shop housed in an antique log cabin. Stewart's gallery is a perfect match for me."
A bit beyond the Arts & Crafts physical loop on Glades Road, Holloway's Country Home location displays and sells a large variety of handmade quilts and much more. Just up the road from Gatlinburg, on the edge of the Great Smoky Mountains National Park, Hollway's Country Home is a definite destination shopping experience.
Featuring a variety of handmade products, owner Maira Holloway crafts her quilts, custom made socks, table runners and more after the , follow centuries of rural tradition in color, cut, pattern, fabric… all this and much more goes into the making of our quilts. As Maria concludes, "But the most important element is time. In addition to our large number of original and vintage quilts, we have quilt kits and supplies for you to invest the time in making your own."
Maria Holloway has been crafting for almost seventy years. As she explains, "I have been creating since before I started school so I would have been about five or six. Worked on a crazy quilt with my grandmother's help and still love crazy quilts. I have a number of them myself, some date back to the eighteen hundreds. I am now 75 so that would make about 69 years of crafting. Wow how time flies!"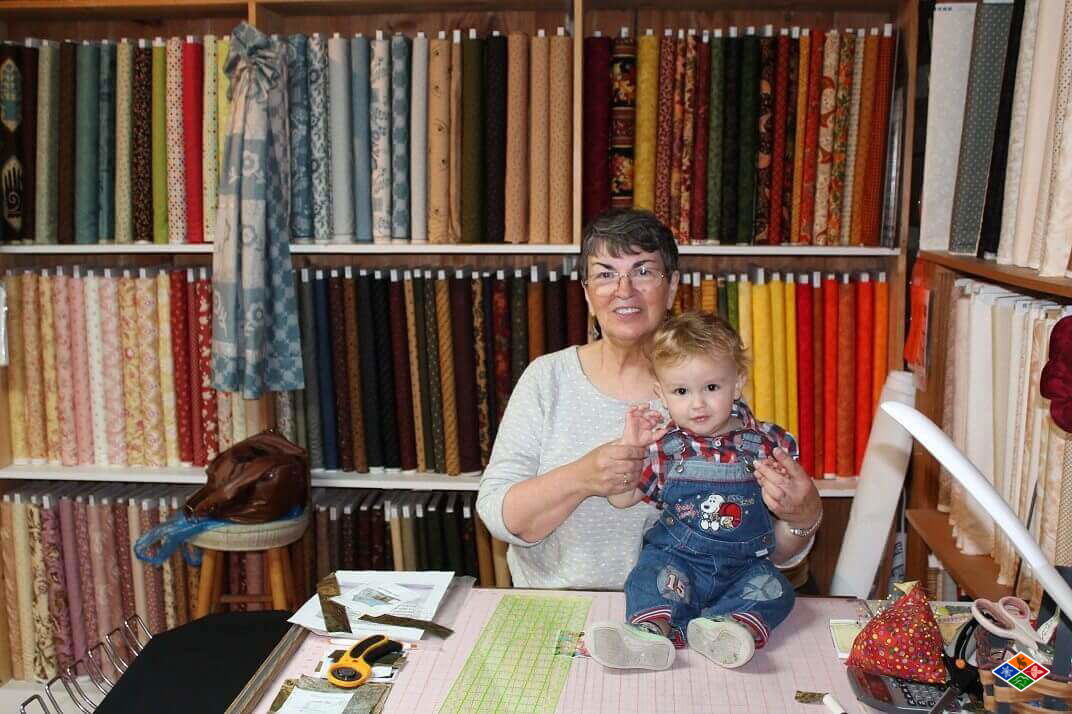 Since their shop is located at their home, As Maria and Johan Holloway express, "Most importantly, it is our home and all of our products are about making your home more comfortable and inviting."
Though not a local to these parts, Maria fell in love with the Great Smoky Mountains on a vacation in the area while driving back home to Florida. As Maria recalls, "I visited the area and knew instantly that this area was the perfect place for me to live out my life creating a way to make a living among other likeminded folks. What a great decision that was! Today I now am blessed with four generations living in these beautiful smoky mountains."
Maria is committed to carrying the rich tradition of quilting in this area, "Quilting dates back to the very early settlers in the area. First as warm bed coverings to today's work of art. Many of my quilts incorporate the beauty of Cades Cove and the wildlife of the area," Maria explains.
When asked why a visit to The Great Smoky Mountain Arts and Crafts Community as well as Maria's personal studio/gallery/home, Maria notes, "Visitors to the area seem to enjoy meeting the artists and watching us at work. They appreciate being able to purchase art that is created here in the USA. We always let them know everything they see in our shop is created with American pride."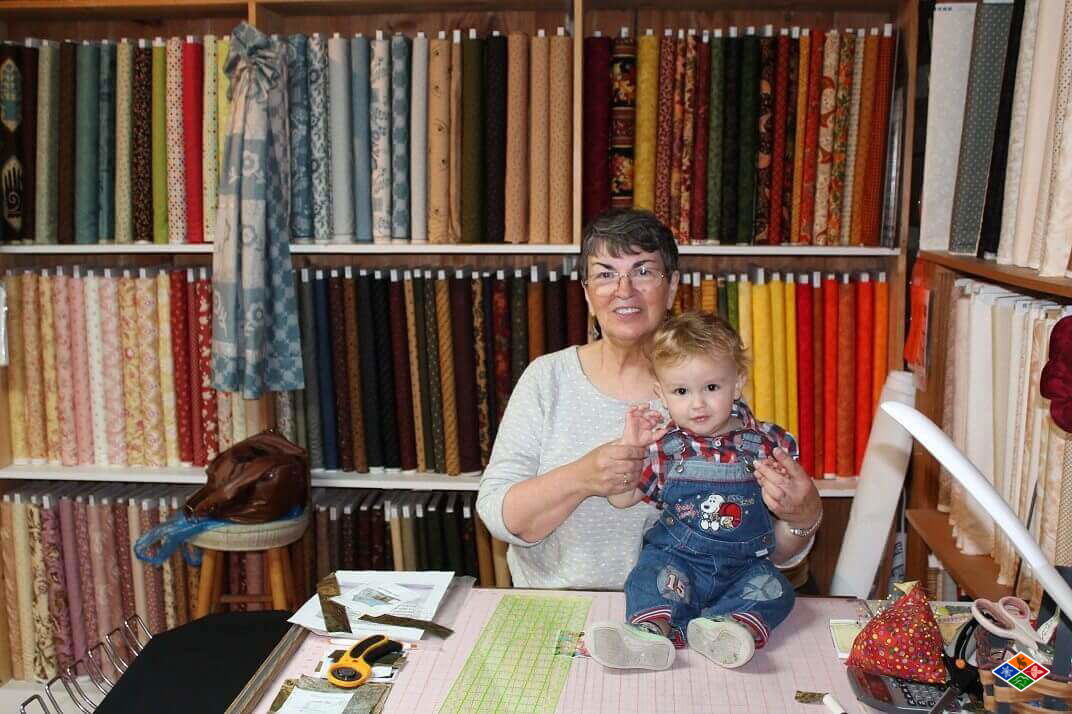 When asked where she draws her inspiration for quilt creations, Maria explains, "My inspiration is a gift from God. I can look at the sky on a gloomy day and get an idea for a new pattern I wake up at three in the morning with a picture of a new landscape quilt in my mind. Did I dream that? Perhaps it was divine intervention."
As Maria concludes, "I feel so very blessed to make a living doing what I love to do while being able to reside here in these beautiful mountains. One article many years ago referred to me as Yankee born but Southern by choice. That still apply to me today!"
Venue name:
Holloway's Quilts
Address:
3892 Cosby Hwy. Cosby, TN 37722
Hours:
Monday - Friday: 9:00 am - 5:00 pm | Saturday: 9:00 am - 4:00 pm
Woodland Tiles
Located in the Great Smokey Mountain region, Woodland Tiles officially opened in 2008. The rich and abundant plant life strongly impacts and inspires owner and artist, Marie Lennon. As per her motto, organic Hand designs created with nature's own signature, Woodland Tiles lets you truly bring nature into your home.
Woodland Tiles are created by impressing a real leaf into the clay, then carefully cutting it out by hand, we get an exact replica of that leaf. Therefore no two tiles are exactly alike. Marie explains where she gets her inspiration, "Most of my inspiration comes from a walk in the woods. The many varieties of trees and plant life available here is ever inspiring. Cutting out the leaves in clay will often spring an idea seeing the way the tree branches sway in the wind OR a leaf floating to the ground or floating down a mountain stream. The twisted bark of an old and twisted tree – a tree growing out of a huge boulder….there is so much stimulation in nature, and I try to capture it in clay."
Each individual tile is its own piece of art. Woodland Tiles uses a variety of clay bodies and custom mixed glazes, we capture beautiful hues of color.
This incredible process includes first impressing a tile with a real leaf and carefully hand cut to get an exact replica of that leaf. After air drying for several days, the clay leaves are then kiln fired for approximately 10 hours to a "bisque" state. This is where the clay is hardened yet still porous enough to absorb the glazes. Woodland Tiles then applies the custom glazes. Then this precious pieces of nature's art are sent to the kiln for an off to the kiln for a second firing where they reach a temperature of approximately 2000 degrees. After this the tiles are "vitrified," which means they will no longer absorb moisture.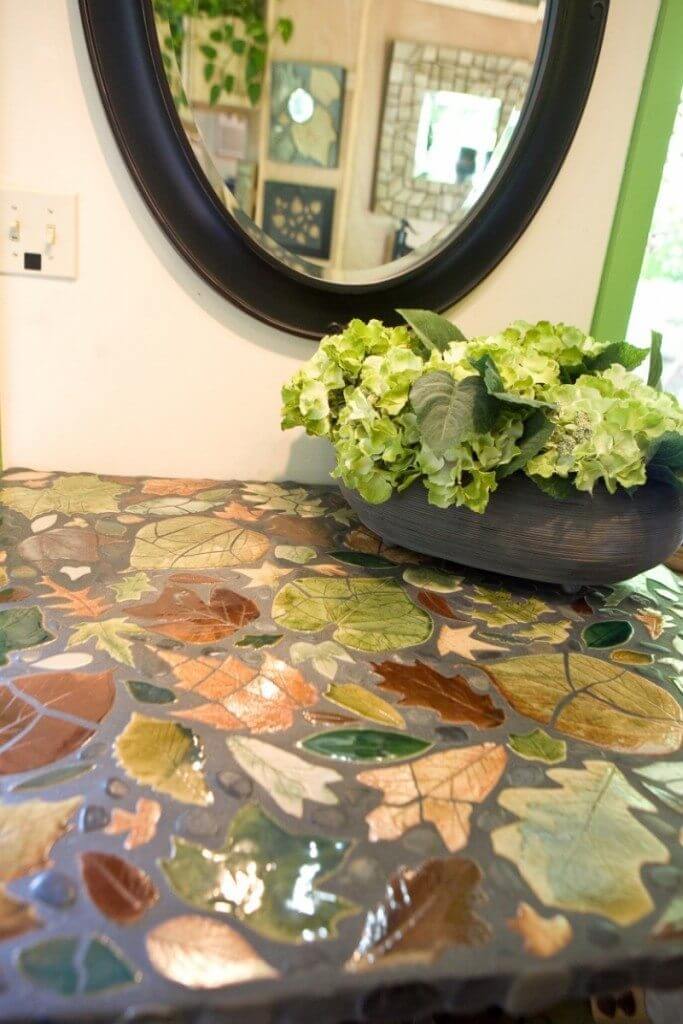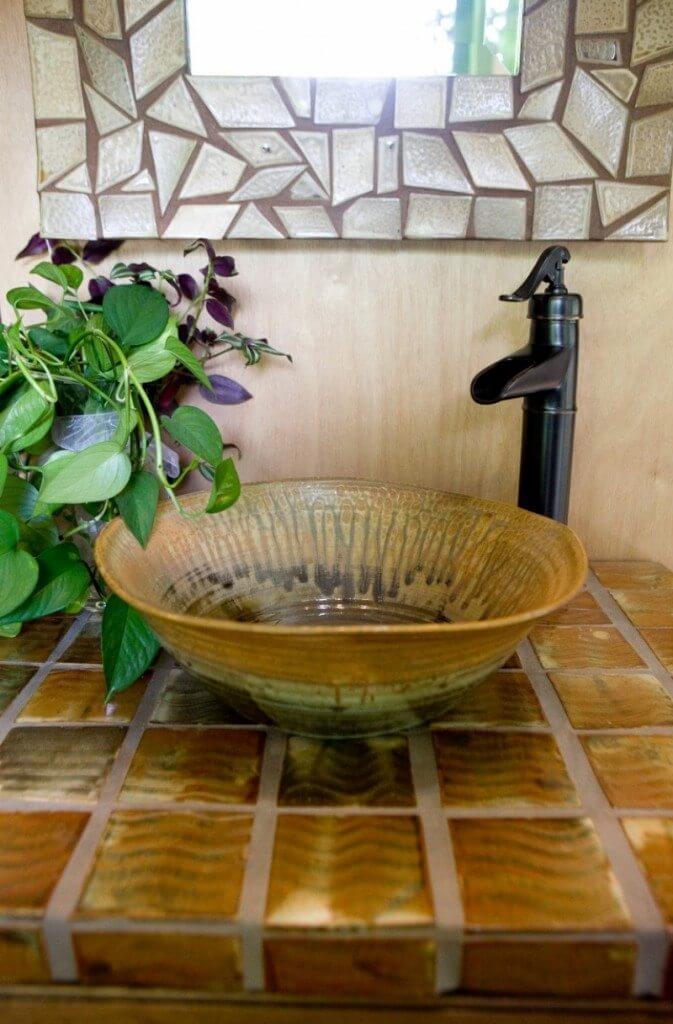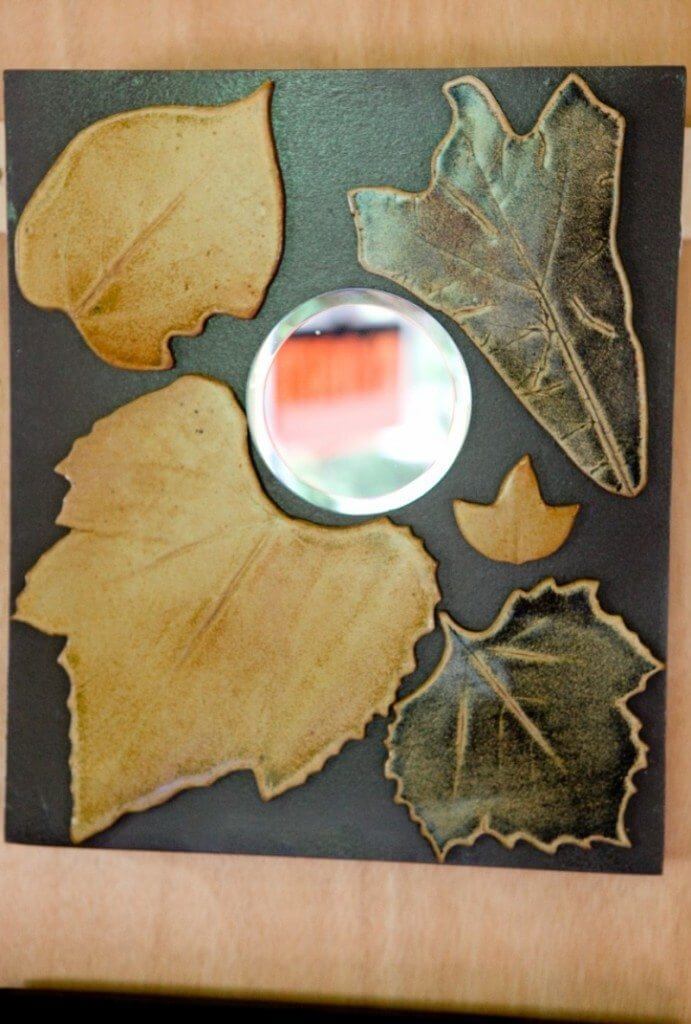 In addition to the leaves, Marie offers custom tiles in glazes and designs not related to leaves. Like geometrics or graduated sizes, etc.
One of the best parts of working with Woodland Tile is a custom design is created for the customer specific measurements. All of the tile fitting and cutting is done specifically for the customer's design. Then every piece of the design is carefully adhered to tile mesh, holding it all securely in place. For stability, a clear adhesive plastic is attached to the top side of the tiles. Lastly, the whole design is cut into manageable size pieces and shipped directly to the customer. As Marie explains, "Today I have customers across the states – Canada and England, full kitchen backsplash of leaves, chair railing, stair risers, fireplace mantels and hearths, table tops, patios, custom mirrors, wall art, outdoor cook tops, planters, wood bins, garden tables, I have done custom wall murals for the outside entrance to homes . To add to this I do many specialty items for customers."
Owner Marie Lennon, has an incredible story about falling into this trade. After a 30 year career in real estate in Ohio – Marie followed her youngest daughter to Gatlinburg, Tennessee where her daughter had already established her pottery studio five years early. Marie returned to the real estate business in Gatlinburg until suffering a terrible fall and injury to her spine in 2007. As Marie describes, "I was unable to walk or sit for more than 30 minutes at a time. What was I going to do?? My daughter came to the rescue. She sat me down – gave me a slab of clay and some real tree leaves and told me to press them into the clay and cut them out. I could get up and walk around – go lie down – etc. whenever I needed. During this time – ideas started forming in my head and a new business was born."
Marie shares a shop space with her daughter who owns "Brandywine Pottery." Brandy's work has been awarded the prestigious acceptance into the Southern Highlands Art Guild and is also on display in their Asheville, NC location.
As Marie concludes, "Everyone likes to see what's new… What is different from all the rest…I encourage you to stop in and visit. There is NOTHING like it Creative – WOW!!"
Venue name:
Woodland Tiles of Gatlinburg
Address:
252 Buckhorn Rd. Gatlinburg, TN 37738
Hours:
Contact Store For Hours
Arrowmont School of Arts and Crafts: A Place, an Opportunity, An Experience
To really appreciate the rich heritage of arts and crafts in the Great Smoky Mountains, a visit to the historic Arrowmont School of Arts and Crafts is a must!
Arrowmont's beautiful campus and galleries are nestled on a 13- acre hillside hidden in the center of Gatlinburg, Tennessee and surrounded by Great Smoky Mountains National Park. Founded in 1912, it was originally called Pi Beta Phi Settlement School, and it provided basic education and health facilities to area folk. Today, Arrowmont has evolved today into a center for experiential learning in craft and art, combining rich heritage with innovative instruction in exceptional studios.
History
Rooted to the settlement school founded by Pi Beta Phi in 1912, Arrowmont School of Arts and Crafts came about after Sevier County took over the public schools in the 1940s. The early settlement school had a strong focus on arts and crafts and helped develop craftsmanship and artisans that later thrived in Gatlinburg's tourist Boom.
The Phi Beta Phi Settlement School offered an education, to the remote families of Appalachia where no formal schooling had been available. It was also the site of one of the first medical clinics in the area. Settlement School children expressed gratitude to the teachers the Phi Beta Phi Settlement School by bringing them gifts of handmade wares made by their parents-weavings, baskets and woodcarvings.
Shortly after in 1926, the Arrowcraft Shop was opened to market the beautiful crafts of the Appalachian people. Thus, through the legacy of crafts and arts in this region that the idea sprung up to begin offering craft classes at Arrowmont. A little less than twenty years later In 1945, the first summer craft workshops were taught with some 50 students in attendance, under guidance of faculty from the University of Tennessee.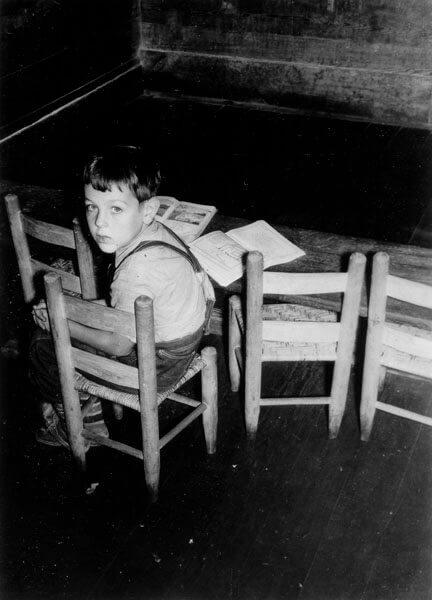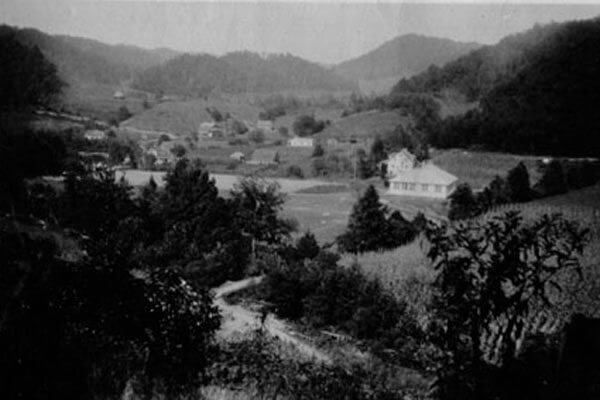 These initial workshops were a huge success. Enrollments for the workshops and classes increased, attracting students and faculty worldwide. With increased enrollment and classes, the School's name was changed to Arrowmont School of Arts and Crafts and plans were created to build a new studio complex in 1967. Bill Griffith, Outreach and Partnership Liaison for the Arrowmont School of Arts and Crafts, adds, "In 1970, the construction of the new Emma Harper Turner building (main Arrowmont building) expanded facilities to include 5 studios, two galleries, a 200 seat auditorium, a book and supply store and administrative offices. Prior to that, the Arrowmont gallery was located between the clay and weaving studios and served the purpose of exhibitions featuring artwork by the summer workshop instructors, local artists and artwork specific to Arrowmont's media conferences and symposia."
Arrowmont Today/Classes and Workshop Opportunities
Today the Arrowmont School of Arts and Crafts today proudly serves as a national arts education center. As per their motto, "enriching lives through art," this historical school and art education center is something not to be missed on any Smoky Mountain Vacation. This contemporary complex is known as Arrowmont School of Arts and Crafts: A Place, An Opportunity, An Experience.
Now offering a year-round classes and workshops for college credit and an 11 month artist-in-residence program, The Arrowmont School of Arts and Crafts is a nationally renowned center of contemporary arts and crafts education.
Visitors to the Great Smoky Mountains can take advantage of the phenomenal opportunity to attend classes at this renowned center. The school offers weekend, one- and two-week workshops for the beginner to advanced artist.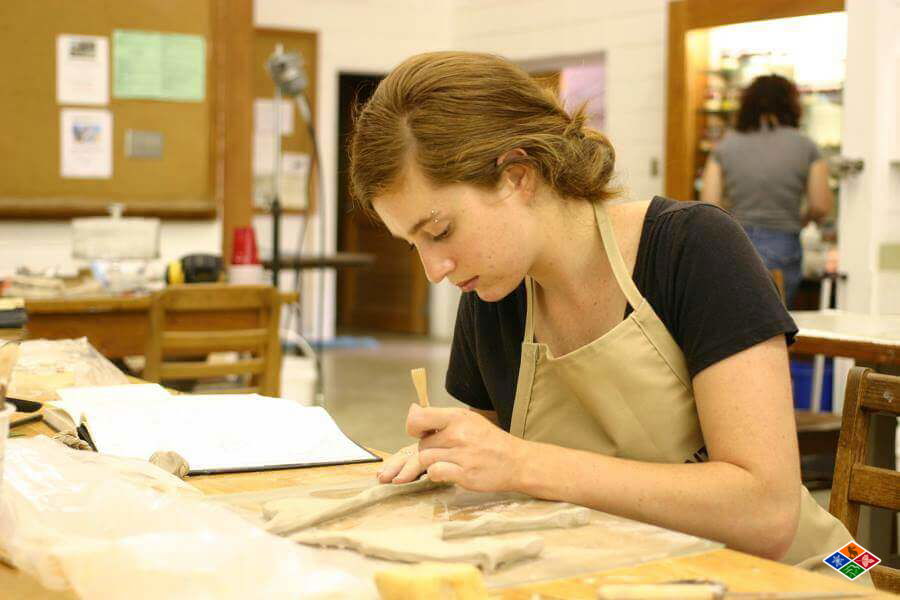 Participants will learn and practice under by national and international practicing studio artists and university faculty. In addition students can revel and fine tune skills in professionally equipped studios on a 14-acre residential campus in Gatlinburg, Tennessee.
Those interested in building their artistic skills can select workshops and classes are offered in ceramics, fiber, metals/jewelry, painting, drawing, photography, warm glass, woodturning, woodworking, mixed media, books and paper.
For a current listing of workshops and classes offered visit: http://www.arrowmont.org/workshops-and-classes
Visiting the Arrowmont School of Arts and Crafts Campus: An Experience for All!
Even if visitors elect not to attend a class, the Arrowmont School of Arts and Crafts is a great destination to visit for inspiration and to experience this history of the Greater Smoky Mountain area.
The campus is open to the public. As Bill conveys, "Arrowmont is open to the public and provides opportunities to see and purchase some of the best traditional and contemporary art work while visiting Gatlinburg. The Arrowmont supply and art store is open to the public and features artwork made by artists who have participated in our yearly artists-in-residence program. While visiting campus you can also self-tour some of our working studios. Artists lectures are open to the public Monday-Thursday evenings during workshop seasons."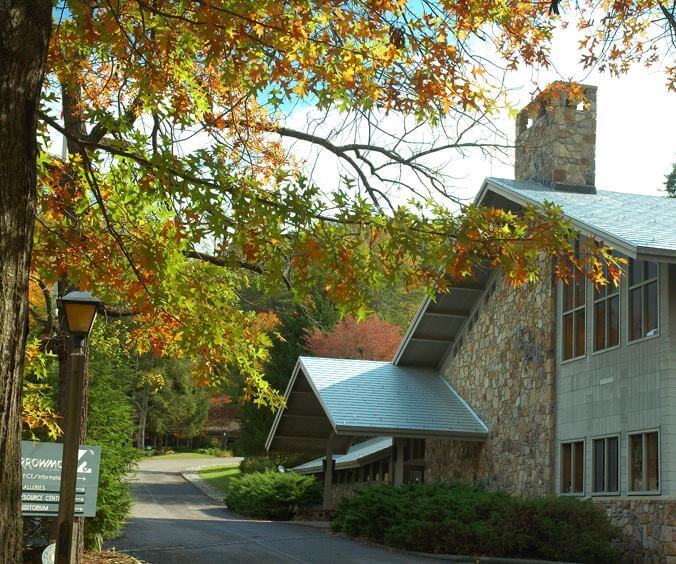 Visitors can also checkout the Marian Heard Library and Resource Center. This incredible library collection contains print and electronic materials for research, and displays work from the School's permanent collection.
In addition, prospective students, art collectors, or those who just appreciate fine art can browse the Artist Outfitters Store. This store offers tools and supplies for students on campus and artists in the community, as well as offering for sale selected artwork from past Artists-in-Residence.
Visitors can also take advantage of the incredible opportunity to see a full-range of juried exhibitions in various galleries. Visitors can peruse one of the school's five galleries, which offer a full schedule of changing exhibitions, attend evening presentations, and visit the Artists-in-Residence studios- to view artwork by local, national and international artists. As Bill Griffith details, "Arrowmont features a variety of exhibitions celebrating traditional and contemporary 2-D and 3-D art work in all disciplines by international, national, regional and local artists of all ages. This includes our national invitational and juried theme exhibitions, national media conference exhibitions, regional and local exhibitions (Sevier County Juried Biennial Exhibition). Arrowmont also hosts the Sevier County Juried Children's Art Exhibition each year. (Included is Arrowmont's Gallery Program 2015-16 exhibition schedule)."
Arrowmont Galleries
Three of the dedication exhibition paces to view are The Sandra J. Blain Galleries, The Geoffrey A. Wolpert Gallery, and The Jerry Drown Wood Studio Gallery. These three galleries offer a wide array of art and rotating exhibitions.
Visitors to the The Sandra J. Blain Galleries will discover a year-round schedule of changing national and regional exhibitions that are created in conjunction with workshops, conferences and programs. These galleries offer an invaluable educational resource and allow students and visitors to learn about various media, techniques and ways artists express ideas through their work.
Located in the foyer, The Geoffrey A. Wolpert Gallery, is dedicated to the residency program and gives the Arrowmant School of Arts and Crafts resident artists to learn exhibition space management. Resident artist receive four months of exhibition time in this gallery during their residency. This gallery also features national conference, permanent collection exhibitions, and small solo exhibitions. Visitors to the area that appreciate the incredibly biodiversity of the Great Smoky Mountains can also enjoy this space for the Spring Wildflower Pilgrimage Artist of the Year. The spring Wildflower Pilgrimage at Great Smoky Mountains National Park takes place in April.
The Jerry Drown Wood Studio Gallery is dedicated to showing revolving wood exhibitions from the permanent collection. Visitors to this gallery can delight in exhibitions that include turned and constructed wood objects and wood sculpture, historically representative of the evolution of woodturning – from functional forms to artistic objects.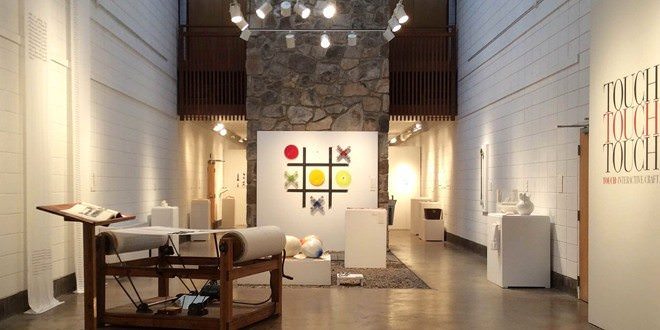 Arrowcraft Shop
For Smoky Mountain Visitors wishing to see the impact of this campus outreach, art, and partnership, visiting the oldest gift shop in Gatlinburg, Arrowcraft is truly an experience. This historic shop sells fine arts and crafts from a nine-state region – weaving, basketry, pottery, woodcarving, glass, and toys. Like the Great Smoky Mountains Arts and Crafts Community, this shop works to promote and support that the craftsmanship and skills passed from hand to hand for generations and is be preserved for the future. As Bill Griffith explains the connection between Arrowmont and The Arrowcraft Shop, "The Arrowcraft Shop, founded in 1926, began as a cottage weaving industry, supporting the sales of local mountain weavers craft and later other expanding to other crafts-persons, baskets, woodcrafts, etc. Arrowcraft began as an outgrowth-partnership of Arrowmont and was one of the earliest craft shops/galleries in Gatlinburg for over 65 years- thus having an impact on the early exhibitions hosted by Arrowmont School of Arts and Crafts. Arrowcraft today is one of the retail outlet craft shops associated with the Southern Highland Craft Guild based in Asheville, NC."
Venue name:
Arrowmont School of Arts & Crafts
Address:
556 Parkway Gatlinburg, TN 37738
Hours:
Mon-Fri 8:30am to 5:00pm | Sat 8:30am to 4:00pm
Annual Arts & Craft Events in the Great Smoky Mountains
The Gatlinburg Craftsmen's Fair Summer/Fall
Hosting over two hundred artisans from across the United States, the Gatlinburg Craftsmen's Fair is an event not to miss. The Gatlinburg Craftsmen's Fair is recognized as one of the top 20 events in the southeastern U.S. by the Southeast Tourism Society. This fair has been voted one of the Southeast's "Most Popular Events," and with an enormous variety of unique, one-of-a-kind artisan products. The Gatlinburg Craftsmen's Fair offers shoppers and spectators something truly special. In fact every craftsman displayed at this fair goes through a juried process to ensure quality and uniqueness of the prospective products.
Attendees to this fair will have a shopping experience like no other. With the chance to watch artisans and craftsmen demonstrate their skill, answer questions and offer their exceptional art for sale.
Gatlinburg Craftsmen's Fair Summer
This craft fair not only offers a phenomenal selection of specialty arts and crafts, but each event features free live and country bluegrass music. In 2015 Dennis Lee and Band and Tim Watson, "The Fiddle Man, performed each day.
Join this year:
July 14 – 17, 2016
10 a.m. to 6 p.m. daily,
Sunday 10 a.m. to 5 p.m.
Admission for adults is $7; children 12 and under are admitted free.
Gatlinburg Craftsmen's Fair Fall
Here's your second chance to browse and visit 180 of the finest craftspeople from all over the United States demonstrate their skill, answer questions and offer their unique art for sale. Just as in the summer there will be free live country and bluegrass music at the event.
Join this year:
Fall Craftmen's Fair
October 6-23, 2016
Open daily from 10 a.m. to 6 p.m., Sunday: 10 a.m. to 5 p.m.
Admission for adults is $7; children 12 and under are admitted free.
Venue name:
Craftmen's Fair at Gatlinburg Convention Center
Address:
234 Historic Nature Trail, Gatlinburg, TN 37738
Price:
Adults: $7 | Children 12 & Under: FREE
Old Mill Heritage Day: Pigeon Forge
Like Gatlinburg, Pigeon Forge also boasts a history of fine craftsmanship. The nexus of the craft community in Pigeon Forge can be found at Old Mill Square.
The Old Mill Square is a vacation destination with shops, restaurants and historic spot. The legacy of fine artisan craft is preserved here through a variety of crafts that are practiced at the nearby shops.
Old Mill pioneers used to use and the place where pottery has be created for over forty years. Old Mill Heritage Day is a chance for visitors and locals alike to experience "a day in the life of a Smoky Mountain Pioneer." This celebration of arts and culture provides visitors with an array of fun, music, games, crafts and storytelling.

Demonstrations at Old Mill Square will take visitors back to days of yore, as they will see firsthand how the first settlers to the area made lye soap, cooked over open fires, weaving, basket making, spinning, dyeing yarn, painting gourds marbling and much more.
Visitors also can sample good old Appalachian cooking like chicken dumplings, cornbread, fried green tomatoes and much more. Join this year's 13th annual "Old Mill Heritage Day" will be held on September 24th, 2016 from 10 – 6 pm. The event is free and open to the public.
Venue name:
Heritage day Festival
Address:
175 Old Mill Avenue at Traffic Light # 7 Pigeon Forge, TN 37868
Hours:
September 24, 2016 - 10:00 am - 6:00 pm
A Mountain Quiltfest in Pigeon Forge
Celebrating the rich history of folk art, and specifically quilting, Pigeon Forge "A Mountain Quiltfest" proudly strives to protect and preserve the timeless folk art of quilting.
Every spring quilters from all over the country and the Southeast descend upon Pigeon Forge to take specialty quilt classes and enter their most prized quilt creations. Visitors can come to appreciate, celebrate, and admire the hard work, creativity and artistry that goes into the creation of these beautiful quilts.
A Quiltfest draws crowds upwards of 20,000 or more, where quilter gurus of all skill levels come to instructor's vendors and sponsors from all over the country are on hand to answer all questions about quilts.
Numerous method demonstrations take place throughout the event to show technique, innovation design and skill. Participants and visitors can view incredible variety creative quilts by highly talented quilters from all over the country.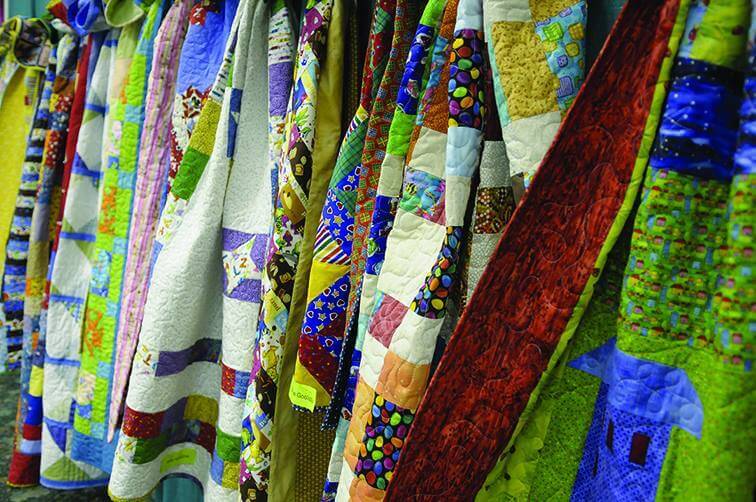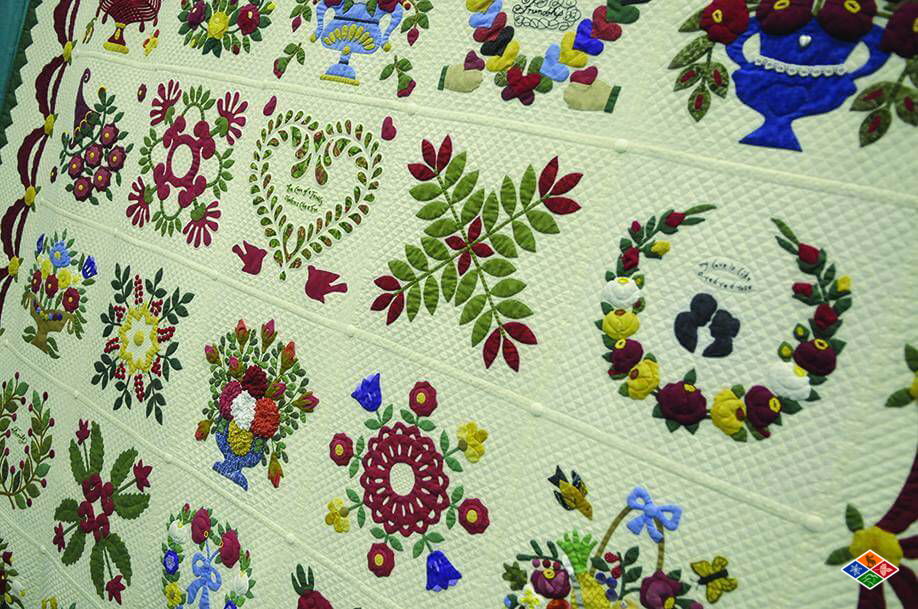 This incredible event offers attendees the incredible opportunity to attend classes and lectures taught by some of the nation's most recognizable names in quilting and fabric arts.
In addition, professional and amateur quilters will have a chance to compete for more than $18,000 in cash and prizes to be given away during the Mountain Quiltfest event. The Professional and Challenge Quilts will be displayed at Smoky Mountain Convention Center. Quilters compete in more than 10 categories for over $18,000 in cash prizes. All other quilt categories will be on display at Music Road Convention Center.
Quilters can shop for unique and the latest in quilting tools before the event is even open to the public. No matter the skill level, there is something for everyone. 2016 marked "A Mountain Quiltfest" 22nd year of existence.
Venue name:
A Mountain Quiltfest
Address:
LeConte Center 2986 Teaster Lane Pigeon Forge, TN 37868
Hours:
March 15-19, 2016 - See Website for 2017 Details
Great Smoky Mountain Arts & Crafts Community Annual Craft Shows
The Great Smoky Mountain Arts & Crafts Community celebrates their rich heritage and connection to the Appalachian Mountains through fine craftsmanship.
Each year the The Great Smoky Mountain Arts & Crafts Community hosts three different craft shows at the downtown Gatlinburg Convention Center. These shows bring the rich traditions, craftsmanship, and time honored traditions to one convenient location. Admission is always free. They host a Thanksgiving, Christmas and Easter Craft Show. The timing of these events couldn't be better as it gives attendees a chance to find those special Christmas and birthday gifts and celebrate these special holidays too.
Visitors not only get to a sampling of the great The Great Smoky Mountain Arts & Crafts Community offers, but they can shop for incredible, one-of- kind arts and crafts all in one location.
As noted on their website, "Our shows are just preview of what is in store for you when you visit the Great Smoky Arts and Crafts Community located just 3 miles from downtown. Step back in time as you witness over 100 artist and crafters producing their wares by hand in this historic area."
2016 Great Smoky Mountain Arts & Crafts Community shows are scheduled for:
2016 Easter Craft Show
March 24 – 26, 2016
Show Hours:
Thurs 10am – 5pm, Fri 10am – 6pm & Sat 10am – 5pm
2016 Thanksgiving Craft Show
November 22 – Sunday, Nov. 27
Show Hours:
Mon-Thurs 10am – 5pm, Fri-Sat 10am – 6pm & Sun 10am – 4pm
2016 Christmas Craft Show
November 28 – December 4
Show Hours:
Mon-Thurs 10am – 5pm, Fri-Sat 10am – 6pm & Sun 10am – 4pm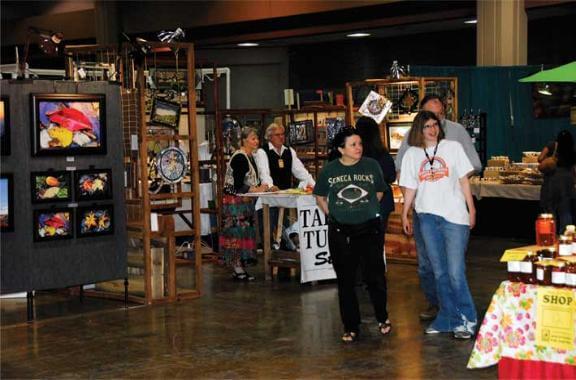 Address:
Gatlinburg Convention Center 234 Historic Nature Trail Gatlinburg, TN 37738
Hours:
See Specific Event Dates
Galleries in the Great Smoky Mountains
Lovers of Thomas Kinkade Art visiting the Great Smoky Mountains are in luck! Art of the South Galleries, certified Thomas Kinkade Signature Galleries are authorized to carry limited edition Kinkade canvases that can be sold nowhere else, abound in this region. With six locations in East Tennessee, five of the six are located in Gatlinburg and Pigeon Forge, collectors will have a field day of art selections to choose from. Therefore, Visitors to the Great Smoky Mountains Region can browse and visit several galleries until the find the painting that is perfect for them!
Managing Partner Art of the South & Infinity Fine Art Jim Odom explains, "We opened our first location in Cleveland Tennessee in June of 1997… While successfully owning and operating several ChemDry franchises in California, owners -Dave and his wife, Leeann, were introduced to Thom's artwork. It was Kinkade's unique themes and use of luminescent colors that left a strong impression with the couple causing them to consider ways to share the work with others. So in 1994, Dave Smith started a Kinkade gallery in Morro Bay California, one of the very first Thomas Kinkade galleries in the US, and not long after Dave opened one first Thomas Kinkade galleries in the eastern part of the United States in Eastern Tennessee."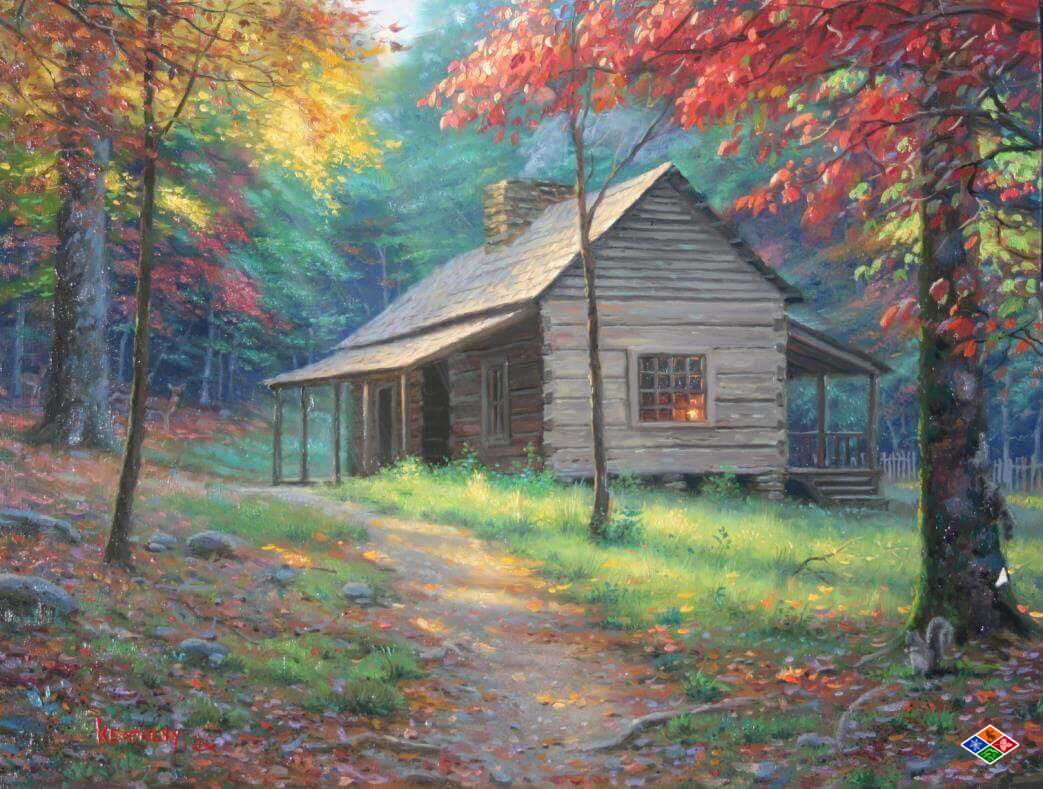 Art of the South galleries are authorized to carry exclusive editions of Thom's artwork that quite simply can be found nowhere else. These galleries are a part of our Art of the South network making us the world's largest source of Thomas Kinkade's art. Serious Kinkade collector seek out Signature galleries because they are looking for Standard Numbered Editions or the extremely rare Studio Proof.
Though Art of the South proudly offers exclusive Kinkade works and exceptional selection, visitors need not worry that these galleries will be stuffy or snooty. In fact Art of the South galleries pride themselves on their "southern hospitality" and their warm and friendly service. What customers will find is a dedicated staff excited about talking to people about Thomas Kinkade and his works. In fact customers who visit the store are paired with are paired with an Art Consultant who works with customers to answer questions, send any information you request as well as help you find that perfect canvas for your home or office.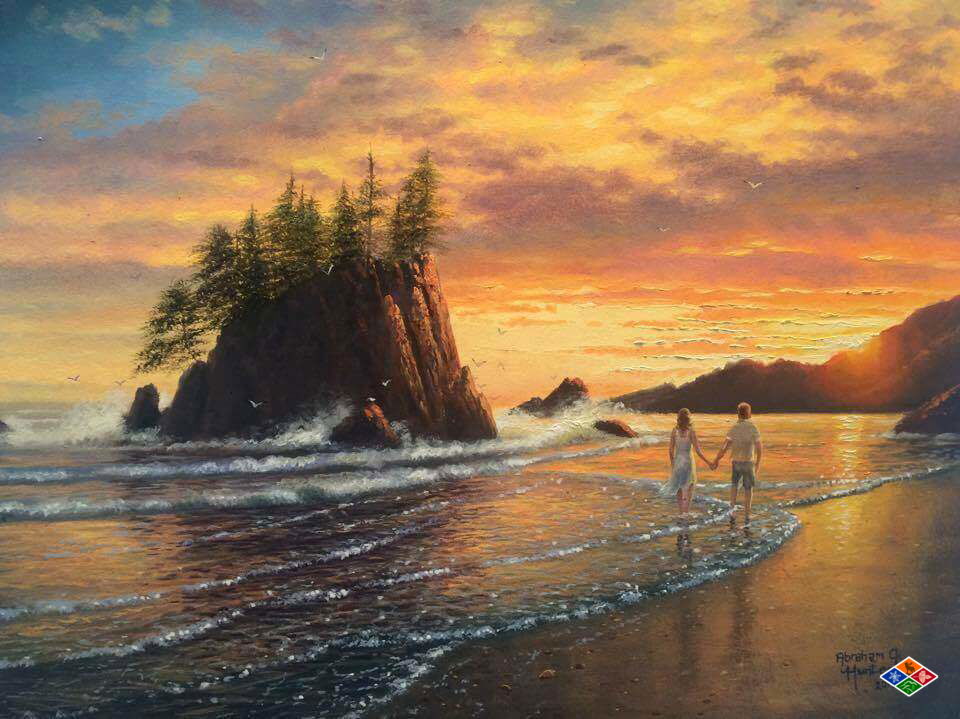 Odom continues, "In June of 1997, the Odom's responded by opening a gallery in their hometown of Cleveland, Tennessee. Since that time, they have opened as many as 14 other galleries in 5 states. . We currently have seven locations, all in Tennessee. Three of the galleries are in the popular tourist city of Gatlinburg, Tennessee."
Art of the South Galleries not only strive to help you find the center piece of your art collection or finishing touches to your art collection, but they also work with customers to offer interest free financing, phone orders, layaway services, preorders for certain "to be released" images, and various delivery options like overnight and international shipping.
Now Art of the South carries other arts, "We started out selling ONLY Thomas Kinkade art. In 2007 we began selling Mark Keathley and just a few years ago began carrying Abraham Hunter as a featured artist. In addition to our featured artists, we carry a few of the better selling images from another 20 or so artists."
For true Thomas Kinkade aficionados these galleries also offer signed canvases signed by Thomas Kinkade during special events. When asked why visitors to the area must visit a Kinkade Gallery, "We hear from customers all the time that tell us that their trip to one of our galleries was the highlight of their trip to the Smoky Mountains. A visit can be almost as much fun as visiting the Aquarium or any of our other attractions."
Art of the South Galleries also feature consignment services for customers seeking to change or purchase newer pieces. For current owners change of scenery (or you may just want to take advantage of an appreciation in price). If you find yourself with a limited edition canvas you would like to sell we may be able to take the piece on consignment. Please note that we are not able to take open edition items or limited edition paper prints as consignments. As Jim Odum concludes,
"We strive to only feature art and artists who are Christian or who paint art that "soothes the soul". If you have to explain what it is, we probably do not carry it."
Venue name:
Art of the South
Address:
634 Parkway, Ste 24, Gatlinburg, Tennessee 37738
Hours:
Mon-Sat: 9:00 am - 6:00 pm | Sun: 1:00 pm - 6:00 pm
Cliff Dwellers Gallery
Cliff Dwellers Gallery is an incredible showplace for area traditional fine crafts and art. This gallery housed in a historical building that was originally located downtown. Moved from downtown, Cliff Dweller's now stands at 668 Glades Road in the heart of The Great Smoky Arts & Crafts Community. This Gallery is owned and operated as a cooperative by six give artists and carries the work of approximately 60 other area artists who have been invited to be a part of the Gallery.
History of the Gallery
The Cliff Dwellers building was built in downtown Gatlinburg in the 1930's by artist Louis E. Jones. This unique building was constructed in a chalet style of architecture that was then quite foreign to the Gatlinburg area. The unique wood and stone building functioned as Jones home, gallery and studio which he operated until the final years of his life.
Jones sold the gallery to the two ladies, upon retirement, who had assisted him for a number of years with the business, and they continued to carry fine art, handmade gifts and hand woven accessories for the home. In the early 90's the home and building was sold to a business man that only wanted the premier land of the location. He planned to tear down the house, but fortunately in 1995 Jim Gray (regional artist) and his son Chris moved the building to the Glades area and lovingly restored it for use and it continues its legacy as a home to regional art today.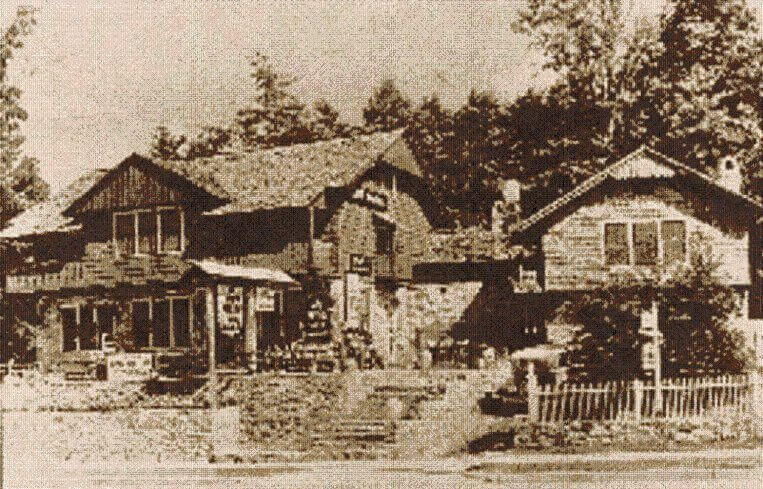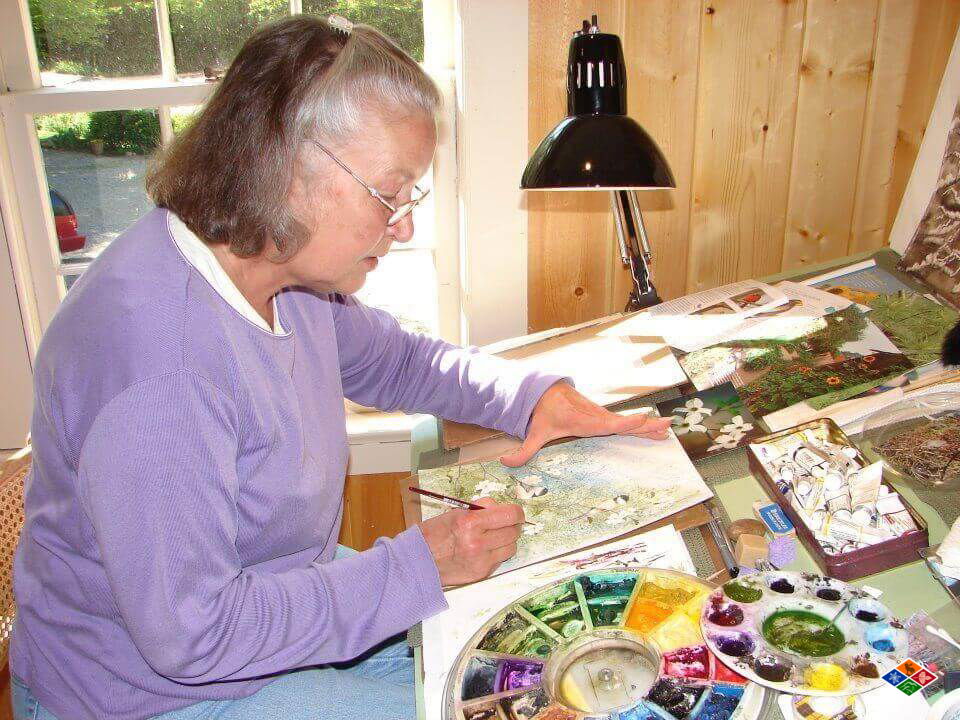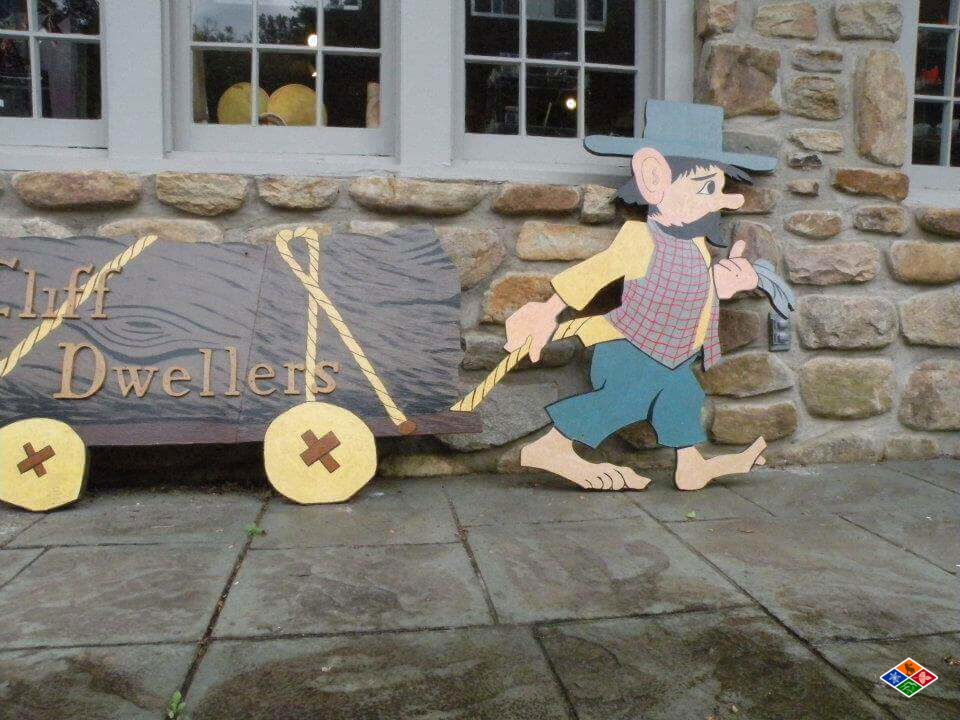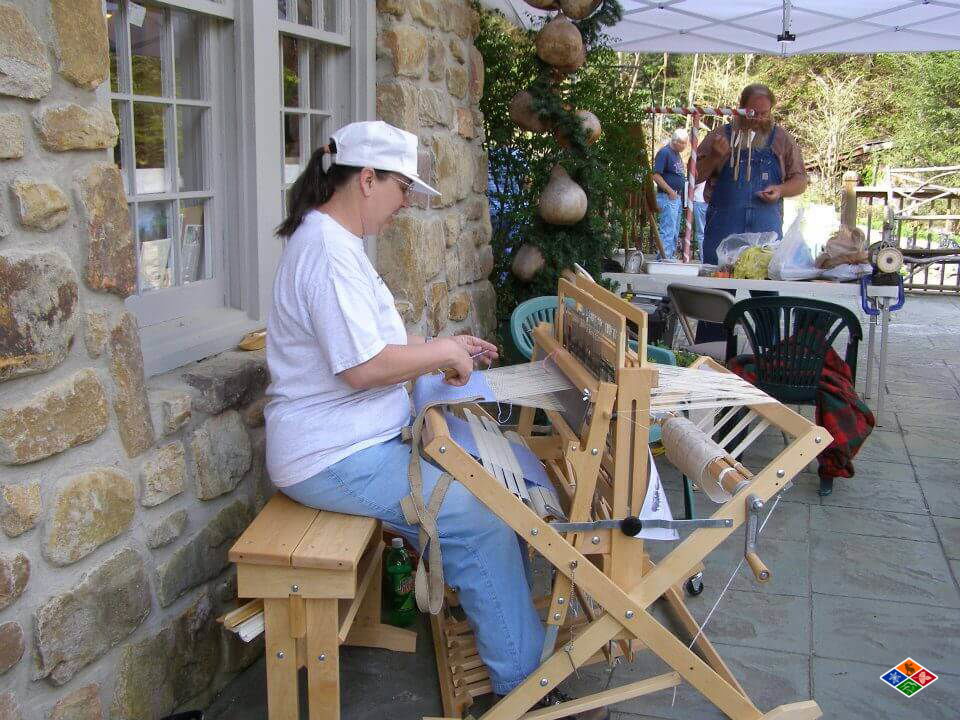 Carrying on in the fine tradition of the building, this gallery offers a wide selection of fine crafts and art from area artisans. As Louise Bales owner and artist explains, "Today the shop is own by five local artists, who have been together for over 19 years. (All ladies) We opened the Cliff Dwellers in May of 1996. Today we carry a large variety of artwork including: watercolor, gourds, wood, baskets, fiber art and weaving, pottery, rock candles, watercolor marbling, jewelry."
Bales continues "The finished artwork can be seen in the downstairs gallery. The upstairs living quarters of the building houses the workshop areas for our artists. Also, the old original painting studio of Louis Jones we have on display original artwork of his, a collection of old Gatlinburg postcards, pictures of the move from downtown, and a home video from the 1920 to the 1940's of the area."
Venue name:
Cliff Dwellers™ Gallery
Address:
668 Glades Road Gatlinburg, TN 37738
Hours:
Monday - Sunday: 10:00 am - 5:00 pm