Amenities:
Full Kitchen
Gas Grill
Hot Tub
Iron / Ironing Board
Mountain View
Parking
Washer/Dryer
WIFI
Quite possibly the best 3 bedroom luxury cabin in the Smoky Mountains. Relax on your covered deck and admire the amazing unrestricted views of the great Smoky Mountains. This high end private residence has entered the rental program providing an opportunity for guests to enjoy a gourmet kitchen and amazing modern luxury through out the cabin. Hot Tub, Pool Table, Ms. Pacman Arcade, High Speed Internet.
Cabin Bedrooms Layout
Upper Level King Suite

King Bed
Sleeps 2
Lower Level King Suite 1

King Bed
Sleeps 2
Upper Level - Loft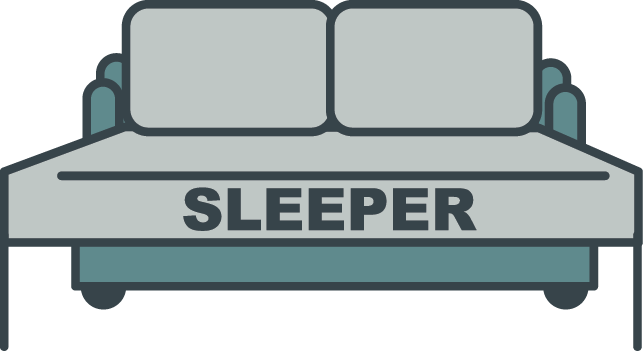 Queen Sleeper
Sleeps 2
Lower Level King Suite 2

King Bed
Sleeps 2
Full Description
The most luxurious 3 bedroom cabin on the rental market in Gatlinburg, Wine down offers 3 king master suites and incredible views of the great smoky mountains. Conveniently located just 20 minutes from downtown Gatlinburg, 2 minutes from Bent Creek Golf Course, and 6 minutes to the Greenbriar entrance to the Great Smoky Mountain National Park.

Enjoy incredible views from the great room, loft, kitchen and dining room. Prepare meals in your professional chef dream kitchen with dining area to seat 8 guests.

Relax inside in front of the fireplace or outside on the covered deck with porch swing both while enjoying perhaps the best views of the Smoky Mountains in the area.
### Occupancy is limited to 6 guests ###

*** This Cabin is Located 15 Minutes from the Main Resort Property ***

Custom built home
Gas Jenn-air BBQ Pit
Arcade Game
2 Porch swings
2 Rockers
2 Gliders
2 Loungers
4 bar height studio swivel chairs
Table & Chairs on Both Decks
Large 6 person hot tub

Gourmet Kitchen
5 Star Commercial gas Stove Top with electric convection Oven
Additional thermador oven with warmer and microwave
Commercial Refrigerator and Freezer
8? pine dining table with 6 chairs
Breakfast bar next to table with 3 chairs

Wet Bar on main floor with wine refrigerator
60 inch TV
Blu-ray
Bose surround sound

3 Master Bedrooms with all King Beds each having own bath two lower with Jacuzzi tubs
Upstairs has 43? w/blu-ray player
Down has 40inch and 32inch TV each with blu-ray players
1/2 bath on main floor

Game room with Pool table
Wet bar & refrigerator
60 inch TV
Foosball table
Pub table

Views from every porch Mt LeCounte
Calendar
Click your dates below to check in and check out
Available
Check In Only
Check Out Only
Selected
Unavailable
Photo Gallery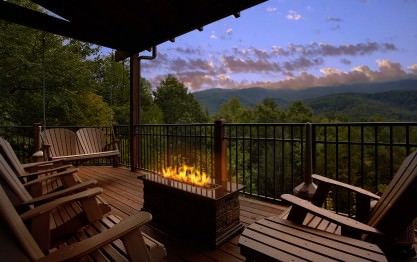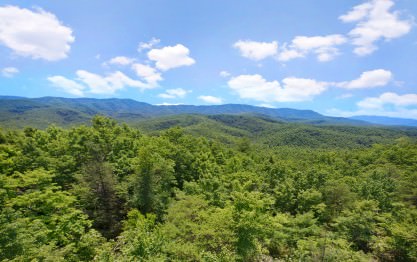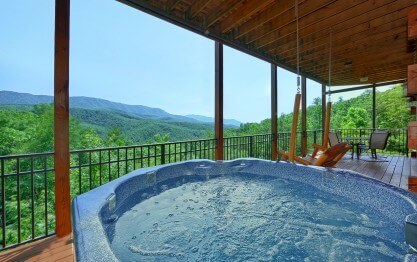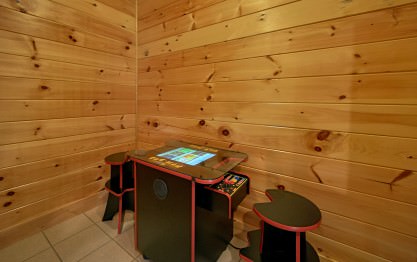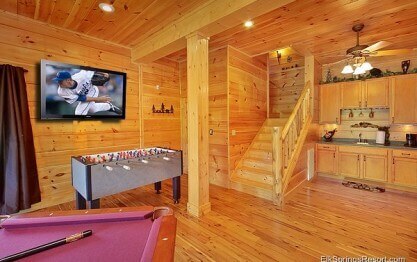 See All Photos
Reviews
Thomas Michael W.

Perrysville, IN

"Wonderful Cabin!!"

Wine Down Cabin at Elk Springs Resort was absolutely fabulous! The cabin was clean, well equipped, and had the most amazing views from the 3 decks. This was our 3rd vacation to Gatlinburg using Elk

…

Springs Resort and they are the best!! Very helpful, very professional, easy check-in and check-out, and perfect locations. We plan on returning next year and will definitely call Elk Springs Resort!
Mike and Jane W.

+ Read More

Lori C.

,

"Simply Amazing!!"

We wanted a weekend getaway. Mainly looking for relaxation. This cabin was PERFECT. Loved the large kitchen, the decks were remarkable, loved the swings, rockers, gliders. Living room was comfo

…

rtable. The 3 bedrooms suited our 3 couples perfectly. We went downtown on Saturday, saw the crowds and retreated back to the cabin. There is not enough room to say all the good things that need to be said. Absolutely AMAZING!!

+ Read More

Manager Response:

We were honored to have you as our guest, Lori! We love hearing how much you enjoyed your stay. We certainly agree, Wine Down is the perfect cabin to relax and unwind from life's everyday stresses. We hope you will consider making Elk Springs Resort part of a new tradition when visiting Gatlinburg. Hurry back, new memories are waiting to be made!

Pritoj

East Lansing, MI

"Winde Down"

This cottage has amazing view and is in a secluded area away from the hustle but still within 10 miles of Gatlinburg..upgraded amenities and appliances

Manager Response:

Thank you for your kind review, Pritoj! We are pleased to hear you enjoyed your stay. We hope you will make plans to come back and stay at Wine Down again. Please keep in mind, as a returning guest you will enjoy 10% off all future stays.

Kelli M.

Cincinnati, OH

"Absolutely Breathtaking. "

Fantastic.

Guy B.

Beloit, WI

"Wine down "

Very nice. Exactly as expected/advertised.

Manager Response:

Thank you for your 5-Star review, Guy! We are thrilled you enjoyed your stay at Wine Down. We hope you will make plans to come back and see us often.

Ronald F.

Kentwood, LA

"A View to Die For."

We all loved the cabin, particularly the back porch with a beautiful view of the Smokey Mountains. We enjoyed our stay so much we stayed an extra day. I'll be back.

Manager Response:

Wow! What a great review, Ronald! We certainly agree, Wine Down is the perfect cabin to relax and unwind from the hustle and bustle of everyday life. It would be an honor for you to come back and stay with us during your next visit to Gatlinburg. Please keep in mind, as a returning guest you will enjoy 10% off all future stays. We hope to see you soon!

Eric

Franklin, TN

"Wonderful"

Absolutely wonderful! Wine Down was better than expected. Chaming, clean, very comfortable and the view is TERRIFIC!

Thomas W.

Vonore, TN

"Great place to stay"

What a lovely experience! The place was great, and the staff did a great job.

Manager Response:

Thank you for allowing us to be a part of such a wonderful celebration, Thomas! We hope you and your family will come back and visit with us again. Your next adventure awaits!

Vicky F.

St. Johns, FL

"Loved every moment! "

Everything about this cabin is absolutely perfect!! Elk Springs Resort was a pleasure to deal with from start to finish. The views were breathtaking and completely private/secluded. You seriously do n

…

ot see the first cabin and that is hard to come by these days. The decks are amazing, lots of comfy furniture inside and out. Beds were comfy. This cabin has three levels. The main level is the family room and kitchen/dining, upstairs is the loft with a nice couch and leather love seats (the pictures do not show the loft area), as well as the master bedroom with huge nice bathroom and the lower level is the game room with pool table, foosball and fun video arcade, as well as 2 other bedrooms each with its own bathroom. We loved that all the beds were king. This was hands down our best vacation rental to date and would love to return again one day soon!! We enjoyed our week in this awesome cabin and made memories that will last a lifetime! Thank you!!

+ Read More

Manager Response:

Thank you for your 5-Star review, Vicky! We love to hear that your visit with us was exceptional. Wine Down is certainly the perfect cabin to chose for a luxurious escape from the stresses of everyday life. We are happy to hear you and your family were able to enjoy so many of the amenities! Please come back and visit us as often as you can. Each stay is guaranteed to create magical memories that you and your family will cherish. We hope to see you soon!

Sara

West Des Moines, IA

Manager Response:

Thank you for your 5-Star review, Sara! We hope you will come back and visit with us again soon! Please keep in mind, as a returning guest you will enjoy 10% off all future stays.

Jeff M.

Springfield, IL

"A great way to relax and Wine Down"

This is a AMAZING property? Elks Springs Resorts does a amazing job! 3rd time renting from them will do it again soon!

Manager Response:

Thank you for your wonderful review, Jeff! We are happy to hear that you had such an amazing return stay. We strive to ensure that each stay with us is exceptional. Please contact us when you are ready to start planning your next visit. Keep in mind, as a returning guest you will enjoy 10% off all future stays. We hope to see you soon!

Kimberly W.

Cincinnati, OH

"Beautiful view"

Wonderful stay! Absolutely beautiful. Would definietely like to return

Manager Response:

Your review warms our heart! We thank you for allowing us to be a part of such a wonderful stay. The views from Wine Down are truly breathtaking! Please let us know when you are ready to start planning your next Gatlinburg get-away. As a returning guest, you will receive 10% off all future stays. Please come back and see us soon!

Alex

Columbia, TN

"Nicest cabin yet"

We enjoyed every minute at the cabin it met all our expectations!

William

Miami, FL

"Christmas Vacation - Wine Down"

Our vacation experience was exceptional. The customer service and attention to detailed received by the Elk Springs resort staff was fantastic. This is my second time staying with Elk Springs and wou

…

ldn't stay with anyone else. Our cabin, Wine Down was amazing. The home had beautiful decor and was exceptionally clean. Our family really enjoyed our stay.

+ Read More

Judy K.

Indianapolis, IN

"Excellent Place to Getaway from it all"

This was the fourth annual trip with our group of girlfriends. We ALWAYS have a fabulous time. Wine Down is cozy, immaculate and beautiful. Our group enjoys the close access to shopping and hiking. We

…

venture out during the days but always come back to the cabin at night to relax in the hot tub, watch movies and play games. The view of the Smokies from the cabin is amazing. After four years of staying at Wine Down, we have many treasured memories. Thank you for providing such comfortable get-away!

+ Read More

Manager Response:

Judy, we appreciate your repeat business over the years and thank you for the 5-star review. We are always pleased to hear such positive feedback from our guests making lifelong memories here with us in the Smokies. We look forward to doing business with you for many years to come!

Nancy

,

"Wind Down cabin"

Great cabin. Had everything we needed. It was a Thanksgiving Holiday get away and it was great. I think we started a new tradition!

Manager Response:

Thank you very much for the 5 star review, Nancy! It sounds like you made the perfect choice for your Thanksgiving getaway. Be sure to book early for next year, as our cabins book up fast for the holiday season. Our repeat guests receive a 10% discount off all future stays with us!

Jim G.

Burlington, KY

"5 Day Family Reunion"

We had a very good experience. The cabin was wonderful and the area was beautiful.

Manager Response:

Thank you for your kind review Jim! We are pleased to hear that you enjoyed your cabin rental experience and the beautiful sights of the Great Smoky Mountains and surrounding areas. We hope you will consider a return visit to Elk Springs Resort.

Janyel E.

Pooler, GA

"This was the best vacation me an my wife have every had.. "

Awesome!!!!!!! The cabin was beyond a dream

Manager Response:

Thank you for the 5 star review Janyel. This cabin is well loved by everyone that stays there. We appreciate you taking the time to let us know how awesome your experience was. It is our pleasure to offer this beautiful cabin for our guests to enjoy. We look forward to having you back again soon!

Chris C.

Ashville, AL

"Anniversary Getaway"

We had a great time. My wife loved the cabin. Now she wants to remodel our the kitchen to be more like the one there at Wine Down.

Manager Response:

We appreciate your 5 star review Chris! It sounds like you picked the perfect cabin to create some everlasting memories. We are glad that you enjoyed the cabin so much that your wife wants to put a little bit of its features in your own home. It obviously made a lasting impression on her. We love to hear stories like this! We hope you are already considering a return visit to one of our cabins.

Darrel

Buford, GA

"Fabulous "

Absolutely wonderful. The cabin was even better than described.

Anthony

Gaston, SC

"wine down vacation"

Very relaxing. Excellent cabin overall. Very clean and comfortable. Excellent amenities also.

Laura M.

Terra Ceia, Fl

"Vacation at Wine Down"

Our stay was excellent and the staff at Elk Springs were wonderful and even gave us a call the day after we arrived to make sure we had everything we needed. Excellent customer service!

Gene

Harrison, OH

"Best Cabin & Location"

Very good, location was best we found yet. Private and yet closet to Gatlinburg. The view was outstanding. We had originally had reservations for a another cabin and about a week before we were to arr

…

ive there was a problem with the cabin we reserved. Management call and explained that the property was not up to standards therefore they offered other cabins available for out time period. The cabins they offered were larger and were close to the same location we selected originally. Elk Springs management is very professional and we are very pleased with how they handled this process. Our vacation was very good and stress free. Thanks

+ Read More

Jenifer

Troy, Michigan

"Wine Down visit - April, 2015"

This is a very nice property and we thoroughly enjoyed our visit. It was extremely clean and very nicely furnished. The multiple porches offer great views and lots of relaxation. It's secluded. Bed

…

s were comfortable and linens/towels were of high quality. The road to the cabin is quite steep and would be tricky in snowy/icy weather! We enjoyed zip lining, hiking and shopping on the Arts and Crafts Loop.

+ Read More

Julie

Greendale, WI

"Wine Down Review"

Wine Down Cabin and Elk Spring Management exceeded our expectations! Communication was through email and all the details were provided. We received a phone call with the lock-code to get in our cabin

…

the day of check-in. The cabin was absolutely beautiful and very-well maintained. This cabin was high-end with fabulous views. We would return.

+ Read More

Naga Shalini

Norristown, PA

"absolutely fantastic"

Fantastic view, maintained very well, faced no problems at all

Nicole

Willow Springs, NC

"Beautiful Escape !!!"

This is the second time we have stayed with Elk Springs Resort. We have been more than pleased with everything about our experience with them. The cabin was clean, comfortable and plenty of amenitie

…

s similar to other competitors. The view with this particular group of cabins is absolutely breathtaking !!!! If your looking to stay someplace that gives you the peace of the beautiful mountain scenery yet with all the amenities and conveniences of the local hub-bub and activities you will find it at Elk Springs Resort !!! We will continue to stay with Elk Springs :) Thanks again for another Beautiful Escape from our typical chaotic life!

+ Read More

Felicia

Rocky Point, NC

"Wind Down is the perfect cabin"

Chose Wind Down with no regrets. This cabin is beautiful, secluded, perfect view, wonderful deck, gorgeous kitchen, & even the his & her bathroom was great. Double shower, nice!

Jane

Chesapeake, VA

"Great week in the Smokies"

Wonderful vacation!!! Outstanding cabin...wonderful views from the deck.

Eric R.

Long Grove, Illinois

"Fantastic Cabin - Exceeded expectations "

We've been the smokys before (2 years ago) and stayed in another cabin off the Pigeon area, higher on a mountain overlooking a large portion of the smokys and Le Conte. We were concerned that because

…

of where this cabin was situated we would be disappointed by the views. While it isn't set as high up, and you aren't necessarily "at the level" of the smokys, it still had a very impressive and almost "cozy" view. What really put this cabin over the top beyond its size and amenities, was its seclusion. You literally do not see another cabin. At night, you may see a light or 2 from cabins that are nearby, but you do not see the cabins themselves at all and we rarely ever saw or heard anyone. It's just a great location. We will be back.

+ Read More

Ray R.

Carbondale, IL

"The Perfect Place with a Stellar View"

"Wine Down" says it all. Pour yourself a nice glass of your favorite beverage, sit on the deck, and soak in the quiet and the views. This place was spectacular!

Lani

Rochester Hills, MI

"Incredible In Every Way"

Absolutely exceeded our expectations! The view is absolutely beautiful and the pictures do not do it justice. If you are looking for a spectacular view, this is it. We could not wait to return to t

…

he cabin each evening to take in the view from the deck. The cabin was beautifully decorated and very clean. We felt right at home. Our boys loved the pool room and hot tub. Gatlinburg was an easy 15 minute ride - no traffic. We would definitely stay here again and definitely recommend it to anyone staying in the area.

+ Read More

Brenda

Pontotoc, MS

"Our first family vacation!"

We truly enjoyed our stay at Wine Down!! It was very clean, well kept, & comfortable! Beautiful cabin & breathtaking views!! You won't be disappointed! We had no problems whatsoever with our check-in

…

or check-out! Would def recommend Elk Spring Resorts for your album getaways!!:)

+ Read More

William S.

Haslet, TX

"Perfect place to stay in the mountains"

Everything was great with the house; it was very clean, and was ideally located just outside of Gatlinburg.

Sarah

Wildwood, MO

"Wine Down? Why yes we did!"

Beautiful home with an amazing view! So many things about our stay were truly perfect. You can't go wrong staying at Wine Down if you are okay with the 10 mile drive into town. There were a few min

…

or maintenance items that needed attention, but nothing that impacted our stay - and we left a list so I'm sure they will all be promptly addressed. One note... the master suite is two floors up from the other bedrooms... important to note if traveling with small children. Now hurry up and book this place!

+ Read More

Nina

Loudon, TN

"Perfect cabin"

The cabin was beautiful. I have stayed in several cabins in Gatlinburg and I think this one is my favorite. The view is breath taking and the interior of the cabin was perfect. Thank you



George S.

Baton Rouge, LA

"Awesome"

Had a great time. Upscale furnishings is what we like. We stay at Watershed cabins in Bryson City often and this is the first rental in Gatlinburg that compares to those cabins. Great experience. If owners ever want to sell we are interested !!!!!!!

James

Saxonburg, PA

"Great for a grown up vacation"

This place would be a great vacation for 3 couples. There are 3 master bedrooms each with their own baths. It has a dream kitchen. We thoroughly enjoyed the hot tub and log fireplace. It's about 2

…

0 minutes from town - which is what we were looking for. Would definitely recommend this property. Only sleeps 6.

+ Read More

Wendy R.

Crossville, TN

"Best view I have ever had!"

We loved our weekend get away. Will return to this cabin!!!

Carol W.

Noblesville, IN

"Thanksgiving Vacation"

Beautiful home.

Nicole

Willow Springs, NC

"Wonderful to Wine Down"

Loved our stay here! View was breathtaking. Really enjoyed just sitting there doing absolutely nothing. The cabin is more secluded than some of the others we have been to in the past which for us i

…

s a plus. The kids and Grandpa enjoyed the cabin just as much as we did and already are asking to go back. Just as an F.Y.I., the bedrooms are located upstairs and downstairs with the game -room. None are on the main level. I only mention that because my Dad has a hard time climbing stairs, and if you have kids unless you stay downstairs,they are somewhat secluded. Kitchen was great with all the ammentities and floor plan was nice and open. Check in and out was by far the easiest thing ever. Everything was handled professionally and we never had to drive anywhere to sign our life away. Thank you for making that easy Elk Springs. We would love to return here someday!

+ Read More

Gregory F.

Mercersburg, PA

"AWESOME"

The cabin has an awesome view, we loved the outside space, we saw a bear across the road from the cabin.
The cabin is very roomy and clean. The best place we have stayed. Would recommend to anyone.

Ray G.

Leesburg, VA

"Staying at Wine Down is how to enjoy the Gatlinburg experience"

The customer service was exceptional, from first viewing the cabin, the rental process, and checking in. Cabin was clean as can be...had one small question when we arrived but it was answered in less

…

than 10 minutes...can't say enough good things! Will definitely return!!!

+ Read More

Ed M.

Lincoln, IL

"Beautiful View-1st Class"

We live in a very nice home and we appreciated the quality of this upscale cabin. We were very impressed with the layout as well as the appointments. Kitchen was large and spacious. The view was exctl

…

y as pictured and parking was flat and roomy which was a marked change from our other visits to Gatlinburg. The home was only 1/2 mile off the main hwy but high enough for a beautiful view. No other homes were visible from our deck although they were nearby (80 yds or so). We liked it so much we stayed in a lot more than we had planned. I'm guessing this home would market for $600-$800k based on prices in the area. Well worth the premium rental cost.
I will definitely stay there again.

+ Read More

Debbie M.

Bloomington, IN

Robin

Honea Path, SC

"Great Getaway"

Most spectacular view! Restful, peaceful. Luxury at its best. The kids enjoyed the gameroom.

Kathy B.

Nickerson, KS

"Amazing Get Away In The Mountains"

Wine Down was the perfect cabin for family time. The game room and hot tub on the same level was a bonus with small children. The layout of the bedrooms and baths worked well for a family. We enjoy

…

ed cooking meals and eating out on the deck or at the table in the dining room looking out onto the mountains. Would highly recommend!

+ Read More

Lisa A.

Georgetown, KY

"Best Cabin I've Ever Stayed In"

Wine Down was everything we hoped it would be and more! The setting and views were beautiful and the cabin is secluded from other nearby cabins. It was very clean and a well decorated. We had a fabulo

…

us time and are already trying to find a time when the six of us can get together and come back. It will be our go-to place every time.

+ Read More

David W.

Florence, KY

"2013 Spring Break"

Everything was as described, but even better. Beautiful views and accommodations and privacy.

Tom K.

Northville, MI

"Great experience"

Unbelievably good property.
Load More Reviews