Amenities:
Gas Grill
Honeymoon
Hot Tub
Mountain View
Washer/Dryer
WIFI
Whispering Creek is a perfect place to spend time with your favorite person for that long awaited "get away" time together. Read the reviews, come visit and enjoy. So many amenities for a 1 bedroom cabin as well as fabulous mountain views will surround you on the covered deck. While outside you can be dining, relaxing in the hot tub, or just enjoying the porch swing in front of the outdoor fireplace.
Cabin Bedrooms Layout
Master Suite

King Bed
Sleeps 2
Great Room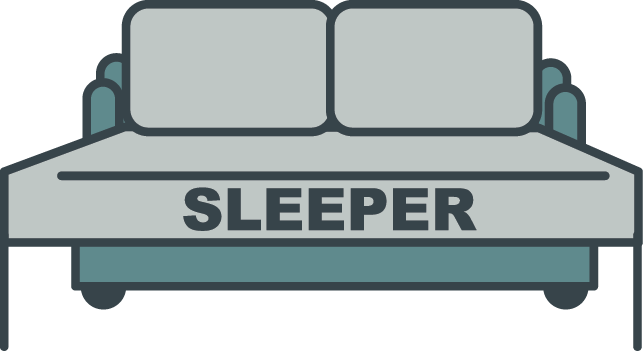 Queen Sleeper
Sleeps 2
Full Description
Step inside to luxury and comfort into the Great Room with a gas fireplace, cable TV, free WIFI and a pool table. Once again, the two story windows showcase the mountains ? what a way to begin your vacation! The fully equipped kitchen tempts your culinary expertise, and don't forget the gas grill for easy and fast meal preparation. The dining area promotes comfort as you toast one another ? you made it to the mountains! A "Murphy bed" is also available in the Great Room just in case an extra friend joins you. A half bath is conveniently located on the main floor too.

Located on the lower level, the romantic master suite features a Jacuzzi tub, upgraded mattress and bedding with log bed, fireplace and more views of Mt. LeConte. Exit to the covered deck with more mountain views, the hot tub and the porch swing.

Beautiful furnishings, luxurious appointments and extraordinary attention to detail ? what better surroundings for a wonderful vacation at Whispering Creek.
*** This property is located 10 minutes from Elk Springs Resort!
Views of Mt. LeConte
Sounds of the Creek below
Porch Swing
Porch Table and Chairs
Outdoor Dining Area
Gas Grill
Hot Tub
Jacuzzi Tub
Pool Table
FREE High Speed Internet
Fireplace in Great Room
Outdoor Fireplace on Deck
2 TVs
2 DVD Players
Washer/Dryer/Iron/Ironing Board
King Bed in Master
Queen Murphy Bed
Paved Parking
1 Minute Walk to Outdoor Fire Pit and Dining Area
Grocery Delivery Available
Calendar
Click your dates below to check in and check out
Available
Check In Only
Check Out Only
Selected
Unavailable
Photo Gallery
See All Photos
Reviews
Krunal

Dallas, TX

"The most clean and comfortable vacation home ever"

The way they maintained the property get 100% rating from all aspects like comfort, cleanliness, amenities.

my kids like hot tub. It was such a nice view from the cabin. All amenities were great e

…

specially fully equipped kitchen, grill, pool table, Wi-Fi, cable almost everything.
In future, this will be my place to stay. I also recommend this nice place to my friends.

+ Read More

Manager Response:

We are excited to hear we exceeded your expectations, Krunal! We love to hear you were able to enjoy so many of the amenities this cabin offers. We would consider it an honor for you to come back and stay with us again. Please keep in mind, as a returning guest you will enjoy 10% off all future stays. Hurry back, your next adventure awaits!

Heather

Altoona, PA

"Mountain Vacation"

Loved this cabin. Very nice. Well stocked. Quiet community. Good amenities. We were very happy with our stay and found everything we needed.

Michelle V.

Katy, TX

"Elk Springs - Whispering Creek review"

We could not have asked for a more beautiful, well appointed cabin to stay in. This cabin is great for a couple or one with a small child. We loved eating meals out on the back deck, watching the moon

…

rise over the mountain and having my daughter experience lightening bugs. The hot tub was perfect after days spent trekking through nearby gatlinburg and pigeon forge. Overall we would highly recommend this cabin and look forward to returning in the very near future!

+ Read More

Manager Response:

Wow! What a great review, Michelle. Thank you for allowing us to be a part of such a memorable family vacation. We agree, Whispering Creek is the perfect cabin to relax and enjoy the magic of nature. We hope you and your family will come back and visit with us again soon. Hurry back, your next adventure awaits!

Sachin K

,

"Excellent"

Excellent location, amazing views, well maintained property with all amenities you can ask for. As property is 10 miles from Gatlinburg downtown, car is must. Great smoky mountain national just after

…

you cross the gatlinburg city. We really enjoyed the trip and our stay.

+ Read More

Manager Response:

We are pleased to hear your vacation was a success. Whispering Creek is the perfect cabin to enjoy all that our area has to offer. It is close to downtown, yet, just far enough away to be able to enjoy the serene sounds of nature. We hope you will come back and stay with us as often as you can.

Caleb

North Webster, IN

"Whispering Creek Cabin"

I am very happy with the cabin we stayed in. The location was perfect, overlooking the mountain valleys, yet not too far from trails and attractions in the Gatlinburg and surrounding area. The cabin w

…

as straight out of a book with a hot tub on the back porch, spiral staircase, and a Huge king size bed with jacuzzi and pool table in the lower level. The cabin was very clean and well kept. The staff at Elk springs called me before, during, and after my visit to ensure I was happy with everything. Very good experience and I will be going through Elk Springs for future trips to the Smokey Mountains.

+ Read More

Manager Response:

Thank you for sharing your experience with us, Caleb! Our goal is to provide you with a luxury cabin that will exceed all of your expectations. It sounds like we succeeded! You, as our guest, are our top priority. We are happy to assist you from the moment you start planning your vacation. We look forward to your next visit!

Thomas

Lafayette, TN

"SERINITY"

HAD A BALL AS ALWAYS WITH ELK SPRINGS, SO MUCH SO STAYED AN EXTRA DAY! WHAT KIND OF BED IS IN THIS ROOM ITS THE BEST EVER.

Manager Response:

Thank you for your wonderful review, Thomas! We appreciate you returning to stay with us. It makes us happy to hear that you did not want to leave! We are finding out the specific information on the bed and will send you an email soon. We are always happy to share this information with you. Please contact us when you are ready to start planning your next get-away. Your next Smoky Mountain adventure awaits you!

Kenneth

Franklin, TN

"2016 Relaxation at Whispering Creek "

Comfortable, quiet, relaxing vacation.

Manager Response:

Thank you for your 5-Star review, Kenneth! We love to hear that our guests are able to enjoy the peace and quiet that nature so wonderfully provides. If relaxation is what you are seeking, Whispering Creek is the perfect cabin. We hope you will consider staying with Elk Springs Resort during your next visit to our Great Smoky Mountains. Please come back and see us soon!

Kyle B.

Pearl River, NY

"Perfect place"

This place was great! It was perfect for the two of us. It was very clean, the hot tub was relaxing, and view was amazing. It was located 10 mins from the Smokey's enterancenterance which was perfect

…

for us, that's where we spent all of our time. The only thing is I wish it was further in the woods but then I guess you wouldn't been that close to town! Definitely recommend.

+ Read More

Manager Response:

Your wish is our command! We have the perfect cabin waiting for your next stay. You only need to contact one of our experienced sales representatives to choose a cabin that will give you the secluded experience you are looking for. With so many cabins to choose from, it is easy to find your new home away from home in the Great Smoky Mountains!

Jason W.

Durham, NC

"Whispering Creek"

It was great. The stair case was a little scary but we managed. The fireplace stopped working near the end of the stay, but it wasn't a big deal. I would recommend staying here to someone in the future.

Christopher

Nashville, TN

"Great Cabin"

The cabin was everything my wife and I could have wanted for a trip for the two of us.

Holly N.

Johns Island, SC

"great weekend getaway"

whispering creek is a beautiful, out of the way, but close cabin with great space. The staff of Elk Springs were very nice and made sure all of our needs were met.

David L.

Cincinnati, OH

"Restful"

We had a wonderful stay. The view was spectacular, but the photos are artfully taken. The interior is well appointed, but if you have trouble with steps, plan to use the murphy bed on the main floor.

…

The downstairs bedroom was nice, but kind of sterile. A chair or two might have been a nice touch. We did not use the pool table, so it served as a chair would have to place clothes etc. The only other "issue" is that the downstairs bathroom is fairly tight, another reason to consider using the murphy bed on the main floor. The owner was very responsive, when we asked about a bread knife they had delivered one from their house within a half an hour. The location is great if you want to be out of town. It was convenient to take a day trip to Ashville. All told it was a wonderful experience. We might just select a slightly larger cabin next time.

+ Read More

Robert

Nescopeck, PA

"Honeymoon getaway"

We had a great time celebrating our honeymoon in the cabin and the great smoky mountains. The accomidations were great would recommend it to a friend and we will return again someday.

Paul P.

Huntsville, AL

"Great Comfortable Cabin"

Felt like home. Great view. Perfectly secluded.

Anetrice W.

Marion, AR

"Excellent"

My husband and I were celebrating our anniversary and absolutely loved everything about this cabin. He especially loved it so ,much that he wants to come back for his birthday in February.

Manager Response:

It is our pleasure to provide you with a beautiful cabin to enjoy your anniversary in. We are so pleased to hear that you loved everything and want to return for your husband's birthday! Remember to mention that you have stayed with us before and you will receive a 10% discount off your next stay! We appreciate your business and thank you for taking the time to give us some feedback, Anetrice. We look forward to your return!

Sandra

Louisville, KY

"Whispering Creek ~ October 2015"

Cabin is easy to get to with a beautiful view of Mt. LeConte. Very clean and well equipped. Reservation and check-in process is a breeze. The spiral staircase to the bedroom downstairs can be a challe

…

nge for those with mobility issues. Perfect for a quiet and peaceful getaway.

+ Read More

Manager Response:

Thank you for your feedback, Sandra. We are pleased to hear that you had a peaceful getaway. Sometimes, that is all we need to get rejuvenated! We appreciate you advising us that those with mobility issues may have difficulty with the spiral staircase getting to the downstairs bedroom. Your feedback helps us to improve our services and strive toward providing all of our guests with a 5 star experience.

Kathy O.

Clinton Township, MI

"Clean, comfortable and beautiful."

This was my first stay with Elks Spring resort. At first I was disappointed that I wasn't right in Gatlinburg on the hillside but soon loved where the cabin was located. After every 9 mile trip into

…

Gatlinburg, we were so happy to return to "our" cabin. Gatlinburg was just too hectic and congested. Whispering Creek cabin was on the side of a hill with a beautiful, peaceful view of the mountains. Upon our first arrival at the cabin, we noticed what perfect shape the cabin was in. It was very, very clean, well furnished and as comfortable as my own home. When it was time for us to leave for home, we didn't want to leave. We can't wait to return again and hope to bring our entire family.

+ Read More

Manager Response:

Kathy, it is our pleasure to provide you with that home away from home experience you were hoping for. We have several larger luxury cabins with plenty of room for your whole family to enjoy upon your return trip. If you would like one closer to downtown Gatlinburg, we have those too. Thank you for sharing this 5 star review with us. We certainly appreciate your business and look forward to your return visit.

Amanda D.

Louisville, KY

"Lovely getaway!"

Lovely place with a beautiful view and close to many different things to do around Gatlinburg. We hiked, went shopping, did a few of the Ripley's Tours and nothing was ever too out of the way. Can't wait to return!

Manager Response:

Thank you for your 5 star review Amanda. We are pleased to hear that you enjoyed the cabin, the view, and some of the local attractions. We look forward to your return visits!

Lori W.

Greenfield, IN

"More Than We Ever Anticipated"

Never before have we stayed in accommodations which actually turned out to be BETTER than the photos and online description. Our cabin was very clean, well maintained and cozy. The drive time to the

…

park and downtown Gatlinburg was minimal, and we were able to visit both during our short stay. We will definitely be returning in 2016!

+ Read More

Manager Response:

Thank you for the kind review Lori. Customer satisfaction is very important to us and we are pleased to hear that your experience with your cabin stay exceeded your expectations! Whispering Creek is located just far enough away from the hustle and bustle of downtown Gatlinburg, but close enough for a quick drive to local attractions and eateries. We look forward to your return next year!

Dale

Taylors, SC

"Great place to stay!"

Beautiful view. Cabin was great. would love to stay there again.

Manager Response:

Thanks Dale. We are pleased that you found everything to your satisfaction with your stay at Whispering Creek. When you are ready to book your next stay with us, please mention that you have stayed with us before and we will give you a 10% discount.

Carlie C.

Pace, FL

"Very charming & clean"

We loved this cabin! Not very big but it was perfect for our 3 person family. We had a great view, down a quite little road on the outskirts of town but close enough to everything you need. I'm very p

…

icky when it comes to clean & this place was VERY CLEAN! The king size bed was comfortable & my son loved the pool table, the bose sound system, & the hot tub. There was a wasp nest on the porch in which one actually stung my son but we called maintenance (at night) & he was there within mins to spray & knock down the nest. Needless to say I was impressed with the quick response time. We will definitely be back to this or one of the nearby cabins from the same company!

+ Read More

Manager Response:

Thank you for the review Carlie! We are sorry to hear that your son was stung by a wasp. They can make their nests and become a nuisance in a very short amount of time. We are glad that maintenance came out right away to take care of the problem for you. It sounds like you enjoyed the cabin and all of the amenities during your stay! We hope you take advantage of your 10% savings off your next stay as a repeat guest with us!

Linda S.

EVANSVILLE, Indiana

"cozy cabin for two."

If we would build a cabin for ourselves, this would be it. It was beautiful, very clean, and a joy to stay in. We hope to be able to stay here in the winter months. Elk Springs is the place I will look at first when we visit Gatlinburg again.

Manager Response:

We are thrilled to hear that Whispering Creek provided you with the perfect cabin experience. Thank you for your great review and we hope you will come back and stay with us again!

Abdullah A.

Jeddah, Western

"Luxurious stay"

We had wonderful time & comfortable stay. The cabin has everything we needed & we'll stay there again on our next visit to the smokies.

Manager Response:

Thank you very much for a 5-star review! We are pleased that you found everything to your liking and that you completely enjoyed your cabin stay. We look forward to you coming back to the Great Smoky Mountains soon!

Jane W.

Perrysville, Indiana

"Great cabin!"

I stayed here with my 2 sisters and the cabin was awesome! Great views and easy to get to. The rental personnel were very nice and professional. It was a wonderful experience!

Holly

Westland, Michigan

"Amazing "

The cabin was very clean very nice we are highly impressed! It was beautiful the view was amazing the cabin was amazing we will be back!

Tim

Evans City, Pa

"nice place for a getaway"

very happy with the cabin, the rental management was excellent, well located to all the attractions, would come here again

Jeremy M.

Waxhaw, NC

"Whispering Creek Cabin"

The cabin was very nice, we enjoyed the view from our back porch and relaxing in the hot tub! The cabin was clean and had everything we needed for a great week away.

Sinead

Loughrea, Co. Galway

"Holiday Highlight"

We stayed in whispering creek for 2 nights as part of a sightseeing road-trip from DC to New Orleans and back up to NC. While we visited many wonderful places I would rate the time spent around Gatlin

…

burg as the highlight of the entire trip. We booked last minute on the elk springs web site (at 1am the morning before arrival!) Driving off the highway the following night I begin to have nightmares of an isolated cabin in the middle of nowhere, and was relieved to find the cabin in small resort, private but not at all isolated. The cabin was clean and comfortable, with an open layout. The view was terrific and the sound of the creek running below made unwinding in the hot tub such a relaxing experience. The only negative points would be the sound inside the cabin itself-the air con was loud and there was no real privacy between the bedroom downstairs and the living area upstairs(although there was a full bathroom on both floors)-not a problem for a couple, but as we were a party of 3 adults it was not ideal. That said, it did not spoil the experience, we had a moonshine themed BBQ on the 2nd evening. Had time permitted we would have loved to stay longer. I hope someday to go back to TN and the Smoky Mountains, and elk springs will be first choice for accommodation when we return.

+ Read More

Vincent V.

Madison, AL

"Nice Getaway"

Fantastic view, comfortable, downtown a short distance away.

latoya w.

schenectady, ny

"My boyfriend birthday week celebration"

My boyfriend and I stayed at the whispering creek. Everything about our cabin were amazing. The cabin was spotless and it had everything we wished for!!

Bryan B.

Middletown , Oh

"was a beautiful place"

It was a very beautiful place just to say the least. Was my firat time in an Elk Springs Resort and would deff stay there again. It was mine and my girlfriends first time away with eachother and we re

…

ally enjoyed all that thecabin had to offer. And to top it off I ended up leaving on aaccident a very expensive shirt in the closet and the team there made sure I had gotten it returned. Thanks again for the great memories will be seeing you again soon.

+ Read More

Chaldea

Cove, TX

"whispering creek"

We stayed here for 4 nights and we've enjoyed every minute of it.  Our cabin whispering creek was just right. My husband can't stop talking about how comfortable the bed was.  Our view was specta

…

cular.  The hot tub was set the right temperature and was ready fur us to use from day one. We only used it once unfortunately.  The cabin looked just as PERFECT as it was on their website. It's 20 minutes away from Gatlinburg but we didn't mind because it was a secluded area and very quiet and intimate.

+ Read More

victor

louisville, kentucky

"Belated Honeymoon Getaway"

The cabin was perfect! It had everything we needed and was very clean. The view was amazing and the furnishing and décor made us feel right at home. The only downside was that we couldn't stay longer!

Amanda M.

Bradenton, FL

"Whispering Creek"

We loved the cabin! It was beautiful, clean, and updated. Great views and location!

Ltanya C.

Charlotte, NC

"Great Anniversary Trip"

Great!

Allen

Waterford, MI

"private getaway"

We loved the cabin it was like home away from home. The cabin had everything we needed and more. Loved the location, the view was fabulous and we enjoyed all the amenities. The hot especially under th

…

e moonlight. Even though there was a cabin on both sides we still had privacy. Will be back!!!

+ Read More

Luiz Jose

Itapeva, Sao Paulo

"A new experience"

This was our first time we have stayed in a log cabin. It was an amazing and diferent experience that surprised us positively. Certainly, we would like to repeat the experience as soon as possible.

Sarah M.

St. Louis, Missouri

"Relaxing Mountian Getaway"

Very relaxing.

Donald

Ridgely, MD

"Escape to the mountains"

This is our 2nd time staying in this cabin. We have been equally pleased with each visit. The cabin is clean and well equipped with everything you need for a getaway.

John S.

Albin, WY

Daniel B.

Sellersburg, Indiana

"Even better the second time!"

We stayed at this cabin back in October 2013 and it was even better seven months later!

Robin

Jacksonville, AL

"Honeymoon hideaway"

The cabin proved to be a nice relaxing hideaway. We enjoyed the fact that it was outside the hustle and bustle of downtown Gatlinburg. This was the perfect place to spend our first week and Mr and Mrs.

Erin

Cincinnati, Ohio

"Very Nice!!"

Whispering Creek was exceptionally clean as we walked in! Its only a 15 min drive to downtown Gatlinburg, and located near other cabins, yet you really don't see your neighbors.

Richard

Lebanon, OH

"A Wispering escape"

We were looking for a quick escape from the everyday. We found the perfect place here. It was just what we needed. The cabin was very clean and the location was fantastic. I highly suggest it to anyone!!

Donald

Ridgely, MD

"Whispering creek cabin"

We enjoyed our stay with elk ridge so much that prior to leaving we booked the cabin again for the summer. Everything was incredibly clean and beyond my expectations! Upon our original reservation I e

…

nvisioned this cabin to be more secluded than it actually was but it turned out to be perfect none the less. We will be coming back time and time again and will most certainly use elk springs for our home away from home!

+ Read More

David

Riverside, IL

"amazing"

couldnt ask for anything more!

Dave C.

Radford, VA

"Honeymoon in the Smokies"

We were very satisfied with the property overall, the location, condition, and the items that were furnished for us. The property company was very thorough and accommodating. I would highly recommen

…

d this property and property company to anyone wanting to spend some time in some of the most beautiful surroundings in this part of the country.

+ Read More

"Tex" Arnold

Houston, TX

"Beautiful cabin"

We enjoyed our stay until the ladybugs invaded the cabin....

Adam

Louisville, KY

"Mini Honeymoon before our acutal one"

My wife and I stayed for 3 nights and were very happy with the cabin. We decided last minute to go because we wanted to get away for a little bit before our actual honeymoon at the end of December. Th

…

e cabin was very clean and there were a lot of informational items around. It was great that you were just called and given the code to the cabin so we could just go straight to it. We hiked to Ramsay Cascades on the first day there which was only about 5 miles from the cabin. Just a heads up this is a pretty advanced hike that took us 5 hours to complete. The next day we visited the arts and crafts tour and downtown. We really enjoyed being out farther as we came to get away from the city. Overall it was a great experience. It was well equipped but if you go remember to bring coffee if you are a coffee drinker. Other than that the cabin had pretty much everything we needed. The view is incredible as well.

+ Read More

Joshua D.

Goose Creek, SC

"Honeymoon! "

The stay at Whispering Creek was phenomenal! It's everything and more my wife and I imagined. Definitely plan to visit again.
Load More Reviews