Amenities:
Full Kitchen
Gas Grill
Honeymoon
Hot Tub
Iron / Ironing Board
Mountain View
Parking
Washer/Dryer
WIFI
Brand new luxury 1 bedroom cabin with sauna, 55" 3D TV with blu-ray, 4 fireplaces, porch swing, and hot tub. Everything about your visit will be "unforgettable" as you give yourself the gift of luxury in this spectacular cabin overlooking Mount LeConte, one of the highest elevations in the Great Smoky Mountains!
Cabin Bedrooms Layout
Master Suite

King Bed
Sleeps 2
Full Description
The attention to detail will dazzle your senses from the moment you enter Unforgettable. Celebrate a special occasion or just celebrate life with someone you love in this very wonderful one bedroom cabin in Gatlinburg. Vaulted ceilings with 17 feet of glass provide the perfect setting to sit in front of the fireplace and enjoy the view. Enjoy your favorite movie while watching on the 52? 3D flat screen TV with 3D Blu-ray DVD and surround sound system, relaxing in the ultra-comfortable luxurious furnishings. The pool table is nearby ? there is always time for another game or two!

Notice the cabinetry in the fully equipped kitchen ? this may lead to a seven course meal, or if you prefer, something wonderful cooked on the gas grill located on the nearby covered deck with table and chairs. And, friends can join you for dinner with comfortable dining seating for four!

The master suite provides that "unforgettable" romantic setting ? another beautiful fireplace, Jacuzzi tub and jetted showers plus a beautiful king bed guaranteed to provide one of your best nights sleep ever.

Just outside the master suite is your private deck where you will find the hot tub ? the challenge will be to decide which to select first? the hot tub or the sauna?! ? either will help create a signature day. End the night on the porch swing on the deck with evening mountain views, a fireplace and sounds of the creek singing nearby. Truly "unforgettable!"

*** Due to the many amenities in this cabin, it is limited to adults only with a maximum occupancy of 2.
(occupancy is limited to 2 adults only)
***This Property is located 15 minutes from Elk Springs Resort!
55" 3D TV w/3D Blu-ray DVD
Views of Mt. LeConte
Hot Tub
Jacuzzi Tub
Rain Shower with Body Jets
Pool Table
4 Fireplaces
Sauna
Porch Swing
FREE High Speed Wireless Internet
Outdoor Dining Area
Outdoor Fireplace
2 TV's
2 DVD Players
41" TV in Master
Washer/Dryer
Gas Grill
1 Minute Walk to Outdoor Fire Pit and Dining Area
Grocery Delivery Available
In Cabin Couples Massage Available
Calendar
Click your dates below to check in and check out
Available
Check In Only
Check Out Only
Selected
Unavailable
Photo Gallery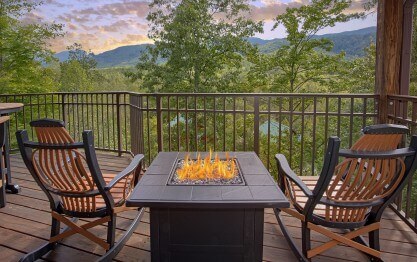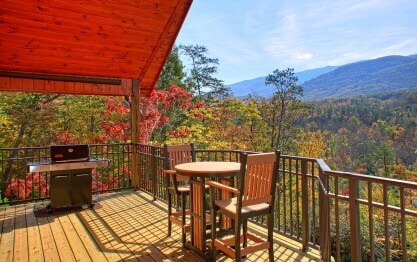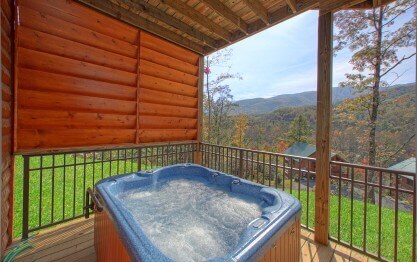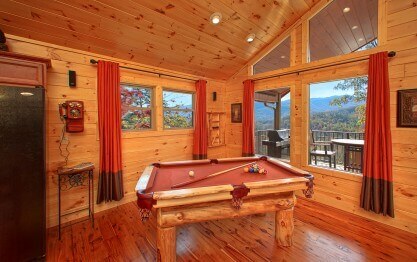 See All Photos
Reviews
Caleb

Mc Bain, MI

"Perfect! "

Loved this cabin! All of its amenities made it better than a home away from home, and it has plenty of mountain views to boot!

Wes

London, KY

Candace B.

Sioux Falls, SD

"unforgettable "

this place was amazing we didn't want to leave and we can't wait to be back! it truly felt like home and was so comfortable and relaxing. we loved it and look forward to staying there again!!

Ruey

Barboursville, VA

"Tranquil Getaway"

This cabin is everything as described and has everything you could want. Loved being able to spend the day hiking and then come back to the cabin and relax, grill out and enjoy the peacefulness of the

…

setting. One of the best features is that it is far enough away from the mayhem that is Gatlinburg and Pigeon Forge, but close enough that you can come and go to the cabin throughout the day. If someone is looking for a getaway to the Smokey Mountains, this is absolutely the best place to stay.

+ Read More

Manager Response:

Thank you for your 5-Star review, Ruey! We are delighted to hear you enjoyed your stay. We certainly agree, Unforgettable is an exceptional cabin. It offers the perfect location to enjoy all that our area has to offer. We hope you will make plans to come back and stay with us again during your next visit to Gatlinburg. Hurry back!

Wayne C.

Kittanning, PA

"Simply awesome"

40th anniversary,great experience,we never wanted to leave. definitely want to come back,we could have spent the whole time in the cabin and been happy

Manager Response:

Thank you for allowing us to be a part of such a special celebration, Wayne. Congratulations! We are delighted to hear you did not want to leave, that is a wonderful compliment. We hope you will consider making Elk Springs Resort part of a new tradition for your anniversary celebrations. Hurry back, new memories are waiting to be made!

Ashley A.

Clifton, NJ

"Amazing!"

We were beyond happy with our cabin! It was beautiful with all of the amenities we could ever need in a luxury cabin! Both decks were utilized for some serious relaxation after our crazy hikes! The ba

…

throom was a dream come true, so if you're going as a couple the shower and bath were very roomy! The hot tub was great as well! Could not have imagined the cabin to be much better if I tried!

+ Read More

Manager Response:

Thank you for your 5-Star review, Ashley! We are happy to hear you enjoyed so many of the amenities at the cabin. We certainly agree, Unforgettable is an exceptional cabin. It offers a variety of modern amenities to enjoy. It is the perfect cabin to relax and unwind after a busy day exploring. We hope you will come back and stay with Elk Springs Resort during your next visit to Gatlinburg. Hurry back, memories are waiting to be made!

Brent R.

Springfield, OH

"3rd anniversary"

This as our 4th stay at elk springs we love the cabins and will return soon.

Manager Response:

Thank you for choosing to stay with us! We are excited to hear you enjoyed your visit. We hope you will take the opportunity to come back and stay with us as often as your schedule allows. We look forward to your next visit!

Bryan H.

Dallas, TX

"Absolutely Wonderful"

This has to be the best place I have stayed at close to National Parks

Manager Response:

Thank you for your wonderful review, Bryan! It sounds like you chose the perfect cabin. The location is ideal to take advantage of all that the National Park has to offer. We hope you will make plans to come back and see us soon. Your next Smoky Mountain adventure awaits you!

Larry K.

Erlanger, KY

"Awesome Cabin"

Elk Springs Resorts is the best vacation experience you can have. Jeremy always goes above and beyond to get you anything you need. Any time someone tells me that they're planning a trip to Gatlinbu

…

rg, I tell them they need to stay at Unforgettable.

+ Read More

Manager Response:

This is music to our ears, Larry! Your recommendation is the best compliment we can receive. We are excited to hear that you have found the perfect cabin. We certainly agree, Unforgettable is an exceptional cabin. We hope you will come back and see us as often as you can. Hurry back, your next Smoky Mountain adventure awaits!

Sylvester H.

Atlanta, GA

"Elkspring 2016"

Always a great stay

Eric

Milford, OH

"February 12 Rental"

Cabin was very nice and clean, looked mostly brand new. The only thing that was unexpected was the proximity to the neighboring cabins and the road noise from the highway. I thought at the this price

…

point I would not have to be concerned with those things. I would say that the pictures may be slightly misleading on view and perspective. I understand highlighting the best features, and in my mind those are the quality of cabin and the very well appointed contents. If I was staying a week, then this would be a great base camp. In my case I was only staying 2 nights and wanted more view and less traffic noise for $425 a night when you include all fees assessed. I would not hesitate to recommend, but would make sure that that person would understand the points mentioned above. We did not have a single issue during our stay and for that reason alone were very satisfied, but were underwhelmed with the view and traffic noise.

My other review is concerning the customer service rep I dealt with via email prior to my arrival. I had early issues with email confirmation, and inquired via email about this. I was quickly sent the conf # and told that I must have missed it. They never asked how they could help solve the problem. After I insisted on a solution, I discovered that I had made at typo in my email address that was difficult to spot. All was corrected and I did not have an issue from that point on. I would encourage that in the future, a little more "Let me help you" and less " We sent it" would go a long way. 2 and 3 word email responses are not acceptable in a customer service situation, no matter who is in error.

+ Read More

Ronnie H.

Columbia, TN

"Great vacation at Unforgettable!"

I surprised my wife with a trip here for Valentines Day. We were pleasantly surprised by our accommodations at Unforgettable. We had a great stay, with a great company and great customer service. We will return to stay with them in the future.

Karen B.

Chattanooga, TN

"UNFORGETABLE!!!"

I knew we would relax the minute we arrived. Perfectly quiet and comfortable. My husband and I needed a

"re-charge" and we definetly received it. Everything about the cabin was exactly as describ

…

ed and the service was wonderful and very professional.

+ Read More

Manager Response:

We are honored to have been able to provide the get-away that you needed. Our employees truly love to assist our guests. Please keep in mind, as a returning guest you will receive 10% off all future visits. Come back and see us soon!

Denise M.

Raceland, LA

"Wonderful fall anniversary vacation"

Spectacular, clean.... Was everything we expected!

Manager Response:

Thank you for your 5-star review, Denise! We are pleased that your anniversary trip was everything you had hoped it would be. We hope you will consider a future stay with Elk Springs Resort. All repeat guests receive a 10% discount off their next stay!

Diane

Martin, TN

"25th wedding anniversay"

My husband and I both loved the cabin. It was clean, set up very nice and the walk in shower was awesome!

Melanie C.

Southaven, MS

"Perfect getaway cabin!"

I surprised my husband with a weekend getaway for his 60th birthday, and this cabin was so perfect! It had beautiful views and the upper and lower decks were loaded with amenities. I had wanted a cabi

…

n in the mountains, but with all the luxuries of a nice hotel and this exceeded our expectations. Plenty to do at the cabin with a hot tub, sauna, pool table, porch swing, movies, etc, and 4 fireplaces that added to the cabin ambiance. It was perfectly clean, decorated nicely, and smelled brand new. I thought it was a little pricey when I made reservations, but it was definitely worth it! Just wish we could have stayed longer!

+ Read More

Manager Response:

Thank you Melanie! I think you made the perfect cabin choice and what a wonderful way to celebrate your husband's 60th birthday! It is our pleasure to offer a cabin with all of these luxuries that exceeded your expectations. While you found our fees to be a little pricey, we want you to know that we pride ourselves in excellent customer service and accommodations that you won't receive from an ordinary hotel stay. The privacy, the views, the amenities and overall ambiance are well worth the money. We certainly hope you and your husband will be able to return for an extended stay in the near future.

Misty D.

Midlothian, TX

"Unforgettable Vacation"

This cabin is AWESOME!!! Everything you need plus so much more. The views are breath taking. Check in and check out were the easiest I have ever experienced. Highly recommend this property.

Manager Response:

We appreciate your business and taking the time for this review Misty! Customer satisfaction is very important to us and it is our pleasure to provide you with a 5 star experience! We hope you will return to the Great Smoky Mountains soon to make more memories with us!

James E.

Hendersonville, TN

"Truly "Unforgettable"! "

We came to celebrate our 21st anniversary and we couldn't have asked for a more perfect place! From the magnificent views to the impeccable decorations we enjoyed every moment spent here. We watched a

…

Blu-ray movie on the big screen TV with surround sound, soaked in the hot-tube on the lower balcony, spent time in the couples swing, played pool on the custom log table, and ordered carry out pizza from the super cute general store just a few minutes away. The cabin was definitely 5 star and spotless from top to bottom. The master bedroom and bath were better than you can find in a custom home and every attention to detail was paid! It was fun exploring the various decorative touches and the front door was a perfect fit! The only issue I had was not with the beauty of the surroundings nor the numerous hiking trails but rather the limited amount of time we had to enjoy it all! I can't remember staying at a place I was so excited to look at my calendar and find a time I could rebook!

+ Read More

Manager Response:

Thank you for the wonderful review James! It is our pleasure to provide you with a luxury cabin getaway. It sounds like it was the perfect choice for some Smoky Mountain memory making. We look forward to your next visit and please mention that you are a repeat guest. You will receive 10% off your next booking. Congratulations on 21 years of wedded bliss!

Donald B.

Canon, GA

"SEPT 2015 Vacation"

Great experience and exactly what we were looking for.

Manager Response:

We appreciate your 5 star review Donald. It certainly sounds like you chose the perfect cabin for a quick Smoky Mountain getaway. We are pleased that it was a great experience for you and hope you return again in the future.

Badr

Clearwater, FL

"Review"

wondeful and amazing

Manager Response:

We appreciate the review Badr and letting us know that you had an amazing stay in a wonderful cabin. We have many other larger luxury cabins available to choose from. We would encourage you to check these out on our website and bring along friends and family for your next stay!

Garry M.

La Salle, MI

"Unforgettable"

Loved the cabin, but at the time of renting, was not aware that it had the bedroom downstairs with 2 flights of stairs. Made it a little difficult after having total knee replacement. Also would rec

…

ommend that someone put a safety bar or two in the large shower, as the floor gets very slippery after getting wet and especially with soap. Best ever cabin ever rented in the Smokey's and we have been coming for 25 years.

+ Read More

Manager Response:

Thank you for sharing your thoughts with us Garry. We are sorry to hear of your difficulties after knee surgery. Our sales team is available until midnight seven days a week to assist you in finding a cabin to meet your needs. We would have welcomed the opportunity to assist you in changing cabins during your stay, so it would have been less stressful on you. I will be sure to have maintenance address the lack of a safety bar in the shower. We appreciate you bringing this to our attention.

William O.

waterloo, WI

"Best vacation ever"

The cabin was so inviting and we felt like we were home. The pictures on the website of "unforgettable" were exactly how it looked. We enjoyed everything about it. The staff had contacted us after

…

the first day to check on us to make sure everything was okay. The cabin was very clean and we loved the fact that we could grill out and just eat in and enjoy the cabin and the view. We will be coming back and definitely be staying at the same place

+ Read More

Manager Response:

William, thank you for your review and for sharing your "Unforgettable" experience with us. We pride ourselves in cabin cleanliness and excellent customer service and we are pleased that you found everything to your liking.

Brian B.

Chesapeake, VA

"unforgettable"

Amazing, awesome, unbeatable

Patrick R.

Marrero, LA

"great stay"

Excellent like home but better very clean and everything u need

Gwen J.

Hermitage, TN

"The Best of the Smokies"

This is a 5 Star Resort! Have been vacationing at this resort since 2013. Stayed at "Whispering Creek", "Beary Cozy" and just recently "Unforgettable". The cabins are in excellent conditions and off

…

er the highest quality of living accommodations, such as fully equipped kitchen, high quality furniture throughout, luxury bed linens and beautiful mountain views. Great management team as well which is very important. We love this resort!!!

+ Read More

Michael G.

McHenry, IL

"Honeymoon"

The cabin was beautiful and well maintained.

Clarissa N.

Indianapolis, IN

"Great Weekend Getaway"

This was an amazing experience.

Michael P.

Louisville, Ky.

"Needed get away"

We needed some alone time. This was so relaxing and romantic. We would definitely use this cabin again. Loved it!!!!

Evan W.

Tullahoma, TN

"The Waller's Honeymoon Stay"

GREAT!

Shannon G.

,

"A+ Everything"

Could not have been more pleased. I highly recommend this property for a romantic getaway.

Amelia K.

Gardner, KS

"unforgettable cabin!!!"

It was beautiful! The cabin was so clean and perfect. We will be staying there again. it made my honeymoon perfect.

Chadwick

Greensboro, NC

"Unforgettable Cabin"

Truly unforgettable. One of the nicest rentals I have stayed in.

April

Chattanooga, TN

"Unforgettable!!!"

The cabin was amazing! Very clean and well kept. I would definitely recommend to anyone planning a trip to gatlinburg to stay here. Cabin was very close to grocery stores, restaurants, and also not fa

…

r from the strip downtown. Amazing view and the outdoor jacuzzi was awesome!!!! Check in/check out was easy and convenient.

+ Read More

Kathleen

Newark, Delaware

"Truly Amazing! "

We stayed in Unforgettable for a week at the end of October to celebrate our 15th wedding anniversary. Before our visit, I checked the pictures over and over again thinking that there was no way the c

…

abin and the views could be so amazing. We were quickly proved wrong. The pictures don't do it justice. The views are amazing, the cabin was clean and had everything needed. We were there during a rare snow storm and everything was taken care of quickly and with a smile even though it was a long weekend for Jeremy and team removing the snow! Checking in and checking out was very simple. We could not have asked for a better way to celebrate our anniversary. Thank you Elk Creek and Bear Foot Mountain resort. We hope to be back again! Our visit was truly Unforgettable!!

+ Read More

Kenneth

La Porte, IN

"Unforgettable!"

What a beautiful cabin! Extremely clean with many luxuries! Would definitely stay here again! Gorgeous views from the deck!!

Mike

High Ridge, MO

"Unforgettable"

Unforgettable

Jaclyn

Navarre, Florida

"Truly Unforgettable Stay"

We had such an AMAZING stay in our 'Unforgettable'cabin. It was very clean and included every amenity possible!! The view was excellent and we really enjoyed having our own private driveway too. I hig

…

hly recommend this cabin to any couple looking for the ultimate getaway.

+ Read More

Julio Q.

Chicago, Illinois

"My 25th Anniversary."

Everything was wonderful. Had a great time with my wife. It was a surprise for my wife, she loved the cabin we stayed in, very clean and in great condition, the view from our cabin was awesome, We had a fantastic time, would like to come back soon!

Terrence P.

Memphis, Tennessee

"Amazing Trip"

Priceless, Unforgettable , & Beautiful

Ryan S.

Charlotte, NC

"Forget your cares at Unforgettable"

Get weekend getaway. Cabin was extremely clean and well maintained. Great Smoky Mountain view from the back deck, relaxing evenings with all the comforts of home. Recommend this to anyone looking for a relaxing getaway.

Brad

Delphi, IN

"Summer Get away"

We decided a summer get away was needed. I asked a friend from Tennessee for some recommendations and Elk Springs was it. Went on line, found 2 cabins that fit our needs. I opted for the more expensiv

…

e and it was totally worth the extra expense. The view was fabulous! The cabin itself was well maintained with every amenity you could imagine. (at least for us) You only need to take food and you are set for however long you stay. Even though there are other cabins around you, you still feel very private. It's far enough out that you don't have to deal with the mad house of Gatlinburg but close enough that you can. Beautiful, cozy, and relaxing!


+ Read More

Dina

Shepherdsville, KY

"Amazing Cabin"

The "Unforgettable" is a comfortable and cozy cabin. Booking and check in was a breeze. The cabin was spotless when we arrived. The amenities are first rate and the bed was so comfortable! The only is

…

sue we had was the jets in the spa tub weren't working properly. We reported the problem the next morning before checking out. We will definitely stay here again!

+ Read More

Kim F.

Orlando, FL

"Definitely an "Unforgettable" Cabin"

The "Unforgettable" cabin has all the amenities you could ever want! Everything was excellent.

Jamey G.

Gibsonton, FL

"Beautiful Cabin Great Location."

This Cabin was wonderful. Very clean!!! Not to close to town but not to far away. We look forward to going back in the winter.

Carl T.

Bastrop, LA

"Awesome anniversary destination !!!"

I have NEVER seen a cabin ( or for that matter, any other venue ) as nice as "Unforgettable" for a couple to "honeymoon" again in....every detail was first class, just as I would have designed a perf

…

ect "getaway" cabin in the perfect setting of the Smokies.....June, 2014

+ Read More

Terry O.

Mesquite, TX

"Truly Is Unforgettable"

We loved Elk Springs Resort's Unforgettable cabin. The view was spectacular and the cabin was even better than the pictures revealed. Our only regret, there was only one night available! We'll book earlier next time!

Danielle F.

Lake Charles, Louisiana

"Perfect Honeymoon "

We stayed at Unforgettable during our week long honeymoon. The cabin and its views were absolutely amazing! Plus it was located a reasonable distance from Gatlinburg so travel was minimal and also CLI

…

MB works is literally just around the corner. LOVED IT!

+ Read More

Timothy A.

Cary, NC

"Amazing Cabin!"

We have stayed at Elk Springs, and this particular cabin, for the past 4 years on our anniversary. It never fails to be an incredible experience. We absolutely love visiting the mountains and staying

…

at this cabin. We will most definitely be back and I take every chance I can to recommend this getaway to friends :)

Thanks, Elk Springs!

+ Read More

Tina M.

Louisville, Kentucky

"BEST cabin in the Smokies. You could not ask for more!"

I travel a lot and have been and stayed at many places. This cabin was by far my favorite. It is absolutely beautiful. Much better than the pictures show. Looks brand new, view is incredible. Bed

…

is extremely comfortable, hot tub is amazing, sauna is soothing. I can't enough about how much I love this cabin.

The ONLY things that I can recommend that would help this cabin is:

1) The multi jet shower was one of the main draws of this cabin to me. I LOVED it. However; the jets on the side had very low water pressure. The shower would be AMAZING if the factory installed regulators in each of the faucets were removed, so it would allow a stronger spray and more water pressure.

2) It would be wonderful if the lower deck could be screened in to keep any insects out while in the hot tub. It would not impede the view and would really help.

Again, this is the BEST place to stay. You will absolutely LOVE this place. I can't wait to get to go back here again. Cozy, peaceful, beautiful, comfortable, amazing!

+ Read More

Lindsey

Palmyra, VA

"Honeymoon!!!!"

It was wonderful!!!! Everything was labeled, no guessing what turned on what where. Fireplaces EVERYWHERE, the bed was so comfortable too! The only downside was that we had to leave! :-( Definately will return.
Load More Reviews