Amenities:
Full Kitchen

Gas Grill

Honeymoon

Hot Tub

Iron / Ironing Board

Parking

Washer/Dryer

WIFI
Tucked into the woods at Elk Springs Resort - so cozy and comfortable - what better way to spend some time unwinding, de-stressing and just letting the time go by. A cabin favorite for honeymooners and couples looking to get away. Definitely Tucked Inn is the place to be to soothe your body and soul. After a full day hiking in the Great Smoky Mountains or enjoying the non-stop attractions on the Parkway return to Elk Springs and Tucked Inn for a leisurely soak in your own private octagon gazebo hot tub.
Cabin Bedrooms Layout
Master Suite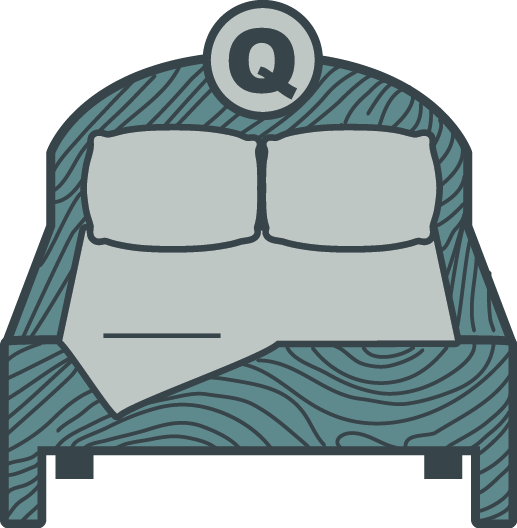 Queen Bed
Sleeps 2
Bunk Room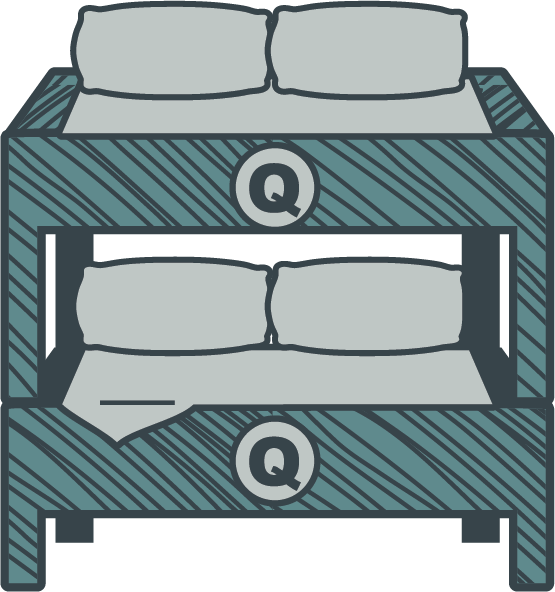 Queen Bunk
Sleeps 4
Great Room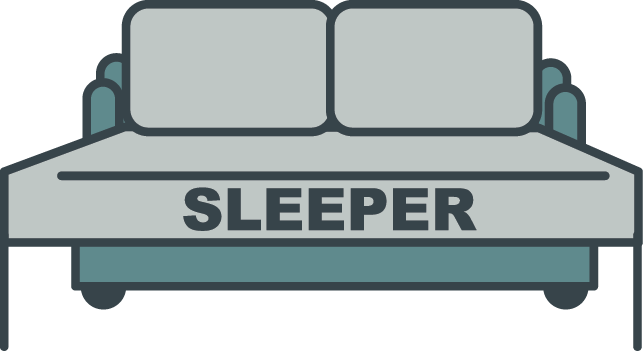 Queen Sleeper
Sleeps 2
Full Description
Vaulted ceilings, spectacular two story windows and leather furnishings enhance the cozy great room with corner gas fireplace with stone surround. Want to snuggle up and watch a movie? There is a 36" flat screen TV in the great room or individual TV's in each of the bedroom suites. The love seat in the great room opens to become a sleeper sofa if you need extra sleeping spaces.

Notice the cherry cabinets and stainless steel appliances in the fully equipped kitchen - everything you need for a casual dinner cooked on the gas grill or a full course celebration meal! A dining room with rustic table and breakfast bar provides additional seating.

The first floor queen bedroom features a private bath with a stand up shower and fabulous heart shaped Jacuzzi tub. The second floor bedroom provides sleeping for four - queen bunk beds and a private bath with a tub/shower combination! The game room is located just outside the second floor bedroom in the loft area - there is always time for another game of pool! Everyone wants to be Tucked Inn at night - what a perfect way to end the day!
Gazebo Hot Tub
Pool Table
Free High Speed Wireless Internet
Gas Fireplace
2 Rocking Chairs
3 TV's
3 DVD Player
Washer/Dryer
Gas Grill
Ramp (no steps)
Flat Parking
8 Minutes to Downtown Gatlinburg
15 Minutes to Dollywood
2 Minutes to the Arts and Craft Community
Calendar
Click your dates below to check in and check out
Available
Check In Only
Check Out Only
Selected
Unavailable
Photo Gallery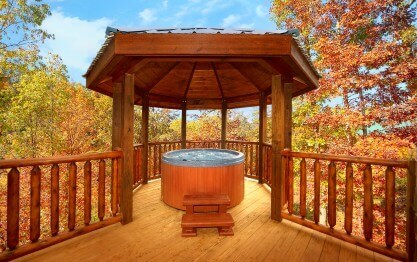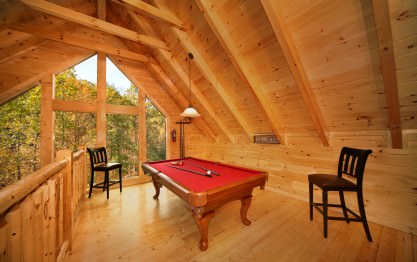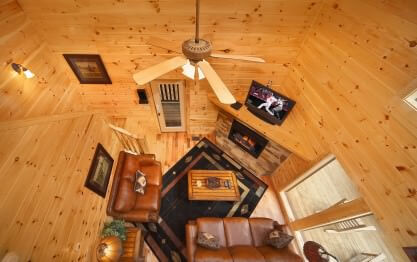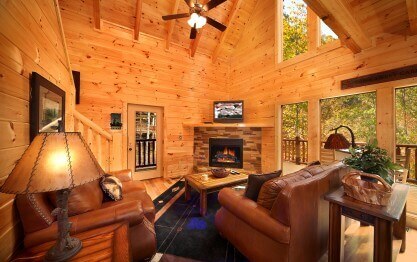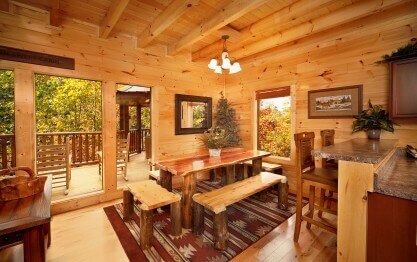 See All Photos
Reviews
Katinna

,

"Great stay!"

Cabin was very clean and in a great location. If staying during the week, I would not recommend following the alternate route to the cabin that is provided by the rental company. Overall, it was very quiet and a great stay!

Anna

Valdese, NC

"Wonderful Weekend Getaway"

The cabin was perfect for a weekend getaway in the mountains. The hot tub was a bonus. The other cabins in the resort are fairly close, so if you are looking for a secluded cabin, this is not for you. But it was great for me.

Manager Response:

Thank you for your kind review, Anna! It sounds like you chose the perfect cabin. We enjoyed having you as our guest and hope you will consider making Elk Springs Resort your new home-away-from-home when visiting Gatlinburg.

Lakisha

Slidell, LA

"Tucked In"

This was a absolutely beautiful cabin. I will be coming back again with our kids.

Manager Response:

Thank you for your 5-Star review, Lakisha! We are excited to hear you and your family enjoyed your stay. We enjoyed having you as our guest and hope you will make plans to stay with us again!

Jennifer R.

Parkland, FL

"Best time ever!!!"

Best time ever!!!The cabin was great, my family and I loved staying there we will definitely come back again we were from Florida and Tennessee was absolutely beautiful, there was snow when we were t

…

here so it was very nice my children love playing on the deck in the snow the cabin was clean, user friendly and welcoming! I would recommend this cabin to all of my family and friends !!

+ Read More

Manager Response:

Thank you for your wonderful review, Jennifer! You certainly chose the perfect time to visit our area. We are delighted to hear your children had the opportunity to enjoy the snow, it is truly magical! It has a way of bringing out the kid in all of us. We enjoyed having you as our guest and hope you will make plans to stay with us again!

Bryan C.

Enterprise, AL

"A great experience!"

Cabin was very cozy and clean! Managment was excellent and very helpful!

Manager Response:

Thank you so much for your review. We are happy that you enjoyed your stay. Please come and visit our beautiful Great Smoky Mountains.

Denise

Garrettsville, OH

"Great getaway in Gatlinburg"

The cabin was beautiful. Very easy to find, clean, everything was in good working order and absolutely lovely accomodations.

Manager Response:

Thank you for your review. Our reviews are the heart of Elk Springs Resort and we strive to please each and every guest. Please come visit again!

Amy

Bristow, VA

"Heaven "

The cabin was clean, beautiful and inviting. It was a great size. It was just me and my husband, but there was room for more. We didn't even use the top level.

Manager Response:

Thank you for your kind review, Amy! We enjoyed having you as our guest. We hope you will consider making Elk Springs Resort part of a new tradition when visiting Gatlinburg. Hurry back, new memories are waiting to be made!

Lori T.

Flat Rock, MI

"Excellent Place to Stay!!!!"

I was pleasantly surprised that the cabin was exactly like it was in the photos.

Manager Response:

Thank you for your wonderful review, Lori! We are delighted to hear your stay was exceptional. We enjoyed having you as our guest and hope you will make plans to stay with us again.

Rachel K.

Twin Lakes, WI

"Tucked Inn"

Very nice location, just outside the town of Gatlinburg. Cabin was nice, perfect for 4 people. Would definitely stay at Elk springs resort again, but would try another cabin.

Manager Response:

We are happy to hear that you enjoyed your stay! Please call us when you are ready to start planning your next vacation. Our friendly sales representatives will be happy to assist you in finding a cabin that will be perfect for your next Gatlinburg get-away! Please keep in mind, as a returning guest you will receive 10% off all future stays.

Yurisan A.

Cleveland, TN

"Amazing place"

Amazing place, view, weather,everything there are so beautifully!!!store, park ,distraction to close thanks

Manager Response:

Thanks for the awesome review! We appreciate you taking the time to review Elk Springs Resort and hope that you are planning your next trip with us!

Garrick I.

Fairburn, GA

"Very cozy!"

Awesome! Me and 3 friends hat "Tucked Inn" it was very cozy and fit our needs! We will be back

Manager Response:

Thank you for your recent visit with us. We are happy to hear you enjoyed your stay. Please make sure to mention that you are a returning guest when booking your next get-away to enjoy 10% off.

Anthony

Chicago, IL

"A great weekend"

The cabin exceeded our expectations, very clean and well furnished.

Manager Response:

Thank you for your 5-Star review Anthony! We love to hear that we were able to exceed your expectations. We hope that you will be able to return soon to enjoy the first class get-away that you will come to expect as our guest.

Nancie L.

Plainfield, IN

"Tucked Inn Labor Day"

The cabin was wonderful. Unfortunately by daughter became ill as soon as we settled in and we didn't get to experience much. The Elk Springs staff was so accommodating and helpful. They allowed us to

…

extend our check out time, as my daughter ended up in the Emergency Room. Will definitely recommend Elk Springs and would love to return.

+ Read More

Manager Response:

Nancie, we were sorry to hear about your daughter being ill, but we were glad we could help with directions to Urgent Care and extending your check out time. We do hope you get the opportunity to come back and enjoy another stay soon! We appreciate your kind review.

Amber M.

Newark Valley , NY

"Miss it already!!"

We had a wonderful experience with Elk Springs Resort the cabin was beautiful and ready for us when we got there!!

Manager Response:

Thank you for sharing your experience with us Amber! We are pleased that you found everything about the cabin and your rental experience to be to your liking. Hurry back for some more Great Smoky Mountain memory making!

Hannah

York, PA

"Amazing!"

The cabin was beautiful, the staff was super nice, and our whole group talked about wanting to come again every year. Very pleased!

Manager Response:

Thank you Hannah! Tucked Inn is located right on our main resort and is just a short drive to downtown Gatlinburg. We appreciate you letting us know how pleased you were with your overall cabin rental experience.

Neal

Brookfield, Ohio

"Excellent "

Great location... Close to Gatlinburg and easy back way into Pigeon Forge... Great cabin, very nice amenities... Hot tub, grill and picnic table a plus... Very nice place to escape to... Planning on going back...

Thomas I.

Olive Branch, MS

"Perfect retreat"

We rented Tucked Inn the weekend of Memorial Day. It was a wonderful stay! The home was beautifully furnished and extremely clean. The hot tub was a perfect retreat and felt like you were located d

…

irectly in the forest. The location could not have been better! We were able to bypass the traffic in Pigeon Forge and Sevierville completely Only wish out stay could have been longer.

+ Read More

Linda D.

Cocoa, FL

"Wonderful Getaway"

My husband and I were looking for a short getaway vacation for our 25th wedding anniversary. Elk Springs Resort was the perfect location! Close to shopping and restaurants. Hiking and horseback riding

…

were also close by. The resort was neat and clean. The jacuzzi and hot tub were a great relaxation after a day of hiking. We will definitely return!!

+ Read More

Stacy R.

Marietta, GA

"Great Stay"

The rental property was exactly as we expected from the website information. It was clean and comfortable and lovely. The check-in and out was easy and nice. We ate at a cool local English Pub, the Fo

…

x and the Parrot and had a great dinner. We also ate at a Mexican restaurant in Gatlinburg. We went to the National Park and hiked and ran. We shopped at the local artisan shops and spent an afternoon in Gatlinburg.

+ Read More

Kiara

Lincolnton, NC

"Excellent "

My rental experience is def one to remember we were the most comfortable we could be our rental was absolutely beautiful and spacious my family and I will keep these memories forever

Rebekah

Union, KY

"Beautiful Cabin in a Great Location!"

Cabin was clean and had a newer feel. Location was great just a few minute drive to all the attractions. Rental company was great had an issue with hot tub that was resolved within an hour. Would stay again!

Stacey

Alexander City, AL

"Last minute getaway ... Turned out to be most relaxing trip ever!"

What a fantastic lodge/ cabin! Although we had to change cabins due to hot tub repair, this cabin was perfect for us. Very clean and cozy. Thumbs up to the staff for being so accommodating and friendl

…

y. What a first class resort! Will definitely stay here again and try out different cabins. Kids absolutely loved it too!

+ Read More

John

Hendersonville, TN

"Amazing'!!!!"

The cabin was in immaculate shape and absolutely adorable and cozy. The perfect place to stay in Gatlinburg. will definitely rent again!!

Larry H.

Louisville, KY

"Family Time"

Great time with my kids!!!

Dave B.

Charleston, SC

"Saved our honeymoon"

The cabin we originally booked in Andrews, NC for our honeymoon was a complete disaster. We called Elk Springs and they put us in their Tucked Inn cabin. It was awesome from top to bottom. The kitc

…

hen was well furnished, the fireplace worked wonderfully and the heart shaped tub was an added treat. We were completely comfortable and happy for the rest of our honeymoon and can't thank Elk Springs enough!

+ Read More

Kathy

Indianapolis, IN

"Beautiful and Relaxing!"

The cabin is beautiful, clean, and very comfy! The view is breath-taking from every window. We felt at home enjoying the fireplace and hot tub. It was one of the best get-a-ways and looking forward to going back.

Kara

Spring Lake, MI

"Tucked Inn"

We rented Tucked Inn for our honeymoon in October. The check in/out was very easy. We enjoyed relaxing in the hot tub and cooking our own meals. The cabin was clean and well kept. Our only disappoint

…

ment was the view from the cabin. The cabin backs up into a hill so there was not much to look at.

+ Read More

Linh C.

Queens Village, NY

"Family getaway "

The cabin was very cozy and equipped with amenities to fit every member of the family. My brother and I had an adrenalin-rushing time playing the fool's ball the first evening.

Spending time

…

at the outdoor hot tube catching up to our missed childhood while relaxing underneath the visible constellation was a mesmerizing one. Walking with flesh lights in the night quench the thirst of our adventurous minds. Moreover,the kitchen was fully equipped which made four happy stomach !

We are coming back soon :)

+ Read More

Kartek K.

Columbus, IN

"Tucked Inn"

It was a great vacation in he resort. Great facilities. Would be great if you can provide coffee as you do not want to drive first thing in the morning for hot coffee.

Steve F.

Mayfield Heights, OH

"Relaxing & Peaceful"

Our family of four had a great time staying in Tucked Inn. Very clean and comfortable. Not too far from town and major activities. Would definitely stay at this cabin again. While it didn't matter to us, the hot tub is only suited for 4 people.

Shelley N.

St. Johns, FL

"Wonderful Cabin!!!"

We had a great vacation to the smokey mountains and absolutely loved our stay at Tucked Inn!! The cabin was great!!! Our only disappointment was the queen size bed in the downstairs bedroom. Wasn't

…

very comfortable. Would LOVE a king size bed in there!! We very much want to come back.

+ Read More

Bethany

Frisco, TX

"What a great family vacation!!"

AWESOME!! Couldn't have asked for a better place to stay! This was our first time to the Smokey Mountains , and what a great experience! The cabin was very well kept, enough room for the four of us

…

. The kids had their own room, which they enjoyed! Especially the bunk beds! The location is great....convenient to everything, but not in the middle of all the downtown hustle, truly relaxing! Thank you! We hope to be back!

+ Read More

Kevin

Broadlands, VA

"Perfect Cabin for Family of 6"

The cabin was absolutely beautiful and well-maintained. The few times we needed something Elk Springs was quick to deliver it to our door. Having the children all sleep on the double bunks made for

…

a perfect vacation. We could hear them all laughing and having a great time together, which is music to a parent's ear! We will be back again.

+ Read More

Brian M.

lebanon, TN

"Elk Springs Cabins Are The Only Place We Stay"

Another great vacation with elk springs. They always take care of us. The cabins are great!!! Thanks again.

Svetlana C.

Montgomery, IL

"Great time "

Tucked inn was a great 2 bedroom, we were pleased

Rebecca B.

Travelers rest, South carolina

"A must!"

Tucked inn at elk springs provided a wonderful weekend getaway for our family. The location, amenities, and service was astounding. If anyone has a chance to stay at elk springs, they definitely should try it out.

Daniela M.

Ozark, AL

"Vacation exprience"

Lovely little cabin in a great location. Right in the middle of the arts and crafts
Community exactly where I wanted to be. It was very clean and we had
a great vacation. Can't wait to go back.

Cherie F.

Euless, TX

"Quiet & Clean"

The property was excellent, clean and very comfortable. Would recommend to anyone who wants to get away and enjoy nature. Many local attractions and things to do.

Valentino J.

Charlotte, NC

Vicki B.

Chicago, IL

"Tucked Inn to Relax!"

Our family enjoyed the wooded scenery, the hot tub, the pool table, the gas fireplace & the large glass windows. Even the rain didn't stop us from stop us from having a wonderful time. It's the most

…

relaxed I've been in years, a perfect getaway from the crowds in town.

+ Read More

Amanda C.

Fairfield, OH

"Tucked Inn"

My family of 5 spend our spring break in the tucked in cabin. We really enjoyed our stay with Elk Springs. The cabin was so clean and so nice. It had everything we would need in the kitchen to cook. W

…

e enjoyed our time at the cabin and the evenings in the hot tub. The cabin is not as secluded as we would of liked, but we only had neighbors the last night, so it turned out okay. If you are looking for more privacy on your deck, then Tucked Inn may not be for you. The cabin's location was amazing, only about 15 minutes from Gatlinburg and about 25 from Pigeon Forge. We will be staying at Elk Springs when we visit Gatlinburg again.

+ Read More

Gannon

Tuscaloosa, AL

"Tucked Inn was outstanding! "

Tucked Inn was an outstanding place to stay for a family of four. Beautiful accommodations and extremely clean - we will definitely be back.

Yuan

Columbus, OH

"Great tucked inn"

Pretty cool house. Like the outdoor bathtub! Close to the national park. 10 mins drive from stores and gas station. 15 mins from gatlingurg.

Sandra

Warrior, Alabama

" peaceful, restful time in lovely area of Gatlinburg."

very clean cabin, easy check-in=checkout system. great access to Gatlinburg and Pigeon Forge.

Jorge

Coral Springs, Florida

"Nice cabins"

Nice cabins and excellent customer service.

Lionel P.

Richmond Hill, GA

"Tucked Inn"

We had a very good stay at Tucked Inn the week of Thanksgiving! The property was located within an appropriate distance from the Food City and downtown Gatlinburg. The cabin was nicely furnished and

…

had what we needed to stay for a week. The furniture was very nice and the fireplace very useful that week as we went through a snow storm. It is the perfect cabin for four people and I would not hesitate to recommend it.

+ Read More

Todd P.

C, D

"Slept like a baby"

Very beautiful cabin and area. I will recommend to all my friends. Thanks

Monica R.

Virginia Beach, VA

Holly A.

Leamington, ON

"Fabulous vacation!"

I would recommend Tucked Inn Resort to anyone who wants to relax and enjoy the Smokey Mountains. It had all the comforts of home and was close to all of the attractions. The check in and check out pro

…

cedures were very easy and everything was spotless upon our arrival. A light bulb was burned out on the deck and when we called, they were there with a replacement within 5 minutes. We will definitely stay here again!

+ Read More

Brad B.

Palm Harbor, Florida

"Wonderful stay, looking forward to another!"

We had a wonderful stay at our cabin, everything was just as it was pictured on the web.
Load More Reviews