Amenities:
Full Kitchen
Gas Grill
Honeymoon
Hot Tub
Iron / Ironing Board
Mountain View
Parking
Washer/Dryer
WIFI
Enjoy the amazing views of the smokies in a luxury cabin with plenty of amenities. Sit and relax on your covered deck and admire the mountain view from your porch swing, hot tub, rockers or dining table. Snuggle up inside in front of 1 of 2 fireplaces or the 42" flat screen with DirecTV. Shoot a game of pool or recharge in the jacuzzi tub.
Cabin Bedrooms Layout
Master Suite

King Bed
Sleeps 2
Great Room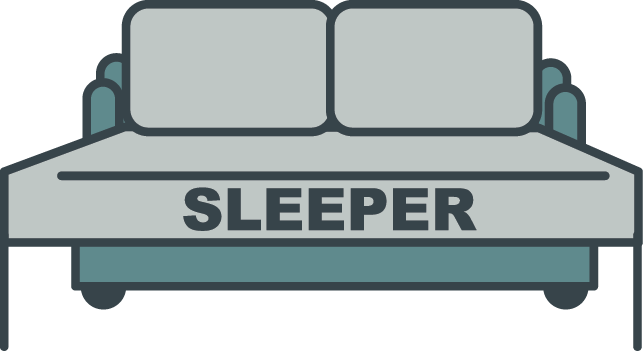 Queen Sleeper
Sleeps 2
Full Description
A favorite of honeymooners or for those looking for a romantic getaway. Need a little extra room? A hideaway Murphy bed provides extra room for 2 extra guests.

Want to experience a luxury cabin? Once you stay in Tree Tops, you may never consider staying anywhere else in Gatlinburg. You will enter into the great room with gas fireplace and beautiful views of the mountains. You can sit and relax and watch a game on the 42" TV with DirecTV satellite or perhaps walk out to the covered deck and enjoy the views on the porch swing.

The adjoining fully stocked kitchen is perfect for in cabin meals and the dining room accommodates four guests. A gas grill is located just outside on the deck for your convenience. A Murphy bed easily opens to accommodate two additional guests.

Head downstairs to the master suite with master bath and you will quickly see why this Gatlinburg honeymoon cabin is so popular for romantic getaways. The master suite includes a fireplace and large flat screen TV with Blu-Ray. The in master suite jacuzzi tub is perfect for relaxing and recharging after a long day in the park or shopping downtown. Exit off the master suite and you'll find your own private hot tub ready for you at 101 degrees. Rest assured, upgraded mattress and bedding is standard.

Free high speed wireless internet and a washer and dryer are included in this cabin.
*** This Property is located 15 minutes from Elk Springs Resort!
Views of Mt. LeConte
Hot Tub
Jacuzzi Tub
King Suite
Murphy Bed Sleeps an Additional 2 Guests
Pool Table
FREE High Speed Wireless Internet
2 Fireplaces
Covered Deck
Proch Swing
2 Rockers
Outdoor Dining Area
42" flat screen TV with Blue Ray DVD and sound system
2 TV's
2 Blu-Ray DVD Players
Washer/Dryer
Gas Grill
1 Minute Walk to Outdoor Fire Pit and Dining Area
Calendar
Click your dates below to check in and check out
Available
Check In Only
Check Out Only
Selected
Unavailable
Photo Gallery
See All Photos
Reviews
Jennifer

Orland Park, IL

"Great getaway"

We had a wonderful time! The cabin was great, clean, beautiful!

Jordan

Jonesboro, AR

"Great Views of Smoky Mountains"

The view from either deck, especially the top floor was incredible. The cabin was well appointed, clean, and had everything we would ever want for a stay. A few good restaurants close to the cabin,

…

and a short drive to Gatlinburg. Highly recommended and hope to return.

+ Read More

Scott

Virginia Beach, VA

"Beautiful cabin in a beautiful location "

The cabin was as beautiful as the pictures on the website. In fact, my own pictures ended up looking just like their pictures. The view of the Smoky Mountains from the deck made me feel like all th

…

e worries from life could just disappear forever. Very peaceful.

It was conveniently located near the artist loop and a couple of VERY good English pub restaurants, as well as being just a short drive from all the tourist places in downtown Gatlinburg.

Staff was helpful and called to make sure everything was going ok. Which it was. I would totally recommend this cabin to anyone who wants a break from the crowded city, but also wants the amenities they would find in one.

+ Read More

Manager Response:

We love to hear that your stay was exceptional! We certainly agree, Tree Tops is the perfect cabin to enjoy the peace and tranquility you are searching for. It has the ideal location to get away from the hustle and bustle of everyday life. We are happy that you were able to enjoy so many of our local hidden gems. Please come back and see us as often as your schedule allows. Your next Great Smoky Mountain adventure awaits!

Jon H.

Bellefontaine, OH

"Most amazing cabin to stay in or near Gatlinburg TN"

This was our 2nd stay at Tree tops cabin (1st was our honeymoon) and it was just as amazing as the 1st time. This cabin has all the kitchen utensils u need to cook any meal,entertainment for a rainy d

…

ay,and if u want to just sit on the deck and look at the mountains this cabin is it. The house kepping was great!!!! Our 2nd stay was our 3rd anniversary and if Elks Springs Resort will have us we plan to spend many more anniversary at Tree Tops.

+ Read More

Manager Response:

Wow! Thank you for spending your anniversary at Tree Tops. We are excited to hear how much you enjoyed the cabin. We would love for you to come back and visit with us as often as you can. Please let us know when you are ready to start planning your next trip. Your next adventure is only a phone call away!

James

Cuyahoga Falls, OH

"What a view!"

We arrived to a sparkling clean cabin with a gorgeous view of the mountains. The pictures don't do it justice. We had a wonderful, relaxing time. The hot tub was fantastic. Wish I could have stayed lo

…

nger!Property management were friendly and helpful.

+ Read More

Manager Response:

We are excited to hear you had such a great get-away, James! We certainly agree, pictures can not truly reflect the breathtaking views you will experience while staying at Tree Tops. It is the perfect cabin to simply relax and enjoy all that nature has to offer, yet, still provides all of the modern amenities you come to expect while staying with us. We hope you will come back and see us soon!

Karen G.

Naperville, IL

"A little slice of heaven"

My husband and I were blown away by this cabin! It is truely a place to rewind and reboot. The views can't be beat, and the complete privacy is a huge bonus. We sat in awe of the surroundings on the d

…

eck, relaxed in the hot tub, shot pool and just relaxed in front of the fireplace. The staff called one time to make sure we were happy and to let us know that they were there if we needed them. We will be coming back as soon as we can.

+ Read More

Manager Response:

We love to hear that you had such and amazing stay, Karen! We agree, Tree Tops is the perfect cabin to escape from the hustle and bustle of everyday life. We are happy to hear that you were able to enjoy the electric fireplace during your stay. Since these do not provide heat, they are operational throughout the year. They are perfect, as they help to create a romantic atmosphere throughout the cabin. We try to ensure that your stay is exceptional, from start to finish. We want you to feel welcome from the moment you walk through the door. Please do not hesitate to contact us if any need should arise during your stay. We love assisting our guests! We hope that you will consider making Elk Springs Resort part of a new tradition when visiting the Great Smoky Mountains. Your next adventure awaits!

Cameron

Knightdale, NC

"Lovely Little Cabin"

Very pleased with the accommodations, amenities, privacy and view. For a long weekend, it was perfect!

Manager Response:

It sounds like you have found the perfect cabin! We are always excited to hear that the cabin exceeded your expectations. We hope you will consider making Tree Tops your new home away from home when visiting our Great Smoky Mountains!

Ehren N.

Charlotte, NC

"Birthday Getaway"

It was awesome. The cabin was wonderful and the experience was unforgettable. They made sure we had everything we needed and more.

Manager Response:

We are happy to hear we exceeded your expectations, Ehren! Thank you for allowing us to be a part of such a wonderful celebration. We want each visit with us to be a dream vacation, from start to finish. We provide 24/7 guest assistance for this very reason. We love to assist our guests! Should any need arise during your stay, please do not hesitate to call us. We hope you will come back and see us soon!

Daniel W.

Hobart, IN

"Nice little cabin"

Tree Tops is a nice little cabin off of the beaten path but still close to the parkway. We are used to more private cabins so if you're looking for something with nobody around, this isn't the one you

…

're looking for. There are cabins all around. It does have a nice view though. The cabin was fairly clean but could use a little more attention in that department. The only real issue with the cabin itself is that there is a squirrel living in the floor/ceiling of the two floors and he wakes up and starts running and scratching around at about 4:00 AM every day and there is no sleeping after that. I did report that to management. This is a nice cabin for just a couple but if you have kids, there are no doors inside for privacy.

+ Read More

Julie S.

Lakewood, OH

"Relaxing Mountain Oasis"

Relaxing Mountain Oasis

Manager Response:

Our goal at Elk Springs Resort is to provide luxurious cabins that provide the kind of relaxation our guests come to expect. We are honored that we succeeded! We hope that you will consider giving us the opportunity to provide exceptional visits for many years to come. Come back and see us soon!

Jeff

Dothan, AL

"Fall Getaway"

We thoroughly enjoyed our stay in the Tree Tops cabin. It had everything we could have possibly needed, from the kitchen to the electronics to the outside. The cabin not only had the basics, but it ha

…

d many high-end extras, like the Bose sound system and two large flat screen TVs. The view was absolutely breath-taking from both decks. The hot tub was awesome, and we really enjoyed the swing and rockers. We will definitely be coming back!

+ Read More

Manager Response:

Jeff, we appreciate the 5 star review. It sounds like you picked the perfect cabin for a Fall getaway. Enjoying the beautiful fall colors, from a cabin with a great view, is simply amazing. We are pleased to hear that everything exceeded your expectations at that you plan on returning. Our repeat guests receive a 10% discount off their next stay!

Effie P.

Chicago, IL

"Breathtaking!"

Just what the Great Smoky Mountain experience should be like! Amazing!

Manager Response:

We appreciate your 5-star review Effie! It is our pleasure to provide you with a great vacation experience in one of our luxury cabins! We look forward to having you as our guests again.

Jan B.

Downers Grove, IL

Manager Response:

Thank you for your review Jan. It appears that you made the perfect choice for your cabin vacation getaway.

John

Cinncinati, OH

"Great Getaway"

Loved Tree Tops Cabin! Thank you!

Manager Response:

John, thank you for the great 5-star review. Always a pleasure to provide our guests with a perfect cabin vacation getaway! We hope you return for a stay in the future.

Kathleen

Independance, Ky

"Tree Top Cabin"

We absolutely loved our was very easy to find and the location was close to everything. The view from the deck was amazing.
The cabin was clean and very comfortable. We would definitely come back to Elk Springs Cabins.

Jack K.

Vero Beach, FL

"Tre Tops-Beautiful cabin beautiful area"

We always use Elk Springs when we visit Gatlinburg. We have rented from them seven times and this was our second time staying in this area. We love the mountain stream and little church that greets

…

you as you enter the area. It is so peaceful and relaxing from the moment you turn off the main road.
The staff at Elk Springs are very professional and courteous. Thank you again Dan.
The cabin is very pretty and cozy with beautiful mountain views. The bed is super comfy and the cabin is very clean and well maintained. The kitchen is well stocked with dishes and utensils, so, all you need to bring is food. Loved our stay and will return.

+ Read More

Kelly

Grand Ledge, MI

"Fabulous experience!"

This mountain-resort getaway location was truly unforgettable. The cottage was spectacular, with all the comforts (and beyond) of home, with postcard views.

The management and staff were fri

…

endly, helpful and so very courteous. Our next stay cannot come soon enough! We already have had many friends ask for the name of this resort community so they can plan their next getaway as well.

Congratulations to this resort for a job very well done!


+ Read More

Manager Response:

Thank you Kelly! We are pleased to hear that everything was just perfect with your cabin stay. Consider coming back during the Fall to see the beautiful colors of the season and mention you are a repeat guest to receive a 10% discount on your next stay!

Terry R.

Benton, KY

"A short stay in a place close to heaven"

Absolutely fantastic!

Manager Response:

Terry, thank you for such positive feedback. We are pleased that you had a fantastic experience staying in the Tree Tops cabin. Be sure to come back and visit real soon!

Terri C.

Owensboro, KY

"You Won't Be Disappointed"

We've stayed here twice, two years in a row and hope to make it a tradition. Couldn't ask for a better cabin or better customer service.

Manager Response:

Thank you for your positive feedback! We are pleased you have chosen Elk Springs Resort for your vacation destination two years in a row. There is nothing better than a beautiful cabin stay in the Great Smoky Mountains!

Leslie R.

,

"Awesome and Beautiful"

We had a good time. I will recommend to others.

Manager Response:

Thank you for the kind feedback! We are pleased you found everything to your liking! Bring the whole family and enjoy one of our larger cabins on your next trip! We offer a 10% discount to all of our repeat guests.

Meghan

Sterling Heights, MI

"Breathtaking views!"

We loved everything about the cabin! We had the hot tub break down but they had it working in under 2 hours! So fast thank you we really had a wonderful honeymoon!

Marisa D.

Cary, IL

"Just what we were looking for!"

This cabin was absolutely beautiful inside and out! It was well maintained and very clean. The views and covered deck were spectacular and we enjoyed the hot tub very much. The king size bed in the ma

…

ster was so comfortable that we still talk about it! We were close enough to downtown yet still far enough that we felt secluded. We would definitely recommend elk springs resort to anyone looking to stay in the gatlinburg area.

+ Read More

Judith

Brentwood, TN

"Very clean cabin. Great view. Perfect getaway for 2!"

Extremely professional staff. Spacious, amenity rich cabin. We went to Gatlinburg for an anniversary weekend and it was perfect! We found this cute little restaurant one night called Greenbrier. Most

…

ly we stayed at the cabin and cooked ourselves. The grill was great! Although there are other cabins on the mountain, it felt secluded and private.

+ Read More

Loralee V.

West Chicago, IL

"Mountain Time "

We had a great time on our trip. We went hiking everyday. It was ideal weather and the cabin was just perfect for two people. We would go back to Tree Tops in a heart beat!!

Clayton K.

New York City, NY

"Absolutely Excellent"

My girlfriend and I stayed here for several days and had a wonderful time. Truly relaxing with a beautiful view. The cabin is very clean and has basically anything you could ever want - would highly recommend.

Constance

Plainfield, IL

"Tree tops"

This place was great. Clean and everything was in good condition and worked. Would definitely stay there again. The view was great.

Paul H.

Billericay, Essex

"Tree-Tops: the perfect Smokey base"

We stayed in the Tree Tops cabin and had a lovely couple of days. The cabin is located just outside of Gatlinburg in the hills and it has a great view of the Smokey Mountains. The cabin is laid out ov

…

er two floor with balconies on each level. It is private and romantic and this particular cabin isn't overlooked at all. The Cabin has everything you need plus more. We really enjoyed using the hot-tub and pool table and we BBQ our dinner each night. It was very clean and homely, albeit the ladybugs, and the cabin was the perfect base for a few nights in the Smokey Mountains. Would highly recommend.

+ Read More

Allen T.

Lawrenceville, GA

"The perfect way to get over a breakup "

This was an amazing weekend planned for my other half and myself. However, due to an unfortunate turn of events, that didn't work out the week before. So, I rounded up my closest friends and we went a

…

nd had the time of our lives. This is about 15 minutes out of Gatlinburg, but not a hard drive at all. I would definitely recommend this to others. Clean, quiet, and comfortable!

+ Read More

Leander D.

Winchester, IN

"Pleasant stay"

Stayed at Tree Tops for a very pleasant week. The cabin was as described and pictures were accurate. The cabin was clean, well stocked, and very comfortable.

James R.

Gulfport, MS

"Tree Tops Cabin Review"

We had a very enjoyable stay. The spiral staircase is very cute but rather tight, making it hard to take suitcases up and down. Also more dresser drawers would be great. Overall, the Tree Tops is a very comfortable and enjoyable cabin!


Edward B.

de soto, mo

Tracie M.

,

"Tree Top Cabin at Elk Springs Resort Cabin Rentals"

The cabin was clean and comfortable and the views were spectacular. Great getaway!

Jennifer

West Salem, IL

"Wonderful view of The Smoky Mountains"

My family and I enjoyed our stay at the Tree Tops cabin. Cabin was easy to find and not far from Gatlinburg. Very clean upon arrival. King size bed was very comfortable with plenty of great pillows

…

. We enjoyed the upper balcony and the view of the mountains was gorgeous. We would definately recommend this property. We really enjoyed Pigeon Forge and visited the Forbidden Caverns, Old MacDonald mini golf, The Dixie Stampede, Stage West boot store, and the Old Mill district. The Old Mill cafe and grill restaurant was the best. The Old Forge Distillery was awesome and the Pottery store was wonderful. Loved the Aquarium and the brewery had great pizza & beer. We ended our vacation hiking in the park to a beautiful waterfall. Can't wait to do it all again!

+ Read More

Christina T.

Murfresboro, TN

"Mountain relax fine"

Just a couple night to relax without the kids

Rui

Weldon Springs, MO

"wonderful "

The cabin is just as advertised on the website. Our kids love it. So do we.

Kristopher

Cincinnatti, OH

"Best view ever!"

I was amazed that the pictures of the cabin are exactly what the cabin looks like. Sitting on the back deck looking at the cloud formations rolling through the mountain landscape is amazingly majestic

…

. It leaves feeling rejuvenated and you feel almost a spiritual connection to nature when starring at the grand beauty of it all.

+ Read More

Brandon R.

Savanna, GA

"Sometimes words cannot explain."

2000 characters is not enough to express the wonderful time I had at ELK SPRINGS RESORTS!

James G.

Alexandria, Virginia

"Weekend in the Smokey's"

My wife and I had a great time in the Smokey?s. The unit we rented had great views, was clean and located close enough to the sights but not too close. We would definitely recommend staying here and will be planning another trip in the fall.

Ruth Marie

Kansas City, MO

"Love the Views!"

The views were beautiful. Very quiet,enjoyed our time here. Will stay longer next time.

Dustin J.

Bivins, TX

"Tree Tops - Home in the Smokeys"

The Tree Tops cabin was located about 8 miles out of town. The location was wonderful. Off of the main road, however I was under the assumption that the cabin was secluded from other cabins, and by it

…

self until I looked it up on Google Maps. This did not matter the other people in the cabins were just like us. They wanted a quiet getaway and were no trouble at all. Tree Tops is the furthest up the hill, and only has one cabin to its left. We have only been gone a week and are already looking forward to going back and using Elk Springs Resort again. Elk Springs Resort took care of everything, and did not bother us on our stay. They were only a phone call away, however everything was spot on. The only thing that you need to bring is food, drinks, and a clear schedule, because the Smokeys will make you forget time! Thank You Elk Springs Resort for the amazing time in the mountains, that we will never forget!

+ Read More

Catherine M.

Livonia, MI

"Recharge in 2 days"

Cabin had all the comforts of home. Enjoyed our brief stay very much!!!

Jessica L.

Cincinnati, OH

"Amazing experience!"

We stayed in Tree Tops for our honeymoon. Everything about the place was absolutely perfect! No complaints here!

Tamara B.

Smyrna, Tn

"22nd Anniversary Trip"

My husband chose our cabin and I was thrilled. It truly was in the TreeTops. Very relaxing and well maintained. The upper deck was perfect for morning coffee and to watch the clouds over the mountains

…

during a gentle rain. We come to G-burg 2-3 times a year and really couldn't say enough about this cabin and location. We hope to be back very soon. Thanks.

+ Read More

Jeff S.

Slydell, LA

"Amazing cabin, hassle free"

This cabin blew us away, exceeding every expectation we could have had. Great view, imaculate condition, the owners truly take pride in their property.

Joshua S.

Walkertown, NC

"Honeymooners Paradise "

A perfect place for honeymooners!!!

Walter S.

Elyria, OH

"weekend getaway"

WEnt here for our 38th anniversary

Komala C.

Charlotte, NC

"Clean and Luxury Cabin"

Clean and Luxury Cabin

Andrea

Galliano, LA

"Loved Tree Tops!"

We had an amazing stay at Tree Tops. The cabin was so neat and organized. It was very easy to find everything that we needed and the management had all the information on how to operate everything f

…

rom the hot tub to the television in easy to follow directions. We would definitely stay there again.

+ Read More

Brandy G.

Vero Beach, FL

"beautiful place, wonderful people."

The cabin was amazing. It was beautiful,clean and felt like home. The Elks Resort is the perfect place to get away and relax. Plenty of things to do and everyone we encountered was friendly. I highly

…

recommended this place for a vacation getaway, just for two and even the whole family.

+ Read More

Barry

Dublin, OH

"We loved it!!!"

The cabin was amazing, the reservation/check in process was simple and it had everything we could have needed. It was a little far from town, but it was worth it for the views. Would definitely use elk springs again.
Load More Reviews