Amenities:
Full Kitchen
Gas Grill
Honeymoon
Hot Tub
Iron / Ironing Board
Parking
Washer/Dryer
WIFI
A luxury romantic getaway cabin with lots of options! Bring the kids, bring another couple, or just bring yourselves. Either Way, you'll be more than happy in A Touch of Class Cabin in Gatlinburg. Two master suites encourage travel with friends and family so you can enjoy one another but have your privacy too. Flat parking and an entry with no stairs into this wheelchair accessible cabin creates a great environment for families with elderly relatives. Look at that spacious fully equipped kitchen with stainless steel appliances and great counter space - everything you need is available for creating the perfect dinner.
Cabin Bedrooms Layout
Master Suite 1

King Bed
Sleeps 2
Master Suite 2

King Bed
Sleeps 2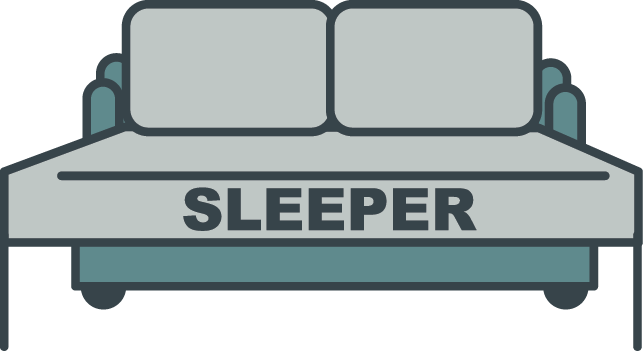 Queen Sleeper
Sleeps 2
Great Room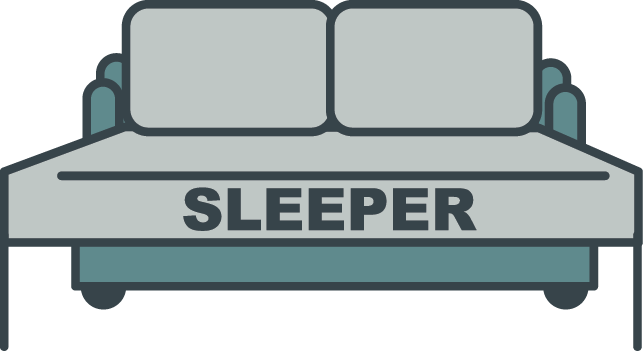 Queen Sleeper
Sleeps 2
Full Description
Enter into the great room which features a 25 foot high ceiling with impressive beams and finish work in this true Heritage Homes log plan.

A gas fireplace nicely compliments the beautiful living room furnishings, and the great room sofa also converts to a queen sized sleeper sofa. You'll notice the large flat screen TV and DVD player too if you want to kick back and watch a game or movie.

The first floor bedroom is the envy of the resort with a vaulted ceiling and jacuzzi tub. The King bed sits in the same room as the jacuzzi, creating a very private experience. The bedroom is right around the corner from the entry way and living room so travel on this floor is not encumbered. The upper level features an additional master suite and game room in the loft.

Beautifully furnished, the king bedroom offers the privacy you are seeking with an attached bath - tub/shower combination - for your convenience. In addition, there is a queen-sized sofa/futon located in this bedroom if additional sleeping space is a requirement. Enjoy family fun in the second floor game room - find out who can really shoot some pool! What better way to end the day than relaxing in the hot tub while enjoying the view of the valley and sensing the freedom surrounding A Touch of Class compliments of the Great Smoky Mountains!
2 King Suites
Queen Sleeper Sofa
Futon
Hot Tub
Pool Table
Jacuzzi Tub
Free High Speed Wireless Internet
Gas Fireplace
2 Chairs on the Deck
4 TV's
2 DVD Players
Washer/Dryer
Gas Grill


Calendar
Click your dates below to check in and check out
Available
Check In Only
Check Out Only
Selected
Unavailable
Photo Gallery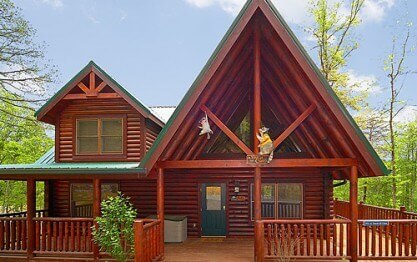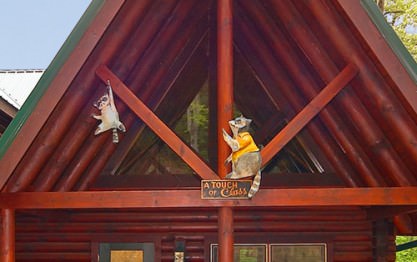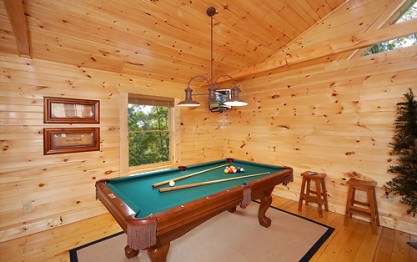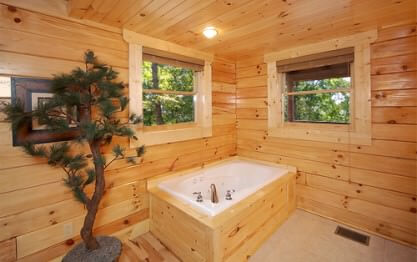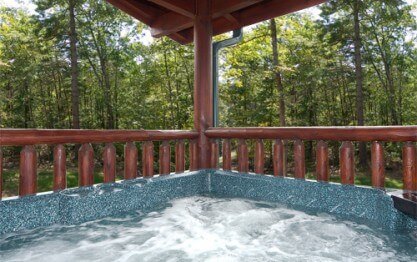 See All Photos
Reviews
Darrell

Black Creek, NC

"Touch of Class"

This is a lovely cabin, perfect for a larger family. The kids enjoyed the loft and we all enjoyed the views. This cabin is a great home base for exploring Gatlinburg and Pigeon Forge. The remote check in and check out actually turned out great!

Manager Response:

We love to hear you and your family had a great vacation! We pride ourselves in offering luxury cabins that will make you feel at home from the moment you walk through the door. We certainly agree, the location of the resort is perfect to enjoy all that our area has to offer. We hope you will take the opportunity to come back and stay with us again as often as you can.

Martin

Chesapeake, VA

"Camping de Luxe"

Wonderful cabin in the mountains very close to Gatlinburg and Pidgeon Forge. We had a lot of fun. The kids especially loved the hot tub.

Lisa

Arcanum, OH

"Awesome "

Clean,close to Trolley.

Manager Response:

We are excited to hear you enjoyed your visit with us, Lisa. We hope you will consider making Elk Springs Resort part of a new tradition when visiting our beautiful Great Smoky Mountains. Come back and see us soon!

Davriel R.

Jacksonville Beach, FL

"Awesome+++++"

Awesome place, super clean, quiet. Will return for sure.

Manager Response:

Thank you for your 5-Star review, Davriel! We are happy to hear that you had an exceptional visit. We hope you will consider staying with Elk Springs Resort during your next visit to Gatlinburg. Come back and see us soon!

Larry D.

Franklin, TN

"Elk Springs "A Touch of Class""

Elk Springs Resort does a great job of communicating WITH YOU ON An periodic basis leading up to your stay. The booking and rental process is extremely easy and seamless. The property was as presented

…

, and we had no issues at all during our stay. We have nothing but positive feelings about our entire stay.

+ Read More

Manager Response:

We believe it should never be stressful to go on vacation. We are here to make every aspect of your vacation enjoyable, from start to finish. We provide 24/7 guest assistance for this very reason. Please let us know when you are ready to start planning your next get-away. We are always happy to assist you. We hope to see you soon!

Linda S.

Houston, TX

"outstanding vacation away from home"

beatufil place to stay, very quite, great surrounding with senery

Robert

Verona, Kentucky

"Touch of class 2/2016"

Stayed in Touch of Class early Feb 2016, easy to find and nice area. Cabin was spotless and had everything that was promised. Quick drive into main Gatlinburg and pigeon forge area. Will stay here or another elk springs cabin again.

Manager Response:

Thank you for your kind review, Robert. We appreciate your business and are pleased that your cabin rental experience was a positive one. We look forward to your return and would like to remind you that our repeat guests receive a 10% discount off all future stays.

Eva

Huntsville, AL

"Wonderful Experience "

All was neat , clean, and ready. Staff was professional and courteous. Helped us with directions and weather.

Manager Response:

Thank you for choosing Elk Springs Resort for your vacation! We are proud of our staff's dedication to assisting our guests. Weather and directions can certainly be a little tricky in the Great Smoky Mountains. Our friendly customer service representatives are happy to assist you should you ever need assistance. Please keep in mind, GPS is not always accurate in our area. If you find that you are having a difficult time getting to the cabin, please do not hesitate to call us. We can get you back on the right path in no time at all. We try to make sure all of our guests are aware of any incoming weather that may affect them during their stay, along with directions to their nearby grocery store if needed. We strive to make your vacation as stress free as possible.

Brandon W.

Charlotte, NC

"Place is awesome! Great location with great cabins"

Everything was perfect as usual! Highly recommend!

Manager Response:

Thank you very much for your 5 star review, Brandon. We are always pleased to hear that everything was perfect with your stay. We look forward to continuing to do business with you.

Jason

Piney Flats, TN

"Couldn't be better"

We rented this cabin for a two night getaway. We loved its close proximity to Gatlinburg and lots of hiking. The cabin was beautifully clean and well maintained. We comfortably slept 5 in this 8 person cabin. It couldn't have been a nicer experience.

Manager Response:

We appreciate your business and thank you for the great review Jason! With this cabin located on our main resort, just 10 minutes from downtown Gatlinburg, it allows you to be away from all of the hustle and bustle without having to drive too far to local attractions or restaurants. There is nothing better than enjoying a hike in the Great Smoky Mountains and taking in all of the natural beauty of the area. We are pleased that you enjoyed everything about your cabin getaway experience and hope you return again in the future.

Vonda

Elizabethtown, KY

"First Time Cabin Renters"

This was our first time vacationing in Gatlinburg as well as our first time renting a cabin. We were very satisfied with our experience.

Manager Response:

We are pleased to hear that your first cabin rental experience was better than you expected. Customer satisfaction is very important to us and we pride ourselves in providing you with a home away from home at Elk Springs Resort. We truly appreciate your business Vonda and thank you for taking the time to complete this wonderful review!

Diana Y.

Nashville, IN

"A Touch of Class"

Spent the weekend at touch of class with family and grandkids. It was everything as said it was,very easy to get to,clean ,great customer service.Only thing was room the pool table was in was not enou

…

gh room. Other than that had a great time and would stay again. I recommend elk springs resort

+ Read More

Manager Response:

Thank you for your review Diana. Some of the cabins weren't originally designed with a pool table in mind. Many of these were added to cabins as an extra amenity because our guests enjoy them so much. We are pleased that you enjoyed your overall stay and hope you return again soon.

Meghan

Cincinnati, OH

"A Touch Of Class"

Perfect! The place was very clean and ready for a weekend trip. I would definetley go back!!

Manager Response:

Thank you for your 5-star review of your stay with us! We take pride in our business and your feedback reminds us that we are doing everything the way we should be!

James

Carol Stream, IL

"Great stay"

The Touch of Class is exactly as shown. It is well kept. I like the idea of not stopping at a rental office to get a key.This cabin is perfect for a person with a mobility issue.

Richard

Hastings, MN

"A great stay in the Smokies"

We had a great stay in A Touch of Class. The location was convenient to the Park and town, but felt far away. The staff at Elk Springs was outstanding in answering questions and making sure our needs

…

were met from our first contact until we left. We walked into a clean and well cared for cabin and were comfortable having our granddaughter crawl around on the floors. Loved having a washer and dryer right in the unit. Overall, a very positive experience and I would recommend it without hesitation.

+ Read More

Terrance W.

Southaven, Ms

"Loved it. "

I would stay here again.

Stephen F.

Alpharetta, GA

"Great Cabin"

Easy drive to Gatlinberg and Pigeon Forge. Very well located.

Andrew M.

Lafayette, IN

"great cabin for a low price"

My family and I really enjoyed this cabin. Had a wonderful time sitting on the porch or relaxing in the hot tub. Was very clean well maintained.

Amy B.

Delray Beach, FL

"Great Getaway!"

We purchased a two night stay through Groupon. It was very easy communicating with the management company and a great family getaway! The house is accessible for those who can't climb stairs(my daugh

…

ter was on crutches and stayed on the first floor).

+ Read More

Sheila

Sylvester, GA

"Weekend getaway"

We enjoyed our stay in Gatlinburg. The cabin was nice and would like to stay there again sometime.

Veronica

Rex , GA

"great mini vacation!"

Accommodations were excellent check in was super convenient. Loved the cabin. Our stay could not have been better.

Terrice

Ball Ground, GA

"A Girls Getaway Weekend!"

We arrived on Friday afternoon. The directions to the cabin, provided by the resort were very helpful. The cabin was as beautiful as the pictures and very clean. It had everything we needed. The kitch

…

en appliances and dishes, the DVD, and the hot tub were all perfect. We enjoyed ourselves and Sunday came quicker than we wanted. We even scheduled on site massages by Roger with Gatlinburg Mobile Massage! They were outstanding! Everything was perfect and we will be back!

+ Read More

Carol J.

Columbus, GA

"great trip"

We very much enjoyed our stay in the "Touch of Class" cabin. We found the cabin to be very clean and adequately stocked. The hot tub and pool table were great and perfect for a family evening togeth

…

er. The gas fireplace was perfect and so easy to use.

+ Read More

Thomas S.

Barrington, IL

"Family Escape..."

We came down to Gatlinburg from to enjoy a slower pace and get outdoors. Our cabin could not have been more accommodating. Close to hiking and tucked away from all the noise. Upon arrival, the first t

…

hing we noticed was how clean and well-kept our cabin was. Touch of Class was more than enough space for our family of four. The kitchen was well-appointed and the rooms were spacious and comfortable. Overall we could not have been happier and wished we were able to stay a couple more nights. Without a doubt, we would stay here again.

+ Read More

Sharon

Deland, FL

"Touch of Class"

We rented the handicap cabin which turned out to be perfect. Info online about cabin was just as stated there were no surprises. Had issue with heat but was quickly fixed. Perfect location had a gre

…

at time and look forward to coming back to the area.

+ Read More

Theresa M.

Crestview, FL

"Beautiful"

Awesome in everyway!

Gary

London, OH

"September stay"

The cabin was beautiful. Located a few miles from Gatlinburg, gateway to the Smokey Mountains. Elk Springs staff was outstanding.

Richard S.

Detroit, MI

"very satisfied managment company great worry free up to date luxu"

If the cost is a little more than other cabin resorts its worth it a problem with a television remote was handled in less than a half hour in the mountins worth every penny

Zhe

Gainesville, FL

"Fantastic!"

I really like it. The cabin is very comfortable at night and has everything we need inside!

James

Indianapolis, IN

"Very Nice and Cozy"

Quick and Easy. Just called the number and had a cabin rented in my name in less than 10 minutes.

Jack K.

Vero Beach, FL

"A Touch Of Class-A Charming Cabin"

This was our fourth stay with Elk Springs Resort. We stayed in A Touch Of Class for four days during the week of May 5th.

The cabin is located in the main section of Elk Springs and is on th

…

e main road, but has plenty of parking area. We found the cabin to be charming, cozy & very clean. It is a two bedroom with two full baths and has all the amenities we needed. We cooked all but one meal in the cabin and found the kitchen supplies adequate enough to prepare simple meals. The grill outside was very clean and easy to use.

We enjoyed the cabin and we just can't say enough about the staff at Elk Springs. The lady that called to give us our code also called the next day to make sure we were happy with the cabin and asked if we needed anything. She was very courteous, and a pleasure to talk with. We had an issue with the cabin and the maintenance man came right out & took care of it as they have always done with every cabin we have stayed in.

We always book our cabins with Dan and as always, he was very professional, attentive, and courteous and takes care of our needs fully and goes out of his way to make suggestions to us on a choice of cabin and makes sure we are happy. He especially went out of his way on this trip. Thank you Dan. We highly recommend Dan to anyone that decides to stay at Elk Springs. You will be happy that you chose this company and you will be very satisfied with the excellent service you get from the staff. We plan on returning to the area and will definitely book with Elk Springs Resort.

+ Read More

Cynthia

Chicago, IL

"Getaway for Two"

It is rare that a vacation rental is as beautiful as the pictures but this was true to life. So peaceful and quiet yet close to a lot if you want to do anything. Have recommended it to a lot of people and plan on coming back as soon as possible.

Suzanna

Pembrooke Pines, FL

"Awesome Vacation"

Amazing!

April

Memphis, Tennessee

"Tennessee's Best Kept Secret!"

OMG! I couldn't have dreamed up a more perfect vacation getaway. Everything we needed was right there in the cabin and whatever wasn't there was just a short drive away. The scenery was awesome! It w

…

as an amped up home away from home. It is, by far, my favorite vacation spot.

+ Read More

Chris S.

Gallatin, TN

"Great getaway"

Had an awesome time with friends

Seldon C.

Princeton, KY

"Great honeymoon"

My new wife and I had a great experience on our honeymoon. We got to visit several stores and shops. We got to take our time and see Gatlinburg, Pigeon Forge, and Cherokee Village. We just had a gr

…

eat time enjoying each other. The cabin was a great place to spend our honeymoon.

+ Read More

Jill C.

Batesville, AR

"Family Vacay in the Smoky Mtns."

Very enjoyable experience. Can't wait to return and bring more family.

Joseph N.

Somerville, AL

"Wonderful Getaway"

Everything was great. We will be planning on coming back again.

Marc W.

Elkhart, Indiana

"Searching for Relaxation"

Absolutely delightful in every regard!

Marc H.

Huntley, IL

"Best place for some R&R"

Was very pleased with the cabin, the pictures didn't do it justice! It was so quiet you could hear a pin drop. Beautiful property and my son LOVED the hot tub on the deck! Very happy we found this pla

…

ce and would definitely recommend! Thank you for having this resort available for out of towners :)

+ Read More

Jennifer S.

Coats, NC

"Excellent Getaway"

Everything was easily done and experience wonderful

Francisco M.

Gurnee, IL

"Great time"

We had a great vacation, The cabin was very nice. Definetly I recomend this place.

Jarrod

Huntsville, AL

"Wonderful Stay"

Elk Springs resort is a great place to get away for a few days and relax!!

Cheryl B.

Madison, AL

"it was a beautiful place to stay very relaxing. "

There was all sort of places to visit and everything is close to the area that we stayed will be back to stay agsin we loved it.

Nicola

Weston, FL

"Very pleasent place"

pool table unconfortable

Joseph

Florence, AL

"Touch of Class"

The cabin was amazing, everything was extremely clean, and absolutely beautiful. I didn't have any problems with anything and I had a wonderful stay.

Jessica

Painesville, OH

"Nice little getaway"

Our stay at touch of class was very nice. The location was very convenient to downstown Gatlinburg. The cabin is beautiful. Only complaint is that the hot tub was not turned on prior to our arrival an

…

d took 5 hours to heat up enough to go in. Since we were only there for two nights it was a little disappointing to not be able to use it until 10:00 the first night. But all in all it was great and I would definately stay here again.

+ Read More

Leslie

Anderson, IN

"great log cabin"

enjoyed every thing about the house and area!!

Lynn

Loganville, GA

"Our Week At A Touch of Class"

Had a great week staying in A Touch of Class cabin. We just celebrated our 50th wedding anniversary, and just enjoyed getting plenty of rest,shopping, going to shows with our friends, and eating lots

…

of great food. Thanks Elk Springs Resort for a great week!


+ Read More

Christina

union city, TN

"AMAZING STAY AT THE TOUCH OF CLASS"

A VERY NICE WEEKEND AT THIS CABIN!
Load More Reviews