Amenities:
Full Kitchen

Gas Grill

Hot Tub

Iron / Ironing Board

Mountain View

Parking

Theater Room

Washer/Dryer

WIFI
The name speaks for itself! Enjoy breathtaking views of the Smoky Mountains from the great room and deck from this special cabin rental! Located at the end of a flat road in a secluded cul-de-sac in the resort, the view offers both privacy, seclusion and views. But it's equally convenient to the Arts and Crafts Community, Downtown and Dollywood. Your family can enjoy spreading out in this 3 bedroom cabin while watching a movie in your private home theater room or by playing pool, air hockey, enjoying the 110 Game Arcade Legends game system with Golden Tee and classics or maybe just relaxing in the hot tub.
Cabin Bedrooms Layout
Master Suite 1

King Bed
Sleeps 2
UL Master Suite

King Bed
Sleeps 2
UL Bunk Room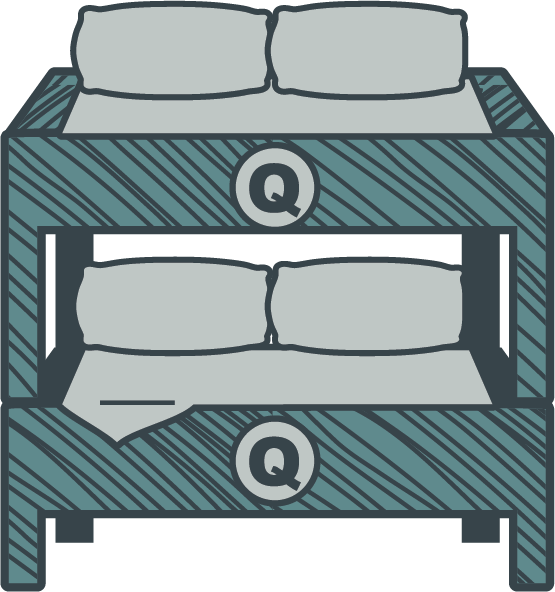 Queen Bunk
Sleeps 4
Great Room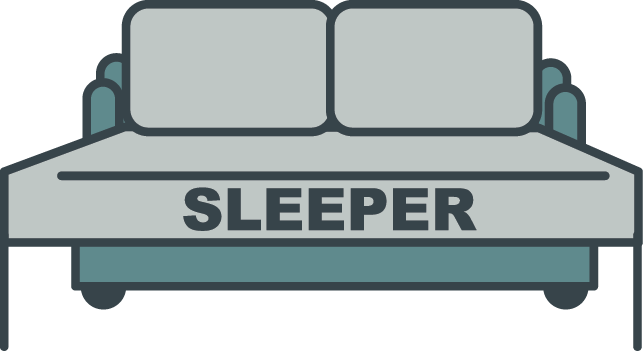 Queen Sleeper
Sleeps 2
Full Description
Arguably the best 3 bedroom cabin view in the resort, this Gatlinburg cabin is elevated and located at the end of a quiet road giving you that in the National Park feeling.

With a floor to ceiling wall of glass in the great room you can feel outdoors while relaxing on the leather furniture in the great room while enjoying a fire in the gas stacked stone fireplace. Grill a steak on the stainless steel gas grill or enjoy the hot tub outdoors. 4 rocking chairs complete this outdoor experience.

An open living room and game room creates the benefits of playing pool or air hockey while being part of entertainment, food, and drink. The upgraded kitchen and dining room adjoin the great room with seating for 8 plus the breakfast bar. The kitchen is fully stocked so you can stay in and cook your own meals. There is a full utility room with side by side washer and dryer for your convenience.

The master fantasy suite includes a rustic aspen log bed with upgraded king mattress and bedding. Enjoy the heart shaped jacuzzi tub in the master - a great way to finish a day of hiking in the mountains. A full private bath with double sinks and stand up shower finish off the master suite.

Head upstairs and experience your own private home theater room with 9 foot theater screen, surround sound and reclining leather theater seating. A bunk room with queen over queen bunk beds and private bath is great for kids and can accommodate adults comfortably.

Walk past the theater room and a 2nd master suite with in room jacuzzi tub and private bath await. You will enjoy a great nights sleep on the upgraded king sized mattress and bedding and will have plenty of room to spread out in this large master suite.

If The View is available, book it! You will be in for treat as it's one of our most popular cabins!
Home Theater Room with 9 Foot Screen
Surround Sound
Leather Reclining Theater Seating
Mountain Views
Hot Tub
Pool Table
Air Hockey
Arcade Legends Stand Up Gaming Arcade System with Golden Tee and classics (110 games)
Free High Speed Wireless Internet
2 Master Suites with King Beds
2 Jacuzzi Tubs
Queen over Queen Bunk Beds
4 Rocking Chairs
5 TV's
4 DVD Players
Washer/Dryer
Gas Grill
8 Minutes to Downtown
20 Minutes to Dollywood
Private Resort Setting

Calendar
Click your dates below to check in and check out
Available
Check In Only
Check Out Only
Selected
Unavailable
Photo Gallery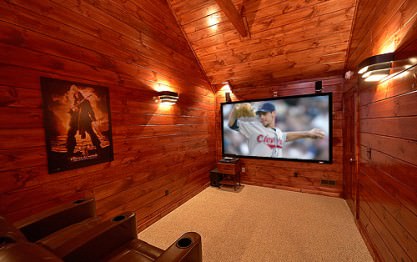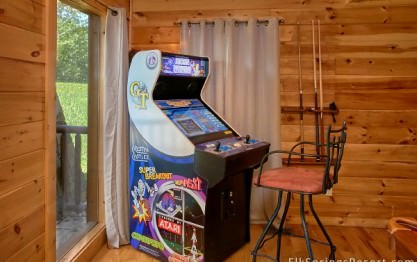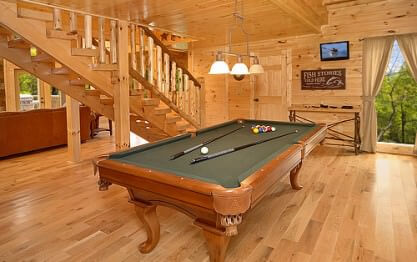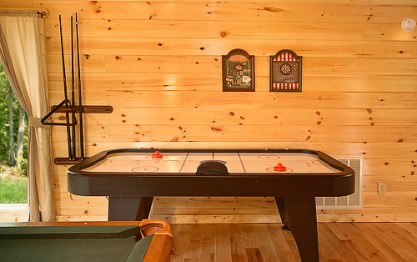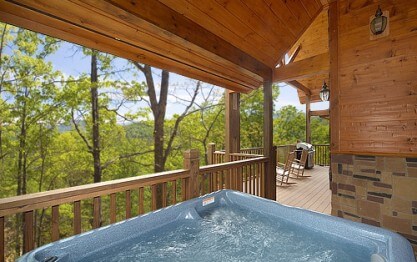 See All Photos
Reviews
Carlotta

Opelika, AL

"The View is Outstanding!"

This was our third visit to the View, and as always, we loved it!

Manager Response:

We are so happy you decided to stay with us again! We hope that you continue to stay with Elk Springs Resort and enjoy our beautiful Smoky Mountains! Thanks so much for the wonderful review and please come again!!

Carole

Little Rock, AR

"Perfect Honeymoon at The View"

Thank you, Elk Springs Resort! This was our second stay in The View and it couldn't have been better. The perfect place to celebrate our honeymoon. The cabin is beautiful and comfortable. We noticed s

…

everal upgrades since our last visit and, as always, the cabin was spotless and service impeccable. We plan to return to Gatlinburg year after year and wouldn't dream of staying any place else! Thank you, until next time...

+ Read More

Manager Response:

Thank you so much Carole for your review! We are so happy you chose to stay with us for your Honeymoon! We hope that you will start a tradition and stay with us for your future Anniversaries!

Eric K.

Beavercreek, OH

"THE VIEW ......A+"

Our stay at the view was amazing! ! Gorgeous place , and we will be back !!

Manager Response:

Thank you for sharing your wonderful experience with us, Eric! We love to hear that your stay was exceptional. We hope you will make plans to come back and stay with us often. Please keep in mind, as a returning guest you will enjoy 10% off all future stays. We hope to see you soon!

Jessica L.

Youngsville, LA

"2016 Family Vacation"

We absolutely LOVED staying in The View. It was perfect in every way. Extremely clean, well equipped with everything we needed, and much more beautiful in person. The location was great. Our favorite

…

part of our vacation was sitting on the porch everyday, the views were wonderful. We would definitely rent this cabin again in a heart beat! Any minor issues (cable went out due to the weather etc.) were handled asap, the management company was wonderful at helping out.

+ Read More

Manager Response:

Thank you for your kind review, Jessica! We are happy to hear you and your family enjoyed your stay with us. It sounds like you have found your perfect cabin! We are always happy to assist you. As you saw first hand, our guests are our top priority. We provide 24/7 guest assistance to ensure you are taken care of during your stay. We love our guests! We hope you will make plans to come back and see us again!

Pete T.

North Charleston, SC

"Paradise for families with kids!"

We stayed for 5 days and absolutely loved it. Easy access to the park and downtown. Well equipped kitchen. No negatives!

Manager Response:

Thank you for allowing us to be a part of such a wonderful family vacation. We believe in providing a luxury cabin that will make you feel at home from the moment you walk through the door. We hope you will take the opportunity to come back and visit with us as often as you can.

Christopher W.

Commercial Point, OH

"Spring break in Gatlinburg"

Very nice cabin in great location - close to attractions, but peaceful and quiet woodsy setting.

Manager Response:

Spring Break is almost here again! We hope that you can return to stay with us again! Thank you for your amazing review on your last stay! Give us a call if you haven't booked your next stay!

Diane J.

The Woodlands, TX

"SECOND VISIT"

this time we had three adults and three kids...great place, great location, had everything we needed (if you are staying longer than 2 days, you will need to restock on the little things). this is not

…

a hotel, so no shampoo or hairdryers.
i highly recommend Elk Springs, and have mentioned it to several friends.

+ Read More

Manager Response:

Thanks so much for your review! We greatly appreciate you recommending us to your friends! Word of mouth is the best advertisement. We hope that you are planning to visit again in 2017!

Amanda F.

Nashville, TN

"Amazing Views!"

Check in and check out were super easy! The cabin was gorgeous! Our family of eight stayed very comfortably! The kids had plenty to keep them busy right in the cabin. Downtown Gatlinburg and Pigeon Fo

…

rge didn't take too long to get to. I absolutely loved this trip. Everyone at Elk Springs Resort was super nice and very helpful. My family will definitely be staying with them from now on!

+ Read More

Manager Response:

Thanks so much for your review! We appreciate your business and hope that you have already booked to stay with us again! If not, give us a call! We look forward to hearing from you!

Jeffrey M.

Franklin, TN

"The View - Elk Springs Lodge"

Had a wonderful stay! The cabin was as advertised - clean, spacious, well equipped. Had one minor maintenance issue - and staff came within 30 minutes to resolve.

Manager Response:

Thank you for your review! Its been almost a year since you stayed at The View! We hope that you will come stay again!

Jessica W.

Matewan, WV

"My wonderful stay"

It was a great cabin . Very relaxing and love the location. The kids loved it as well !!

Manager Response:

Thank you for sharing your 5-star experience with us, Jessica. Our cabins offer some great amenities to be enjoyed by the whole family. While mom and dad relax, the kids can enjoy the theater room or play some video games. So much fun for the whole family! We hope you are already considering another stay with us. Our repeat guests receive a 10% discount on their next booking, so be sure to take advantage of this soon!

Casandra

Fairhope, AL

"The View was awesome!!"

We greatly enjoyed The View for our vacation! We had an awesome time, despite the rainy weather! The cabin was exactly what we were expecting, if not more! The pictures did not lie!! It was clean, bea

…

utiful & had everything we needed to have a home away from home experience!! We also loved the location!! Everything we wanted to do was only a few minutes drive away, including the National Park!! We will definitely be coming back to stay at an Elk Springs cabin again!!! Can't wait for our next trip to the Smoky Mountains!!!

+ Read More

Manager Response:

Thank you for your business! We hope you will continue to enjoy Elk Springs Resort's cabins for many years to come! We are running a great Groupon promotion right now. Feel free to check it out and book your 2017 vacation with us!

Michael P.

Bluefield, VA

Hugo F.

Lima, Lima

"Beautiful cabin!"

We stayed 3 days at the View Cabin, it was more than we expected, the cabin was so beautiful, full of amenities. The view was wonderful, we stayed for the fall foliage. It was minutes away from downto

…

wn. The cabin had all we needed (except a hair dryer). We were very happy with this experience.

+ Read More

Andrew

Gallatin, TN

"Cozy and Entertaining"

This is our 4th time to stay in an Elk Springs cabin. Every time we get the same high quality cabin, loads of amenities, great customer service, and perfect location/views. This cabin was no different

…

and probably our favorite thus far. It's name "The View" speaks for itself with breathtaking views. The cabin was full of fun that kept our kids (and adults) playing games together the whole time. The layout was great and was perfect (our 3 boys loved the giant bunk beds). My husband and I enjoy running which is another reason we stay at Elk Springs. There's a hilly but safe loop where we can run/walk. Great cabin!!

+ Read More

Manager Response:

Thank you for the wonderful review and sharing your experience with us once again! We love our repeat guests, as it shows us that we continue to do our job in providing nothing but the best for you to enjoy! The resort is a beautiful and peaceful property where you can feel completely safe during your stay or while you are out for a run. We appreciate your continued business and look forward to providing you with many more years of happy memories!

Heather

Buckhannon, WV

"Loved it"

Very clean and quiet....had a nice vacation

Manager Response:

Thank you for your review Heather! We are pleased that you were able to enjoy a nice vacation in one of our luxury cabins at Elk Springs Resort. Repeat guests receive 10% discounts on your next booking. We hope you will consider a future stay with us!

Kenneth

Murray, KY

"awesome stay"

Everything was perfect

Manager Response:

Thank you for the great review Kenneth. We are pleased to hear that everything was perfect with your stay. We hope you are already considering a future stay with us.

Lawanda

Louisville, KY

"Best cabin so far out of my 15 visits! "

Everything was amazing!! We absolutely loved it! The pictures do no justice for how nice it really is on the inside!

Harsha

Aurora, IL

"Great vacation rental"

Really enjoyed the rental home, will go back for sure

Lisa U.

Grosse Pointe Farms, MI

"Wonderful vacation"

We have a family of five and every one of us loved The View! It exceeded our expectations! It was clean, spacious and in the perfect location! Have already recommended to others! We look forward to visiting again soon!

Philip J.

New Albany, IN

"Time away from reality"

The cabin was laid out nicely. The staff was very attentive to our needs. We had one small issue and they were quick to resolve. The cabin was clean. Although we were away from town it was also a sho

…

rt drive to Gatlinburg. There is a grocery store restaurants and nightlife close by.

+ Read More

Alicia T.

Orlando, Fl

"Totally Awesome!"

We really enjoyed the cabin, and out time in Gatlinburg. Most of all the staff was great. Very accommodating and pleasant. The cabin is exactly like the pictures. Very clean and neat.

Jenn

Gallatin, TN

"Wonderful Cabin"

This cabin was great! The customer service was outstanding, from reserving to checking in/out, very easy process! The cabin was spotless. The property description was accurate and the location was

…

great, not too far from anything.
It was very woodsy and you could see the mountains, but there are a lot of trees so not a full view of the mountains, but it was beautiful! There were other cabins next to this one, but you still had privacy on the deck! Everything was great! I would definitely stay here again!

+ Read More

Mary Ann

Egg Harbor Township, New Jersey

"Family Vacation at "The View""

"The View" is a great cabin! Looked exactly like the online pictures. Very clean and only one minor maintenance issue, which was handled quickly and professionally. Our party consisted of three coup

…

les and we made use of the hot tub, video games and the loved the theater room! Easy to get to Downtown Gatlinburg, Pigeon Forge and GSM National Park. Had to make two trips into Sevierville to WalMart - and that was a bit of a ride - about 25 minutes. We loved the GSM National Park and are planning a return trip in a few years during the fall season! We will definitely stay at Elk Springs again - and "The View" if we need a three bedroom!

+ Read More

Teresa M.

Schererville, Indiana

"restful, beautiful"

We enjoyed the clean, quiet cabin with great views. We had some issues with the
Televisions and theater room connections, but my teenage son was able to correct most of those.

Sarah

Dorchester, Ontario

"The View"

The cabins and grounds were clean and peaceful. Cabin was gorgeous and very relaxing. We had 2 people come in to fix things and they were very professional. The only thing I wish you had at the resort

…

was a recycling program. We felt really bad putting all if our recyclables in the garbage. Even if there was a central spot by the entrance to the resort to drop off recyclables that would be great. Overall a fantastic experience and we will definitely be back again!

+ Read More

Carla G.

Lima, OH

"Wish we could have stayed longer!"

The "View" was absolutely perfect for my families Mother's Day weekend getaway! We had a wonderful time! Loved the hot tub, pool table, air hockey and just grilling out and hanging out on the deck! Ca

…

n't wait to return as we plan on making this a family tradition!

+ Read More

Margaret G.

Amherst, NY

"Best Vacation Ever"

You couldn't ask for more. Our entire family - ages 12 to 60 - had a wonderful time. The setting was beautiful and the accommodations were spectacular. We can't wait to go back. It was truly perfect in every way!

Maria

Ocala, Florida

"Great stay at Elk Springs"

The View was a great place to stay. The place was picture perfect, the cabin was very clean and had every thing we needed to make our vacation at Gatlinburg comfortable and memorable. Our family had a

…

great time. My kids keep on asking me when are we going back to the cabin??? They actually want to stay there for good.

+ Read More

Pam P.

Glen Ellyn, IL

"Awesome Cabin!"

kids had a blast - the air hockey and theater room were particular favorites. cabin was very clean and had everything we needed. we would definitely stay here again.

Paulette A. J.

Cumming, GA

"Fantastic Stay!"

We could not get into our cabin when we arrived because the code did not work. We were called back within ten minutes and the lock was re-set. Besides that first little glitch our stay was wonderful

…

. The cabin is gorgeous, the pictures online do not do it justice. We'd love to come back and stay longer next time!

+ Read More

Thomastrius W.

Duluth, GA

"The View Did Not Disappoint"

We stayed at The View with 3 adults and 3 children comfortably. The kids loved the king size bunk beds. The movie room was a hit. The beds in the master bedroom were nice and comfy. The hot tub wa

…

s already hot when we arrived. Very clean and well maintained. We will definitely be back.

+ Read More

Michael S.

Bradenton, FL

"Great Family Vacation"

We are from Florida and wanted to show our kids a great time in the mountains as most of them are Florida born. From the moment we pulled up to the cabins the kids were in awe. All the amenities locat

…

ed within provided us with that quality time we were hoping to get. By the end of our stay neither my wife or I wanted to leave. Between the comfortable bed, fireplace, jacuzzi, and great atmosphere we were I'm that place away from work and the hustle of raising 5 kids. It was great and I would recommend again and again.

+ Read More

Joao

Gainesville, FL

"Gorgeous Cabin! "

My family and I had an incredible time at "The View" at Elk Springs Resort. The cabin was absolutely gorgeous and exactly what we were looking for! The kitchen was very well equipped and to my surpris

…

e, the bunk beds fit 4 people comfortably! The movie room was a real treat and the location was amazing.

+ Read More

Tabitha T.

Northport, AL

"The View"

Wonderful view of the mountains, yet still wooded and private. Very cozy and felt like home! We had a hard time wanting to leave!

Christine

Howey In The Hills, Fl

"A Slice of Heaven "

We enjoyed a wonderful time in the Smoky Mountains.

Amy

Noblesville, IN

"The View kept our whole family entertained"

This cabin had everything we needed to make our vacation memorable and fun! We loved that the pool and air hockey tables were on the main floor with the kitchen and living room. The hot tub was right

…

off this level too. We also enjoyed taking in a movie in the home theatre's big comfy recliners every night before bed. The location was just the right distance away from downtown Gatlinburg. We can't wait to do it again next year!!

+ Read More

David

Wilmington, NC

"Great Cabin"

We were very pleased with the condition and quality of this home. It is gorgeous and clean. Great layout. Highly recommend!

Muralibhara

Farmington, MI

"Awesome getaway!"

Very nice and clean cabins with all amenities. Kids too had lot of fun. We are planning to stay again there.

Rachel H.

Dwight, IL

"Tennesee vacation"

Absolutely loved our vacation in your cabins!

The one think I would suggest is a map of all your cabins at Elk Springs. We had 4 cabins with our family there and it was a little confusing at firs

…

t. Also if we could have access somewhere to a swimming pool would have helped so much with the little ones. But overall yes very nice cabins.


+ Read More

George C.

Hialeah, FL

"Unforgettable experience "

The cabin was so beautiful we felt like we had no need to leave the cabin, it has so much to do, the jacuzzi, pool table, the theater and BBq were so much fun! The location was perfect and convenient!

…

And the view was breath taken, I totally recommend it, everyone needs to experience the beauty of this resort !

+ Read More

Debby L.

Silex, MO

"4 Girls with Papa and Nana"

We came with our 4 granddaughters ages 11-4 and they had the time of their lives at the cabin. We would go to Gatlinburg to do some fun things but the next thing out of their mouths was "Can we go ba

…

ck to the cabin now?"
I was very pleased with everything and so glad the girls had that much fun.

+ Read More

Jennifer D.

Akron, OH

"The View"

Cabin was AMAZING and very clean! We had a hard time finding it once we got there even with the directions provided for us. It would have been absolutely perfect if there were no neighbors.

Kevin M.

Farnborough, Hampshire

"The View at Elk Springs Resort"

A fantastic hassle free vacation with no problems. Thanks very much for a great experience in/near the Smokies.

Leah

Howell, MI

"Great!!!! We'll be back!!!!"

Every person I talked to was incredibly helpful throughout the whole process. The cabin was GORGEOUS! The people we were with all wanted to stay an extra night!!

Dusty R.

Flowood, MS

Tara L.

Richmond, KY

"Great place"

Really enjoyed stay... Nice cabin in a good location with convenient check in process

Clinton A.

Atlanta, GA

"Everyone had a great time"

Everything was just as described; modern, clean and in good working order. Maintenance took care of the two small concerns right away (pilot light out in fireplace and DVD player not working). Loved

…

the hot-tub, the deck, the beds, the pool table and air hockey. Our group consisted of three couples and a single, which was about the right-size for this cabin. One bedroom has an oversized bunk bed that could sleep four if those people doesn't mind sharing. The other two bedrooms have king(?) sized beds. We didn't check to see if living room couches were sleeper sofas. I hope we get to come back soon.

+ Read More

Shauna M.

Lynn Haven, FL

"We had a wonderful time at The View with our family."

Wonderful!!!!

Ted M.

Dalton, GA

"Nice place- very clean"

Good time highly recommend

Sharon H.

Mount Airy, NC

"Fall Trip"

This was the third year we have stayed at "The View". We are always excited to get there and so sad when we have to leave. This very clean cabin and great staff to work with will keep us coming back year after year!

Manager Response:

Thanks again for the review. Remember, our return customers receive a 10% discount!
Load More Reviews