Amenities:
Full Kitchen
Gas Grill
Hot Tub
Iron / Ironing Board
Parking
Pet Friendly
Washer/Dryer
WIFI
Your "dreams" can only get "sweeter" after spending a few nights at Elk Springs Resort in our largest two bedroom cabin, Sweet Dreams! This pet friendly cabin offers great elbow room with two levels of living space ? plenty of room to spread out and luxurious space to return to after a full day on the Parkway! Lush valley views, rocking chairs on the decks and beautiful sunset evenings take you away from it all into a peace and quiet zone you have been anticipating for quite some time.
Cabin Bedrooms Layout
Master Suite 1

King Bed
Sleeps 2
Master Suite 2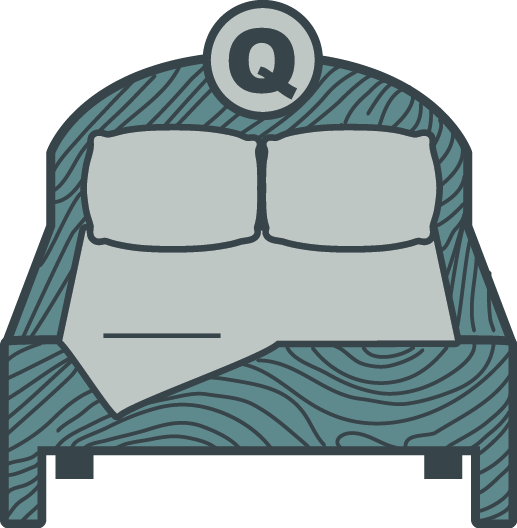 Queen Bed
Sleeps 2
Great Room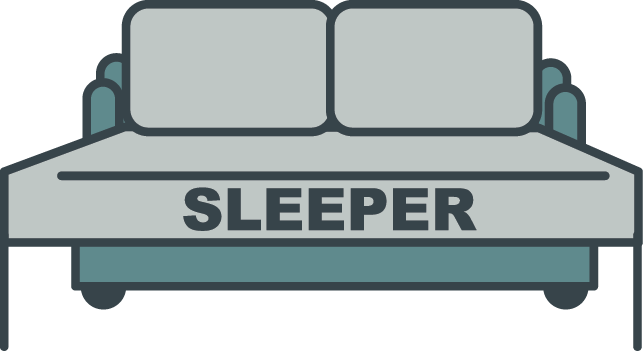 Queen Sleeper
Sleeps 2
Game Room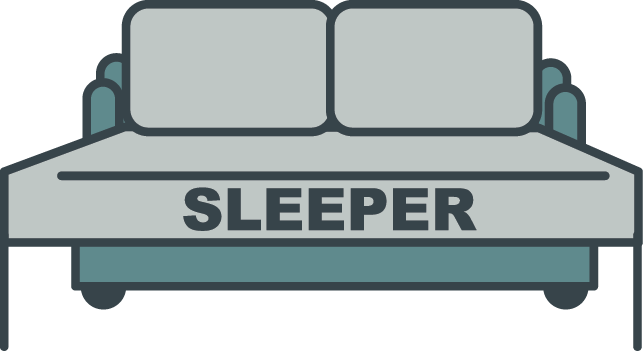 Queen Sleeper
Sleeps 2
Full Description
The main floor features vaulted ceilings, leather furnishings created for your comfort and a beautiful fireplace. You can relax on the leather sofa and enjoy over 90 channels of digital TV or watch a DVD. The large fully stocked kitchen with stainless steel appliances and hand made cedar breakfast bar share the open floor plan with the living room. The adjoining dining room includes a round traditional dining table and 4 comfortable chairs for a leisurely dinner, or if you prefer, the breakfast bar provides additional seating at meal time. Take a look at the side deck off the kitchen ? your gas stainless steel grill is very conveniently located for the cook ? get ready to ring the dinner bell!

There is a first floor king master suite featuring double sinks and a tub/shower combo. In addition, the living room couch converts to a queen sleeper sofa.

All of the action is located on the lower level! The game room offers both a pool table and foosball table for double the fun! And, don't forget that hot tub waiting for you on the lower level covered deck.

The second master suite features a log queen bed with a tub/shower combination bath. A sitting area converts to a second sleeper sofa also for unexpected guests!

A washer/dryer and free wireless WIFI are provided for your convenience.
Pet Friendly
Hot Tub
Pool Table
Foosball Table
42" TV in Great Room
FREE High Speed Wireless Internet
1 King Suite
1 Queen Suite
Fireplace
2 Rocking Chairs
4 TV's
3 DVD Players
Washer/Dryer
Gas Grill
8 Minutes to Downtown Gatlinburg
15 Minutes to Dollywood
2 Minutes to the Arts and Crafts Community
Calendar
Click your dates below to check in and check out
Available
Check In Only
Check Out Only
Selected
Unavailable
Photo Gallery
See All Photos
Reviews
Jeremy M.

Birmingham, AL

"Anniversary Weekend"

We were visiting for the weekend to celebrate our anniversary. It was a wonderful experience. The cabins are less than half an hour from everything downtown. There were plenty of restaurants nearby an

…

d the grocery store less than ten minutes up the road for when we wanted to cook in the cabin. Everything was neat and clean, easy to use and checking in and out was painless. We'll definitely be back!

+ Read More

Manager Response:

Thank you for allowing us to be a part of such a wonderful celebration, Jeremy! Congratulations! We love to hear your stay with us was exceptional. We hope you will consider making Elk Springs Resort part of your anniversary plans for many years to come!

Sandra G.

Boynton Beach, FL

"Sweet Dreams Cabin"

Our cabin was a 2 bedroom and pet friendly cabin. We had a great 5 days here with our dog. The cabin was very spacious and comfortable. The cabin was clean and was in a great location. The kitchen eve

…

n had a waffle maker, which we used 3 out of the 5 days that we were in the cabin. Customer service was very pleasant and helpful. We are definitely going to stay at Elk Springs Resort again!

+ Read More

Manager Response:

Thank you for your 5-Star review, Sandra! We were delighted to have you as our guest. We hope you will consider making Elk Springs Resort part of a new tradition when visiting Gatlinburg. We offer a great selection of cabins to choose from to ensure each visit is truly magical. Hurry back, your next adventure awaits!

Ginger B.

Jamestown, IN

"Sweet Dreams was excellent"

We love the layout of Sweet Dreams and the ease of access to Gatlinburg, Pigeon Forge and the Smokey Mountains We have stayed there three times

Manager Response:

Thank you for choosing Elk Springs Resort, Ginger. We are delighted to hear you have found your perfect cabin. We certainly agree, Sweet Dreams provides the perfect location to enjoy all that our area has to offer. We enjoyed having you as our guest and hope you will make plans to come back and see us often. Hurry back, new memories are waiting to be made!

Kyra W.

Southfield, MI

"Wonderful Place"

This cabin was more than what I expected. The pictures gave a true sense of what to expect, but it was even better in person. I read many reviews about the place being hard to find, but if you follow

…

the instructions provided by the resort you will have absolutely no problem finding this place. I highly recommend staying at Elk Springs Resort/Cabins. Location also give you the feel of living in the woods, but it's close enough to city life for you to enjoy all the sights and sounds of Gatlinburg, TN.

+ Read More

Manager Response:

Thank you for your kind review, Kyra! We are happy to hear Sweet Dreams exceeded your expectations. We certainly agree, this cabin offers the ideal location. It provides close proximity to town, yet, it's just far enough from the hustle and bustle to make you feel like you are a million miles away. We hope you will make plans to come back and visit with us again often. We hope to see you soon!

Shona

Sykesville, MD

"Sweet Dreams ARE made of this"

Gorgeous trip, location, cabin!!! 5 Adults, 3 kids, and 2 dogs and plenty of room. Cannot wait to come back and stay at the resort again. The area is picturesque and the cabin was spotless.

Julie

Mt. Sterling, KY

"Sweet Dreams Cabin"

Very nice cabin! Most importantly it was very clean!

Manager Response:

Thank you for responding! We are happy to hear you enjoyed your visit with us. We are dedicated to providing you exceptional cabins to enjoy. We hope you will make plans to come back and see us again soon.

Jennifer V.

Swansea, IL

"Sweet dreams cabin"

Wonderful cabin-- exactly like the pictures.
Will recommend and return! Thanks for a great time!

Karel

Miami, FL

"Great . My kids wwere amazed with the place. Beautiful! "

Simple, eaay and great

Marlene G.

Fairview Heights, IL

"Peaceful Retreat"

The cabin was gorgeous! We were extremely pleasantly surprised to find that our cabin had been decorated for the holidays! Colorful lights to greet us on the front porch and TWO Christmas trees, one s

…

mall tree on the main floor and a bigger one in the basement/game room!

The only thing we didn't enjoy were the rock hard, lumpy, oh so uncomfortable beds. The owners may want to consider replacing the older beds with newer more comfortable ones.

+ Read More

Mary Ann

,

"Wonderful stay at Sweet Dreams Cabin"

My boyfriend and I had a great time. The cabin was clean and equipped with everything we needed. It's in a great location. Convenient to Gatlinburg and Pigeon Forge. Or if you want to stay in and enjo

…

y the surroundings, also great for that too. We took our little dog with us and the cabin already had a kennel for him to stay in!! Would go back anytime!

+ Read More

Tracy J.

Riverview, MI

"Sweet Dreams"

Lovely long weekend in the Smokies. Cabin was beautiful and clean. Check in and out were smooth. Would definitely stay again!!

Manager Response:

Thank you for the 5 star review Tracy! We are so pleased that everything was perfect with your cabin vacation experience! We would love to have you back again.

Betty

Houlka, Ms

"Great stay at Sweet Dreams"

The cabin was very clean along with the resort area. The directions were very clear and check in was great with the keyless entry. I would recommend this cabin.

Manager Response:

We are pleased that your cabin rental experience was everything you expected. Please recommend Elk Springs Resorts to all of your friends and come back and see us real soon!

Judy L.

Cleveland, OH

"A PERFECT VACATION GET-AWAY"

We spent a delightful four nights and three days at Sweet Dreams. It's a very lovely and comfortable cabin. The setting is perfect - very private and safe, but very close to the national park, the a

…

rts and crafts community, and Gatlinburg. The rental staff was extremely pleasant and helpful. We had a great time.

+ Read More

Manager Response:

Thank you Judy! We pride ourselves in our excellent customer service and cabin cleanliness and your review lets us know that our efforts haven't gone unnoticed! We hope you consider being a repeat guest with us and take advantage of a 10% discount on your next booking.

Brenda B.

Pooler, GA

"Great Summer Vacation!!!"

We LOVED our stay! Amenities were great, cabin was clean and more than enough room for 8. Close to all of the activities as well. The staff was more than attentive and we will go back in a heartbeat. Overall excellent experience.

Manager Response:

A 5-star rating let's us know that we continue to provide excellent customer service and clean and well-maintained cabins for our guests. Thank you for choosing Elk Springs Resort. We are pleased that you loved your stay!

Chia L.

St Augustine, FL

"Awesome Cabin!"

Clean and well decorated cabins. Hot tub, pool table and foosball table is a plus! Enjoyed it very much!

Jodi K.

Iowa City, IA

"Sweet Dreams "

The cabin was wonderful and looked just like the pictures. We enjoyed our stay very much. The cabin was decorated nicely. The cabin is very spacious. They had a small bottle of dish soap, soap for

…

one load in the dishwasher and a fully stocked kitchen as far as the essentials. They even had some Tupperware containers for leftovers. The staff had everything set up fancy with their folding towels so it was fun to see. As far as our stay it was so much fun! We loved the hot tub and pool table! We also felt very secure staying in an unfamiliar area with children. The bedrooms are on two different floors but the cabin is on a brick foundations with stilts so the basement is not at ground entrance level.

+ Read More

Shannon M.

Winchester, TN

"Spacious cabin"

we loved staying in this cabin

Chakeria

Antioch, TN

"Sweet dreams"

I will definitely be returning maybe trying a new cabin.

Alba

Pinehurst, NC

"Winter Vacation"

Our stay was very pleasant! Cabin looked just as advertised. We weren't sure how secluded it was, and it turns out we were pretty close to other cabins, but for the price and distance to downtown Ga

…

tlinburg and Great Smoky Mountains, it was well worthed. Inside amenities of the cabin were all in great condition, nicely furnished and clean. Definitely recommend it for others.

+ Read More

Nanette

Rushville, IN

"A guest from Rushville, IN"

LOVED the Cabin, as it was very clean, up to date and we loved being in the Arts and Crafts area.

I do wish it had a better view and it's not totally secluded as the two cabins next to it were d

…

efinitely a little too close. I don't really want my neighbors to see me in the hot tub...or watching my every move. I really looked forward to a mountain view, but did not have one. We did drive around the complex and saw some cabins that had views of the mountains and some were further apart for a little more privacy. I would definitely stay there again, but will probably call and ask questions before booking to make sure there is a view, because having coffee on the back porch in the mornings is the relaxing time I was looking for. A view would make it even better. It was not too far to Gatlinburg, but far enough for quiet serenity. Hot tub was awesome in the evening to relax in before bed. We had a great vacation here and would stay in these cabins again. I was looking for relaxation, quiet time and a break from work and I got every bit of that here. We got calls several days checking up on us to see if we needed anything. We did the scenic view loop in the mountains, the aquarium and ate at Bubba Gump's one day and they were all wonderful. Most of our meals, we ate at the cabin, grilling out on the porch etc. We were there during the fall when the trees were just beautifully colored. I would recommend these cabins to friends and relatives for sure.

+ Read More

Curtis O.

Grovetown, GA

"Great place to stay"

My family had a great time at the cabin, would surely visit with them again in the future. Would easily recommend the resort to friends and family. Cabin was clean and staff was helpful during our stay. Location was great and easy to find.

Ginger

Jamestown, IN

"Excellent location"

This is our fifth stay with Elk Springs and our second at Sweet Dreams. We love the location and the cabin is clean and beautiful

Tanya

Homewood, IL

"Peaceful Retreat"

Loved our cabin! So clean and comfortable. Peaceful scenery. True to website description. Great location. Close driving distance to downtown Gatlinburg and Pigeon Forge. Drove to Cades Cove Smoky Moun

…

tain National park for hiking. Will have to plan a longer visit next time for ziplines, tubing and shopping as well as eating in Pigeon Forge at Hard Rock Cafe; Joe's Crab Shack and go to the Hatfield & McCoy dinner show :) Very convenient check in and check out process. Look forward to going back with family and friends!

+ Read More

Leshonda W.

Memphis, TN

"My experience at Elk Springs Resort"

It was great, next time I will bring the whole family.

Naveen K.

Baton Rouge, LA

"Good Place to Stay"

Cabin was very good, maintained neatly,very close to downtown.

George

Alpharetta, GA

"A Weekend at Dollywood"

We had wonderful weekend with our son and his family. Our grandchildren loved the log home - a totally new experience for them. The inside was gorgeous and the neighborhood was an enjoyable walk. I w

…

ould and have recommended Elk Springs Resort to family and friends.

+ Read More

Kevin H.

Cincinnati, Ohio

"Sweet Dreams"

The cabin was just as described. It was a perfect location for both Gatlinburg and Pidgeon Forge.

Alex P.

Lebanon, KY

"Absolutely wonderful!"

The cabin was clean, located close to Gatlinburg, and the staff were very friendly and helpful!

Ashvin P.

Bloomington, IL

"Vacation in smokies"

Best vacation with kids

Anglea B.

Cross Lanes, WV

"Sweet Dreams"

Sweet Dreams was a beautiful cabin. Even though the cabins are close together there is still just enough privacy. Very clean and well maintained. And the gentleman I booked with was awesome, very help

…

ful. A truly overall great experience. Easy reservation process, easy check in and out. And the location of the Resort is perfect. Not to far from town or too close. We will be back and definitely recommend Elk Springs to everyone. Thank you for helping to make our daughters birthday trip enjoyable.

+ Read More

John

Spring Hill, TN

"Fantastic Getaway"

Thoroughly enjoyed our 2-story cabin in Gatlinburg. A billiard table and a foosball table downstairs (basement) with a walkout porch and outdoor jacuzzi. Good privacy. Hardwood floors throughout.

…

Nicely furnished with free wifi and cable television. Kids did not want to leave. Also only 20 minutes to Dollywood on the backroads. Great experience!

+ Read More

Roy B.

Hollywood, FL

"Family Vacation"

Returned for the second time but longer this time. We had a total of three Cabins for the family, all cabins were great and a great time was had by all. We cooked every night due to the number of fami

…

ly members, the kids stayed active and one night went to the community center for around of bowling and some basketball. Just like the first time we had a blast and will be returning soon.

+ Read More

David

Gettysburg, PA

"Weekend away"

We only had two nights there, but it was a great place to stay. Cabins are very nice, very clean, well stocked. Location is far enough outside Gatlinburg to get away from it all, but very convenient and a short ride to get back into it.

Kevin

Nashville, TN

"Great family getaway!"

Great Family vacation! Very relaxing, clean, quiet and cozy. My preteen boys loved it and want to go back soon. So do the parents!


Valerie G.

Comstock Park, MI

"beautiful "

Everything in the cabin was high quality and we really appreciated all the kitchenware and other extras provided. I also loved the fact that we were basically in the arts and crafts community everyone was so nice. And the view is unparalleled.

Tracy

Greenville, SC

"Great get away "

Our cabin was charming. We had plenty if room, it was modern, clean and had lots of ways of entertain ourselves with the spa, pool table, fooze ball and wifi

We were close to Gaitlinburg....a hoot

…

and a half.....think Hillbilly meets Las Vegas minus the gambling :). We will be coming back to both Elks Springs and Gaitlinburg

+ Read More

Lisa

Mason, OH

"A great family get-away!"

We had a blast staying in the log cabin and enjoyed all the amendities. It was nice to be in the mountains but yet so close to all the activity. Kids loved it!

John L.

Tampa, FL

"Excellent vacation"

Brandi was very accommodating ! The resort and cabin were perfect! Wonderful time and experience for the family

Robin H.

Pittsboro, nc

"A lovely getaway..."

We thoroughly enjoyed our family weekend. The space was great for our family.

Amanda T.

Marietta, GA

"Fantastic place to stay"

The cabin was beautiful and very clean. There were nice touches throughout, towels folded as swans and lovely decorations. The staff was very pleasant and the check in/out process is super efficient. I highly recommend this resort.

Steven C.

Knoxville, Tn

"Sweet dreams in December"

Excellent cabin; easy rental process; good location

Susan L.

Hudson, OH

"Great holiday reunion"

Enjoyed a Thanksgiving family reunion. It was a great location and the facilities were great for everyone to spread out and relax. The house was very cozy and clean. Loved that it was decorated for

…

the holidays. From my first phone call with Martie to our stay, everything was very professional, informative and well done. Met all of our expectations!

+ Read More

Richard A.

Charlotte, NC

"Only 1 problem with our stay..."

It wasn't nearly long enough! We stayed a weekend and left wishing we were there for a week or more. Excellent cabin. Excellent location. Will definitely use Elk Springs again, just probably a bigger cabin with more people next time!!!

Justin S.

Cadillac, MI

"Beautiful Beautiful Beautiful"

Sweet Dreams and the whole Elk Springs Resort facilities are absolutely stunning, extremely clean, and in an awesome location. Only a few miles outside of Gatlinburg, tucked away in the foothills of

…

the Smokies, but still close enough to enjoy the sights in town.
I would recommend this resort to anyone and everyone, and we will definitely be returning.

+ Read More

Lindsey

Lexington, SC

"Great getaway"

Annivery trip. guiet, no phone, no kids, no work. Loved it need to do it more often.

Dennis W.

Birmingham, AL

"Wonderful Stay at Sweet Dreams!!!"

We stayed at the cabin for a week and had a wonderful time!! Everything was perfect (even the towels and washcloths were folded like elephants and we are huge Alabama Fans)!! We loved being able to

…

bring our little dog, Gracie. I think the key to being able to bring your dog with you is to treat the property with the same respect you do your home. And we certainly did. We will definitely be back.

+ Read More

Tammy

Riverside, OH

"Impressive"

We were very impressed with the cabin and amenities. We had 4 adults in our party and the cabin provided plenty of space for us. The location was perfect; not too far from the Gatlinburg attractions

…

yet not so close to feel smothered by all the activity. It was really nice to come back to the cabin in the evenings to a peaceful, quiet environment.

+ Read More

Ginger

Jamestown, IN

"Sweet Dreams close to Gatlinburg!"

We thoroughly enjoyed the cabin. We had our dogs with us and they lovedthe outside amenities. We did encounter some neighbors not picking up after their pets and hope these select few dont ruin it f

…

or responsible dog owners. We also brought my Dad and he had his own private living room, bedroom and bathroom to wind down each evening Real close to Gatlinburg and Smokey Mtn Park. We highly recommend it


+ Read More

Sheri O.

Norton Shores, MI

"Get Away"

This was just what my husband and I were looking for, very quite and out of the way. JUST PERFECT!

Jessica C.

Culver, IN

"3rd trip to Elk Springs"

Wonderful as always. We were happy we could bring our doggie w is on this vacation!!
Load More Reviews