Amenities:
Full Kitchen

Gas Grill

Hot Tub

Iron / Ironing Board

Parking

Sauna

Theater Room

Washer/Dryer

WIFI
Watch a movie in your own private home theater room with surround sound. Enjoy an evening relaxing on your rockers on the covered deck. Stretch out in one of the king master suites with jacuzzi tub and rain shower. Relax your muscles in the sauna room or while sitting in your hot tub. Or gather inside in the living room with vaulted ceilings and corner fireplace with flat screen TV. The 3 bedroom Summit Sanctuary cabin in Gatlinburg at Elk Springs Resort has so much to offer.
Cabin Bedrooms Layout
Master Suite 1

King Bed
Sleeps 2
Master Suite 2

King Bed
Sleeps 2
Bunk Room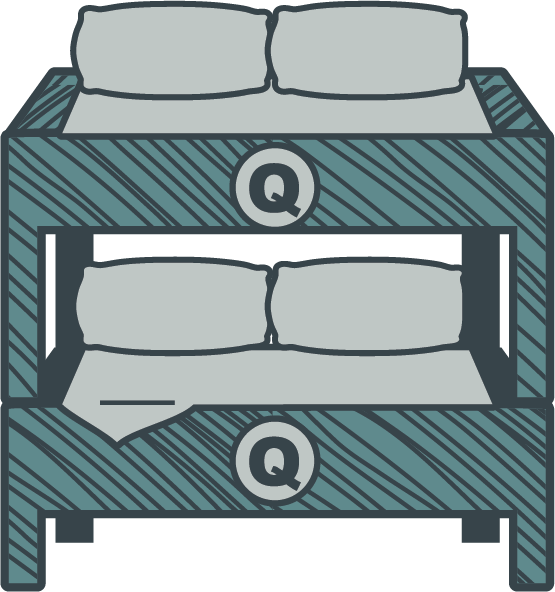 Queen Bunk
Sleeps 4
LL Sitting Area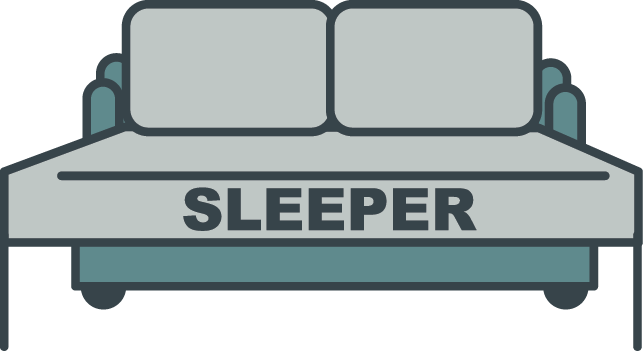 Queen Sleeper
Sleeps 2
Full Description
Access into the cabin is made easy with flat parking and a small grassy area at the entrance, and a ramp to enter right into the main level of the cabin (no steps). The master bedroom, located on the main level of this mountain sanctuary, features a king size bed, upgraded bedding, TV and DVD player, jacuzzi tub and rain shower.

The main level also includes a great room with 28 foot vaulted ceilings looking up into the loft area. In the great room of this Gatlinburg cabin rental you can enjoy sitting in front of the gas fireplace on the upgraded leather furniture. A flat screen TV with DVD player includes 90 channels of digital cable. The adjoining dining area with rustic cedar table and breakfast bar provide plenty of seating - all of which are surrounded by glass so you can enjoy the views of the outdoors. A full kitchen with upgraded cherry cabinetry, stainless steel appliances, dishwasher, microwave, blender, toaster and mixer as well as pots and pans and cookware to prepare in cabin meals. Just outside the dining room is a gas grill for your convenience.

Head upstairs to the loft and you will find a full size pool table as well as a private upper deck sitting area. A perfect spot to get away, enjoy the view and perhaps read a book or have some morning coffee. The upper level master king suite includes a private bath with jacuzzi tub and rain shower with plenty of room.

Head downstairs and thats where the fun begins. A central sitting area with sleeper sofa and flat screen TV is great for the kids. A home theater room with tiered theater seating for optimal viewing as well as a 9 foot theater screen with surround sound. Amazing! A full bath and bunk room with queen over queen bunks best suited for 4 kids, but comfortable for 2 adults is also on the lower level.

Finally, you own private sauna is also on the lower level.

A washer and dryer as well as FREE wifi is included.
Home Theater Room with 9 Foot Screen and Surround Sound
Hot Tub
Sauna
Pool Table
FREE High Speed Wireless Internet
2 King Suites
1 Queen over Queen Bunk Room
Gas Fireplace
4 Rocking Chairs
5 TV's
5 DVD Players
Washer/Dryer
Gas Grill
8 Minutes to Downtown Gatlinburg
Flat Parking
Ramp into Entry, no steps
Calendar
Click your dates below to check in and check out
Available
Check In Only
Check Out Only
Selected
Unavailable
Photo Gallery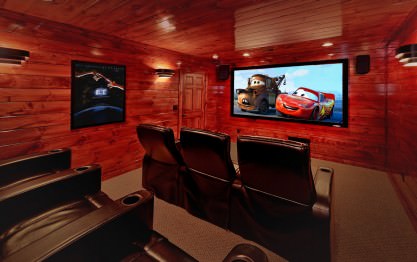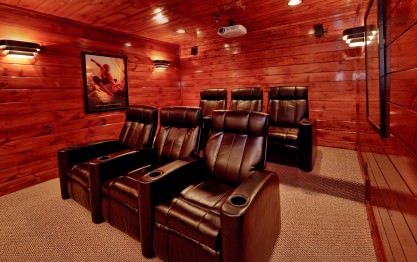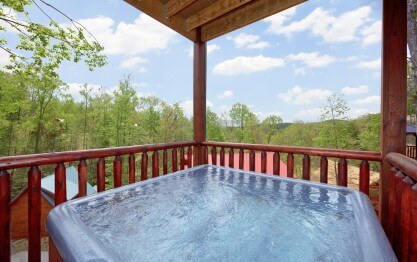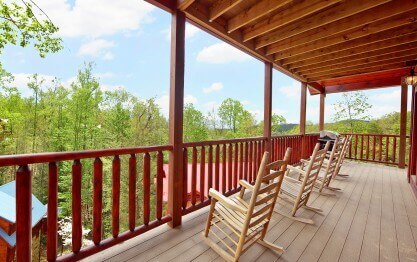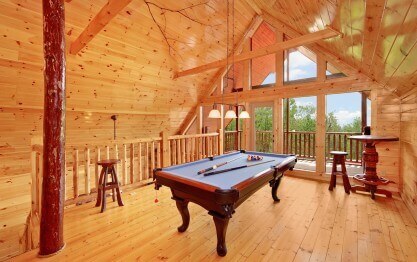 See All Photos
Reviews
Sara

Any city, NA

"Great time!"

We enjoyed all the space that this cabin offered. The movie room was great! The location is perfect for getting into the Smoky Mountain National Park and into downtown Gatlinburg. Beautiful views from all the decks too!

Manager Response:

Thank you for your wonderful review, Sara! We are delighted to hear your stay was exceptional. We enjoyed having you as our guest and hope you will consider staying with us again during your next visit to Gatlinburg.

Shelly

Durham, NC

"Delightful"

Great getaway with two families. cabin was lovely and we greatly enjoyed our stay. theatre was fun and the rainfall showers, hot tub and sauna were fantastic.

Manager Response:

Thank you for your kind words, Shelly! We are happy to hear you enjoyed your stay. We enjoyed having you as our guest and hope you will make plans to come back and stay with us again!

Lindsay M.

Mc Cordsville, IN

"Beautiful and relazing!"

This was as low stress as you can get for a vacation experience! Everything was convenient and exceeding expectations from the check in process to the beauty of the property!

Manager Response:

Thank you for sharing your wonderful cabin experience with us, Lindsay. We always enjoy hearing from our satisfied guests who enjoyed the 5-star experience we proudly offer. We hope you will come back to the Great Smoky Mountains soon for some more memory making!

Michael G.

Princeton, MN

"BEAUTIFUL!!!!"

Excellent accommodations.

Manager Response:

Your review is music to our ears, Michael! We love to hear how much you enjoyed your stay. It was an honor to have you as our guest, thank you. We hope you will make plans to come back and stay with us often. We hope to see you again soon!

Walter H.

Calera, AL

"Family Weekend"

Absolutely wonderful!!!!

Manager Response:

Thank you for allowing us to be a part of your family weekend, Walter. We hope many wonderful memories were made during your visit. We hope you will make plans to come back and stay with us often!

Tiarra

Toledo, OH

"Excellent "

The cabin was amazing everything in it was luxurious it was spacious and close to everything I would be staying here again.

Makaii C.

Montgomery, AL

"Totally Worth It"

Me and my family really enjoyed our stay at the Summit Sanctuary. It was very spacious and clean. My kids really enjoyed the pool table a lot. The location was great; it only took 10-15 min to get

…

to most attractions. I recommend these cabins for a family get away in the mountains.

+ Read More

Manager Response:

Thank you for your wonderful review, Makaii! We are excited to hear you enjoyed your stay with us. It sounds like great memories were made. We hope you will make plans to come back and stay with us again during your next to Gatlinburg. We hope to see you soon!

Darnell W.

New Orleans, LA

"Family and Fun"

Great place to stay!!! Nice vacation for the whole family !! Lots of space and many things to see and do .

Alesha

Indian Trail, NC

"Relaxing and fun Bachelorette weekend"

I had 10 ladies in my group and we stayed at the Summit Sanctuary. We LOVED the cabin, the hot tub, sauna, HUGE rooms and beds... Everything was clean, worked great, the kitchen was fully stocked with

…

all of the pots and things we needed. I was blown away at how nice this place is. Not to mention the location is perfect for getting to Gatlinburg or Pigeon Forge. I would recommend this to anyone, I definitely plan on going back.

+ Read More

Manager Response:

Thank you for allowing us to be a part of such a wonderful celebration, Alesha! We are happy to hear that Summit Sanctuary exceeded your expectations. We hope you will take the opportunity to come back and visit with us as often as you can. We hope to see you soon!

Kylie O.

Niles, MI

"I would give our stay at Elk Springs a 5 star! We will be coming "

Everything viewed in the pictures is very accurate. It was nice and clean when we arrived. We even got to get in our cabin early! We didn't do much because there was so much to do in the cabin. Fun for all ages!

Manager Response:

Thank you for your 5-Star review, Kylie! It sounds like great memories were made. Our goal is to provide you with a cabin that will offer the top-notch amenities you come to expect while staying with us, yet will make you feel at home from the moment you walk through the door. It sounds like we succeeded! We hope you will make plans to come back and visit with us often. Don't forget to mention that you are a returning guest to enjoy 10% off all future stays. Your next adventure awaits!

Liliana J.

Charlotte, NC

"Awesome place!!"

We had a great experience at the cabin, we were more then spoiled, my daughter loved it and she kept saying it was her new house!! Everything was So clean and nice, we didn't want to leave...

Manager Response:

Wow! Thank you for sharing your experience with us, Liliana. We love spoiling our guests! We hope you will consider making Summit Sanctuary your new home away from home when visiting our beautiful Great Smoky Mountains. Come back and see us soon!

John H.

Shelbyville, KY

"Best Christmas "

our stay was great. This was the best idea for Christmas. We will do this every year.

Manager Response:

Thank you for choosing Summit Sanctuary to celebrate such a special holiday. We here at Elk Springs Resort appreciate the opportunity to be a part of such a magical time of year. Please contact us when you are ready to start planning your new annual tradition.

Kathy

Goshen, OH

"Summit Santuary December visit"

The cabin and surrounding area was beautiful and well kept. We had a great time. The staff was very friendly and responsive. We had one issue with our internet connection late Saturday. I called a

…

nd they were there in minutes to fix it. Definitely coming back next year!

+ Read More

Theresa P.

St. Augustine, FL

"Home Away From Home"

Summit Sanctuary is a top notch home away from home!!! Even though I was able to see, through pictures, where I was going to spend some valuable downtime, I was blown away when I entered the cabin.

…

Everything needed to feel at home and on a luxurious vacation was provided...a home theater, hot tub, sauna, outdoor barbecue, pool table and jacuzzi tubs. I could have filled out days and nights just enjoying the cabin and never leaving. It was out up time and down time!!! We will be back to Elk Springs Resort with our children and our extended family friends.

+ Read More

Jeanee

Charlotte, NC

"Best place ever!"

We had an absolute ball!! This place is a great place to get away with your extended family(smile). It accommodates adults and children. We will be returning for hopefully a longer stay!!

Stacie H.

Wilton, IA

"Extended Family Vacay"

Loved the cabin. Couple of minor issues but they were addressed right away. Everything was in good order, bedding very comfortable, good water pressure, loved he theater room, hot tub and sauna. Sp

…

ent a lot of time on the balcony. Always felt safe and secure in the area. Will definitely come again!

+ Read More

Manager Response:

Thank you for the 5-star review Stacie! We are pleased to hear that you had a great time relaxing and enjoying some time away from every day life. There is no better place for making memories than the Great Smoky Mountains!

Kristy

Winnfield, LA

"Great Vacation "

We loved staying in Summit Sanctuary. It was perfect for 2 families with teens! Loved the theater room and cooking on the new grill! Great location with restaurants and grocery stores nearby and cent

…

rally located to whitewater rafting, Gatlinburg and Dollywood! We enjoyed every minute of our stay and the staff at Elk Springs were great to work with. We will definitely be back!

+ Read More

Manager Response:

Thank you for the kind review Kristy! We are pleased to hear that your cabin experience was perfect! There is so much to do in this area and our resort is located just a short drive from all of the main attractions. Hurry back to make more mountain memories soon!

Bob

Burlington, Kentucky

"Very Nice"

Super clean, super nice. Can't wait to go back.

Rachel L.

Fort Mill, SC

"Beautiful Cabin for Our Wedding Guests!"

We rented Southern Philosophy, Misty Mountain Lodge and Summit Sanctuary for our wedding ceremony and reception. All of our guests said it was the most beautiful wedding that they ever attended! T

…

he staff was very accommodating and helpful, offering their assistance with any last minute needs! We could not have asked for a better location! The property was perfect for a 40 x 20' tent and our 85 guests! Summit Sanctuary was a weekend to remember for our close friends attending the wedding! They were amazed at the beauty and elligance of the cabin! Every one of them have made plans to go back!!! We rented the three cabins for our famiies and close friends to stay for the weekend, which was close to 40 people! . Everyone had a wonderful time during their stay, not only enjoying the ceremony but all the offerings of the cabins! From pool tables and theater rooms to saunas and hot tubs, Elk Springs Resort is top notch! No comparison to other rentals in the area! If you're looking for a fun, relaxing weekend away, or an excellent spot for a moderate sized wedding, you've found it! Thanks to all of the staff for making our special day better than imagined!

+ Read More

Scarlett E.

Alexandria, LA

Rajesh

Mauldin, SC

"Great Experience"

We had a great time during our stay and the cabin was excellent.

Melissa H.

Munster, IN

"Spring Break 2014"

Lovely

Kynan B.

Valparaiso, IN

"3 Thumbs-up "

Best time every...Children didn't want to leave...Booking another stay real soon!

Kimberly

Bonaire, Ga

"Great Vacation"

We visited during a holiday weekend. We enjoyed our vacation home very much. The cabin was very roomy. The kids enjoyed the pool table very much. The theatre room had some issues but were dealt with quickly. Very Clean!!!!!!

Latricesa C.

Westland, MI

"Mini Vacay "

Will do it all over again !!!!!

Camille B.

Charlotte, NC

"Stay at Summit Sanctuary"

Great Stay, we had all we needed. Very happy with the management company.

Jean H.

Baton Rouge, LA

"Great family vacation"

Jean H


Ryan V.

Lawrenceville, GA

"Fantastic weekend getaway!"

This was our second stay at the Elk Springs Resort. The cabins will never disappoint anyone. You get exactly what you see in the pictures. The movie theater and sauna were fantastic. We will be back again.

Tom

Romeoville, IL

"Concannon Family Reunion"

The cabins are beautiful and very clean. The staff is wonderful.
P.S I have already replied to other reviews for both Summit Sanctuary and Southern Comfort.

John C.

Rhome, TX

"Beautiful Cabin!"

This was such a perfect place for my family of 7. We loved all the wood in the cabin. The beds were comfy and the large double sized bunk beds downstairs were perfect for my kids. We also really enjoy

…

ed soaking in the hot tub. It was a great location being very close to the Smokey National Park and all the attractions in downtown Gatlinburg.

We will definitely stay here again when we come back to the area.

+ Read More

Kim S.

Parma, OH

"Wonderful"

The cabin was unbelievable. We plan non returning next year and have told everyone we know about our experience.

Kalen C.

Salem, IN

"Girls Weekend 2014"

We had a wonderful time!! At first we thought the cabin was going to be far away from Gatlinburg, but it was only a few minutes. The cabin was very comfortable and clean. We all decided we would love

…

to do another Girls Weekend again with Elk Springs Resort.

+ Read More

Kurt

Lakeland, TN

"Great cabin!"

We were very happy with our recent stay. The house was clean and comfortable. The kids liked the hot tub, sauna and pool table. The grill was very clean and the dishes/cookware were good. Really no complaints, you'll be happy in this cabin.

Chasidy F.

Austell, GA

"Summit Sanctuary Getaway"

Relaxing and Breath-taking

Deborah N.

Cookville, TN

"Plenty of Room"

Making cabin selection and reservations was so easy and fun thanks to Marty Rogers. She was very professional and very helpful. We have a family of 6, with my oldest son 24yrs. another two boys 16 and

…

14 yrs., and finally our "cherry on top", a daughter 10yrs. old. Everyone had plenty of room and privacy.
The orientation of the cabin put the decks facing south, which gave the interior plenty of natural light. This would be perfect for extending the comfort of enjoying the 3 amazing porches even in late fall and winter. Even though we didn't have time to enjoy he theater room until our last night, it will be a must for all our future reservations. The screen size was perfect and the sound was top quality.
I'm not a clean freak but I can spot a hair a mile away (It's a curse), but this cabin was spotless!
The kitchen was equipped with everything you could need to prepare and serve home cooked meals. Don't bother packing a can opener "just in case", they have everything! Take foil if you want to line the grill though.
Washer and dryer worked great, hot tub was wonderful while star gazing and sauna got nice and hot! Totally enjoyed our stay!!

+ Read More

Nikki B.

Union city, Ga

"Happy Haven"

We got this deal on Groupon and I was very skeptical because when you look at lodging on the internet you are sometimes mislead. The cabin was wonderful, the view was to die for, the town was so cute

…

and we really enjoyed ourselves and would love to make this our annual before the winter vacation.

+ Read More

Natasha

N Little Rock, AK

"Very good stay"

Love everything about my stay

Muralibhara

Farmington, MI

"Perfect place to stay!"

Had a wonderful time at elk spring resorts. Nice and clean cabin with all amenities. Kids enjoyed it. Will come back again!

Kanika S.

dublin, OH

"Awesome Amazing Cabins"

We loved our stay at the Summit Sanctuary cabin in Elk Resorts. Totally impressed by the cabin - for once the actual details matched the photos. The cabin had everything as shown in the pictures and v

…

ery nicely decorated and stocked. The kids enjoyed having one level to themselves with the media room and the adults enjoyed the pool table and hot tubs. The linens, towels, dishes everything was clean. We actually plan to return to this resort going forward to enjoy quality and peaceful time with the family. Not once with a group of 10 for 3 days stay - had we to call the maintenance people for anything- that in itself speaks a lot of the quality Elk delivered. We have put the same feedback on tripadvisor too.. so that speaks volume!! Awesome ... hope u continue to keep it that way.

+ Read More

Eric L.

Park Ridge, IL

"Perfect Weekend!"

I would go back again anytime

Minka G.

Chicago, IL

"Excellence at its finest!"

I rented this cabin along with Southern Philosophy which was right next door. Both cabins were beautiful and were exactly as the websited described. Looking forward to returning again.

Jeffrey

Farmingtonton Hills, MI

"Summit Sanctuary was great!!"

We can't say enough good things about Elk Springs. We loved our stay at Summit Sanctuary! The house was so clean and very nice. We loved the "woodsy" look and feel. It was a true vactaion. We highly recommend it!

Harold

Bloomfield, IN

"Great Cabin"

Cabin was very clean. Kids really enjoyed the movie room, hot tub, pool table, and sauna.

Penelope M.

Weston, FL

"Far better than I expected!"

It was great! Prior to our arrival our cabin was vandalizez and they quickly upgraded us to a new cabin. Once we arrived it was dark and the staff met with us and directed us to our cabin. The place

…

was gorgeous! We rented 2 cabins and will do it again!!!

+ Read More

Jim G.

Sulphur Rock, AK

"Fall Vacation"

We had a great time, and are so glad that we foun and chose to stay here. We cannot wait to come back again. There was plenty of room for everyone and the kids loved watching movies on the big movie screen.

Patricia H.

Fayetteville, NC

"It was more than I expected, the proximity to the main area."

Love it, the kid friendly environment yet the adult atmosphere all was fabulous.

Richard C.

Madison, AL

"An awesome stay"

This was a perfect cabin for my family's trip to Gatlinburg. This trip will always be remembered. Fantastic experience.

Steven

Panama City, Florida

"Sancutary is right!"

Absolutely perfect for our family. We could have spent the entire time at the cabin and the kids would have been happy. Lots of amenities and being able to cook at the cabin rather then go out for every meal was a huge plus.

Tonja E.

Seattle, WA

"Summit Sanctuary - Weekend stay"

Good experience there, would just say its fairly close in proximety to the other cabins - so not as secluded as I might like (though I did enjoying the smells coming from the cooking in the next door

…

cabin).. A site map of the cabins would be helpful in selcting the locations and proximety. A later check out time would be appreciated - given that you may have up to 6 or more people staying, and give a bit more clean up time...

+ Read More

Henry A.

Lafayette, LA

"Outstaanding location within excelllent aminities."

Everything was ok with one glitch and that was the make intto a. Bed couch that.was half open when we arrived and could not be closed downstaiirs which we did nort,really need. We did enjoy our stay and appreciated the easy check in and out.
Load More Reviews