Amenities:
Full Kitchen
Gas Grill
Honeymoon
Hot Tub
Iron / Ironing Board
Parking
Washer/Dryer
WIFI
A favorite for cabin for honeymooners or for those looking for a romantic getaway. Are you ready for fun and excitement at the Spur of the Moment? No cabin can deliver more opportunity to be lost in nature's beauty or to enjoy the outdoors on your balcony whether you are enjoying your rocking chair or soaking in your hot tub. Located at the end of a cul-de-sac, Spur of the Moment is surrounded by lush valley views and nature's songs!
Cabin Bedrooms Layout
LL King Suite

King Bed
Sleeps 2
LL Queen Suite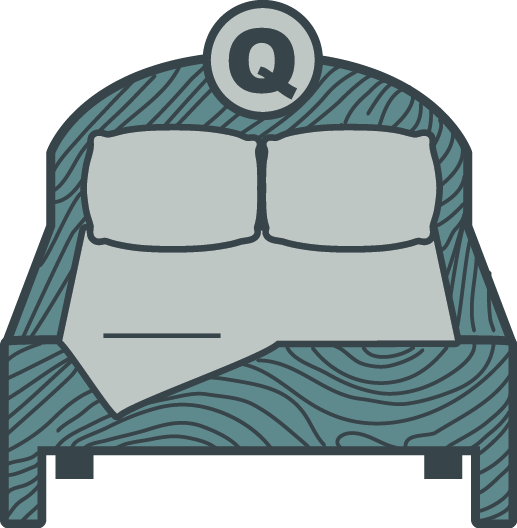 Queen Bed
Sleeps 2
Living Room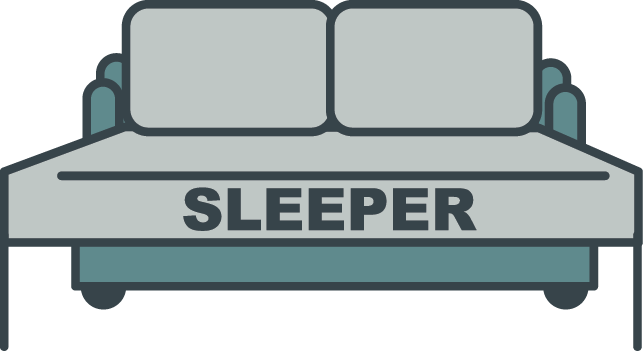 Queen Sleeper
Sleeps 2
Full Description
The quiet is so welcoming as you enter the main level that features a 28 foot wall of glass looking over the beautiful wooded views. An unusually large kitchen for a two bedroom that is fully equipped and includes a breakfast bar and adjoining dining area. The upper level living room features a leather pull out queen sleeper sofa, a rocker, large flat screen TV and fireplace.

Head down to the lower level of this Gatlinburg Cabin Rental and a cozy love seat faces the gas log fireplace with 28 foot stone chimney. Being outside on the deck may be more tempting where the hot tub is waiting for you and the gas grill is ringing the dinner bell! Don't forget to spend some "thinking" time on one of the rocking chairs on the deck where you can enjoy the smokies.

When you are back inside, it may be time to tackle the game room - pool table and foosball table are both great fun generating that competitive spirit. And sweet dreams are a promise as Spur of the Moment features 2 master suites. One king fantasy suite bedroom offers a fireplace, heart shaped Jacuzzi tub, flat screen TV, and an unbelievable 18 foot shower tower.

The second queen master is beautifully furnished and also includes a flat screen TV plus an adjoining full bath with a tub/shower combination.

Is this cabin unavailable? It usually is booked. Don't worry, we have several cabins with this same floor plan! Ask us about this same cabin footprint that offers queen bunk beds in the second bedroom if you require more sleeping spaces.

What a compliment - the Great Smoky Mountains and Spur of the Moment at
Elk Springs Resort!

18 Foot Tower Shower
2 Master Suites
1 King Bed
1 Queen Bed
Heart Shaped Jacuzzi Tub
Hot Tub on the Private Deck
Pool Table
Foosball Table
FREE High Speed Wireless Internet
2 Rocking Chairs
4 TV's
4 DVD Players
Washer/Dryer
Gas Grill
8 Minutes to Downtown Gatlinburg
20 Minutes to Dollywood
Close to a Trolley Stop
Private and Secluded
Grocery Delivery Available
Private in Room Couples Massages Available
Calendar
Click your dates below to check in and check out
Available
Check In Only
Check Out Only
Selected
Unavailable
Photo Gallery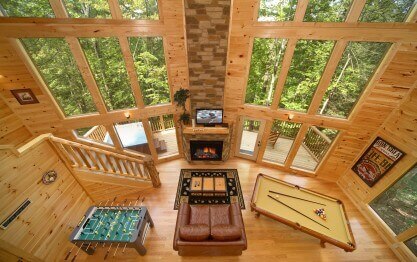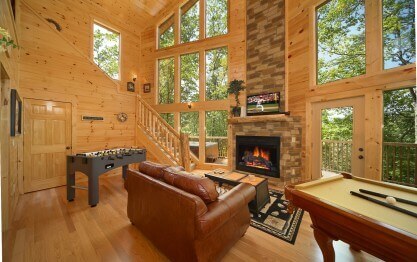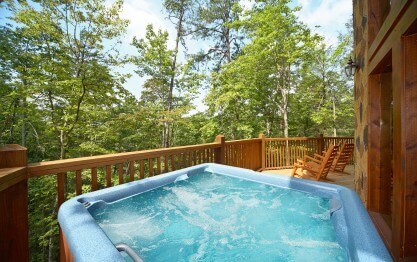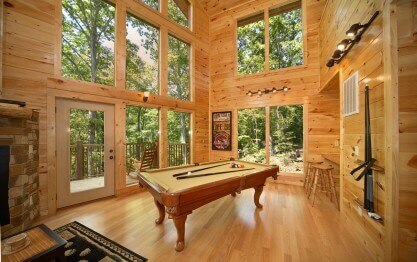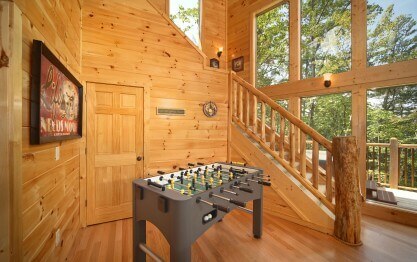 See All Photos
Reviews
Tom G.

Indianapolis, IN

"Fall Break in Gatlinburg"

Great location. Only 10 minutes from Gatlinburg but far enough away from the endless traffic. Also, 17 minutes away from Pigeon Forge and Dollyworld. Would stay within the Elk Springs Resort again.

Natalie R.

,

"Very Nice Cabin"

Very nice and clean cabin with plenty of amenities.

Manager Response:

Thank you for your wonderful review, Natalie! We are delighted to hear you enjoyed your stay. We enjoyed having you as our guest and hope you will make plans to come back and stay with us often. Hurry back, your next adventure awaits!

Blythe P.

Cincinnati, OH

"Great comfortable stay"

We were impressed with the quality of the cabin and happy with the location. An easy 10 minutes or so to downtown Gatlinburg. The ownership was happy to please and available for questions. We would stay here again no question.

Manager Response:

Thank you for your kind review, Blythe! We are thrilled to hear you enjoyed your stay with us. We provide 24/7 guest assistance during your stay to ensure your every need is taken care of. We hope you will make plans to come back and visit with us again. Please keep in mind, as a returning guest you will enjoy 10% off all future stays. We hope to see you soon!

Suzanne

New Madrid, MO

"Great family vacation"

My husband, three children and I stayed for three nights in May 2016. The cabin was exceptionally clean, comfortable and provided everything we needed to cook meals. The cabin is absolutely beautiful.

…

In the evenings it was nice to sit on the deck, or teach our kids to play pool. We will definitely come here again and recommend to our friends.

+ Read More

Manager Response:

Thank you for sharing your experience with us. We are always pleased to hear that such wonderful memories were made during your vacation. We hope you will take the opportunity to come back and visit with us often.

Nichole

Wauwatosa, WI

"Everything we hoped for!"

Perfect peaceful retreat! Everything was just as described. Customer service from the time of booking our reservation onward was excellent. I wish I could have stayed forever! Will definitely be recommending to others.

Manager Response:

Thank you for your kind review, Nichole! We are happy to hear that you enjoyed your stay with us. We hope you will consider staying with us during your next visit to Gatlinburg. We hope to see you soon!

Elnora

Westerville, OH

"Great stay in the smokies"

It was a beautiful cabin. Very clean and furnishings made the cabin homey and enjoyable.

Manager Response:

Our goal is to provide cabins that will make you feel at home from the moment you walk through the door. We are happy to hear that we succeeded! Please contact us when you are ready to start planning your next get-away, it is never too early. We hope to see you soon!

Christen

Brentwood, TN

"Could not have been more wonderful!!!!"

Wonderful time away in the mountains

Manager Response:

We are happy to hear that you enjoyed your mountain get-away, Christen! We, here at Elk Springs Resort, want to ensure that each visit is as perfect as the first. Please contact us when you are ready to start planning your next adventure. We hope you come back and visit us soon!

Lisa

Berea, OH

"Cannot say enough good things !!!!"

The entire process, from booking, payment, check in, staying and checking out, was smooth and hassle free. The property was exactly as described. Close enough to everything but far enough away to feel

…

secluded. Any issues were handled VERY quickly and professionally (we had two small maintenance issues while we were there). We will certainly be back - we were planning which cabin we wanted to stay in next time before we had even left!

+ Read More

Brooke P.

Elkmont, AL

"March 8-12"

Loved the Shower in the Master bedroom. The description showed 2 king size beds, however only one was a king. Found a used cig in one of the trash cans in the bathroom- luckily the baby didn't find it. Other than that I have no issues

Gine H.

Lithonia, GA

"ABSOLUTELY GORGEOUS"

This was was EXACTLY as pictured. I rented the space for a Girls' Getaway with 5 friends and it was perfect!!! We did a lot of cooking and drinking and they had everything we needed to get the job don

…

e...plates, pots, wine glasses, etc. I received a phone call each day from one of the staff members to see if we needed anything. The Hot tub plus that sensational view was the icing on the cake. I will DEFINITELY be planning another trip there in the near future!!!

+ Read More

Stephen B.

Ruskin, FL

"Amazing cabin "

Beautiful cabin! So comfortable and amazing! I will definitely be back!

Teressa A.

Statesville, NC

"spur of the moment trip! "

Absolutely loved our stay in Spur of the Moment. It exceeded all expectations! Definitely will return!

Vikki

Horn Church, Essex

"Paradise in the Woods"

The cabin was amazing. Particularly loved the rain shower and it was immaculately clean and beautifully decorated. Lovely massive bed in the master suite. Cabin close to Gatlinburg and conveniently th

…

ere is a Food City a five minute drive away. Only piece of feedback I would add is a small welcome pack of say milk and coffee or would be a nice gesture. Overall a fabulous stay and we truly left our hearts in the mountains.

+ Read More

Manager Response:

Thank you for the great review, Vikki! It is our pleasure to have you as our guest and we greatly appreciate you letting us know how much you enjoyed your stay. We do leave a starter pack of supplies for your stay, but unlike hotels, we do not include food or beverage items. We hope you will return for more Smoky Mtn. memories soon!

Anna T.

Northport, AL

"Wonderful time at "Spur of the Moment "!"

My husband and I had a wonderful in our cabin! Everything was clean and beautiful ! Check-in was a breeze and super convenient.... All you do is go to your cabin and put in the code they assigned yo

…

u! There were no guests in the cabin next to us so that was nice. We truly enjoyed our stay!

+ Read More

Manager Response:

Thank you Anna. Our guests really enjoy the remote check in process. It sure beats having to drive out of your way to an office to check in and get a key! We are pleased that you enjoyed your stay and look forward to you being a guest of ours in the future.

Charles

Gallatin, TN

"FALL BREAK GETAWAY"

Our cabin was surrounded by wonderful trees. It was just a few miles from Gatlinburg which was perfect. We look forward to coming back next year!

Manager Response:

Charles, we appreciate your business and your 5 star review. Our beautiful Elk Springs Resort property is just a short drive from downtown Gatlinburg and away from all of the hustle and bustle. We value our repeat guests and want you to know that you will receive a 10% discount off your next stay with us.

Rebecca S.

Columbus, OH

"We are in love!"

I have never been to a place more amazing and beautiful in my entire life. I described it to my children as the closest i'll ever get to going to heaven without actually dying. We went there with high

…

expectations and they were met and even more then we ever thought possible! The cabin was beautiful and extremely clean. We did have a few maintenece issues which I reported and maintenence came in less than an hour and started working on the problems. We will be going back ASAP. I can't wait to take my children there. We even got to see bears that were close enough to touch!

+ Read More

Manager Response:

Thank you for the nice review Rebecca! We are so pleased to hear that this cabin experience exceeded your expectations. We do have several larger luxury cabins with plenty of room for your whole family to enjoy. Feel free to contact our Reservation Department to assist you with finding one for your next stay. We even have cabins with swimming pools inside!

Deborah

Cleveland, TN

"Quiet and Peaceful"

A Great Visit

Manager Response:

We appreciate your review Deborah and are pleased to hear that you had a quiet and peaceful visit. We look forward to having you back for a stay in the future.

Paul P.

LaFollette, TN

"Labor Day Get-A-Way"

Wonderful short vacation with two children. Wish we would have stayed another night or two. Everyone loved the rain shower. Cabin was very convenient to the arts and crafts area. Didn't have to get in

…

to the bustle of down town Gatlinburg. Plenty of good restaurants nearby. Will stay at Elk Springs again.

+ Read More

Manager Response:

We are pleased that you found your stay at Spur of the Moment to be very enjoyable. The close proximity to the Arts & Crafts community and local eateries is an added bonus if you don't want to deal with the crowds and traffic to get downtown. Thank you for your kind review Paul.

Sharan

Fultondale, AL

"Rain Shower Heaven"

The getaway was well worth the drive. It was our 3rd trip to the resort & Spur of the moment exceeded our expectations. My guy wanted to take the kitchen home & I wanted to take the shower home!!! We

…

even grilled this time since it didn't snow??. I would suggest better seating. Very nice stay overall??

+ Read More

Manager Response:

Thank you for being another satisfied guest at Elk Springs Resort! Your 5-star review is a true reflection of the kind of luxury cabin experience we offer. We hope you continue to spend your vacations with us making more Great Smoky Mountain memories!

Tina T.

Athens, AL

"Great Cabin!"

Loved the cabin. Everything was clean and ready when we got there. I loved not having to go anywhere else to check in. The boys loved the pool table and the foozeball table. Beautiful cabin!

Stacey H.

Ringgold, GA

"Quiet weekend"

Very relaxing!!!!

Travis

Mansfield, IL

"spur of the moment cabin"

We had a great stay. Cabin was very clean and nice.

Location was super. Easy short drive to Gatlinburg and smoky national park. We bought groceries in Sevierville, on way to cabin first day, an

…

d cooked out on the grill each day. We stayed 4 nights and never ran out of things to do. We are already planning our trip back later this year or next.

+ Read More

Jeremy R.

East Hampton, CT

"Well above expectations"

Just walking into the cabin I was blown away! We stayed in the "Spur of the Moment" cabin. I can't imagine how much these cabins cost to build! Everything was beautiful and in perfect shape! The staff

…

was also extremely helpful when we needed a couple of packages delivered. I will absolutely be staying here again when I come back to the area! I stay in Marriott and Hilton all the time for work and the way Elk Springs Resort is maintained puts all the big budget places to shame!

+ Read More

Glen O.

Windsor South Central (West Walk, ON

"Excellent getaway in the woods!!"

What a great location! Enjoyed every minute of it!

Celina

Ann Arbor, MI

"Great vacation cabin!"

We stsyed for three nights during Spring Break. The cabins were just lovely and perfectly equiped. The kids had a great time and my husband and I also enjoyed ourselves. Towels provided are too thin,

…

though. Otherwise I have nothing but compliments for the staff and the place.

+ Read More

Marcy

West Olive, MI

"3 Wonderful Nights"

Loved staying at Spur of the Moment! The location was very private and easy to find. The cabin was beautiful, clean and cozy! Can't wait to go back and enjoy more of the Smokey Mountains!

Jessica W.

Lexington, KY

Kristin W.

Marietta, GA

"kristin williams"

overall, wonderfull experience. very pleased with the cabin. only 1 thing, no blind in main bedroom window.

Janice S.

Doral, FL

"Great Stay!!!"

The cabin is beautiful, very spacious. The rain shower was super!!!! As well as the outside jacuzzi. Everything was great!

Brandon R.

Raleigh, NC

"Great getaway!! "

Absolutely beautiful! We had a great time. Just know there are neighbors
Close by, if you know this going in and it doesn't bother you then you will have an amazing time. So pretty and nice!

Ronald B.

St. John, IN

"R B SPUR OF THE MOMENT"

VERY RELAXING

Tom S.

Lagrange, KY

"Birthday stay at spur of the moment"

Arrived, opened the door and just said "wow" . Cabin was more than we expected for the $$. Enjoyed wine and some woodford reserve on the back deck while rocking away. Very well decorated cabin. Took a

…

dvantage of the free wine and moonshine tastings in Gatlinburg, just a few miles down the road. Location was just enough to get you away from the city, without driving too far. We enjoyed the privacy of a short gravel road trip to our unit with the neighbors units not booked during our stay. Customer service was excellent and they called during our stay to insure everything was going well with our cabin. Looking to return with other couples and renting the entire cul de sac.

+ Read More

Stephen

horse cave, kentucky

"Great! Great! Great!"

This was our first time renting a cabin, and it was awesome! The cabin was incredibly clean, as in spotless!! and very well maintained. when you walked out on the deck, it was as though you were all a

…

lone. Some of the cabins are a little close together, but 'spur of the moment' had more space overall. I think our favorite thing was the 18 ft shower!!

+ Read More

Linda K.

Evansville, IN

"WOW! What a get away!"

The cabin was beautiful, clean, and very comfortable. It had everything we needed and more. The deck was very private and had a big hot tub. We can't wait to go back! Thank You Elk Springs.

Erin K.

Exton, PA

"Great Time!"

Had a great time in Tennessee (our first time in the Smokies) and our cabin really surpassed our expectations. Very clean, very private, and great amenities. Will definitely go again in the future!

Allison C.

Oakhurst, NJ

"Blown Away"

Our cabin certainly impressed. Heck, every one of us giggled like a mad man upon walking through the front door or stood slack-jawed in wonder. The place was stunning. The kids enjoyed holding foosbal

…

l tournaments, while Mom and Dad got the most out of the hot tub on the back deck. Not only would I recommend staying with Elk Springs Resort, I already have shared the resort's information with several friends who inquired after seeing our photos on Facebook.

And this cabin's best feature...well, that 2-story shower is a luxury that defies description. You just have to try it for yourself.

+ Read More

Felipe

Hialeah, FL

"You'll never want to leave"

Best cabin rental so far, clean, updated and equipped with everything you'll need to have a wonderful vacation.

Lauren B.

Livingston, LA

"Beautiful cabin!"

Cabin was very nice and clean! Loved the huge shower and all the windows! Only thing we love to BBQ and we wished the pit would have been on the back porch and not the front. Really enjoyed our stay!!

Jerel J.

South Haven, MS

"Surprise"

Wow!!!!!Great time. Will become an annual vacation spot.

Julie H.

Houston, Texas

"1st trip to the Smokies"

Absolutely loved our stay at "Elk Springs Resort - Spur of the Moment." It was perfect for us. Private, quiet and romantic location! Would definitely return and recommend it to others.

Pong

Mary Esther, FL

"Awesome place"

The place was exactly like it was pictured in the ads. Actually, it exceeded my expectations. I will definitely stay there again.

Shannon C.

Aurora, IL

"PERFECT!"

This was the perfect vacation for my family! We will be back again, hopefully next year and for longer!

Thomas S.

Mandeville, LA

"spur of the moment"

Very professional, easy check in and out, looks just like pictures on net. Nice location

Bryan

Indianapolis, IN

"We didn't want to leave!"

My boyfriend and I got the cabin for two nights, and after the first night, we decided we didn't want to leave. It was fairly private, but definitely out of the way of the hustle of bustle in Pigeon F

…

orge. The only downside of our stay was that the phone in our room didn't work, and since we had no service on our cell phones this far out, we had no way of contacting anybody. Otherwise, it was an unforgettable experience we definitely want to do again!

+ Read More

Yolanda W.

Pickerington, OH

"Awesome Retreat from Home"

This is my 2nd stay in Spur of the Moment in the past 3 months. I am from pickerington, OH, 7 hrs away. The spur is not only gorgeous, w the comforts of home, but the location is on a cul-de-sac and

…

the very best location of their 2 bedroom on the entire property! Buckwild is an excellent 3 bedroom location... Elk Springs Resort is a top notch Resort!!! We will be back again!!!

+ Read More

Linda M.

Elk Grove Village, IL

"October vacation"

This was our 3rd annual trip to the Smoky Mountains for fall colors. We have stayed at Elk Springs Resort each time and have had excellent experiences. I would not hesitate to give them a 5 star review

Erin D.

Charlotte, NC

"Dream Getaway! "

This trip was a 35th birthday gift for my boyfriend. He's been wanting to visit Tennessee for a while. His response to us arriving at the cabin was, "This is awesome". We will definitely visit again,

…

no questions asked. The cabins and area make you feel like you're in your own little world. Thank you!

+ Read More

Grace

Columbus, OH

"a most enjoyable experience"

We stayed at the Spur of the Moment cabin at Elk Springs Resort for one weekend. The check in process was so easy and convenient, and the cabin itself was beautiful. It had everything we needed - pl

…

us a dishwasher and laundry, with detergents and soap included! The location was close to everything and my family was able to enjoy the Smokey mountains while staying here. We would definitely come again in the future!

+ Read More

Deanna

Pataskala, OH

"GREAT Spur of the Moment!"

It was a nice relaxing little get away. The pictures are exactly what the cabin looks like. My husband and I had a great time!

Rachel H.

Dwight, IL

"Tennesee vacation"

Loved the cabins! very clean and nice! need a map of elk springs resort.Had a very nice time!

Load More Reviews