Amenities:
Full Kitchen

Gas Grill

Hot Tub

Iron / Ironing Board

Parking

Pet Friendly

Theater Room

Washer/Dryer

WIFI
It is all about comfort and style in the south and the Southern Comfort cabin aims to please. A tastefully decorated cabin that will make you feel welcome and at ease. Theres also plenty of "play" items including air hockey, home theater with 9 foot screen and a hot tub!
Cabin Bedrooms Layout
UL King Master Suite

King Bed
Sleeps 2
UL Game Room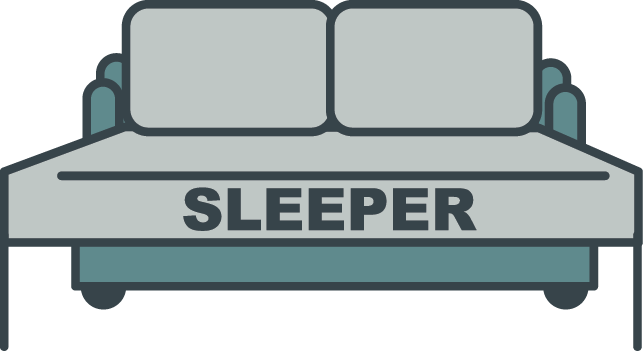 Queen Sleeper
Sleeps 2
LL King Suite 1

King Bed
Sleeps 2
LL King Suite 2

King Bed
Sleeps 2
LL Bunk Room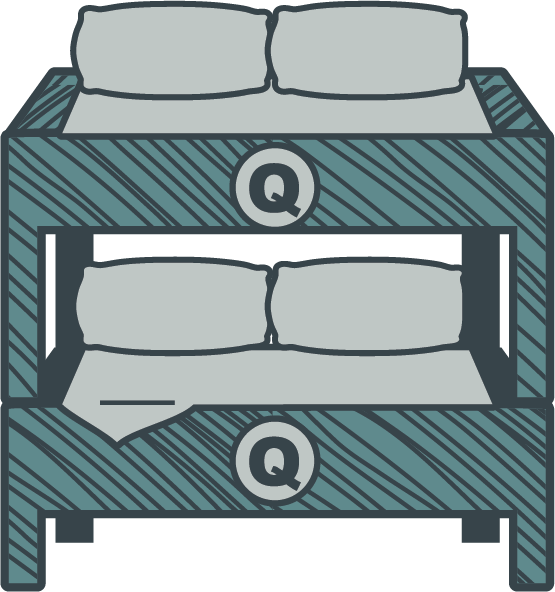 Queen Bunk
Sleeps 4
Full Description
Enter with no steps directly into the main living area with 3 way fireplace separating the living room and dining room. Spread out on the leather furniture in this open floor plan or move to the fully stocked kitchen with upgraded cherry cabinets. There is plenty of seating at the high back dining table or at the breakfast bar for your group.

A common guest comment is feeling very comfortable congregating with friends and family on this stylish main level. There is also a half bath on the main floor for your convenience.

The upper level is complete with our signature high definition theater projector to enjoy a movie on your private 9 foot theater screen. Play a game of pool or air hockey in the upstairs game room or make your way to deck and slip into a warm, jetted hot tub while taking in the views. If you are a group of children and adults, this cabin offers a divide and conquer solution to how and where to spend your time. Our guess is that the kids will head upstairs to the theater and game room if you're looking for some quiet time or privacy.

There is a stainless steel gas grill on the back deck to fire up some delicious meals and you can relax in the rocking chairs while outside! Free Wireless internet is standard with all our cabins so bring your laptop.

Southern Comfort features 4 bedrooms and 3.5 baths. There is a King bedroom and a full bath on the upper level, and the lower level has a King bed and bath master suite plus 1 King bedroom and 1 Queen over Queen bunk bedroom with a shared full bathroom. Privacy, luxury, convenience and true southern style comfort abound here. This cabin does allow pets.
4 Bedroom / 3.5 Baths
3 King Beds
1 Queen over Queen Bunk Bed
Sleeps - 12
Pet Friendly
Hot Tub
Pool Table
Air Hockey
FREE High Speed Wireless Internet
2 Gas Fireplace
8 Rocking Chairs
6 TV's
2 DVD Players
Washer/Dryer
Gas Grill
Calendar
Click your dates below to check in and check out
Available
Check In Only
Check Out Only
Selected
Unavailable
Photo Gallery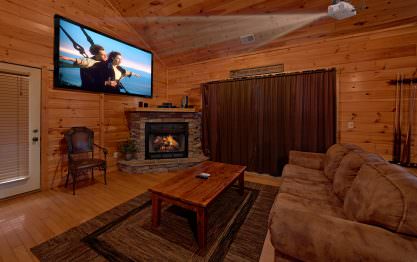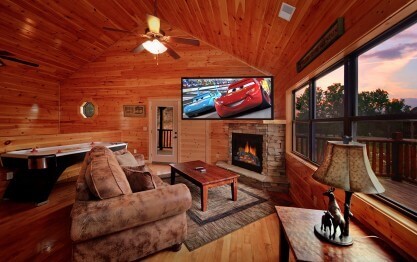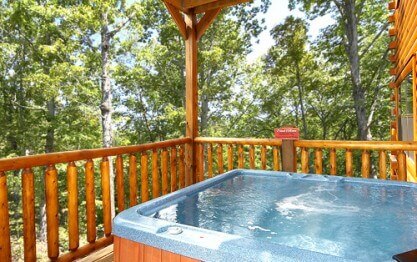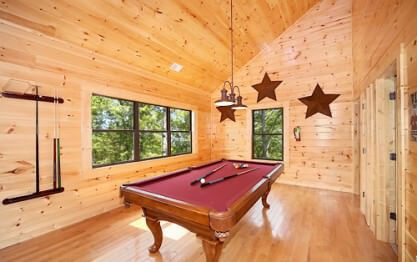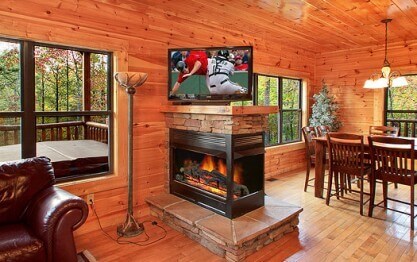 See All Photos
Reviews
Colleen A D.

Cooper City, FL

"Southern Comfort"

This place was simply amazing, and I can't wait to get back!

Manager Response:

Thank you for your great review, Colleen! We are pleased that you enjoyed your cabin stay. We hope that you will visit us again soon!

Sergio C.

La porte, IN

"Vacaciones "

Pase unas vacaciones inolvidables con toda mi familia y la cabaņa muy bonita todo muy limpio

Manager Response:

Mucho Gracias Sergio! It is our pleasure to provide you and your family with a 5 star cabin getaway experience. We hope you will return for a future stay very soon.

Diana

Leesburg, FL

"Beautiful Smokies!"

The home was very nice and tastefully decorated, in a quiet area. Arts and crafts were just a short drive from the home and everything else you needed was nearby. Visiting the national park was beauti

…

ful and there is lots to do in the surrounding areas.

+ Read More

Manager Response:

Thank you for allowing us to be a part of your vacation and for taking the time to fill out a review. We are delighted to hear you enjoyed the cabin and were able to explore the surrounding area. We hope you will consider staying with us again during your next visit to Gatlinburg. Don't forget to take advantage of your 10% repeat guest discount at the time of your next booking!

John Y.

Tuscaloosa, AL

"Family vacation"

We really enjoyed our stay in Southern Comfort. Very centrally located for both Pigeon Forge and Gatlinburg. Usually only had to travel about 4-5 miles to get to our destinations. Very scenic and quiet location. Cabin amenities were all spot on.

Manager Response:

So happy that you enjoyed your stay! Thank you for taking the time to review Elk Springs Resort and we hope that you will come stay with us again.

Vimal K.

Brandon, FL

"It was excellent stay we had ever.. "

I am a frequent visitor.. first time I see good smile in my family face. Kids were very happy and enjoyed a lot.. I will recommend..

Manager Response:

We are excited to hear you and your family had such a wonderful time! We enjoyed having you as our guest and hope you will continue to choose Elk Springs Resort when visiting our beautiful Great Smoky Mountains.

Eric S.

Bellaire, TX

"Great place to stay"

Exactly as presented on their website. Great accommodations and have everything we wanted.

Manager Response:

Thank you for your wonderful review, Eric! We enjoyed having you as our guest and hope you will come back and visit us again soon!

Stacey G.

Gonzales, LA

"Beautiful resort"

The cabin was beautiful, spacious, and very clean. The resort itself was well-maintained and conveniently located. We loved our stay!

Manager Response:

Thank you for your 5-Star review, Stacey! We are excited to hear you loved your stay. We hope you will consider staying with us again during your next visit to Gatlinburg. Hurry back!

Charity L.

Birmingham, AL

"Southern Comfort"

Southern comfort is the best way to describe my weekend stay at elk springs. Our cabin looked I identical to the photos, simply beautiful. Their staff was friendly from booking to check out. I would

…

definitely use and recommend elk springs resort in the future.

+ Read More

Manager Response:

We are excited to hear your stay was exceptional, Charity! We hope you will make plans to stay with us during your next visit to Gatlinburg. Come back and see us soon!

Gloria G.

Indianapolis, IN

"Spectacular"

It was everything I imagined it to be! Will definitely make this a yearly tradition

Manager Response:

We are happy to hear that you had an exceptional stay, Gloria! We will be honored to assist you in starting a new yearly tradition. Please keep in mind, as a returning guest you will enjoy 10% off all future stays. We hope to see you soon!

David B.

Covington, KY

"50th Birthday Family Celebration"

We had a great time in this cabin. We had three couples and on single and we had plenty of room for all of us. Even though the weather was chilly and rainy for the whole weekend, we had plenty to do i

…

n the cabin (hot tub, billiards, air hockey, movies) that kept everyone happy. We were very pleased with the accommodations and would happily come back again.

+ Read More

Manager Response:

Thank you for your review David. We are so pleased to hear that everyone enjoyed the cabin and you had a great time with family. We look forward to your return visit.

Cindy A.

South Elgin, IL

"Our Gatlinburg Getaway"

The cabin was amazing!! Everyone at Elk Springs was so helpful and amazing!! We loved it and will definitely stay with them again :)

Manager Response:

Cindy, we really appreciate your review and letting us know that our staff and the Southern Comfort cabin was amazing. We would love to have you back as our guest again.

Ceopatra A.

Rock Hill, SC

"Best Vacation Ever"

We had a fabulous time in Gatlinburg/Pigeon Forge, and EVERYONE loved the lodge. It had everything we needed, and was conveniently located. The management company was very friendly and responsive. Thanks!

Manager Response:

Thank you for your wonderful 5-Star review, Ceopatra! We are delighted that you enjoyed your visit in Southern Comfort. We take pride in providing luxury accommodations that are sure to become your home away from home while visiting our area. Please keep in mind, as a returning guest you will enjoy 10% off all future bookings. We hope to see you again soon!

Kirk

Homewood, IL

"Great family vacation!!!"

Lots of space. Very well supplied with everything you could think if for cooking! Good location! Would definitely return to this house or another with the same company! Great value!

David

Vega Alta, Puerto Rico

"Family Vacation "

From the moment we arrived the kids went crazy over the air hockey and pool table. It was a great facility and nice secluded location. We liked that it was in a wooded area, but was a bit of a drive t

…

o the attractions in Pigeon Forge. The aquarium was near and a definite must to see. I would definitely go back again.

+ Read More

Rebecca

Boca Raton, FL

"It was a beautiful and very kid friendly cabin loved everything"

We had wonderful time

Michael B.

Naperville, IL

"Southern Comfort"

A great integration of comfort and nature, with room for a family and two other couples to have our privacy when we wanted it and share a great time in the large indoor and outdoor common living spaces.

Karl

Livingston, LA

"Great Stay!!!!"

We had a great stay. Location was secluded enough you could only see the back of a cabin. The cabin was well laid out. We used the hot tub and pool table a lot. The property was very clean. Thank you

…

Elk Springs for making this a great stay. Will return again.

+ Read More

Jree C.

Nashville, TN

"Bday weekend"

The Southern Comfort cabin experience was everything and more than what I expected. My family and I had a wonderful time and enjoyed our stay.

Brandon W.

Charlotte, NC

"Awesome place!"

Very well kept and everything worked properly! Great location and good value!

Stacey M.

Charlotte, NC

"Amazing Experience with family and friends, Southern comfort"

The website described the cabins perfectly. I was soooooo impressed with the cabins and the fact that the pictures were not misleading. It was everything that we hoped for

Vanita

Stone Mountain, GA

"My Family Vacation 2015"

The Sourhern Comfort cabin was very nice. This is my 2nd time staying at Elk Springs resort and would definitely recommend it to my friends and family!! Our trip and stay was very pleasurable!! See you next year!!

Meegan

Marietta, GA

"Fantastic time!"

It was great. Everything was well done. The cabin was clean and everything we needed was provided.

Kay W.

Murfreesboro, TN

"Wish we were here right now!"

I was impressed! Customer service was very helpful throughout the rental process. The cabin was everything we'd hope it would be - roomy and comfortable. Meals were a pleasure - the well-stocked ki

…

tchen and large dining area were ideal for our group. Three floors, 2 gas fireplaces, 2 decks, and 1 hot tub equals a perfect getaway. We'll be back!

+ Read More

Jeremy L.

Indian Mound, TN

"the getaway"

Overall a very pleasant stay.would definitely go back and stay in this cabin.I recommend this cabin to everyone

John N. S.

Louisville, KY

"Genuine Southern Comfort"

We had a great time in Southern Comfort. So much so we wish we could come stay over the Christmas holidays. We would love to stay at Southern Comfort again. The rental agency was very helpful and professional. Great group to work with.

Elisa J.

Cottage Grove, WI

"From Wisconsin to the Smokies"

Our group of 12 escaped to the Great Smoky Mountains and absolutely loved our 4 night stay in the ?Southern Comfort? cabin. It was so beautifully decorated, spacious, and provided all of the essentia

…

l dish and bake ware needed. We were grateful for the nearby grocery store to quickly grab what we needed for our stay and midnight cravings!

The kids enjoyed the pool and air hockey tables every night along with the hot-tub. We loved the separate decks, location, porch swing, and rocking chairs.

By far, our favorite attraction was Ripley's Aquarium and spent hours enjoying all the ocean wildlife that was there, holding horse-shoe crabs, touching the jellyfish, and the sting rays was amazing! We decided to upgrade our tickets to also include 2 other attractions and visited the Mirror Maze and did a little mini-golfing at Ripley?s Davy Crockett.

Overall, the weather was gorgeous it only rained one evening but that didn't get in the way of taking in our surrounding sights, walks, and closeness to nature.

+ Read More

Michael D.

Elizabeth, PA

"wonderful cabin"

Absolutely beautiful. Great time.

Arun

Alpharetta, GA

"Very Good Experience"

It was very nice and clean.

Tom

Romeoville, IL

"Concannon Family Reunion"

We had a great time. The cabins were beautiful, the staff is fantastic. I would definitely recommend this resort/cabin to others. The white river rafting and Dolly-wood are a few of the attractions we

…

visited. Can't wait until the pool/water park at the resort is completed.

+ Read More

Kyle J.

Greensboro, NC

"Family retreat"

We had a great time. Used a groupon for our stay and wish we would have stayed longer.

George N.

Woodlands, TX

"Awesome !!!"

This was a great vacation .....too short. Next time I will stay for 2 weeks !

David

Moorsville, NC

"Administrative Get a Way"

Over all the cabin was great and well stocked with kitchen items. We would have liked to have more seating upstairs in the media room to watch movies with the group of 10 women, we made it work though!

Cheri

Brandon, FL

"Loved our stay at Elk Springs"

Our whole family met at the cabin for Christmas! We all loved it! We can't wait to go back!

Cassandra D.

Cincinnati, OH

"Southern Comfort made our weekend!"

Last weekend my family and friends stayed with us at the Southern Comfort Cabin and I have to say we had a blast. The kids never stopped. They would play up stairs with the air hockey and the pool tab

…

le and then go back to the hot tub for a little while. We never heard the words I am bored once. So this place speaks volumns for itself. The cabin is beautiful with a fantastic floor plan. My daughter informed me she was going to buy this cabin when she got older. I said you mean a cabin like this one. She said no.... This one. So look out owners you may have a future buyer. Anyhow, the cabin worked out fantastic!


+ Read More

Pequitta H.

Carrollton, Georgia

"Wonderful, Beautiful!"

Loved every minute,Did not want to Leave! Would love to go back Soon!

Charlene T.

Eaton, OH

"Southern Comfort Stay"

No problems renting or the stay. Very happy!

Jennifer

New Castle, PA

"Southern Comfort was a erfect place to escape in the mountains!"

We loved our stay at Southern Comfort. The house was very clean and beautiful. We loved the decorations, comfort, location, and atmosphere. There was so much room for everyone to enjoy being togethe

…

r or going off on their own to enjoy a movie, pool table, air hockey or hot tub. When our wifi was out for a little, it was fixed right away. Looking forward to another vacation at Elk Springs Resort.

+ Read More

Alexander D.

Palm Coast, FL

"enjoyable and relaxing"

I had four teenage boys with me and my wife, our first two days rained but the boys were so entertained with the pool table and air hockey that the days went by quick while we relaxed and watched tv a

…

nd or enjoyed sitting on the porch watching it rain, so relaxing and very comfortable. Wife cooked all week breakfast and dinner and it was like being home, would definitely recommend or come back again

+ Read More

William

Crestwood, KY

"Very nice cabin"

Very comfortable cabin. Only regret was we thought it would be more remote, not a community. But certainly would consider coming back. Thank you.

Rosella

Brentwood, TN

"The cabin was so wonderful, we decided to get married in it!"

This is the second time that we stayed in this cabin. It was as perfect as the first time that stayed perfect that we got married in it!

Dawn C.

LaGrange, GA

"Wonderful family vacation in a spacious, lovely cabin!"

Easy, customer friendly reservation process, timely electronic confirmation and check-in process! No complaints whatsoever!

Janice

Greencastle, PA

"Relaxing Getaway"

We will definitely stay with Elk Springs Resort again. The cabin was clean, the service was professional and we had a great time. We had a few small issues (battery beeping in smoke detector, pilot

…

light went out in fireplace) in our cabin and management was on top of it. We had wonderful service people at the cabin within a reasonable timeframe that fixed every problem. Many thanks to your resort for making our stay simple and relaxing!

+ Read More

Teresa K.

Grayson, GA

"Ash's Birthday Trip"

We had an awesome time. 11adults in one cabin and had more than enough room. Thanks for the great stay.

Bridget

Lebanon, VA

"Great stay in Gatlinburg "

it was an awesome vacation and i would highly recommend Elk Springs Resort to anyone wanting to stay in Gatlinburg! We plan to return soon!Management was great and helpful with anything we needed.

Ernest W.

Galveston, Texas

"Great time in the smokeys"

The only thing that I thought was off with the rental was the bed linens and blankets. They were dollar store quality. If they changed that I would rate every thing 110 percent.

Linda F.

Port Saint Lucie, FL

"My Tennessee Vacation."

We really enjoyed our vacation. Our cabin was spacious and comfortable for the most part. One suggestion is to provide more comfortable and additional chairs and rockers on the decks. The chairs we

…

re very uncomfortable. Also there were not enough of them for all of us to enjoy the outdoor experience. Another suggestion would be to put in a swimming pool for all of the resort guests especially for the children. Since it was so hot at this time, the kids would have enjoyed swimming. But all in all we were very happy with our cabin and did not want to leave!!

+ Read More

Frank G.

Kinnelon, NJ

"Great time in TN!!"

Good time was had by all.

Kasey

Washington, IN

"Great Stay"

We had a great time. The cabin was very clean and we felt right at home.

Frank V.

Mentone, IN

"the cabin and property were extremely beautiful."

this was one of the most memorable vacations my family has had. thank you.

Ann Marie

Alexandria, VA

"Southern Comfort was a comfortable place to stay."

Checking in/out over the phone was unusual, but efficient and worked perfectly. Cabin was great, but photos on website were not totally accurate (but certainly close enough to give us an idea of what

…

we were getting). Would definitely recommend Elk Springs to others, and would stay there again myself. Beautiful cabin. Private, but not off by itself or isolated. Cleaning staff we met were very friendly, as was the service on the phone. When we got the call with out access code for the front door, the lady asked what time we were arriving as they would leave the some lights on in the cabin if we were arriving after dark. The ice machine was broken, but they had someone out to fix it. I would have liked printed directions on how to use the movie projector (up in the game room) and a list of the TV channels (not that we used it often, but we spent a lot of time searching the one night we did). The supplies that were there (soap, toilet paper) was adequate as a start up supply. We brought food to eat, but I forgot to bring sugar, and of course there was none. A safe beautiful cabin that I would stay in again.
The whole family settled in quickly with my teenager loving the upstairs bedroom space all to himself! While the younger child liking to be in the room next to us. I really enjoyed the dining room table and wish I could have taken it home. Relatively no insects in the cabin which I found amazing as it is out in the woods. Directions to the cabin were easy to follow, although I was glad we were not arriving at nighttime with the windy roads.
Close to Gatlinburg, but far enough away that we were not in the hubbub of traffic and tourists, easy to take the bypasses around the main traffic areas. Overall I could not be more pleased with the cabin.

+ Read More

Manager Response:

Thanks again for the review. Our return customers receive a 10% discount. Come back soon.
Load More Reviews