Amenities:
Full Kitchen

Gas Grill

Honeymoon

Hot Tub

Iron / Ironing Board

Parking

Washer/Dryer

WIFI
You will rediscover the definition of "snuggle" after spending just a few glorious nights as guests in Snuggled Inn! Enjoy views of Mt. LeConte through the 28 foot wall of glass or relax on your deck and listen to the quiet surrounding in this secluded cabin. Just walk in the door of Snuggled Inn and find yourself stargazed by the 28 foot two story windows that welcome you to the Elk Springs experience.
Cabin Bedrooms Layout
Master Suite

King Bed
Sleeps 2
Bunk Room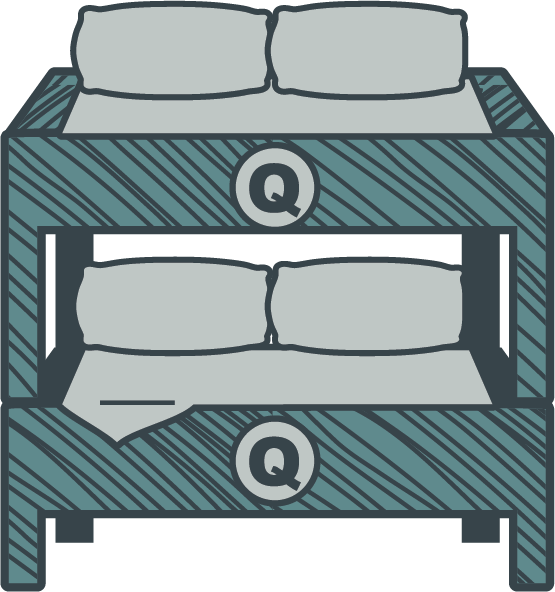 Queen Bunk
Sleeps 4
Living Room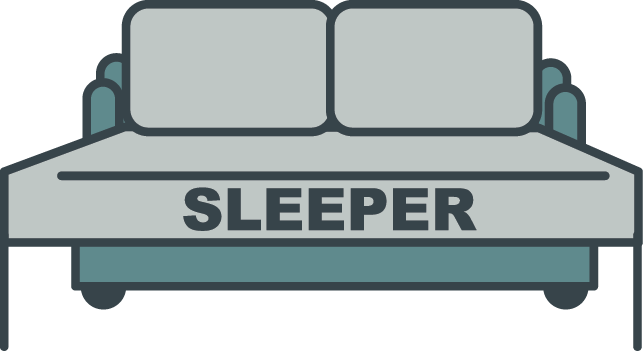 Queen Sleeper
Sleeps 2
Full Description
The main floor offers a very comfortable living area with a gas fireplace and large flat screen TV. A large fully equipped kitchen with stainless steel appliances, breakfast bar and dining area adjoin a living room with leather queen sleeper sofa and rocking chair. A gas grill is just outside the front door for your convenience. You can sit and relax on the main level while others head to the lower level game and living area.

Where to start? Maybe the deck with your hot tub waiting for you or more rocking chairs where you can relax and view the mountains - the beauty of it all. After dinner and not quite yet ready to settle in for the night, consider challenging your friends and family to a game or two of pool and foosball. A second gas fireplace takes the chill out of the air on cooler nights and features a 28 foot chimney up the wall of glass.

Retire to the master fantasy suite with upgraded mattress and bedding. The suite features a fireplace, jacuzzi tub, flat screen TV and a unique 18 foot rain tower shower.

The second bedroom features queen over queen bunk beds and an adjoining second bathroom with a tub/shower combination - also beautifully furnished and comfortable.

*** We have several cabins with this same floor plan! Ask us about this same cabin/bedroom footprint which features two king beds ideal for couples. Just spend a few nights with us and we guarantee that you will quickly become Snuggled Inn!
18 Foot Rain Tower Shower
Hot Tub
3 Fireplaces
Pool Table
Foosball Table
FREE High Speed Wireless Internet
Jacuzzi Tub
4 Rocking Chairs
4 Flat Screen TV's
4 DVD Players
Washer/Dryer
Gas Grill
Full Kitchen
Stainless Steel Appliances
Free Local and Long Distance Calls
Ceiling Fans
Comfortable seating for 6
1 King Sized Bed
1 Queen over Queen Bunk
1 Queen Sleeper Sofa
Calendar
Click your dates below to check in and check out
Available
Check In Only
Check Out Only
Selected
Unavailable
Photo Gallery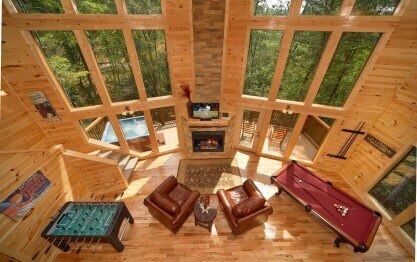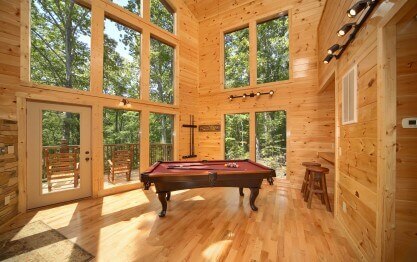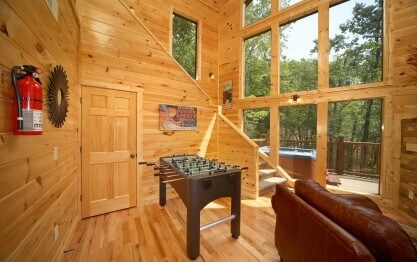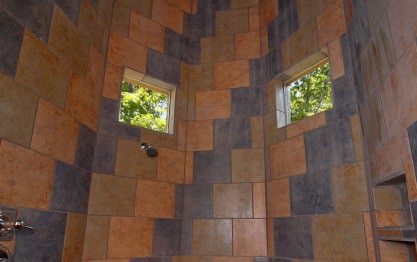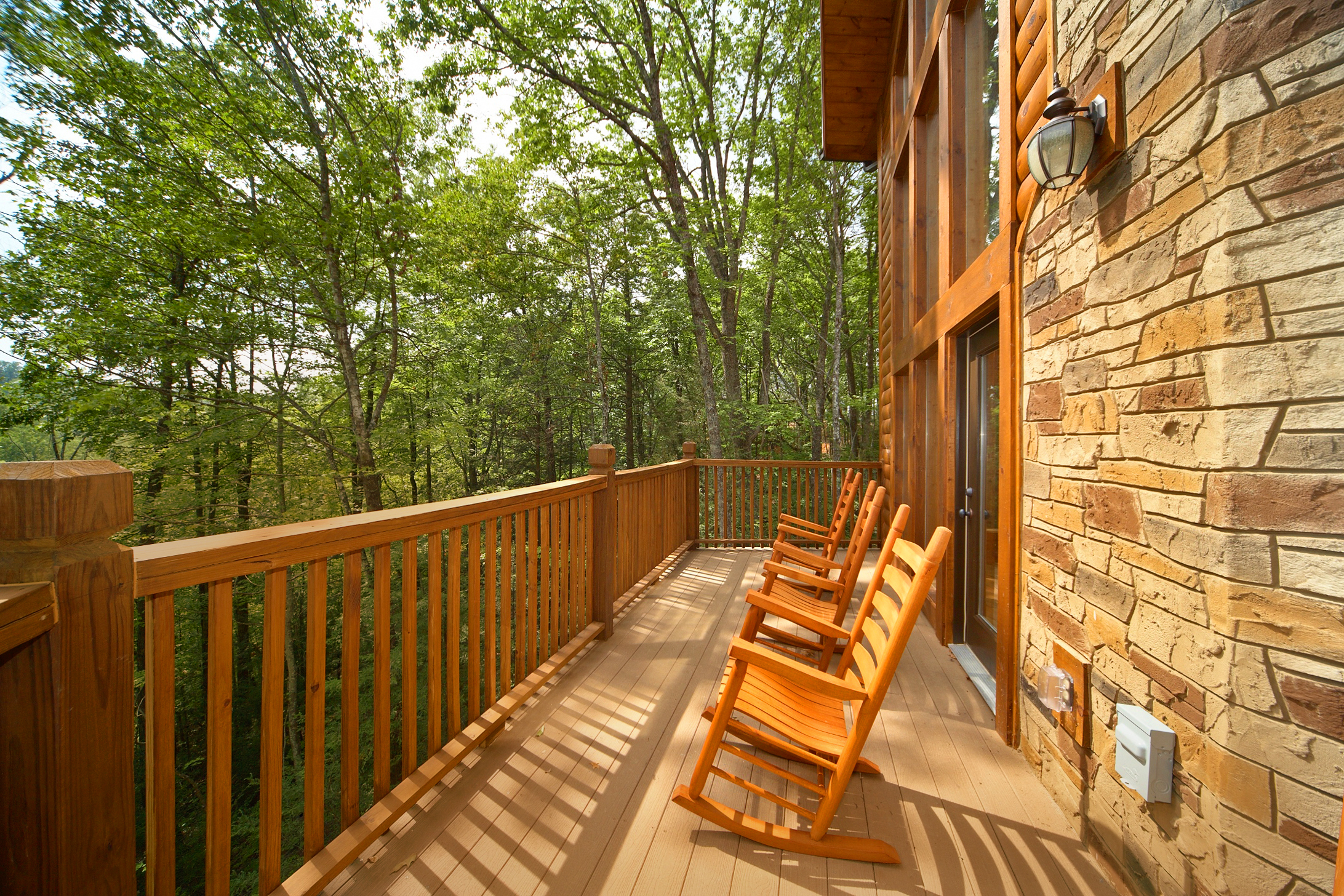 See All Photos
Reviews
Tina

Medora, IN

"Snuggled Inn the Smokies "

We had a wonderful time at a Snuggled Inn. Every step of the procedures we needed to follow from the payment to check on through check out were laid out and easy to follow. The texts with telli

…

ng us to have a safe trip, our door code and the message making sure everything was ok with our cabin on the second day were all appreciated. We had a problem with locking the cabin the first time we left (totally our fault for confusing our code) and we received a call to make sure everything was ok (I hung up before leaving message). Completely satisfied with customer service.
The cabin was beautiful and we were beyond satisfied with the cleanliness, location and accessibility.
Will definitely stay again and will recommend to friends and family.


+ Read More

Manager Response:

Thank you for your wonderful review, Tina! We are delighted to hear you enjoyed your stay. We enjoyed having you as our guest and hope you will make plans to stay with us again!

Annette

Apopka, FL

Lashell T.

Gordon, GA

"Snuggle Inn Stay "

We really enjoyed our stay With Elk Luxury Cabins. We arrived with ease to find a beautiful cabin that was everything that was advertised and more. We enjoyed the quite, peaceful and relaxing atmosp

…

here of our cabin. We would definitely rent this cabin again.

+ Read More

Annie L.

,

"Perfect getaway home "

Loved the unique floor plan of this cabin and private location. Was very clean and well kept with all the amenities- several bathrooms and showers, tvs in every room, jacuzzi, heart shaped tub, pool t

…

able, washer/dryer, and kitchen complete with pots and pans. I loved it so much that I did not want to leave.

+ Read More

Manager Response:

We love to hear that you were able to enjoy so many of the amenities offered at this cabin. It sounds like great memories were made! Please contact us when you are ready to start planning your next get-away. One of our friendly sales representatives will be happy to assist you in planning your next adventure.

Stuart M.

Redwood City, CA

"Luxury in the woods"

The cabin has a beautiful view of the surrounding woods, has all the amenities of home (kitchen, laundry, TVs and games, jacuzzi, etc). It's far enough away from towns and villages that it's very qui

…

et, but close enough that a short drive will get you to restaurants, arts / crafts shops, various activities, and even Dollywood. It is near the Great Smoky Mountains National Park which is very scenic and has lots of trails for hiking. i had a very delightful week at the cabin, and exploring the surrounding areas.

+ Read More

Manager Response:

Thank you for your 5-Star review, Stuart! We are excited to hear that you had such a wonderful time visiting with us. We agree, the location is perfect! We hope you will consider making Elk Springs Resort part of a new tradition when visiting our beautiful Great Smoky Mountains. Please come back and see us soon!

Eric

Dola, OH

"Beautiful "

The cabin was beautiful surrounded by beautiful Tennessee mountains. The cabin was clean and was everything the team at Elk Speings said it was. Loved every minute.

Manager Response:

Thank you for allowing us the opportunity to be a part of your exceptional stay. We hope you are able to return to our beautiful Smoky Mountains soon. Please keep in mind you will receive 10% off as a returning guest on all future visits.

Oscar

Decatur, AL

"A Cozy Getaway. "

A great cabin to spend some downtime. Weather was not so cooperative during our mountain visit, so getting out and about was not as desirable as we had hoped for. However, having this great cabin made staying inside a pleasure.

Manager Response:

Thank you for your business! We hope you will continue to enjoy Elk Springs Resort's cabins for many years to come! We are running a great Groupon promotion right now. Feel free to check it out and book your 2017 vacation with us!

Lindsay D.

Bryan, TX

"We will be back!"

We loved every second, despite coming down with the flu during our visit. We will definitely be back!

Manager Response:

It is always wonderful to hear how great of a time our guests have during their visit with us. However, your comments truly amaze us! If you can enjoy your visit this much with the flu, just think how much you can enjoy it without the flu. It is time to start planning your next trip. It's never too early to start thinking about some much needed time away and a truly enjoyable vacation get-away. We hope you will consider Elk Springs Resort for all of your vacation needs for years to come.

Michael

Thompsons Station, TN

"Cabin lives up to it's name!"

Best customer service of any place we have ever stayed! Have been back twice now and planning more trips! You will not be let down! Elk Springs Resort is top notch, incredible customer service, extremely clean and well kept.

Brian

Brookville, IN

"R&R at it's Finest"

The cabin was very clean and cozy. I usually wipe and clean every surface before use and I didn't need to do this at Snuggled Inn. We were pleased with the cleanliness of the cabin! We loved the resorts' location and quiet cozy atmosphere.

Manager Response:

Thank you for the 5-star review, Brian. Your feedback lets us know that we are doing everything right in providing our guests with the best cabin rental experience possible. The Elk Springs Resort property offers security and peacefulness away from all the busy local attractions. What a great way to unwind at the end of a long day! We appreciate your business and would love to have you back for another stay again soon!

Kevin M.

Wallkill, NY

"Beautiful cabin"

A really nice place to stay. No real views off the deck.

Manager Response:

Thank you for your review Kevin. We are pleased to hear that you enjoyed your stay.

Tracy R.

Grass Lake, MI

"A wonderful getaway!!"

We had a fabulous time at the Elk Springs Resort! The cabin was spacious, comfortable, & perfect for our family of 3 (although there was plenty of room for more). The location is very convenient for visiting the many, many attractions in the area.

Manager Response:

Thank you for the nice review Tracy! We are always pleased to hear of another satisfied guest that enjoyed one of our luxury cabins. Our Elk Springs Resort property is conveniently located just outside of downtown Gatlinburg, so you can be just a short drive away from all of the attractions. We hope you have plans to come back for some more Smoky Mountain memories real soon!

Kristen G.

Columbus, OH

"Fantastic Stay"

We really enjoyed our stay at Snuggled Inn! In fact we liked it so much we extended out vacation an extra day. The cab was very clean upon arrival. Elk Springs made check-in and out very easy. The

…

staff was very professional and helpful when needed. Furnishing were comfortable and nice. The high point was that this cabin was the most secluded property away from other cabins. We would definitely stay here again!

+ Read More

Stephanie

Cartersville, GA

"perfect getaway!!"

The stay was amazing! We will definitely be back!

Charlotte

Chicago, Illinois

"Great weekend getaway"

Very impressive

Robert W.

Howell, MI

"Gatlinburg is a must if you have children"

We stayed at Snuggled Inn located near Gatlingburg. The kids were very impressed. Although we spent most our time in the two cities it was nice to come back to our cabin. Plenty of TVs and room to roa

…

m around. The hot tub & fireplaces were a nice surprise . Planning trip back same time next year...

+ Read More

Sergio V.

Orlando, FL

"Great Vacation!!"

Loved everything about the cabin! My favorite thing were the big windows!

Oliver

Boca Raton, FL

"Amazing"

This cabin was perfect for our family of 3. Our toddler had a great time and the windows were stunning! Very close to Gatlinburg and TN and this particular cabin was away from the others. Very private

…

and beautiful! Elk Springs staff was amazing. Everything was clean and the starter kit of laundry detergent, etc was enough for our 4 night stay.

+ Read More

Ray J.

Hopkins, SC

"Anniversary Getaway!"

We enjoyed our stay. Cabin was exactly like the pictures! Check-in was easy, we arrived 2 hrs early, decided to go shopping at the outlet stores. We were pleased when we got a call to say that our cabin was ready early. We can't wait to go back!

Shauna

Durham, NC

"Awesome place. Exactly like pictures. "

These cabins are well taking care of. Nothing was dirty or out of place. The property is nice and we'll taking care of also. This place really exceeded my expectations. The staff are great too.

Kamile

Cincinnati, ohio

"my mind & body needed this!"

It wss an amazing slice of relaxation heaven! The place was immaculate! The rain shower wss exhilarating...the secluded deck was amazing. ...I did not want 2 leave! !!!!! The staff was very helpful

…

over the phone! !!!!! Such a memorable experience!

+ Read More

Brittany K.

Lexington, Ky

"Elk Springs November"

Very good experience. Cabin was clean. Courtesy call I received upon arriving was very thoughtful. Would go back!

Brian S.

Gallatin, TN

"Great weekend Getaway"

A very peaceful, relaxing and beautiful weekend with great friends.

Bobette C.

Dermott, AR

"Snuggled Inn 25th anniversary"

We enjoyed our stay so very much. Cabin was very clean and beautiful. This was our first trip to Gatlinburg but we will definitely be back and will definitely stay at Elk Spring Resort again!

Stephen M.

Clarksville, TN

"Very Satisfied Guest"

Our stay was wonderful! The furniture and beds were very comfortable. We felt safe with the door locks. The cabin was in a convenient location that only took about 10 minutes to get to the Gatlinburg

…

strip. All the sheets, blankets, dishes and bathrooms were very clean. The check-in and check-out process were both very easy and convenient. Our favourite amenity was the tall 18 foot high rain shower! We loved it! It was very refreshing and unique. We will most definitely stay in one of the Elk Springs Resort cabins again in the future!!

+ Read More

Cindy

Flower Mound, TX

"Snuggled In"

Everything was very nice.

Joan P.

Louisville, Ky

"Exceptional Stay"

It was the best 2 night stay my husband and I have had in a long time. I would definitely recommend and will stay again.

Jamie

Pathfork, KY

"Great Escape"

Snuggled Inn was a great escape in the Smoky Mountains. The rental was clean, well-maintained, and private.

Aimee

Tinley Park, IL

"snuggled in"

Excellent stay in a spacious cabin.

Peggy B.

Cantonment, FL

"Go here. Even if you don't think you need to get away."

We almost did not make the May 19th trip at all. Our home was flooded Apr. 29th with 2 ft. of water 12 days before we should leave...just a bit too late to cancel. Our friends & family encouraged us

…

to "get away" from all the overwhelming work and loss we were facing, but we went with sad hearts and feeling like we should not have been vacationing when our home was so destroyed. The forest and mountains are my absolute favorite place 'to be' and when we got out on the trails to hike we were so happy to be where we were. It is so very healing and even though we felt guilty we felt comforted by the entire experience. The cabin sits in a perfectly private turn of the road and we so enjoyed the silence of the natural world. We spent 3 days in heaven and then scurried back to a disaster but there was no better place we think to regather our minds and bodies. Everyone should go there. :)

+ Read More

Jamie

Delta, OH

"Great getaway!"

We had a great time. The overall trip was a completely wonderful experience. The view off the deck was gorgeous and the cottage was beautiful and clean. I will definitely be coming back.

Jessica

Spring Weekiwachee, FL

Robyn C.

Warrenville, IL

"Great Romantic Getaway!"

We had a great time! The cabin was amazing and very clean! We couldn't have asked for a better time!

Darnell

Decatur, GA

"Cool Cabin"

Everything was good. My only complaint is I wish they had a Blu-ray player instead of an old DVD player.

Erika C.

Owosso, Michigan

Lisa

Huntington, WV

"wedding weekend!"

My Husband And I Stayed At Snuggled Inn For Our Honeymoon Weekend. It Was Phenomenal! The Cabin Was Breathtaking And, Best Of All, Private!The Chapel Where We Were Married Was Right Down The Road, So

…

TheLocation Was Perfect! The Only Bad ThingWasThatWeCouldn'tStayLonger!

+ Read More

Adria

Folsom, LA

Leilanie S.

Durham, NC

"I could say we had a great time. Perfect vacation!!!!"

The cabin was exactly like it was in the pictures. It was clean and the customer service was very helpful. I would definitely consider to go back and recommend the resort to my friends.

Jeff

Alvaton, KY

"Gatlinburg getaway"

Property was as advertised. One of the nicest places my wife and I have ever stayed wife also commented on how clean the cabin was and that is a high complement from her. We will likely go again if opportunity presents.

Alaina

Lawrenceville, GA

"A great getaway at Snuggled Inn"

My family of 4 spent a wonderful weekend in this cabin. The kids were thrilled to have queen bunk beds. They also enjoyed the jacuzzi in the master suite. The rain shower was amazing. I wish I could a

…

ve enjoyed the porch and rocking chairs but it was one of the coldest days of the decade! The fireplaces made up for it though. The only negative was that in order for the bottom level to warm up, the upper level was extremely hot. We followed the tips on how to get the heat to the lower level bedrooms but it didn't seem to work. No matter. We just got a blanket and "Snuggled Inn"!

+ Read More

Michael

Moscow, TN

"Pleasantly surprised!"

We had a blast! The cabin was even better in person than the pics. We have 4 kids and there was PLENTY of room! Loved the hot tub on the deck and all the details of the decor. We definitely want t

…

o come back with a group of friends or family. Thanks for an awesome weekend!!

+ Read More

Cody E.

Wilkesboro, NC

"Fantastic cabin in the middle of all the excitement"

I had an amazing stay recently at the Elks Springs resort, and I have to say that check In and Check Out were easy and uncomplicated. The facility was unrivaled in quality and condition, and we cannot

…

wait to repeat our trip. We really liked that it was close to the arts and crafts community, as well as close to both Gatlinburg and Pigeon Forge without being in too busy of a location.

+ Read More

Debbie

Canfield, OH

"Outstanding Cabin"

What a great cabin. Everything was super clean. Check in/Check out was super easy! Close to the Smokey Mountains and the hot tub was great after a day of hiking. Wish we would have stayed a few longer but we'll be back next year!

Doug M.

Huntsville, AL

"Worth Every Penny"

This trip is exactly what my wife and I needed! We knew we were going to be coming into Gatlinburg late on Friday night, so having the chance to go straight to the cabin without having to worry about

…

checking in was great. The cabin itself was unbelievable. It ended up raining for most of the trip, but with how relaxing it was to be at the cabin, we enjoyed the time to relax and disconnect from the everyday.

We are already planning our next trip and we wouldn't want to stay anywhere else!

+ Read More

Cathy B.

Raleigh, NC

"Snuggled Inn"

We loved our vacation at Elk Spring Resort. The hot tub was a great way to relax after an action packed day!

Ballari C.

Cinncinati, OH

"Wonderful experience!"

It was a wonderful vacation we had at elk spring resorts..the best part is that our cabin was very clean and exactly looked like the pictures..we enjoyed the hot tub and jacuzzi. We did barb q and the

…

gas grill was very useful. The views were awesome and our whole family including my parents just loved it. We would love to come back again!!

+ Read More

Stephanie

Olive Hill, KY

"We loved our stay at Snuggled Inn"

Beautiful cabin, and great location!! This was our second time staying at Elk Springs Resort Cabins, and we will be back again! :)

Ben

Dublin, OH

"Snuggled Inn at Elk Springs"

Very nice and clean. Very good location, close to everything, but still private on the Elk Springs Resort. Kids loves all the amenities. A bit pricey.

Constance

Gilford, IN

"loved our cabin"

Very satisfied with our stay!

Jennifer S.

Meridian, MS

"Great trip"

We had a wonderful time. The price was a little high but it was spring break so its understandable. The pictures do make it look a little bigger than it is, but it was still a great place.
Load More Reviews