Amenities:
Full Kitchen
Gas Grill
Honeymoon
Hot Tub
Iron / Ironing Board
Parking
Pet Friendly
Washer/Dryer
WIFI
Great for a romantic get away with your special someone, and with a bonus loft bedroom you can bring the kids too! Or maybe not. With so much to offer and the convenience of being close to downtown, Smoky Mountain Romance is one of our most popular 1 bedroom cabins.
Cabin Bedrooms Layout
Master Suite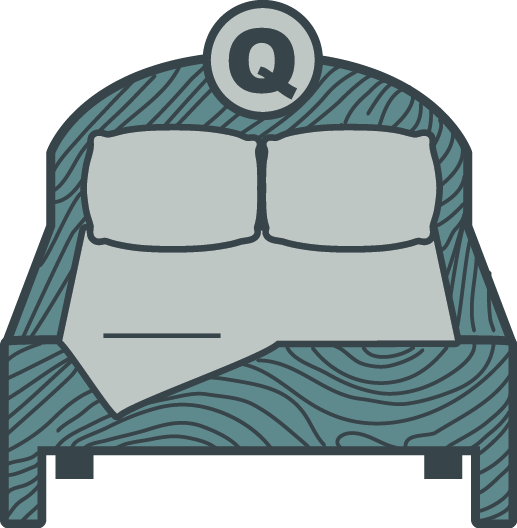 Queen Bed
Sleeps 2
Loft Bedroom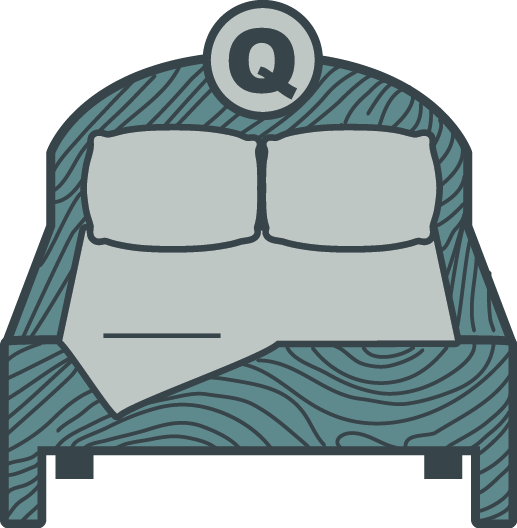 Queen Bed
Sleeps 2
Full Description
Enter into the living room with fireplace and wall of glass looking into the woods. You can sit back on the sofa and enjoy the fireplace or watch a movie on the flat screen satellite TV. Perhaps shoot a game of pool on the pool table adjacent to the living room. This cabin is just a few minutes to downtown Gatlinburg so you can easily access all the dining options in Gatlinburg or you can stay in and cook in your full kitchen.

The first floor king master suite features a full bath with jacuzzi tub and upstairs you will find the loft with loft bedroom and 1/2 bath. Exit to the large front deck where you can enjoy soaking in your own hot tub.

For your convenience, Smoky Mountain Romance includes a washer/dryer, gas grill and FREE WIFI.
*** This Property is located 6 minutes from Elk Springs Resort
Pet Friendly
2 Queen Beds
Loft Sleeping Area
Hot Tub
Pool Table
Jacuzzi Tub
Gas Fireplace
FREE High Speed Wireless Internet
3 TV's
3 DVD Player
Washer/Dryer
Gas Grill
5 Minutes to Downtown Gatlinburg
Calendar
Click your dates below to check in and check out
Available
Check In Only
Check Out Only
Selected
Unavailable
Photo Gallery
See All Photos
Reviews
Perry N.

East Point, MI

"Summer 2016 vacation "

We were very pleased with our stay at smokie mountain romance cabin.

Manager Response:

We are happy to hear you enjoyed your visit with us, Perry! We hope you will consider coming back to stay at Smoky Mountain Romance again. We hope to see you soon!

Kelly F.

Rome, GA

"Smokey mountain romance"

Great

Manager Response:

We are excited to hear you enjoyed your stay, Kelly! We hope you will consider staying with us during your next visit to our beautiful Great Smoky Mountains. We hope to see you soon!

Jennifer C.

Tampa, Florida

"Perfect Getaway"

Absolutely loved my stay! The cabin is beautiful, well kept and in a great location - secluded for privacy but a quick drive to all attractions. The hot tub, pool table and dart board provide plenty o

…

f entertainment when you don't want to leave the propriety. The kitchen has everything you could think of. I had high expectations based on the website and my experience far surpassed them!

+ Read More

Manager Response:

Thank you for your wonderful review, Jennifer! We love to hear that we exceeded your expectations. We take pride in providing cabins that offer top-notch amenities for your enjoyment. We hope you will take the opportunity to come back and stay with us as often as you can.

Katherine

Jefferson, LA

"Dog-friendly Mardi Gras escape"

Lovely cabin, dog-friendly a plus for us. Too cold to enjoy some of the amenities like the hot tub, but a nice, quiet, very picturesque area. A bit pricey for a two-night stay. With check in so late

…

(at 3PM) and check out rather early (at 10am), we really only got a day and a half. Perfect for two.

+ Read More

Cassandra J.

Rockvale, TN

"Nice romantic getaway"

My husband and I had a wonderful time. The cabin was extremely comfortable and relaxing, just what we needed for our little getaway. Although, the road up to the cabin was rough, once you got there it

…

had a spectacular view. Would definitely recommend staying here and we will be back!

+ Read More

Tony A.

Anderson, SC

"Smoky Mountain Romance"

We had a wonderful and relaxing trip. The cabin was perfect and everything we needed to have a dream vacation.

Manager Response:

We specialize in dream vacations! Our beautiful Great Smoky Mountains are a great place to come when you just need to get away from all the stress in day to day life. We hope you were able to relax and recharge during your stay. Please let us know if we can assist you in choosing your next cabin. Thank you for choosing Elk Springs Resort!

Robert

Jacksonville, FL

"Smokey Mountain Getaway"

We stayed 5 nights at Smokey Mountain Romance. Very nice, looks exactly as pictured online. Cabin was clean and very cozy. We chose this place because it was pet friendly & our Murphy enjoyed it a

…

s well. We took advantage of the hot tub and Jacuzzi. We were like 10 minutes from downtown & enjoyed walks in the woods around the cabin!

+ Read More

Manager Response:

Thank you for your wonderful review! We are happy to hear Smoky Mountain Romance was Murphy approved! We are proud to offer a variety of pet friendly cabins that are of exceptional quality. We hope we can assist you in planning your next vacation.

Bridget

Cincinnati, OH

"Lovely Cabin"

The cabin was perfect. The wood was beautiful, the hot tub was very enjoyable, and it was nice there was kitchen ware available. Just a few downsides, the couch smelled slightly like dog, there were

…

three remotes for the television, and the upstairs bed was not super comfortable.

+ Read More

Amy

Tallahassee, FL

"December getaway "

Had a great time. Cabin was beautiful and cozy. Just enough room for me, my boyfriend and our 2 dogs. Conveniently located close to town and area attractions. Would definitely stay here again.

Jason C.

Owens Cross Roads, AL

"Smokie Mt. Romance Spectacular "

What a way to send out the Month of October and bring in the fall sceneries...three views were spectacular and the Halloween atmosphere was in full effect. It was a preference time of year to visit the mountains and have a peaceful weekend.

Manager Response:

Jason, you picked the perfect time of year to come to enjoy the stunning Fall colors in the Smokies! It is our pleasure to have you as our guests. We are pleased to hear that you had a wonderful time and hope you will return again one day soon.

Bobby

Elkin, NC

"Good times"

We had a good time nice place love to come back.

Manager Response:

Thank you for your 5 star review, Bobby! We appreciate your business and want you to know that your feedback helps us to know that we are doing everything right when it comes to customer satisfaction. We look forward to having you back as a return guest soon.

Heather B.

Goose Creek, SC

"smoky mountain romance"

The cabin was perfect. Very clean. Everything we expected and more. Only bad part was having to leave.

Manager Response:

Heather, we have had many guests say the same thing! They love our cabins and hate having to leave. Your feedback lets us know that we are doing our part in providing you with the best cabin vacation experience possible. We sincerely appreciate your business and look forward to having you stay with us again.

Mike M.

Naples, FL

"Smokies retreat"

I would give a AAA to everything.

Manager Response:

Thank you for the 5-star rating Mike! We love to hear that you enjoyed everything about your cabin getaway. Our repeat guests receive a 10% discount off all future stays, so be sure to mention that when booking with us again.

Toshiaki M.

Franklin, TN

"Everything Great"

My family's 2 nights stay was everything great. It was clean, facility good, and easy check in and out.
We met a bear just next of cabin, so we needed to be careful, but it was great experience for us.

Thanh

Oceanside, CA

"Nice stop for a cross country trip!"

My husband and I and our two furbabies stopped here on our way from California to Virginia. The cabin is magnificent and is not far from town and national park. We thoroughly enjoyed our stay and woul

…

d return for a Fall trip in the future. We only stayed for two night and busy exploring the outdoor that we didn't even have a chance to try out the awesome hot tub in the cabin. Next time around for sure. Thank you for an amazing experience!

+ Read More

Manager Response:

Being able to bring your pets on vacation with you is only one of the special features our cabin stays provide to make your family vacation a memorable one. We are pleased that you decided to stop at Elk Springs Resort to enjoy a couple of days in the Great Smoky Mountains. When you come back in the Fall, you will be amazed at the beautiful colors some of our mountain view cabins offer. Be sure to talk to one of our helpful sales representatives to have them assist you in choosing one of our great cabins with a spectacular view!

Becky K.

Ravenna, OH

"Wonderful Cabin"

We were not sure what to expect, since we picked this from a description and picture. We were pleasantly surprised when we arrived. The location is very good; not too far from town or the Smokies. The

…

cabin was delightful. The rooms are nice size. It was very clean and had all the necessities. We really liked the privacy. There was another cabin across the street but none on either side that we could see. Lastly, the people at the rental agency were helpful and friendly. Even though we didn't need anything, once we arrived, they called to make sure everything was good. I must add, it was sure nice being able to bring our dog, too!

+ Read More

Judith L.

Royal Palm Beach, FL

"Great Stay"

We had a great time at the Smoky Mountain Romance cabin. Everything was as expected and the cabin looked just like the pictures! We were pleasantly surprised. We arrived very late and there was no pro

…

blem using the key code to go in. The kitchen is very well stocked with every appliance and tool you may need to cook, drink, eat etc. The master bedroom on the top floor was very nice with the jacuzzi and very open. The other room was smaller but nice too. Everything was neat and clean when we arrived and we had no problems with the cable, wifi and no interruptions from the owners at all. The cabin was a short car ride to the main street with shops, restaurants etc and that was very nice too. I would definitely return and stay at one of these cabins, we had a wonderful time!

+ Read More

Mona Z.

Ballwin, MO

"great stay"

Amazing location, amazing cabin, amazing service!

Mario R.

,

"Great, Fantastic!"

Everything was perfect, clean and beautiful great Honeymoon! Definitely comeback!

Katlyn

Clarksville, Tennessee

"Beautiful"

I had a wonderful experience. The cabin was clean and had everything I needed.

Angela H.

Fairborn, OH

"Awesome Cabin and Stay"

This was a perfect getaway as an anniversary gift to my long-term boyfriend. I loved that it was secluded but close to town and the National Park so we could explore all that Gatlinburg had to offer.

…

Our puppy, Kimber, loved the cabin, everytime one of us got up to walk upstairs she went right along with us. It also gave her a chance to explore a totally different world than what she is around normally. We will definitely be coming back to rent from Elk Springs Resort

+ Read More

Nini

Little Rock, AR

"Great place to stay "

Close to town, very clean. If you expect a yard for your pup there is no yard but planty of fun space for them to run around.

Azusa

Norcross, GA

"Cosy & Warm"

Our stay was going wonderfully. The cabin we stay was neat, warm and well-equipped. Sorrounding environment was very calm. We were relaxed and spent very nice two days and nights. Thank you very much.

Martin

Coral Springs, FL

"It was a very nice cabin but could use better pillows."

We enjoyed our stay in the Smoky Mountains hiking on trails and breathing in the fresh mountain air.

Kelsey

Marysville, Ohio

"Perfect for our Anniversary"

The cabin was probably our favorite part of our stay in the Smoky Mountains. It was a perfect getaway from the hustle and bustle of Gatlinburg.

Jeffrey T.

Wabash, Indiana

"What a great stay"

Everything was very clean. The cabin was better than advertised. We are going back next year.

Cindy

Raleigh, NC

"Great time"

We really enjoyed staying I this cabin. One of the best vacations we've been on!!

Carmilla G.

Madison Heights, MI

"Best vacation in years!"

This was a wonderful vacation. The cabin was very clean and supplied with everything we could possibly need. Customer service was excellent. I hated to leave! Will recommend Elk Springs Resort to everyone!

Pavel

Hollywood, Florida

"Very good place."

Recommend to everyone

Kyle

Indianapolis, Indiana

"Great Getaway!"

We stayed at this cabin for our honeymoon, and it was fabulous! The cabin structure was beautiful and pretty secluded. Great hot tub, the yard was totally covered with moss so shoes were not necessary

…

. Nice picnic area with a big grill. Another great thing was you are only minutes away from restaurants, attractions, and a grocery store. Very romantic and quiet, enjoy your stay!

+ Read More

Sarah

Lakewood, Ohio

"Perfect Smoky Mountain Getaway"

Loved the location! Felt secluded and private but was close enough to everything we wanted to do. Had a great time and we would definitely stay again!

Ryan

Lexington, KY

"Great Place, Great Stay"

The cabin was perfect for the two of us and are dog. Plenty of room and the space outside is nice too. More private than other cabins we have stayed at.

Erika

Mechanicsville, VA

"A wonderful first-time visit experience!"

This was our first visit to Gatlinburg and it certainly won't be the last. As much as we enjoyed exploring the town of Gatlinburg, I think our favorite part of our trip was unwinding in our cabin. It

…

was the perfect size for a couples trip. We found everything we needed to prepare and cook meals in the kitchen an had more than enough towels and linens. My only complaint would be that the bed in the loft was very loud. It was difficult just to fall asleep because it squealed with every movement.

+ Read More

Angela J.

Antioch, Tennessee

"We WILL be back!!!!!"

We really enjoyed ourselves and the cabin exceeded our expectations!!!!

Sarah

Winter Garden, FL

"Great cabin getaway"

Our cabin was perfect for our stay. It was clean, well kept, and perfect location. We loved it!!

Kristin

Hilliard, OH

"Great Get-Away!"

We had a great time and loved the cabin! It was secluded from the touristy world of Gatlinburg but close enough that we could easily get there. The cabin was lovely! We went with another couple and t

…

ook the pups and everyone had a great time! My only complaint is that I wish there wasn't a pool table (it isn't full size anyways) and that there was a dinner table there instead. We cooked and grilled a lot during our stay. It was great how nicely stocked the cabin was! The hot tub was fun too:)

+ Read More

Chris S.

Cincinnati, OH

"Relaxing Stay"

This was our second stay in Smoky Mountain Romance. The cabin was very clean and comfortable. The kitchen is well-equipped. We loved being able to walk to downtown Gatlinburg alongside the Roaring Fork creek.

John S.

Goose Creek, SC

"Great Weekend"

Had a great time there everything was clean neat and loved the animal towels.The cabin books gave us alot of info of what to to and were to go during our stay.Just all around thumbs up and will be coming back.

Charles S.

Franklin, TN

"Smoky Mountain Romance Cabin"

Cabin was in a great location, close to downtown. Cozy and romantic. Everything you need to be comfortable.

Michelle B.

Maryville, TN

"A Wonderful Weekend Getaway!"

We loved our stay at SMR. The cabin was in a great location and quite clean. We were also happy we could bring our dog with us. Elk Springs was wonderful to work with and we would certainly recomme

…

nd this cabin to friends. We would love to return soon! Thank you for your hospitality!

+ Read More

Rosemary

Nashville, TN

"Thanksgiving Retreat"

I had a wonderful time at the Smoky Mountain Romance cabin. Everything was so close by, and the cabin was stocked full of cooking essentials. We had a blast and will be back!


Joel T.

Boca Raton, FL

"Smoky Mountain Anniversary"

It was an amazing luxury cabin in which to spend our one year wedding anniversary! It was beautiful, in a great location, and had anything we could ever ask for. It was a great vacation home and we can't wait to go back!!!

Jaime

Mandeville, LA

"Review of Smoky Mountain Romance"

We loved our stay at Smoky Mountain Romance... Fabulous place and definitely look forward to renting again.

Cody

Jonesborough, TN

"Review for Smoky Mtn Romance"

We had a great time. It was a very nice location and was peaceful.

Indre V.

Lemont, IL

"everything was too good to add any comments"

Amazing amazing amazing!

Clarence M.

Liberty Hill, TX

"Our Private Quiet Place"

What a wonderful, quiet much needed retreat. We were both taken back by the beauty of this cabin. So much more restful than a hotel - yet so close to everything we wanted to do. Thank you! we will be back:)!

Deborah

Powhatan, VA

"Awesome Getaway!!!!!!!!!!!!!!!!!"

It was so peaceful and quiet at the felt like we were a million miles away from anything yet we were 5 to 15 minutes away from any place we wanted to be.

Sharon

Versailles, Ohio

"Great Price"

Beautiful cabin rental, clean, gas grill good kitchen. We just wish there were specific directions and a map to get to the location.

Cody R.

Friendswood, TX

"Reiland Honeymoon"

My wife and I used the cabin for our honeymoon, and loved every minute of our stay. Thank you

Christopher

Port St. Lucie, FL

"Cozy Cabin"

Felt like a home away from home.
Load More Reviews