Amenities:
Full Kitchen
Gas Grill
Hot Tub
Iron / Ironing Board
Mountain View
Parking
Theater Room
Washer/Dryer
WIFI
We've had guests travel all the way from Vancouver, New York and New Mexico to see this signature Heritage Log Home floor plan. There are very few of these unique floor plans that have been built and many come to our area just to see it. It is the perfect cabin for a family reunion with 2 large gathering spaces on the main and lower levels. With 4200 square feet of living space, Silvercreek is a three level cabin that becomes the "hub" for your group Gatlinburg Vacation Rental. Add views of Mount LeConte, surrounding grassy areas and multiple wrap around decks, and your experience is even more enhanced.
Cabin Bedrooms Layout
ML - King Master Suite

King Bed
Sleeps 2
UL King Master Suite

King Bed
Sleeps 2
UL Bunk Room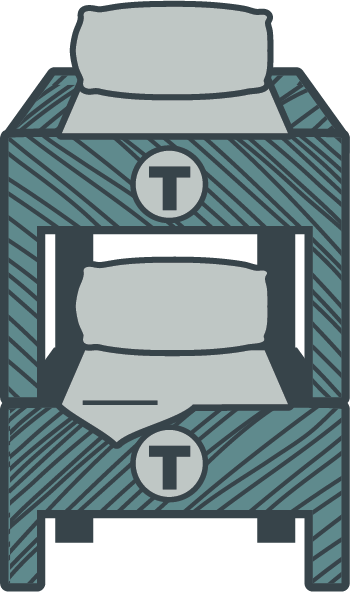 Single Bunk
Sleeps 2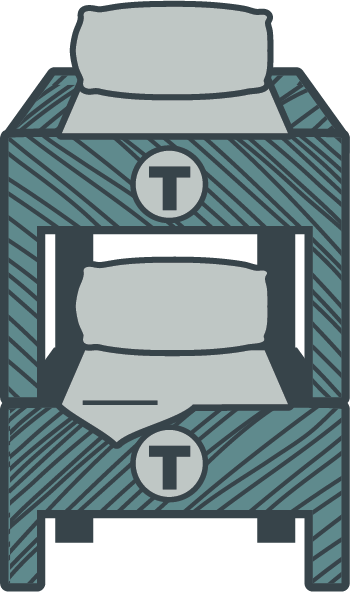 Single Bunk
Sleeps 2
UL Loft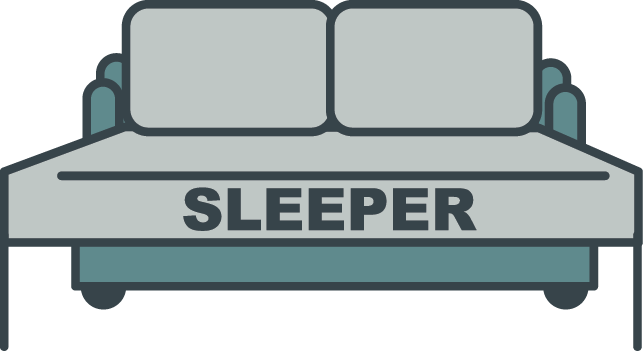 Queen Sleeper
Sleeps 2
LL King Master Suite

King Bed
Sleeps 2
Full Description
Enjoy your own private home theater in the lower level. We've equipped the downstairs with a 9 foot theater screen and HD projector with Bluray and surround sound.

Another signature Heritage Log Cabin design, you will marvel at the custom beams and finish work in this unique Gatlinburg cabin rental. Some of our guests never leave Silvercreek once they arrive - yes, this cabin is that spectacular! Let's begin on the first level - the fully equipped stainless steel kitchen features all you need to prepare meals in your cabin during your stay. Notice the breakfast bar that seats 3 guests and then be awed by the large dining area featuring vaulted ceilings and windows galore - at least 14 guests can dine together at this large dining table.

The gas fireplace with stone floor to ceiling chimney center the Great Room and are surrounded by a wall of glass with views of Mt. LeConte. A leather sectional sofa provides comfortable seating for 8. Sit down at the desk work area and plug your laptop into the free wireless internet connection that is provided for your convenience.

The main level wrap around deck has room for everybody especially for those indulging in mountain views and the hot tub crowd! The first floor master suite is tucked away from the action and is so comfortable - notice the gas fireplace, beautiful furnishings, king bed, and full bath with a Jacuzzi and stand up shower. Put your name in the hat and hope that you draw this 1st floor king suite! A side by side full size washer and dryer are included in the first floor utility room.

The second floor of Silvercreek offers three different sleeping areas. A large comfortable loft area designed for a little quiet time has a couch that converts to a queen sleeper sofa. There is also a well appointed king bedroom and an additional bedroom with 2 twin bunk beds. A full bath with a tub shower combination - accessed by the second floor hallway - is convenient for all parties.

It's not
Over 4,000 square feet of living area
Home Theater Room with 9' screen and surround sound
Hot Tub
2 Jacuzzi Tubs
Pool Table
Air Hockey Table
FREE High Speed Wireless Internet
Gas Fireplace
6 Rocking Chairs
7 TV's
1 Big Screen TV
2 DVD/VCR Combo Players
3 DVD Players
1 VCR Player
Washer/Dryer
Gas Grill
3 Master Suites with King Beds
1 Kids Bunk Room with 2 Twin Bunks
8 Minutes from Downtown
20 Minutes from Dollywood
Heritage Homes Custom Log Cabin

Calendar
Click your dates below to check in and check out
Available
Check In Only
Check Out Only
Selected
Unavailable
Photo Gallery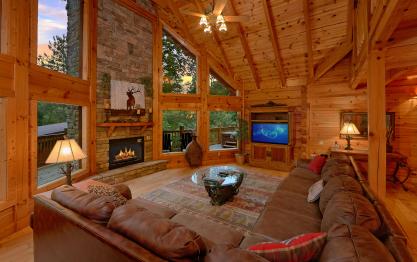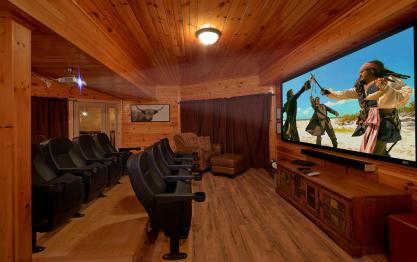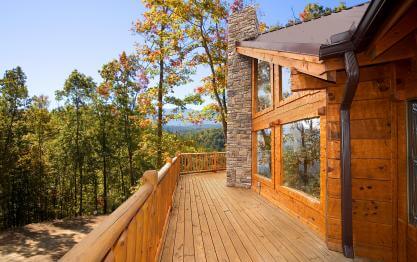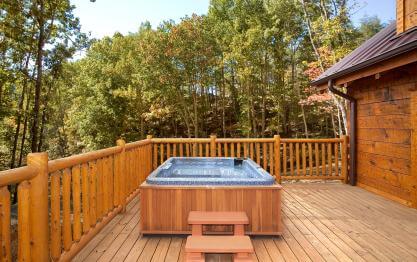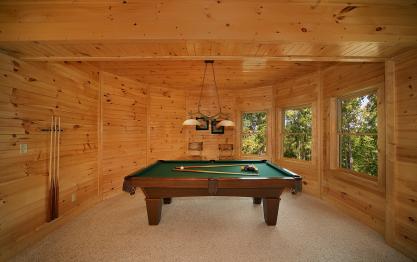 See All Photos
Reviews
Bharti P.

Asheville, NC

"Great Getaway"

We really enjoyed the cabin and all the amenities.


Manager Response:

Thank you for allowing Elk Springs Resort to be a part of such a wonderful get-away, Bharti! We were delighted to have you as our guest. We hope you will come back and visit us often!

Megan

Mount Airy, MD

"A perfect cabin for a group"

We enjoyed our stay at Silvercreek and hope to return some day! Our group of 6 adults and 3 kids had plenty of space and enjoyed all aspects of the cabin. It was quiet so when kids were sleeping or so

…

meone was watching a movie, others could be enjoying conversation in another spot or not disturbing a nap.

The cabins are close together, but Silvercreek only shares one side with a neighbor, and even when they were louder we couldn't hear them from inside our cabin.

We got a little lost the first time finding the cabin, but once we knew where it was, it was easy to find and convenient to so many things in the area. We went hiking or our to Gatlinburg and Pigeon Forge most mornings and would return to the cabin for the late afternoon and evening where we made dinners and enjoyed the space.

Overall, we had a great vacation and would definitely stay here again!

+ Read More

Manager Response:

We are happy to hear you found your perfect cabin, Megan! It sounds like many wonderful memories were made. We hope you will consider making Elk Springs Resort part of a new tradition when visiting Gatlinburg.

Rick S.

Weaverville, NC

"Excellent service."

Lovely home and great location. The seven of us had a great time.

Manager Response:

Thank you for taking the time to share your experience with us! We thank you for choosing Elk Springs Resort as your lodging choice and hope you will consider staying with us again during your next visit to Gatlinburg. Please keep in mind, as a returning guest you will enjoy 10% off all future stays. Hurry back, new memories are waiting to be made!

Daniel

Atlanta, GA

"Awesome place for a family reunion!!"

WE had the BEST experience EVER!! From the time of check in until check out!!!! Each and every time I spoke with someone. Customer service was SUPERB!!!! The cabin was AWESOME!!!!! We will be goin

…

g back !!!! Thanks Elk Springs Resort Cabin Rentals for a GREAT experience!!!!

+ Read More

Manager Response:

Thank you for your 5-Star review, Daniel! We appreciate your kind words. You, as our guest, are our priority. We strive to ensure that you are taken care of to the best of our ability with each and every opportunity. We love our guests, you are why we are here. We thank you for choosing Elk Springs Resort to provide the perfect cabin for your family reunion. We would love to assist you in making this an annual event. Please keep in mind, as a returning guest you will enjoy 10% off all future stays. Come back and see us soon!

Kelly B.

Canton, GA

"Beautiful cabin with some extras"

The cabins are too close together for my taste, I would prefer them a little more secluded. We had problems with the furnace downstairs being set automatically to come on every 12 hours and was set on

…

85 which felt like we were in ****. We could not even set the other two units to a/c and try to cool the other areas because they do not allow you to go any cooler than 70. So if you are hot natured like our family and prefer it to be cool.... this is NOT the cabin for you!Due to this we had to stay out of the cabin as much as possible. Other than these issues, the cabin was very nice and well-maintained. I would recommend this cabin because we did inform the rental office of the furnace issue and I would imagine they will take care of this issue.

+ Read More

Jeannie C.

Davie, florida

"December 2015 Stay at Elk"

Our first time in the area of Gatlinburg. So happy we chose Elk rentals. Beautiful assortments of cabins. Very polished area for being in the mountains. Neighborhood like but still got the feeling

…

of seclusion. Cabin was spectacular. Perfect for our group since we had adults, teen, and children. Staff was very helpful whenever we needed them. Highly recommend!

+ Read More

Manager Response:

Thank you for the 5-star review, Jeannie! It is our pleasure to offer a luxury cabin on our beautiful Elk Springs Resort property for you to enjoy. It sounds like you and your group chose the perfect cabin for a getaway before the holidays. We look forward to having you stay with us again!

Bonnie L.

Mason, OH

"2 night 3 day get away with 2 families"

Great experience. 4 bedrooms and 3 full baths. Could have used a 1/2 bath on 1st floor. 2 of the 3 full baths are connected to a bedroom. All in all great time with family and friends.

Sarah

Greenville, SC

"Silvercreek Birthday getaway"

I would have given this property a full 5 stars but there were 5-10 wasps in the main living area near the fire place. No matter how many we killed they would keep coming back. I hope management can t

…

ake a look at this issue. Otherwise this place was awesome!! The house was huge and fit all 12 adults comfortably. The hot tub and jacuzzis were amazing and everyone had a great time. The hiking outside of Gatlinburg was great as well.

+ Read More

Will H.

Alpharetta, GA

"Silvercreek getaway"

This was a great find. My family and I stayed at the Silvercreek cabin and it completely lived up to the description. The cabin was spotless and there was so much room. We had a great time playing poo

…

l, watching movies and playing games with the kiddos. I highly recommend Elk Springs. We only had one or two questions for the Staff and they were extremely responsive to us and great to work with. Honestly one of the best getaway vacations ever for a relaxing time with family.

+ Read More

Brittany B.

Floyds Knobs, IN

"Great family retreat"

We had a great stay! Plenty of space!

Manager Response:

Thank you for the great review, Brittany! We are pleased to hear that your family enjoyed their time here and there was plenty of space for everyone! We appreciate your business and hope you will come back for a future stay. Please mention that you have stayed with us before and you will receive a 10% discount off your next stay!

Cindy S.

Greensburg, IN

"Great family trip"

We stayed at the Silvercreek Cabin and it was really nice. We hard a large group of people and there was plenty of room for all of us. The cabin was very clean and not too far out in the woods, so it

…

didn't take very long to get somewhere. The kids enjoyed playing in the lower level on the pool table and watching movies on the big screen. The big couch in the main living area was a nice gathering place as well.

+ Read More

Manager Response:

Thank you very much for sharing your experience with us, Cindy. It is our pleasure to offer a beautiful cabin with plenty of space and amenities for everyone to enjoy. It sounds like you made the perfect choice for your family trip. We hope you come back again for some more Smoky Mtn. memory making.

Ronnie

Portland, TN

"Good time had by all!"

Very nice cabin, plenty of room and very clean. Based on pics this cabin does look like there isnt anyone around you and has a back yard area for kids to play outside as well. That is not the case as

…

it is all wooded and grown up which is good for privacy as well. Washer and dryer need some attention for excessive noise . Stone fireplace was awesome on the inside and one of the things i enjoyed most. The outside of the fireplace had some loose stones and a couple on the deck which worried us a little but we just stayed away from it when walking by so no big deal but does need attention. Overall its a nice place and nice staff . I would stay here again for sure. Back home missing that fireplace already!!

+ Read More

Manager Response:

Ronnie, it sounds like the cabin was a hit and you picked the perfect place to enjoy some family time! Your feedback is very important to us, so we appreciate you reporting any issues. This helps us to have the opportunity to fix the problem before it turns into a bigger one for the next guest. We have already ordered parts for the washer and dryer, as maintenance found a bearing to be going. We would love for you to you come back to enjoy that fireplace again! When you are ready to reserve your next cabin with Elk Springs Resort, be sure to mention that you have stayed with us before. Our repeat guests receive a 10% discount on their next stay!

Portia B.

Taylors, SC

"5 star cabin!!!"

Such a luxurious cabin

Manager Response:

Thank you for the 5-star review Portia! It is our pleasure to provide you and your family with a luxury cabin getaway. It sounds like it was the perfect choice for some Smoky Mountain memory making.

Yamina

Miami, FL

"Silvercreek - 5 Stars"

Beautiful and clean cabin. Exceeded our expectations. Close to downtown Gatlinburg. Great amenities. We really enjoyed our stay and wish it could have been extended.

Manager Response:

Yamina, we are so pleased to hear that everything about your cabin vacation getaway exceeded your expectations! Silvercreek is a beautiful cabin with plenty of room for family and friends to gather. We hope you come back for another visit real soon!

Paul P.

LaFollette, TN

" Provins' 2015 Summer Vacation"

Loved the express check in and being able to go straight to the cabin. Everything was very clean and well kept in the cabin. Wish we had booked several more nights, four was not enough! Will definitely use Elk Springs again.

Danelle J.

Lansing, MI

"Beautiful Cabin"

The cabin was beautiful!! There was plenty of space for my family,and the check-in process was very easy!! Mary in customer service was very prompt and helpful on any issues that we had. We will definetly be returning to Elks Springs Resort!!!

Katy C.

Jackson, TN

"Wish I could live there!"

The beauty inside and out made me feel like a new person. The decor allowed the the craftsmanship of this gorgeous home to awe you each time you looked around. The space arrangement was perfect for th

…

e entire group. It was our first family vacation in 10 years and worth every penny. Teenagers can be hard to please but after just a few minuets of stepping into "our mnt. castle" I was enveloped with hugs and thank yous. And that is priceless. Hope it won't be too long before we can come back "home".

+ Read More

Debbie M.

,

"Silvercreek is a Gold Star!"

We had an absolutely amazing time during our stay at this cabin! First the cabin is HUGE and decorated beautifully. It looks exactly as it does in the photos on the website. The only bad thing I could ever say is that you won't want to leave.

Melissa

Jackson, MI

"Family Birthday weekend"

beautiful home. Pictures need updating. Different sectional couch than pictured, plus two extra chairs. No foosball table. Resort is much like a neighborhood. Great amenities, we had everything we nee

…

ded. Great movie room downstairs. Took 3 families, 6 adults, 5 children, and a 7 month old. Needed more than just 2 nights to enjoy everything. Felt like we just got unpacked and had to leave. Overall great experience. Management was great.

+ Read More

Prakash

Jamestown, NC

"Family Vacation"

Over all good stay But Property need some upgrade.

Bradley

Owens Cross Roads, AL

"Silvercreek Cabin"

Very nice company to deal with. The cabin was great! Very spacious and very nice!

Jeffrey

COVINGTON, LA - Louisiana

"Snowy Hillside Retreat"

Thank you Elk Springs for a wonderful stay! The cabin was everything that we had hoped for! The location was far enough from town to experience nature, yet close enough for quick access to services.

…

We had two families and the accommodations were perfect. Plenty of space and recreational area. We loved the lower level game and movie room! Also, using the hot tub during the snow showers was incredible! The cabin was clean and the staff at ES was more than helpful with any questions or issues that we had. We did find the cabin "essentials" to be a little sparse compared to other rentals that we've had. There were no blow dryers and the selection of kitchenware was a little lean. Granted, we were there during an ice storm, and had to do a lot of cooking. All in all, with our Groupon offer, the cabin was a super value, and we had a great mini vacation in the middle of winter!!


+ Read More

Karen A.

Knoxville, TN

"Great cabin"

This cabin was wonderful..Elk Springs Resort saw to our every need . I will be staying here again.

Abigail Y.

Baton Rouge, LA

"Awesome and exciting"

The trip was a family trip that was just amazing. Chalet was clean and very inviting when we arrived.

Michelle

Sellersburg, Indiana

"Blissfully Relaxed"

Loved this cabin! Would have like a little better view but it wouldn't stop us from returning again and again! It was an amazing getaway!

Molly L.

,

"Silver Creek Cabin"

Our family had a wonderful time in this peaceful setting.

We stayed busy enjoying pool and air hockey games, watching movies in the media center and preparing delicious meals. We spent our morning

…

s hiking to nearby waterfalls. We highly recommend staying here.

+ Read More

Michelle

Cincinnati, OH

"Great stay!"

Great location, beautiful cabin and very relaxing vacation!

Philip H.

Carrollton, KY

"Another great Elk Springs vacation"

This is the second time we have stayed at Elk Springs and once again we had a great vacation. Elk Springs is one of my favorite places to stay bacause of the nice cabins and also the convenient l

…

ocation. Everyone was impressed with the cabin, it was clean, and everything worked properly. One thing that would help improve the cabin would be to have a half bath on the main floor. Reservations process was easy, and staff was helpful and courteous. I would recommend Elk Springs resort to others.

+ Read More

Felix

Altamonte Springs, FL

"Great Family Reunion!"

Beautiful and spacious cabin that accomodated our family of 17. We did not want to leave!

Jenny B.

Cleves, OH

"Weekend Family getaway"

We had a wonderful time with our family at Silvercreek Cabin. It had wonderful views, was close to the Park and downtown Gatlinburg. The staff were very friendly and quick at responding and resolving

…

any issues we had during our stay. Can't wait to come back for another stay!

+ Read More

Joy H.

Dublin, GA

"Silvercreek...Great Getaway!!!"

Loved the cabin and lay out of bedrooms on different floors.

Amy

Centerville, OH

"Thanksgiving at Silvercreek"

It was a fabulous experience!! Will be back!

Bonnie M.

Bartlett, TN

"Fantastic Cabin!"

We stayed in the Silvercreek cabin. Silvercreek is a beautiful, spacious cabin with just the right touches to feel comfortable. Family really enjoyed it and didn't want to leave!

Patrick

Simpsonville, SC

"Great Time"

The only bad thing I could say is the TV's are a little out dated. The house was great and we had a great time.

Shareef Z.

Birmingham, AL

"Vacation"

We liked it. Me and friends had a great time.

Rachael P.

Swampscott, MA

"Incredible Weekend"

This past weekend I stayed at SilverCreek with a bunch of girls for my sister's bachelorette weekend. This was the PERFECT location for a fun filled weekend where we really were able to take advantag

…

e of all the house had to offer. Everything from the hot tub to the pool table to large sitting area, we all really enjoyed our stay. We all agreed we would be back to Elk Springs with our families for future vacations. Thank you!!

+ Read More

Kimberly

Old Fort, TN

"Weekend getaway"

It was very nice. Plenty of room for two families. Sometimes you see pictures on the Internet and they make it look a lot better than it is but this cabin was true to the pictures maybe even better.great place to stay we will defiantly go back.

Misty Z.

Robbins, TN

"A+ All The Way!"

I cannot say enough good things about this cabin. Beautiful and spacious!!! Had to call for maintenance a few times. Our fault-couldn't figure out how to work the dvd player once and another time wate

…

r leaked from upstairs bathtub due to shower curtain allowing water to hit the floor. Ed was amazing! So very pleasant and professional!!!

+ Read More

Karen M.

Jacksonville, IL

"Great House To Rent"

There were three senior couples who stayed the

three nights. We loved the house & are hoping

to return next year. One suggestion is to have rock salt in the house to use on the steps outside

…

. They were slick after the frost. We bought some & it worked.

+ Read More

Douglas

Morrow, Ohio

"Wonderful Time"

A very beautiful and most relaxing setting! We truly enjoyed our stay.

Curtis

Nashville, TN

"Great location, clean and affordable"

Well kept cabin close to downtown. Would stay here again.

Elizabeth O.

Mt. Washington, KY

"Time Away in the Smokies"

My teenagers and I had a fantastic time! The cabin was perfect for us! Working with Martie was great! She was helpful and made it so easy to book our stay. Our family just went through a very sad

…

and difficult time. Our getaway to Silvercreek cabin and the Smokies was just what we needed as we begin the healing process. We can't wait to return!

+ Read More

Kalyn

Souderton, PA

"Great Place, But No View"

This home was beautiful and totally fit our needs. The kitchen did not have enough spoons, a scrubbie to wash dishes, spatulas, and oven mitts....we ended up buying our own, but I'm sure they would h

…

ave replaced them if we called them about it...we just never had time to. They called us after we arrived to make sure everything was okay and quickly handled a broken screen and a ceiling fan that tapped a wood beam. Check in and check out couldn't be any easier! The house was clean. The sofa was much more faded than the pictures show. The downstairs carpet was stained badly, but these are all things that don't make or break a stay. The house is around a corner, so you only have close neighbors on one side, which was nice. I thought we would have a better view than we did....didn't end up sitting on the porch more than a 1/2 hour all week. All in all it was a great place to stay close to the Gatlinburg strip yet in a nice, quiet place and Elk Springs Resort was very pleasant to work with!

+ Read More

Cathy

Madison, AL

"Perfect for all occasions!"

We had the most amazing vacation at Silvercreek! There was so much room for our 2 families and the furnishings and surroundings were amazing. We had a small problem with our AC, but it was fixed almos

…

t immediately by a maintenance person. We could not have found a more perfect location or cabin for our vacation! Thank you Elk Springs!!

+ Read More

Angela L.

Florence, MS

"Peaceful"

Silvercreek was very big, spacious and clean. My child had a great time all throughout the cabin playing air hockey and pool. We enjoyed the hottub and setting out on the deck grilling. Very close to

…

town and grocery store and gas station. We will visit Silvercreek again. It is a beautiful cabin! We had a wonderful vacation and stay for 5 days in the Great Smokey Mountains!

+ Read More

Jennifer

Delphi, IN

"Wonderful Stay"

The cabin was beatiful and extemely clean. The staff were very friendly and helpful. Would definitely stay here again!

Manager Response:

Thanks again for the review. Our return customers receive a 10% discount. Come back soon.

Matthew P.

Fort Wayne, IN

"Silvercreek Review"

My friends and I stayed at Silvercreek in late April of 2012. It was a great place to house all of our shenanigans. We had a great time. The house was immaculate. It has a very nice area downstairs wi

…

th the pool table and the television. The air hockey table was okay, but probably more suited for younger kids, and not us old kids. The porch was huge, and it was nice to hang out out there in the rockers just enjoying the spring weather. The only negative I would say would be the televisions. None of the televisions were flat screen or HD. We hooked video games up to them, and it just wasn't the same quality as we were use to. Otherwise a most perfect place to stay. By the way, everyone I spoke to at Elk Springs Resort was very friendly and very very helpful.

+ Read More

Larry H.

Taylorsville, KY

"MARRIAGE SECOND TIME AROUND WITH FAMILY"

WONDERFUL. WE HAD 3 FAMILIES TOGETHER FOR A WEEK WITH 6 GRANDCHILDREN. PLENTY OF ROOM FOR EVERYONE TO HAVE INDIVIDUAL SPACE. WEDDING WAS VERY INFORMAL BUT BEAUTIFUL JUST INSIDE THE CABIN IN FRONT O

…

F THE FIREPLACE. LARRY AND I COULD NOT HAVE BEEN MORE PLEASED WITH OUT STAY. WOULD LOVE TO DO IT AGAIN SOON.

+ Read More

Ronald

Plainfield, IL

Courtney B.

Covington, LA

"Silvercreek Cabin"

It was very nice and quite. We all enjoyed our stay. The only problem we had with the cabin were the wasp.
Load More Reviews