Amenities:
Full Kitchen

Gas Grill

Hot Tub

Iron / Ironing Board

Parking

Theater Room

Washer/Dryer

WIFI
A perfect cabin for your family vacation or group retreat. Enjoy a theater room with surround sound, game room with pool table and air hockey, as well as 3 separate levels so your group can spread out. Prepare meal in the cabin with your full kitchen. Unwind at the end of the day in the hot tub on the covered deck.
Cabin Bedrooms Layout
Middle Level Master Suite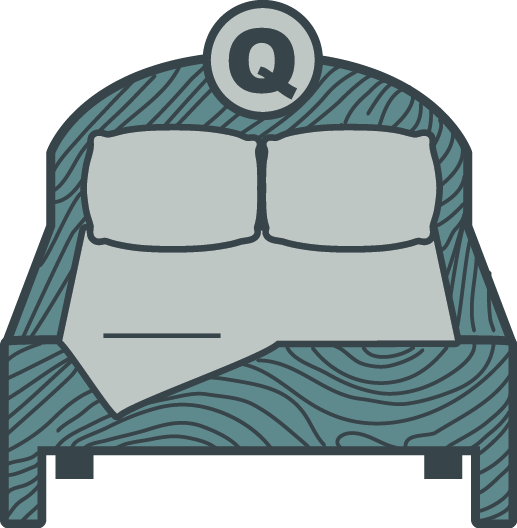 Queen Bed
Sleeps 2
Upper Level Suite

King Bed
Sleeps 2
Lower Level Master Suite 1

King Bed
Sleeps 2
Lower Level Master Suite 2

King Bed
Sleeps 2
Lower Level Bunk Room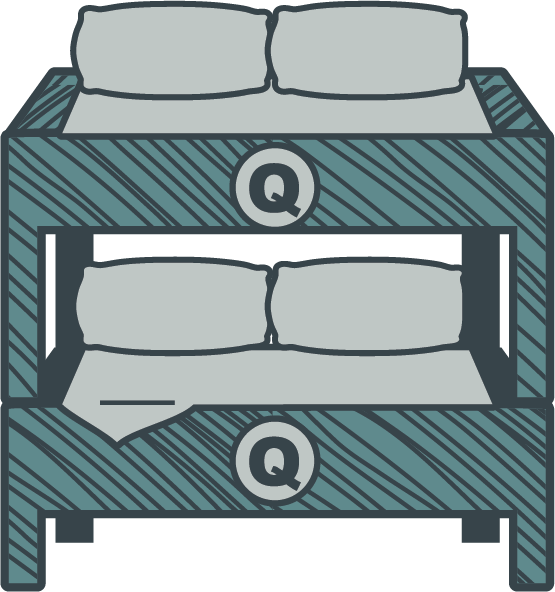 Queen Bunk
Sleeps 4
LL Sitting Area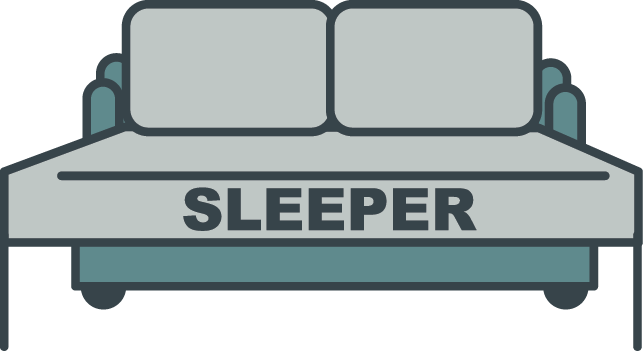 Queen Sleeper
Sleeps 2
Full Description
Serenity Lodge has one of the best repeat visitor rates on all of our cabins, so we know that guests really think this cabin is something special. You will definitely catch cabin fever in Serenity Lodge. Whether you are upstairs in the game room playing cards on the card table, shooting pool or playing air hockey. Or maybe you are enjoying the outdoors on one of the 3 the covered decks, this one just off the game room. A full wet bar is also included as well as a TV with digital cable.

Adjoining the game room is the home theater room with tiered theater seating and 9 foot theater screen. The Dolby 5.1 surround sound gives you the in theater experience. Many guests have consulted with us to help them design their own home theater rooms after their visit to serenity lodge. A full bath and king suite with upgraded mattress and bedding is also located on the upper level.

You will enter the cabin on the middle level into the living room, dining room and kitchen area. Plenty of seating provides the best spot in the cabin to gather. A TV with DVD player and digital cable sits above the gas fireplace. You can enjoy meals with your fully stocked kitchen (including a dishwasher). A queen suite with fireplace and full bath is also on the main level.

Head downstairs in this Gatlinburg Cabin Rental and you will find a queen sleeper sofa in the lounge sitting area where you can sit and relax and watch TV or a DVD. 2 King Suites with upgraded bedding, TV's and DVD's are also located on the lower level. Finally, a queen over queen bunk room which is best for the kids but suitable for 2 adults is also on the lower level.

FREE WIFI and a washer/dryer are also included.

You will quickly see why Serenity Lodge is such a popular choice for our repeat visitors. Book it if it's available!
Home Theater Room With 9' Screen
Dolby 5.1 Surround Sound
6 Reclining Leather Theater Seats
Hot Tub
Pool Table
Air Hockey
Game / Card Table
Wet Bar
Free High Speed Wireless Internet
2 Fireplaces
3 King Suites
1 Queen Suite
1 Queen over Queen Bunk Bed
1 Sleeper Sofa in Lower Level Sitting Area
10 Rocking Chairs
9 TV's
9 DVD Players
Washer/Dryer
Gas Grill
Free Local and Long Distance Calling
8 Minutes to Downtown Gatlinburg
15 Minutes to Dollywood
Calendar
Click your dates below to check in and check out
Available
Check In Only
Check Out Only
Selected
Unavailable
Photo Gallery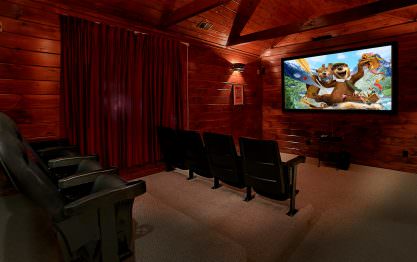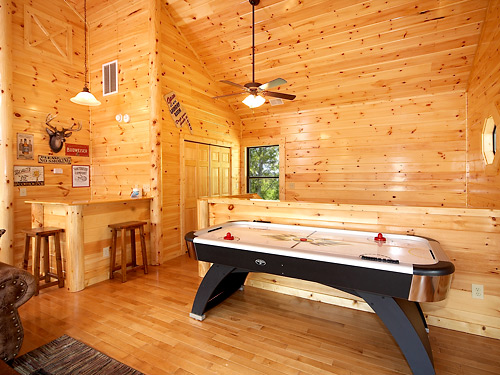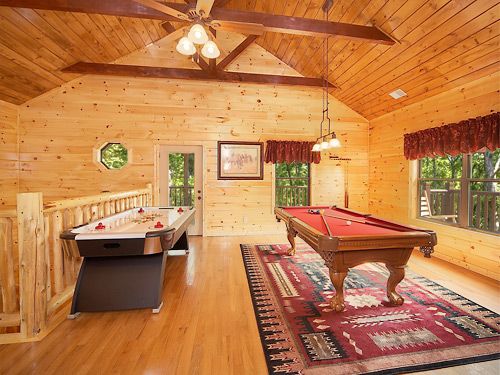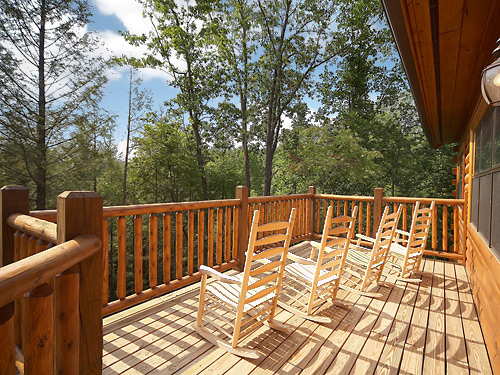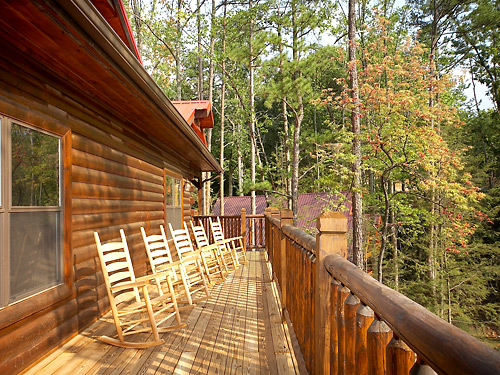 See All Photos
Reviews
Nick

Palos Heights, IL

"Family Fun"

Beautiful cabin very clean. Kids loved the pool table/air hockey and movies every night. Hot tub was a hit as well.

Manager Response:

Thank you for your kind review, Nick. As always, we love hearing about great family experiences. We hope you are already planning your next visit. Hurry back, new memories are waiting to be made!

Nancy Y.

Orlando, FL

"enjoyed"

enjoyed everything

Manager Response:

We are happy to hear you enjoyed your stay, Nancy! We do hope you will join us again during your next visit to Gatlinburg.

Charletta C.

Atlanta, GA

"Great Stay!"

The cabin was beautiful, spacious, and clean. The cabin was just as described and all that we needed was provided. We had a party of 15 and we all slept/stayed comfortably. The staff was very nice and helpful. I would definitely stay again.

Manager Response:

Thank you for your 5-Star review, Charletta! We are delighted to hear you enjoyed your stay. We would consider it an honor for you to stay with us again. Please keep in mind, as a returning guest you will enjoy 10% off all future stays.

Melissa M.

mableton, GA

"Amazing property and excellent customer service!"

This property is absolutely beautiful! It is spacious and the televisions are all upgraded. The movie theater is a bonus and is also very spacious. My group loved the upstairs area and the walk around

…

balcony. When we first arrived we didn't have enough pans so we called customer service and they were there within 15 minutes with a brand new set. They even called to make sure our stay was going great. We had no issues and so glad we found this on groupon!

+ Read More

Manager Response:

Thank you for your 5-Star review, Melissa! We love to hear that we exceeded your expectations. Thank you for contacting us when you discovered there were not enough pans. We welcome the opportunity to replenish any items that may have been overlooked prior to your arrival. We sincerely apologize for any inconvenience this oversight may have caused. We enjoyed having you as our guest and hope you will consider making Elk Springs Resort your new home-away-from-home when visiting Gatlinburg.

Sheng S.

Durham, NC

"An extraordinary experience!"

We planned weeks for the trip, find a nice and comfortable place to rest our head every night is always my top priority. There are too many choices online and really hard to make decision. So I turned

…

to friends for help, and that's how we found this gorgeous cabin. The cabin well-equipped with kitchen, gas grill, hot tubs and a series recreation facilities, will allow you to prepare gourmet and relax your body after a long day travelling. It was way beyond our expectations. An extraordinary experience!

+ Read More

Manager Response:

Thank you for your kind review, Sheng! We are happy to hear you enjoyed your stay. Please contact us when you are ready to start planning your next get-away. We will be happy to assist you in finding a cabin that will exceed your expectations.

Kisha C.

Canal Winchester, OH

"Family plus spectacular views plus luxury equals best vacation ev"

Rental was everything we wanted and more. Rooms were clean, furniture was nice and updated, view was awesome and location was perfect close to everything.

Manager Response:

Thank you for your wonderful review, Kisha! We are delighted to hear your stay was exceptional. We enjoyed having you as our guest and hope you will make plans to stay with us again!

Elan

Chicago, IL

"Serenity lodge was serene"

Very easy process, cabin was clean and current, management was quick to respond to our needs, great location.

Manager Response:

Thank you for your wonderful review, Elan! We are excited to hear you enjoyed your stay. We provide 24/7 guest assistance, as well as on-site housekeeping and maintenance to ensure that any need that arises during your stay can be handled quickly and completely. We hope you will make plans to come back and stay with us again soon.

Nancy M.

,

"Beautiful log cabin in a fantastic location!"

The cabin was beautiful and wonderfully appointed. You can not beat this location. Just minutes to Gatlinburg and Pigeon Forge.

Manager Response:

We are so happy that you enjoyed your stay at Serenity Lodge last Spring! We hope that you will come stay again! And, thanks for this review! We look forward to hearing from you for your next vacation!

Ricky B.

Miramar, FL

"Excellent Stay"

From the moment we booked the cabin the property management company was very professional and helpful. They called during our stay to assure everything was to our satisfaction. This was our 4th trip

…

to the area and our 2nd to Elk Springs, by far these cabins are superior to any other ones we have experienced. The only suggestion I would give is to update the televisions. They are a little outdated and take away from the overall look of the cabin. We chose to stay in on Sunday to relax and watch football but we were disappointed by the TVs in the cabin. Overall excellent experience.

+ Read More

Manager Response:

We are delighted to hear we exceeded your expectations, Ricky. We are honored that you chose Elk Sprigs Resort and hope that you will continue to stay with us in the future. We appreciate your suggestions and will pass it along to the owner. Please keep in mind, as a returning guest you will enjoy 10% off all future stays. Hurry back, new memories are waiting to be made!

Deneen P.

Centerville, GA

"Wonderful!!!!!!"

Everything was clean and the family had a wonderful vacation. We will be staying again.

Manager Response:

Thank you for your business, Deneen and for the 5 star review! It is our pleasure to provide you and your family with a luxury cabin to enjoy here in the Smokies. We are pleased to hear that you had a wonderful vacation and look forward to your return trip.

Heather D.

Twin City, GA

"Excellent Stay!!!"

The cabin was excellent! I stayed with my family and the description was spot on. We will stay here again!

Manager Response:

Thank you Heather! We are pleased that you chose Elk Springs Resort as your vacation destination. Our repeat guests receive a 10% discount, so be sure to mention that when you book your next stay. We look forward to your return visit!

Shaunna Y.

Campbellsville, KY

"Perfect for our work outing!"

We took our employees and their spouses on a mini vacation to Gatlinburg and this cabin was perfect! Loved the pool table, theater room and cozy fireplace area! Kitchen was very nice! Perfect for our group!!!

Manager Response:

Thank you for the review Shaunna. That is a wonderful thing to do for your employees and their spouses! We are pleased that everyone enjoyed their time together.

Kelli

Sterling Heights, MI

"Awesome Time!"

We had an awesome time! Great for kids and adult trips. The lodging was top notch.

Manager Response:

Wonderful review Kelli and thank you for sharing it! We are always happy to hear of another satisfied customer that found their whole cabin experience exceeded their expectations!

Beatriz

Glen Allen, VA

"next time"

Kids enjoyed the stay in the cabin, but the adults are looking for a good mountain view , so we are a little bit disdisapointed. The staff are great and very helpful, amenities like resort pool are mi

…

ssing which we should consider next time. We are planning again next year, but we will be looking for a mountain top cabins, like the ones in wears valley.

+ Read More

Manager Response:

Thank you Beatriz. We have several luxury cabins located throughout Gatlinburg, Pigeon Forge and Sevierville. If you would like a good mountain view, we have several cabins that offer these. Please call one of our professional sales staff and allow them to assist you in picking the best cabin to suit your needs on your next stay.

Colleen

Kenmore, NY

"Family Vacation"

Seventy Lodge was a great choice for us and my 2 sons and families to get together. The cabin exceeded our expectations. And we were near all the activities we wanted to do and found good restaurant

…

s nearby. Elk Springs was a great choice for our vacation.

+ Read More

Manager Response:

Thank you for the kind review Colleen! We are pleased that we were able to exceed your expectations for your family vacation. We hope you come back for another stay soon!

Allean

Hampton, VA

"2015 Family Reunion"

This is one of four cabins we rented. These cabins are perfect for any event, get together, whatever. We had a blast!

Manager Response:

Thank you Allean! We are so pleased to hear that you had a blast! Our convenient resort location allows for special events like weddings and family reunions where you can rent multiple cabins and have everyone near each other. We are glad we could provide you with a place to make memories happen!

Jerry R.

Naperville, IL

"TN"

It was great, the house was very clean when we got there. Everything was perfect, one of the best vacations I've had in years.

Utpal

Lawrenceville, NJ

"Great location"

Great location, great place for big family, spacious, close to downtown Gatlinburg and smoky national park.

Tracey

harrisburg, NC - North Carolina

"Great place."

Nice accommodations with all the comforts of home.

Sharon J.

Greeneville, TN

"FAMILY WEEKEND"

WE LOVED THE CABIN, I WOULD RATE EVERYTHING A 5

Leslie

Youngstown, FL

"Serenity Lodge - Fantastic"

Our family always takes an annual vacation, mostly at Elk Springs. This year we picked the week after Christmas. The cabin was wonderful, we had a few items that needed repairing and they were there

…

within an hour to work on them. Can't ask for better service all around from reservation to checkout!Gatlinburg too crowded that week, definitely won't do that week again.

+ Read More

Christina

Orlando, FL

"Awesome getaway "

Great! Loved every minute!

Dieter

Kingsport, TN

"Serenity Lodge - Great Cabin"

Very nice set up for the cabin. Had 5 couples stay in this cabin, and everyone was very pleased with the accommodations.

Paulette W.

Chicago, IL

"Just what I needed"

My stay was superb. I stayed with 9 female family and friends and ALL of us had a blast.

Fabrienne

Murfreesboro, TN

"Serenity Lodge was great!"

We got this deal through a Groupon. Although somewhat skeptical at first; we had no reason to be. The entire process went without a hitch. Reservations went well, all of the very clear communicatio

…

ns and follow-ups, we're very professional and thorough. The Serenity Lodge was clean, it had all of the amenities as promoted. I would stay again

+ Read More

Vonetta W.

Toledo, Ohio

"Amazing vacation!! Fun, fun, fun!!!"

We stayed in the Serenity Lodge. It was fantastic. Such a beautiful cabin. We had a blast!! Very clean and spacious. The customer service was great!! I can't wait to book my next vacation stay here!!

Patricia H.

Fayetteville, NC

""Serenity" at Elk Springs Cabin "

Every aspect of the stay was fantastic, beautiful location, cabin and weather! Family and friends were great company, all were in agreement with the excellent amenities, so much so, that I recruited s

…

everal new Elk Springs Lodge clients! I will be returning to the mountains this summer, again thank you for a great stay in your cabin!!!

+ Read More

Rick J.

Brandon, MS

"6 nights at Serenity Lodge"

Having rented cabins in the Smokies in the past, we found this property to be comparable with the others. Our view was of the resort property and not so much of the mountains but it was quite beautifu

…

l as it had been snowing. The cabin was reasonably clean. The management company was easy to deal with and quick to respond when needed. Thank you Elk Springs for making our time there a wonderful experience.

+ Read More

Tina P.

Brandon, MS

"Great Cabin! Great trip!"

We started out staying at a cabin for rent by owner that we found online that was not a part of Elk Springs. Big mistake! We had stayed at Elk Springs two previous times and loved it. Don't know wh

…

y I even attempted the other route. We had to leave the rental by owner and call Elk Springs last minute. They found us a cabin and thank goodness! The Elk Springs cabin was amazing! I do not have words to describe- but it was so so clean and super nice! We will never attempt to again to stay anywhere else but Elk Springs! They are the best!

+ Read More

Carol S.

,

"The Smokies Were Closed But We Had a Wonderful Time "

We loved sitting on the porch in the rocking chairs. The bedrooms were spacious and the beds comfortable. The kitchen was completely equipped and we used it a lot, as well as the media room for movie

…

s in the evening. Comments from our traveling companions were, "Let's do this again".

+ Read More

Carroll

Louisville, KY

"Serenity Lodge"

The property was very well taken care of. We had plenty of room and enjoyed all of the amenities available. The community was very nice and we would rent from them again in the future.

Maki R.

Marietta, GA

"Luxuary vacation home!!"

Our cabin was so beautiful and we are all happy with the quality of this cabin! We rented five BR and it was very spacious! I can not wait to go back and I will get the same cabin!

Linda D.

Rockledge, FL

"Let's Go Again!"

Our family so enjoyed our stay at Elk Springs Resort that we're already planning a return trip. The spacious, well-stocked Serenity Lodge made a wonderful home-away-from home during our week in Gatlin

…

burg. Conveniently located for easy access to restaurants, shops and tourist activities, the heavily wooded site provided exactly what we were looking for in a mountain get-away.


+ Read More

Kaysie

Fulton, MS

"Stress Free"

We had a large group. The cabin was very spacious. The kids loved the movie theater and game room.

Vidya

Belle Mead, NJ

"Amazing vacation..."

Great comfort and the place was awesome. I would definitely recommend this vacation to all....

Alejandro B.

Orlando, FL

"Great stay!! Awesome cabin!!!"

We really enjoy the cabin and the amenities of it. It was big which it was perfect for our group! The staff is very attentive and they care about their guest. The location is prime and close to everything you need!

Scott

Bradenton, FL

"Serenity Lodge: Perfect!"

Our family of five LOVED staying in Serenity Lodge! It was clean and had everything we needed for our five day stay. The staff was quick (within the hour) to fix the fireplace (the pilot light would

…

not stay on) and the internet service. We highly recommend this cabin and are already making plans to return!

+ Read More

Jackie

Chesnee, SC

"A Family Christmas!"

The cabin was wonderful. The management staff was excellent. We thought we had left behind a few items and they went out of their way to look for them. The only downfall was that I wasn't aware of the

…

Annual Christmas Parade and would not have booked the cabin that weekend had I known. We will definitely rent from Elk Springs again.

+ Read More

Steve

Dyersburg, TN

"Great family vacation."

We all enjoyed our stay at the Serenity Lodge very much. The cabin was just what we expected it to be. IT WAS WONDERFUL!!! Everyong had their own space, but yet we were all together. The game room a

…

nd theater room was great and was used daily. This was a great place for our family. No one wanted to leave..


+ Read More

Robin B.

Campbellsville, KY

"Beautiful!!!"

We took our youth group to Gatlinburg for 2012 Hearts on Fire and chose this cabin and I am glad we did!!! It was absolutely beautiful even more so than the pictures show. We had everything we needed

…

and the kids had a great time. Check-in and Check-out was so easy and saved alot of time!!! We definitely will stay again!!!!

+ Read More

Suresh

Madison, AL

"smokies trip"

nice and good experience staying in the cabins

Bill S.

Orlando, FL

"Great time in a great cabin"

This was our second time staying at Elk Springs and we're already planning a third. It's a great place to escape the hustle and bustle of the city, and to slow down, relax, and just enjoy spending time with family and friends away from home.

Jamar J.

Oxford, MS

"Awesome !!!!!!!!!!!!!!!!!!!!!!!!!!!!!!!!!!!!!!!!!!!!!!!!"

This property ( Elk Springs )I promise you is one of the best places I have ever stayed. We are making this property one of our vacation spot from now on. We are rebooking for christmas.

Adam

Iota, LA

"Great get away!"

The orginal cabin we booked had water problems. Even though the staff set us up in 2 different locations for our week, we couldn't have asked for more. Both location were great, beautiful & very clean.

SB B.

Jacksonville BEach, FL

"50th anniversary celebration with our family"

Our family celebrated our 50th wedding anniversary where we honeymooned. We had a wonderful and memorable experience in the mountains, in Gatlinburg, and in Serenity Lodge

Venece M.

Ft Wayne, IN

"best place to vacation"

From the time you enter the resort till the time you leave you are more than happy with everything! Can't wait to come back next year!

Eugene B.

Memphis, Tn

"First trip"

This was Me Snd my wife first trip anywhere. The accommodation were wonderful and we could not have asked for a better place to stay.

Dawn B.

Blacksburg, VA

"Wonderful, Huge Cabin in Gatlinburg!"

Wonderful place for our small family reunion (of 11 people). Room for everyone to visit and sleep comfortably! Really enjoyed the location (close to everything, but away from noise), comfy beds, game room, theater, and hot tub!

Jan F.

Oswego, IL

"Vacation at Serenity Lodge"

We had a great time at this lodge. We found the property to be in good condition and clean. The property was close to Gatlinburg and Pigeon Forge so it didn't take long to get to the sites we wanted

…

to go to. We also enjoyed "climbing the mountains!" There were 14 in our party and the only complaint that I would have is that the kitchen was sparsely outfitted for this size group (pots & pans, etc.) Overall a very pleasant time.

+ Read More

John P.

Oxford, MS

"Definitely a Cut Above"

Outstanding facility and a professional, streamlined management company. Multiple amenities for a short or long stay.
Load More Reviews