Amenities:
Full Kitchen

Gas Grill

Hot Tub

Iron / Ironing Board

Parking

Washer/Dryer

WIFI
A popular choice for both its location and amenities, this cabin rental offers both features and convenience as well as seclusion! Escape to your own Secluded Hideaway located off the spur between Pigeon Forge and Gatlinburg. If you want to get away, but be close to it all and have plenty to do in your luxury cabin, Secluded Hideaway is an excellent choice - and a great value!

Relax in one of the 3 master suites and enjoy the peace and quiet or tune into the NFL package on Directv. Play a game of pool, foosball or ping-pong. Or even have a card game on the poker table.
Cabin Bedrooms Layout
Middle Level - Bedroom 1

King Bed
Sleeps 2
Middle Level - Bedroom 2

King Bed
Sleeps 2
Game Room Sleeper Sofa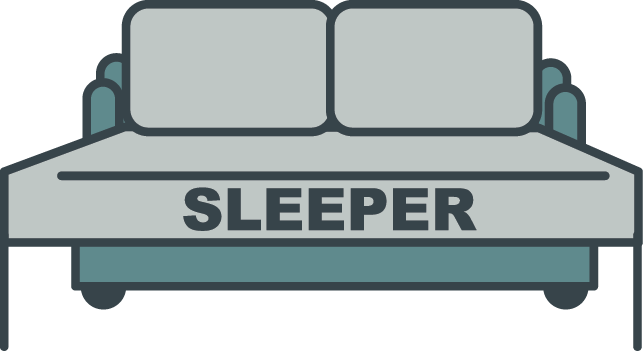 Queen Sleeper
Sleeps 2
Upper Level - Bedroom 3

King Bed
Sleeps 2
Full Description
Enter into the great room with leather sectional couch and relax in front of the gas fireplace. The main level offers comfortable seating for 7 to 8 adults. A full kitchen and dining room adjoins the great room and provides the cooking items you will need to prepare meals and feed your party.

Go downstairs to the game room where you will find a pool table, ping-pong table, foosball table and a poker table. There's plenty to do to keep your group entertained and you won't feel the need to head into town. But if you do, the cabin is conveniently located on the spur between Gatlinburg and Pigeon Forge, so it's very convenient. There is a love seat and queen sleeper sofa in the lower level game room to accommodate additional seating and sleeping.

There is a wrap around decks with rockers and a hot tub to relax after a long day of hiking or fun downtown. A gas grill is provided on the deck for grilling.

Retire to one of the 3 master suites, 2 with jacuzzi tubs and all with King Sized beds. All the bedrooms are larger than typical cabin bedrooms so they offer additional space for your comfort. The main master includes a gas fireplace and a jacuzzi tub. You'll enjoy the woodwork and finishings in this professionally designed and furnished cabin.
Secluded and Private
Located on the Spur
Security System
Hot Tub
Pool Table
Foosball Table
Ping Pong Table
Poker/Game Table
Directv with the NFL Package
Unlimited Local Calling
1 Large wrap around deck
Gas Grill
Full Kitchen
3 Master Suites with King Sized Beds
1 queen sleeper sofa
Comfortable Seating for 10 guests
5 TV's
5 DVD Players
Washer / Dryer
Dishwasher
Calendar
Click your dates below to check in and check out
Available
Check In Only
Check Out Only
Selected
Unavailable
Photo Gallery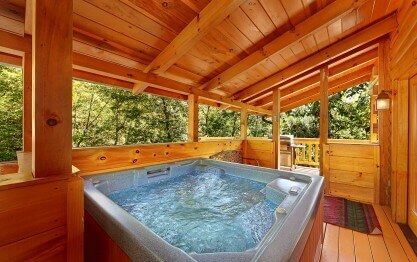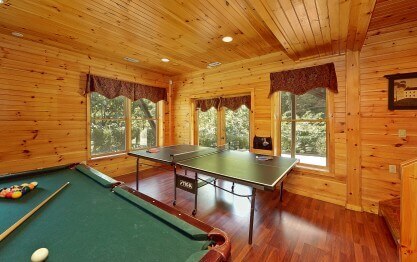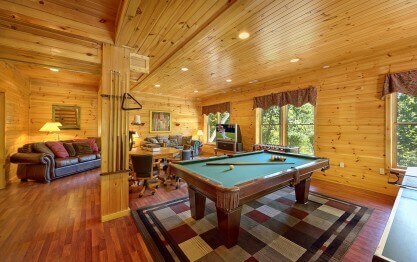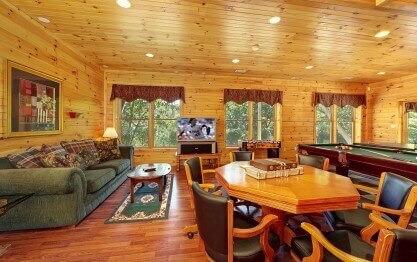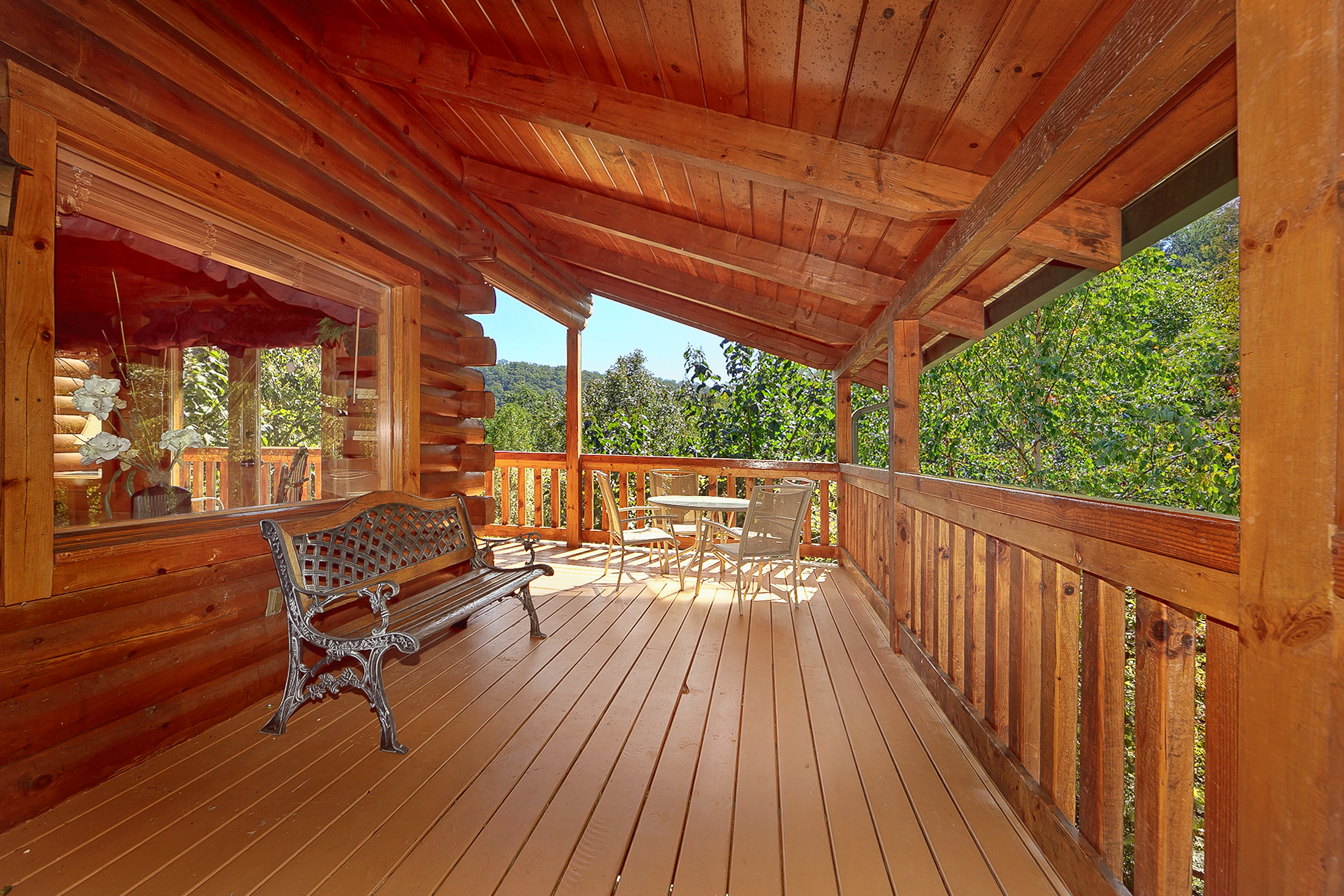 See All Photos
Reviews
Brittney R.

Union Grove, WI

"Awesome Sauce!!"

We loved our vacation experience with Elk Springs Resort. The cabin was fabulous, location ideal.

Manager Response:

We are so pleased to hear that you were able to have a fabulous vacation! Our number one priority is customer satisfaction and we appreciate you providing us with your feedback. The cabin is centrally located between Gatlinburg and Pigeon Forge which makes it a short drive to local attractions and eateries. We hope to have you back for a return stay in the future!

Shandel

Southside, AL

"AWESOME!!!"

My vacation rental experience was WONDERFUL!

Manager Response:

Thank you for your 5-Star review, Shandel! We are elated to hear your stay was exceptional. We hope you will make plans to stay with us again!

Randall W.

Moncks corner , SC

"Secluded hideaway"

Had a couples weekend with our friends without the kids and this cabin was just awesome. Everything was clean and in order and the arrival checkin/checkout process was a breeze. We can't wait for the next trip!

Manager Response:

Thank you for your wonderful review, Randall! It sounds like many wonderful memories were made. We would consider it an honor for you to stay with us again. Please keep in mind, as a returning guest you will enjoy 10% off all future stays.

Jayashree

Charlotte, NC

"Perfect Escape "

Relaxing and secluded getaway as the name says it all.

Manager Response:

Thank you for reviewing your stay with Elk Springs Resort. We are so happy that you had a relaxing getaway in our "Secluded Hideaway". We hope that you will consider Elk Springs Resort for your future vacations or short getaways!

Kimberly

Boones Mill, VA

"Perfect getaway "

We spent Thanksgiving in TN with family and relatives from out of town. Secluded Hideway was perfect for us. We look forward to future stays with Elk Springs.

Manager Response:

Thank you for allowing us to be a part of such a memorable holiday get-away, Kimberly! We would consider it an honor for you to come back and stay with us again. Please keep in mind, as a returning guest you will enjoy 10% off all future stays. Hurry back, your next adventure awaits!

Lorraine B.

Venice, FL

"Relaxing Family Getaway"

We had a great time in this cabin. We were close to everything (Dollywood-Oigeon Forge-Gatlinberg- and Smoky Mountain National Park ) . The cabin was located up a secluded road and was nice and peacef

…

ul ! It had everything that we needed to have an enjoyable time with our kids and grandkids. We got use of the game room and hot tub ! Loved our stay!

+ Read More

Manager Response:

Thank you for your wonderful review, Lorraine! We are delighted to hear your stay was exceptional. We enjoyed having you as our guest and hope you will make plans to stay with us again!

Braden

Ponchatoula, LA

"Much needed getaway!"

Relaxing and stress free. Cabin lived up to its name!

Manager Response:

Thank you for your kind review, Braden! We are happy to hear your stay was exceptional. We enjoyed having you as our guest and hope you will make plans to stay with us again!

Tami

Greer, SC

"Great Vacation Rental in Gatlinburg,Tennessee"

The location of the property was close to Pigeon Forge, Gatlinburg, and the Great Smokey Mountains National Park. The house was very clean, and the online description was accurate. We enjoyed the po

…

ol table, ping-pong table, and hot tub. It was nice to be close to all of the restaurants and shopping, but still be on a quiet and secluded road. We were able to enjoy the hiking and waterfalls in the area, such as "Grotto Falls" and Metcalf Bottom's Picnic Area. In addition, we loved the "Dixie Stampede" show in Pigeon Forge and the "Uber" Park in Gatlinburg. This part of Tennessee has a lot of different activities, for both tourists and nature lovers. We would like to come back again!

+ Read More

Manager Response:

Thank you for your wonderful review, Tami! We love to hear you were able to enjoy so many of our attractions and trails during your stay. There are a lot of hidden gems in our area; from waterfalls, to caverns, to trails for every experience level. Please come back and visit with us often. Keep in mind, as a returning guest you will enjoy 10% off all future stays. We hope to see you soon!

Jessica A.

Ann Arbor, MI

"Beautiful! I highly recommend"

My husband and I spent 4 days here for our 10 year anniversary in February. It was an unseasonably warm 70 degrees and sunny, the view was great. Everything was extremely clean and in good working ord

…

er. We were really sad to leave and wish we lived closer so we could return often.
The only comments I have for others who are thinking of staying are that it isn't as secluded as I had thought from the description. Two cabins can be seen from this one, although they are quite a ways off. If there were leaves on the trees, likely you would not be able to see them at all. Also, definitely bring dishwashing tabs if you want them. They literally left 1 for us.

+ Read More

Manager Response:

Thank you for your review following your stay last February. We hope that you can come stay again!

Craig R.

Willingboro, NJ

"Secluded Hideaway a Winner"

This is our second year coming to Secluded Hideaway from NJ for Christmas week and it was just as enjoyable this time. There was a new grill on the patio that I got to use because we had abnormally wa

…

rm temperatures. We did have a couple of minor maintenance issues but they were all taken care of with the utmost urgency.

+ Read More

Manager Response:

Thank you for choosing Elk Springs Resort for your Christmas celebration. The warmer weather was a treat this year, it was the perfect grilling weather. We are always happy to assist you if you should ever have any issues at the cabin. Our guests are always our top priority. We strive to ensure that each stay is exceptional and stress free. We hope you will continue to make Secluded Hideaway a Christmas tradition for many years to come.

Tommy B.

Decatur, TN

"PERFECT FOR ALL"

MY SISTER GETS THIS TRIP FOR US FOR CHRISTMAS SO WE WERE IN THE SPIRIT WHEN WE ARRIVED, BUT THIS CABIN WAS PRIVATE, ROOMIE INSIDE AND PERFECT FOR THE KIDS TO PLAY GAMES DOWN STAIRS WHILE THE ADULTS WE

…

NT TO BED UP STAIRS AND NEITHER WAS BOTHERED BY THE OTHER. PERFECT VACATION. WE NEVER LEFT THE CABIN ONCE WE ARRIVED. WE HAD NO REASON TO. NOW THAT'S A PERFECT VACATION. THE ONLY PROBLEMS WE CAME ACROSS WAS THAT THE FIREPLACES DID NOT WORK AND THE LIGHTS ON THE OUTSIDE PORCH DID NOT WORK FOR THE COOK OUT. WE HAD TO USE OUR PHONES FOR OUTSIDE LIGHT SINCE WE DIDN'T BRING FLASH LIGHTS.

+ Read More

Chris D.

Lake Worth, FL

"Secluded Hideaway Review"

Perfect spot to get away from the downtown area and relax at the end of each day.

Manager Response:

Chris, it sounds like you made the perfect cabin choice for a relaxing getaway. It is our pleasure to provide you with a 5 star experience! We look forward to having you back as our guest again. Thank you for taking the time to give us this review!

Ryan

Cincinnati, OH

"Amazing Stay"

Secluded Hideaway is a very spacious and modern cabin. Love the amenities and the size of the bedrooms. Very quiet and cozy on the lower portion of the mountain. Hot tub and game room were great fo

…

r hanging out with friends. Cabin also comes with a security alarm if you worried about that kind of thing.

+ Read More

Manager Response:

Thank you for the 5-star review Ryan. We appreciate you letting us know about your positive experience with your cabin stay at Secluded Hideaway. It sounds like you made the perfect choice for some time away with friends!

Mark

Lexington, KY

"Awesome weekend"

Awesome weekend and awesome cabin! This cabin was wonderful! Great location in between Gatlinburg and Pigeon Forge. Very clean and plenty of room for our family of six. The cabin was very clean and th

…

e amenities were perfect. The staff members were very professional and courteous. We will definitely book through this company for our next adventure.

+ Read More

Manager Response:

We are pleased that you chose Elk Springs resort for your vacation destination! We pride ourselves in cabin cleanliness and providing excellent customer service, so we appreciate you letting us know what a fine job we are doing! Looking forward to having you back on your next adventure.

Amanda A.

Coshocton, OH

"Recommended to Anyone!"

This cabin housed me and my college friends for a very fun winter weekend. The game room downstairs was awesome and the cabin was less than 10 minutes away from the Gatlinburg strip where we visited!

…

The cabin itself was very clean and very beautiful.

+ Read More

Debra D.

Wedowee, AL

"wonderful time"

We really enjoyed our vacation plenty of room for all of us.

Cori

,

"Wonderful Stay!"

We had a great stay at Elk Springs Resort over New Years. The cabins were in great condition and in a great location, which were two very important factors. All of the amenities were in perfect workin

…

g order and the kids loved the play room and theater rooms. The adults loved the large living spaces, TVs and cooking area. We were a large group and the house was conducive to spending a lot of time together in one room. I would definitely return and would never consider staying anywhere else.

+ Read More

Craig R.

Willingboro, NJ

"The Pictures Don't Do it Justice"

This cabin's name befits it. It is half way between Gaitlinburg and Pigeon Forge and very secluded. It is a great cabin with everything situated in the right place. My only suggestion would be to b

…

ring a DVD for the main bedroom if you want to watch movies in bed. The site needs better pictures.

+ Read More

Maureen R.

Lansing, Michigan

"Secluded Hideaway "

Family from different parts of the country got together in Secluded Hideaway for a mini-vacation. The rooms were well appointed, and the kids loved the game tables! Oh, yes, and the hot tub was wonderful!!!

Tamara A.

mason, mi

"We didn't want to come home!"

Absolutely fabulous!! The lodge was gorgeous .... everything we hoped for and more. It was our first stay and will be sure to return. After all of our friends/family saw our pictures, however, it may

…

have to be a larger lodge. Or, simply get a few of them because everyone wants to join us! Secluded Hideaway is just minutes from Gatlinburg and hiking trails in the Great Smokey Mountains. A perfect location!

+ Read More

Jeremy C.

Berwick, LA

"Secluded Hideaway"

Great, first time renting through Elk Springs Resort, will try to use the company again, very responsive to small issues.

Dan S.

Greenville, SC

"Incredible "

Perfect location - Secluded Hideaway truly gives a secluded feeling although located close in along the spur between Gatlinburg and Pigeon Forge. (Almost hate giving away this secret.)

The cabin i

…

s perfect -- pool table, ping-pong, hot tub, Direct TV, wireless, everything, with lots of room.
The Elk Springs Resort staff was great, making the whole experience from booking to departure a pleasure.

+ Read More

Cinda P.

White House, TN

"Awesome Fall Break"

We were very pleased with the accomedations. We loved having the game room. It made the kids want to get off of their electronics and play games together as a family. We will definitely be staying there again.

Angela P.

Springfield, Illinois

"First time away from kids"

Very relaxing. Great spot in the hills.

Carlton

Augusta, GA

"Secluded Hideaway"

Love the location of this property, truly secluded and in between Gatlinburg and Pigeon Forge. The ping pong table was an added delight to our teenagers. Would like a lamp on both sides of the beds for night time reading.

Daniel G.

Wapakoneta, OH

"GREAT LOCATION"

real log cabin not log sided variety loved the decks and the swing the rec room was FANTASTIC I definitely recommend this cabin. Very quiet and secluded. Cabin's name is spot on !!!

Amanda Y.

Windsor, WI

"Great Location"

We enjoyed our stay at Secluded Hideaway. The hot tub, ping pong table and fuse table got a lot of use. As did the washer and dryer. The location was great, easy access to area attractions and hiking.

Angela S.

Cedartown, GA

"Secluded hideaway"

We absolutely loved the cabin. Had the best weekend. Would highly recommend it to our friends. We will be returning in the near future.

Jillian T.

Batavia, OH

"Best Cabin in G-burg"

We were blown away by how amazing our cabin was. The location was secluded yet very easy to get to. Between both Pigeon Forge and Gatlinburg! It was well equipped and very clean. Everything was superb

…

and we were beyond satisfied with our stay and service. I've rented multiple times in the area from other hosts, but yours blows them out of the water. Thank you so much! We'll definitely rent for Elk Springs again.

+ Read More

Dan S.

Greenville, SC

"Right Location and Management equals Perfect Stay"

Secluded Hideaway is our favorite cabin in the Gatlinburg/Pigeon Forge area. It is located off the spur between the two cities, so it is convenient to both, yet tucked away at the same time.

The

…

cabin formerly was managed by another company. The current management team, Elk Springs Resort, is not only professional and courteous, but genuinely friendly.
We had a great time without a hitch.

+ Read More

Mallory E.

Oneonta, AL

"Secluded Hideaway-Edmondson"

We loved the get away! Elk Springs has some of the best and most organized customer service I have ever encountered. The only complaint we had was the mattresses would have been more comfortable with a mattress pad :)

Henry

Crestwood, KY

"relaxing stay"

we enjoyed our stay

Daniel H.

Brunswick, OH

"3 couple getaway"

This specific cabin was picked for the 3 king bed rooms. The master suite is huge and the bed was comfortable but the fireplace was a fake one that pushes out heat.

The fireplace in the family ro

…

om was fabulousness that heated the place up in no time and a nice place to stand in front of when getting out of the hot tub :)
Another reason we chose this was for the NFL ticket to watch games on Sunday.
It was great to watch our Cleveland Browns while on vacation after a hike to a waterfall in the mountains.
The wrap around deck was also nice. No real view here but looking out into the fall woods, you really do feel secluded. There are a few cabins down the way and farther up the hill but nothing close.
The check in / check out is super easy and our gps on our phones got us around without any signal problems FYI
Overall this place was everything we expected and a lil more.
We will definitely be back to elk springs resorts next year!
Thanks!!

+ Read More

Daniel S.

Raymond, MS

"3 wonderful nights at Secluded Hideaway"

We thoroughly enjoyed our stay at Secluded Hideaway. We were a party of 10, with 3 couples and 4 children. We loved the location, as it was close to town, but its location provided privacy. We sat out

…

on the porches a lot, we utilized the cabins natural gas grill to prepare steaks and baked potatoes. We "marinated" in the hot tub on the porch. We played pool and table tennis downstairs. We enjoyed the amenities and each others company that the televisions were rarely turned on. We definitely will consider staying there again the next time we visit the area.

+ Read More

John

Delaware, On

"Secluded Hideaway "

Very quiet and peaceful yet only minutes from everything Gatlinburg has to offer.The weather was absolutely perfect during our entire stay, wonderful holiday. The perfect place to leave the crowds beh

…

ind and enjoy the serenity of the Smokey Mountains.

+ Read More

Daniel H.

Littleton, NC

"secluded hideaway vacation"

very nice cabin really enjoyed our stay except for the view, didn't have much of a view, will keep you phone number in my contact lists for future use thanks again

David A.

Broadview Hts, OH

"The BEST Luxury Vacation Home in the Smokies!!"

This was the nicest luxury cabin we saw in the entire area. The location, amenities and staff were the best. We'll pick Secluded Hideaway the next time we come. Everything was outstanding.

Nancy

Deland, IL

"Our Stay At Secluded Hideaway in Tennessee!!!!"

We had a wonderful time at this cabin and would recomend it highly!

Jennifer

Delphi, IN

"Beautiful cabin"

It was a wonderful stay. The kids really enjoyed the ping pong and hot tub.

Lucio M.

Grove City, OH

"Excellent!"

wonderful place, we loved it ! and will surely be back again!

Lillie

Nashville, Tennessee

"40th Wedding Anniversary Celebration"

Secluded Hideaway Cabin was the perfect location for celebrating our 40th wedding anniversary. We were joined by my son, daughter-in-law and beautiful granddaughters from Houston, TX and my youngest s

…

on who was back in the states from Fiji and a beloved 16-year old great niece. The was the first time in 2 years we were blessed to gather all together as a family. It was a magical, romantic, incredible time for all.

+ Read More

Nellie L.

Florence, KY

"Secluded Hideaway"

Great Home. Enjoyed our stay. Thank you.

Janet S.

Lima, OH

"Beautiful Time in the Smoky Mountains"

Three couples enjoyed a very relaxing time in one of the most beautiful vacation areas in the United States. This home fit all our needs to make our stay memorable. Spacious rooms, beautifully decorat

…

ed, and in a very quiet setting - few other cabins in the area. This is indeed a very nice property.

+ Read More

Casey

Cincinnati, OH

"Loving Secluded Hideaway"

The Elk Springs Resort Cabin Secluded Hideaway was a great getaway destination. It was perfectly situated right between Gatlinburg and Pigeon Forge.

Wanda C.

Harrisburg, OH

"we liked it so much we are all ready planning another trip back "

it was very good everyone was very nice and helpfull all's i can say is it was an all around great vacation and stay

Rodney

Henderson, KY

"Enjoyed our Stay!"

Great quiet location. The game room was awesome!

Natalie S.

North Ridgeville, OH

"Secluded Hideaway was a wonderful Cabin"

We had a great time in the Cabin. Had everything we needed. Loved the secluded location, couldent see any neighbors but were not far from either Pigeon Forge or Gatlingburg. Was a beautiful setting.

…

We even saw a black bear on our road. Would recommend to anyone who wants to be away from all the main attractions but still close enough to drive to. We all loved it and were sorry to see our vacation come to an end.

+ Read More

Jason C.

Carey, OH

"Our stay"

We were pretty disapointed that our cabin didn't have wifi Internet access. All of the other cabins were provided with this amenity. We were told by management that the people before us used all the m

…

egabytes for the wifi, and there was nothing they could do.This is a service that should be replenished with every new customer stay. It's not our fault they used all of their megabytes and we didn't get to have any wifi. If this is the case maybe you should offer a wifi package saying whether the customer wants it or not. Thank you.

+ Read More

Manager Response:

you for the comments. We have found an alternative to the wifi limitation and it is resolved.

Jian

Cary, NC

"All Good Except Free Wi-Fi and Long Distance Call"

Overall our stay was pleasant although there could be improvements. The property is very convenient to both Gatlinburg and Pigeon Forge. We also enjoyed the cabin itself with the hot tub and the game

…

room. The only things I was not satisfied were the Wi-Fi access and long distance phone call. All the information I received prior to check-in led me to believe that there would be Wi-Fi access and free long distance phone call in this cabin. I therefore planned to check emails just in case that I did not miss anything important from my work. However, after we checked in we found that although there was a Wi-Fi device there but there was no signal at all. And the phone service only allowed us to dial local numbers, but not long distance, which was inconvenient for us since there is no cell phone signal in the mountains. Although we had a great time not accessing the internet or calling anyone out of town for a week, I would appreciate it more if I had not been told about the free Wi-Fi and long distance call that did not exist.

+ Read More

Manager Response:

We're sorry for the inconvenience. We did have an issue with the wifi during your stay and it has been resolved.

Lisa K.

Grosse Pointe Park, MI

"Great stay!"

Cabin was clean and very pretty. There were some issues with phone and internet but they were quickly rectified. My only complaint was that the beds were VERY uncomfortable. Other than that, everything was perfect and wonderful.
Load More Reviews