Amenities:
Full Kitchen
Gas Grill
Hot Tub
Iron / Ironing Board
Parking
Pet Friendly
Washer/Dryer
WIFI
Have fun being a Rascal and enjoy this cabin in Gatlinburg retreat at Elk Springs Resort in the Great Smoky Mountains! Beautifully furnished, the Great Room features 20 foot windows creating a panoramic valley view. The open floor plan includes comfortable furnishings grouped around the gas log fireplace and flat screen TV. A fully equipped stainless steel kitchen adjacent to the Great Room and main level master round out the first floor. A Gas Grill is located on the main level deck.
Cabin Bedrooms Layout
Master Suite 1

King Bed
Sleeps 2
Master Suite 2

King Bed
Sleeps 2
Great Room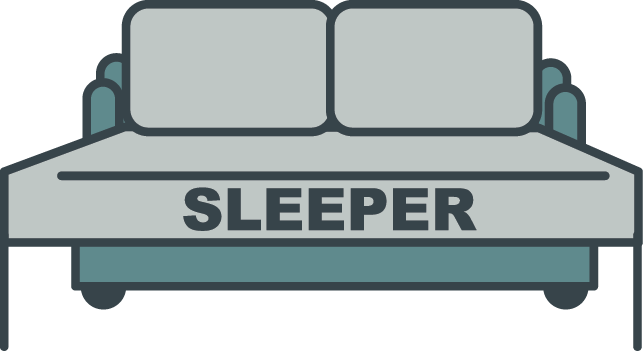 Queen Sleeper
Sleeps 2
Full Description
The first floor king bedroom has nearby access to the full bath including a stand up shower for your convenience and a queen sleeper sofa is located in the Great Room.

Look up the loft game area and admire the beams and woodwork in this special cabin. Up the stairs to the loft, the second floor includes a private king bedroom master suite with a tub/shower combination attached bath. The game room is also located on the upper level the pool table is available at any time you decide a little competition or friendly game is in order!

Don't forget the wrap around balcony and rocking chairs inviting you to relax, and then relax some more with a great read or just enjoying the peaceful valley. And the icing on the cake ? what else but a night time wrap up in the hot tub.

For the kids, there is a large grassy play area nearby, and Rascals Retreat is also pet friendly - all great features for a Gatlinburg Cabin. In addition, there is very easy access to the cabin with only 1 step up from the parking area ? great combo if you need to accommodate a family member who requires a 1st floor bedroom and user friendly entry onto the deck and into the cabin. In addition there is a large flat paved parking area that can accommodate a motorcycle trailer. Hey, Rascals ? your Retreat is waiting!
Hot Tub
Pool Table
Free High Speed Wireless Internet
Gas Fireplace
Gas Grill
Washer/Dryer
2 King Suites
2 Rocking Chairs
4 TVs
3 DVD Players
1 VCR Player
Pet Friendly
8 Minutes to Downtown
5 Minutes to Grocery Store
20 Minutes to Dollywood
1 Minute to Arts & Crafts Community
Calendar
Click your dates below to check in and check out
Available
Check In Only
Check Out Only
Selected
Unavailable
Photo Gallery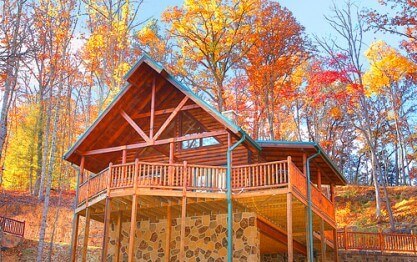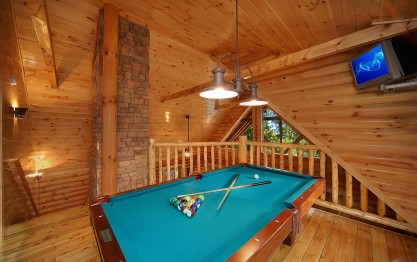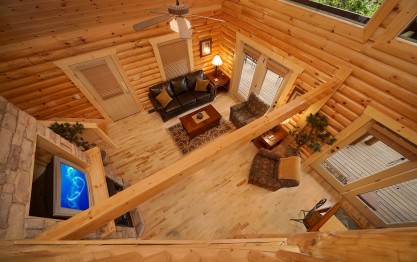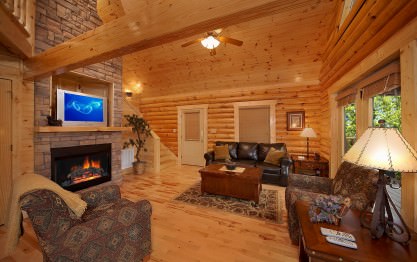 See All Photos
Reviews
John G.

Tompkinsville, KY

"smoke in the mountians"

we came in on Sunday the 27th of November got to go straight to our cabin which was very nice and helpful. We had been keeping up with the fire's in Gatlinburg but never expected them to blow up and g

…

et as big or as many spread out like they did.We left on the 28th to go back home we have been to the smokies many times in the past and will look forward to coming back and visiting again and we will book with Elk Springs when we do. Our hearts go out to the people that have lost lives and homes.

+ Read More

Manager Response:

Thank you, John! We are thankful all of our guests were safely evacuated during the fires. We are sorry your vacation was cut short. No one expected the fires to spread as quickly as they did. We are happy to hear you plan on returning to our area. We are very fortunate, all of the attractions are open for business and we are able to welcome our beloved guests back to enjoy the beauty of our area. We are a strong community and have seen first hand how well loved our Great Smoky Mountains are. We thank you for your support and look forward to your next visit!

Ewell O.

Lebanon, VA

"Gatlinburg getaway"

The reservation process and getting in and out was a breeze. The amenities provided were all top notch.

Manager Response:

Thank you for allowing us to be a part of such a wonderful get-away, Ewell! We are pleased to hear you enjoyed your stay. We hope you will consider making Elk Springs Resort part of a new tradition when visiting Gatlinburg.

Zipporah T.

Columbia , SC

"Rascal"

I really enjoyed my first trip to the cabins. I honestly didn't want to leave. Everything felt as if i was home. The view hot tub as well as the wilderness was wonderful!!!!

Dave B.

Lexington, KY

"Smoky Mountain Retreat"

Enjoyed our stay immensely...same goes for our dog! Location close to Gatlinburg and Great Smoky Natl. Park. Easy access to cabin from parking area. Will likely come back again.

Manager Response:

We enjoyed having you as our guest, Dave! We love fur-babies! We offer a great selection of pet-friendly cabins that will have even the pickiest of pets wagging their tails in excitement. We hope you will make plans to come back and visit with us again soon!

Mykael

Park Forest, IL

"Quiet, Scenic, A True Luxury Experience in the Mountains"

My family of 4 stayed in Rascals Retreat. The cabin was clean, neat and beautifully furnished. We thoroughly enjoyed our stay. The resort is quiet and scenic. Although we spotted a family of bears

…

twice on the property, we had no encounters that made us fearful about being at Elk Springs. We left feeling relaxed and recharged - the purpose of any Vacay. We will be back soon. We are already looking forward to our next stay.

+ Read More

Manager Response:

Thank you for allowing us to be a part of such a wonderful family vacation, Mykael! We are happy to hear you had the opportunity to see some of our local wildlife. It is always a treat to see bears in our area, at a safe distance of course. We hope you will consider making Elk Springs Resort part of a new tradition when visiting Gatlinburg. Please keep in mind, as a returning guest you will enjoy 10% off all future stays. We hope to see you soon!

LaVerne and Peggy L.

Memphis, TN

"Great Getaway"

We had a wonderful experience at Rascals Retreat. Beautiful view, wonderful accommodations, and easy access to surrounding area.

Manager Response:

Thank you for your 5-Star review! We love to hear that you had such a wonderful stay. We hope you will make plans to come back and visit us again soon!

Krinessa P.

Burtonsville, MD

"Fantastic Property!!!"

The cabin was exactly like the photos. Impeccably maintained and had an extremely cozy, warm and welcoming feeling throughout. I am definitely coming back to stay at Elk Springs and have told many friends about it.

Manager Response:

You certainly chose the perfect cabin, Krinessa! We take pride in offering exceptional cabins that will make you feel at home from the first moment you walk through the door. We would consider it an honor for you to come back and stay with us again. Please keep in mind, as a returning guest you will enjoy 10% off all future stays. Hurry back, your next adventure awaits!

Deborah W.

Mansfield, TX

"Gorgeous Cabins Very Relaxing!"

The cabins were beautiful we actually stayed at two because we wanted to stay an extra night! Both were spotless. The property was very well maintained and nestled in the woods. Very quiet and we thor

…

oughly enjoyed every minute of it. From the hot tub on the decks to the relaxing views! We played pool and enjoyed the games provided! The staff called and checked on us both times. Highly reccomend!

+ Read More

Manager Response:

Thank you for your kind review, Deborah. We are delighted to hear that not only one, but two cabins exceeded your expectations. We hope you will consider making Elk Springs Resort part of a new tradition when visiting our beautiful Great Smoky Mountains. Hurry back, your next adventure awaits!

Patricia W.

Mt. Airy, MD

"Mount Airy"

The cabin was very clean and updated. Beds were clean and comfortable. Location was perfect for our touring plans. We had an exceptional stay at Elk Springs and hope to come back soon. We would defini

…

tely rent Rascals Retreat again. Just perfect in every way! Thank you!

+ Read More

Alexis K.

Worth, IL

"Spring Break Getaway"

My group of 6 had a great experience staying at Elk Springs Resort Cabin. We stayed in Rascals Retreat and loved everything the cabin had to offer. We spent most of our time on the deck and out exploring Gatlinburg.

Manager Response:

Thank you for the 5-Star review, Alexis! Rascals Retreat is certainly the perfect cabin to stay at while enjoying all that the Great Smoky Mountains has to offer. It is the perfect location, only 10 minutes from downtown Gatlinburg. Please contact us when you are ready to start planning your next Gatlinburg adventure. Please keep in mind, as a returning guest you will enjoy 10% off all future stays.

Stephen F.

Loveland, OH

"Awesome cabin rental "

Awesome rental with friendly and helpful staff, the cabin was everything we expected and more. I would recommend elk springs to anyone who is planning a gatlinburg stay

Manager Response:

Thank you for your kind review, Stephen. We love to hear that we exceeded your expectations. We provide more than just cabins. We provide a home away from home, a place to make memories that will last a lifetime. We hope you will consider staying with Elk Springs Resort during your next stay in Gatlinburg. Come back and see us soon!

Melinda

Fort Thomas, KY

"Spring Break Getaway "

Love the cabin. Clean, close and great upkeep. High end appliances. Short drive to grocery, restaurants and cute shops. Very easy checkin,loved text message with code!

Manager Response:

Thank you for your wonderful review! We take pride in offering cabins that offer the type of amenities that ensure your visit will be memorable. We are happy to hear that we were successful in providing you an exceptional stay. It is hard to believe our resort is just 10 short minutes from all the hustle and bustle of downtown Gatlinburg. Rascals Retreat certainly gives you the best of both worlds. We are constantly making improvements, sending the codes via text messages is one of our recent additions. We strive to ensure that our check-in and check-out procedures are stress free. We hope that you will consider staying with us next time you are visiting our Great Smoky Mountains. Come back and see us soon!

Michelle

Auburn, AL

"Extremely impressed!!"

Usually the pictures on the internet are not always what you get in person. In this case what you see on the website is exactly what you get. The cabin was roomy, extremely clean, and peaceful. It's

…

like a home away from home. The only thing you need to bring is food. We loved it so much that we plan to come back. Highly recommend.

+ Read More

Karin S.

Lake Orion, MI

"Great Getaway!"

We had a wonderful time in Gatlinburg! The cabin was beautiful and the perfect place to get away to! We spent a lot of time in downtime Gatlinburg and a whole day in the National Park, which was absol

…

utely gorgeous! We will definitely be back and will use Elk Springs Resort again for our return!

+ Read More

Manager Response:

Thank you for your business! We hope you will continue to enjoy Elk Springs Resort's cabins for many years to come! We are running a great Groupon promotion right now. Feel free to check it out and book your 2017 vacation with us!

Joel T.

Boca Raton, FL

"Baby's First Christmas Vacation"

My husband and I took this vacation with our newborn and my parents, so that they could have a wonderful time cozing up to their new grandson, while enjoying the beautiful mountains in a luxury cabin.

…

My husband and I have used this company before and were thrilled to be coming back. The Rascal Retreats cabin was everything we had hoped it would be. Walking in the door to see the beautifully furnished "great room" with all the natural wood, the lovely fireplace, and the functional lay out: it let us realize we were gonna have an awesome trip. The kitchen was huge, and had so much counter space. There were so many storage closets, which came in super handy because traveling with a baby means packing a ton of stuff. The bedrooms each had the most amazing king size beds; they were easily the most comfortable beds we had ever slept in. There was even a pool table upstairs in the loft, with some stools and a tv for just hanging out and having fun. One of my personal favorites were the rocking chairs out on the wraparound deck. Sitting out there day or night and just taking in the scenery was so relaxing. Spending time in this immaculate and beautiful cabin for nine days was truly so much fun. We definitely plan on returning, but with the whole family, next time!!!!

+ Read More

Alicia L.

Nashville, Tn

"Always a good experience"

Cabin was clean, well stocked, and close to town without feeling "too close". Pilot light on FP wasn't lit, but maintenance was there very quickly to remedy.

Manager Response:

Thank you for the nice review, Alicia. We are pleased that we could resolve your minor issue with the fireplace while you were our guest, so you could enjoy it during your stay. Your feedback is important to us and helps us to continually improve our services. We appreciate your business and hope you will return for another stay in the future.

Chris M.

Sarnia Central, ON

"Fall Visit "

We stayed in October 2015 for 3 nights. This was our 2nd time back. We had stayed in May and couldn't wait to go back. The fall trip was great. The fall colours were great. The cabin was great, and ve

…

ry comfortable. It was clean and in great shape. The staff was very helpful and friendly during the booking and calling to check on us during our stay. We plan on going back!

+ Read More

Manager Response:

Thank you Chris! Your 5 star review and repeat visit lets us know that we continue to do a great job. Customer satisfaction is very important to us and your feedback helps us to improve our services. You certainly picked a great time to come and enjoy the Fall colors. They are so vibrant this year and will last well into November if the weather cooperates. We look forward to having you visit us year after year!

June

Reidsville, NC

"awsome place to stay"

It was awsome !!!! ??

Manager Response:

Thank you for the great review, June! The 5 star review shows us that we are doing an excellent job providing our guests with "awesome" cabin stays! We appreciate your business and look forward to your return for another stay in The Great Smoky Mountains.

Tia S.

Sugar Tree, TN

"Lovely Cabin!"

Loved staying at Rascals Retreat! The location was in the Arts and Craft Community and only a few minutes from downtown, while still far enough away to feel like a mountain retreat. The roads were pav

…

ed and not steep at all. The beds were so comfortable.

+ Read More

Manager Response:

Thank you Tia for a wonderful review and sharing your cabin rental experience with us. We are pleased that you enjoyed the cabin as well as local shopping and attractions. Be sure to mention that you have stayed with us before and you will receive a 10% discount off your next stay!

Kate

Charlotte, NC

"Two thumbs up"

Lovely cabin. Had a great time and will be returning.

Manager Response:

We appreciate your nice review Kate. Thank you for vacationing with Elk Springs Resort. Please mention that you have stayed with us before and you will get a 10% discount on your next booking. We look forward to having you back as a repeat guest!

Nancy

Dyer, IN

"Serenity in the Smokeys"

Vacation in the Smokeys was a very peaceful and relaxing vacation. Cabin was very nice. Maintenance was very accomidating to take care of our needs. Location was perfect. A lot of things to do near by

…

. Horseback riding, white water rafting, zip lining and very close to town . My family would do it all over again.

+ Read More

Manager Response:

Nancy, we appreciate you taking the time to give us a 5 star rating! Our resort location is perfect to enjoy the solitude of being away from busy downtown Gatlinburg, but within a short drive of all the local attractions. We hope you will take advantage of our 10% discount we offer to repeat guests and book your next cabin vacation with us!

Ken P.

North Royalton, Oh

"Great place to stay while in Gatlinburg"

Our family of five (plus dog) found this cabin very clean, comfortable, quiet, and accommodating. Everyone loved the community, high speed internet, pool table, balcony, grill, and hot tub. My wife es

…

pecially enjoyed the ample supply of kitchen dining and cooking utensils. There was plenty of cabinet and pantry space too. The location is a bit out of the way but overall, everyone enjoyed their stay and we were glad we chose this cabin.

+ Read More

Manager Response:

We love to hear from guests that they were able to bring their fur babies on vacation with them and didn't have to board them at a kennel somewhere! Our fully-stocked kitchens allow for the opportunity to enjoy some home cooked meals without the added expense of eating every meal at a restaurant. Our cabins offer that home away from home feeling. Glad to hear you enjoyed it. Hurry on back and take advantage of your 10% discount for being a repeat guest!

Debbie

Lake Bluff, IL

"Family Vacation in TN"

We rented two cabins to accommodate our whole family and three dogs. The cabins were very roomy and gave everyone enough personal space. Beautiful setting close to many activities.

Manager Response:

What a wonderful review! Isn't it nice to know that pets are welcome in some of our cabins, so you don't have to pay to board them out while you are on vacation? Just one of the many reasons why we have so many returning guests at Elk Springs Resort!

Cionna

Batavia, OH

"Rascals Retreat"

Stay was great cabin was in excellent condition. Close to all the scenery and shopping.

Brooke D.

Indianapolis, IN

"Home away from home"

The cabin was beautiful. Even nicer than the pictures. Cabin was clean upon arrival. It was nice to come back after daily activities and make dinner and relax as a family.

Chris M.

Sarnia Central, ON

"Great time! We will be back!"

We stayed in May. The cabin Was great! The property was well maintained and clean. The resort staff called and checked on us and were very polite. It was the perfect spot to getaway and relax. We will book to stay here again!

Christine K.

Birch Run, MI

"Loved our stay with Elk Springs Resort at Rascals Retreat"

My family spent our spring break at Rascals Retreat and we were very satisfied with the cabin. It was extremely clean and well maintined. The beds were very comfortable. This cabin is pet friendly

…

and is situated next to an open grassy area which is convenient for walking your dog. The cabin is near the Arts and Crafts area, close to a grocery store and gas station. We would recommend this cabin.

+ Read More

Tod B.

Canfield, OH

"Rascal's Retreat"

What an amazing week we had while staying in this beautiful cabin. From start to finish everything was top notch. We have been coming to Gatlinburg for the last 12 years and this was by far the most e

…

njoyable experience. Within this immaculate cabin you will find everything you need. It truly is home away from home.

+ Read More

Amy

Cordell, Ok

"Spring break 2015"

Our cabin was awesome! Very clean, couldn't have picked a better place to stay

Susan

Marietta, GA

"xxx"

Lovely
Relaxing wondetful

Monisha

Oakman, Alabama

"Holiday Hideaway"

We had the best time during our stay at Rascals Retreat. The cabin was very well maintained; it was a short drive to most attractions although we did not want to venture out much once we got there!! Will be returning in the near future :)


Deborah G.

Birmingham, Alabama

"Family downtime before new year hustle starts"

Wonderful experience at the cabin. Beautiful interior and loved the ease of the gas fireplace.

Bailey

Evansville, Indiana

"Awesome Cabin"

Beautiful inside and out, comfortable!

Alan E.

Franklin, TN

"Wonderful Stay"

We loved our stay. The cabin is very nice, the customer service experience was even better. Thank you for assisting with the delivery of roses for my wife as we were celebrating our 20th anniversary.

Matt

Severna Park, MD

"Wonderful Stay!!!"

We were very impressed when we got to the cabin, but were concerned when we noticed the refrigerator was moved out from the wall. We also noticed there was no blender which we had planned to use. Ve

…

ry soon after the call, a man arrived with a new blender and went to look at the refrigerator. He mentioned that there was a problem with the ice maker and installed a new ice maker in the freezer within about 15 minutes. Because of their prompt service, what could've been a problem was a very minor thing. Everything else about the cabin was terrific! Very clean throughout including the hot tub on the deck. If we ever visit the area again, we will look here first.

+ Read More

John

Mullica Hill, NJ

"wonderful experience"

place was clean and convenient to things we wanted to do .

Katherine G.

Mundelein, IL

"Family Vacation"

Great last minute trip to Smoky Mountains. Property able to accommodate a family with 3 kids and a dog very comfortably. The washer/dryer also very key when doing a lot of outdoor activities. I don't

…

know why anyone would stay in town when this is much more relaxing.

+ Read More

Ivonne

Cutler Bay, FL

"wonderful place!"

We stayed at Rascals Retreat property located at Elk Springs Resort. The cabin was very clean, spacious, all of the amenities necessary to make our stay comfortable and guest friendly. Short distanc

…

e from downtown Gatlinburg and attractions. Great place!

+ Read More

Tonya

Sharpsburg, Georgia

"Rascals Retreat Cabin Rental"

This was our first visit to the Gatlinburg area and we were not disappointed. Our cabin was very spacious and very clean. It was well-stocked and everything was in working order. The property manag

…

ement company was very professional and met all our needs. The cabin was a little further outside the downtown area than expected but it was very quiet and relaxing. We really enjoyed the hot tub! We would definitely recommend this property to a friend.

+ Read More

Erica H.

Cincinnati, Ohio

"Awesome Cabin! "

I always thought that being in a cabin in the mountains would be like a scene out of "The life and times of Grizzly Adams". Boy was I wrong! When I walked into the cabin, I couldn't believe how beauti

…

ful it was. It was clean, it smelled fresh, the furniture was very nice, and the bed was the most comfortable bed I've ever slept in! I was very impressed and I can't wait to go back. Elk Springs Resort is my new annual destination!



+ Read More

David D.

Brownstown, MI

"Great Vacation"

Great experience from ease of making reservations to ease of check-in/out. Very clean; great location. Would definitely come back again.

Stacey G.

,

"Absolutely Amazing! - Will be back for sure!"

The best cabin we have ever stayed in - will always book cabin through Elk Springs Resort in the future and have referred several friends to stay there from now on also.

Sharon P.

Brentwood, TN

"A great secluded getaway still close to town!"

We loved walking around the entire cabin resort and enjoying the woods and mountain views. There's nothing more relaxing than sitting in a rocking chair with a cup of coffee watching the sunrise and

…

listening to a symphony of birds. Rascals Retreat is decorated very cute and all accommodations were comfortable. Definitely want to return soon.

+ Read More

Eboni C.

Greenwood, SC

James K.

Louisville, KY

"Very relaxing getaway!!! "

Cabin was very cozy. Beautiful views. Loved that we could bring our four-legged, furry, family member.

Laura J.

Chlesea, MI

"Pure Bliss"

Elk Springs was a delightful getaway, unlike any other experience I have had that exceeded all of my expectations! It was so peaceful and just what I needed!

Nelson

Houston, TX

"Great experience !"

We two couples had a wonderful time. In early November we had a great showing of color since the normal color was somewhat late. The Roaring Fork Trail was breath taking.

Terry C.

Aberdeen, MD

"Great Retreat"

Elk Springs Resorts does a great job of ensuring a wonderful stay at their cabins. The reservation and communication from them were very helpful. The Rascals Retreat was very nice - clean and well pro

…

vided. Our only (minor) beef was that the chairs were not real comfortable. A recliner would be a big improvement. Otherwise it couldn't have been better.

+ Read More

Marlo

Versailles, KY

"Serenity Found"

Beautiful pet friendly cabin that doesn't look like pets have been inside. Super clean! Check in and out process is so effortless. The surroundings are peaceful and it was wonderful to sit on the p

…

orch and rock the day away. I will be returning for years to come!

+ Read More

Anne S.

Cincinnati, OH

"Rascal Retreat Relax & Remember"

Nice get away yet close to the community.
ElkSprings never fails with amenities and cleanliness.
We always come back and enjoy each and every cabin.
Thank you ElkSpring for giving us the vacation we love!
Load More Reviews