Amenities:
Charcoal Grill

Full Kitchen

Honeymoon

Hot Tub

Iron / Ironing Board

Parking

Washer/Dryer

WIFI
A perfect vacation in the Great Smoky Mountains starts with the perfect cabin. Enjoy this newer and secluded cabin nestled amongst the Artisans and Wood Carvers in the Historic Arts and Crafts Community. You are just 9 minutes from downtown Gatlinburg.
Cabin Bedrooms Layout
Master Suite 1

King Bed
Sleeps 2
Master Suite 2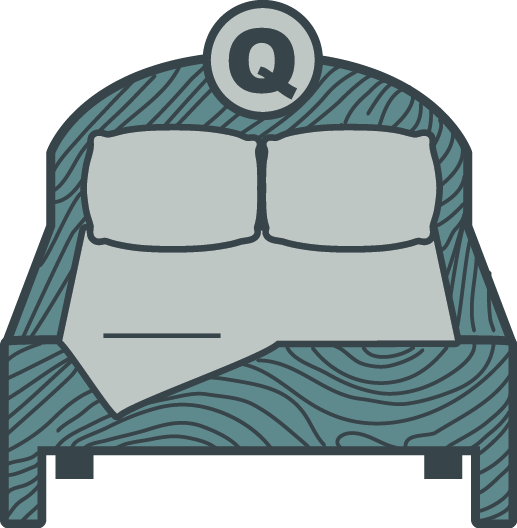 Queen Bed
Sleeps 2
Full Description
Watch the stars from your private hot tub after a long day of hiking or shopping. Maybe you just want to stay in the cabin all day? Perfect! You will enjoy a game of pool, air hockey, darts, checkers, cards or foosball. Or maybe you want to sit and relax on your covered deck on a porch swing and read a book. It's a little chilly out? Enjoy a fire in the gas fireplace or an evening fire in the outdoor fire pit. Enjoy a morning sunrise and coffee on the deck on your dining table with 4 chairs.

You will enter into the main level great room with 20 foot ceilings that open into the loft. The attached kitchen with dining area is fully equipped for in cabin meals including a toaster, coffee maker, mixer, blender and dishwasher. There is plenty of seating in the great room where you can enjoy a game on cable TV.

Rainbow Lookout has been carefully planned out and includes a king master suite with full bath and Jacuzzi tub. A guest queen bedroom with full bath has upgraded bedding and it's own TV and DVD.
*** This cabin is 2 minutes from the Main Elk Springs Resort Property ***
## The driveway to this cabin is steep and 4 wheel drive is recommended for Winter Visits
Pool Table
Air Hockey Table
Foosball
Dartboard
Outdoor Fire Pit
Hot Tub on Covered Deck
Porch Swing on Covered Deck
Table with 4 Chairs on Deck
1 King Bed
1 Queen Bed
2 Full Baths
Jacuzzi Tub
4 TV's
3 DVD Players
Cable
FREE WIFI
Charcoal Grill
9 Minutes to Downtown Gatlinburg
10 Minutes to Dollywood
7 Minutes to the Food City Grocery Store
15 Minutes to the Main Entrance to the National Park
Calendar
Click your dates below to check in and check out
Available
Check In Only
Check Out Only
Selected
Unavailable
Photo Gallery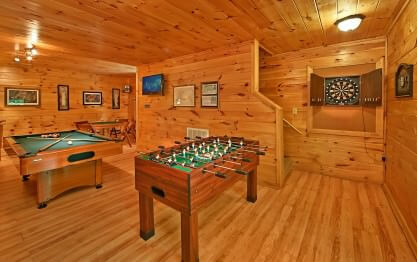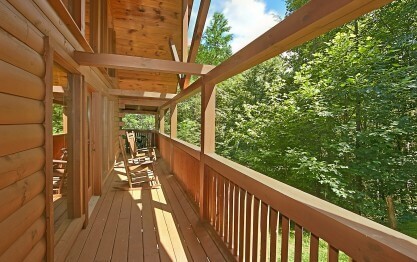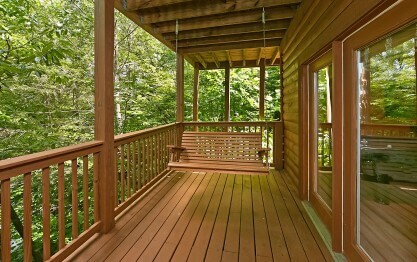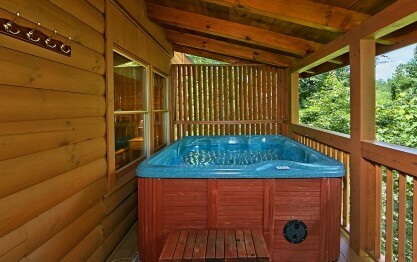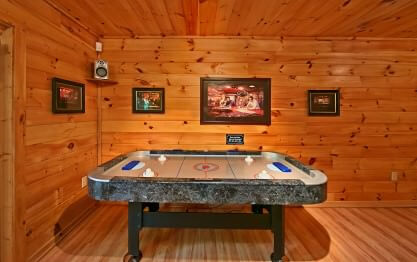 See All Photos
Reviews
Carey S.

Lithonia, GA

"Excellent Vacation"

Absolutely wonderful, even better than I expected.

Manager Response:

Thank you for your wonderful review, Carey! We are delighted we exceeded your expectations. We hope you will make plans to visit us again soon! Please keep in mind, as a returning guest you will enjoy 10% off all future stays.

Patrick M.

Hermitage, TN

"Awesomeness "

It was awesome!! The cabin was beautiful and clean. There was a home like feel throughout the cabin with great energy all around!! Loved it and will definitely stay again, and highly recommend to all my friends, family, and associates!

Manager Response:

Thank you for your "awesome" review, Patrick! We are always pleased to hear that our guests enjoyed a 5-star stay at one of our cabins. What a great place to ring in the New Year! We hope to see you again in 2017.

Courtney P.

Sebring, FL

"Perfect Honeymoon"

The cabin is nicely furnished and very comfortable. We loved the game room! The property has great privacy, but is still close enough to town. I will never forget our stay at Rainbow Lookout. It was the perfect honeymoon.

Manager Response:

Thank you for allowing us to be a part of such a special celebration, Courtney! Congratulations! We are elated to hear how much you enjoyed your stay. We hope you will consider making Elk Springs Resort part of your anniversary plans for many years to come!

Linda T.

Parma Heights, OH

"Two Thumbs Up for Elk Springs"

Rainbow Lookout was exactly as described online. The location was great...close to all attractions in Gatlinburg & Pigeon Forge, yet we felt like we were staying in a secluded area in the forest. The cabin was perfect for us.

Manager Response:

Thank you for your kind review, Linda! We are excited to hear how much you enjoyed your stay. We hope you will consider staying with us again during your next trip to Gatlinburg. Hurry back, your next adventure awaits!

Ethan G.

Euharlee, GA

Manager Response:

Thank you for your kind review, Ethan! We are happy to hear you enjoyed your stay. Please come back and visit with us again!

Cherie M.

Cosentino Ct., SC

"Rainbow Lookout"

Our stay at Rainbow Lookout was terrific. The cabin was just as pictured on the website. The property was clean and well maintained. Communication with customer service was impeccable. My husband

…

left a very expensive camera at the cabin and housekeeping turned it in and management shipped it to us at our house. The cabin was conveniently located in the craft circle and in close proximity to downtown Gatlinburg. As the website states the driveway to this cabin is very steep but it did not pose a problem for our small SUV. I would definitely recommend this property!

+ Read More

Manager Response:

We are so happy that you enjoyed your stay at Rainbow Lookout! Thank you so much for taking the time to review Elk Springs and we hope you can stay with us again!

Rachel J.

Milton, FL

"Wonderful"

The rental was gorgeous, clean, and so much better than I was expecting. I was incredibly impressed.

Manager Response:

We love to hear that our guests had a wonderful stay! You certainly chose the perfect cabin. Rainbow Lookout is an exceptional cabin. We hope that you will take the opportunity to come back and visit us as often as you can. Please keep in mind, as a returning guest you will enjoy 10% off all future stays.

Demetria S.

Clarksville, TN

"Birthday party? Book it!!!"

The cabin was clean throughout. We went November 13-15th and the weather was fair. I had girls with me and they loved it. The driveway is steep so if you need tires, get them before booking this on

…

e. The bags weighed the suv down but low gear all wheel drive got us up. The location is great. The road that it is on is curvy but we only knew that because we passed it lol. It was my first time in a cabin and I enjoyed it. Everything we needed but food and toiletries were there. It was great. Not too far from attractions, shopping or food. Not on the main drag which I loved. We are going back this summer. I worked with Dan to get this trip together and he was great and very professional. Loved it!!!!

+ Read More

Manager Response:

Thank you for allowing us to be a part of your getaway! We are delighted that you enjoyed your first stay in a cabin. We would be delighted for your to join us again in the near future. Feel free to ask for Dan since assisted you so well in the past. Mention to him that you are a repeat customer and he will add a 10% discount to your booking! Hurry back, more memories are waiting to be made.

Julius S.

lewisburg, tn

"BLESSED AND WONDERFUL STAY"

This was such a wonderful retreat for me and my family. we enjoyed all the games and space. We even enjoyed the nightly visitor, aka raccoon. cabin is well prepped will all necessities. beds are very

…

comfortable. thank you for sharing this property. the only thing I would say is, the drive way is very steep!

+ Read More

Manager Response:

Thank you for the 5 star review, Julius! It is our pleasure to provide you with a luxury cabin vacation experience! I'm sure the visits from the raccoon added some excitement to your vacation. We hope you will return to make more memories in the Smokies soon.

Kevin L.

Brentwood, TN

"Family friendly retreat"

Very nice house. We were impressed to find out the house looked just like the pictures. The game room is located on the lower level, which provides good distance from the master bedroom. The appliance

…

s worked great, as did the hot tub. We would recommend this cabin with one exception, the driveway is very steep and we wouldn't recommend it if there was ice or snow in the weather forecast during your stay. Otherwise, great property.

+ Read More

Manager Response:

Thank you very much for your feedback, Kevin. Rest assured that the staff at Elk Springs Resort would never jeopardize the safety of our guests during inclement weather. We don't get too much snow or ice here, but if driving up this driveway becomes too treacherous, we simply don't rent it out until it is safe to do so. We appreciate your business and hope you will return again one day.

Carrie J.

Richmond, KY

"Wonderful Cabin"

The cabin looked exactly as advertised. It was perfect for a family of four. I had read the reviews and was concerned about the steep drive, however, we had no problems at all going up the driveway in

…

my 2007 rav4. It was raining and we still did not have trouble and never had to engage the 4 wheel drive. We will stay with Elk Springs again when we return to Gatlinburg. We were very pleased with the cabin and the game room is a great place to try to beat your teens at air hockey!

+ Read More

Manager Response:

Thank you for sharing your review with us Carrie and for mentioning the driveway. This is probably one of the steepest driveways at any of our cabins and you didn't have any problems navigating it even in the rain. Many of our guests simply are not used to the steep hills and winding roads in the Great Smoky Mountains and it has been a concern of others as stated in past reviews. We appreciate your business and hope you return for another stay soon.

Juana G.

Salisbury, NC

"Grissell2812"

Fue súper genial no la pasamos súper bien la cabańa hermosa y limpia tal y como la muramos en las fotos lo uniko k no nos gusto fue la entrada tiene una subida muy parada y muy polo estacionamiento.

Manager Response:

Mucho Gracias Juana!

Maria V.

lake worth, Florida

"Lovely cabin"

We stayed at the Rainbow Lookout cabin and it was exactly as advertised. Clean and spacious and set in a very private lot.

Manager Response:

We appreciate your business and thank you for your wonderful 5-Star review, Maria! We believe in providing true and accurate information for each and every cabin. The pictures and description on our website are a true reflection of what you will find when you arrive at the cabin. We are happy you enjoyed your visit and hope you will consider staying with us again during your next visit to Gatlinburg.

Charity Renee

Cleveland, Ms

"Memories made!"

Everyone should know this is a STEEP driveway! Don't think we could have done it without 4wheel drive. Great getaway! Loved the location distance from downtown. Great time for our first family vaca! Great size for our family of 6!

Karen W.

Fletcher, NC

Cheryl S.

Grand Rapids, OH

"Great Place - Quiet and Beautiful "

Loved the cabin. Everything was clean, setup was great, setting was wonderful. Elk Springs has superior customer service - contacted me several times between the date that I set up reservations, all

…

the way through our stay to make sure that we had everything we needed. Great experience, would definitely do rent from them again. The only thing I would mention to renters is the steep driveway - if you didn't have a vehicle that could handle it, it could be a problem. Just let the renter know ahead of time.

+ Read More

nelson

glen burnie, maryland

"Rainbow Lookout"

Beautiful 's fully loaded and everything you need is at your reach. Quiet,clean,relaxing and privacy all you could ask for. We couldn't enjoy the fresh mountain air due to the no screens on the window

…

s but not a big deal. Game room was awesome. Convenient to stores and restaurants. Driveway is pretty steep,not as bad once you get used to it. I still highly recommend this cabin. We(me,wife and kids)loved it.

+ Read More

Patricia J.

St. Louis, MO

"Private Retreat"

home is secluded in trees, very clean and a great few days away. Experience with Elk Springs was great. Only drawback is the steep driveway, however they were upfront about it when we booked it. House

…

was very clean and the hot tub was just what we needed after our hikes.

+ Read More

Edward

Medford, NJ

"Rainbow Outlook"

The cabin, its amenities and its privacy are all one could ask. The location is convenient to town, groceries, attractions, etc. An aspect of the cabin which must be considered serves as both a pro

…

and con: The driveway is extremely steep, with a hairpin turn. While this assures privacy (the cabin is literally built into the hillside), it is a bit hair-raising to negotiate, particularly at night. Overall, we thoroughly enjoyed our stay, and would not hestitate to return.

+ Read More

Tiffany K.

Roswell, GA

"Wonderful vacation"

We were very pleased with our cabin. It was so clean and the kids loved the game room and hot tub!

Stephanie G.

Troy, MI

"Great location, home away from home"

We had a very good experience from reservation to check in and during our stay. Staff was excellent! The cabin was perfect for our family and had all the amenities of home...the living room with fi

…

replace was our favorite room to relax in. Hot tub was a huge hit! We loved being in the arts and craft community...close to Gatlinburg and the Great Smoky Mtn National Park.

Wish we could enjoy the Spring breeze by opening up the windows...but no screens on them or doors. Also, the driveway was a bit rough...a sttep 45 degree angle and then a sharp 90 degree turn with another steep 45 degree angle. Made our hearts thump for sure!

Would definitely recommend Elk Springs to others and use them again.

+ Read More

George

New Market, AL

"Rainbow lookout"

Wonderful stay. Didn't need to stop and check in or out.
Very organized with all directions. All the essentials
We needed were at hand. And convenient to
Everything you want to do. Luv luv luv

Denise

Stuart, FL

"Great Place"

Great vacation! Place was very clean and had everything we needed.
It was secluded which was nice. Property was well kept. Would go back again when I have a chance. I would highly recommend.

Chris G.

Fayetteville, TN

"Awesome cabin!!! Very clean and lovely!!!"

Awesome long weekend getaway! Coming back soon!! Gatlinburg is so relaxing and beautiful; we absolutely love it!!!
Load More Reviews