Amenities:
Charcoal Grill

Community Pool Access

Full Kitchen

Hot Tub

Mountain View

Parking

Theater Room

Washer/Dryer

WIFI
Sleeps 16

6 Kings, 1 Sleeper Sofa, 1 Futon

6 Bedrooms

6½ Bathrooms

No Pets
Pinnacle Vista
The perfect vacation cabin for you and 15 of your friends or family. This newer luxury 6 bedroom cabin with 6 full and 2 half baths offers plenty of room for you and your guests. We understand booking a large cabin and keeping everyone happy is a challenge. Expectations are high and you definitely don't want to let anyone down. Search no further, you have found the perfect cabin. Pinnacle Vista nails all the criteria you are looking for in a vacation home: Convenient Location, amazing views, theater room, pool table, hot tub, foosball, air hockey, king master suites, luxury furniture, covered decks and plenty of dining space.
Sleeping Arrangements
Middle Level - Bedroom 1

King Bed
Sleeps 2
Upper Level - Bedroom 2

King Bed
Sleeps 2
Upper Level - Bedroom 3

King Bed
Sleeps 2
Upper Level - Loft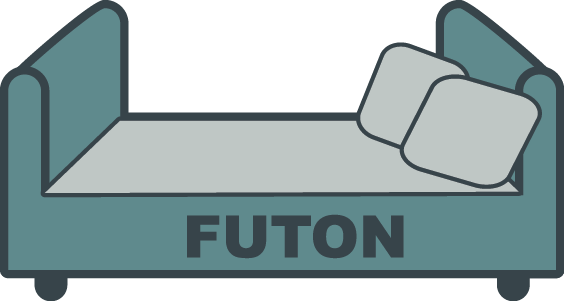 Futon
Sleeps 2
Lower Level - Bedroom 4

King Bed
Sleeps 2
Lower Level - Bedroom 5

King Bed
Sleeps 2
Lower Level - Bedroom 6

King Bed
Sleeps 2
Lower Level - Theater Room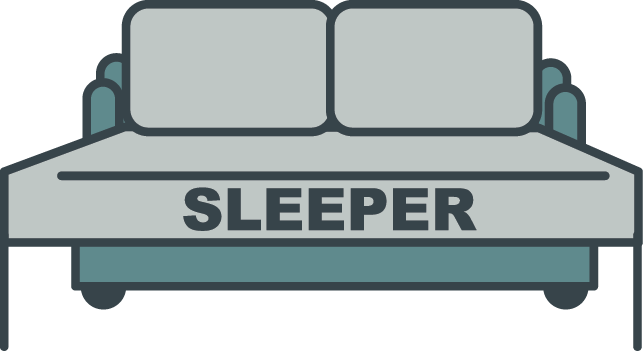 Queen Sleeper
Sleeps 2
Safety

Fire Extinguisher
Smoke Detectors
Carbon Monoxide Detector
Media

Free WIFI
Home Theater
DVD / Bluray
Cable / Satellite
Flat Screen TV's
Convenience

Fireplace - Gas
Iron / Ironing Board
Washer/Dryer
Linens & Towels
Central Heat
Air Conditioning
Private Parking
Kitchen

Refrigerator
Ice Maker
Oven
Stove
Coffee Maker
Toaster
Dishwasher
Microwave
Blender
Pots/Pans/Utensils
Outdoor

Charcoal Grill
Covered Deck
Subdivision

Outdoor Pavilion
Seasonal Outdoor Pool
Full Description
## Enjoy a seasonal outdoor community pool just minutes from your cabin.
*** This Cabin is Located about 30 Minutes From Elk Springs Resort In Smoky Cove - which is located about 10 minutes from stoplight 3 in Pigeon Forge towards Wears Valley
Amazing Mountain Views
6 King Suites with Master Baths
2 Half Baths
Queen Sleeper Sofa
Queen Futon in Loft
Home Theater Room with 10 Foot Screen and Surround Sound
Covered Decks with rockers and porch swing
Picnic Table
Air Hockey
Foosball
Pool Table
Arcade Game
Cable TV
DVD Players
Gas Fireplace
Charcoal Grill
Private Hot Tub
FREE WIFI / High Speed Internet
Free Long Distance
Theater Room 110 inch screen
Theater Surround Sound
HDTV with built-in DVD player in each bedroom and game room
50" Plasma TV in Living Room
Fully stocked kitchen with complete service for 16
Stainless steel kitchen appliances
Custom crafted 12' red cedar dining table
Pillow top king mattresses in each bedroom
Full size washer and dryer
Access to resort swimming pool, picnic pavilion, and horseshoe pit
Calendar
Click your dates below to check in and check out
Available
Check In Only
Check Out Only
Selected
Unavailable
Photo Gallery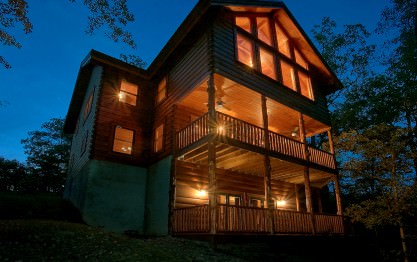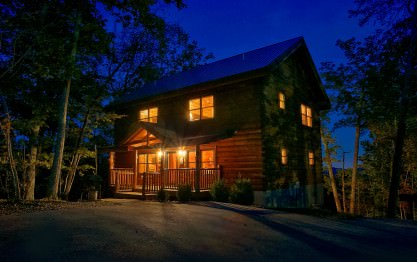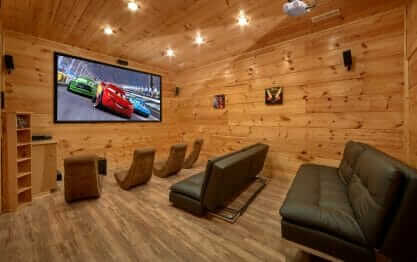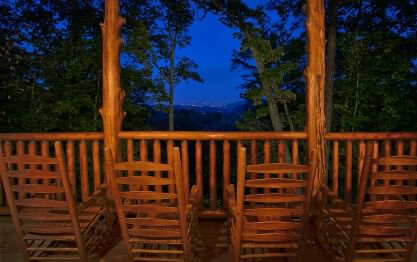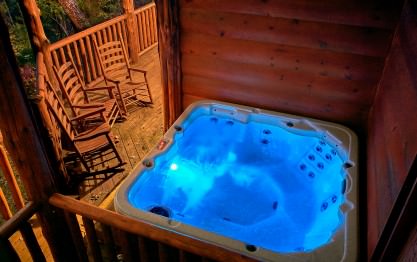 See All Photos
Reviews
Joseph

Walton, KY

"Gorgeous and cozy cabin!"

This cabin has everything. Amazing kitchen! Dining table was large enough for our entire family of twelve and had some room left over. We were able to play games at this table. So much fun! The view i

…

s spectacular! Nice furniture, rocking chairs, beds were comfortable as well. Very nice and clean hot tub. Theater room and game room were perfection. We will definitely stay at this cabin for years to come!

+ Read More

Manager Response:

As always, we love hearing about great family experiences with our rental company! It sounds like you chose the perfect cabin for your family to relax in, have fun, and create memories that are sure to last a lifetime. Pinnacle Vista is full of great amenities for the kids and adults! We enjoyed having you as our guests, and we look forward to working with you again in the future. Remember, as a repeat visitor you will save 10% on future stays. Thank you!

Sandra E.

Louisville, KY

"The perfect family get away!!!!!"

We enjoyed our family vacation. We had 14 guest with us, the cabin provided plenty of space for everyone. I loved the private master bathrooms in each room. Everything was pretty much as described in the decriptions.

Manager Response:

Thank you for your fantastic review, Sandra! We are pleased to hear that your recent stay at Pinnacle Vista was everything you and your family expected. We certainly agree! The layout of this cabin is ideal for a large family or group gathering, and there are plenty of amenities for the entire family to enjoy. We enjoyed having you as our guests, and we hope you will make plans to visit with us again on your next trip to The Great Smoky Mountains. Remember, as a repeat visitor you will save 10% on future stays. Thank you!

Chenelle G.

Nashville, TN

"Nice Clean Stay"

Very Nice Place to stay for vacation

Manager Response:

Thank you for your wonderful review, Chenelle! We are happy to hear you enjoyed your stay and hope you will stay with us again during your next visit to The Great Smoky Mountains. We encourage guests to book direct and save up to 15% on your booking.

Susie

Navasota, TX

"Great Floor Plan for Large Families"

It was clean and comfortable and FUN for the grandchildren!
Beds were super comfortable and a very nice floor plan for spreading out.
Staff was friendly and helpful,

Manager Response:

Thank you for your wonderful review, Susie! We are pleased to hear you and your family had a great get-away. We enjoyed having you as our guest and hope you will consider staying with us again in the future. Please keep in mind, as a returning guest you will enjoy 10% off all future stays. Hurry back, new memories are waiting to be made!

Wioletta Z.

Hanover Park, NH

"Great place :) "

I had a wonderful time with my friends there .

Manager Response:

Thank you for your kind review, Wioletta. It is a pleasure to hear you and your friends had such a great stay at Pinnacle Vista. You certainly chose a fantastic cabin to relax and enjoy some time away from the hustle and bustle of everyday life. We hope you will make plans to visit with us again in the near future. Please keep in mind, as repeat visitors you will enjoy 10% off all future bookings!

Robert P.

Clermont, FL

"Excellent Cabin "

I have come to Pigeon Forge for several years and rented many different cabins, but Pinnacle Vista Cabin has been the best! Also, Elk Springs Resort Cabin rentals were the best rental company I have used.

Manager Response:

Thank you for your kind review, Robert! We are delighted to hear your stay was exceptional! It sounds like you found the perfect home-away-from-home while visiting The Great Smoky Mountains. We enjoyed having you as our guest and hope you will consider staying with us again in the future. Please keep in mind, as a returning guest you will enjoy 10% off all future stays. Hurry back, new memories are waiting to be made!

Sudeep Reddy

Irvine, Confirme

"Memorable "

The cabin is clean, spacious and has got beautiful views. We will certainly pick a cabin from Elk Springs Resort for our next visit too.

Manager Response:

Thank you for your kind review! We are delighted to hear you enjoyed your stay and hope you will consider staying with us again in the future.

Kamesh

Cockeysville, MD

"Wonderful cabin!!"

Absolutely loved it!!! Clean rooms,great views and couldnt ask for more.The customer service was great and attended to us in a timely fashion.Would definitely go back and recommend for a stay.

Manager Response:

Thank you for your wonderful review, Kamesh! We are happy to hear your stay was exceptional. We enjoyed having you as our guest and would consider it an honor for you to stay with us again. Hurry back, your next adventure awaits!

Molli S.

Milford, OH

"Wondeful Stay!"

This rental was perfect! We had a party of 14 and the rooms/bathrooms were a perfect fit. Very spacious cabin and the view is beautiful! It is around other cabins however you would never know as you still have the secluded feel.

Manager Response:

Thank you for allowing us to be a part of your successful retreat, Molli! We are delighted to hear we exceeded your expectations. We certainly agree! Pinnacle Vista is a very roomy cabin and the view is absolutely gorgeous. We hope you will make plans to visit often. Please keep in mind, as repeat customers you will enjoy 10% off all future bookings.

Tamika H.

Duluth, GA

"A must see for yourself"

The cabin was extremely nice, all that the pictures describe and more. The cabin was very clean and extremely spacious. There were 12 of us that stayed at the cabin for the weekend and there?s was no

…

problems and definitely more than enough room! Basic essentials such as pots, pans, silverware and toilet paper are provided. We called to ask for a late checkout and the process was quick and the woman on the phone was very professional and nice. The neighborhood is quiet too! The cabin is 30min from all the activities in Gaitlinburg which wasn?t too bad. Easy check in and check out. Also FYI sevierville is a ?dry county?, no liquor stores, so if you plan on drinking alcohol, get it before you get to the cabin.

+ Read More

Manager Response:

Thank you for your fantastic review, Tamika. We are delighted that you enjoyed your recent stay at Pinnacle Vista. You certainly chose a great cabin to relax and create lasting memories! Pigeon Forge is a dry city, however, Gatlinburg and Sevierville are not. We hope you will make plans to visit Elk Sprigs again very soon. Please keep in mind, as repeat customers you wil l enjoy 10% off all future bookings. Hurry back, new memories are waiting to be made!

Monica L.

Memphis, TN

"LOVE IT"

I was very satisfied with the cabin, It was very clean and the pictures on the web page didn't compare to how nice the cabin looked,I plan on coming back every year and the staff was great as well.

Manager Response:

Thank you for your wonderful review, Monica! We are delighted to hear your stay was exceptional. We enjoyed having you as our guest and hope you will consider staying with us again during your next visit to The Great Smoky Mountains!

Susan

Grand Rapids, MI

"Love the view"

We had a great week stay at the pinnacle vista. The view is amazing as it changes as the sun rises and sun sets. Nice setup for a large group as every bedroom has its own bathroom. Large table in din

…

ning area where everyone can gather. Lots to do in the area Horseback riding, roller coaster ride threw the mountain, drove threw Cades Cove National park and about 10 minute drive to Gatlinburg.

+ Read More

Manager Response:

Thank you for taking the time to share your experience with us, Susan! We are delighted to hear you enjoyed your stay. Pinnacle Vista is the perfect cabin to gather and enjoy quality time together as a group. We enjoyed having you as our guest and hope you will consider staying with us again during your next visit to The Great Smoky Mountains. Please keep in mind, as a returning guest you will enjoy 10% off all future stays.

Diana

Mokena, IL

"Great Family Vacation"

A wonderful vacation destination and our cabin made for an incredible experience.

Manager Response:

Thank you for allowing us to be a part of your wonderful family vacation, Diana! We are delighted to hear you had such a great time at Pinnacle Vista. It sounds as though you made the perfect choice for you and your family. We appreciate your business and hope you will return again for a stay in one of our luxury cabins. Hurry back, new adventures await!

Wendi

Hoover, AL

"Fantastic Cabin"

We celebrating our parents' 50th anniversary with 14 people staying at this cabin for 5 nights. The bedrooms were great, everyone loved the game room and the views were fabulous. We would absolutely go there again.

Manager Response:

Thank you for allowing us to be a part of such a special celebration! We are delighted to hear your stay was exceptional. We would consider it an honor for you to come back and stay with us again. Please keep in mind, as a returning guest you will enjoy 10% off all future stays. Hurry back, your next adventure awaits!

Mary B.

Hendersonville, TN

"Christmas @ Pinnacle Vista"

The cabin layout and amenities were perfect for a large group.

Manager Response:

Thank you for allowing us to be a part of such a wonderful holiday celebration, Mary! We are delighted you enjoyed your stay and hope you will consider making Elk Springs Resort part of a new Christmas tradition.

Joylynn R.

Reynoldsburg, OH

"Joy's 45th Birthday Bash in the Mountains"

I would have never known about this rental property had a Groupon Getaway not been delivered into my email box. No, I was not able to use the Groupon because the size of the cabin I wanted wasn't incl

…

uded in the Groupon and the dates for my birthday weekend were blacked out. But it was too late. I fell in love with the Pinnacle Vista video. So Groupon or no Groupon, I had found the destination to celebrate my 45th birthday. All the family members I invited had no problem pitching in once they watched the video too! It was a birthday I'll never forget. The cabin was beautiful! The view was beautiful. It was 11 of us and we weren't on top of each other. It was so open and spacious...and the smell of wood was delightful. This particular trip was an adult only affair, but we all agreed that we'll have to come back with the kids and rent an even larger cabin. With all of the attractions within ten minutes away, we felt like one minute we were in secluded mountains, then the next minute we were on the Vegas Strip. I'm talking wax museums, helicopter rides, roller-coasters in the mountains, outlet malls, dinner theaters, water parks, national parks, and so much more!It truly was the best of both worlds. The rental office would check in with us to make sure our stay was going well. If we didn't know how to work something or had issues with something, maintenance was always there within the hour. When we checked out, we'd cleaned the place just as immaculate as we'd found it. It felt like home, so who wouldn't want to keep their home clean. There are not enough stars to rate this one!

+ Read More

Manager Response:

Thank you for allowing us to be a part of such a special birthday celebration, Joylynn! We are delighted to hear your stay was exceptional. We enjoyed having you as our guest and would consider it an honor for you to stay with us again. Please keep in mind, as a returning guest you will enjoy 10% off all future stays. Hurry back, new memories are waiting to be made!

April R.

Lithonia, GA

"AMAZING"

I booked this cabin for a couples trip and was extremely pleased. We had 16 people in our party and everyone was satisfied 100%. I have referred this cabin to many friends that have asked already. It

…

is only minutes from the skiing slopes and shopping areas. The pictures DO NOT do this place justice it is breathtaking. Will be booking again. Thanks for the awesome experience.

+ Read More

Manager Response:

Thanks for taking the time to review Elk Springs Resort following your stay! We appreciate the recommendations and hope that you have already scheduled your next getaway. We look forward to hearing from you!

Charlene W.

White Creek, TN

Manager Response:

Thank you for taking the time to review your stay, Charlene. Please keep in mind, as a returning guest you will enjoy 10% off all future stays.

Randrques

Kings Mountain, NC

"Just what we needed"

Pictures did this place no justice. If you're are thinking about staying here, take my word for it and GO. Me and my friends have travel many of places and stayed at many great places. But this one, just wow.

Manager Response:

Thank you very much for your kind review. Your feedback is important to us and we are pleased to hear that everyone enjoyed this cabin so much. We hope you will consider a future stay with us.

Daphne A.

Memphis, TN

"Home Away From Home"

My family and friends stayed 3 days in the Pinnacle Vista Cabin, it sleeps 16 people.This was my second visit to the Pinnacle Vista and I loved it just as much as I did the first visit. The property w

…

as clean and well maintained. There was plenty of room for all 15 quest.

+ Read More

Manager Response:

Thank you for the 5 star review Daphne. It is our pleasure to provide you with a home away from home cabin experience to enjoy time with family and friends. We look forward to having you back again soon!

Gustav

Belleville, IL

"Pinacle Vista"

Excellent location and a fine, well-equipped cabin. All enjoyed the activities available in the cabin. The cabin was immaculately clean. Bedroom separation made foe excellent down time for indiviaual families.

Manager Response:

Thank you for the excellent review Gustav! We pride ourselves in providing luxury cabins for our guests to enjoy. We appreciate you letting us know that we met all of your expectations! We hope you and your family will come back to stay again very soon.

Preston L.

Mount Juliet, TN

"Wonderful Birthday "

just perfect can't wait until next year.

Shirley S.

Pineville, NC

"A Touch of Heaven"

Our stay was magnificent! The beds were wonderful! The kitchen was a chef's dream. Plenty of space and recreational Room. The view was ABSOLUTELY Breathtaking! Must stay again!!

Suzy K.

Charlotte, NC

"Amazing "

Beautiful, peacefully, I will do it again

Latanya

Montgomery, AL

"The Best I have stayed in "

OH My where do I begin All I can Say is that Pinnacle Vista was is And Amazing Cabin! It accommodate all 6 couples,it was in a good location very nicely decorated, clean spacious good lightening nice

…

sound proof where you wasn't disturbed by other couples! Five star is an under statement to describe this cabin! I give it all ????????????????????????????????????????????

+ Read More

Octavia

Lithonia, GA

"couples retreat"

6 married couples from Atlanta for our 1st couples retreat and they already planning to book the same cabin

Kalia C.

Elmore, AL

"Enjoyed My Family"

The place was amazing! My family was so comfortable. We can't wait to do it again!

Pete S.

Greenville, SC

"The Snow didn't matter"

We planned a Nov. 1st lover's weekend. The freak snow storm made a 3 hour trip 6. The cabin we had reserved had no electricity or heat. It was a treacherous drive to get there. It sounds like a ru

…

ined weekend. Quite the contrary. We were moved to another cabin which was astounding. It had the most wonderful view, luxury accommodation and the weekend was wonderful. We will definitely be back.

+ Read More

Emily S.

Lima, OH

"Unimagineable upgrade"

Due to a maintenance issue on our original booking they upgraded our rental for the same price and it was outstanding. Will continue to book with Elk Springs
Load More Reviews