Amenities:
Full Kitchen
Gas Grill
Honeymoon
Hot Tub
Iron / Ironing Board
Mountain View
Parking
Washer/Dryer
WIFI
The pictures of this upscale luxury cabin do all the talking. If it's available, consider yourself lucky and book it! It will be tough to find a cabin that has all the luxury upgrades and features as this 1 bedroom cabin.
Cabin Bedrooms Layout
King Suite

King Bed
Sleeps 2
Full Description
If you are looking for the ultimate romantic or luxury cabin getaway, Picture Perfect delivers. And the positive reviews by guests who have had the pleasure in staying in this luxury cabin back it up.

Enjoy outdoor living and mountain views on your covered deck with fireplace, rockers and porch swing. There is a dining table for outdoor meals and a gas grill to assist with meal preparation. What a compliment to the fully stocked kitchen including microwave, toaster, blender, mixer, coffee maker, stove, oven and dishwasher.

Inside you 1 bedroom Gatlinburg cabin you'll find luxury furnishings and vaulted ceilings with a wall of glass to enjoy the views in front of your fireplace and 52" Flat Screen TV with Blu-ray DVD player and surround sound system. If you have time, shoot a game of pool on the custom made pool table.

Head down to the master suite with upgraded mattress and bedding where you may enjoy one of your best nights sleep ever. But maybe it's the modern bathroom with fireplace, TV, jacuzzi tub, and shower with rain shower head and shower jets that sets Picture Perfect at the highest level of luxury cabins.

For your convenience a washer/dryer is included in this unit.
(occupancy is limited to adults only)
*** This Property is located 15 minutes from Elk Springs Resort!
Views of Mt. LeConte
Hot Tub
Jacuzzi Tub
Rain Shower with Body Jets
Pool Table
FREE High Speed Wireless Internet
4 Fireplaces
Covered Deck
Outdoor Dining Area
Outdoor Fireplace
2 Rockers
Porch Swing
2 TV's
2 DVD Player
52" Blue Ray DVD & Sound
41" TV in Master
Washer/Dryer
Gas Grill
1 Minute Walk to Outdoor Fire Pit and Dining Area
Grocery Delivery Available


Calendar
Click your dates below to check in and check out
Available
Check In Only
Check Out Only
Selected
Unavailable
Photo Gallery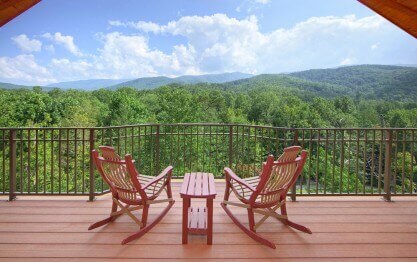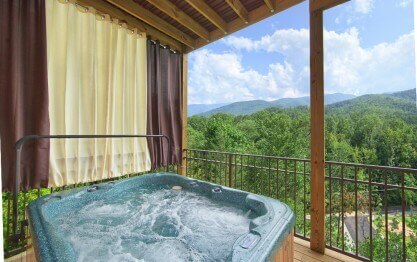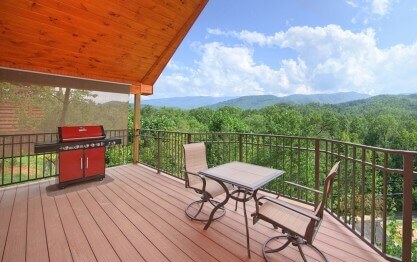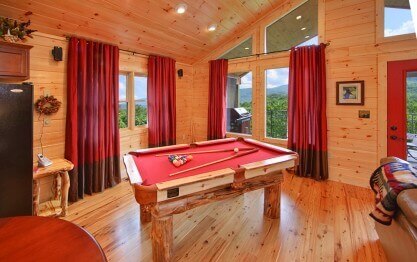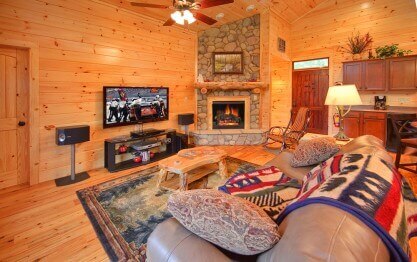 See All Photos
Reviews
Ben B.

Winchester, Tennessee

"Picture Perfect? INDEED!!"

My wife and I celebrated our 30th Anniversary and decided to get away. Great location, wonderful view, peaceful, and within quick reach of Gatlinburg, Cosby, Pigeon Forge, Sevierville, and Clingman's

…

Dome. The cabin was great and certain to be a repeat adventure for us in years to come.

+ Read More

Manager Response:

Thank you for allowing us to be a part of such a special celebration, Ben! Congratulations! We are excited to hear you had such a great visit. We hope you will make plans to come back and stay at Picture Perfect as often as your schedule allows. Please keep in mind, as a returning guest you will enjoy 10% off all future stays.

Jewel

Bogalusa, LA

"Pleased with cabin"

Cabin was suggested by Katie. We were very pleased with the location, cleanliness, amenities, etc. We would absolutely stay there again.

Manager Response:

Thank you for your wonderful review! We are pleased to hear you enjoyed your stay. We certainly agree, Picture Perfect is the perfect cabin to enjoy all that our area has to offer. We hope you will make plans to come back and visit with us again!

Melvin H.

Winston Salem, NC

"A Gift From Heaven"

This vacation was truly needed, enjoyed our stay. Will definitely come back!!!! it was very peaceful and relaxing. cabin was great.

Manager Response:

We certainly agree, Melvin! Picture Perfect is the perfect cabin to relax and enjoy all that nature has to offer. It's a great place to escape from the hustle and bustle of everyday life. We hope you will take the opportunity to come back and visit with us as often as you can.

Joshua

Rockford, IL

"Beautiful view , very helpful and friendly staff!!"

Very nice clean cabins with all the amenities you could need! Highly recommended!!

Manager Response:

The name says it all! We are excited to hear you had such a great time. Our goal is to provide you with a luxury cabin that features all the amenities you come to expect, while making you feel at home from the moment you walk through the door. It sounds like we succeeded! We hope you will consider making Elk Springs Resort part of a new tradition when visiting our beautiful Great Smoky Mountains. Please keep in mind, as a returning guest you will enjoy 10% off all future stays. Come back and see us soon!

Sean

Maurice, LA

"Picture Perfect Wedding Week!"

We loved Picture Perfect and can't wait to go back!!! It was so clean and cozy. Loved the shower, hot tub, pool table, the view.. Everything was perfect. We had a great week. We did lots of hiking. Th

…

e weather was perfect. We had an amazing riverside wedding, just bride and groom (no guests). I would definitely recommend New Beginnings Photography for easy stress free wedding planning. Our wedding location and pictures were beautiful!! We enjoyed walking downtown Gatlinburg. The cabin was about 15-20 minutes away from busy downtown area, which was exactly how we wanted it. Climbworks zip line tours was within walking distance from the cabin and we loved it! Old time photos was fun. The sky lift was kinda scary, but we love the picture they took of us at the top and the ride down at night was beautiful! We had a wooden sign made downtown that says "Picture Perfect" and our initials and wedding date on it. Great keepsake! Driving around national park along Little Pigeon River was soooo beautiful!! So was the drive up to clingman's dome. I would definitely recommend both. We loved returning to our cabin every night and enjoying the hot tub with the cool evenings ????

+ Read More

Manager Response:

Wow! Thank you for sharing such a wonderful experience with us. Congratulations! We are happy to hear that so many wonderful memories were made. We hope you will consider making Picture Perfect a part of your anniversary plans for years to come. We hope to see you soon!

Ralph T.

Ridgeley, WV

"Unforgettable"

This trip was a honeymoon extension. My new wife and I couldn't have enjoyed it more. The cabin was very clean.

Manager Response:

Congratulations! Thank you for allowing us to be a part of such a special visit. We are happy to hear that you enjoyed your stay. We hope you will consider Gatlinburg for your anniversary destination for years to come!

Ashley B.

Applegate, MI

"Paradise!!!"

We love picture perfect!! We couldn't have asked for a better honeymoon!

Manager Response:

Congratulations! Thank you for choosing Elk Springs Resort to celebrate your honeymoon. We hope you will consider returning to Picture Perfect to celebrate your anniversary for many years to come.

Chad D.

Lavergne, TN

"Much needed R&R"

This cabin was amazing. We really enjoyed our stay. This cabin was very clean and the pictures of the cabin online were accurate. I would highly recommend this cabin and we will definately be returning to this cabin.

Manager Response:

Thank you for your kind response. We strive to ensure that your stay is exceptional. We are happy to hear that the cabin exceeded your expectations during your stay. Please make sure to mention that you are a returning guest when you are ready to plan your next vacation in Picture Perfect. You will receive 10% off as a returning guest.

Justin

Navarre, FL

"Peaceful Experience"

Great views, amenities and so close to all the attractions. Great stay overall!

Erica S.

Nashville, TN

"Excellent Stay"

We have stayed with Elk Springs 3 times prior and have only had 1 bad cabin. This 1 was not it! This 1 was a great, luxury cabin.

Manager Response:

We are pleased to hear that your return experience was a positive one, Erica! We have several luxury cabins in Gatlinburg, Sevierville and Pigeon Forge to choose from and it sounds like you found yourself a winner this time! Thank you for your repeat business. We look forward to having you as our guest for many years to come.

Robert

Plano, TX

"Honeymoon Sanctuary"

We stayed at the Picture Perfect cabin for 5 days for our honeymoon. Since we were married in November, I wanted to go somewhere with great autumn scenery and nice weather. I was not disappointed! The

…

view from the cabin was gorgeous, and the cabin itself looks exactly like the pictures on the website would lead you to believe. Everything was very clean and well maintained, we felt at home the minute we unloaded our stuff. We couldn't get the spa tub to work, but I think it was just a breaker switch we couldn't find. The hottub was fantastic. The bed was awesome, and we played pool quite a bit. There are two balconies, both with excellent views. I honestly have no complaints! If you've never been to Gatlinburg, it's a super cute little town with TONS of shops and restaurants, this cabin is about 12 miles down the road from the main strip and 10 miles from where the Arts & Crafts shops begin. I really hope we can go back one day!

+ Read More

Bill

Sturgis, MI

"Fall Getaway"

Picture Perfect was perfect. The cabin, the location and the weather couldn't have been better. The cabin was very clean and equipped with everything needed for a great week. We hiked many trails and

…

zip lined right up the road from our cabin! We are already making plans for a return trip!

+ Read More

Manager Response:

Thank you for the 5 star review Bill! It sounds like you had the time of your life right here in the Smokies. We love repeat guests and are always happy to hear you have plans to return! Please be sure to mention that you have stayed with us before so you can receive a 10% discount off your next booking.

Timothy

Chesterton, IN

"Picture Perfect Cabin"

Beautiful view, cabin, and experience! Received a phone call with a door code and security code for an easy check-in! Picture Perfect was spotless and had everything we needed. It is a great retreat to get away from it all.

Manager Response:

Thank you for the 5 star review Timothy. Our express check in saves you the inconvenience of stopping by an office to pick up a set of keys. We are pleased that everything met your expectations. It sounds like you picked the perfect cabin for your vacation!

Shane L.

Washington, Pa

"Truly Perfect"

We loved Picture Perfect! The area is calm and serene and just the perfect distance from the busy-ness of Gatlinburg. The bed is super comfy, the shower and hot tub are AMAZING! We cooked on the grill and truly relaxed! Worth every penny!

Manager Response:

Thank you for a picture perfect review! We love happy guests and appreciate you recognizing that customer satisfaction is very important to us! Come back and see us real soon!

Jared B.

Gastonia, NC

"Very Enjoyable Stay, Highly Recommend "

Very nice cabin. Clean and very furnished. Especially in the kitchen. I'd highly recommend this cabin to anyone. 15-20 minute drive to Gatlinburg & PF. I'd stay here again.

David H.

Baconton, GA

"Picture Perfect honeymoon!!!!"

We could not have asked for a nicer place to stay. The cabin was perfect. It was neat and clean and up to date. We will definately be returning. Thank You for keeping such a well maintained proper

…

ty. It exceeded our expectations. Excellent location. Out of the busy area but close enough to visit everything in Gatlinburg and Pigeon Forge without any inconvenience at all.

+ Read More

Samantha W.

New Orleans, LA

"wonderful, amazing, and everything we needed."

We enjoyed the beautiful scenery, how nice the people were, and how slow the pace of Gatlinburg is compared to New Orleans. Everything in the cabin was clean and taken care of, which made it very easy

…

for us to come right in and relax. I would definitely recommend family and friends to come and we are looking forward to returning to enjoy another stay.

+ Read More

Patrick G.

Lafayette, LA

"picture perfect"

The pictures are great, but the cabin (and view) are even better

Ndifor C.

Atlanta, GA

"perfect picture"

It was exceptional. Incredible.

Andrew

Birmingham, AL

"Picture Perfect"

Wonderful and relaxing.

Chad

Brentwood, TN

"Picture Perfect Stay"

I loved it. It was awesome, the cabin was spectacular.

Katrina

Chesapeake, VA

"Pefect STAYCATION"

Overall wonderful experience with absolutely no hiccups.

Matthew

Madison, WI

"Picture Perfect Stay"

The cabin was in great condition upon our arrival and it was ready for check-in two hours early. We were pleased with our view from both balconies. The amenities throughout the cabin were great. The b

…

ed and sheets were comfortable. There were plenty of towels in the bathroom. No complaints about the cabin, property, or staff. Highly recommended.

+ Read More

Elizabeth D.

Olmsted Township, OH

"picture perfect anniversary"

my husband and I celebrated our 40th anniversary at picture perfect cabin. we had a fantastic time,wonderful views, and a beautiful cabin to stay in. we would certainly tell our friends and family of

…

the great service and amenities that we had while at elk springs resort. cant wait to make a repeat trip.

+ Read More

Roger B.

Cordova, TN

"Awestruck And Romantic Vacation Hideout"

It is unlikely I can say anything that hasn't already been said. We were awestruck from the moment we opened the door. The cabin was clean, very well equipped, and just simply a romantic place to stay

…

. It is located well out of Gatlinburg, which is what we wanted. Though there are 4 other cabins located with this one, it was very quite and private. We enjoyed coffee out on the deck while listening to the water flowing down the creek below. An evening soak out in the hot tub on the bottom deck was just what we needed to help unwind at the end of the day.
The best thing about this cabin is the walk-in shower. My next home will have one of these kind of showers.
The views are outstanding.
We will be back!


+ Read More

Carissa

Bechtelsville, PA

"Favorite part of the trip"

Returning to the cabin was the favorite part of every day. Beautifully maintained, luxury linens, super clean. I will come back many times!

Gerald S.

Roanoke, VA

"Picture Perfect Lives Up To It's Name!"

Extremely relaxing home. Well maintained and easy to operate all luxeries. We stayed there as much as we vistied the surrounding area. Only issue was that we had to buy a step stool to get into the

…

hot tub ( I am short!) but the ammenities were fabulous! Well worth the money!

+ Read More

Caleb B.

Fulton, MO

"Wonderful Relaxing"

We arrived late and the check-in was so easy. The cabin had everything we could have wanted. We stayed in most of the time and enjoyed the amazing amenities. Thanks for providing a wonderful backdrop to a relaxing week.

David P.

Bryant, Arkansas

"Awesome honeymoon escape!! "

The cabin we stayed in was very nice and accommodating. It was awesome!! The place was so nice and the view of the Smokies was great also!

Steve

Brooks, KY

"Very enjoyable weekend"

Really enjoyed the cabin. Very clean and great furnishings.

Maureen R.

Windsor, ON

"picture perfect was perfect"

we have stayed at some of the best hotels in North America, this was as nice as any 5 star accommodation we have ever experienced. It was awesome.

Karen

Nederland, TX

"Quick visit to Tennessee"

We only had three days to spend in Gatlinburg - but could not have picked a more perfect place. It was beautiful. Really enjoyed out stay.

Jay M.

Helena, AL

"Unbelievable!! "

We had the best time at this cabin. We didn't leave much because it was so nice. Everything work and the place was in great condition. I HIGHLY recommend.

Melissa

Cincinnati, OH

"Picture Perfect"

Relaxing

Kait W.

Strasberg, OH

"Stunning Location & Great Getaway"

My husband and I celebrated our first wedding anniversary at this property and had a wonderful time. We contacted our contact person once due to the propane running out while we were grilling, and ano

…

ther was dropped off within 10 minutes. We could not have been more pleased with the accommodations, very comfortable, clean, and inviting. We plan to visit again and will rent from Elk Springs again!

+ Read More

Matthew F.

Luka, MS

"Gatlinburg"

Loved the amenities, a little far out, but overall very nice!

Scott D.

Kenner, LA

"The only missing star is not Elk Springs' fault"

The cabin was great overall. One of the few times the pictures on the website matched the actual condition of the accommodations. Two small things that bothered is on our stay though. The fireplaces

…

were glorified heaters with LED flames and we weren't warned about the ladybugs before our arrival. The lady bigs turned out to not be much of a bother, and it's not the owners fault they are there, but it would have been nice to have some type of notice before arriving. Everything else was quite literally picture perfect. The bed was comfortable, the whirlpool tub was great (once we reset the switch next to the heater), hot tub was great. There are cabins around picture perfect but they did a good job of still keeping it private. We only saw another couple one time while there. The drive to downtown Gatlinburg is easy as well. If you are looking for groceries there is a Food City about 5 miles away on the way to Gatlinburg which was pretty convenient as well. The tough thing about these reviews is that it is easy to focus on the negatives, but overall we thoroughly enjoyed our stay and would book it again without question.

+ Read More

Erin R.

Gulfport, FL

"Best Vacation EVER"

Honestly, we have been to a lot of places - all over Europe, Miami, NYC, San Diego, Austin, Chicago, Denver. This was THE MOST amazing and romantic vacation we have ever had. The cabin was perfection.

…

It set the tone for the entire week - cozy, rustic but modern, romantic, perfection. The view was epic. The hot tub was epic. The love energy in the cabin was epic. Thank you so much for the wonderful memories we created on this vacation.

+ Read More

Larry H.

Lewis Center, Ohio

"Anniversary Vacation"

It was all Great--the only irritating factor was the Direct TV - it kept kicking off even after the service call we made
Our second stay at Picture Perfect- we love the cabin and view!!

Andrea

Churchville, VA

"Great place to stay "

Loved it!!!!!

Aaron

Foster, KY

"Our Honeymoon"

We loved it!

Krista R.

Wakefield, NE

"Can't Wait To Return!"

Loved the cabin--it had everything we needed to make our stay perfect. The view was beautiful; the next door cabins were a little close but the screens provided all the privacy we needed. The proper

…

ty management were great; calling after we were checked in to make sure everything was going good. We spent two nights here and it was not nearly enough time. We can't wait to return and stay longer. Thanks for everything!

+ Read More

Amanda M.

Springfield, OH

"Truly Picture Perfect"

Our stay at Picture Perfect was amazing. The cabin was very clean and taken care of. While the cabin does have other cabins near by the set up still felt very private. The view from the balcony was am

…

azing. We enjoyed sitting outside and drinking our morning coffee looking at the mountains. My husband and I wished we could have stayed longer and will being staying again for sure.

+ Read More

Lisa S.

Elgin, Il

"Spectacular Stay"

Wonderful place to stay, exceeded our expectations, very clean and had everything we needed with an awesome view.

Judi B.

Fort Morgan, Colorado

"great trip"

We were very comfortable it was isolated and quiet which we were looking for. The cabin was beautiful.

Skip M.

Rockport, IN

"Picture Perfect Indeed!"

This cabin was exactly what we had hoped it would be! One of the top vacation get-a-ways that we have experienced. Got some needed R&R as well as sightseeing around area. Thank you!

Xiaoban X.

Chevy Chase, MD

"excellent cabin"

nice cabin, nice location with great view.

Only issue is the water temperature was very low when taking shower

Heather D.

Terre Haute, In

"Picture Perfect and More"

The staff was amazing, the view was everything and more than we expected, the cleanliness of the place was outstanding!!! We had a great time and enjoyed the peace & quite. I would recommend if you go

…

to town to get back to the cabin before it gets dark, unless you're great at remember your way back home. The directions to get there from Elk Springs were awesome :) G

+ Read More

Patrick W.

Towson, Maryland

"Exceptional cabin"

The cabin was actually better in person than in the description. I love to cook and the full kitchen was surprisingly well stocked. Gatlinburg was a total tourist trap, so my recommendation is to use

…

the beautiful kitchen and cook for yourself! Jeremy was extremely helpful and responsive when we were having issues.The cabin is extremely clean and in great condition. Appliances are modern and work well. Even the internet access is decent. We were very, very pleased with our stay.

+ Read More

Thomas

Oxford, MI

"Excellent!!"

We have made two trips to Gatlinburg this past year. The first being a family vacation and the second for a romantic getaway. Elk Springs Resort is fantastic! The cabins are absolutely beautiful and the views from the balcony are amazing.
Load More Reviews