Amenities:
Full Kitchen
Gas Grill
Honeymoon
Hot Tub
Mountain View
Parking
Washer/Dryer
WIFI
You will enjoy amazing views of Mt. LeConte and the Great Smoky Mountains from this luxury cabin just minutes from all the attractions. A perfect cabin for honeymooners or a couple looking for a romantic getaway. There is also a second bath and queen sleeper sofa in case you are looking to bring the kids.

Living, Dinning, Kitchen, Gaming, and Sleeping areas enjoy expansive, unobstructed views of the Smoky Mountains and Mt LeConte. The cabin was built to showcase these views while providing top notch conveniences and comfort. Legacy Mountain Resort also has it own zip line vendor on site!
Cabin Bedrooms Layout
King Suite

King Bed
Sleeps 2
Great Room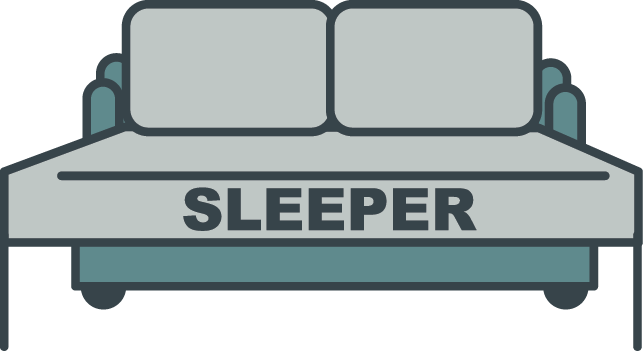 Queen Sleeper
Sleeps 2
Full Description
If for some reason you get bored relaxing on the covered deck reading a book with the views of the mountains in the background perhaps you will want to shoot a game of pool on the full size pool table or even soak in the hot tub. Catch up on work or surf the internet to plan your next days activities with the free WIFI.

Your cabin is equipped with a full kitchen and all the utensils and cookware you will need to prepare in cabin meals for your stay. There is even a dining room with 4 chairs where you can gather and enjoy meals in the backdrop of the mountains.

The king master suite with rustic yet luxury furniture and upgraded bedding has an en-suite bath with Jacuzzi tub and shower.

The great room with vaulted ceilings features luxury leather furniture with fantastic views of the mountains out the wall of glass.

Most visitors love the cabin so much they never feel the need to leave, but if you do you are conveniently located about 8 minutes to Dollywood, 10 Minutes to the action in Pigeon Forge and 15 Minutes to Gatlinburg. Even better you are about 8 minutes to the historic Arts and Crafts Community.

For your convenience a washer/dryer is included in this unit.
*** This Cabin is located 15 Minutes from Elk Springs Resort ***
Zip Line Vendor On Site
Incredible Mountain Views
Hot Tub on Covered Deck
Pool Table
1 King Bed
Jacuzzi Tub
1 Queen Sleeper Sofa
2 Full Baths
Fireplace (Electric)
Gas Grill
FREE WIFI
Full Kitchen
Washer/Dryer
8 Minutes to Dollywood
10 Minutes to Pigeon Forge
15 Minutes to Outlet Malls
15 Minutes to Downtown Gatlinburg
20 Minutes to National Park
10 Minutes to Grocery Store and Pharmacy
Calendar
Click your dates below to check in and check out
Available
Check In Only
Check Out Only
Selected
Unavailable
Photo Gallery
See All Photos
Reviews
Melissa P.

Wyoming, MI

"Exactly as Described"

We had a great stay at Paradise View! The mountain view is just perfect. The amenities in the cabin were great. I loved that I had my kitchen so I could do some cooking while we were there. The ja

…

cuzzi tub we perfect for relaxing and the surrounding area had lots of great things to do! I really wish we could have stayed longer, I was not ready to go back home! I will definitely be back!

+ Read More

Kristy A.

Matthews, NC

"Paradise View"

Awesome getaway. Check in and check out was super simple. Relatively close to many things to do if you leave the cabin. Beautiful cabin with beautiful views!

Manager Response:

This cabin certainly has it all! The views you will experience while staying at this cabin are phenomenal. We hope you will consider staying with us again during your next visit to Pigeon Forge.

Kevin P.

Tallahassee, fL

"Amazing Experience"

I have booked this vacation to surprise my wife, and It really brought amazing and beautiful memories. Thank you Elk Springs for wonderful cabin and to bring nature to close to us. It was spectacular

…

smoky mountain view. Overall, We will never forget this experience.

+ Read More

Manager Response:

Thank you for allowing us to be a part of such a special surprise, Kevin! We are delighted to hear you and your wife were able to make so many lasting memories during your visit. We hope you will make plans to come back and stay with us again.

Michael

Charlotte, NC

"Great experience. "

I was pleasantly surprised by the luxurious cabin upon our arrival. The pessimist in me told me not to expect it to be as pictured on the advertisements, but it was exactly as the pictures online and

…

the view was spectacular. Check-in and check-out was quick, easy, and convenient. Everything needed for our stay was provided ( i.e. paper towels, toilet paper, wash cloths etc). We will definitely be staying again, hopefully soon and more extended.

+ Read More

Manager Response:

Thank you for your 5-Star review, Michael! We are delighted to hear we exceeded your expectations. The view you will experience at Paradise View is truly extraordinary. We enjoyed having you as our guest and hope you will make plans to come back and visit us often!

Heather

Holley, NY

"Perfect Week"

The cabin is absolutely beautiful. Very modern in every way imaginable, and very clean. We loved our stay and would definitely stay there again, the views are gorgeous to wake up to in the morning and

…

the kitchen is well stocked with any cooking utensil you might need! Everything we did was within 15minutes from the cabin which was perfect.

+ Read More

Matthew S.

Fern Park, FL

"Gatlinburg tn "

Great location. Great view. Nice cabin for a great price and close to gatlinburg

Manager Response:

Thank you for your kind review, Matthew! We are pleased to hear you enjoyed your stay. We certainly agree, the views you will experience at Paradise View are absolutely breathtaking! The pictures can not truly reflect the natural beauty that can be seen from the moment you walk through the door. We hope you will make plans to come back and stay with us again as often as your schedule allows. Hurry back, your next Smoky Mountain adventure awaits!

John

Earlysville, VA

"Paradise View"

Stayed here with my wife on our "baby moon" she is due in a couple months and we wanted one last quiet vacation together. This place did not disappoint. Everything was absolutely perfect, the place wa

…

s clean and well maintained (my wife can be hard to please on cleanliness but she was very happy so that's saying something). The view was incredible, we loved eating together and looking out the windows at the mountains. The hot tub and jacuzzi were a great way to relax together (of course she could only put her feet in because of the baby but still enjoyable). We generally stayed in and watched movies or played pool, but if you wanted to get out there's lots to do close by. I would definitely recommend this place to my friends

+ Read More

Manager Response:

Thank you for allowing us to be a part of such a special get-away, John! Congratulations! We are excited to hear you were able to enjoy so many of the amenities at the cabin. We hope you will consider making Elk Springs Resort part of a new tradition when visiting our area. Come back and see us!

Tonya

Cookeville, Tennessee

"Weekend getaway"

Beautiful views. The interior was very nice and the mattress was comfy. The location was great. We could get to Pigeon Forge or Gatlinburg on back roads and avoid the traffic on the main road.

Manager Response:

The name says it all! The views are absolutely breathtaking at Paradise View. We are happy to hear that your stay was exceptional. Please contact us when you are ready to start planning your next weekend get-away. We hope to see you soon!

Enon M.

Winnsboro, LA

"Awesome cabin!!"

Plan to return in the fall hopefully. Cabin was beautiful and very clean. Came in at midnight so having door code was so easy. The view was spectacular. Easy access also

Manager Response:

The name says it all! It is truly your own piece of paradise. Not only is the cabin top-notch, the views are truly breathtaking! We love to hear that we exceeded your expectations. Our express check-in ensures you are able to access your cabin, even if you arrive throughout the night. We provide 24/7 guest assistance, please be assured that we are only a phone call away if you ever should need assistance. Please let us know when you are ready to start planning a return trip in the fall. We will be happy to assist you in making your next visit just as special as the first.

Patricia B.

Antioch, IL

"week of rejuvenation"

My husband and I had a wonderful week in our cabin. It was clean, comfortable and had fantastic views. We enjoyed the hot tub and the fact that it was so close to Smokey Mountain National Park.

Lindsay J.

Port Saint Lucie, FL

"Simply Amazing"

My girlfriend (Lindsay J) and I needed a getaway, a change of scenery. So I planned to take her to Tenn. so she could also see snow for the first time. When we start driving up the mountain to get to

…

our cabin, we stop along the way take pictures and admire the Smokys. Then we get to the cabin and could not believe the view from there. It was like a screen saver for a computer. The cabin was very well maintained, the bed was comfortable, every room was furnished to our liking. I would return to this cabin our next time up. Loved it.

+ Read More

James O.

Knoxville, TN

"Great cabin and a great visit"

The cabin was well kept and we really enjoyed the view. Great value for the money and a great location between Gatlinburg and pigeon forge. The roads were quite slick due to snow outside of the resort

…

area but the road to the cabin was clear as it was very well treated which helped a lot getting in and out.Great stay and would come again and stay longer.

+ Read More

Frank P.

Apex, NC

"Great Place To Stay"

This is our second visit to Elk Springs. This is our "to go" place when we're in town. The cabins are always clean and well stocked. The views are beautiful, and the staff is very responsive. Highly recommend.

Manager Response:

We are happy to hear Paradise Views exceeded your expectations! We have on site housekeeping, 24/7 maintenance, and helpful customer service representatives ready to assist you with any needs that may arise during your stay. Please do not hesitate to contact us should you have any questions or need assistance. We are here to make you feel welcome during every aspect of your stay. We are honored to be your home away from home in the Great Smoky Mountains.

Tori D.

O Fallon, MO

"amazing view"

We stayed 2 short days at this lovely retreat. Plenty of room and although in between two other cabins we felt alone in the world. The view was spectacular and the service amazing. The cleanlines

…

s of the cabin was pristine. I would recommend this resort and this particular cabin to anyone wanting a little R and R.

+ Read More

Manager Response:

Thank you so much for the 5 star review, Tori! We appreciate the positive feedback and would love to have you back again. Our repeat guests receive a 10% discount off all future stays.

Barbara T.

Lafayette, LA

"Perfectly Romantic"

We had a wonderful weekend. It was definitely a paradise view. Wish weather would have been better to see the stars. Loved that it was away from the city and only a short drive to the activities we wa

…

nted to do. Would definitely rent again from this resort!

+ Read More

Manager Response:

Barbara, we are very pleased to hear that you had a 5-star experience! Sorry we couldn't have had better weather, but there are so many things to see and do in the area, it certainly makes a trip here worthwhile! We hope to have you as a repeat guest in the future!

Jessica P.

Spartanburg, SC

"Excellent!"

We loved it-it was even more beautiful than we expected. The view was incredible and the cabin was awesome:)

Robin

Buckner, IL

"Just Like the Pictures"

We rented the cabin for a private wedding/honeymoon trip. It was just like the pictures. The view was amazing, especially in the mornings with the fog rolling over the mountain. The cabin was spot

…

less and the check-in/check-out was super easy. We never had to call the office for anything.

+ Read More

Aimee L.

Orlando, FL

"Wonderful cabin"

We didn't get to spend much time in the cabin since we only had a few days and a lot to do. But it fit our needs perfectly. It was comfortable and had a wonderful view to wake up to :)

Steven K.

Gurnee, IL

"Fall Smoky Mountain Trip"

We enjoyed our stay in the Paradise View cabin. Beautiful view of the mountains. Cabin was very clean and very accommodating. We enjoyed cooking breakfast and sitting on the porch eating our breakfast

…

and planning our day. Close to many attractions. Enjoyed the pool table, Jacuzzi, and lower balcony also. Both bathrooms we clean. Nice for relaxing at night after hiking all day on trails.

+ Read More

Manager Response:

Thank you for the 5-star review, Steven! Coming to the Smokies in the Fall to enjoy the colorful leaves is simply breathtaking, but getting to experience it in a cabin with a view is amazing! We appreciate your business and thank you again for sharing your guest experience with us. We look forward to having you as our guest again in the future.

Donna H.

N Easton, MA

"Fabulous Views!"

The cabin was very beautiful, well-appointed, nicely furnished and decorated. It was comfortable and spacious with amazing views.

Manager Response:

Thank you for the fabulous review Donna! We are so pleased to hear that you enjoyed everything about this cabin, including the amazing views! We hope you will return again to stay with us.

Tonya L.

Denham Springs, LA

"Beautiful Cabin and view"

We had a fantastic stay at the "paradise view" cabin.

Everything was wonderful and the view was great. We did have a couple of issues with the hot tub and one of the bathroom toilet but the issue

…

was resolved on the same day that it was reported. The only negative thing that I have to say is that checkout is really early. We will definetly be staying here again.

+ Read More

Manager Response:

Thank you for your review Tonya. We are pleased that you had a fantastic stay in spite of a couple of maintenance issues, which were fixed quickly for you. Check out time is 10 a.m. and we are sorry you felt like you were rushed, but our housekeeping staff has several cabins to clean on a daily basis and we have to give them ample time to do a good job for the next guests checking in at 3 p.m. I am sure you can understand how important it is to have a clean cabin to enjoy and why we have the checkout system in place like we do. If you have not notified us by 10 a.m. that you have checked out of your cabin, our Customer Service department has to call every single cabin to find out what time their departure will be. Late checkouts are available upon request and we would have gladly allowed you a little extra time if needed.

Holly B.

Springfield, Ohio

"Beautiful cabin"

The cabin was beautiful and very clean. Disn't get to spend much time in it but we enjoyed the time we did spend in it. Amazing bathtub!

Manager Response:

Thank you for your kind review Holly! We are pleased to receive such great feedback regarding your cabin stay. We hope you come back to enjoy some fresh mountain air again soon!

Paula R.

Grosse Pointe Woods, MI

"Amazing view!"

The cabin was perfect, we could not have asked for better! It's just as the photos show. We walked in and were in love with the place! It was spotless. Everything we needed was provided. We want to go back for sure. ??????

Manager Response:

Your 5-star review is certainly appreciated Paula! We are very pleased to hear that your cabin experience was perfect in every way. We look forward to having you as our guests in the future!

Kristen

Chicago, IL

"Labor day weekend trip"

Very clean and beautiful! Definitely would stay again. Visited with the boyfriend and we loved the area and cabin. Amazing view

Manager Response:

Thank you Kristen for the review. We appreciate you sharing your experience with us. The views from this cabin at Legacy Mountain are pretty amazing. I would encourage you to make a return trip to enjoy the Fall colors. You surely won't be disappointed!

Corey Melissa

Martinsville, IN

"Beautiful "

Cabin and location were beautiful. Just far enough outside of Pigeon Forge and Gatlinburg that it was peaceful and quiet. Loved everything about the stay except for all of the extra fees that seemed e

…

xcessive. Seems like the cleaning fee and such would already be included in the stay.

+ Read More

Manager Response:

Thank you for your review. You actually received a huge discount off the regular booking price by using a Groupon to book this cabin. The extra fees you paid were taxes, booking fees, cleaning fees and damage insurance. We have no alternative to charging taxes on our bookings. Gatlinburg requires a 12.75% tax on all bookings to help fund activities in the area. This includes free admission to the Great Smoky Mountain National Park where you can hike, picnic or drive around enjoying the sights and wildlife. We hope you understand, we are not in the business of charging excessive fees and want to make cabin stays affordable for everyone to enjoy.

Joanna P.

Paris, KY

"excellent"

dream come true.

Manager Response:

Joanna, we are grateful for your nice review. Dreams do come true at Paradise View! Remember, when you book your next stay with us, mention you are a repeat guest and get a 10% discount.

Jim P.

Benton, KY

"Honeymoon retreat"

stay was a real treat,everything was just as nice as it could be

Manager Response:

Thank you for the nice comments Jim! We are pleased to have provided you with a great honeymoon retreat. We hope you can come back to enjoy your anniversaries with us!

Erin K.

Austin, TX

"Wonderful Stay"

The cabin was exactly as described. Beautiful view, not too crowded by neighbors, clean, and the location was easy to get to the state park, Gatlinburg, and Pigeon Forge. Couldn't be more pleased!

Manager Response:

We appreciate 5-star feedback and are pleased that you found everything about your cabin stay to be perfect! Take a look at our website and explore all the different cabin layouts and amenities we have for you to enjoy on your next stay with us. Mention you are a repeat guest and get a 10% discount at booking!

Robert M.

Erie, MI

"Paradise View # 24"

This cabin lives up to it's name. Wonderful experience ! Wish we could have stayed longer.

Charles

Highland Heights, KY

"Relaxin and inviting accommodation"

We were pleasantly pleased with the location, facility and price. Would definitely book here again if we plan to be in the area.

Marta M.

Hialeah, FL

"AWESOME"

Never had stayed in a cabin before. This cabin was beyond my expectations. Not only the cabin accommodations but the attention from the main office.We arrived about 2 hours early from our check in t

…

ime.When i called to see if I could get the code for the door they immediately sent maintenance to make sure the cabin was ready and called me within 15 minutes to give me the code.The next day they called to see if everything was OK and if I needed anything.The drain in one of the bathrooms was jammed and they sent someone immediately to repair.The day of check out we left early and I received a call from them around check out time to make sure they could access the cabin and not walk in on us. Again beyond my expectations. Already considering staying again!

+ Read More

Michael J.

Wesley Chapel, FL

"Exactly as advertised! Hard to find at night."

It is rare thing to arrive at a destination that exceeds your expectations, but this is everything advertised and more. If I can describe it in one word it would be "SERENE". Only issue, the direction

…

s. GO 441 East to Dollywood Ln. (2 blocks after the Food City). Turn left. DOLLYWOOD LN. CURVES TO THE RIGHT LESS THAN A BLOCK AFTER YOU TURN and becomes Upper Middle Creek RD! Follow that road to Legacy Vista Resort.(On your left) Bright spotlight on the sign, just after a computer repair sign and a resort that has 2 huge fake trees in their entryway. #24 is the 2nd cabin on the 2nd level. Bring your house-shoes! Have fun!

+ Read More

Shelly M.

Youngsville, LA

"Paradise in Deed!"

Our stay in the Paradise View was spectacular..the view and the cabin was everything we had hoped for. Beautiful views and the cabin was very equipped and cozy.

Dale F.

Denton, TX

"A Restful Romantic Retreat!"

Beautiful quaint cabin hidden in The Great Smokey Mountains. During the fall the leaves turn amazing shades of red, yellow, orange, and brown. A truly lovely experience. We bought a Groupon Coupon f

…

or our stay and were excited about the great savings; however, The fees and taxes added on to the nightly stay were a bit of a shock. Call first and get all the costs before you commit. Totally worth it though!

+ Read More

Heather M.

Wheatley, ON

"great view"

Nice cabin very well equiped. Had a problem with the hot tub but the maintenence department handled it promptly and was operational the next day. Was a great stay and very clean. We will be back!

Joshua G.

Walled Lake, MI

"Awesome Cabin"

I would recommend this cabin to anyone looking to travel to the Smoky Mountains. The cabin was in perfect condition and had no issues at all. The cabin was easy to find with basic directions. This

…

cabin, while part of a cabin community, did offer more privacy than it appeared when we first arrived. The cabin is the perfect distance from Pigeon Forge, Gatlinburg and the National Park. You are far enough away that you do not have to deal with the crowds of people, but close enough that it only takes a short 10 minute drive to reach all of these locations. My wife and I plan to return at some point and will recommend it to anyone looking for a place to travel.

+ Read More

Chaquoya

Charlotte, NC

"Relaxation in Paradise"

My experience was wonderful. Stayed 3 days, 2 nights (Sept 29 - Oct 1). The cabin was just as pictured; absolutely breathtaking. There is cable television and all the amenities were provided. The prop

…

erty management company was extremely professional. Even when booking the young lady informd me of the proximity of Paradise View (#24) to the surrounding cabins. The 3 star rating due to location, although I was forewarned, was a bit too close. If I desired to, I could easily see through the window of the neighboring cabins. We never saw our neighboring vacayers once during our stay and it was never a problem. I will choose Elk Springs for future mountain retreats (but look for a bit more seclusion in our next cabin). Please don't hesitate to make a reservation! And trust me, you'll wish you'd booked your stay for longer than you may have been able to! I surely wished I could have extended my stay!

+ Read More

Heather G.

O'falon, IL

"Perfect retreat"

My wife and I drove from St. Louis not knowing what to expect and we were pleasantly surprised. We usually take our cabin retreats to the Ozarks (because it is closer); however, Elks Springs Resort wa

…

s worth the 8 hour drive and we will come back. The photos of the cabin and scenery do not do the cabin justice, you must see it for yourself.

+ Read More

Danny G.

South Haven, MS

"Elks Springs Rocks!"

Great cabin! Great view! Had a great time!

Limson T.

Westmont, IL

"Awesome Experience"

The cabin was ready well before the check in time. It was clean and the view was amazing. We had a great time.

Terry F.

Lexa, AR

"Overdue vacation "

Great cabin wonderful view. Staff checked on us right away to be sure everything was ok and was there anything we needed. The cabin was clean and the stay was quiet. Had a great time.
Load More Reviews