Amenities:
Full Kitchen

Gas Grill

Honeymoon

Hot Tub

Indoor Pool

Indoor Pool

Iron / Ironing Board

Parking

Washer/Dryer

WIFI
Your own private paradise in the mountains. Enjoy your own private heated indoor pool in this luxury cabin that sleeps 4. Perfect for a family vacation with the kids. You may never want to leave this cabin with indoor pool, hot tub, Jacuzzi tub, pool table, covered deck, gas fireplace, cable TV and free WIFI. And if you do get bored inside, you are just 10-20 minutes to all the fun including Dollywood, Gatlinburg and the main entrance to The Great Smoky Mountain National Park. Wow!
Cabin Bedrooms Layout
King Suite

King Bed
Sleeps 2
Great Room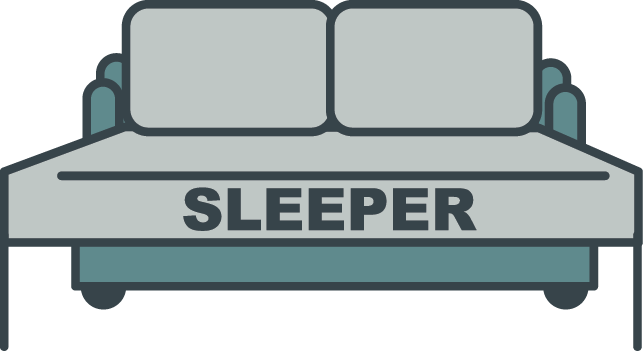 Queen Sleeper
Sleeps 2
Full Description
Don't get held hostage in your hotel or condo having to go out to have any fun. You will have everything you want right here in your own cabin with private swimming pool. Your kids will never want to leave! You will have plenty of time to relax on a porch rocker, catch up on a book, or maybe surf the internet via free WIFI.

Your own indoor heated pool with waterfall awaits, a kids dream vacation setup. The repeat visitor rates on pool cabins are the highest of any category.

Enjoy a loft king master suite with huge vaulted ceilings, a Jacuzzi tub and master bath. A queen sleeper sofa is available in the great room for the kids (when they get done swimming all day).

A full kitchen and dining area is equipped with all the cooking items you need to prepare in cabin meals and you are just 15 minutes to 2 large grocery stores.

A washer/dryer and free WIFI are available.

Don't forget, in the small chance you want to leave the cabin you are just minutes away from all action in both Pigeon Forge, Gatlinburg and the National Park - what a fantastic and convenient location.
*** This Cabin is Located 8 Minutes from the Main Elk Springs Resort Property
Indoor Heated Pool
Pool Table
Hot Tub (on covered deck)
Jacuzzi Tub in Master
1 King Bed
1 Sleeper Sofa in Great Room
Pool Table
FREE WIFI
Cable TV
Gas Fireplace
15 Minutes to Gatlinburg
15 Minutes to Dollywood
20 Minutes to National Park Main Entrance
10 Minutes to Grocery Store
Free Local and Long Distance
Washer/Dryer
Calendar
Click your dates below to check in and check out
Available
Check In Only
Check Out Only
Selected
Unavailable
Photo Gallery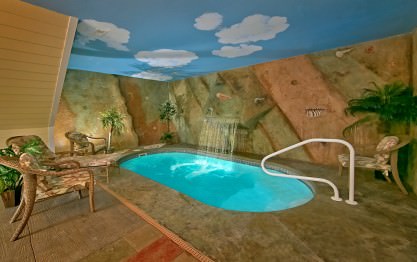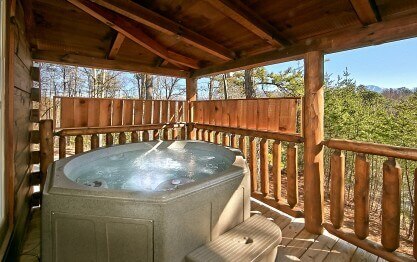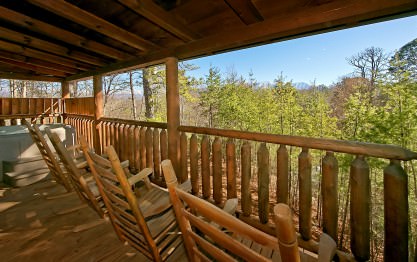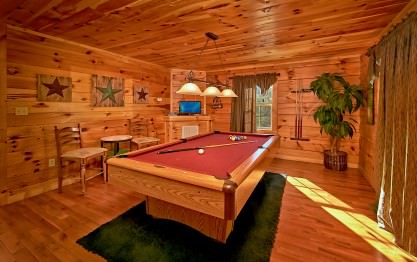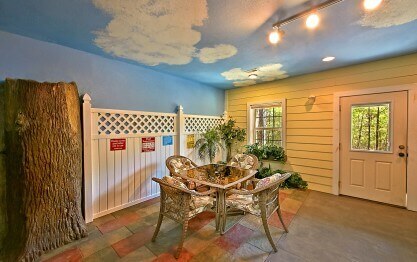 See All Photos
Reviews
Preston R.

Waterloo, AL

"Great Cabin"

We absolutely enjoyed staying at this cabin as a family getaway. The cabin was super clean and very efficient for my family. Our little girl absolutely loved the indoor pool, which is a great plus for

…

a family setting. They were very nice on letting us know when our cabin was ready.

+ Read More

Manager Response:

Thank you for your 5-Star review, Preston! We are delighted to hear you and your family enjoyed your stay. You certainly chose the perfect cabin! Mountain Splash is the ideal cabin to enjoy a family get-away complete with your own personal indoor pool to enjoy throughout your stay. We enjoyed having you and your family as our guests and hope you will come back and visit us again soon!

Destinee

Shoals, IN

"Nice, clean and cozy"

We have enjoyed staying in this cabin for the last two years. The property is nice and secluded with every amenity you could possibly need to have a perfect vacation. Everything is always clean. We ha

…

ve had very good customer service with anything that has come up. We loved not having to deal with town traffic to get to the grocery store and nice restaurants. We hope to come again someday.

+ Read More

Manager Response:

So happy that you enjoyed your stay at Mountain Splash. We look forward to you coming again. Please let us know if there is anything that we can do for you in the future!

Ethan

Check, VA

"Great for kids!"

Pool was great! A perfect house to entertain 3 small children. In a great location.

Manager Response:

We were honored to have you as our guest, Ethan. Thank you for taking the time to share your feedback. We are happy to hear you and your family enjoyed your visit and hope you will come back and see us again soon!

Ebony C.

Baton Rouge, LA

"An awesome cabin!!"

This is a great cabin with indoor pool. Everything was nice and clean and relaxing. The bed was comfortable, the wifi was great, has a pool table, cable tv, out door hot tub and indoor jacuzzi. It l

…

ooks just like the pics advertised! Overall wonderful stay and would love to return!!

+ Read More

Jeff and Chris T.

Jacksonville Beach, FL

"30th Anniversary"

Incredible, amazing, and unforgettable!!!

Manager Response:

Thanks so much for taking the time to review your stay! We hope you haven't forgotten us! Call today to book your next stay with Elk Springs Resort!

Eric K.

Tollesboro, KY

"Great honeymoon "

Me and my wife had a great honeymoon. Excellent cabin. It was great the pool was great and the hot tube was awesome

Manager Response:

Congratulations! We are happy to hear you chose to stay with us for your honeymoon. We strive to ensure each visit is exceptional. We hope you will consider making Elk Springs Resort your destination for future anniversary visits.

Bryan

London, KY

"Great cabin in the mountains "

My wife and I got away for two days without the kids this was the perfect place.We will definitely do this again and are looking to rent a larger cabin for the whole family also. I see no reason to rent from anyone but Elksprings in the future

Manager Response:

Thank you for the 5-star review, Bryan! We appreciate your business and are pleased to hear that you enjoyed your Smoky Mountain getaway! Our repeat guests receive a 10% discount off your next booking and our Sales Department would be happy to assist you in choosing the perfect cabin to accommodate your whole family. We have larger cabins with full size swimming pools for your family to enjoy too!

Wesley M.

Anderson, AL

Manager Response:

Thank you for your business, Wesley. We have several luxury cabins to choose from and would love the opportunity to assist you with finding the perfect cabin for your next vacation. You can also check out our website for photos and accurate descriptions of all of our properties. We hope you will consider a future stay with us.

Quentin

Cincinnati, OH

"Nice Weekend"

Very nice cabin to enjoy a weekend. Very clean and a wonderful place to stay.

Manager Response:

Thank you for your business! We hope you will continue to enjoy Elk Springs Resort's cabins for many years to come! We are running a great Groupon promotion right now. Feel free to check it out and book your 2017 vacation with us!

Gregory M.

Trussville, AL

"Best Chalet Rental Ever !!!"

This unit more than exceeded our expectations. You will never want to leave and go anywhere.Everything was immaculate from the pool to the hot tub, the heart shaped Jacuzzi and extra large bed. A bit

…

pricey, but you definitely get what you pay in this unit. The downstairs indoor pool is a great addition for adults and especially the children. We brought our grandaughter on this trip and could not get her away from the pool!! :) She loved it. The pictures do not do justice to the pool area. A great place to relax. We have vacationed in Gatlinburg during the holidays for over 20 years now and I can say this one was the best. Close to downtown, easy to get to and the checkin/checkout process is super simple. Thanks to Elk Springs Resort. Your service is A #1

+ Read More

Manager Response:

Thank you for your business! We hope you will continue to enjoy Elk Springs Resort's cabins for many years to come! We are running a great Groupon promotion right now. Feel free to check it out and book your 2017 vacation with us!

Charmain

Cincinnati, OH

"Great stay!!!"

The cabin was very clean and spacious and minutes away from Gatlinburgs main attractions. Hubby and I will be back.

Crystal T.

Gadsden, AL

"Mountain Splash"

It was our 20th anniversary! We had a great stay. Your staff was very nice and great customer service. Dan was very sweet and helpful with our reservations. He gave me his direct number and when I

…

left a message he called me back in a timely manner. Lois called to make sure everything was okay with our door code and just to see if we needed any assistance. I'm so happy with our stay that I'm booking a cabin for my family so that we can come back in December. My only complaint is that we wanted a late check out, and Lois explain to us that due to someone checking in the same day that we would have to check out by 10am. But overall everything was 5+ star quality!

+ Read More

Manager Response:

Thank you for the 5 star review Crystal! We are very pleased to hear that your cabin rental experience was nothing but positive. We are sorry that we couldn't grant you a later checkout, but there were other guests checking in that day and we have to allow ample time for house keeping to clean the cabin and for the pool to be cleaned as well. We appreciate your business and look forward to your return visit in December. Be sure to mention that you have stayed with us before and you will receive a 10% discount!

Linda C.

Dearborn, MI

"Great Cabin"

Very relaxing time in a beautiful cabin with a great of the mountains from your bedroom and back porch. Enjoyed the pool each night . This was an extra added feature.

Manager Response:

Thank you for the 5 star review Linda! We are so pleased that you enjoyed your time in this great cabin complete with an indoor swimming pool and amazing mountain views.

Barry W.

Jeffersonville, IN

"Fantastic"

My wife and I came here to celebrate our 20 years together. This cabin was perfect. It was beautiful, quiet and very close to all the activities Gatlinburg has to offer. We are already planning on mak

…

ing this a yearly trip for ourselves plus bringing the kids down sooner. The cabin was exactly how it looked on the website and the staff was very helpful through the entire process. We can't wait to come back.

+ Read More

Manager Response:

Thank you for the wonderful 5 star review Barry! What a great way to celebrate 20 years together! We do have several larger luxury cabins throughout this area to accommodate you and your extended family. Feel free to look on the website or contact our professional reservation department to assist you in finding one that suits your needs. I am sure your children will enjoy their time here as much as you and your wife did. Don't forget to mention that you are a repeat guest and you will receive a 10% discount off your next stay.

Carlos

Abingdon, VA

"Favorite family vacation"

The cabin was just as advertised. We arrived and it is beautiful inside. Well maintained. Very clean. We vacationed with our 4 & 6 yr old and had the time of our life. Funny thing is we were so entert

…

ained we never left the cabin! We played pool, board games, swam, grilled, rocked in the rocking chairs, hit the hot tub and ended with a nice bath in the heart jacuzzi tub! It was amazing. We were able to lower the temperature in the jacuzzi so we could stay in longer and the kids were comfortable. The view from the jacuzzi tub was so nice! And there's a leather chair in the living room that is so comfortable you don't wanna get out! The pool was a cute little pool but roomy enough for the 4 of us and the pool temp was always at 83 degrees with the room temp nice and warm so it felt good! The waterfall was a nice touch and the kids loved playing in it. Basically everything was as described. We didn't have any surprises. The confirmation email was very specific about what to expect and what to bring and how to get in with the Code for the lock. I like that the pool had a separate lock so you never had to worry about the kids wandering down there. This was our first stay with elk springs. There are 7 pool cabins and we loved it so much we plan to stay at all 7 pool cabins in the next few years!

+ Read More

Manager Response:

That is wonderful news Carlos! Thank you so much for sharing your wonderful cabin experience with us. We are so pleased that the cabin and all of its amenities provided everything you needed for a relaxing getaway. We look forward to having you back as our guests. I am sure you will enjoy the other pool cabins just as much as you did Mountain Splash!

Charles T.

Stevensville, Maryland

"Great time in the smoky mountains "

Had a great stay everything was perfect will definitely be back and will rent from elk springs again

Manager Response:

Charles, we appreciate the 5-star review and hearing that everything with your cabin stay was perfect! Mountain Splash truly is a fun cabin to enjoy some time away from it all! We have a few other pool cabins on our program, so be sure to check them out online and consider booking a stay in the near future!

Destinee

Shoals, IN

"Nice and Clean "

Very nice little cabin, way out of the way to the general hubub of the two cities. Not a large cabin at all but had everything on the list of nice things in a cabin. We have visited the area several t

…

imes so having a pool right in oou ccabin was a treat we put to good use everyday. We spent to days in the park and never even drove through the crowds, which was very nice. The view was nice enough but not the reason you would choose this cabin. If you want to stay out of the rush and enjoy your family in the quiet of the mountain, this is a good choice.

+ Read More

Manager Response:

Destinee, we appreciate you taking the time for this review. Having a pool for your own use right inside your cabin is pretty unique. It's nice to go out and see the sights and have your own little place away from it all to return to and unwind at the end of the day. We hope you consider another stay with us in the future. We have many luxury cabins to choose from and you can check them all out on our website.

Jeremy P.

Harrisburg, NC

"Weekend Getaway"

The wife and I took a little break from the daily grind and stayed in this cabin. Everything was awesome from the location to the pool in the basement!! The location to gatlinburg was perfect as well just a short 5 minute drive to downtown.

Megan M.

Sumner, IL

"awesome mountain getaway"

Great cabin for our kids. Loved the pool. Very clean, perfect for our family vacation.

Leticia

Mandeville, LA

"A great escape to the mountains!"

Our little family of 3 had a wonderful time in this gorgeous cabin! The expression on my son's face when he saw the pool was priceless!!! The game room and the full kitchen were put to great use! C

…

lose to town yet still secluded in the mountains! Highly recommend!!!

+ Read More

Mark P.

Harrisburg, PA

"Wonderful Time"

It was wonderful, the staff checked in on us to make sure we were ok, everything was there that you would need, we sat in the hot tub during the rain and just relaxed. I would say to anyone you have

…

to stay and enjoy your quiet time. The one thing we were glad we took the wife's car, she has all wheel drive, in the rain the steep road to the cabin was slippery.

+ Read More

Shelia L.

Springfield, Tennessee

"Mountain Splash"

Great get-away! The cabin was perfect for us. Had some issues with the door lock, but other than that, great time.

Joyce

Cordova, TN

"Had a Splash!"

I really enjoyed my stay at the cabin with my family. It was quiet and relaxing- just my style!

Victor M.

Hermitage, TN

"Mountain Splash"

Everything was good.

Gina

Lewis Center, Ohio

"Great experience with Elk Springs Resort Cabin Rentals"

This was our first time as a family to the Great Smoky Mountains. We did a lot of research & talked with several rental companies & our experience with Elk Springs was great. First contact, I spoke wi

…

th Marty & she was incredibly helpful, informational & customer-focused. She dedicated a lot of extra time & effort toward finding the best options for accommodations but also great about providing additional information that was very helpful toward our vacation experience. Our rental, Mountain Splash, was great. Parents will appreciate that the pool is in the walkout lower level & has a separate key code lock on the door. The cabin was very clean and very nicely appointed. Based upon our experience, I confidently recommend Elk Springs Resort Cabin Rentals. And recommend that you ask for Marty to help you!

+ Read More

Bob G.

Climax, NC

"Wonderful weekend get away"

Great cabin, the pool was fantastic as were the mountain views. This was our first stay at Elk Springs Resort and their staff are absolutely fantastic, we will certainly be return quests.

Tim M.

S. Charelston, OH

"Good times in the mountains."

We picked this cabin because of the indoor pool. My daughters face was priceless when she saw it. Great location near Gattlinburg and Pigeon Forge. We will be back in the future.
Load More Reviews