Amenities:
Community Pool Access

Full Kitchen

Gas Grill

Honeymoon

Hot Tub

Mountain View

Parking

Washer/Dryer

WIFI
Sleeps 5

1 King, 1 Queen, 1 Sleeper Sofa

2 Bedrooms

3 Bathrooms

No Pets
Mountain Memories
Enjoy a cool summer night gathering with family and friends around your own outdoor fire pit. During the day soak in the Amazing Views from one of your 2 decks. Enjoy wide open views from this 2 Bedroom Cabin nestled in the Great Smoky Mountains, yet 20 minutes from just about everything! This 3 story game room cabin with video arcade game, Hot Tub, Pool Table, game table, Blu-Ray DVD players, grill and DirectTV with over 200 channels.

Mountain memories is a two bedroom, two bath cabin features 3 levels with privacy for 2 couples. 20 Minutes from downtown and just around the corner to golf, fishing and the Great Smoky Mountain National Park. Free wireless internet, DirectTV and unlimited long distance are all standard. Access to three outdoor swimming pools within the neighboring cabin community. Two grills (gas and charcoal) are available for casual dining. 2 Minutes to the #1 attraction in Gatlinburg - Climbworks Zipline.
Sleeping Arrangements
Upper Level Master

King Bed
Sleeps 2
Middle Level Master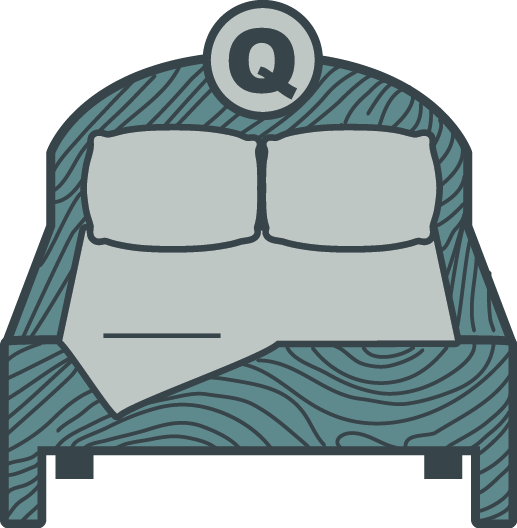 Queen Bed
Sleeps 2
Loft Futon (Sleeps 1)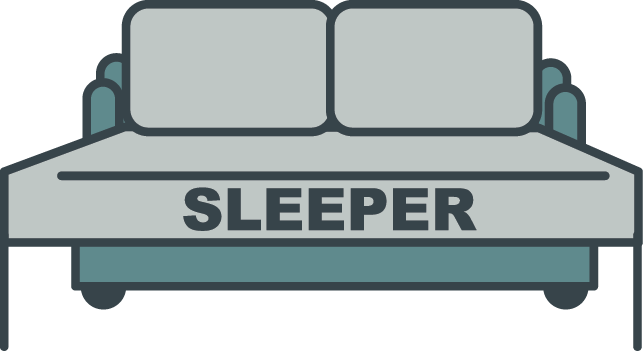 Queen Sleeper
Sleeps 2
Safety

Fire Extinguisher
Smoke Detectors
Carbon Monoxide Detector
Media

Free WIFI
Flat Screen TV's
DVD / Bluray
Convenience

Fireplace - Gas
Washer/Dryer
Iron / Ironing Board
Linens & Towels
Central Heat
Air Conditioning
Private Parking
Kitchen

Refrigerator
Ice Maker
Oven
Stove
Coffee Maker
Toaster
Dishwasher
Microwave
Blender
Pots/Pans/Utensils
Outdoor

Gas Grill
Charcoal Grill
Covered Deck
Subdivision

Seasonal Outdoor Pool
Tennis Courts
Full Description
A large fully equipped kitchen ? with brand new granite counter tops - includes a breakfast bar that seats three guests for casual dining, and a dining table that seats 6 guests if the designated gourmet chef in your group decides to cook! A living room with a view ? vaulted ceilings, a fireplace, and oh, such comfortable furniture ? you may never want to leave Mountain Memories. The main level also features a queen bedroom and full bath.

Take a look at that outdoor fire pit! What fun you and your family and friends will have when you are outside lost in the mountain views or enjoying your time around the gas fire pit in the evenings after a full day of action on the Parkway. And what comfort on the inside!
Mountain Memories offers three floors each with a separate living area.

The top floor of this unique Gatlinburg cabin rental includes a king bedroom and full bath with a tub/shower combination. There is a loft area just outside with additional sleeping space for two on a futon.

And don't forget the fun on the lower level ? a game room with pool table and Cabaret Dreamarcade with over 120 games including "Pac Man" & "Golden Tee", a large flat screen TV and 2 fireplaces. Note the additional half bath and separate shower stall plus the laundry room on this level too. And we can't forget the icing on the cake, just outside on the main deck is a hot tub with unrestricted views of the mountains.

For extra convenience, Mountain Memories in Gatlinburg offers a free wireless high speed internet, a washer/dryer, starter supplies of soaps, paper products and detergent as well as paved parking.
Amazing Views of the Smoky Mountains
Outdoor Gas Fire pit
Acess to 3 outdoor pools and tennis courts
1 King Suite
1 Queen Suite
1 Futon in Loft
Hot Tub
Futon (can sleep 2 additional guests)
Pool Table
Card/Game Table with Chess Board
Stand up Arcade Game with Pacman & Golden Tee plus 120 games
High Speed Wireless Internet
3 Fireplaces
4 TV's
Blu Ray DVD Players
Washer/Dryer
Gas Grill
Calendar
Click your dates below to check in and check out
Available
Check In Only
Check Out Only
Selected
Unavailable
Photo Gallery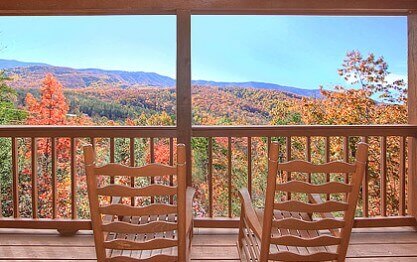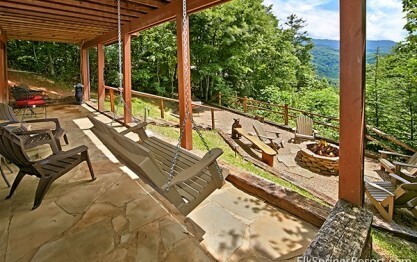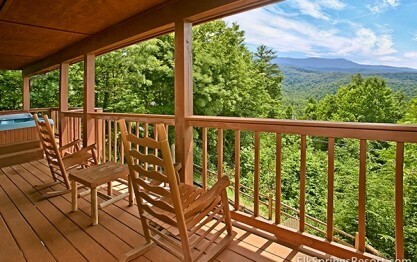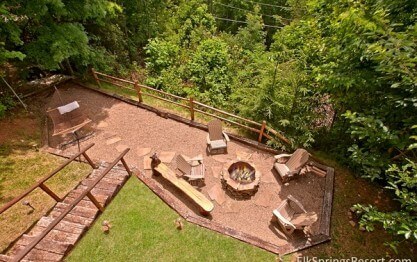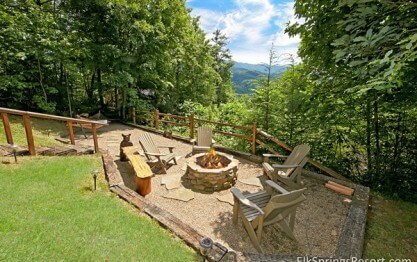 See All Photos
Reviews
Keri S.

Highland, MI

"Nice family vacation "

Nice cabin, spectacular view, great for a small family's we would for sure return.

Manager Response:

Thank you for your wonderful review, Keri! We are delighted to hear your stay was exceptional. We enjoyed having you as our guest and would consider it an honor for you to stay with us again in the future. We encourage guests to book direct and save up to 15% on your booking.

Guy & Kathy P.

Green Bay, WI

"Mtn View & Fire Pit was Outstanding"

A spectacular view of the Smokies was enjoyed from the deck and hot tub. We spent several nights enjoying the gas fire pit which was awesome because there was no building the fire, smoke, or ashes th

…

at is part of a normal fire pit. The cabin was tastefully decorated and met all of our expectations. The staff at Elk River was very responsive, and the cabin was very clean. We will definitely be back.

+ Read More

Manager Response:

It is delightful to hear that your recent stay not only met but exceeded your expectations! Mountain Memories is the perfect cabin for a Smoky Mountain getaway. This cabin is full of luxury amenities, and the location is perfect for feeling truly secluded on the mountainside but also only a short drive to the heart of downtown Gatlinburg. We enjoyed having you as our guests, and we look forward to working with you again in the future. Remember, as a repeat visitor you will save 10% on future stays. Thank you!

Chris S.

West Columbia, SC

"Shuttleworth Stay "

We absolutely Loved the Cabin! Enough room for our family of 5.

Manager Response:

As always, we love hearing about great family experiences with our rental company. Mountain Memories is certainly a beautiful cabin to relax and enjoy some time away from hectic everyday life. We hope you and your family will make plans to visit with us often. Please keep in mind, as repeat visitors you will enjoy 10% off all future bookings. Hurry back, new memories are waiting to be made!

Leah

Ocean Springs, MS

"Great Cabin"

This cabin was perfect for what we needed. We loved how it was decorated and there was plenty of room. We had bad weather so never got to use the firepit but the cabin was wonderful.

Manager Response:

Thank you for taking the time to share your experience with us, Leah! We are excited to hear you enjoyed your stay, even though the weather was not ideal. Mountain Memories is certainly the perfect cabin to relax and enjoy all The Great Smoky Mountains has to offer. We enjoyed having you as our guest and hope you will consider staying with us again in the future. Please keep in mind, as a returning guest you will enjoy 10% off all future stays. Hurry back, your next adventure awaits!

Daniel G.

Jeffersonville, IN

"Mountain Memories for sure! "

It was amazing! The cabin was perfect. Gorgeous view, great setup, privately in the mountain yet drivable distance to attractions. We enjoyed hiking in the parks, horseback riding, Dollywood, Dolly

…

2019;s Stampede, and especially Sweet Fanny Adams theatre on our trip. A great place for a week honeymoon away!

+ Read More

Manager Response:

Thank you for your fantastic 5-star review, Daniel! It is a pleasure to hear you had such a memorable stay at Mountain Memories. You certainly chose the perfect cabin to relax and enjoy the beautiful mountain scenery. We are delighted you were able to explore the area! There is definitely not a shortage of things to do in The Smokies. We hope you will make plans to visit with us again on your next trip to The Great Smoky Mountains. Hurry back, new memories are waiting to be made!

Andrea

Pickerington, OH

"Cute cozy cabin"

Such a beautiful cabin. So much attention to detail. Decorations , plates, cookware. Everything was perfect.

Manager Response:

Thank you for your wonderful review, Andrea! You certainly chose the perfect cabin to relax and enjoy the fantastic mountain views. We are pleased to hear you had such a delightful stay, and hope you will make plans to visit with us again very soon!

Donna

Coopersburg, PA

"Mountain Memories"

We absolutely loved this cabin! It was everything we were looking for in a vacation in the Smokies. The view was awesome and unobstructed by any neighboring cabins. We were traveling on motorcycles

…

and the drive to the cabin was a bit of a challenge but nothing experienced riders could not navigate. The staff at Elk Springs called us after check in to make sure everything was good. Very nice experience overall.

+ Read More

Manager Response:

Thank you for your wonderful review, Donna! We are excited to hear you enjoyed your stay. It sounds like you found the perfect cabin! We enjoyed having you as our guest and hope you will consider staying with us again in the future.

Dashea S.

Dunedin, FL

"Amazing"

Amazing.... spectacular view, super clean peaceful and delightful

Manager Response:

Thank you for your wonderful review, Dashea! You certainly chose a great cabin to relax and enjoy the great mountain views. We hope you will visit us again very soon.

Kimberly

Lakeland, FL

"Great time with great friends"

We had a wonderful three night stay at Mountain Memories. The cabin was very clean and had all of the supplies we needed. The fire pit was our favorite part. We would definitely stay there again!

Manager Response:

Thank you for sharing your fantastic experience, Kimberly. It is delightful that you enjoyed your visit at Mountain Memories and we look forward to you staying with us again. Please keep in mind, as repeat visitors you will enjoy 10% off all future bookings. Hurry back, new memories are waiting to be made!

Marcia

Fairfield , OH

"Great stayp"

Very relaxing and peaceful! We were very pleased with the amenities and cleanliness!

Manager Response:

Thank you for your wonderful 5-Star review, Marcia! We are happy to hear your stay was exceptional. We enjoyed having you as our guest and hope you will consider staying with us again during your next visit to Gatlinburg.

Frederick D.

Latonia, KY

"SIMPLY AMAZING"

We had an amazing time for our weekend get away to gatlinburg and staying in Mountain Memories. The cabin was great had an amazing view of The Great Smokey Mountains

Manager Response:

We appreciate you wonderful review, Frederick. You certainly chose a great cabin to relax and take in the fantastic mountain views. We hope you will make plans to join us again very soon!

April

Moultrie, GA

"Long weekend"

We loved this cabin!! It has a beautiful view. Everything you need for a stay is right there but your groceries. We have stayed with Elk Springs before and will definitely stay again.

Manager Response:

Thank you for your loyal business, April! We are very pleased to hear you enjoyed your recent stay Mountain Memories. You certainly chose a great cabin to relax and enjoy some fantastic mountain views. We look forward to serving you again in the near future! Hurry back, new memories are waiting to be made.

Kerri

Dell Rapids, SD

"Great experience "

awesome cabin with beautiful view

Manager Response:

Thank you for your 5-Star review, Kerri! We are delighted to hear your stay was exceptional. We enjoyed having you as our guest and hope you will consider staying with us again during your next visit to Gatlinburg. Please keep in mind, as a returning guest you will enjoy 10% off all future stays. Hurry back, your next adventure awaits!

Kim Z.

Forest Park, IL

"Lives up to its name!"

A beautiful cabin at the top of a mountain away from the crowds. Awesome views, very comfortable and clean. The drive up is steep at times but oh so worth it!

Manager Response:

Thank you for your fantastic review, Kim. We are delighted that you enjoyed your cabin stay and we hope you will visit us again very soon. Please keep in mind, as repeat customers you will enjoy 10% off all future bookings. Hurry back, new adventure awaits!

Jeanna S.

Laceys Spring, AL

"Relaxing Vacation"

The Elks Spring staff is always responsive and professional. We have reserved several cabins through Elks Spring Resort and are always satisfied.

Manager Response:

Thank you for your kind review, Jeanna! We appreciate your loyalty and will strive to provide exceptional service during each visit. We enjoyed having you as our guest and hope you will visit again soon!

Margarita

Miami, FL

"Cozy and Relaxing!"

The cabin was very clean and in great shape. The tables were set and the house was charmingly decorated- it felt like coming home and was very cozy. Four of us stayed at the cabin with plenty of space

…

. The rooms were comfortable and each had it's own bathroom (including the game room!). We were there for hiking, but the game room was a definite plus when we wanted to unwind and have fun at the end of a long day. We never did figure out how to hook up our iphones to the radios/speakers, so bring a little portable speaker if you'd like to listen to your own music. The hot tub was another added perk and very relaxing! We were happy to have so many cooking options- the kitchen, grill and the fun fire pit outside (for smores!). The highlight for me was enjoying the view from the rocking chairs on the balcony. Thanks for a great stay!

+ Read More

Manager Response:

It was our pleasure to provide you with such a fun relaxing visit, Margarita. We certainly agree, Mountain Memories is a great cabin with wonderful top-notch amenities and great scenery to enjoy. We hope that you will make plans to visit often. Please keep in mind, as a repeat guest you will enjoy 10% off all future bookings. Hurry back, new memories are waiting to be made!

Reto A.

Bassersdorf, Zurich

"Wonderful stay in Mountain Memories"

As a swiss couple we had a wonderful and relaxed stay in this wonderful "chalet" (cabin). It was like in the swiss mountain; only the cows were not here. We had a great support by the "Elk Spring Reso

…

rt" ladies; everything works perfectly. Thank you very much!

+ Read More

Manager Response:

Thank you for your wonderful 5 star review, Reto! We are delighted that you enjoyed your time in The Smoky Mountains. Mountain Memories is a great cabin to relax and just take in all that the area has to offer. We hope you will visit us again during your next trip to Gatlinburg!

Mario H.

Bronx , NY

"Mountain Retreat"

Excellent stay. The cabin was clean and cozy. My family enjoyed our stay. No complains from me.

Manager Response:

Thank you for allowing us to be a part of your family vacation. Mountain Memories is definitely a great cabin to relax and create lasting memories together. We are pleased that you enjoyed your cabin stay and hope you will consider Elk Springs Resort during your next trip to Gatlinburg.

Annette S.

Jeanerette, LA

"Much Needed Time With Family"

Our family had an excellent time at Mountain Memories. It was a perfect cabin for a family of four. The cabin had everything we needed for cooking and relaxing. Enjoyed the pool table, checkers and

…

arcade games. We used all of the amenities- hot tub, fire pit and gas grill. The cabin was very clean! Loved the location of this cabin!

+ Read More

Manager Response:

As always, we enjoy hearing about happy family experiences with our cabin rental company. We hope you will make Elk Springs Resort your home away from home when visiting the area. It sounds like you chose the perfect cabin for your whole family to enjoy!

Stephen S.

Grayslake, IL

"Awesome Memories"

This was our fourth time staying in an Elks Springs cabin in Gatlinburg in the last eight years. Mountain Memories was awesome...game room, fire pit and lots if amenities. The mountain view was good,

…

but not great as the trees are growing and blocking it a bit. Clean and well decorated. Thanks!

+ Read More

Manager Response:

Thank you very much for your repeat business over the years! We are very pleased that your recent stay was everything you hoped it would be and then some! It sounds like you made the perfect cabin choice for your Great Smoky Mountain getaway!

Pankhuri M.

King of Prussia, PA

"Amazing Cabin"

It was just perfect!

Manager Response:

We appreciate your business and wonderful 5 star review, Pankhuri. We look forward to having you back for a future stay. Please take advantage of your 10% repeat guest discount at the time of your next booking!

Jessica

Falls Church, VA

"Beautiful inside and out"

Mountain Memories completely exceeded our expectations. It was beautiful, thoroughly cleaned and maintained, and the views, oh those mountains views! After busy days at the park, it was so nice to com

…

e back to such a peaceful and serene house and location. Thank you for everything, we had a wonderful time and hope to come back soon.

+ Read More

Manager Response:

Another 5 star review from another satisfied guest with Elk Springs Resort! We are pleased to hear that you enjoyed this superb cabin during your vacation. It's perfect for a couple or small family and is just a short drive from all of the tourist attractions in downtown Gatlinburg. It's nice to have a relaxing place to head to after a long day of shopping or hiking in the Great Smoky Mountains. We hope you will hurry back for some more mountain memory making real soon!

Kim B.

Highlands, TX

"Best Family Vacation!!"

We had such a wonderful time in Gatlinburg and at Mountain Memories cabin. We were devastated to return home and hear about the fires. Our thoughts and prayers are with each and everyone of you. We pr

…

ay for the firefighters, all of the people affected, all of the wildlife, and that beautiful piece of nature. I hope this cabin made it. Kim B.

+ Read More

Manager Response:

Thank you for your kind words, Kim! We are truly blessed to be able to share the beauty of our Great Smoky Mountains once again. You will be pleasantly surprised to see Gatlinburg during your next visit. The downtown area, along with the attractions were spared. They are fully operational, with the exception of the Sky Lift. We are happy to report there was no damage to Mountain Memories or the resort it is located in. The cabin is as beautiful today as it was during your visit. Your thoughts and prayers are deeply appreciated, thank you! We hope to see you again soon.

Nancy

Walker, LA

"Williams' anniversary trip"

The cabin was nice.

Manager Response:

So glad you came to stay with us for your Anniversary! We do hope that you can return to stay with us again! Should you plan another trip, please remember that Elk Springs Resort offers a 10% discount on all future stays for return guests.

Terri G.

,

"PARADISE"

LOVED THIS CABIN CLEANEST AND BEST CARED FOR EVER

Manager Response:

Thank you for taking the time to share your experience with us, Terri! We certainly agree, Mountain Memories is the perfect cabin to relax and enjoy the serene nature surrounding you. We hope you will consider making Elk Springs Resort your home away from home when visiting our beautiful Great Smoky Mountains.

Karen J.

Fenton, MO

"Beyond our expectations!"

We saw the pictures on the Internet and hoped it was that awesome in person. It was perfect for our stay. We didn't have to spend time checking in and out. We were given a code to go in as soon as the

…

y sent us a text that the cabin was ready. Hot tub was clean. Gas fireplace was perfect. Signs are posted for instructions. We received a call to ask if everything was ok. Just an awesome place!

+ Read More

Manager Response:

Thank you for your 5-Star review, Karen! We are delighted to hear you had such a wonderful stay. We hope you will make plans to come back and visit with us again as often as your schedule allows. Please keep in mind, as a returning guest you will enjoy 10% off all future stays. Hurry back!

Stephen P.

Blacksburg, VA

"Exactly what I was looking for."

My wife and I rented Mountain Memories for a long weekend in August to celebrate my 50th. We wanted a private location, nice accommodations, good amenities and Mountain Memories delivered it all. Th

…

e location is fantastic, a short 20 min ride to Gatlinburg, but you'd never know you were so close. The views out the back are beautiful and the property is very private - there is one property that can be seen off the deck but it is still pretty hidden by trees. The furnishings were great, the cabin was clean upon arrival and had everything we needed for a great experience. I sure hope I am able to revisit Mountain Memories again, it left us with some great ones.

+ Read More

Manager Response:

Thank you for allowing us to be a part of such a special birthday celebration, Stephen! We are happy to hear your stay was exceptional. We enjoyed having you as our guest and would consider it an honor for you to stay with us again. Please keep in mind, as a returning guest you will enjoy 10% off all future stays. Hurry back, your next adventure awaits!

Tony

Naperville, IL

"Wonderful stay at Mountain Memories"

The cabin was wonderful. It was exactly how it appeared in the pictures. We were aware of the distances from Gatlinburg and Pigeon Forge prior to booking so it came to no surprise. We were glad to b

…

e away from the busy areas and yet be able to drive to them when desired. We enjoyed the arcade game and pool table for relaxing time in the cabin.

+ Read More

Manager Response:

Thank you for your wonderful review, Tony! We are happy to hear you enjoyed your visit with us. We certainly agree, Mountain Memories offers the perfect location to enjoy all our area has to offer. We hope you will make plans to come back and stay with us again. Please keep in mind, as a returning guest you will enjoy 10% off all future stays. We hope to see you soon!

Robert

Flowery Branch, GA

"Beautiful Cabin!"

Very beautiful cabin, spectacular views! Cabin was very comfortable and clean. Close enough to everthing, but far enough away from the bustle of the city. We will definitely be back!

Manager Response:

Thank you for your kind review, Robert! We are delighted you enjoyed your stay. We would consider it an honor for you to come back and stay with us again. Please make sure to note that you are a returning guest to receive 10% off each returning stay. Hurry back, the Great Smoky Mountains are calling!

Ronald

Galena, OH

"Loved Mountain Memories"

Cabin was very quiet with an awesome view. We loved the hot tub esp after getting sore muscles from hiking. Was 14 miles from downtown Gat but we liked this because we liked the seclusion. We were st

…

ill able to access downtown and express bypass to the park. Is perfect for people who like to make own food or BBQ on grill. Kitchen very well stocked with dishes and cooking stuff. Our fav spot was front porch with rocking chairs. Place was clean and well maintained. Kids loved game room and 80s style arcade game. Rental agency very easy and convenient to deal with! We were very happy with our vacation.

+ Read More

Manager Response:

Thank you for your 5-Star review, Ronald! We are happy to hear you and your family enjoyed your stay. It sounds like you chose the perfect cabin! Mountain Memories has the ideal location for easy access to downtown, yet, is far enough away to enjoy the tranquility of nature. We hope you will consider making Elk Springs Resort a part of a new tradition when visiting Gatlinburg. Come back and see us soon!

Jennifer

Indianapolis, IN

"We made some great "Mountain Memories""

We just came back from our 1st trip to the Smoky Mountains. The cabin was the icing on the cake. It was in the perfect location for our family. We were within reasonable driving distance to several po

…

ints in Smoky Mountain National Park, Downtown Gatlinburg, White Water Rafting, and Dollywood. We enjoyed all the amenities the cabin had to offer- hot tub, pool table, fire pit, and the arcade machine. We have already started planning next year's vacation back to the Smoky Mountains and Mountain Memories.

+ Read More

Manager Response:

Thank you for allowing us to be a part of such a wonderful vacation, Jennifer! We love to hear that you and your family enjoyed your visit with us. Please let us know if we can assist you in planning your next trip to our area. Keep in mind, as a returning guest you will enjoy 10% off all future stays. Come back and see us soon!

Todd D.

Livonia, MI

"Great Place to Stay"

We loved Mountain Memories! The house was very clean and that is very important to us. It is very spacious, and has a really nice kitchen. The gas fire pit was perfect, we sat around it every night

…

and looked at the stars. We had a couple of minor questions/concerns that Elk Springs took care of immediately. Very satisfied!

+ Read More

Manager Response:

It sounds like you have found your new home away from home while visiting our Great Smoky Mountains! It is always good for the soul to get back to nature. We are happy to hear that you were able to enjoy this time. Mountain Memories is truly an ideal cabin to come to relax and enjoy. Please do not hesitate to contact us if can assist you in any way during your stay. We provide 24/7 guest assistance to ensure that your vacation get-away exceeds your expectations. You, as our guest, are our top priority. We pride ourselves in handling any issue that may arise with the utmost urgency. Please contact us when you are ready to start planning your next vacation.

David T.

Lake Mary, FL

"Awesome trip to Gatlinburg"

We had a great time being in the Smokey mountains for the first time. The accommodations were great. Will definitely be back.

Manager Response:

We are delighted to hear you enjoyed your visit! Spring is around the corner. It's a nice time to start thinking about a return trip to Gatlinburg. We hope to see you again soon!

Dineen

Winter Springs, FL

"A Smoky Mountain vacation to remember!"

Initially I called another company about a different cabin, but I could never speak to anyone and they did not call me back. When I first called about Mountain Memories I spoke to a very "happy to he

…

lp me" lady that I ended up talking to a number of times because I had questions. Their availability, patience and general kindness was a key for me renting the cabin. They were always available when and if I had a question or needed them. The cabin online showed us everything that we wanted - a main level bedroom for my father, a loft area for our child, another room for us, a fireplace, fire pit, swing, pool table, video game, TV in each bedroom, three bathrooms, nice kitchen, porches with beautiful views, and that great open cabin feel! The cabin did not disappoint us. It was beautiful, clean, and a pleasure to stay in. My child hugged the railing before we left. Even the welcome mat was a good sign since it is the one we have at home. We enjoyed being out a little further. It was still easy to get to downtown Gatlinburg, Pigeon Forge and the Great Smoky Mountain National Park, as well as to the Tuckaleechee Caverns in Townsend. What a beautiful 18 mile drive following the river back to Gatlinburg. There was a really nice big gift shop along that route as well. We also went to the welcome centers and gift shops for the park, wanting to support the part as it is the only one in the United States that you do not need to pay to go in. It is a beautiful park! We tried to do things we could not do at home like ride a coaster down a mountain, play on rocks in a stream, go to the Titanic museum and even took in the Dixie Stampede show. We had a great week and look forward to visiting the beautiful Smoky Mountains again!

+ Read More

Manager Response:

We are delighted to hear you enjoyed your visit! Spring is around the corner. It's a nice time to start thinking about a return trip to Gatlinburg. We hope to see you again soon!

Leah B.

Magnolia, TX

"Truly a Home Away from Home"

The cabin and surrounding area were amazing. We had all modern conveniences when we wanted them but enough beauty and nature to make us want to keep venturing outdoors. It was perfect!

Manager Response:

Thank you so much for this wonderful review! We hope that you will be able to return and stay with us again for 2017!

Michelle K.

Atlanta, GA

"Beautiful Getaway Spot!"

My friends and I were going to go skiing for the weekend, however the weather wasn?t great, so we made a last minute decision to go to Gatlinburg. We found the cabin online and quickly booked it. The

…

entire process was very easy and clear, from booking to check-in to check-out. The pictures online don?t do it justice ? the place is perfect! Everything was kept in great condition. Amenities were great ? we especially loved the hot tub and the fire pit (and smores!). Actually we got a lot of use out of the arcade, too! The beds were very comfortable and the kitchen was stocked with all the tools we needed to cook. Our only initial concern when we booked was if it would be too far from town ? but it wasn?t a bad drive at all, and we ended up enjoying the distance, since the cabin was nice and quietly tucked away. We ended up hiking the Rainbow Falls while we were in town, and we?d definitely recommend that for a solid hike up in the mountains (about 6 miles RT). Overall we were looking for a relaxing weekend to get away and de-stress, and we definitely found it here. Would highly recommend!!

+ Read More

Manager Response:

Thanks for this amazing review! We hope that you can book another getaway with us in the near future! Remember, return guests get a 10% discount on all future bookings. So just give us a call and we will get you set up. Or, book online and put a note in your reservation that you are a return guest!

Hope

Pelzer, SC

"Elk vacation "

Everything even the booking was amazing. Loved the easy check in and out. The cabin was beautiful and hot tub perfect. We also enjoyed the gas fire pit and gas logs inside. We will definitely be booking another trip to the resort

Manager Response:

Thank you so much for your 5-star review, Hope. We love to hear from another satisfied guest that had an amazing stay with us! We look forward to having you back for many future vacations!

Angelica S.

Jacksonville, FL

"Mountain memories cabin the best one"

Very nice clean place and great lication
Thank you

Manager Response:

Thank you for your 5-star review, Angelica. We are so pleased that you enjoyed your cabin getaway and hope you will return again soon!

Jon E.

Mount Clemens, MI

"Mountain Memories"

When we walked in, we were immediately impressed. The available pictures online were not able to adequately portray how nice this home is. A wonderful time, and location.

Manager Response:

Thank you for your 5-star review. It is our pleasure to offer this luxury cabin for you to enjoy. We are pleased to hear that you enjoyed your stay and we hope you will consider a return trip here in the future.

Mary H.

Louisville, KY

"Best Christmas ever"

We made a last minute decision to take a trip for Christmas with my son, daughter-in-law and 2 grandsons and found this cabin available. It was the best cabin I have ever stayed in. It was very clea

…

n. The bedding smelled freshly laundered. We all thoroughly enjoyed the pool table, arcade games and firepit. It was decorated nicely for the holidays. The layout was very roomy and the kitchen was well-stocked.

+ Read More

Manager Response:

We are delighted to hear that you enjoyed your Christmas with us! We strive to ensure that each stay is exceptional and hope that you will visit us again during your next trip to Gatlinburg. Please take advantage of your 10% repeat guest discount at the time of your next booking!. Hurry back, more memories are waiting to be made!

Kunal N.

Duluth, GA

"Mountain Memories"

Had a great time at the cabin and was well kept. Was a little stormy when we were there so we didn't get to enjoy the outdoors as much as we would like to but still had a good time.

Manager Response:

We appreciate your business,Kunal. We would be delighted to have you back for a future stay. Please take advantage of your 10% repeat guest discount at the time of your next booking!

Joan M.

Waupaca, WI

"Mountain Memories November 2015"

This was our second experience with an Elk Springs property, and I don't know how the experience could have been better! The staff at Elk Springs was warm and helpful each time I called. The whole res

…

ervation process was easy and very convenient. I received my door code just before we arrived. The property itself was perfect! Beautiful views, very comfortable and cozy setting. Can't wait to go back!

+ Read More

Manager Response:

Joan, we appreciate you being a repeat guest of ours and thank you for the 5-star review! As always, it is our pleasure to provide you with a positive experience in one of our luxury cabins. Thank you for sharing your thoughts with us and we hope you will continue to choose one of our cabins to make more Great Smoky Mtn. memories in!

Lindsay

Chapel Hill, NC

"Gorgeous Views"

I went with a few friends for the weekend, and the October views were breathtaking. The fire-pit is gas and allowed us to enjoy the crisp air while at the same time remaining cozy. Pool table, hot tub

…

, and arcade games kept us busy! Wish we could have stayed longer!

+ Read More

Manager Response:

Thank you Lindsay! If your only complaint is that you didn't want to leave, then I guess we are doing a great job here at Elk Springs Resort! It is our pleasure to provide you with that home away from home atmosphere to make your stay as enjoyable as possible. We hope you and your friends return again and again!

Alejandro C.

,

"vacation in gatlinburg"

this cabin is exactly like the pictures show, very clean ,awesome views from the rooms and the balcony. the whole house is well equipped , kitchen has everrything you need. the location of the cabin i

…

s great. there is lots of things to do that are within a 10 mile radius. I personally enjoyed the place called climbworks that is rigth down the street. They have a zipline tour or a mountain bike loop that was a blast.

+ Read More

Manager Response:

Thank you for the kind review Alejandro! We go the extra mile to keep all of the pictures and descriptions updated so that our guests know exactly what to expect upon arrival. Many of our guests are pleasantly surprised to find the cabin is even better than pictured or described! We are pleased that you enjoyed the location and local attractions during your cabin stay. We look forward to having you as repeat guests.

Shivangi P.

Gallatin, TN

"Lovely Cabin, Great views!"

We stayed at Mountain Memories, which was a cozy, yet spacious cabin. The views were excellent. The cabin had everything we needed. Added bonus was the hot tub, fire pit, porch swings and game room, w

…

hich made our stay very comfortable and enjoyable. The distance is a little away (20 minutes drive) from downtown Gatlinburg so that is something to consider. It worked well for us. Highly recommend!

+ Read More

Manager Response:

Thank you for sharing your review with us! We are pleased that you found everything to your liking. We agree that the distance from downtown Gatlinburg is something to consider, but if mountain views and being away from all the tourist attractions is what you seek, it is well worth the drive.

Rich

Moorestown, NJ

"Great time at Mountain Memories"

We really enjoyed our stay. Hiked every day at the National Park and came home to the house for a hot tub and then sitting by the fire. The house was very clean, well equipped and very private. We couldn't have had a better time

Manager Response:

Rich, it sounds like you made the perfect cabin choice for making memories here in the Great Smoky Mountains! What better way to disconnect from every day life than a nice hike in the National Park, a soak in the hot tub and enjoying each other's company around a fire! We hope you will consider a future stay with us.

Elaine

Marietta, OH

"Awesome cabin!"

We were very pleased with Mountain Memories! The decor fits the location and atmosphere of the mountains. The hot tub, arcade game, pool table, and fire pit were welcome amenities. The owners have

…

not skimped on any of the furnishings or supplies in the cabin. I will say, however, that the steep narrow road leading to the cabin needs to have more signs pointing the way and I might caution people who may be renting it in the winter months...beware of slick roads!

+ Read More

Manager Response:

We are happy to hear you enjoyed your stay, Elaine. Mountain Memories is an exceptional cabin with top-notch amenities to enjoy throughout your stay. It sounds like you made the perfect cabin choice for your whole family to enjoy! We hope you will join us again in the near future.

Brittany

Dickson, TN

"Very nice Clean beautiful cabin."

Absolutely loved it. Very at home feeling and relaxing. We never left.

Manager Response:

Thank you for the review! It seems this cabin is appropriately named and we are happy you made some mountain memories by staying with Elk Springs Resort!

Carolyn

Florissant, MO

"Peaceful!!"

The Mountain Memories Cabin with Elk Spring Resorts exceeded our expectations!! It was the perfect peaceful getaway from our everyday busy lives. The cabin and the views were absolutely breath taking!

…

And it was also very close to all the entertainment of Gatlinburg. We will definitely be back!

+ Read More

Manager Response:

Thank you for your wonderful 5-Star review, Carolyn! It sounds like you made the perfect cabin choice for your whole family to enjoy! Please keep in mind, as a returning guest you will enjoy 10% off all future stays. Hurry back, new memories are waiting to be made!

Lorene

Fort Wayne, IN

"Mountain Memories"

The cabin was beautiful and very secluded. Just what we wanted. There were plenty of dishes and most anything you would need in the kitchen. The scenery was beautiful. Don't plan to use the fire pit (

…

gas) to cook on because it is not allowed. So no s'mores. I would not want to drive there in the winter in snow- but it was beautiful in nice weather.

+ Read More
Load More Reviews