Amenities:
Full Kitchen
Gas Grill
Hot Tub
Iron / Ironing Board
Parking
Pet Friendly
Theater Room
Washer/Dryer
WIFI
Perfect for 3 couples or 2 families with kids! Mountain Magic has plenty of room to spread out for privacy and plenty of common areas to gather with family and friends. Mountain Magic features 3 master suites at an attractive rate. A Great Value! Did we mention that there is a 9 foot theater screen with surround sound and high definition projector?
Cabin Bedrooms Layout
Main Level King Suite

King Bed
Sleeps 2
Main Level Great Room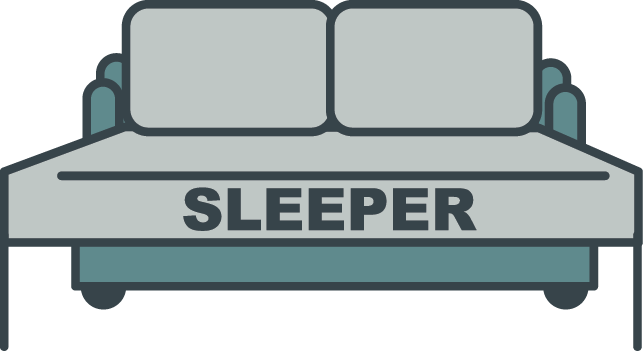 Queen Sleeper
Sleeps 2
Lower Level King Suite

King Bed
Sleeps 2
Upper Level Suite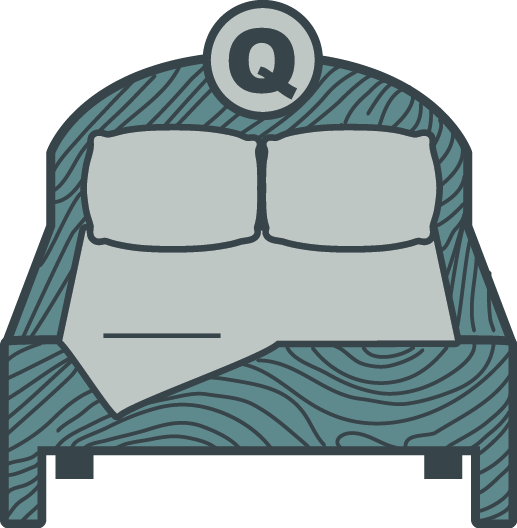 Queen Bed
Sleeps 2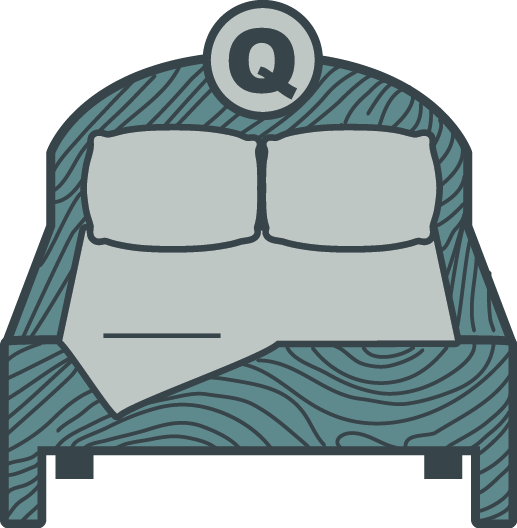 Queen Bed
Sleeps 2
Upper Level Loft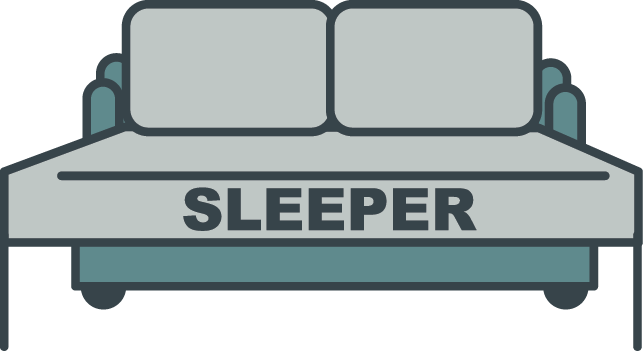 Queen Sleeper
Sleeps 2
Full Description
Book your vacation at Mountain Magic and add to the list of happy travelers who enjoyed their vacation in this special cabin.

Enter at the main level in this true log cabin home and you will find a great room with vaulted ceilings exposing the wood beams and railing that finishes the loft above. Sit back on one of the leather couches and enjoy the center gas fireplace, flat screen TV and comfortable seating for 6 in the main living area. The adjoining dining area and breakfast bar can seat up to 9 guests.

A full kitchen with stainless steel appliances is stocked with cookware ready to accommodate your 2 to 10 night stay. This Gatlinburg Cabin Rental includes a blender, mixer, toaster, coffee maker, ice maker and many other cooking and baking items.

A main level king master suite with jacuzzi tub and full bath adjoins the main level and features upgraded bedding finishes.

Head up to the upper level where you will find a loft sitting and sleeping area with pub table and futon. A perfect place to escape from the kids making all the noise in the lower level game room. Adjoining the loft is another suite with full bath and 2 queen sized beds. A great option for the kids or adults.

The lower level features a game room with regulation sized pool table, wet bar and private 9 foot theater screen with high definition projector and surround sound. Plenty of seating to accommodate your group. Your kids may disappear to the lower level for the length of your vacation giving the adults some quiet recharge time.

A third master suite adjoins the lower level and features a king sized bed and full size bath.

Finally, off the lower level deck is your own hot tub where you can relax after a day of hiking in the park or shopping downtown. A perfect end to the day.

Be sure to relax in any of the master suites with digital cable and DVD player.
Upper level Bedroom includes 2 queen sized beds
MId-Level King Bed (entry level)
Lower-Level King Bed
Home Theater with 9 Foot Theater Screen and Surround Sound
Hot Tub
Jacuzzi Tub
Pool Table
FREE High Speed Wireless Internet
Gas Fireplace
6 Rocking Chairs
5 TV's
2 DVD/VCR Players
3 DVD Players
Washer/Dryer
Gas Grill
8 Minutes to Downtown
20 Minutes to Dollywood
3 Minutes to the Arts and Crafts Community
True Log Cabin with Stacked Logs
Vaulted Ceilings
Metal Roof
Calendar
Click your dates below to check in and check out
Available
Check In Only
Check Out Only
Selected
Unavailable
Photo Gallery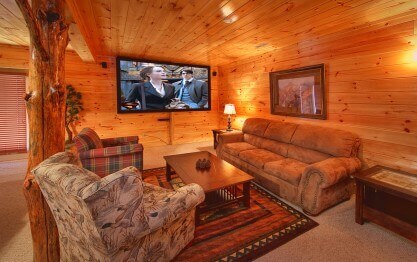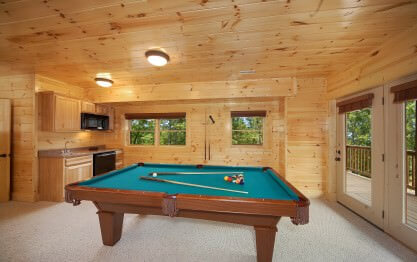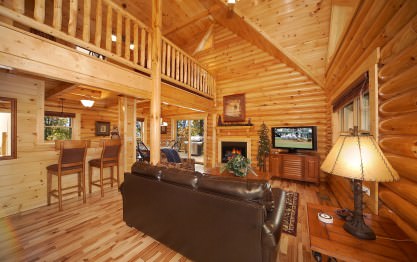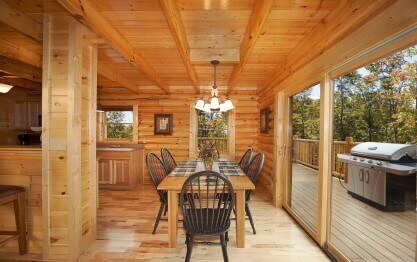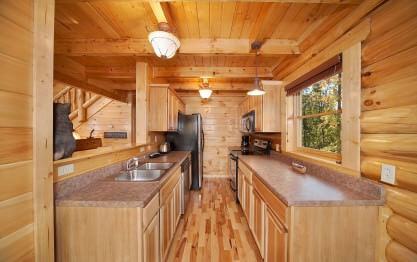 See All Photos
Reviews
Jeanie H.

Hendersonville, TN

"Great cabin for group or family"

This was the first time we have had a family get together out of town since both my children have married and had children of their own. I also haven't been to Gatlinburg in about 25 years, so I was

…

a little apprehensive about renting a cabin knowing nothing about any of the rental companies. I first picked a cabin with another company, but was notified about 2 weeks after renting it that there was a 3 night minimum, so I cancelled that reservation. I was offered the 3rd night for half price, but that wouldn't help, since we could only stay for 2 nights. There were several cabins with Elk Springs that were inviting, and with the assistance of my children, we chose Mountain Magic, and it was perfect for our needs. It gave each family a floor of their own for privacy, but areas for family time. Everyone was pleased with the cabin. The only issues we had was a light out in the top floor bathroom, and had problems getting the dishwasher to start. Also, we assumed coffee filters for the coffee pot would be furnished. A grocery run had to be made before we could get our morning coffee, and for us coffee drinkers, waiting sometimes is not pleasant. Next time, however, we'll know.

+ Read More

David E.

Nashville, TN

"Wonderful Cabin"

Mountain Magic was a great cabin! We enjoyed our stay and wish we could've stayed longer!

Jerri F.

Cincinnati, OH

"Best stay ever!"

The photos were great, but i was more than pleased when we walked into the cabin. The space was incredible and plentiful, the location was amazing. I have no complaints!

Shelley G.

Bocaraton, FL

"AWSOME!!"

My family had a fabulous time, we even got an early check in and after driving 12hes was really a n added bonus that we didn't have to wait until 3pm.Only 2 draw backs the basement needs proper heatin

…

g and the TV in the bedrooms are outdated remotes didn't always works .But overall it was a 5 star stay.I will definately be back.

+ Read More

Tambra and Brian

Elizabethtown, KY

"Mountain Magic 2/3 through 2/6/2016"

Overall good. Loved the fireplace and the coziness of the first floor. Bed comforters need to be cleaned in all three bedrooms. The master suite on the first floor bed covers had an odor to them.

…

Bathroom floors need to be cleaner. Carpet in basement area not clean. Very worn in appearance. Close to downtown Gatlinburg which was nice.

+ Read More

Adrian

Arlington, TX

"Unforgettable"

It was amazing. Very clean and cozy, everything was working just right and didnt have any problems or complaints at all

Shri Nath G.

FRANKFORT, KY

Manager Response:

Thank you for the review Shri. We are pleased that you enjoyed your trip to the Smoky Mountains and hope you will come back again soon.

Noricela T.

Miami, Florida

"Truly a Dream Vacation "

My team and I visited Tennessee to participate in the Great Smoky mountains half marathon and had the opportunity to stay at a Elk Springs Resort cabin. It's been the best experience we have had so fa

…

r as a while. The cabin, the town, the race, the views. Everything couldn't have been better. It was just awesome to come back to Mountain Magic after a 13 miles run. We enjoyed the classic car show, a delicious dinner at Bullfish and a lovely walk thru Gatlinburg's old world village. We are already planning our next year trip. ??

+ Read More

Manager Response:

Thank you very much for the 5-star review and congratulations on completing the half marathon! It is our pleasure to provide you and your friends with a luxury cabin rental to enjoy some time away from the hustle and bustle of every day life. There are many things to see and do in Gatlinburg and surrounding areas. We would love to have you back as a repeat guest. Just mention that you have stayed with us before and we give you a 10% discount on your next booking. We look forward to your visit next year!

Jerome T.

Indianapolis, IN

"Mountain Magic was Magical"

Mountain Magic was just that...magical! My husband celebrated his 40th birthday in this amazing cabin. The wrap around porch, the basement entertainment and the openness of the cabin in general was

…

cozy enough for family time and still private enough to separate yourself from the kids. The kitchen had everything your needed! And though we did not see a bear...the leaning grass and disturbed wooded area beneath the porch sure gave us something to talk about. We will definitely be back!!

+ Read More

Deron C.

Hammond, IN

"All That!!!!"

We absolutely loved the cabin. It was clean and spacious. Everything about the cabin screamed relax and enjoy. We will be back for a longer stay next year!!! Thank you!!

Kris

Port Jefferson Station, New York

"Couples getaway "

Cabin was beautiful . Also within a couple minutes of town which was great .

Troy M.

Knoxville, TN

"Mountain Magic"

My family had a wonderful time. The cabin was beautiful, we loved our stay. We definitely be back soon.. Thanks!!!!

Ochia B.

Nashville, TN

"great stay"

We had a very great time easy to find and very very clean... We will be staying again

Daniel

Pinecrest, FL

"Best Cabin!!!"

We had a wonderful time in Tenneessee. We went zip lining, cave exploring, hiking and enjoyed our nights in the town. Our kids loved it.

Shuo L.

Fairborn, OH

"Wonderful place for vacation!"

The picture shown on the website is exactly what you have in the cabin. Very nice and clean!

Amy

Hinsdale, IL

"We had a wonderful stay at Elk Springs!"

If we came back to visit Gatlinburg, we would rent Mountain Magic again. It was everything we hoped for in a Smoky Mountain cabin experience. Everything was so simple from making the reservation, to

…

small requests while we were there, and checking out. No stress! Beautiful, clean, and comfortable!

+ Read More

Monika

Brentwood, TN

"Fab!"

Cabin was perfect!! Clean! We zipped one way out to dollywood and another drops you in gatlinburg. Great service and cabin was ready 2 hours early and they texted me to make us aware .

Peter W.

Bogalusa, LA

"Great stay in Smokies"

Very Clean, well furnished and great experience!

Kevin W.

Ripley, MS

"You will enjoy this cabin"

We had a very nice stay. 9 family members total. PLENTY of room - which was great. I have no complaints about this property.

Cynthia j

saint clair shores, MI

"great stay"

great company.. great location.. clean wonderful condo!!!!!

Melanie G.

Central, SC

"Great place to share with friends!"

We took two families on this trip. It has a wonderful layout for families with teenagers. We couldn't have been more pleased!

Andrew J D.

LaPlace, La

"Perfect cabin experience"

From check in to check out, I could not have asked for anything more. Mountain Magic is a great cabin that is just minutes away from Gatlinburg and Smoky Mountain National Park. Our family had a gre

…

at time and will be renting from Elk Springs Resort the next time we visit.

+ Read More

Mark H.

Grand Rapids, MI

"We will definitely return to Mountain Magic!!!"

Words cannot express how much fun we had on our vacation!! The facilities were beautiful and perfectly located!!!

Nancy A.

Shreveport, LA

"Mountain Magic was as advertised!"

We had a great time, and the cabin was amazing! The customer service was the best ever! We had an issue locking our door the first night, and someone responded immediately in person. Turned out that i

…

t was user error! We had a couple of other issues, one with the big screen cable box and another with a leaking toilet. Both were corrected immediately. It didn't matter what time we called, we got results! The cabin was super clean, and even better than we expected! We will definitely use again and highly recommend!

+ Read More

Gary F.

Gastonia, NC

"Mountain Magic"

This cabin was great. I never knew that there was a little "town" back in that area. It was kind of out of the way but convenient at the same time. Cabin was in great shape and met all our needs.

…

Only thing would be to get the projector hooked up to cable so you can utilize the area for more than just movies. Enjoyed our stay and would definitely come back.

+ Read More

Yiwei

Dayton, OH

"The cabin is really nice!!!"

All of my friends and I had a great time there. We would go there again.

Brenton R.

Marrero, LA

"relaxing fun beautiful"

Great experience!!!! Cabin was better then expected. Great location

Roselin

hialeah, FL

"Great Experience"

The stay at the cabin went well. The location is very convenient because it is close to the market and many other locations.

Michele G.

Metairie, LA

"Trip"

Relaxing and comfortable!

Kaitlyn S.

Reyonoldsburg, OH

Shereese B.

Cincinnati, OH

"Definitely Pleased!!!!"

When we arrived to the cabin we were in awe of how much better the cabin looked in person! There were six people in our group (all couples), so each pair were in a bedroom on the three levels within t

…

he cabin. I'm very particular when it comes to the cleanliness of bathrooms and I was very impressed with how put together they were. The kitchen was well equipped with all the necessary pots, pans and other cooking ware that would be needed during out stay. The downstairs area provided great entertainment for everyone in the evening with the pool table, hot tub and movie theater area. In the event that you plan to utilize the movie projector, make sure to bring DVD movie formats (no cable/tv is connected to the projector). In the daytime, we traveled to Gatlinburg, which was about a 10 minute car ride to the Parkway strip and to restaurants, so the cabin is close enough but not in the hustle and bustle of downtown. Overall, I would HIGHLY recommend the Elk Springs Resort and we will definitely consider this resort for our future stays in Gatlinburg.

+ Read More

John B.

Danville, Illinois

"Had a good time in Gatlinburg."

The cabin was very nice, next time I will get one not so close to each other.

Kenneth L.

Cary, NC

"Great stay at Mountain Magic"

Had a very comfortable experience at the Mountain Magic cabin with our family of six adults, teens and tweens!

Clean, organized and fully stocked with necessary supplies, and convenient to Gatlinb

…

urg and surrounding activities...we will come again and use Elk Springs Resort.

+ Read More

Rene

Rainbow City, Alabama

"Great Vacation Get Away"

Easy to find; convenient to downtown Gatlinburg; enjoyed the large dvd movie screen every night. I would recommend this cabin to friends and family.

David A.

Broadview Hts, OH

"Elk Springs Resort properties top notch"

We stayed in two Elk Springs Resort properties, and both were outstanding. Great location, well maintained, great staff and consistent quality. I highly recommend any facility they manage.

Alice T.

Jackson, MS

"Relaxed and comfortable vacation !"

It was very easy to book this cabin. I was sent numerous emails concerning check-in and accommodations . The cabin was ready before the check-in time. We had a great time here!

Ed B.

Hermitage, PA

"ejb vacation"

thank you for your service

Holly T.

Liberty, Indiana

"Peaceful Place"

Very relaxing time. Can't wait to go again!

Shannon B.

Beavercreek, Ohio

"Great stay in December "

We had a great time at the magic mountain cabin! It was even better than the pictures showed and had everything we could need to entertain us for a week! We didn't have a view but we knew that going i

…

n, and downtown gatlinburg was just a few minutes away! Everything was perfect and we will definitely come back to elk springs resorts!

+ Read More

Ben M.

Bristol, VA

"Great Location.. Awesome Cabin"

Great Cabin. The big screen is for movies only. Needs to be networked with cable service. Very close to Gatlinburg. Will definitely stay here again.

Audrey F.

Gallatin, TN

"Magnificent Mountain Escape!"

We had the best time and only wish we could have stayed longer. Hands down, our Mountain Magic cabin was TOP NOTCH and we look forward to staying in it again!! Everything was seriously perfect. The

…

view, the amenities, the lay-out, the location, the service, etc. We were thoroughly please. Thanks, Elk Cabins!

+ Read More

Jay and Rania

Murfreesboro, TN

"Best Vacation Ever"

When we arrived at the cabin, we were surprised at what we saw. The cabin was even more beautiful than the pictures showed. We had a blast there. The cabin was so big and just gorgeous. We ended u

…

p inviting my parents and brother and his girlfriend to join us. They also loved it. The cabin was so clean and completely furnished. We only had to bring our clothes and food. The cabin had everything else. We will definitely be coming back...actually, we are already planning a big family vacation at one of the Elk Springs Cabins for Christmas.

+ Read More

Marina

Parkland, FL

Janice

Hillman, MI

"family trip"

Best experience ever.

Meghan K.

Stuarts Draft, VA

"Wonderful!"

The cabin was beautiful and so clean!

Douglas P.

Jackson, MO

"Glad we stayed here!"

My wife to daughters (ages 18 and 20) stayed at Mountain Magic for 4 nights. The cabin was ready earlier than promised and it was spotless. The beds were very comfortable and surprisingly so were the

…

pillows, although we brought our own to be safe. There was no mobile phone service in the cabin, so the no charge for using the land line was a big plus so that my daughters could talk to their boyfriends in the evenings. The wireless internet work great and the big screen w/surround sound was like being in your own private theater. It was convenient to the grocery store and close enough to Gatlinburg to be downtown in minutes, but far enough away to not be bothered. The view was nothing to write home about - just trees and other cabins, but otherwise it was a great stay. Check in/out was the easiest thing you can imagine. Directions were a snap. Thanks for making our staff fantastic.

+ Read More

Margaret B.

Burlison, TN

"mountain magic"

Fabulous, as usual. Can't wait to visit again.

Estherlena B.

Bay City, Michigan

"Three Days Wasn't Enough"

Loved it, Loved it, Loved it. Peaceful, Peaceful, Peaceful. This was the first vacation that I was well rested after I left. The 12 hr drive didn't matter.

Hal

Fort Wayne, IN

Natasha V.

Louisville, KY

"Good Place for a Vacation"

Good Location, close to all major attractions.
Load More Reviews