Amenities:
Full Kitchen

Gas Grill

Hot Tub

Iron / Ironing Board

Parking

Washer/Dryer

WIFI
3 Master Suites perfect for 3 couples - or 2 families with children looking for a Gatlinburg getaway, Mountain Laurel offers two master suites and a lower level game room master suite that includes a bedroom, full bath, sitting area and game room. With plenty for everyone to do and plenty of space to spread out amongst the three levels, you can enjoy free movies streaming via Netflix, use facebook, twitter, or read the New York Times and listen to Pandora all for FREE on your 42" flat screen TV with Blu-ray and surround sound in the game room...or maybe relax outside on the deck, in the hot tub or upstairs in the loft.
Cabin Bedrooms Layout
Main Level Master Suite

King Bed
Sleeps 2
Upper Level Master Suite

King Bed
Sleeps 2
Lower Level Master Suite

King Bed
Sleeps 2
Great Room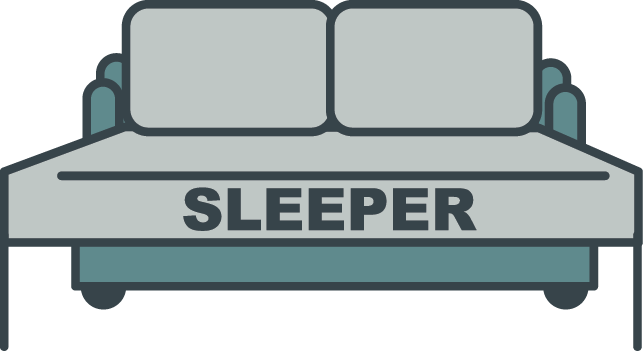 Queen Sleeper
Sleeps 2
Loft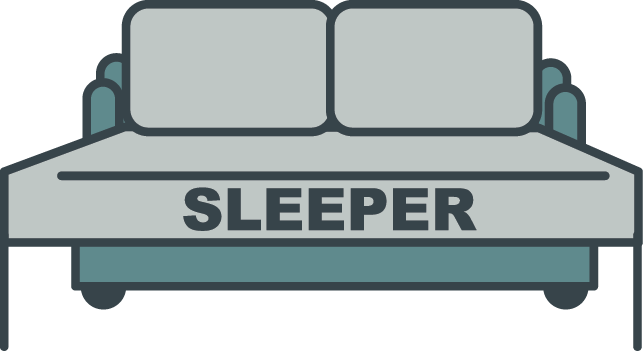 Queen Sleeper
Sleeps 2
Full Description
Enjoy the outdoors in your covered porch with glider love seats, rockers and plenty of seating.

A beautiful Great Room! Plenty of room for gatherings punctuated by the open floor plan and two story vaulted ceilings. Note the comfortable over sized sofa and love seat that converts to a sleeper sofa and the spectacular 2 story gas log fireplace creating an environment for relaxation and family fun.

Games anyone? Head downstairs to the lower level game room with 42" HD TV equipped with blu-ray, surround sound and Netflix to watch free and unlimited streaming movies. You can also shoot a game of pool or play air hockey.

The main level fully equipped kitchen with stainless steel appliances provides what you need to prepare meals in the cabin. There's a gas grill on the deck for your convenience (no charcoal necessary). Easily accommodate 6 guests at the dining room table and breakfast bar. A beautifully furnished king master suite with a full bath, fireplace and Jacuzzi is also located on the main floor. The great room on the main level features a gas fireplace, comfortable seating for 6 and a small table or desk to setup your laptop and check in via free wireless internet.

The second floor features a king master suite with a full bath. The adjacent loft area on the upper level is a pleasant retreat for reading or quiet times with a comfortable love seat, that by night, can be converted into a queen sleeper. Note the additional game/card table and seating for four in the loft area!

The lower level bedroom includes a king sized bed with full bathroom with standup shower.
** 3 King Beds **
Sleeps - 10, 3 Full Baths
Ideal for 2 Families with Children
Perfect for 3 Couples
*** 3 Floors ***
3 King Beds
2 Sleeper Sofas
42" HD TV with surround sound
*** Blu-ray Player with Free Streaming Movies via Netflix
Listen to Pandora or use Facebook
Glider Love Seats & Rockers - Plenty of Outdoor Seating
Porch Swing on Covered Deck
Pool Table
Air Hockey
Jacuzzi Master Suite with Fireplace
Free High Speed Wireless Internet
Gas Fireplace
10 Rocking Chairs
2 Gliders
5 TV's
5 DVD Players
Green High Efficiency Washer/Dryer
Gas Grill
Hot Tub
2 Decks
Covered Deck
Calendar
Click your dates below to check in and check out
Available
Check In Only
Check Out Only
Selected
Unavailable
Photo Gallery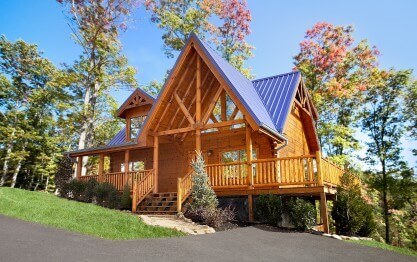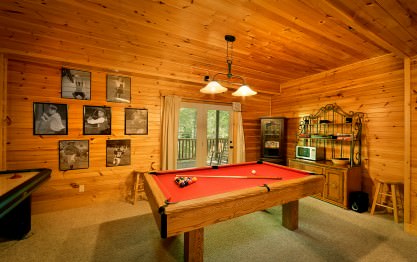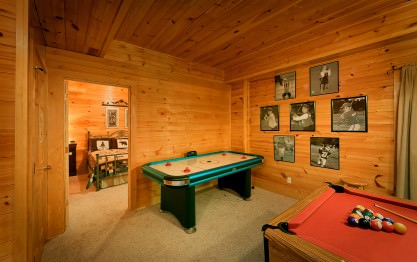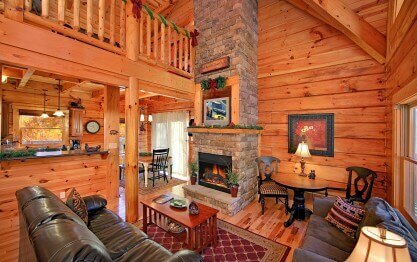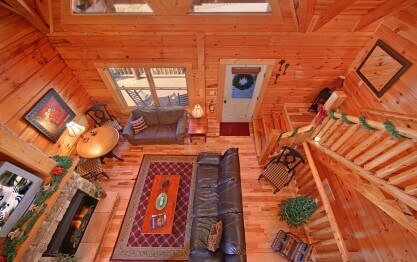 See All Photos
Reviews
Latavia C.

Gastonia, NC

"Great resort "

The cabin was beautiful... We had a GREAT time. We will be back soon!

Manager Response:

Thank you for your kind words, Latavia! We are delighted to hear your stay was exceptional. We would consider it an honor for you to stay with us again. Please keep in mind, as a returning guest you will enjoy 10% off all future stays.

Christie M.

Marvell, AR

"Mountain Laurel"

It was great. We loved snow skiing and will definitely be back.

Manager Response:

Thank you for your 5-Star review, Christie! We are delighted to hear your stay was exceptional. We enjoyed having you as our guest and hope you will come back often. Please keep in mind, as a returning guest you will enjoy 10% off all future stays. We hope to see you again soon!

Anna

Rainsville, AL

"Winter Vacation "

We really enjoyed the cabin and thought it was beautiful.

Manager Response:

Thank you for your kind review, Anna! We are excited to hear you enjoyed your stay. We hope you will make plans to come back and stay with us again!

Jocelyn W.

Pleasant Grove, AL

"Happy Cabin"

This was our third rental with you all, and we really enjoyed it. Mr. Dan Dearborn was very helpful.

Manager Response:

We are happy you have returned again! Thanks for taking time to review Elk Springs Resort and we hope that you continue to stay with us, again and again!

Lauren H.

Maineville, OH

"Beautiful cabin!"

My husband 2 daughters and both sets of our parents stayed in this cabin for a weekend. It was wonderful plenty of room for everyone and fun things to do when we weren't running around gatlinburg.

Manager Response:

We are so happy you enjoyed your stay in our Great Smoky Mountains! Thank you for taking time to review "Mountain Laurel". We hope that you will come back and stay with us again.

Angelique P.

Grovetown, GA

"New love for mountains"

I absolutely loved the cabin and the mountains. My friends and i enjoyed the cabin, it really felt like home and was cozy. I loved sitting on the porch and swinging in the morning. and at night sittin

…

g by the fire was great! im already planning my next trip! thank you so much for the beautiful cabin.

+ Read More

Manager Response:

Thanks for the wonderful review! We are elated that we could be your home away from home. We strive to exceed our guests expectations and hope that we have the opportunity to do it again for your next stay!

Cinnamon

Louisville, KY

"Last Vacay of the Year"

My family had an awesome experience!

Manager Response:

We are delighted to hear you and your family had an exceptional visit. We hope you will make plans to come back and stay with us again. Please keep in mind, as a returning guest you will enjoy 10% off all future stays.

Ricardo M.

Dallas, GA

"The Perfect Getaway "

Zero complaints! This place was awesome! Hate that we couldn't stay longer. We definitely will be back!

Manager Response:

We enjoyed having you as our guest, Ricardo! We certainly agree, Mountain Laurel is the perfect cabin to relax and let the stresses from everyday life just melt away. We hope you will consider making Elk Springs Resort part of a new tradition when visiting Gatlinburg. Hurry back, new memories are waiting to be made!

Jennifer L.

Dublin, OH

"Mountail Laurel"

Wonderful family cabin in a great location. The cabin is a very clean, modern and perfectly sized for our family of 4. It is extremely well maintained with amenities that go beyond a mountain log cabi

…

n. Office customer service is excellent as well. It's a great location to enjoy the park and easy access to the attractions in Gatlinburg.

+ Read More

Manager Response:

Thank you for allowing us to be a part of such a wonderful family vacation. We pride ourselves in providing cabins that offer top-notch amenities, yet, make you feel at home the moment you walk through the door. We want your stay to be exceptional! Mountain Laurel offers the perfect location to access all that our area has to offer. It is just far enough away from the hustle and bustle of downtown to allow you to relax and unwind in your tranquil mountain home. We hope you will take the opportunity to come back and stay with us as often as your schedule allows.

Douglas M.

Hammond, LA

"Mountain Laurel "

Great little place that is close to town but out enough and peaceful.

Manager Response:

Thank you for your kind review. We are happy to hear you enjoyed your visit with us. We certainly agree, Elk Springs Resort offers the perfect location to relax and enjoy the tranquility you desire. We hope you will consider staying with us again during your next get-away to Gatlinburg.

Chawnte F.

Cincinnati, OH

"AWESOMEEEE!!!!!"

IT WAS SO NICE AND COMFORTABLE I TOTALLY APPRECIATED THE CABIN. IT WAS ALSO MY BIRTHDAY WEEKEND AND I WILL NOT FORGET THIS VACATION EVER WISHED I HAD STAYED LONGER

Manager Response:

Thank you for choosing Mountain Laurel to celebrate your birthday weekend. We love to spoil our guests! It sounds like you will need to start planning your next adventure in Gatlinburg soon. With so many cabins to choose from, we can certainly make your next birthday celebration special. We can help with last minute get-aways as well!

Kelli

Cincinnati, OH

"The best first family vacation "

We had so much fun. Our kids are still talking about the log house. We can't wait to come back.

Manager Response:

We love to hear that your stay exceeded your expectations! Our goal is to provide exceptional cabins that will make you feel welcome from the moment you walk through the door. It sounds like we succeeded! We hope you will take the opportunity to come back and see us again soon.

Robert

Medford, NJ

"Great Trip"

Cabin was excellent our family had a fantastic time exploring Gatlinburg.

Manager Response:

We are happy to hear that you had such a great time, Robert! We agree, Mountain Laurel is an exceptional cabin to return to after a busy day of exploring. We hope you will consider making Elk Springs Resort part of a new tradition when visiting Gatlinburg.

Chris

Cordell, OK

"Mountain Laurel Cabin"

Beautiful cabin and location. Very quiet and laid back atmosphere.

Manager Response:

We are happy that you enjoyed your stay with Elk Springs. We hope that you can come visit us in 2017!

Kacey R.

South Barrington, Illinois

"Great experience at Mountain Laurel"

The cabin was in excellent condition. The management company was very accommodating and super helpful.

Nancy

Greer, SC

"Cabin was as advertised."

We go to the area often. This was first time in one of these cabins. It is a bit remote for us, but nice and private. It is a nice clean place to stay and relax in the beautiful mountains.

Manager Response:

Nancy, we are pleased to hear that your first cabin rental experience was a success. Our resort is just a 10 minute drive to downtown Gatlinburg. For future reference, we do have 2 cabins that are located within walking distance of downtown as well as 2 condo units. We would be happy to assist you with booking one of these upon your return visit to the area. We appreciate your business and thank you for your review.

Stacey H.

Hinckley, OH

"Last minute get away"

My wife and I needed a little get away. We were looking to go somewhere we had never been before. So we planned on going to Sleeping Bear dunes in Michigan. Have to tell you the rentals available were

…

not the standard we are accustomed to. We were so pleased to have Elk Springs Resort have such tastefully decorated cabins. Our booking was extremely last minute. In fact we had packed the day before with no place to go. I called the reservation desk, discussed what we needed and within the hour we were on the road. We arrived late after 11pm and everything was just how it was described. We stayed up until 5 am soaking away in the hot tub. Couldn't have asked for a cleaner, well appointed cabin.

+ Read More

Manager Response:

Thank you for the review Stacey! It sounds like you made the perfect choice for a spur of the moment trip to the Great Smoky Mountains. It is our pleasure to provide you with a positive cabin rental experience as well as excellent customer service.

Tammie D.

,

"OUTSTANDING!!!"

Cleaner than my own house!!!! Really pleased with the accommodations. My family was comfortable from the first minute. We wished we had stayed longer. PEACEFUL!!!!

Manager Response:

Thank you for the wonderful review Tammie! We appreciate you letting us know that your cabin vacation getaway was outstanding! Don't forget to take advantage of your 10% repeat visitor discount when booking your next stay with us!

Lawrence P.

Gadsden, AL

"Extravagant Vacation "

It was the most relaxing experience of all time. I will be back soon

Clyde S.

Milford, Ohio

"Nice"

Great space... Just wish it had an actual view of the mountains...

Marie

Knoxville, TN

"Excellent Time"

We had a wonderful time for Christmas here. Accomodations were great.

Robert T.

Clarksville, Tn

"First time staying here. "

Great experience. Loved the cabin. The whole experience was painless and very easy. My family enjoyed the time we spent there and they have already been asking when I am going to book another one so we all can go back.

Darrell B.

Lawrenceville, GA

"Son's engagement stay"

We enjoyed every minute in the cabin. It was clean, plenty of room, and had everything we needed. It was the best cabin we have stayed in at Gatlinburg/Pidgeon forge area.

Deanna M.

Columbus, Ohio

"The Absolute Best!!!"

Our cabin was more than we could have ever expected. The pictures of the property didn't do it any justice. The house was very clean. You can easily tell that the property is well cared for. The kitc

…

hen had all the supplies that we needed. And man, the hot tub was a big plus. When we thought there was no propane tank for the grill at 10 pm, I called and someone was sent over right away. Whenever there was an issue, it was promptly taken care of. I would definitely recommend Elk Springs to everyone. I think the Groupon we used was a great way to get to know the property. Them being close to downtown is also a great feature. There is a family dollar, an adult beverage store and a grocery store nearly down the road. This was a great mini vacation and worth our 6 hour drive. Thank you Elk Springs for a great stay we will definitely be back.

+ Read More

Meghan

Bellefontaine, OH

"The best time at Elk Springs!"

The cabin was beautiful as well as the view. Very well kept and easy to get to. The cabin had everything that we needed including utensils and bedding.

LeAnn W.

Lima, Oh

"Relaxing Cabin"

We had a great time loved the location, easy to get to. Loved the layout, we enjoyed the pool table and air hockey table. The kitchen was well equipped.

Theresa

Jonesboro, GA

"Awesome Stay"

Any time we needed something, the staff or maintenance would respond right away. Very professional and friendly.

Mohammed H.

Chicago, IL

"Great place to rent in smokys"

We were lucky to get a cabin even though booked 2 days before departure for smokys. It was great experience. We were 2 families and the kids and adults all loved and enjoyed the cabin to their fill.

Dawn T.

Rossville, GA

"2014 vaction"

Loved the was the first time I had rented a cabin and I was very pleased with the whole setup.....I will rent from Elksprings again and would highly recommend Elksprings to my friends and family

Tom B.

Pass Christian, MS

"Mountain Laurel in Gatlinburg"

My only recommendation would be to bring safety gates for anyone with young ones.

Mark

Fowler, IN

"Great Vacation ~~~"

Rental Experience was fantastic. We loved everything about it ~~

Brenda C.

Louisville, KY

"Granddaughter's (Becca's) Birthday Trip"

My husband and I have always rented a larger cabin in a private location even if we only had a couple of family members with us, but had two teenage girls with us and wanted to be close to shopping an

…

d the shows, rides and etc. What a great decision! Private enough to enjoy the hot tub and deck but close to everything. The cabin looked small from the outside ( the granddaughter, Becca, even called it cute), but it was much larger than it looked. Three floors with a full bedroom and bath on each floor. The top floor also had a sitting room/living room area, the main floor had a huge bedroom and bath, living room, kitchen and dining area, the lower level had a game room, large bedroom and bath, entertainment center with a spacious sitting area and even a microwave. This made a great area for Becca & her BFF. WOW! The staff was not only professional but very friendly. Thanks!

+ Read More

Nicole G.

New Orleans, LA

"Too good to be true!"

title explains it all....

Karen C.

Franklin, TN

"laurel springs cabin"

We loved our stay at the laurel springs cabin. It was a beautiful cabin and so very clean. We loved the game room and wraparound deck!! Great weekend getaway!!

Todd

Bardstown, KY

"A relaxing retreat"

Overall we had a wonderful time. The cabin was a good size for the number of people we had. There were just a few cosmetic issues that needed to. E addressed. The location was excellent as you did not

…

have to drive far to be in the heart of the mountains or downtown Garlinburg. We also enjoyed the arts and crafts community. We would definetly stay with Elk Springs again.

+ Read More

Ross B.

Mandeville, LA

"Burkenstocks family trip to the Smokys"

had a great time on our family vacation. spent 4 nights in Mountain Laurel after the management staff moved us over from Secret Gardens, having air condition troubles, cabin was warm all afternoon. Mo

…

untain Laurel was a great cabin. very clean, spacious, easy to get to, very cool temps insides. Only complaint was the AIR HOCKEY game was broken and the boys really wanted to play that. But not a big deal, we stayed very busy and enjoyed our 8 days in Gatlinburg. We honeymooned in the area 25 years ago and we return every 3-4 years with our sons. Tried white water rafting for the first time and loved it!!!!

+ Read More

Edward P.

Hendersonville, TN

"Review"

Very enjoyable. Good getaway.

Jeff

Carlisle, KY

"First Family Vacation"

This was the first time that our family has all been on vacation together! The cabin was awesome! It was so pretty and very clean. The kitchen was equipped with everything we needed to dine in every n

…

ight and the little gas fireplace on the back porch was amazing for just sitting around and enjoying the evening! We will definitely use Elk Springs Resort again in the future!

+ Read More

Lisa

Mason, Oh

"Great Stay at Elk Springs"

Beautiful Cabin...great amenities. Will be back again..

Nancy

Farmington, MO

"Great Family Christmas!"

Our family celebrated Christmas, this was one of our gifts to our children and grand children. It was great! Plently of room, decorated for Christmas, which was a wonderful surprise. We hope to return at some time. Thanks so much.

Rhonda F.

Vevay, IN

"Magnificent Mountain Laurel cabin"

What a lovely comfortable place to relax and unwind. Everything was perfect!!

Erika O.

Lithonia, GA

"Super Break From Reality"

Absolutely Beautiful. One issue - The basement was always cold. Not good for winter visitors. Couldn't sleep in the basement bed, nor shower down there. Way too cold.

Manager Response:

Hi Erika, thank you for the kind review and commments. We've gone ahead and balanced the heating system to provide adequate heating to the lower level and it has remedied the problem. thank you again for staying with us and remember, as a repeat visitor you get 10% all future stays!

Spencer S.

North Ridgeville, OH

"A few nights to relax in Gatlinburg"

I have to say that our stay in Gatlinburg with Elk Springs Resort in Mount Laurel was a great experience. The house was the perfect size and captured that mountain and cabin feel. The hot tub was grea

…

t for after an evening of going out, the views were decent and the bedroom with the fireplace was nice to stay in. Overall, we are all in agreement to come back next year! Thanks Elk Springs

+ Read More

Kateswarl

Wood Dale, IL

"I would Recommend This place"

Its a beautiful cabin stay...We had a fantastic time.

Jennifer

Irvine, KY

"GREAT (except for hot tub and AC)"

The cabinb was wonderful, clean, felt cozy and warm (a little too warm because the AC was set at 74 and could not be lowered and with a cabin full of warm natured people, this didn't go over too well)

…

. Also, could not figure out how to get the hot tub going, but waited until the last night of our stay to try it and it wasn't worth calling about. Overall though, we had a great vacation weekend, enjoyed the coziness of a cabin with all the modern ammenities!

+ Read More

Manager Response:

Glad you enjoyed your stay and we appreciate the comments!

Katherine

Celebration, FL

"Relaxing Family Stay in a Beautiful Cabin"

Stayed at this property for eight nights with a family of four to include 4 and 2 year olds. Cabin was charming inside and out. A quantity of trees provided a sense of separation from other cabins i

…

n the vicinity. Hot tub and other cabin amenities (air hockey, pool, Netflix) provided some fun at the end of the day taking in the area. Location was close to the National Park, downtown Gatlinburg, artisan area and Pigeon Forge--but not too close so that traffic was ever a problem.

Had some trouble with wasps outside, but the management team came to deal with the problem in minutes--VERY responsive.

Overall, a quality stay out of the way and yet still close enough to all the major area activities.

+ Read More

Rachelle W.

Butler, OH

"mt. laurel"

beautiful home

Bill S.

Orlando, FL

"Very Relaxing and spacious cabin for family of 4-5"

We had a great time at the Mt. Laurel cabin and look forward to returning soon. The cabin was clean and very well maintained. My two kids (10 and 14) really enjoyed the air hockey table and pool tabl

…

e. We spent quite a bit of time in downtown Gatlinburg and in the Smokey Mtns, but we always looked forward to the fact that we'd be returning to this beautiful cabin.

The only complaints I have are that the mattress box springs in the cabin were very noisy and there isn't a door to the bathroom area of the master room. Aside from those minor issues, everything else meet or exceeded expectations.

Here are some things we learned that others may find useful:

1. There is a Food City grocery store within 10 minutes of the cabin, so consider picking up any supplies (i.e. coffee filters, sunscreen, cooking supplies) before check-in. I don't suggest newcomers drive the mountain roads at night, especially in the winter.

2. Cell phone reception is weak in this part of the mountains, so expect a few dropped or missed calls. This is somewhat of a mixed blessing ;-)


+ Read More

Manager Response:

Hi William, thank you for the kind feedback and recommendations. We're glad you enjoyed your stay. The roads are plowed to our property and we do have snow removal equipment. We also have Gas lighting on the property to ease the stress of driving at night. But the roads compared to the other cabin areas are actually much easier to drive on, including our resort property where we have 24' roads. Cell phones can be a minor problem, but this cabin in particular is equipped with a land line phone with unlimited long distance and local calls - which is common for our cabins. We appreciate the feedback and remember that you get 10% off any future stays as a repeat guest!

Lawrence M.

Meridian, MS

"mountain laurel is the best"

This was our second trip to Gatlinburg, and it was even better than the first. The cabin is beautiful with plenty of room for the whole family. It was comfortable, clean, and convenient to everything we wanted to do.

Paul

Dexter, MI

""

Overall, an excellent experience. The cabin was as advertised and the express check in and check out made for a seamless experience. I was very pleased with the cabin and entire stay.
Load More Reviews