Amenities:
Full Kitchen
Gas Grill
Honeymoon
Hot Tub
Iron / Ironing Board
Mountain View
Parking
Washer/Dryer
WIFI
With all that Mountain Hideaway has to offer it is no surprise that this luxury cabin can book up over a year in advance. Spend your next romantic vacation in luxury at Mountain Hideaway where you will enjoy amazing views and amazing amenities. You can sit and relax under the covered deck and enjoy the views of the mountains. Recharge and pamper yourself in the fantasy suite with spa bath and jetted shower.
Cabin Bedrooms Layout
King Suite

King Bed
Sleeps 2
Full Description
With so many upscale amenities and finishes, Mountain Hideaway offers a unique combination of features rarely found in a luxury cabin. You can experience mountain views from your covered deck with outdoor fireplace, porch swing and rockers. Maybe relax in your hot tub after a long day of hiking in the park or shopping downtown. What a way to recharge and reconnect on your next Gatlinburg vacation to the Great Smoky Mountains.

Enter into the great room with vaulted ceilings and windows with views of the mountains. A comfortable living area with leather furnishings, fireplace and 52" inch flat screen TV with blu-ray and surround sound. You can watch a game or your favorite show on DirecTV. Shoot a game of pool if you are up to it, or simply relax and enjoy the picture perfect views.

A full kitchen stocked with all the items you need to prepare in cabin meals and dining area is provided in case you want to dine in. A gas grill is just steps away under your covered deck.

The king master suite features upgraded mattress and bedding as well as a fireplace and 42" flat screen TV. The spa bathroom with jacuzzi tub, TV, fireplace and jetted shower spa is a great way to end a day.

A washer/dryer is included for your convenience.



(occupancy is limited to 2 adults only)
*** This Property is located 15 minutes from Elk Springs Resort!
Views of Mt. LeConte
Hot Tub
Jacuzzi Tub
Rain Shower with Body Jets
Pool Table
FREE High Speed Wireless Internet
4 Fireplaces
Covered Deck
2 Rockers
Porch Swing
Outdoor Dining Area
Outdoor Fireplace
2 TV's
2 DVD Players
52" Blue Ray DVD & Sound
41" TV in Master
Washer/Dryer
Gas Grill
1 Minute Walk to Outdoor Fire Pit and Dining Area
Grocery Delivery Available
Calendar
Click your dates below to check in and check out
Available
Check In Only
Check Out Only
Selected
Unavailable
Photo Gallery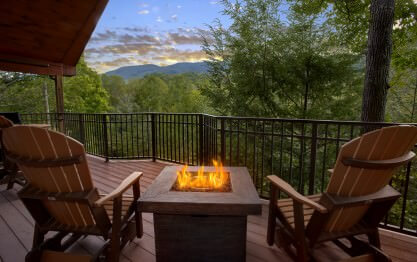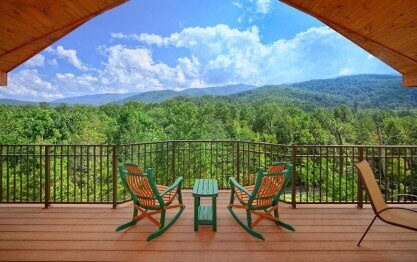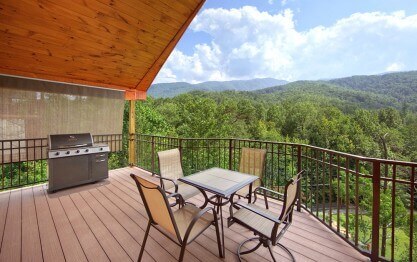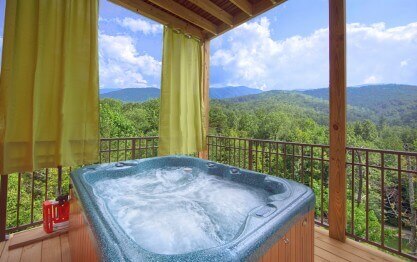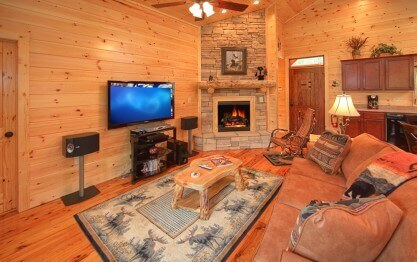 See All Photos
Reviews
Gary N.

Hastings, MI

"Anniversary and Vacation"

Everything went very smoothly. Followed the directions given and found the cabin with no trouble. Check-in and out went very smooth, and the cabin was clean and very comfortable.

Manager Response:

Thank you for allowing us to be a part of such a special celebration, Gary! It was truly an honor to have you as our guest. We want you to feel at home during each visit with us. We hope you will consider making Elk Springs Resort part of anniversary plans for many years to come. Please keep in mind, as a returning guest you will enjoy 10% off all future stays. Hurry back, new memories are waiting to be made!

Thomas P E.

Lenexa, KS

"Excellent !!"

We enjoyed our stay very much! The cabin was like brand new, very clean, spotless, all the amenities that you could wish for. We would definitely stay here again on future visits to the Gatlinburg area. Thank you Elk Springs!

Manager Response:

Thank you for your 5-Star review, Thomas! We are delighted to hear your stay was exceptional. It would be an honor if you stayed with us again during your next visit to Gatlinburg. Please keep in mind, as a returning guest you will enjoy 10% off all future stays. Hurry back, your next adventure awaits!

Carrie

Madisonville, KY

"Beautiful cabin!!"

We really enjoyed the cabin especially the shower!! The cabin was super clean. The Mountain view was beautiful!! I would definitely stay at this resort again!!

Scott

Archdale, NC

"Wonderful Mountain Hideaway"

We had a great experience with our rental. Booking process was very smooth. Staff was extremely helpful, even recommending great places to eat. Cabin was clean, neat & just what we expected. Maste

…

r bath is amazing with huge jetted shower & tub. Beautiful views of the mountains from both decks. We had a great week & would definitely recommend this cabin.

+ Read More

Manager Response:

Thank you for allowing us to be a part of such a wonderful celebration. Congratulations! We are happy to hear you had such a great time while staying in Mountain Hideaway. We hope you will come back and see us as often as you can. Please keep in mind, as a returning guest you will enjoy 10% off all future stays. We hope to see you soon!

Ronnie S.

Degraff, Ohio

"Amazing "

Cabin was too notch! Loved our time there and the views from the deck. Will definitely be back!

Manager Response:

Thank you for your 5-Star review, Ronnie! Our goal is to provide luxury cabins that will spoil you. It sounds like we succeeded! We hope we can assist you in planning your next visit. Please mention that you are a returning guest to enjoy a 10% discount. We hope to see you soon!

Thomas P.

Manchester, TN

"Mountain Hideaway"

Cabin was great, very clean and had everything you need. We liked it because of location away from downtown Gatlinburg, but only about 10 miles to everything. Would highly recommend.

Manager Response:

It sounds like you found the perfect cabin! Mountain Hideaway is an exceptional cabin with views that go on forever. We hope you were able to enjoy the outdoor fire pit during your stay, it is the perfect place to unwind after a long day. Please make sure to mention that you are a returning guest when you reserve your next get-away. You will enjoy 10% off all future stays. We hope to see you soon!

Jennifer B.

Harrisburg, NC

"ALWAYS GREAT PLACE TO STAY"

This was our 4th Elk Springs rental and the 3rd time staying in Mountain Hideaway. This cabin and this company never fail us. We love the plushness of everything and the way they've left nothing to desire. Our FAVORITE vacation spot by far!!

Manager Response:

Thank you for your kind review! We truly strive to make each get-away memorable. We hope to see you soon!

Ryan M.

Moncks Corner, SC

"honeymoon"

So clean and cozy!

Manager Response:

It is our pleasure to provide you with an exceptional cabin rental experience for your honeymoon. Thank you for choosing Elk Springs Resort for this special time in your life. Here's to many more years of wedded bliss!

Stephen W.

Saint Marys, GA

"Honeymoon in Heaven "

This cabin was everything we had expected and more. We would definitely come back again and again.

Manager Response:

It is our pleasure to provide you with a luxury cabin rental to enjoy for your honeymoon! We love to hear that everything exceeded your expectations. Thank you for the 5 star review, Stephen. Congratulations and Best Wishes from Elk Springs Resort!

Kellye J.

Petersburg, TN

"Honeymoonin in the Smokies!"

Our trip was everything we could be hoped for. We had a blast and we're so sad to leave. We're definitely planning another trip to Gatlinburg soon!

Manager Response:

Many of our guests feel the same way as you are sad to leave. This means that everyone is having too much fun and enjoying their cabin rental experience! We do have several choices of luxury cabins in this area as well as some with swimming pools inside. Feel free to check them out on our website or contact our sales department to assist you when you are ready to book your next stay. Please be sure to mention that you are a repeat guest and you will receive a 10% discount! We appreciate your business Kellye and thank you for the great review!

Jeff

Manheim, PA

"Mountain Hideaway Rental Experience"

We rented Mountain Hideaway for two nights as a 25th wedding anniversary gift from our children. Upon arrival we found the cabin/property to exceed our expectations. The attention to details was impre

…

ssive, especially those for privacy and comfort. The amenities were numerous and almost more than we could take advantage of during our short stay. The only complaint we have is that the view of the Smoky Mountains from the second story porch is impeded by several trees. That being said, it's a trade off because those trees also extend a certain amount of privacy and coziness. Overall, we were very impressed with this cabin, and have already recommended it to several of our friends and family. In addition, we are considering renting a larger cabin from Elk Springs Resort Rentals to bring our family along for a vacation.

+ Read More

Manager Response:

What a great treat for your anniversary Jeff! We certainly are pleased that your stay exceeded your expectations. Customer satisfaction is very important to us and we do our best to make our cabins a home away from home for you to enjoy. We do have several other luxury cabins located in Sevierville, Pigeon Forge and Gatlinburg for you to consider on your return visit. I would encourage you to check out our website to see the photos and amenities available for you and your extended family to enjoy on your return visit.

Kyle

,

"Babymoon"

Nice, secluded cabin. Beautiful outdoors & setting.

Manager Response:

Thank you Kyle! The name says it all! Mtn. Hideaway provides the quiet, secluded setting to enjoy a relaxing cabin getaway. On your next visit, consider bringing the whole family along and upgrade to a larger cabin. We have many to choose from including some with their very own swimming pools right inside the cabin!

Lisa E.

Slidell, Louisiana

"Relaxation at its finest!"

I was staying at Urban Cowboy and didn't want to leave on my departure date, so I moved to Mountain Hideaway. Such a great cabin! The views were unbelievable and the inside of the cabin was cozy! Loved it and I can't wait to return!

Raymond

Orlando, FL

"Anniversary hideaway"

We stayed there for our 45th wedding anniversary. One of our best anniversaries ever! Everything was perfect. The cabin is perfect for 2 people, high enough in the mountain to get some views but ve

…

ry accessible from the main road. The cabin is immaculate, all the furnishings are first class. We hope to some day come again to enjoy the fall leaves.

+ Read More

Manager Response:

Thank you Raymond! We are pleased that you were able to enjoy your special anniversary with us! The views in the fall are simply amazing. We hope you do come back to enjoy the scenery then.

Andrea S.

Kingwood, Texas

"Smokey Mountains Hiking Week"

Great week of hiking. Loved the privacy of the cabin and the accomodations were great. We used the grill as well as the hot tub several times. Everything was very nice and clean and ready for our arrival.

Tony V.

Richmond, TX

"Great place!"

Wonderful all the way around. The cabin was definitely worth it and made our first Smokey Mountain experience even better.
Views were great but were slightly obstructed by tree growth not seen in pictures.

Laura B.

Brookhaven, MS

"Wonderful little cabin"

This cabin is cozy and perfect-away from it all. The view from the porch is beautiful and you can hear the rushing water from the creek right down the hill. It's just right for 2. The amenities are pl

…

entiful. We especially enjoyed the Jacuzzi on the porch at night. A wonderful stay--we did not want to leave!

+ Read More

Ashleigh O.

Nashville, TN

"4 day 3 night stay"

The cabin pictures were true to the experience. I did wish that the cabin was further up the mountain but the amenities were great in the cabin. I lived the bathroom, with the jacuzzi and the large

…

walk in shower the porch swings werbalconies the upper level was more if a view than the lower but the lower was mite secluded and private so the best of both worlds. We got good rest and enjoyed both balconies. It was quiet and clean but most of all relaxing. I've stayed with Elk Springs Resorts multiple times and they always are great to work with and stay with.

+ Read More

Amanda

Atlanta, GA

"Best Honeymoon Cabin!"

Our first honeymoon cabin (through a different company) was literally breaking down when we arrived, so we were OVERJOYED to book Mountain Hideaway at the last minute! Experience was perfect from our

…

first phone call to leaving. Everything you could ask for with hot tub, walk in shower (yes, walk in shower!), super comfortable bed, beautiful view, even the "little things" like convenient lights and electric outlets. FOUR FIREPLACES! Clean, beautiful, high end, cozy. Outside of town enough to really feel in the mountains, but close enough to enjoy Gatlinburg or Pigeon Forge easily. We loved our stay and hope to keep coming back!!

+ Read More

Moritz

Indianapolis, Indiana

"Unbelievable"

Amazing cabin, the best service ever.

Jacquetta

Greenville, South Carolina

"Simply Amazing. ."

Absolutely Wonderful!!!!!!!!

Justin

Panama City, FLORIDA

"Awesome"

Perfect! We especially loved the hot tub, the cleanliness of the cabin and the mattress!!!

Enrique V.

Hilton Head Island, SC

"A charming experience"

This lovely cabin is a getaway for relaxation, meditation or simply to rest, this stress free environment, and the close contact with nature gave us a peaceful feeling. My wife and i share great mome

…

nts in this place, visited many attractions, restaurants, and explore the vicinity ; for sure you will find something amazing to do. We strongly recommend this cabin for a vacation alone or with your family.

+ Read More

Carl B.

Metairie, LA

"We are torn about telling the truth"

I am hesitant to share our experience because we would rather keep this place a secret. Ultimately we decided it would not be fair to the cabins owners and Elk Springs management if we did not praise

…

them for a job well done. Our recent stay with Elk Springs (Mountain Hideaway) was some of the best money I have spent on lodging in the Smokies in the 17 years we have been coming up there. We go at least once a year and I would not hesitate to book again...and we will! If I had to pick on anything at all it would be a minor issue with the air flow controls on the outdoor hot tub. Which by the way we went in each night including the night when the wind chill was about 10 below zero. Great value and very clean, cozy and well layed out cabin. Perfect for a couple. It snowed 3 of the 4 night we were there and the temps never climbed above 28 degrees the entire time. We met the owner of our cabin who plowed the private roads of our mountain daily. Come to find out they used to live in the same city we are from.....small world!

+ Read More

Hunter J.

Lexington, Ky

"Wonderful weekend getaway "

Wonderful, romantic, relaxing weekend getaway. Great views of the smokies. Loved the seclusion and privacy.

Torian C.

Mobile, Al

"Best Vacation Ever"

I love every minute of my stay quite an cozy privacy was great

Sara G.

Moseley, VA

"Perfect Honeymoon"

We enjoyed our Mountain Getaway cabin and all its amenities. We are hikers and so we loved Cades Cove, Abrams Falls, etc. It was awesome to come back to a jacuzzi, sauna and fireplaces in our cabin. T

…

he downfilled mattress and large TVs and DVD players made for a romantic and cozy honeymoon. We will definitely return again in the future!

+ Read More

Mark B.

Floyds Knobs, IN

"Mountain Hideaway Oct. Weekend 2014"

We loved the property. It appeared almost new. Everything was very clean, great accomodations, and professional staff.

Don

Holland, MI

"Twenty fifth wedding Anniverary getaway"

A beautiful cabin and area.

Adam K.

Bradford, RI

"amazing"

We stayed here for our honeymoon. It was everything we hoped for and more.

Nancy T.

Marion, IN

"Mountain Hideaway"

It from was great from the beginning, it all started from our first look at the place on your website to our staying at the cabin in Gatlinburg, thanks so much for making our 26th anniversary so great!

Sharon S.

Blissfield, MI

"Perfect vacation"

This is our third time booking with Elk Springs. Just an amazing company. This cabin was very clean and has all the amenities of home. The view of the mountains was spectacular. Thanks again for a beautiful vacation. Sharon

Jennifer B.

concord, North Caroina

"Amazing Yet Again!"

Our stay was awesome and the cabin was just as amazing as the first time we rented it in 2011. This was our 3rd stay with Elk Springs and we'll continue to come time after time.

Cheryl B.

Bloomingdale, OH

"Wonderful"

The cabin was exceptional!! It was beyond our expectations.we WILL be back.

Matt T.

O Fallon, Missouri

"Relaxing Getaway "

This was our first visit to the area. The cabin exceeded our expectations. It was very Clean, in a good location, and had all of the amenities we needed. We will be back again!

Brent R.

Springfield, OH

"was a great 2nd honeymoonb"

Quiet and relaxing.just not long enough

Allison

Waxhaw, NC

"Wonderful Experience!"

My husband and I don't get to getawy just us very often, so we were so happy when we saw the cabin and it was just as pictured on the website! The cabin was perfect for a couple's weekend away. The

…

cabins are closer together than you would expect, but once inside and out on the deck's you can't even tell that you have neighbors. The hottub was amazing first thing in the crisp morning. We would definitely come back!!

+ Read More

Jonathan H.

Troy, Il

"Great Weekend Stay!"

The Mountain Hideaway was a super clean, nicely decorated cabin with all the amenities. The owners thought of everything when it comes to kitchen supplies, toiletries, and decorations. There is a ni

…

ce grocery store about 8 or 9 miles down the road, and we enjoyed being away from the crazy downtown areas of Gatlinburg and Pigeon Forge. We highly recommend the Wild Plum Tea Room in the Arts and Crafts district for lunch, and definitely staying in one of these cabins from Elk Springs Resort Cabin Rentals.

+ Read More

James G.

Cleveland, TN

"Awesome Getaway!"

Fantastic cabin and we loved the "away from town" location; yet still close enough. Extremely clean and wonderful amenities. Our only minor disapointment was the "non-fire" fireplaces in the cabin.

…

We will definitely go back to this cabin. And we loved the way the check-in and check-out system worked, not having to go by an office to get your key or go back by on your departure was extremely convenient and time saving. We loved it!

+ Read More

Leah

New Orleans, LA

"Getaway During Mardi Gras"

We left the city during Mardi Gras busy season and enjoyed a very relaxing beautiful stay in the mountains. It snowed one day and that was great for us to experience. Road conditions were back fine th

…

e next day. Mountain Hideaway was just what we needed. Thanks

+ Read More

Amanda D.

Jasper, AL

"Excellent!"

Total package. If you are looking to relax and enjoy the view, this is the place for you. I will definitely be back!

Megan H.

Lafayette, IN

"Wonderful vacation "

When we arrived at our cabin, I was so angry..I cried. The pictures of the view are not the view you will receive at this cabin. All you see from the bottom level (hot tub, swing, sauna) is trees and

…

the road. The top level has a view of the mountain on one third of it, but nothing like the much cheaper and much closer to town cabins we have rented. (About a 20 minute drive that lands you back into Gatlinburg-impossible to get there faster bc of the slow speed posted, turns, and construction.) The view may not be a big deal to some people, but I rented this for 4 days for the view and amenities. We were close to the other cabins, but this one is the first one you come to so only has a cabin on one side, and they've made it private. The amenities were perfect, staff was helpful and arrived within seconds when we needed them. No complaints at all on the staff or amenities of the cabin. It was very very relaxing, clean, and even decorated for Christmas. We will only use this company in the future because they have very beautiful luxury cabins. We wrote down the cabins with true uninstructed views and will just choose those instead. Someone wrote in the guest book that tree tops is just like this one (haven't confirmed) and she is true about it having a better view because it's the last one on the road up the mountain. Please don't go with a different company, none compare...just be cautious on if you're getting he view shown. My comment is a little negative, but I have to give the full truth. I wish someone else would have too!

+ Read More

Stacie H.

Jacksonville, Florida

"Perfect Honeymoon!"

My husband and I could not have been happier with our stay in Mountain Hideaway! It was the perfect place for our honeymoon! Gorgeous view, great location, and just so relaxing! We will definitely be going back!

Amanda J.

KANKAKEE, IL

"Best cabin stay ever!!"

This cabin was amazing. Super clean, came with everything you need, quiet, beahtiful. This cabin had the most comfortable bed and an amazing master bath

Michelle W.

Homer Glen, IL

"Mountain Hideaway"

Wonderful place to stay and see beautiful America~

Stephen P.

Stanford, KY

"Cabin review"

Very nice cabin and furnishings. Very clean. I will be comparing future places to this cabin.

Dave H.

Hillsboro, Tennessee

"Honeymoon"

It was exactly what we wanted. It was a nice, quiet, cozy place to spend our honeymoon. It was close enough to town, but far enough away to relax. We loved the hot tub, and my wife loved the shower. T

…

he mood lighting was cool in every room. The bed was huge and comfortable. The only complaint was we couldn't stay longer. We were both upset to have to go back to 'reality.' We will definitely book with you again!

+ Read More

Luke G.

Baton Rouge, LA

"Mountain Hideaway - Fantastic Rental"

My wife and I recently stayed in Mountain Hideaway for our first anniversary trip. We couldn't have asked for a better cabin. The place was spotless when we got there. It was easy to find (a little

…

further out of town than most) and very comfortable with a great view. We will stay with Elk Springs Resort on all future vacations to Gatlinburg.

+ Read More

Greg M.

Hattiesburg, MS

"great stay"

This was the first time renting from Elk's Springs already getting ready to make reservations for next year.

Miles

Murfreesboro, TN

"Very Satisfied"

A great place to relax.
Load More Reviews