Amenities:
Charcoal Grill

Full Kitchen

Honeymoon

Hot Tub

Iron / Ironing Board

Mountain View

Parking

Washer/Dryer

WIFI
Incredible mountain views and upgraded luxury furniture await in your 1 bedroom getaway cabin. Amazing views from the inside while relaxing and enjoying the amazing setting inside. Views from the great room, kitchen, game room and bedroom. Aren't the views one of the main reasons you come to the mountains?

Living, Dinning, Kitchen, Gaming, and Sleeping areas enjoy expansive, unobstructed views of the Smoky Mountains and Mt LeConte. The cabin was built to showcase these views while providing top notch conveniences and comfort. Legacy Mountain Resort also has it own zip line vendor on site!
Cabin Bedrooms Layout
Master Suite

King Bed
Sleeps 2
Great Room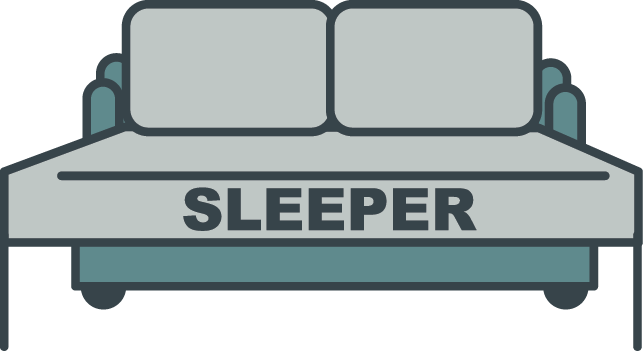 Queen Sleeper
Sleeps 2
Full Description
You will appreciate relaxing and recharging in this special 1 bedroom cabin with your special someone. With views from the master, great room, game room and kitchen you will cherish the change in colors from morning to evening.

Enter to vaulted ceilings with a large kitchen and dining area and then relax in the great room on the leather furnishings. Read a book on the covered deck or enjoy your morning coffee first thing.

Mountain Dreams has a fully equipped kitchen so you can stay in and enjoy the cabin, mountain views and peace and quiet. Or, head out to all the fun as you are 10-20 minutes easy access to all the popular attractions.

Head downstairs and shoot a game of pool or retire and sleep in in your luxury master suite with king size bed and Jacuzzi tub. Finish a long day of fun in your 100 degree hot tub on your covered deck looking at the mountains.

For your convenience there is free WIFI, a washer/dryer, charcoal grill, iron and ironing board.
*** This Cabin is located 15 Minutes from Elk Springs Resort ***
Zip Line Vendor On Site
Incredible Mountain Views
Pool Table
2 Covered Decks
3 TV's
1 King Bed
Jacuzzi Tub
1 Queen Sleeper Sofas
2 Full Baths
Fireplace (Electric)
Charcoal Grill
Free WIFI
Full Kitchen
Washer/Dryer
8 Minutes to Dollywood
10 Minutes to Pigeon Forge
15 Minutes to Outlet Malls
15 Minutes to Downtown Gatlinburg
20 Minutes to National Park
10 Minutes to Grocery Store and Pharmacy
Calendar
Click your dates below to check in and check out
Available
Check In Only
Check Out Only
Selected
Unavailable
Photo Gallery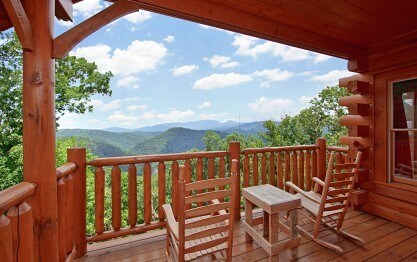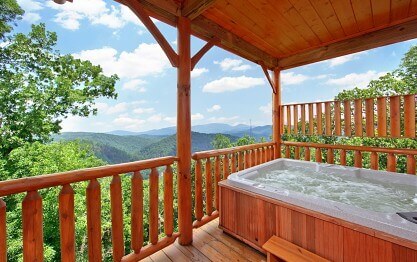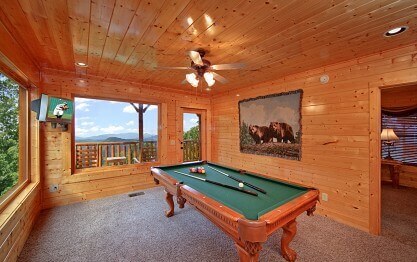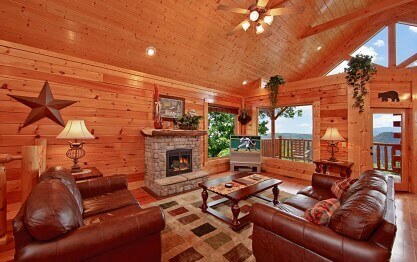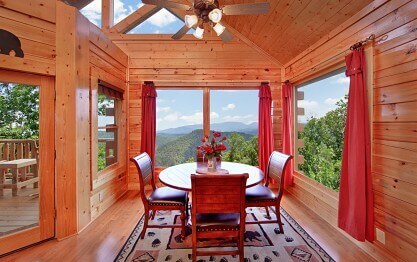 See All Photos
Reviews
Deborah

Pineville, Louisiana

"Beautiful Views of the Smokies"

This is the second time we've stayed with Elk Springs Resort Cabins. The cabin was very clean and nicely kept. We got to see 3 bears on the Roaring Fork Driving Trail. We love visiting the Smoky Mountain. It is our favorite vacation place.

Manager Response:

Thank you for allowing us to be a part of such a memorable vacation, Deborah! We are delighted to hear you enjoyed your time spent in our area. We hope you will consider making Elk Springs Resort part of a new tradition when visiting Pigeon Forge.

Vincent

Hamburg, NJ

"Smoky Mountain Majesty"

More than met our expectations. Wonderful.

Manager Response:

Thank you for your wonderful review! We love to hear that you enjoyed your visit with us. We hope you will make plans to come back and stay with us often!

Melissa

Columbia, IL

"Mountain Dreams Stay"

This cabin was the perfect cabin for a stay in the Smoky mountains. It was everything we expected per descriptions online. I would definitely recommend this cabin to others!

Manager Response:

Thank you for choosing Elk Springs Resort. We are excited to hear your stay was exceptional, Melissa! We hope you will make plans to come back and stay with us again.

Maria

Oak Park, IL

"Mountain top retreat"

We had a wonderful experience with all the comforts of home perched up in the mountains.

Manager Response:

Thank you for choosing Elk Springs Resort, Maria. It was an honor to have you as our guest. We certainly agree, Mountain Dreams is the perfect cabin to relax and let all the stresses of everyday life just melt away. We hope you will come back and visit with us again soon!

Anand M.

Cary, NC

"Beautiful, quiet and serene break from reality"

The cabin was just as promised and shown in pictures. The customer service was outstanding with constant emails providing emails and follow up calls to ensure that all was good. I would definitely pick the same location if I return here.

Manager Response:

Thank you for your kind review, Anand! We were honored to have you as our guest. We hope you will consider making Elk Springs Resort part of a new tradition when visiting our beautiful Great Smoky Mountains. Hurry back, your next adventure awaits!

Robert G.

Cibolo, TX

"Spring of 2016"

Best Vacation I've ever had. every thing was as I was promised, clean, spacious, and accommodating and more.


Manager Response:

We are happy to hear that we exceeded your expectations, Robert! We, here at Elk Springs Resort, believe in providing luxury cabins that will make you feel at home from the moment you walk through the door. It sounds like we succeeded! We hope you will come back to visit often.

TJ N.

Raleigh, NC

"Relaxing Getaway"

My wife and I booked the cabin to celebrate our 4th anniversary. I'd never been to Tennessee or rented a cabin before. We thoroughly enjoyed our stay and it was exactly how we wanted to spend our an

…

niversary. The cabin is close to all sorts of attractions and restaurants, and the cabin is tucked up in a quiet hilltop. The views were amazing and the whole weekend was so relaxing. We spruced up our pool skills and took a dip in the hot tub. We would definitely recommend this!

+ Read More

Manager Response:

Thank you for allowing us to be a part of such a special get-away. It sounds like you picked the perfect cabin for your first trip to Tennessee. We hope you will consider making Mountain Dreams part of your anniversary plans for many years to come.

Amanda G.

Mount Juliet, TN

"Breathtaking"

The cabin was gorgeous with an amazing view. The bed was very comfy and the cabin had everything we needed....but didn't have to use most of it. It was quiet and peaceful. Wish we could have stayed forever!

Manager Response:

The views from Mountain Dreams are simply breathtaking! This is the perfect location, as downtown Pigeon Forge is only 10 minutes away, but feels as if you are a million miles away. We are happy to hear that you did not want to leave. We want you to feel at home every time you stay with us. Please contact us when you are ready to start planning your next vacation. Your dream vacation is only a phone call away!

Keeli R.

Riverdale, GA

"The most Peaceful time of my life"

My experience was amazing. I booked the trip for my boyfriend's birthday and we had never been to the Mountain Cabins. I found the deal on Groupon and from the beginning I was very pleased. We got

…

there, unlocked the door and were in heaven for 4 days and 3 nights. The cabin was immaculate, spacious, had everything we needed and it was very peaceful. They even called to check on us during our stay to make sure everything was to our liking. I didn't know there was so much to do in Pigeon Forge. On the day we checked out, I was actually in tears as I did not want to leave. We will be bringing the family back in the next month for a week trip. I will say that if you need a romantic and peaceful adult getaway Elk Springs Resort was perfect. Thank you for everything.

+ Read More

Manager Response:

We are delighted to hear you enjoyed your visit! Spring is around the corner. It's a nice time to start thinking about a return trip to Gatlinburg. Please keep in mind, as a returning guest you will enjoy 10% off all future stays.

Michael S.

Winter Garden, FL

"Mountain Dreams Engagement "

I booked this cabin all the way from Florida with only the pictures to go off of. I thought I'm sure it's nice but the pictures probably make it look way nicer than it actually is. Boy was I wrong. Th

…

e pictures look amazing and the cabin is even more amazing. You can't capture the views and feel for the cabin in pictures. I was so pleased to arrive especially since my at the time girlfriend had no idea I even had this planned. The next day I proposed in the cabin. Mountain dreams will now forever be a part of our story. The staff even called us the second day just to make sure we had everything we needed and we're happy. Could not be happier with my choice and will deffinitly be going back.

+ Read More

Manager Response:

Thank you for the 5 star review, Michael and congratulations on your recent engagement! We are so happy to be part of your wonderful Smoky Mountain memories. We look forward to having you back for a future stay.

Greg B.

Memphis, TN

"Very Nice!"

Wish we could have stayed longer! Kinda wish we could have just moved in.

Manager Response:

That's the spirit, Greg! We aim to please and it looks like we were successful! You had such a great time that you didn't want to go back to reality. Don't worry, there's always a next time. We will even give you a 10% discount off your next stay, so hurry on back!

Catherine

Balcatta, WA

"A great stay"

This cabin was exactly as described - a gorgeous space with incredible views, all the amenities you could possibly need and a very comfy bed. It was also beautifully clean with plenty of space to park

…

out the front. We would most definitely stay here again and highly recommend it to anyone thinking of vacationing in the Smokey Mountains. Our only regret was not staying longer!

+ Read More

Erin R.

Hattiesburg, MS

"Mountain Dreams in the off season!"

My husband and I had a great 3 night stay in Mountain Dreams (located on Legacy Mountain). This cabin is really high compared to the others so the view is really great. I also have stayed at both th

…

e Powdermill Rd. location and this location and like them both. This location definitely has better is a little less woodsy between cabins. It's also not hard to find with GPS. Property management is excellent and makes checking in and out effortless. Would highly recommend Elk Springs!

+ Read More

Manager Response:

Thank you for the nice feedback, Erin. We are delighted to have you as a repeat guest and enjoy hearing that your experience was nothing but positive!

Stephanie S.

Gallatin, TN

"Perfect Cabin for 2"

The only regret I have is that I did not extend our stay! Everything was pristine and comfortable and more than I could have imagined from the pictures. Absolutely will be giving Elk Springs a call for our next Gatlinburg trip!

Christopher S.

Flesherton, Ontario

"Mountain Dreams was awesome"

My wife and I recently stayed in Mountain Dreams (#104) for our honeymoon and found it to be very quiet with no visible neighbors except for the one side. The Hot tub was very secluded if you put the

…

cover up just right. All of the amenities were very clean and thoughtfully provided (except for an electric kettle for tea). We would definitely return for another visit.

+ Read More

Manager Response:

Thank you Christopher. We are sorry you were disappointed that there wasn't a tea kettle in the cabin. Prior to arrival, we email our guests a list of what our kitchens are stocked with, so they can prepare accordingly. We are pleased that you enjoyed your honeymoon at Mountain Dreams and hope you will return to celebrate your wedding anniversaries with us. Congratulations and Best Wishes!

Keith H.

Amity, AR

"Couldn't have been better"

We really enjoyed our stay in this cabin! We will be back for sure! The staff is great. I really appreciated them calling on the second day just to make sure we were enjoying it. The fan in the bedroo

…

m was making a noise and I mentioned it to them just so they could fix it when we left, but instead they asked for permission to fix it that day. We came back to and found not only it fixed, but a brand new one! The cabin could not have been any better and met every bit of our expectations.

+ Read More

Manager Response:

Thank you for your review Keith. We appreciate the kudos you gave to our staff as well. Our customer service department is available until midnight every night to assist you with any issues no matter if they are big or small. Customer satisfaction is very important to us and we go the extra mile to ensure your stay is as enjoyable as possible. We hope you will be returning for another stay with us in the future. You will receive a 10% discount on your next booking for being a repeat guest.

Ana E.

Arlington, VA

"Luxury Cabin worth every penny! :)"

The Mountain Dreams Cabin was incredible. The views were amazing, the architecture of the cabin was astonishing. Most of all I enjoyed my stay because everything was so clean and nicely organized. It

…

was wonderful to leave the city and relax/unwind in a cabin and mountain like this. Wonderful Cabin!

+ Read More

Manager Response:

Thank you for the 5-star review Ana. We appreciate you letting us know how much you enjoyed your cabin stay. It sounds like you made the perfect choice for a special weekend getaway!

Suzannah

Indianapolis, IN

"A Wonderful Place to Stay"

My friends and I had a wonderful time here. We had a cabin with a hot tub, pool table, beautiful kitchen, wonderful view, two porches, and huge living space.

Manager Response:

Thank you for the nice review Suzannah. It sounds like the cabin and all the amenities were just what you needed to make this a wonderful trip!

Marko

Andover, MN

"Great cabin, great experience!"

The cabin was wonderful. Fantastic views, up to date, and very clean!
Elk Springs Resort was easy to work with and provided clear instructions throughout! Would definitely stay again and recommend to anyone!

Manager Response:

Thank you Marko! We are pleased that Mountain Dreams was everything you hoped it would be.

Danielle E.

Eden Prairie, MN

"Mountain retreaty"

I stayed in Mountain Dreams with my husband and three kids (ages 6-13). The youngest slept on the loveseat and the other two shared the fold out sofa. It was the perfect place for us, and a fabulous r

…

etreat from the busy, tourist cities of Pigeon Forge and Gatlinburg. Beautiful cabin with even more beautiful views. Perfect!

+ Read More

Manager Response:

Thank you Danielle! It is our pleasure to offer beautiful cabins for the entire family to enjoy. Having an amazing view is an added bonus too!

Cedric S.

Killeen, Texas

Jacob B.

Edwardsville, Illinois

"Mountain Dream Weekend"

I had a fantastic time at Mountain Dreams. The view was perfect as it looked off the side of the mountain and contained an incredible landscape. The management company was great and responded quickly

…

anytime I had a question. I would definitely stay here again.

+ Read More

Shelly W.

North Aurora, IL

"A review with a view"

Upon arrival and opening the front door, we enjoyed the beautiful view of the mountains. Everything was clean and comfortable. We enjoyed the privacy and solitude.

Paul

Oxford, Ohio

"Smokey Mountain Escape"

Very relaxing with a great view. Excellent road up the mountain to the rental. Great amenities in cabin.



Jacqueline J.

Columbus, OH

"Relaxing"

Beautiful surroundings, relaxing stay, cabin well equipped.

Leigh P.

Wentzville, MO

"Will definitely return!!!"

My husband and I stayed in this beautiful cabin and celebrated our 10 year wedding anniversary! We wil definitely return. It was clean, well kept, and in a great location. We were close to Gatlinburg

…

and Pigeon Forge. The view from this cabin was breathtaking. When we return we will be bring our kids.

+ Read More

Terry F.

Eldon, MO

"Legacy mountain was awesome "

Very clean and smelled clean, a big plus! Couldn't ask for a better view. Cabin was absolutely perfect for the two of us! We are all ready giving referrals to Elksprings Resort! The costomer service i

…

s the best. Wish we could have stayed longer. I am especially happy with the calls returned to me even when I called in and didn't get an answer!

+ Read More

Matthew D.

Nashville, TN

"Weekend getaway"

The cabin was even better than we had hoped. It was clean and well maintained for the most part. The location was far enough from town to feel private but close enough to easily venture in and eat/sho

…

p/etc. We would definitely consider staying again in the future.

+ Read More

Sabrina S.

Oak Lawn, IL

"Wonderful Weekend Getaway!"

I thoroughly enjoyed my time at Elk Springs Resort. The cabins were exceptionally clean. We felt extremely safe and comfortable---the views were amazing. Check in and check out went smoothly, too.

…

I would certainly recommend this resort to friends and family.

+ Read More

Andrea

Tell City, In

"Fantastic!!!!"

The cabin looked just like the pictures. Absolutely beautiful and very clean. They really did have all the things you'd need if you wanted to cook. The surrounding property was also well kept. We woul

…

d come back to this property in a heartbeat!! Didn't want to leave!

+ Read More

Amber

Greer, SC

"Memorable vacation!"

The cabin was perfect for my family of four! We went for thanksgiving week and had the most relaxing time of our lives. The cabin was extremely clean. I am very picky when it comes to hotels etc. and

…

would NEVER take a bath in any rental in the past. I was so confident with the cleanliness of the cabin that the jacuzzi tub ended up being my favorite thing to do. Plenty of space and very well stocked. The only thing I discovered they didn't have was a cheese grater (I wouldn't have needed one except I was cooking thanksgiving dinner). My kids enjoyed the hot tub and pool table.. My husband... The WIFI ;) we also had the best view! The cabins were a little closer to each other than I expected but since we really didn't have a neighbor on one side we still felt alone in the mountains (that's what we were going for). We will be back!

+ Read More

Rebecca M.

Melvindale, MI

"Heaven Sent"

What can I say. The views were awe inspiring. The cabin was very clean and beautiful. Loved the pine. Honeymoon material even though I wasn't on one. Would love to come back. Few small issues:

…

Had some trouble with TV and deck hot tub. I didn't call the first night that I noticed the problems because it was late, but I wish I had because repair man said they are available 24 hrs. Once we called, repair man was out within the half hour. Fast service. Highly recommended. Climbworks was who we used for ziplining. Very fun, professional and awesome experience.

+ Read More

Michael B.

Clarkston, GA

"Beautiful scenery and amenties......."

Wonderful!!!!

Chad K.

Bowling Green, Ohio

"Review of Mountain Dreams "

Cabin was clean, and exactly how it appears in the pictures. The view was beautiful. Only complaint is there are many cabins close by which the pictures do not show. Overall very beautiful cabin, would go back.

Loray

Durham, NC

"First time cabin experience"

Out trip to Mountain Dreams was fabulous. The views were great and the location perfect for a relaxing long weekend. I'm already planning a return trip with the family.

Victoria T.

Sandusky, oh

"What a view"

My husband and I loved staying in the cabin. We had everything we wanted.

Deborah O.

West Chester, Ohio

"Great getaway"

Short vacation to get away and relac

Micah

Lexington, SC

"Awesome cabin with great views"

We absolutely LOVED this cabin! We didn't even want to leave it. The views are amazing! Everything we needed was provided for us! Can't wait to go back!

Jenna B.

Athens, GA

"Fantastic cabin A++++ would stay again"

The view is exactly as in the pictures, absolutely beautiful. When it rained, we could see why it was called the Smokey Mountains. Only complaint is that some of the trees have grown halfway in front

…

of the porch (the mountains are still clearly visible though). The cabin was secluded enough (there are two rentals to the right) and a short drive from the towns and parks. The cabin is beautifully decorated (not tacky) with a lot of wood. Big TV with blu-ray. Big bed. Pool table. Hot tub. Bathtub that fits two comfortably. Two walk-in showers. Good cell and internet reception (enough to stream Netflix and Amazon in HD). Made the best steaks of our lives with the simple charcoal grill out front. Check in and out was easy (all done by cell phone). I would stay there a million times over.

+ Read More

Michael

Temple, TX

"Great Cabin"

My wife and I stayed in the Mountain Dreams Cabin for our honeymoon. It was everything we hoped for! It was very romantic, beautiful and clean.

Gabriel G.

Exton, PA

"Picture Perfect!"

Our family had a wonderful time! Gorgeous views and great amenities! Mountain Dreams was just like the pictures!

Tonya

Stockbridge, GA

"50 year anniversary trip for parents"

excellent experience for my parents. They loved the cabin, view and service they received.

Jeff G.

Kissimmee, FL

"Mountain Dreams became a reality"

Elk Springs Resort is our #1 choice for staying in the Smokies. We usually stay on their resort property, but this time we spent 3 nights in Mountain Dreams, a cabin they manage on the Legacy Mountai

…

n property.

Mountain Dreams has an untarnished view that isn't interrupted by roads or buildings. Our vacation is over, but we're still daydreaming about that view. We're looking forward to coming back again!

The location is great when you're splitting time between Gatlinburg and Pigeon Forge. The Legacy Mountain property is located between those cities, so you're never more than 20 minutes away from where you want to go.

+ Read More

Julia B.

Nashville, TN

"Everything was great! We enjoyed our cabin!"

We had a great experience! The property was easy to find; all was as promised!

Maren G.

Ames, IA

"A wonderful honeymoon experience"

My husband and I chose this cabin for its incredible views and we could not have been happier. And to top it off, the cabin itself was very modern with nice appliances and finishes as well as a hot t

…

ub and pool table! Everything was very clean and it was wonderful to spend time just in the cabin. I truly did not want to leave.

The location is about 20 minutes from Gatlinburg, so close enough to stop for groceries or head to the national park for the day, but far enough away to avoid a lot of the tourist attractions that line the roads there.

My only wish is that the cabin would have had a scrubby sponge to help wash dishes with, so remember to bring one with you.

+ Read More

Debbie M.

Dayton, OH

"Paradise found in the smokies"

It was the best time EVER place was wonderful wish I could have brought the cabin back home to ohio. View was spectacular and the cabin was beautiful and had everything we needed. Thanks you was the b

…

est 50rh birthday present ever you guys rock. Be sure to come back

+ Read More

Seth

Leesburg, VA

"Great Honeymoon Cabin!"

This was our honeymoon and the Mountain Dreams cabin was very well kept. We had an issue with the TV in the cabin, but within 24 hours, the TV was replaced by a brand new flat screen, which is far bet

…

ter than the one there. Also Elks Springs was very professional and went out of their way to accommodate and answer any questions we had. I definitely recommend this property.

+ Read More
Load More Reviews