Amenities:
Full Kitchen
Gas Grill
Honeymoon
Hot Tub
Iron / Ironing Board
Mountain View
Parking
Washer/Dryer
WIFI
You will be "Moonstruck" while spending time on your balcony enjoying the spectacular views of Mt. LeConte, the 2nd highest elevation in the Great Smoky Mountains! Romantic is an understatement for the atmosphere that hovers over this brand new one bedroom Gatlinburg cabin rental that whisks you away from it all if only for a few days. And you deserve all of the luxury, elegance and adventure that is part of Moonstruck.
Cabin Bedrooms Layout
King Suite

King Bed
Sleeps 2
Full Description
Relax after a long day of hiking in front of 1 of 4 fireplaces. Or take a long hot rain shower with body jets. Or maybe even relax on the deck and enjoy the views. There are so many choices!

Enter the Great Room and admire the vaulted ceilings that are wide open to those mountain views. Beautifully furnished, the leather seating offers endless comfort as you enjoy the 55" 3D TV with 3D Blu-ray DVD and surround sound system. A fireplace adds that extra touch to create the relaxing mood after spending the day in the Great Smoky Mountains. A very well designed and fully equipped kitchen fosters a full course meal. You can also use the gas grill on the deck of your own private Gatlinburg Cabin Rental. You can choose an indoor or outdoor dining setting with very comfortable seating in both locations.

The master suite is punctuated by luxurious linens and a fabulous upscale king bed for maybe the "best night of sleep ever" our guests have told us! Keep unwinding in the master Jacuzzi tub and rain shower with shower jets with TV and fireplace.

Maybe between all the relaxing and excitement you will have time to shoot a game of pool on the pool table?

The hot tub is just outside the master suite located on a private deck, and don't forget to try the outdoor sauna - there is a fire place there too - to keep you warm while you soak in the views. The porch swing + the rocking chairs + the sounds of the creek below definitely add up to the finishing touches.

Due to the many amenities in this cabin, it is limited to adults only with a maximum occupancy of 2.
(occupancy is limited to adults only)
*** This Property is located 10 minutes from Elk Springs Resort!
55" 3D TV w/3D Blu-ray DVD
Views of Mt. LeConte
Hot Tub
Jacuzzi Tub
Rain Shower with Body Jets
Pool Table
4 Fireplaces
FREE High Speed Wireless Internet
Outdoor Dining Area
Outdoor Fireplace
3 TV's, 2 DVD Players
41" TV in Master
Washer/Dryer
Gas Grill
1 Minute Walk to Outdoor Fire Pit and Dining Area
Grocery Delivery Service
Calendar
Click your dates below to check in and check out
Available
Check In Only
Check Out Only
Selected
Unavailable
Photo Gallery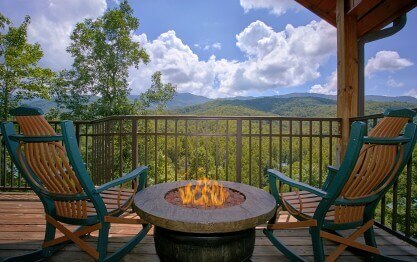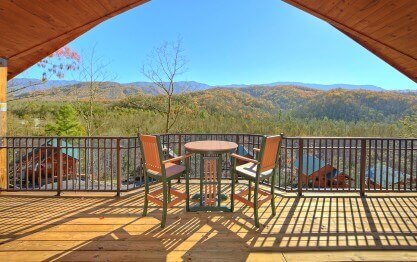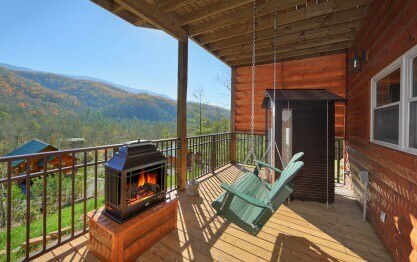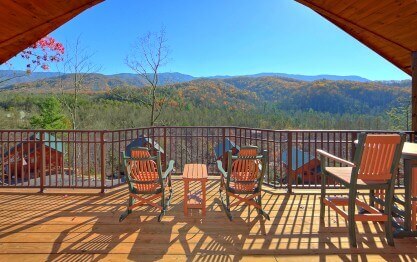 See All Photos
Reviews
Matt

Gilbertown, AL

"Moonstruck honeymoon stay"

The cabin was even more than we expected. We had a great time and enjoyed our stay!

Becky

Wyoming, OH

"Never disappointed"

Perfect getaway. Fabulous view. Just far enough away, just close enough to go where you want to go -- if you can drag yourself away from the pleasure of Moonstruck.

Manager Response:

We are delighted to hear your stay was exceptional, Becky! We certainly agree, Moonstruck is the perfect cabin to relax and let the stresses of everyday life just melt away. We enjoyed having you as our guest and hope you will make plans to come back and visit with us often!

Nicole I.

Bridgeview, IL

"As beautiful as the pictures "

Our experience was amazing. The cabin was extremely clean and even more beautiful than we expected. We received multiple emails and text messages prior to our trip making sure we had all the proper

…

information. The day after we arrived we got a wonderful phone call making sure everything was ok. The following day we had to call for maintenance just because our propane tank was empty, but help arrived within 30 minutes. Not only did the rep I spoke with call me back after speaking to maintenance to give me the time he should be arriving but she also called me afterwards making sure all was taken care of correctly and to our standards. The view was so incredible. The furniture was so comfortable. We truly loved everything about this cabin! This was the best experience we've ever had while on vacation and I will definitely be recommending Elk Springs Resort and especially our cabin (MOONSTRUCK) every chance I get. Thank you for helping make our 9 year wedding anniversary getaway a huge success! Can't wait to come back.

+ Read More

Manager Response:

Thank you for allowing us to be a part of such a wonderful celebration, Nicole! When you stay with Elk Springs Resort you will be treated as if you are a member of our own family. We are not just offering cabins, we are helping to create memories that will last a lifetime! We are delighted to hear your anniversary trip was a success and hope you will consider staying with us again during your next visit to Gatlinburg. Hurry back, your next adventure awaits!

Anthony C.

Xenia, OH

"Great Honeymoon Experience"

We could not have wished for a better location for our honeymoon. The cabin was a much better experience than any hotel I have previously stayed stayed in the general area. The pictures on the website

…

did not do the cabin justice......We will definitely book another trip with Elk Springs.

+ Read More

Manager Response:

Thank you for allowing us to be a part of such a wonderful celebration, Anthony! Congratulations! We are delighted to hear your honeymoon stay was exceptional. We hope you will consider making Elk Springs Resort part of your anniversary plans for many years to come!

Rebecca

Lockland, OH

"Perfection"

This luxury log home really has it all -- a mesmerizing view of the mountain, privacy (even though it's right by other cabins), luxurious touches everywhere (wonderful bed, sheets, towels, jacuzzi, ra

…

in shower, completely stocked kitchen, 4 fireplaces, 3 TVs) to guarantee this will be a relaxing treat for all your senses. The owners really carefully thought out all the details. Everything works - and instructions are clear on how to operate everything.

+ Read More

Rocky G.

The Woodlands, TX

"Moonstruck stay"

Our experience with Elk Springs Resort and the cabin Moonstruck were amazing. Starting with our first contact with Marty in the office all the way to the easy checkout procedures, the whole experience

…

was a class act. We were constantly reminded of things along the way and felt like we were catered to. The cabin was exactly as promoted on the website and it was a spectacular stay for us. The cabin is a bit far from Gatlinburg (20 minute drive) but the view was certainly worth it for us. We absolutely loved our stay and hope to do it again in the future.

+ Read More

Manager Response:

Our goal is to spoil you, from start to finish. It sounds like we succeeded! You, as our guest, are our top priority. We are here to ensure that every aspect of your stay is stress-free. We wouldn't have it any other way! We are pleased to hear that your stay exceeded your expectations. We hope you will consider staying with us during your next visit in our Great Smoky Mountains.

George R.

Memphis, TN

"Wonderful Couples' Retreat"

The Moonstruck cabin has everything you could possibly need for a relaxing vacation. My only regret is that we didn't spend more time just hanging out in the cabin.

The bed and pillows were very

…

comfortable. The bathroom is spa-like, with plenty of hot water to fill up the giant jacuzzi tub and then to immediately afterwards stand in the rain shower with body jets.
The decor is simple, but it fit the locale.

+ Read More

Manager Response:

Thank you for your 5-Star review, George! We are happy to hear that your stay exceeded your expectations. Our goal is to provide luxury cabins that will make you feel at home from the moment you walk through the door. It sounds like we succeeded! We hope you consider making Moonstruck your new home away from home while visiting our Great Smoky Mountains. We hope to see you soon!

Adam S.

Indianapolis, IN

"Moonstruck stay"

overall great vacation - recommend screen doors for the upstairs to allow the mountain air into the cabin without letting in the bugs; shower very leaky

Emily L.

Mt Olive, AL

"Nice cabin "

Very nice everything was luxury. Only negative thing it's about 20 minutes from Gatlinburg.

Vivek P.

,

Randy

Simpsonville, SC

Manager Response:

Thank you for your kind review. We are happy to hear that you enjoyed your stay at Moonstruck. We hope that you are able to return to our Great Smoky Mountains soon!

Dustin S.

Valparaiso, IN

"Beautiful relaxing cabin!"

We had a great relaxing vacation. My husband and I loved your beautiful cabin. It was so clean and had everything you could possibly need. We absolutely loved it!

Donald D.

Baton Rouge, LA

"Honeymoon 2015 at Moonstruck"

We stayed here at Moonstruck for our honeymoon vacation. The place was extremely clean and nicely stocked for the first couple days. It was everything and more as what was described on the website.

…

We loved our stay in the cabin, our hikes to the waterfalls, and the Rocky Top Wineries. When we come back, we definitely will consider staying again here and booking with Elk Springs.

+ Read More

Doug

Eaton, OH

"Honeymoon"

We loved it! Just didn't realize it was so close to other cabins.

Manager Response:

We appreciate your feedback, Doug. We have several luxury cabins to choose from in Gatlinburg, Pigeon Forge and Sevierville. If seclusion is what you are looking for, our reservation department would be more than happy to assist you in finding a cabin to suit your needs. Thank you for choosing Elk Springs Resort as your honeymoon destination. We hope you will return to the Smokies to celebrate your wedding anniversaries in the future. Congratulations and Best Wishes from all of us here at Elk Springs Resort.

Casey B.

West Chester, OH

"Beautiful View"

The "Moonstruck" chalet was absolutely GORGEOUS!!! The view, the amenities, were superb! We were a bit concerned that the photos online would not be accurate to real life, but we were mistaken it was

…

exactly as described to us. We spent 6 nights and were sooooo sad to go back to reality. We would suggest this chalet to anyone that is looking to get away and enjoy the view while doing so!!

+ Read More

Manager Response:

Casey, we are so pleased that everything with your cabin rental experience exceeded your expectations. We routinely update our photos and cabin descriptions on line to give you the most accurate and detailed information possible. It is our pleasure to offer a luxury cabin for you to enjoy while on vacation. We hope you will consider a return visit to The Smokies!

Earnest

Summerville, SC

"Moonstruck/lovestruck"

This was by far the best mini vacation imaginable. The weather was clear and crisp, the leaves were starting to change, and the cabin was everything we could've wanted and more. We used every amenity

…

offered(minus the sauna), nothing was overlooked. From the comfort of the security system to the fireplace in the master bathroom. I wish these cabins were like timeshare, I would be sold!

+ Read More

Manager Response:

Earnest, I believe you made the perfect choice when you selected this cabin for your weekend getaway! It sounds like everything exceeded your expectations. The Fall colors are breathtaking this year and are sure to last into November. We certainly appreciate your feedback and thank you for being our guest.

Stephanie J.

Milford, MA

"Amazing Getaway!"

My husband and I stayed in the Moonstruck cabin for out honeymoon. We loved everything about the cabin, especially the hot tub, pool table, and beautiful view from the upper balcony. This was the PE

…

RFECT spot for us to have a nice relaxing getaway after a stressful year of wedding planning. The cabin was beautiful and well-maintained. The staff at Elk Springs was fabulous and the express check-in and check-out was very easy and convenient. It rained the whole week we were there, but we didn't let it stop us from enjoying everything Gatlinburg has to offer. The cabin was located fairly close to downtown Gatlinburg so it was easy to get to everything we wanted to do and then we had a perfect place to come back to and relax at the end of each day. I would definitely recommend this cabin and Elk Springs Resort to anyone looking for an amazing getaway in the Smokies!

+ Read More

Manager Response:

Thank you for your business and for the wonderful 5 star review Stephanie! It is our pleasure to provide you with a positive cabin rental experience along with excellent customer service. We look forward to your next stay with Elk Springs Resort!

Joseph E.

Hendersonville, TN

"Review of Moonstruck Chalet"

Moonstruck was a new wonderfully decorated chalet. It had all of the amenities including a super large walk in shower, two decks and fridge with ice maker which you usually don't find in chalets. It

…

had a beautiful view of the mountains and if it matters, it is about only 17 minutes out of Gatlinburg. It was nice find.

+ Read More

Manager Response:

Thank you for the review Joseph. Moonstruck is well-liked by everyone that stays there. Everything is set up perfectly for our guests to enjoy the best cabin getaway possible! We hope you will come back and enjoy making more Smoky Mountain memories soon.

Ryan M.

Midland, TX

Manager Response:

Thank you Ryan! Moonstruck is a cabin that is well liked by everyone who stays there. We are pleased to hear that you had a fun time and enjoyed your visit!

Ricky

Whitesburg, KY

"AWESOME"

Had a wonderful stay at Moonstruck. The cabin was beautiful, luxury at its finest. The view of the mountains was breathtaking. Would highly recommend it to anyone.

Manager Response:

We appreciate your 5-star review Ricky. This cabin is a very popular choice on our rental program. We are pleased you enjoyed your stay in this beautiful cabin with amazing views! If you have never experienced Fall in the Smokies, I would strongly encourage you to make a return trip to see the leaves change. The colors are breathtaking and what better place to view them from than a cabin like Moonstruck?

Chad W.

Shannon, NC

"Nice clean cabin"

Everything was excellent, cannot complain except for the price.

Manager Response:

Thank you for your review Chad. They say that you get what you pay for and it shows. Our prices reflect the quality of the cabin stay you receive, as well as your overall experience. Since you gave us a 5 star review and reported that everything was excellent, we can only surmise that you definitely got your money's worth!

Rebecca

Amherst Junction, WI

"Will definitely be returning"

We loved this cabin. It had a gorgeous view of the mountains. It felt like we were worlds away yet only 15 min from stores and gas station. The cabin was clean and updated. It had all the conven

…

iences of home. The hot tub was great to relax in after a day of hiking. We didn't use the whirlpool, sauna or fireplace. Our cabin was ready an hour and a half prior to check in. And they called the next day to make sure everything was going well. Will definitely be returning to this company.

+ Read More

Manager Response:

Thank you for your generous 5 star review! It sounds like you picked the perfect cabin to make your vacation a memorable one! We have several luxury cabins to choose from. Bring the whole family and upgrade to one of our larger cabins on your next stay. You save 10% just for being a return guest!

Kristie H.

Holt, MI

"Another Great Smokey Mountain Experience!"

My husband and I had a great time again. We have been to the Smokey's many times in the last 36 years beginning with our honeymoon in 1979. We enjoy every trip, whether by ourselves, or accompanied

…

by kids, grandkids, and friends. We have stayed in a number of places over the years, and we have always been happy with the accommodations. We have been using Elk Spring Resort properties for the last few years, since our son-in-law found you on-line. The experiences are always top notch, and we are confident we will be happy with whichever one we choose. The discounts help, but the service wins the day.

+ Read More

Manager Response:

Kristie, your review is greatly appreciated! We are pleased that you found us on line and have stayed with us ever since! Thank you for letting us know that we are continuing to provide top-notch service and accommodations to our guests. We hope the tradition continues and you and your family enjoy many more Smoky Mountain memories at one of our cabins!

Natalia

Beavercreek, OH

"2nd stay. Just as perfect as the first."

This is the second long weekend stay at this cabin. It's better than what the pictures show. With a full kitchen, hot tub, huge bathroom, double balcony, grill and swing...what more could you ask for? Can't wait to go back.

Manager Response:

Repeat guests are our specialty! You are proof that we provide outstanding service to our guests. We look forward to providing you with many more years of mountain memories here with Elk Springs Resort!

Haden M.

Brentwood, TN

"Moonstruck Cabin"

I had a great stay at the Moonstruck cabin. I was a little worried since I had not stayed at one of the Elk Springs resort cabins before. It turned out to be wonderful! It was very clean, well fu

…

rnished, great views and relaxing. I would highly recommend the property. Some folks mentioned that it was a good distance from Gatlinburg (10 miles or so) but I found the drive in to be easy and still far enough away for some peace and quiet.

+ Read More

Lisa M.

Baton Rouge, LA

"Stay at Moonstruck!"

The cabin was beautiful. Everything we could ask for. Very clean and secluded while not be overly secluded.

Rod

West Middlesex, PA

"Great Get Away"

We had a great stay. View was incredible.
Location was perfect, just far enough away to relax, yet close enough to enjoy downtown Gatlinburg.

Caley K.

Birmingham, AL

"Great Stay!"

It was a very nice location and cabin.

Chris

Yorkville, IL

"Just like the pictures on the website. Absolutely beautiful"

Cabin was extremely clean, inviting and made you feel right at home. Experience was great and would definitely go back. Quiet and peaceful if you are looking for relaxation or a short drive to town with many things to do.

Lorraine

Canton, IL

"Peaceful, restful, relaxing!"

My husband and I were looking for a relaxing Spring Break vacation for the two of us. We are empty nesters with stressful careers. Our cabin fit the bill perfectly! Private and quiet, our cabin had

…

indoor and outdoor hot tubs, a sauna, swing, fireplaces, flat screens, a grill, full kitchen, billiard table, washer/dryer, and decks with a breathtaking view! We hope to come back next year! We spent a lot of our time in the national park. We were glad that our cabin was 10 miles from Gatlinburg. That area was too touristy for us, so we really liked the remote location of the cabin. We enjoyed wine at the community fire pit one evening also.

+ Read More

Zachary R.

Lynchburg, Virginia

"The Perfect Honeymoon Spot"

The Moonstruck Cabin at Elk Springs was fantastic! We thought the pictures on the site looked pretty awesome. But once we got to the actual cabin, we realized that the pictures did not do the cabin ju

…

stice at all! The cabin was SO much nicer in real life than in the pictures. Usually it's the other way around. But with Moonstruck at Elk Springs, the pictures on the website just do not show the full beauty of this wonderful cabin. It was very clean when we arrived. Honestly, the cabin looked brand new. We were completely blown away! It had everything that it advertised, and everything worked perfectly.

And we love the way that they do check-in! You don't have to go to an office or anything. You just drive straight to your cabin, and it's ready and waiting for you with a door code and alarm code that the staff informs you of over a phone call. After that, the staff only called us once to make sure we got in safely and to ask if everything was alright at the cabin. Superb staff!

The only thing that was a little bit of a bother was the distance to downtown Gatlinburg. It's about a 20-25 minute drive from the cabin to Gatlinburg. It's nice because it's secluded. But it's a pain to drive 20-25 minutes into and out of Gatlinburg everyday. But that's just us. Personal preference.

The view was breathtaking! We really enjoyed the grill, the hot tub, and the awesome rain shower!

I definitely give this place 5 stars.
Awesome experience! And not terribly expensive either. It was most definitely worth the money.

+ Read More

Ashley C.

Leesburg, Florida

"moonstruck honeymoon! "

Stayed in this cabin for our honeymoon. It was amazing! It had great amenities plus a stunning view.

Stephen

Centerville, IN

"Perfect Get Away"

It was wonderful. We have been staying in different cabins in TN for over ten years for our anniversary get away and by far this was the nicest and cleanest cabin. The attention to detail was fabulo

…

us. The follow up calls from property management was a nice touch. The only bad thing was we had to cut our stay a night short due to weather coming in.

+ Read More

Andrew

Huntsville, AL

"Moonstruck, a charm!"

Third time at Moonstruck. Still a charm! Can't imagine staying anywhere else.

Laura

Evansville, IN

"Moonstruck"

Me and my husband rented this cabin for our honeymoon. This cabin is just as described and pictured on the website! It was so beautiful and comfortable that we almost wanted to stay in the whole time. We will definitely be back.

Sarah

Winter Springs, FL

"Moonstruck Honeymoon"

We couldn't have asked for better. It was lovely and the cabin was in an ideal location. Plenty of privacy and amenities. All of the fireplaces were electric (faux) and we would have like to have at l

…

east one real one be it gas or wood but their ambiance was still nice. 10/10 would recommend.

+ Read More

Emily I.

Chicago, Illinois

"Great Trip!"

We had a wonderful time celebrating our 5th wedding anniversary at Moonstruck cabin. The stay was amazing and Elk Springs was so organized with directions and accessibility to the cabin. The cabin's

…

views were just as promised; the cabin was so clean. We'll be back!

+ Read More

Tommy L.

Houma, Louisiana

"Relaxation Vacation"

My vacation rental was very relaxing. Just what I needed after spending 9 weeks working in Africa.

Kim H.

Blue Springs, MO

"Amazing Honeymoon in Moon Struck"

The cabin was absolutely amazing. Everything we could ever possibly want for our 3 night stay. The cabin had breathtaking views and sitting in the hot tub watching the twinkling of the stars or a li

…

ghtning show was so relaxing. We were on our motorcycle and it was very accessible. Easy to get to, but felt worlds away.

+ Read More

Lisa

Waterford, PA

"moonstruck"

The cabin was amazing! There were other cabins nearby but I thought our cabin was private. Checking in and out was convenient using the door code and alarm code. The king sized bed was amazingly comfo

…

rtable and all the sheets and towels were high quality. The amenities unable in the cabin were awesome. We would love to stay there again!

+ Read More

Shannon C.

Bedford, VA

"Moonstruck! "

We had a great time at Moonstruck. It was a great getaway for my boyfriend and I. We loved the cabin and the views of the mountains. We had a wonderful time. We will use Elk Springs Resort again in the future.

Kevin

Shapleigh, Maine

"more than we could have dreamed of"

The cabin was outstanding and the view was just beautiful. There is so much to do in the area, but it was hard to even leave the cabin! Hiking, siteseeing, entertainment, and then back to moonstruck, how could you ask for more!

Jade E.

Elmhurst, IL

"Great weekend getaway"

This was a great weekend retreat for me and my husband. 2 Big patio with a stunning view of the smoky mountain. The cabin was very clean and everything u need is already there, its like living in your

…

own house. It was located near the zip line and horseback riding which was convenient, we ddnt really want to drive far for any activities and tried to avoid downtown area. If u want to have a quiet time this is the place to be and just enjoy a relaxing weekend getaway. Checking in and out was so convenient, theres no long line like in hotels. We love the sauna and hot jacuzzi! Would definitely come back to this cabin!

+ Read More

Molly B.

Newburgh, indiana

"Perfect"

We had such an amazing time there on our honeymoon. The cabin was absolutley perfect and I wouldn't change anything. Highly recommend to anyone and would definitely stay again.

Michael

Schaumburg, IL

"Great Place to Stay & Fantastic Location"

The property was very well maintained. Clean and well stocked with towels, paper products and dishes.

Luis J

Clarksville, TN

"Beyond Amazing!"

Best vacation spot ever! We have taken several trips but this has been the best. On our first day there we were already planning our next trip but this time with the kids. Wished we could have stayed

…

longer. Definitely recommend these cabins. Oh and we had friends staying in another cabin and it was wonderful as well.

+ Read More

Bridget A.

Old Hickory, Tennessee

"Great Getaway"

We had a wonderful time and can't wait to go again!

Andrew

Huntsville, AL

"Simply the Best, Again"

This was my second time to stay at Moonstruck, which simply is the best in all respects.

Robert

Delta, PA

"Very Much Needed Getaway"

My Husband rented the cabin as a Christmas gift for Me. We stayed in Moonstruck. We love Tennessee. The cabin was wonderful. Had 2 maintenance problems, they sent someone right away. Wished the ca

…

bins were a little further apart. Pictures do not do it justice. Recommended it a few friends who are looking into booking. Will stay again. We both loved it

+ Read More

Brooke

San Antonio, TX

"Gorgeous"

Gorgeous cabin, gorgeous views - made for an awesome vacation!
Load More Reviews