Amenities:
Charcoal Grill
Full Kitchen
Honeymoon
Hot Tub
Iron / Ironing Board
Mountain View
Parking
Washer/Dryer
WIFI
Experience amazing views of the Great Smoky Mountains in this newer cabin rental. A perfect cabin for honeymooners, a family or for 2 couples looking to experience the best the Smokies have to offer.
Cabin Bedrooms Layout
ML - King Master Suite

King Bed
Sleeps 2
Loft King Suite

King Bed
Sleeps 2
Great Room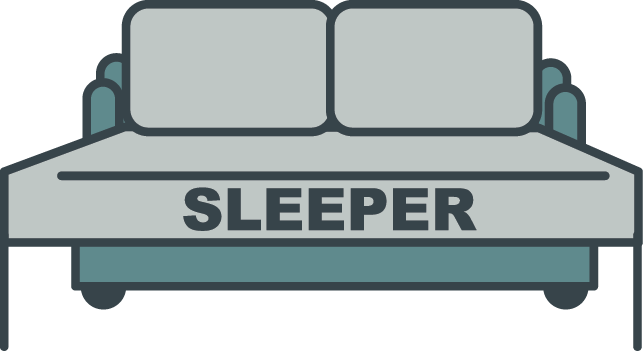 Queen Sleeper
Sleeps 2
Full Description
You will be sure to enjoy the view of the mountains from your private hot tub located on the covered wrap around deck. For an even better view head up to the covered front deck located off the loft game room. While you are at it, shoot a game of pool or play a game of darts on the electronic dart board.

What better way to relax than in front of the fireplace where you can kick back and read a book or enjoy a game on the flat screen TV. Moonshiner's legacy has a fully stocked kitchen with all the items you will need to prepare in cabin meals including a coffee maker, blender, mixer, toaster, pots and pans as well as bake ware. There's a breakfast bar with 3 bar stools and a dining table with 6 chairs.

Retire to one of the two master suites with king sized beds, upgraded bedding and each it's own full bath with stand up showers.

Free WIFI and a washer/dryer are included for your convenience.
*** This Property is Located 5 Minutes From Elk Springs Resort
Amazing views of the smokies
Hot Tub
Pool Table
Electronic Darts
FREE WIFI
2 King Master Suites
2 full baths with stand-up showers (no tubs)
Queen Sleeper Soft in Great Room
Gas Fireplace
Charcoal Grill
Washer/Dryer
Dining seats at Dining Table for 6
Breakfast Bar with 3 Stools
Covered Deck / Porch
Full Kitchen stocked with Cookware and Utensils
3 TV's, 3 DVD Players
8 Minutes to Downtown
5 Minutes to Greenbrier Entrance to the National Park
20 Minutes to Dollywood
2 Minutes to the Arts and Crafts Community
Calendar
Click your dates below to check in and check out
Available
Check In Only
Check Out Only
Selected
Unavailable
Photo Gallery
See All Photos
Reviews
Jamie R.

Midland, OH

"Beautiful and Secluded"

Beautiful cabin! Very close to downtown. The location was great! Up a winding mountain road, but we loved going up.

Maria G.

Bayamon, PR

"A dream come true"

Really, the great experience I ever had. Great place, luxury cabin. A dream come true. A little sad because we can't stay more day, but, when I come back again, I will stay there. Ohhh yess!!!

Douglas

Canfield, OH

"Great view, beautiful cabin!"

The cabin was very quiet and clean. We loved the decor and felt at home.

Kristin M.

Rockford, IL

"Moonshiner's Legacy "

Our family of 4 (2 teenager boys) stayed 4 nights and enjoyed this cabin very much. The boys played pool almost every night and we all relaxed in the hot tub after long days spent hiking or exploring

…

the tourist attractions. The cabin was not too far from anything, although definitely not within walking distance. The view was amazing and the beds were comfy. Overall, this was a great experience and we would definitely use elk springs again.

+ Read More

Manager Response:

Thank you for your wonderful review, Kristin! We are thrilled to hear you and your family enjoyed so many of the amenities at Moonshiner's Legacy. It is the ultimate cabin to relax and unwind in after a busy day of exploring. We hope you will consider making Elk Springs Resort a part of a new family tradition when visiting our beautiful Great Smoky Mountains. Please keep in mind, as a returning guest you will enjoy 10% off all future stays.

Robert

Findlay, OH

"Quick weekend"

This was a gift. We stayed in Moonshiners Legacy. The cabin was very clean . We had plenty of linens. The view was great, even when it was overcast. The hot tub was a nice asset.

Jeremy P.

Geneva, IL

"Awesome Spring Break Vacation Spot"

We loved the cabin. Just the right size for our family of 5. Hot tub, full kitchen, great views on a secluded section of the Smoky Mountains.

Manager Response:

It sounds like you chose the perfect cabin! Moonshiner's Legacy is the ideal cabin to get away from the hustle and bustle of everyday life. We are happy to hear that you had such a great time. We hope you will come back and see us soon!

Pam C.

Union, MS

"Can I stay awhile?"

My husband and I, along with another couple, stayed at Moonshiner's Legacy. We had an excellent stay. This is not my first stay with Elk Springs, and it definitely won't be the last.

Tara

Brentwood, TN

"Moonshiners Legacy - Home Away from Home"

Wonderful cabin, we enjoyed our stay!

Shaunta R.

Memphis, TN

"Awesome Experience "

We had a wonderful and peaceful experience!!!

Ravindra W.

Sugar Land, TX

"Smokey Mountain Trip"

We were 6 of us, my brother and his family, and we all had a wonderful time. The house had everything we needed, was very clean and cozy. We played pool till late in the night. Highly recommend it. Take food and drinks, leave the rest to them.

Manager Response:

Thank you for your 5-Star review Ravindra! We are pleased to hear you had such a wonderful time. We hope to become your home away from home when visiting our beautiful Smoky Mountains for many years to come. Please keep in mind, as a returning guest you will receive 10% off all future stays.

Zackie

Miami Lakes, FL

"Beutiful cabin at great loacation..."

we like this cabin a lot . is at a great location close to Gatlinburg .Is beautiful..

Manager Response:

Thank you for your 5-star review Zackie! We strive to ensure each vacation is top notch, packed full of memories. Please contact us when you are ready to start planning your next trip to Gatlinburg.

Burgundy

Shepherdsville, KY

"Beautiful cabin"

Moonshiners legacy is beautiful! It's conveniently located within about a 5 minute drive to grocery stores, shops, and gas station and 10 minutes to downtown Gatlinburg. The cabin was well equipped

…

with everything needed for our stay and was very clean and well maintained. The hot tub was so relaxing and clean. This is one of nicest cabins I have seen or stayed at. Will most definitely rent this one again! Elk springs staff was very kind as well. Also check in was at 3 but they called and said our cabin was ready at 10:30am so we were able to start our vacation early!

+ Read More

Lukas

Cincinnati, OH

"Great Cabin with a great view!"

We stayed here with another family for two nights and really enjoyed itr. The cabin was nice, had a great view, great amenities, and was close to town yet secluded. We would definitely recommend it.

LaPaul S.

Marietta, GA

"Review of Cabin Rental"

We stayed at the Moonshiner's Legacy and our family loved it. It was comfortable and relaxing.

Manager Response:

Thank you for the 5 star review LaPaul! We are so pleased to hear that you and your family enjoyed your cabin stay. It is our pleasure to offer our luxury cabins to our guests for some much needed relaxation and family time. We look forward to your return visit and please be sure to mention that you have stayed with us before and you will receive a 10% discount off your next booking!

Bridget

West Palm Beach, FL

"Better than expected"

Home away from home. Exceeded my expectations. Perfect for the whole family. The kids kept busy with the dart board, pool table, hot tub, and tv. Definitely going back.

Manager Response:

Thank you Bridget! We pride ourselves in making your cabin getaway experience better than you expected. It sounds like you made the perfect choice for a nice family getaway. We look forward to your return visit!

Gregory J.

Wellesley, MA

"Mountain Getaway"

What a wonderful surprise to rent this cabin sight unseen relying on pictures and online reviews.

Manager Response:

Thank you for the 5 star review Gregory! The pictures on our website are very accurate and many of our guests have been pleasantly surprised that the cabin was even better than expected! We are pleased to hear that you enjoyed your time with us and hope you will return again.

Michael M.

Indianapolis, IN

"Excellent vacation cabin"

The cabin was lovely and so clean. Pictures shown in advertising did not do it justice. Will definitely use again!

Manager Response:

Thank you for the 5 star review Michael! Customer satisfaction is very important to us. We keep our website up to date with current pictures and descriptions, so our guests will know what to expect upon arrival. We are pleased that this exceeded your expectations! We look forward to your next visit.

Cecilia

Cumming, GA

"Perfect place to disconnect"

We loved the cabin with all the amenities and Gatlingburg.

Manager Response:

Thank you for the great review Cecilia! We are so pleased to hear that you enjoyed your time at Moonshiner's Legacy and beautiful Gatlinburg. We hope you will consider a future stay with us and use your 10% repeat guest discount.

Orlando H.

Cincinnati, OH

"Great experience"

Gatlinburg is a great place to visit and the Moonshiner's Legacy made it even better.

Manager Response:

Orlando, thank you for telling us of your Moonshiner's Legacy experience! We are pleased to hear it was everything you hoped for in a cabin vacation rental. We hope you come back to stay with us again and use your 10% discount on any future stays.

Felicia

Fredericksburg, VA

"A Great Getaway"

This was a great getaway for my family. It was our first time in Gatlinburg, Tennessee. The Moonshiner's Legacy was amazing. The only issue we had was a rooster (located somewhere in the neighborhood

…

) that crowed 24/7 during our stay. If not for that, I would have given it 5 stars. The cabin and the management receive 5 stars in my book. We loved the area and the cabin. We would love to visit again. Sorry for the late feedback. We stayed during spring break.

+ Read More

Manager Response:

Thank you for the review Felicia. Better late than never, so they say. While we can't do anything about the rooster, we would like to apologize on behalf of Elk Springs Resort for the lack of peace and quiet during your stay. This obviously isn't anything we have control over. We haven't had any other complaints about this in that area. We are pleased that you enjoyed your stay otherwise. We do hope you will come back to stay with us again.

Stephen S.

Grayslake, IL

"Three-peat visitors"

This was our third time at an Elk Springs property and it was great. The cabins was wonderful, location was great and we had a great time. The only thing keeping the rating from being a five across th

…

e board is the outdated televisions (big boxes with VHS players) and the satellite TV working sporadically the one time we tried to use it. Pool table in loft got a lot of use, as did the furniture on the balcony outside the loft. Overall, great experience. Will be back a fourth time.

+ Read More

John F.

Novi, Mi

"Moonshine Legacy- Fahrner"

Excellent Cabin with everything included that was possible needed. All the appliances, game ro0m and hot tub were excellent. Close enough to town, but far enough away from the crowd. Peaceful and quiet surroundings. Extremely happy with everything

Jim

Kingwood, TX

"Moonshiner's Legacy review"

This was our first trip to Gatlinburg and the first time we stayed at Elk Springs. The cabin was located in a cul-de-sac with 2 other cabins close by. We were fortunate that there were no other guests

…

in those cabins as we had the total area to ourselves. The view was beautiful and our cabin was very comfortable. We enjoyed our stay.

+ Read More

Fred W.

Huntersville, NC

"First Time, Won't be the Last Time"

My family's mini-vacation was BEAUTIFUL!!! We enjoyed the cabin and hanging out in downtown Gatlineburg. It was our first trip to the mountains, but it assuredly won't be our last.

K Danielle K.

Rock Hill, SC

"Spring Break Stay"

We had an amazing time at the cabin. We arrived and the property was perfect and very well taking care of. The Resort followed up with us twice to make sure we had everything we needed and if there wa

…

s anything they can do. We are totally going back again!!!!!

+ Read More

Paul N.

Muncie, IN

"Refreshing Spring Break getaway!!"

We were pleasantly surprised at how nice the cabin was when we first walked in. It was everything the pictures showed and more. We had a couple of small maintenance issues that were handled very qui

…

ckly by Elk Springs and we were checked on a couple of times to make sure all was well. My wife and our kids all agreed that we would want to come back and we would want to stay here again next time. We spent most of our time in either the cabin or the park. (more than the built up strip in Gatlinburg.) It was nice being away from the commercial areas but yet still only being ten minutes from anything you might want. Thanks so much for a great vacation! Recommendations: driving up to Cingman's Dome; driving over to Cherokee afterwards and seeing a herd of Elk; driving to Cade's Cove where we saw a lot of nature to include a Black Bear; and last but not least riding horses in the hills with Smokey Mountain Riding Stables just a few minutes away.

+ Read More

William F.

Pinehurst, TX

"Winter in the Smokies"

Snowy winter vacation retreat in The Smokies. Beautiful.

Colin

Warner Robins, GA

"Great time in Gatlinburg!"

Great experience with Elk Springs. The reservation process was easy and the cabin was amazing! About 10-15 minutes from the main drag in Gatlinburg and a fantastic view from both the upper and lower f

…

loors. We used a Groupon and that wasn't a problem at all. Overall great experience, definitely recommend.

+ Read More

Garrett A.

Greeneville, TN

"Very Nice Stay"

Great view, great location and very nice cabin. I have never stayed in a cabin before where someone followed up on a daily basis to make sure everything was okay and this was a very nice gesture. Elk Springs is the way to go.

Amanda

,

"Perfect cabin"

Relaxing and scenic !!

Karyn A.

Red Bud, Illinois

"Moonshiners Legacy"

Great place to stay

Teresa G.

Monroe, NC

"Beautiful view"

I came across Elk Springs Resort Cabin Rentals through Groupon. We had not been on a real vacation in a couple of years. I really like the fact it was so close to everything, but it didn't seem so w

…

hen you were there. The view was beautiful; Elk Springs resort was very professional and called twice to make sure everything was OK. The property was clean and the cabin was beautiful. The Park Grill in Gatlinburg was great as well as the moonshine we got to sample and buy at Doc Collier Moonshine from Mary. There were other moonshine venues, but this was our favorite. We left wanting to come back and try the winery's on our next trip. Good memories

+ Read More

Toni C.

Holland, MI

"Smoky retreat"

Very good

YASH

ATLANTA, Georgia

"Nice Cabin & Pleasant Stay"

Was a nice cabin, very neat and all the arrangements were done nicely, would prefer to come back

Kathleen S.

Charlotte, NC

"Girl's weekend"

The cabin was exactly as pictured on the website. Great for our purpose, a weekend away from family responsibility where we could catch up on each other's lives. The beds were comfortable and hot tu

…

b was a wonderful. we're already planning for next year!

+ Read More

Carol V.

Joliet, IL

"A Delightful Cabin in the Mountains"

We loved Moonshiner's Legacy cabin! It was clean, tastefully decorated, spacious and was situated with a lovely view. Our original cabin had a maintenance issue and we were immediately directed to t

…

his cabin (they gave us two choices!). The cabin was conveniently located, but away from the busy tourist area.
We visited the Great Smoky Mountain Ntl. Park, hiked some trails, visited the shops, went to the Dixie Stampede and ate at some great restaurants. We especially enjoyed Calhoun's Restaurant in Gatlinburg.
There is so much to do in this area - we would love to visit again and would definitely want to stay in a cabin with Elk Springs Resort-they provided us with excellent customer service!

+ Read More

Karen B.

Clio, Michigan

"Beautiful. and Tranquil"

The view here was stunning. I enjoyed relaxing in the rocking chairs on the upper balcony each morning with a cup of coffee and at night sitting there gazing at the stars in the clear night sky. It was peaceful and amazing. We hope to go back.

Robert J.

Foristell, MO

"great trip"

It was very relaxing enjoyed the stay and had fun.

Jodi E.

Buffalo Grove, IL

"Peaceful and relaxing"

This home was equipped with almost everything my home has in it. The layout was perfect for a family of four with one bedroom upstairs and one downstairs. I loved the deck off of the game room upsta

…

irs, what a wonderful view of the smokey mountains. We all enjoyed the stay and would love to return again soon!

+ Read More

Yanling C.

Peoria, IL

"Good Cabin"

Very nice and clean cabin. We had a great time in cabin during our vacation. Very relax and quite place.

Deandra

Mont Belvieu, TX

"Beautiful Escape"

We had a wonderful time in Moonshiner's Legacy cabin. It was a very clean, modern, well-stocked cabin with a full kitchen, tv/dvd, hot tub, pool table, and a great view! Customer service was excelle

…

nt, and there are discounts to be had. The cabin was on a cul-de-sac with three other cabins but still got the off-the-beaten path feel to it. It's about a mile up the mountain, about 5 minutes from town and a a grocery store. Our family of 4 fit comfortably. You could probably get 6 in comfortably, and 8 with an air mattress for more lodging. Reserve this cabin with confidence - it was an amazing stay, with comfy beds, a washer and dryer, and gorgeous scenery. Would love to return to this vacay destination!

+ Read More

Christopher

Booneville, MS

"Great Time in the Smokies"

We were very pleased! Beautiful surroundings and nice clean cabin. We loved the peaceful quiet cove were we could spend time alone with family. Only drawback was we had a little trouble finding our

…

cabin. The staff quickly fixed that by talking us to the location.

+ Read More

Laurie

Ormond Beach, Florida

"Wonderful!"

Had a great time at Moonshiners Legacy. It was a great place to unwind after a day of hiking in the mountains. We had some awesome family time playing pool and darts. Everything was perfect. And what a view! We would definitely go back.

Lynn

Pensacola, Fl

"A doozie of a trip for Daisy!!!!!"

Great time!!! Great cabin and great management !!!!!

Brandi S.

Tuscaloosa, AL

"A little bit of Heaven"

My family spent three glorious nights in Moonshiner's Legacy, and I am so happy that we chose to stay. Not only was there a beautifully serene view from our cabin of the Smokey Mountains, but the cab

…

in was nice and secluded with only two other cabins neighboring. The cleanliness of the cabin is also noteworthy. The cabin is also conveniently located near downtown Gatlinburg which was a huge plus. I will be back again!

+ Read More

Pete S.

Wauwatosa, WI

"Solitude and beauty"

Our 2nd time at Moonshiners Legacy and better than the last. This time we stayed with friends for the time of our life. Quiet - hot tub fun - pool and darts - all the things a perfect vacation could offer :>

Rebecca D.

Owens Crossroads, AL

"Moonshiner's Legacy"

Everything was perfect!! Enjoyed the hot tub!!

Anasha G.

Woodstock, GA

" Wonderful vacation, beautiful scenery property"

Had a blast and the cabin was very nice and clean. Will definitely return next year!

John D.

Bristol, TN

Tammi

Mount Washington, KY

"Moonshine Legacy"

Beautiful, relaxing, home away from home can't wait to go back. Loved getting the phone calls from property management company to make sure that we were very satisfied with our rental,thanks again to Katie.
Load More Reviews