Amenities:
Full Kitchen
Gas Grill
Hot Tub
Iron / Ironing Board
Parking
Theater Room
Washer/Dryer
WIFI
You won't have a moment's regret when you book Misty Mountain Lodge. It's perfect for large groups and reunions or for a family who wants to experience the smokies and enjoy the good life. This professionally decorated luxury Log Cabin sleeps up to 14 and is perfect for all occasions.
Cabin Bedrooms Layout
Main Level - Bedroom 1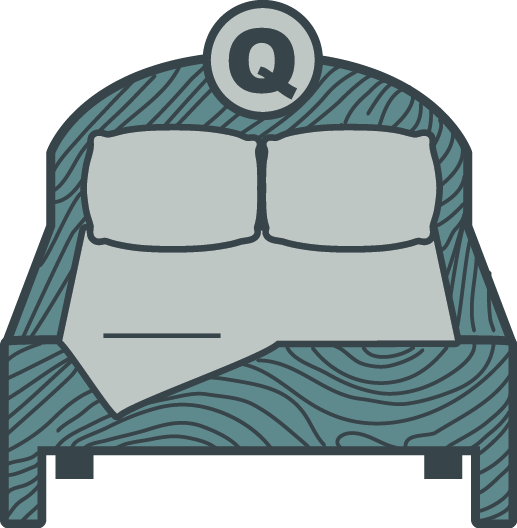 Queen Bed
Sleeps 2
Upper Level - Bedroom 2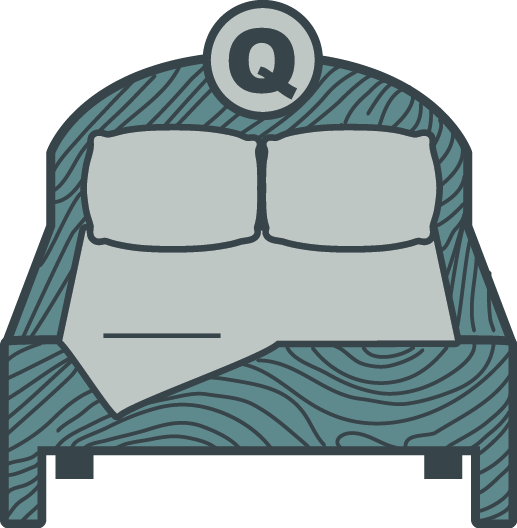 Queen Bed
Sleeps 2
Lower Level - Bedroom 3

King Bed
Sleeps 2
Lower Level - Bedroom 4

King Bed
Sleeps 2
Lower Level - Bedroom 5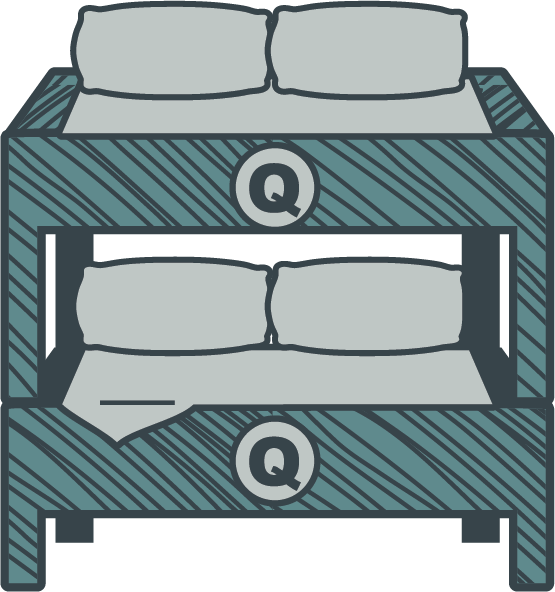 Queen Bunk
Sleeps 4
Lower Level - Sitting Area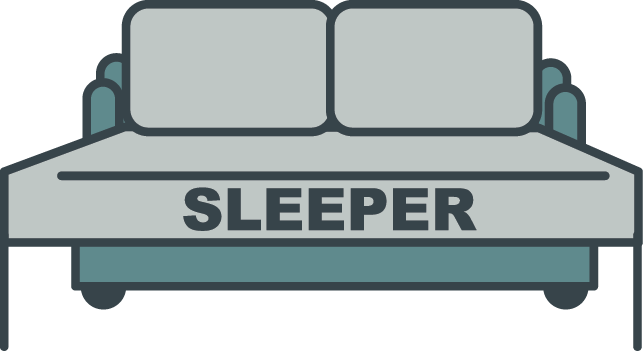 Queen Sleeper
Sleeps 2
Full Description
This 5 bedroom Gatlinburg rental is a comfortable and upgraded cabin close to downtown Gatlinburg and the Smoky Mountains main park entrance. Enjoy your private home theater room with a 9' theater screen and surround sound in this luxury Gatlinburg cabin rental. Or, play a game of pool, cards or air hockey after grilling on the deck.

Located on a covered deck, the hot tub and rocking chairs are perfect solutions for unwinding. Misty Mountain Lodge features 5 bedrooms and 4 full baths. Two of the bedrooms have king beds, two bedrooms have a queen bed and there is a queen over queen bunk bedroom included, too.

There is a comfortable sleeper sofa tucked away in the lower level sitting area with TV and DVD for extra guests.

You can count on a large fully equipped kitchen including coffee maker, blender, mixer and complete cooking and serving ware. The picnic style rustic aspen and cedar dining table is large and there are 3 upgraded bar seats at the kitchen bar. Whether you are on the deck soaking in the surroundings, sitting on the leather sectional in the open main area or having a meal with friends and family, the space and grandeur of Misty Mountain Lodge will surely make you smile.
Theater Room With 9' Screen
Dolby Surround Sound
Hot Tub
Pool Table
Air Hockey Table
Free High Speed Wireless Internet
2 King Beds
2 Queen Beds
1 Queen over Queen Bunk Bed
2 Fireplaces
10 Rocking Chairs
8 TVs
8 DVD Players
Washer/Dryer
Gas Grill
8 Minutes From Downtown Gatlinburg
15 Minutes to Dollywood


Calendar
Click your dates below to check in and check out
Available
Check In Only
Check Out Only
Selected
Unavailable
Photo Gallery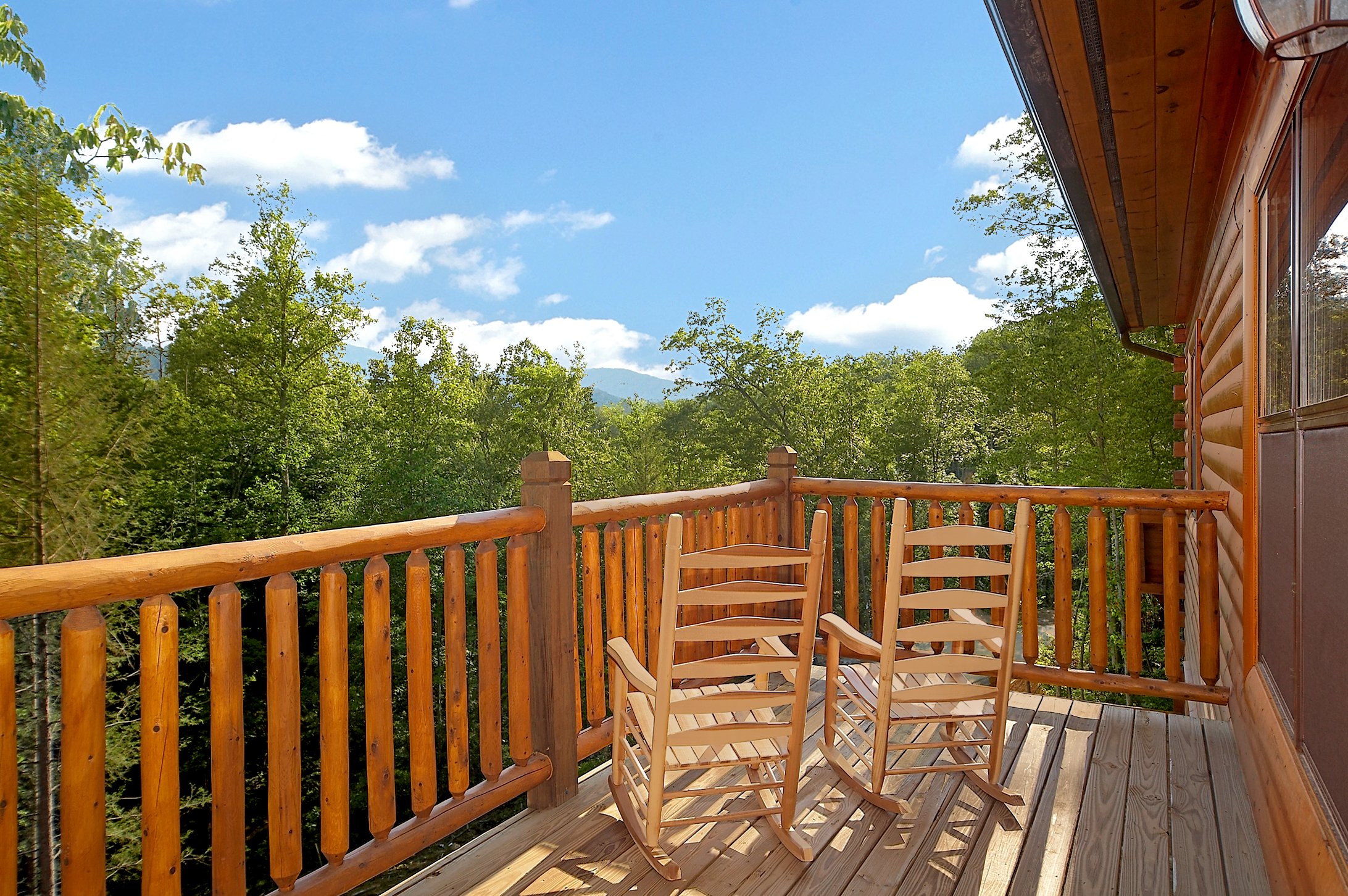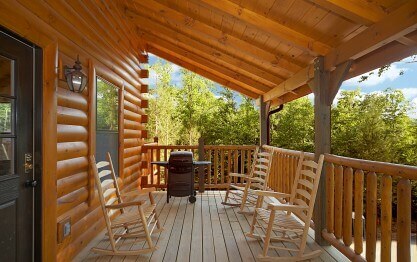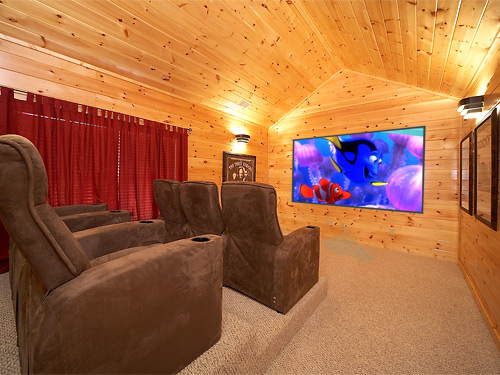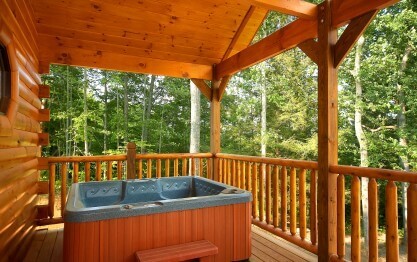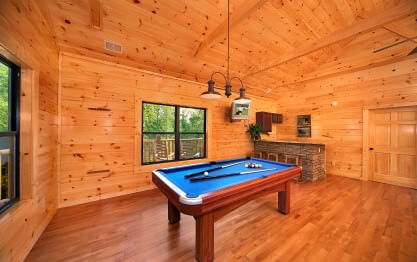 See All Photos
Reviews
Beverly D.

Bee, VA

"Family Vacation"

Loved the cabin, it was beautiful, and clean.

Debrann L.

Warner Robins, Georgia

"Great experience"

It was peaceful, clean and I enjoyed the location. I would recommend anyone to come and I will be returning next year if the Lord say so

Manager Response:

Thank you for your wonderful review, Debrann! We love receiving stories such as yours. We enjoyed having you as our guest and hope you will consider making Elk Springs Resort part of a new tradition when visiting Gatlinburg.

Phil W.

Crossville, TN

"Really great getaway with special friends."

Elk Springs was a fantastic way for our group of 5 couples to spend a couple days together in one beautiful lodge. Everyone had nothing but positive comments about our yearly getaway.

Manager Response:

Thank you for allowing us to be a part of such a wonderful get-away, Phil! We hope you will make consider making Elk Springs Resort part of your annual friend's retreat. Please keep in mind, as a returning guest you will enjoy 10% off all future stays. Hurry back, your next Smoky Mountain adventure awaits!

Robert L.

Fairfield, OH

"Perfect stay for our family. "

This cabin was perfect for our family. We loved the location, the cleanliness and the theater room. It was a very nice cabin and we enjoyed our stay.

Bonnie B.

West Plains, MO

"WOW!!"

Couldn't have asked for nicer accommodations-we had everything here.

Manager Response:

We are happy to hear Misty Mountain Lodge exceeded your expectations, Bonnie! We hope you will make plans to come back and stay with us as often as your schedule allows. Hurry back, your next adventure awaits!

Ashley P.

Depew, NY

"LAST MINUTE DESTINATION WEDDING"

MY WIFE AND I TRAVEL ALOT AND THIS WAS BY FAR THE BEST VACA EVER DESPITE IT ALSO BEING OUR WEDDING- THE STAFF WERE AWESOME WITH SUGGESTIONS- THE PICTURES ON THE WEBSITE DID NOT DO THE CABIN ANY JUSTIC

…

E AT ALL- WE STAYED AT THE MISTY MOUNTAIN LODGE- LOOKING FORWARD TO MAKING ELK SPRINGS RESORT AN ANNUAL EXPERIENCE

+ Read More

Manager Response:

Thank you for allowing us to be a part of such a wonderful celebration, Ashley! Congratulations! We are happy to hear the cabin exceeded your expectations. We would love for you to make Elk Springs Resort an annual tradition. Please keep in mind, as a returning guest you will enjoy 10% off all future stays. We look forward to seeing you again!

Tonya M.

Temple, GA

"Misty Mountain Lodge"

It was wonderful...we enjoyed every minute of our stay....cabin was gorgeous and everything in it was ok....will return again

Julie C.

Ashville, NY

"Very Nice Cabin and Relaxing.....Few appliance issues"

Our stay at the Misty Mountain Lodge was great. We were a family of 10 and there was plenty of room. The cabin was very clean and neat. However a few of the major appliances need an update. We had man

…

y issues with the frig and lost over $150 in groceries. They did replace the frig on the third day after a few attempts to fix it. The dish washer did not really clean the dishes and the washer did not ring out the clothes a few times. The staff that assisted was very polite and they got back to us fairly quickly. Overall once we got past the frig issue our staff was very nice.

+ Read More

Travis

Bardstown, Kentucky

"Weekend With Friends"

Had a great time!

Richard B.

Ocala, FL

"Misty Mountain in January"

Overall, it was fun. I specifically picked this unit because of the picture showing the theater room with the soft leather reclining chairs. It was a picture from another unit. The seats were old thea

…

ter seats that don't recline and I was not happy. Resort people were friendly, unit was clean. Need a banister on stairs going up to the top floor. Fireplace only worked part of the time. Disappointed in the small bathrooms. Even still, if I had never stayed in one before, I would have been overjoyed. If we go again, I will ensure the unit has what it shows in the pictures.

+ Read More

Dante

Sewell, NJ

"It was a great vacation"

I had a great time, and all my questions were answered quick and efficiently. The house was very big, clean and beautiful.
I would take another 12 hour drive just to do it again.

Madrika F.

Tallahassee, FL

"Misty Mountain Lodge "

I stayed at Misty Mountain Lodge in December and really enjoyed the property. I had to call maintenance three times: 1) It looks like they were in the middle of updating the tvs to flat screens and di

…

d not put the new tvs in two rooms so I called and they were there that night to put them up. 2) We called again due to their being a crack in the window that was caused prior to use being there. I only called them to let them know so we wouldn't get faulted. 3) I called again due to our microwave not working and they came the next morning to replace it. Overall the property was great and the staff was very accommodating.

+ Read More

Qiongcheng

,

"The cabin is clean and well-equipped"

The cabin is very comfortable and well-equipped. We had a great experience in Gatlinburg.

Manager Response:

Thank you for your kind review. We are pleased to hear that you had a very positive cabin rental experience. We certainly hope you will come back and stay with us again. All of our guests receive a 10% discount off all future stays!

Allean

Hampton, VA

"215 Family Reunion"

This was one of four cabins we rented. Absolutely gorgeous. It met and even exceeded our expectations.

Manager Response:

Thank you once again for a 5-star review and letting us know that your stay exceeded your expectations. Bring your whole family back year after year and continue the tradition!

Rachel L.

Fort Mill, SC

"Most Beautiful Wedding Spot in Gatlinburg!"

We rented Southern Philosophy, Misty Mountain Lodge and Summit Sanctuary for our wedding ceremony and reception. All of our guests said it was the most beautiful wedding that they ever attended! T

…

he staff was very accommodating and helpful, offering their assistance with any last minute needs! We could not have asked for a better location! The property was perfect for a 40 x 20' tent and our 85 guests! Mist Mountain Lodge was used by the groom's family, which was perfect for 6 children and and 8 adults!! Everyone had an excellent weekend! We rented the three cabins for our famiies and close friends to stay for the weekend, which was close to 40 people! . Everyone had a wonderful time during their stay, not only enjoying the ceremony but all the offerings of the cabins! From pool tables and theater rooms to saunas and hot tubs, Elk Springs Resort is top notch! No comparison to other rentals in the area! If you're looking for a fun, relaxing weekend away, or an excellent spot for a moderate sized wedding, you've found it! Thanks to all of the staff for making our special day better than imagined!

+ Read More

R Bryant M.

Birmingham, AL

"A Last Minute Catastrophe Turned Magnificent - Thanks Elk Springs!"

We made the mistake of booking a trip to Gatlinburg with a competitor of Elk Springs, and we experienced nothing but regret from the time we got into town. After nearly 5 hours of dealing with the oth

…

er company and their excuses, we decided to call Elk Springs, not expecting them to have anything available. My family and I were blown away at the professional, friendly, courteous, and accommodating staff we encountered. They made sure to follow up anytime we had a request. They even followed up after the trip. They went above and beyond to make sure everything was perfect, and we loved staying in the beautiful, extremely clean and comfortable Misty Mountain Lodge. We will use Elk Springs again and again as we travel to Gatlinburg! Thank you again for all of your help!

+ Read More

Travis

Bardstown, KY

"Misty Mountain Lodge Review"

We had a great weekend down in Gatlinburg staying at Misty Mountain Lodge! The cabin was big, clean, and comfortable. Couldn't find a better place for the price we paid.

Raquelle J.

Atlanta, GA

"Beyond our expectations!"

The cabin was far beyond our expectations. It looked exactly like the pictures we were shown prior to arriving. My friends and I had a great and memorable weekend. We will definitely be back before the end of the year!

Barbara C.

Knoxville, TN

"Christmas 2014"

It was our family's first time to spend Christmas away from home. It was wonderful! So restful. Our cabin was beautiful and met our every need and want. So looking forward to a return trip in the future!

Deitra

Benton, KY

"A fun time"

Our stay at Misty Mountain Lodge was very enjoyable. We had lots of room and everything was comfortable. We liked the location as it was easy to get to and close to lots of things. The unit was ver

…

y clean and well maintained. Our only issue was no potholders to handle cooking and no pot scrubbers to clean pans. Things we did not think to bring with us! We would have liked to have cable TV in the theater room but managed with renting a movie. Over all we liked our stay and would recommend Elk Springs Resort.

+ Read More

Diana K.

Clayton, NC

"Loved it!"

Our family visited for a weekend in November and really enjoyed the cabin and Gatlinburg. The cabin was perfect with plenty of room for everyone to have their own space. We are already discussing a longer stay next year at the same resort.

Virginia V.

Taylorsville, Kentucky

"Fun time in G-Burg"

Took the ladies of the family down for a weekend. All in all, a great experience.

Michael D.

Elizabeth, PA

"Great Property"

My family loved this location.

Aliyah L.

Wheaton, IL

"Warm and Wonderful"

The cabin was roomy and comfortable. They had everything we could think of needing (including a Kcup!). The place was clean and the views were beautiful.

Angie C.

Lathrup Village, MI

"Beautiful Place to Stay in the Smoky Mountains"

We were absolutely thrilled with this cabin. It was very large--could have slept nearly 20 people, I swear! It was also beautiful--3 floors of knotty pine amazing game room on the 3rd floor with a mo

…

vie theater (!!!), pool, air hockey. Kids loved it. They also had a big outdoor jacuzzi. The location was great--about 10 minutes into Gatlinburg. The rental company was also so great. I called for a last minute weekend rental on the way down...they emailed me properties, booked me over the phone, and called to make sure we had good directions to get there. They even called the next morning to make sure we'd gotten in. I will definitely be back.

+ Read More

Nancy

Clinton, MS

"Misty Mountain experience"

2 nights were not nearly enough time to explore all that Gatlinburg has to offer. The Misty Mountain Lodge was AWESOME!! There was tons of room for everyone to have their own space including up in th

…

e game room. The movie theatre room was a great treat for the kids to enjoy their favorite movies. What a great trip, we'll be looking to book another trip next year!

+ Read More

Karla N.

Taylors, South Carolina

"Girls Weekend!!"

The cabin was beautiful and just perfect for our girl's weekend! We loved the cabin and the area. Will definitely be back!!

Felecia

N Augusta, SC

"Excellent Stay!"

The Cabin was great, the location was perfect, nice amenities, just very enjoyable! We will be back to Elk Springs! Best properties in Tennessee!

Larry M.

Flemingsburg, KY

"A Smokey December"

Wonderful accommodations! We had a great time and would definitely book again! Thanks so much!

Charles J.

Frankfurt, KY

"More than expected, simply great!!!!"

Our short but most needed stay was very relaxing, easy to find, met all our expectations, accomodating for sure, neat and very clean, well thought out with everything you need. Already planning for the next trip.

Janice M.

Byrnes MIll, MO

"perfect autumn weekend"

Could not have had a better long weekend if we had scripted it ourselves.There were four couples and we all LOVED Misty Mountain! Even the weather and leaves were perfect (ok, I do know you can't rea

…

lly take credit for that), but we would return again and again. Location excellent, well-stocked, comfortable sleeping areas, NICE hot tub!

+ Read More

Christopher J.

Bardstown, KY

"great stay"

5, 5, 5, 5, 5 I will do it again

Sandra N.

Sherwood, AK

"Great Vacation"

This was one of the most relaxing vacation. We enjoyed spending time with our family in the comfort of our cabin. The view was excellent and the location was close to all the excitement of Gatlinburg and Pigeon Forge.

Vincent L.

Bonaire, GA

"ENJOYED MY STAY"

BEST CABIN EXPERIECE EVER, GREAT LOCATION

Desiree

Southaven, MS

"After staying in these cabins I will never go back to hotels!!"

That is the third time I have stayed in Elk Springs resort, and I cannot wait until the 5th time. The cabins are beatuiful and welcoming, come home to the cabin is one of the highlights of the trip.

Jesse Y.

Sparta, TN

"Coozy"

Plan and simple great cabin for 8 people....one thing negative about our experience was the week disappeared to quickly.

Dawn S.

Ada, MI

"Relaxing spring break"

We shared the Misty Mountain lodge with friends who also have 4 children. The lodge was the perfect size for 12. The kids and adults alike loved the game room with air hockey and a pool table as wel

…

l as the theater room. The beds were all comfortable and the lodge was well maintained. We would return!

+ Read More

Travis R.

Burlington, NC

"Travis Ruffin"

It was great. I couldn't find the heat thermostat for downstairs. Where is it?

Elodie K.

Metairie, LA

"Wonderful Time"

Great location, especially for winter months as the roads were not to steep. Only issue was I thought there were at least 3 king size beds and there were only 2 downstairs.

Laney W.

Fort Oglethorpe, GA

"Fun Time"

We had 13 guests had plenty of room. Would stay again.

Guy S.

Simpsonville, SC

"Misty Mountain Lodge"

Had a great time with large family at Misty Mountain Lodge. Property was very nice, clean and well managed by the Elk Springs Folks. This was our first time with Elk Springs but will not be our last.

Matt H.

Sylvania, AL

"Great location, great cabin"

We were very satisfied with our stay with Elk Springs Resort. The management team was very helpful and professional. The only problem we had was that our cabin wasn't ready at check-in time, but it

…

was not the management team's fault as the previous guests left the cabin in a total mess and the housekeeping took longer than expected. The rate was very pricey for this time of year, but we thoroughly enjoyed our stay.

+ Read More

Matthew P.

Brighton, Illinois

"misty mountain lodge"

Love the express check in and out......very convenient! We had 13 people ranging from 60 to 2 in age and the lodge provided plenty of room with no crowding. The mountains views were nice and it was th

…

e perfect balance between seclusion and connection to the local attractions. This was a change in scenery for my wife and me as we always vacation tropical-but we very much enjoyed the smokey mountains and the "southern hospitality" of Tennessee.

+ Read More

Tracy S.

Pembroke Pines, Florida

"Great location, perfect cabin."

From the moment we walked in, this cabin was just as we imagined from the online pictures. We had a group of 10 and it was perfect. Only minutes from town, but far enough to feel the mountains. The st

…

aff was extremely professional and helpful. Only minor issues but they were right on it. Would definitely recommend this cabin and Elk Springs Resort.

+ Read More

Glen

Hamburg, IA

"Fun Family Vacation"

3 generations of our family spent 6 nights at the resort. It is beautifully located in the mountains yet less than 10 minutes from a grocery store. We were impressed by the design of the cabin but ove

…

rall maintenance could be improved. We would definitely recommend this property and would stay here again.

+ Read More

Robert T.

Brooksville, FL

"TRACY FAMILY GATHERING"

THIS IS THE SECOND TIME WE HAVE STAYED AT ELK SPRINGS, AND THE SECOND TIME WAS GREATER THAN THE FIRST, THIS TIME WE BROUGHT 6 KIDS (AND THEIR SPOUSES) AND 7 GRAND KIDS, AGES 2 THRU 13,ALL HAD A FANTAS

…

TIC TIME, THE MOVIE ROOM AND THE GAME ROOM WERE HUGE HITS !! THE STAFF AT ELK SPRINGS WERE FANTASTIC, WE HAD A ISSUE WITH THE MOVIE PLAYER AND THE NEXT THING WE KNEW THERE WAS A KNOCK AT THE DOOR WITH A NEW ONE !!!!!!!! THE PLACE WAS CLEAN AND IT WAS JUST LIKE BEING HOME (ALMOST) THE AREA IS GREAT, MY WIFE LOVES THE POTTER 0N THE CRAFT LOOP, ROBERT ALEWINE, OVERALL THIS PLACE CANNOT BE BEAT, AS SOON AS AMAZING VIEWS COMES UP TO RESERVE WE ARE ON IT !!!!!!!!!!!! THANKS AGAIN...........ROBERT,CAROL,JESSICA,KEVIN,JUSTIN,ETHAN, HEATHER,OLIVIA,TYSON,KELLY, EMMA,RACHEL,CADEN,DREW,AND TRIPP.

+ Read More

Windy Z.

Katy, TX

"Family Vacation"

House was amazing and was the perfect spot for a relaxing family vacation!

Linda T.

Morrilton, AR

"Great"

Very profesional staff. Awsome place to stay.

Jamane H.

Crete, IL

"Family Dream Vacation!!!"

I have been to the mountains before and stayed in cabins, but this by far was the best!!! We almost stayed in the cabin the entire vacation and forgot about the things to do outside! The theater room

…

was to die for and the service was prompt!! Thank you Elk Springs, The Hinton's will see you again next year!!!

+ Read More

Stephanie S.

Hamlet, IN

"Best vacation our family has had"

My family stayed in the Misty Mountain Lodge the first week in April and we had a wonderful time. The cabin was beautiful and the surrounding area left me speechless. As we came home, we were making a list of things we want to do when we come back!
Load More Reviews