Amenities:
Full Kitchen

Gas Grill

Honeymoon

Hot Tub

Iron / Ironing Board

Parking

Washer/Dryer

WIFI
Looking to getaway for a special occasion? A newer cabin, Magic Moments could be the perfect spot for your special vacation. Perfect for a couple or maybe even bring some friends or the kids. This 2 bedroom cabin is located in the Arts & Crafts Community in Gatlinburg, TN and offers both luxury and convenience. Magic Moments features a full king suite and loft king sleeping area with full baths including rain showers (and body jets on the main floor).
Cabin Bedrooms Layout
Master Suite

King Bed
Sleeps 2
Loft Sleeping Area

King Bed
Sleeps 2
Great Room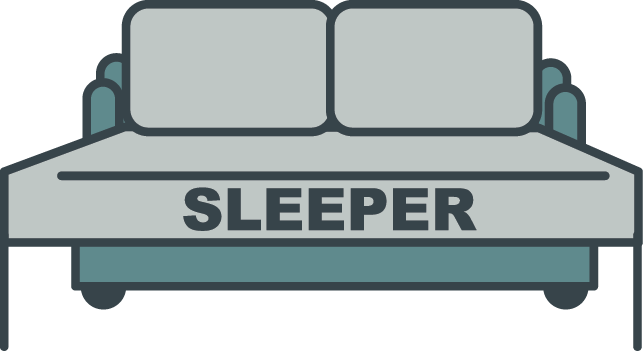 Queen Sleeper
Sleeps 2
Full Description
Step back into the past when Gatlinburg was a simple little Arts and Crafts community. The artisans have since moved into the Arts and Craft loop and Magic Moments is just a 1 minute short drive to the boutiques and dining in this special part of Gatlinburg.

Enjoy a new cabin with upgraded bedding, 2 king master suites and plenty of room to spread out in front of the fireplace. Just 8 Minutes to downtown Gatlinburg, 10 Minutes to Golf and Ziplines and 15 minutes to Dollywood. You can be in the Greenbrier portion of the national park in less than 5 minutes!
*** Cabin is located 1/4 mile from Elk Springs Resort ***
2 King Master Suites with Full Baths and Rain Showers
Main level King shower includes Body Jetted Shower
1 Queen Sleeper Sofa
Pool Table
Hot Tub
Wood Burning Fireplace
2 Rockers
Covered Deck
2 26" TV's
42" Flat Screen TV
3 DVD Players
Washer/Dryer
Gas Grill
Grocery Delivery Service
Convenient Arts and Crafts Community Location
Free WIFI
Calendar
Click your dates below to check in and check out
Available
Check In Only
Check Out Only
Selected
Unavailable
Photo Gallery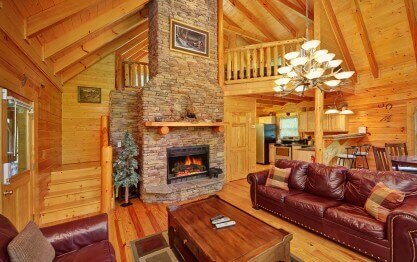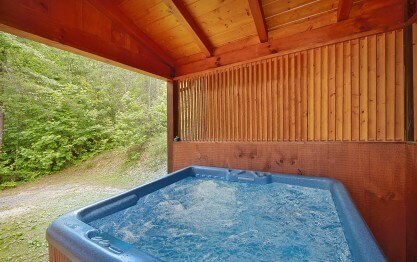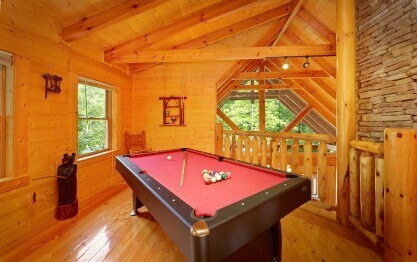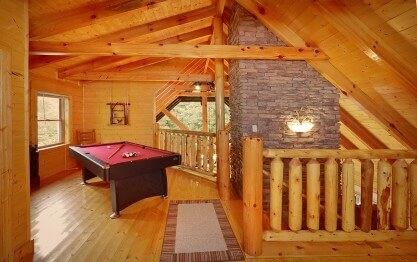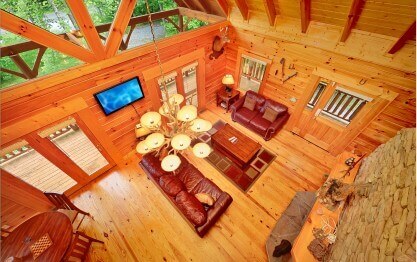 See All Photos
Reviews
Desiree

Tampa, FL

"It was Awesome!"

We had a wonderful time. Cabin was in wonderful condition. Would absolutely stay here again!

Manager Response:

Thank you for your kinds review, Desiree! We are delighted that you enjoyed your cabin visit and hope to see you again real soon!

Raghav

Columbus, IN

"Great place to stay"

It was clean and as shown in the picture. Would definitely suggest it, if are traveling in a small group

Manager Response:

Thank you for your wonderful review, Raghav! We are happy to hear you enjoyed your stay. We hope you will make plans to visit again soon!

Sumer H.

,

"Speechless"

This place was breathtaking. Resort thought of everything when it came to appliances. The decor was beautiful. I mean this place was perfect. My kids did not want to leave. I experienced my first s'mo

…

re in this cabin. This made our 1st family vacation the most memorable and we'll be back.

+ Read More

Manager Response:

We are delighted to hear you enjoyed your visit! Spring is around the corner. It's a nice time to start thinking about a return trip to Gatlinburg. We hope to see you again soon!

Eniel S.

,

"Galinburg, TN."

Best vacation ever.

Manager Response:

Thank you for your business! We hope you will continue to enjoy Elk Springs Resort's cabins for many years to come! We are running a great Groupon promotion right now. Feel free to check it out and book your 2017 vacation with us!

Stephen V.

Columbus, Mississippi

"Magic moment"

This was our honeymoon vacation and my wife and I loved it. We were both very pleased with the cabin as well as the staff and we will return again to elk springs resort. Overall it was a success. Thank you

Manager Response:

Thank you for allowing us to be a part of such a special celebration, Stephen! We hope you will consider making Elk Springs Resort part of your anniversary plans for many years to come. Please keep in mind, as a returning guest you will enjoy 10% off all future stays. Hurry back, new memories are waiting to be made!

Marie L.

Mableton, GA

"MelodieRoy"

It was great! We throughly enjoyed it.

Manager Response:

Thank you for your wonderful 5-Star review, Marie! It is our pleasure to provide you with a luxury cabin to enjoy time away from the hustle and bustle of everyday life. We hope to see you again in the near future!

Brittany H.

Aurora, IN

"Lived up to its name!"

This unit was very nicely maintained and decorated. We enjoyed the hot tub and pool table along with all the other amenities. We've been to Gatlinburg many times, and this will definitely be a repeat

…

stay location! We were pleasantly surprised by how CLOSE this unit is to the arts and crafts community.

+ Read More

Tammi

Mount Washington, KY

"Magic Moments"

I would have preferred a view of the mountains the view is of the street and a hillside, no images show the view on website, but the cabin itself was perfect for just the 2 of us, but it could actuall

…

y sleep 6. It was a nice relaxing 2 year anniversary 4 day extended weekend stay.

+ Read More

Dongxing

ATLANTA, GA

"excellent experience"

It's a good choice for you to smoky montain.

Andrew W.

Oldsmar, Florida

"amazing vacation"

My wife and I had a great time planned on 2 days stayed 3 we liked it so much

Catalina G.

Buford, GA

"Magic Moments"

I have to say that I was Very happy that the cabin had a fully equipped kitchen.

I was missing a Blender so I called customer service and within 20 minutes a gentleman showed up with a brand new

…

blender.
I needed it to bake a dessert that I had planned on making.
That just made my day! So Thank you for that.
I also loved that the Hot tub was on & running, it was nice & warm.very the beds were very comfortable. The cabin was warm & cozy.
We enjoyed the fireplace to make s'mores.

Overall, I would definitely stay again.

+ Read More

Ashley R.

Pulaski, TN

"Girl's Weekend"

Our cabin was very pretty! We didn't necessarily have the most beautiful view, but the cabin was very nice and clean. My 3 friends and I stayed here Friday and Saturday night and left Sunday morning. We couldn't have been more pleased about our stay!

Karen D.

Wilmington, il

"Beautiful Cabin"

We had a great stay over the thanksgiving weekend. Cabin is very nice,clean,well maintained. Management was great the refrigerator quit working during our stay we called early in the morning by the ti

…

me we got back from our day in the smokies there was a new fridge. The location is great you are close to everything nice hot tub on the back porch. The only thing it lacks its a view of the mountains but all the other things make it a great place to stay

+ Read More

Michael G.

Plymouth, Mn

"Awesome"

Was great! The cabin was beautiful and in a great location. Everyone on staff we had contact with was wonderful. Would highly recommend!

Daphne S.

St. Petersburg, Florida

"Beautiful cabin"

We loved everything, the cabin was beautiful and it was clean. I loved that it had everything we needed to make our stay an enjoyable one, I only wish we could have stayed longer. We will be back for sure!

Troy A.

Naperville, IL - Illinois

"Perfect getaway"

We decided to take a last minute vacation to Gatlinburg. I friend recommended Elk Springs Resort. I looked them up and stumbled upon this little gem! Very clean and cute. The location was perfect! Awa

…

y from the crowds! I would definately bring the family again!

+ Read More

Rasesh S.

Orlando, FL

"Near the City"

Enjoyed the stay. The cabin was near Gatlinburg. Had wooded view. Great, if you are looking for easy access to city but did not have mountain view. Excellent service.

Ryan B.

Largo, FL

"Perfect honeymoon"

Unfortunately, we didn't plan our timing in Gatlinburg very well due to rainy weather and it being between seasons, but our cabin made up for it and made our stay amazing. We grilled out every night o

…

n the porch and enjoyed the pool table at night. The jacuzzi was very clean and an added bonus! We'll be back again with family!

+ Read More

Michelle

Cleveland, OH

"MAGIC MOMENTS REVIEW"

ALL OF THE STAFF WAS HELPFULL. PLEASANT EXPERIENCE.

Sarah

Berwyn, PA

"Fantastic Cabin"

Had such a great time in Magic Moments. The cabin was clean and comfortable. I miss that bed!! I would recomend this cabin or any other to anyone who is planning on vacationing in Gatlinburg!!

Brionna J.

Blacklick, OH

"Wonderful Cabin"

I really enjoyed? this was my first time staying with Elk Springs I will be back!

Robert E.

Spartanburg, SC

"Magic Moments"

The cabin was nice and clean. The location was adequate, but there is no view whatsoever and we were under the impression that there was.

Lindsay

St. Louis, Missouri

"Magical Fall Moments"

We had a lovely stay at Magic Moments on a most gorgeous fall weekend. The only bad part was our trip wasn't long enough. We did not want to leave! We were out and about most of the day but we spent o

…

ur evenings in the cabin having dinner, watching football, and hanging out. The cabin was absolutely perfect for all of those things. We will definitely be back!

+ Read More

Katherine

Louisville, KY

"Great Time!"

Exactly as pictured! Huge and beautiful cabin. Perfect for a weekend getaway. Will definitely come back.

Jeanetta G.

Madisonville, Kentucky

"Magic Moments was Magical!"

This was the first trip to the mountains for my family and I! Staying in a cabin made our experience even better! We loved everything about the cabin we stayed in. Our cabin was in a great location,

…

quiet, private, not far from local stores and attractions, clean and cozy inside and out! I only wish we could have stayed longer! Oh, the staff was wonderful and very attentive to our needs! We look forward to visiting Elk Springs Resort Cabins again. Hopefully, we will get the same cabin again!

+ Read More

Josh

Elizabethon, TN

"Great place to stay"

Great Cabin! Close to downtown.

Nathanial

Indianapolis, IN

"Great Vacation in an ideal location"

Very clean and spacious cabin. I was hoping for a view but only woods were around. Nice cabin with all the amenities we needed.

Derrick

Douglasville, Georgia

"Anniversary Week"

The cabin was comfortable and cozy, it snowed for 2 days and the firewood that was cut made for a great couple of days with dinner and movies by the fireplace my husband and I enjoyed the week...

Tracye R.

Gonzales, LA

"Great cabin retreat"

We totally enjoyed our stay at Magic Moments. The cabin could not have been nicer. It was perfect for our mountain getaway. The staff was very helpful from the time that we made our reservations. I

…

t was a great experience and we hope to go back again soon. When we do, we want to stay in the same cabin.

+ Read More

Jill C.

Pelham, AL

"Fantastic"

The cabin was beautiful and immaculate. Perfect for our family of 6. I did not realize upstairs was an open loft, but we did some rearranging of people and it worked perfectly.

Thomas

Eaton Rapids, MI

"Magic Moments"

Magic Moments is a beautiful cabin just down the road from their other cabins. What a great place to stay! We would like to come back again with mutiple families and stay in a bigger cabin next summer.
Load More Reviews