Amenities:
Full Kitchen

Gas Grill

Honeymoon

Hot Tub

Iron / Ironing Board

Parking

Washer/Dryer

WIFI
Interested in a cabin in a National Park like setting where you can enjoy the outdoors? Or would you rather spend your time relaxing with modern amenities and upscale furniture?

Couples and honeymooners looking for something special will enjoy both at Lots of Lovin - a romantic 1 bedroom cabin.
Cabin Bedrooms Layout
Master Suite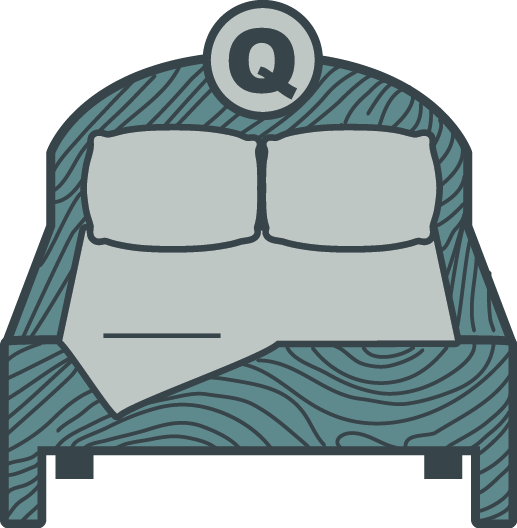 Queen Bed
Sleeps 2
Great Room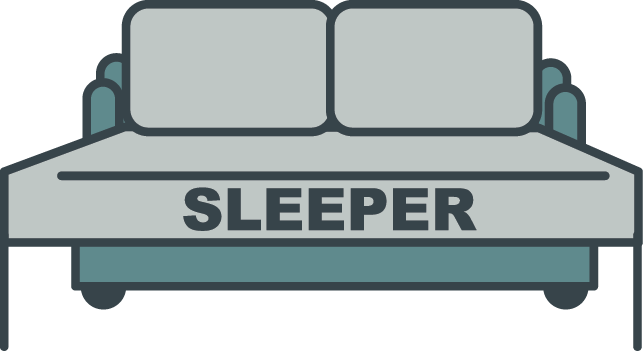 Queen Sleeper
Sleeps 2
Full Description
Enter on the main level of your private and true log cabin into the lofted great room with stacked stone hearth and fireplace. You will notice the rustic yet luxury furniture including leather sofa and love seat. Enjoy a fire after a day of exploring some of the 100+ shops in the historic arts and crafts community which is just minutes away.

Play? Of course! The cabin includes a foosball table and stand up arcade style game, a DVD library and several flat screen TV's. The great room has a surround sound system with large flat screen TV with Bluray and HD Satellite TV. Step outside and enjoy a seat on a porch rocker or perhaps a game of horseshoes or cornhole. Stroll down the hiking path to the nearby creek. Enjoy an evening around the fire pit, which is most visitors favorite activity.

Inside you'll find a full kitchen with hand made custom cabinets and granite counter tops. The kitchen conveniently has a dishwasher and all the utensils and pots and pans to prepare your in cabin meals. This includes a toaster, blender, mixer, mixing bowls, measuring cups, cookie sheets and coffee maker.

Head upstairs to the queen suite furnished with a rustic log bed and upgraded bedding. Enjoy satellite TV or perhaps a movie from the DVD library. Not what one thinks about as your typical cabin bathroom you'll find a walk in tavertine stone tiled shower as well as a jacuzzi tub with stone surround and private flat screen TV.

You can't seem to leave home with out the little ones? Lots of lovin has a full second bath as well as a queen sleeper sofa comfortable for kids but not really suited for adults. There's even a kids play nook with bean bags, chalk boards and TV.
*** This property is located just 8 minutes from the Main Elk Springs Resort Property
Romantic Honeymoon or special getaway cabin
Perfect for 2, yet can sleep 4 with a Queen Sleeper sofa & 2 Full Baths
Stand Up Arcade Game
Hot Tub
Jacuzzi in Master Bath with Stone Surround
Standup Shower
1 King Master Suite
Fire Pit and sitting area
Foosball
Horseshoe Pit and Cornhole boards
Fireplace
Surround Sound with Bluray
Large Flat Screen in Great Room
4 Total Flat Screen TV's
HD Satellite Directv
Large DVD Library
Kids play area With Chalkboard and TV
Separate Laundry Room with Washer/Dryer
3 Minutes to the Arts and Crafts Community
10 Minutes to Downtown Gatlinburg
10 Minutes to Pigeon Forge
10 Minutes to Dollywood
15 Minutes to 2 Public Golf Courses
10 Minutes to the Food City Grocery Store and Pharmacy
15 Minutes to the Great Smoky Mountain National Park Main Entrance
25 Minutes to Ober Gatlinburg Ski Area
10 Minutes to Ziplining
Calendar
Click your dates below to check in and check out
Available
Check In Only
Check Out Only
Selected
Unavailable
Photo Gallery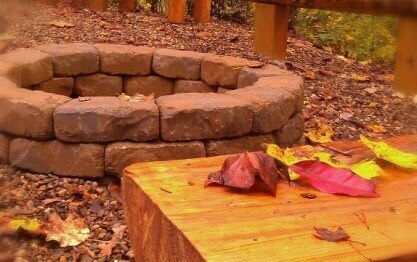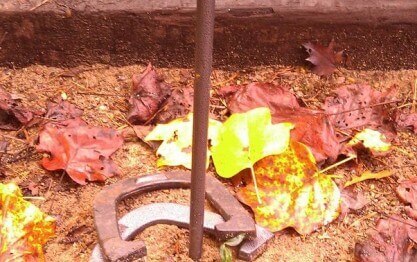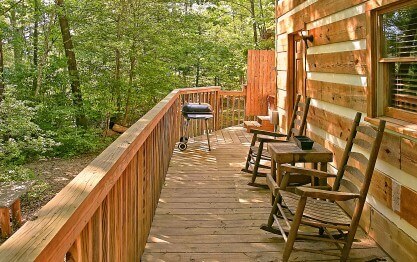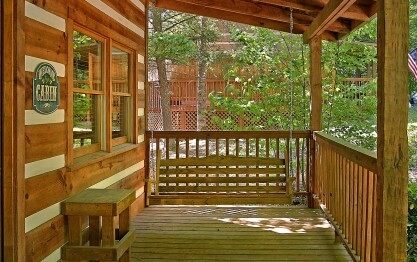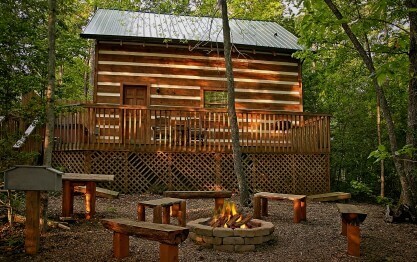 See All Photos
Reviews
Angela C.

Wilmington, NC

"Lots of Lovin Stay"

Our cabin was wonderful! Very clean and stocked better than other rentals we have stayed in. The staff was amazing!


Manager Response:

Thank you for taking the time to share your experience with us, Angela! We are excited to hear your stay was exceptional. We enjoyed having you as our guest and hope you will consider making Elk Springs Resort part of a new tradition when visiting The Great Smoky Mountains. Hurry back, new memories are waiting to be made!

Jaleeda

Hiltons , VA

"Lots of Lovin?"

Perfect getaway cabin for two! Had everything we needed to relax and unwind.

Manager Response:

Thank you for your wonderful review, Jaleeda! We are pleased that you enjoyed your recent cabin stay. You definitely chose a great cabin for some much needed R&R. We hope you will make plans to visit Elk Springs again very soon. Please keep in mind, as repeat customers you will enjoy 10% off all future bookings!

Kenton

Roanoke, VA

"Great location!"

Very secluded, but convenient to both pidgeon forge and gatlinburg. The cabin had all the nice amenities you expect. The outdoor space was great as well not many cabins have room outside of a deck.

Manager Response:

Thank you for your 5-Star review, Kenton! We are delighted to hear you enjoyed your stay. We enjoyed having you as our guest and hope you will visit again soon!

Andrew L.

Davenport, IA

"Great vacation spot!"

Great location right outside the crowded towns. Perfect place to unwind and recharge. The communication was great from the management company. We will be back!

Manager Response:

Thank you for sharing your experience with us, Andrew! We look forward to your next visit! Keep in mind, as a repeat guest you will enjoy 10% off all future bookings!

Michael

Miami, FL

"Beautiful cabin vacation. "

The cabin was wonderful, clean and beautiful. Everything was perfect. Only issue was the roads in the mountains that one had to travel to get to the cabin. The roads were paved but extremely narrow wi

…

th no guard rails. Every time went traveled to and from the cabin my wife was in a nail biting, white knuckle fear episode. Also the roads were not named or labeled very well, being up in the mountains, sometimes the navigation systems cuts out from interference which made the drive to and from the cabin in more challenging. But those issues are not the fault of elk springs. If you don't mind the scary mountain roads it's a beautiful wonderful vacation.

+ Read More

Manager Response:

Thank you for your review. We are aware that GPS does not always work well in the mountains, so we make sure our guests have step by step driving directions emailed to them to ensure they arrive to their destination. If you are not used to driving on mountain roads, there are a few that can cause you some temporary anxiety. We appreciate you letting us know that the cabin was beautiful and you enjoyed your time here in the Great Smoky Mountains. We hope you will consider a future stay with us!

Ora W.

Rutherfordton, NC

"Spectacular"

We loved our honeymoon/Anniversary experience. Cabins were exactly like pictures portrayed them to be.

Manager Response:

Thank you for allowing us to be a part of such a special celebration, Ora! We hope you made an abundance of memories that will be cherished for a lifetime. Please make plans to visit us again soon!

Geneisha B.

Indianapolis, IN

"My vacation get away"

We loved our cabin it was so relaxing and very nice

Manager Response:

Thanks so much for taking the time to review Elk Springs Resort. We do hope that you will be able to return again for your next getaway!

Shannon M.

Tiffin , OH

"Excellent!"

Very nice cabin! My family loved it, we are already talking about our return.

Manager Response:

Thank you for your 5-Star review, Shannon! We are excited to hear you and your family had such a wonderful visit. We would consider it an honor for you to come back and stay with us again. Please contact us when you are ready to start planning your next get-away. One of our friendly sales representatives will be happy to assist you in finding a cabin that will exceed your expectations. We hope to see you soon!

Ernest E.

Baton Rouge, LA

"GREAT TIME"

HAD A GREAT TIME CANT WAIT TO GO BACK FOR CHRISTMAS

Manager Response:

This quaint little cabin offers a nice getaway for a couple or small family. We are pleased to hear that you enjoyed your stay and thank you for the kind 5-star review. It is our pleasure to offer the perfect accommodations for our guests to enjoy some rest and relaxation here in the beautiful Smoky Mountains. We hope you will come back to share the holidays with us!

Adam R.

Huntington, WV

"Lots of Lovin 1/8/2016"

My wife and I took a weekend trip to the Lots of Lovin' cabin. We had a great time, and would certainly book the same cabin. Overall it was very clean, and was even better than the pictures.

Manager Response:

Thank you for such a wonderful review. We are happy you enjoyed your stay at Lots of Lovin. It truly is an amazing cabin! We hope you will be able to return soon!

Amanda

Idlewild, TN

"Honeymoon review"

We had a wonderful time at our stay in Lots of Lovin. We both enjoyed relaxing in the hot tub every night. We also enjoyed the surround sound and movies on the night we were rained in. My favorite par

…

t was probably the tv and the soaking tub. I loved having my morning coffee in the tub and watching tv:). The cabin was very close to Gatlinburg and Pigeon Forge which was nice.

+ Read More

Manager Response:

Thank you for your 5 star review, Amanda. We are pleased that you chose one of our cabins for your honeymoon getaway. It sounds like you made the perfect cabin choice and we hope you will come back and celebrate your future wedding anniversaries with us. Congratulations from all of us at Elk Springs Resort!

Craig J.

Smyrna, GA

"Excellent Cabin "

The Cabin was wonderful. Very comfortable and relaxing. I will rent it again.

Manager Response:

We appreciate your business and wonderful 5 star review, Craig! We look forward to having you back for a future stay. Please take advantage of your 10% repeat guest discount at the time of your next booking. Hurry back, more memories are waiting to be made!

Angela J.

Wentzville, MO

"Great stay in a cute cabin"

We were happy with everything.

Manager Response:

We are delighted that you enjoyed your stay with us, Angela. We do hope you will visit Elk Springs Resort again in the near future. Please keep in mind, as a repeat guest you will receive 10% off all future bookings!

Bernadette H.

New Berlin, WI

"A Rustic Beauty"

The Lots of Lovin cabin was just perfect for the two of us, although it could accommodate 4. It was immaculate and had every modern convenience. We loved the large shower in the main floor bathroom as

…

well as the hot tub outside. It was only 10 minutes from Gatlinburg or Pigeon Forge. The Smokey Mountain National Park was also close by. We visited all 3 locations and had a nice time. Plenty of good food in the 2 cities.
The only thing I would change would be to add a cafe curtain on the kitchen window and give the cabin a different number address, as it was the same address as the cabin next door.

+ Read More

Manager Response:

We appreciate your review Bernadette and we are very pleased to hear that this cabin was perfect for the two of you. There are so many beautiful sights and attractions here, so the location is ideal for travelling to and from Gatlinburg or Pigeon Forge. We will certainly entertain the idea of the curtain for the kitchen window. As far as the physical address being the same as the cabin next door, our Elk Springs Resort signs are prominently displayed on or in front of our cabins to avoid any confusion as to whether you are at the right cabin or not. Thank you for bringing both of these issues to our attention. Customer satisfaction is very important to us and your feedback helps us to improve our services!

Cynthia

New Castle, DE

"Last Minute Get Away"

The Lots of Lovin' cabin was just right for a couple's get away. It was cozy and had all the right ammenities. Even though there were cabins on either side of us, on the back deck we felt completely s

…

ecluded. The cabin is perfectly located between Gatlinburg and Pigeon Forge so there was plenty to see and do. The local artisans were amazing and everyone we met was so friendly. A refreshing change from the hussel-bussel of the East Coast! We can't wait to return!

+ Read More

Manager Response:

Thank you for the 5-star review Cynthia. We are pleased that you enjoyed everything about your cabin getaway as well as the local artisans and attractions. We offer several larger luxury cabins, so be sure to bring the whole family along on your next adventure and upgrade to one of these. It's a great way to celebrate the holidays, a special occasion or just take some time off to rest and relax.

Joseph

Blacklick, OH

"June Vacation"

Nice little cabin with space in back for kids to play. Youngest loved the little hide room.

Jonathan

Mars Hill, NC

"Awesome Experience"

Our time here was amazing and relaxing! The house and all amenities were clean and in good working order. Very close to Gatlinburg, but far enough out for plenty of privacy.

William H.

Fort myers, Fl

"Unto These Hills - My Smokie Mountain Trip"

Wonderful time soaking in mountain coolness while relaxing in hot jet tub. Cable cars, ice skating, zip lining, horseback riding, hiking and shopping. So much to do with so little time. I shall return.

Beth R.

Columbus, OH

"Great get away"

First time visit, loved the cabin, we had a very nice relaxing time. Cabin was great, had everything we needed, very clean. We can't wait to come back!

Brian H.

Kannapolis, NC

"Lovely cabin"

We had a great time. The cabin is approximately 30 min from either Gatlingburg or Pigeon Forge. The staff from elk springs called to advise when cabin was ready and called again the second day to ensure everything was okay.

Hali P.

Franklin, Indiana

"Lots of Lovin Stay"

Perfect rental and experience!

Jonathan L.

Clairmont, FL

"Wonderfully Relaxing"

This was our honeymoon and our first vacation alone together. The rental experience was great, it was so easy! I loved that we didn't have to check in an office or anything to get into the cabin. We d

…

id have a mix-up with them having our correct cell phone number so they could call us when the cabin was ready; which was probably my fault. But it was so easy to contact them to get it all straightened out. We definitely had a wonderful, relaxing time!

+ Read More

Heather H.

Germantown, TN

"We loved Lots of Lovin'!"

We had a fabulous time staying in Lots of Lovin! The cabin is quaint and homey, yet has the modern amenities and upgrades that we love. We spent much of the cold weekend (record snowfalls for East TN

…

in October!) cuddled up on the couch in front of the fireplace. The kitchen was great for cooking breakfast each morning. We loved the jacuzzi tub as well. It was the perfect spot for our anniversary getaway! We hope to be back soon!

+ Read More

Mary G.

Austin, TX

"Lots of loving"

Great time

Brandi H.

Gatlinburg, TN

"Perfect Getaway"

Location was perfect. Loved the hot tub, jacuzzis and gas grill. Everything we could ask for.

Casey h.

Charlotte, nc

"Fabulous stay at Lots of Lovin!"

From the moment we drove up, I was very excited about this trip! I wanted to surprise my boyfriend with a few days away since neither of us get to have a lot of free time with our jobs, and this cabin

…

was absolutely perfect for relaxing. We went out in the hot tub every night just to talk and look at the stars (very visible !!), and spent our days exploring. We loved the grill outside as well, and definitely hit up the local grocery store to get some chicken and veggies for it! The one place we ate at was the Old Mill, which was about a 17 minute ride from the cabin, and omg. DELICIOUS. The corn fritters, guys. The corn fritters. It's a must. I loved the layout of the cabin though - very nice, great features, and it was just a peaceful time. We will definitely be coming back!

+ Read More

Sarah K.

Tarentum, PA

"Perfect. "

We could not have asked for a better experience! The location, cabin, and firepit/recreation area were perfection. I cannot wait to come back!

Brice

Georgetown, SC

"Weekend getaway"

Great weekend, perfect size cabin for two. Hot tub was a bonus! Good location outside of town.

Robert K.

Navarre, FL

"Great place to stay!"

We really enjoyed our stay at the cabin. Everything was clean and presentable and the place had a very nice feel to it.

Will

Searcy, AR

"Honeymooner's"

It was awesome! We really enjoyed the cabin and are definately considering coming back. It was cozy when it snowed and was 0 degrees. We had a great time!

Dylan V.

cicero, in

"Simply beautiful"

The cabin was cozy and the perfect size, not too big or too small. The hot tub out back was fantastic (especially after a long day of hiking) and the arcade appealed to the little kid in me. I was exp

…

ecting a lil more privacy and seclusion from the neighbors and the Wi-Fi would have been nice if it was working properly but this was still an awesome place to stay and I would highly recommend it to anyone looking for a place to stay while in beautiful Tennessee.

+ Read More

Andrew

Spring Hill, Tn

"Almost Perfect"

Overall my experience was amazing! The cabin was clean and well appointed. The driveway was a little tricky, but managable. My biggest complaint is that the advertised wood burning fireplace is actual

…

ly electric, but the outdoor firepit made up for the missing indoor fireplace.

+ Read More

Michael

Atlanta, GA

"Weekend Getaway"

Quiet and relaxing spot, with options to explore all around. Thank you!

Garry

Bloomfield, IN

"Lots of Lovin Cabing"

Enjoyed our mini vacation! The cabin was beautiful and very clean. The only thing we would do differently is request a cabin with a mmontain or water view. This cabin is located in a wooded area, s

…

o there is no view. But it is a fantastic cabin and the people at Elk Springs Resort were very helpful.

+ Read More

Rachel B.

Dehnam Springs, LA

"Great Time in the Smokies "

We had a wonderful time. The kids loved the fact that they didn't have to put quarters in the video machine.
Load More Reviews