Amenities:
Full Kitchen

Gas Grill

Hot Tub

Iron / Ironing Board

Parking

Theater Room

Washer/Dryer

WIFI
Enjoy your own private theater room with 9 foot screen in your luxury cabin just minutes from both downtown Gatlinburg and Pigeon Forge. You party will enjoy 3 private suites each with their own bath and a queen sleeper sofa in the Great Room.

Rated as our #1 secluded and private cabin!

Book this cabin during the charge of colors and you will be surrounded with a display of gold's and reds in you very own back yard.
Cabin Bedrooms Layout
Queen Suite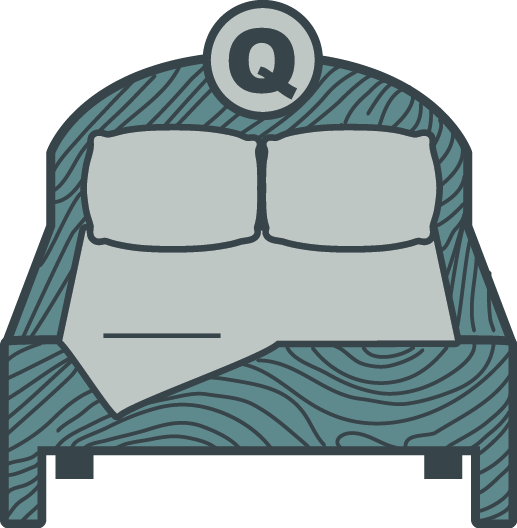 Queen Bed
Sleeps 2
King Suite 1

King Bed
Sleeps 2
King Suite 2

King Bed
Sleeps 2
Great Room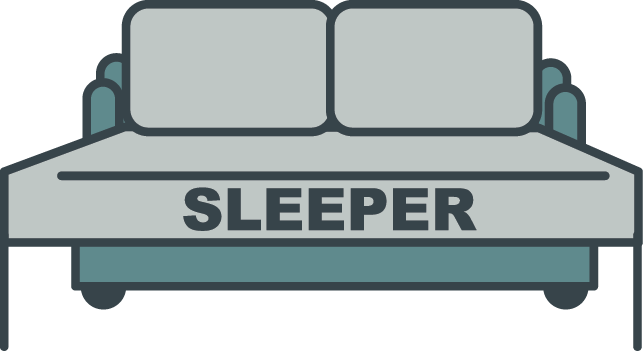 Queen Sleeper
Sleeps 2
Full Description
Wake up and relax on the covered deck and enjoy the beauty of the outdoors. Prepare breakfast for the kids in your fully equipped kitchen as they wake up for the excitement of the day on your family vacation. Don't want to cook? No problem, pack up the car as you are just 5 minutes from the famous pancake houses in Gatlinburg and about 10 minutes to the Mill Restaurant in Pigeon Forge.

Retire to 1 of the 3 master suites each with a full bath and each on its own level for ultimate privacy.

Stay in and enjoy movies, games of pool, the hot tub or just gathering in the great room or on the covered deck. You are just 10 minutes from Dollywood in one direction and 10 minutes in the other to the main entrance to the Great Smoky Mountains National Park.

End the evening by soaking in your private 100 degree hot tub while listening to the songs of the forest. You will feel like you have the tranquility of the woods all to yourself with no cabins anywhere in sight from the hot tub.

For your convenience a charcoal grill, FREE WIFI, FREE local and long distance, washer/dryer, iron and ironing board are included in this cabin
*** This Cabin is located 15 Minutes from Elk Springs Resort ***
Home Theater Room with 9 Foot Screen and Surround Sound
Pool Table
2 King Beds
1 Queen Bed
Jacuzzi Tub
1 Queen Sleeper Sofa
3 Full Baths
Fireplace (Electric)
Free WIFI
Full Kitchen
Washer/Dryer
10 Minutes to Dollywood
10 Minutes to Pigeon Forge
15 Minutes to Outlet Malls
5 Minutes to Downtown Gatlinburg
10 Minutes to National Park
10 Minutes to Grocery Store and Pharmacy
Calendar
Click your dates below to check in and check out
Available
Check In Only
Check Out Only
Selected
Unavailable
Photo Gallery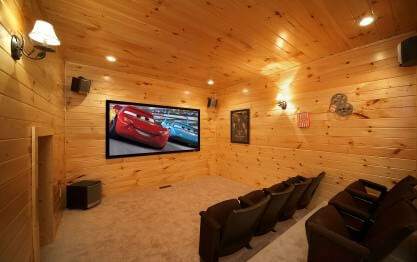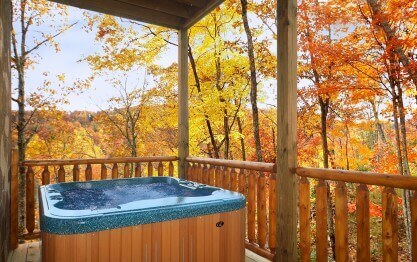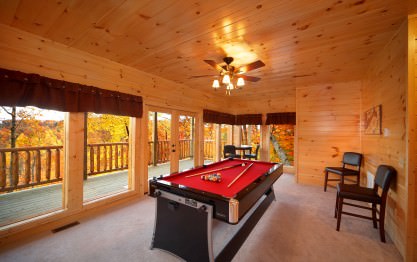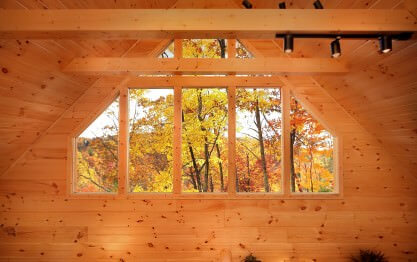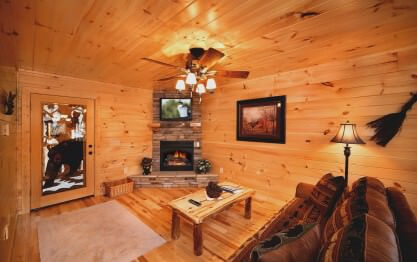 See All Photos
Reviews
Beverly L.

Antioch, TN

"Great Stay!!!"

I loved the cabin. My family would like to use the Elk Springs cabin again next year.

Manager Response:

Thank you for choosing Elk Springs Resort for your family vacation, Beverly. We love to hear how much you and your family enjoyed your visit with us! We would consider it an honor for you to come back and stay with us again. Please keep in mind, as a returning guest you will enjoy 10% off all future stays. Hurry back, new memories are waiting to be made!

Kanesha C.

Smyrna, GA

"Great Trip!"

This is my second time booking with Elk Springs Resort, and it was just as great as last time! The cabins were nice and clean. I would definitely recommend them to anyone.

Manager Response:

Thank you for your wonderful review, Kanesha. The best compliment we can receive is a return visit, thank you! We are happy to hear both of your visits were exceptional. We hope you will consider staying with us again during your next visit to our beautiful Great Smoky Mountains. Hurry back, new memories are waiting to be made!

Zachary

Lexington, SC

"Great stay at Living in Paradise"

The cabin was great! There was a lot of space and great amenities that helped with the stay and made it enjoyable. It was also a great price for what we got.

Mitzi D.

Chicago, IL

"Romantic Weekend Get Away!"

The first thing that caught my attention was the name of the Cabin. My boyfriend and I was celebrating our 1 year anniversary together and we wanted a place to just relax and enjoy nature. When we arr

…

ived at our cabin, it fit the description on the website perfectly. The location of the cabin was perfect. The view was serene and beautiful. The property is clean and well-maintained. They provide you with the essentials that you may need during your stay. I would definitely come back and stay at this cabin again. The awesome thing is that Pigeon Forge and Gatlinberg are short distances from the cabin. There is an array of Restaurants to satifsy whatever you are craving. One other thing I would recommend is to definitely take a day or two and explore the Smokey Mountains...From the cabin, you're only 3 minutes away from one of its many entrances. Enjoy your stay! :)

+ Read More

Manager Response:

Thank you for allowing us to be a part of such a wonderful celebration, Mitzi! We are thrilled to hear the cabin exceeded your expectations. We certainly agree, Living In Paradise offers the perfect location to enjoy easy access to all that our area has to offer. We are honored to hear you plan on coming back and staying with us again. Please keep in mind, as a returning guest you will enjoy 10% off all future stays. Hurry back, your next adventure awaits!

Adam G.

Oak Lawn, IL

"Great trip"

Beautiful cabin and well maintained.

Manager Response:

Thank you for your kind review, Adam! We are excited to hear you enjoyed your visit with us. We hope you will make plans in the near future to come back and stay with us again.

John R.

Purcellville, VA

"Nice place"

Perfecdt location!

Manager Response:

We are delighted to hear you enjoyed your visit! Spring is around the corner. It's a nice time to start thinking about a return trip to Gatlinburg. We hope to see you again soon!

Steve

Harvest, AL

"Awesome"

The Living in Paradise cabin was exactly that! It was a wonderful experience and we would definitely stay there again. It was very clean and easy access. Two minor details that should be addressed

…

for better feature. The cabin accommodates 8 people, and we had 6 staying there. There was room only for 3 people to sit on furniture (a single sofa) in the "den" area. A simple movement of the kitchen table/chairs 45 degrees would allow for more room to open up in the "den" area for a love seat or additional seats to be added. Something that should be considered for future guests. Also, hooks need to be installed in the bathrooms. If not hooks into the woodwork, at least a hook rack style that hangs over the top of a door. The rental staff was exceptional. Making us aware of the weather conditions so we could plan accordingly was so helpful. Their follow-up texts were appreciated.

+ Read More

Manager Response:

Thank you for your review, Steve. Customer Satisfaction is very important to us and we welcome your suggestions as a way to improve our guest services. The living room sofa is ready to be replaced and we are adding some extra seating at this time. Maintenance has also added clothing hooks in all of the bathrooms. Other than these two minor issues, it sounds like you thoroughly enjoyed your stay at Living In Paradise. We hope you will return for another relaxing cabin getaway very soon!

Jena

Christiana, TN

"Great for a long weekend with friends"

We had the opportunity to invite a few couples to come stay a long weekend with us in the cabin. It was great! Plenty of room for everyone and plenty to do even without leaving.

Manager Response:

We love to hear of such great get-aways. Thank you for allowing us to be a part of a wonderful weekend full of unforgettable memories! Please keep in mind, as a returning guest you will receive 10% off all future stays.

Tasha T.

Indianapolis, IN

"Living in Paradise on Halloween "

This cabin was very beautiful and roomy. There were bedrooms on every floor (3 story house) which made it nice to where if you needed to quite time to sleep the noise. Kitchen as well up-to-date, nice

…

flat screen TV's throughout the house. The theater room was one of the best rooms to watch movies, and the Notre Dame College Football game!!! The only bad thing was the bbq grill was very tiny and small not enough meat could fit on there, good thing Wal-Mart was not far went and purchased a small grill. We will be back next year as an annual trip.

+ Read More

Manager Response:

Tasha, we appreciate your nice review and thank you for being our guest! Your feedback certainly helps us to improve our overall customer service. We are pleased to hear that you enjoyed your stay and we look forward to having you back for a future stay!

Robert A.

Winamac, IN

"LIVING IN PARADISE CABIN"

We chose this rental as a central location for a family reunion. the cabin was awesome, just like the pictures show, it was perfect to sit out on the deck and catch up with everyone. Very clean and

…

beds were very comfortable, I would highly recommend this cabin to anyone.

+ Read More

Manager Response:

Thank you for the 5-star review Robert! It is our pleasure to provide you and your family with a luxury cabin getaway. It sounds like it was the perfect choice for memory making.

Danielle M.

Charlotte, North Carolina

"Truely living in paradise.! "

We truly enjoyed our stay at "Living in Paradise." Very, very, very clean and everything is up to date which we appreciated. All of the amenities we great. The kids especially loved the pool table and

…

theatre, while the adults enjoyed the back porch/rocking chairs and the hot tub! Also, it is right in between Pigeon Forge and Gatlinburg which was very convient We will definitely be renting this cabin again.

+ Read More

Manager Response:

Danielle, we really appreciate the 5-star review and love to hear that your family enjoyed their stay! We take great pride in our cabin cleanliness and we are pleased that you noted this. When you are ready to come back for another stay here, be sure to mention that you are a repeat guest and you can save 10% off your next booking!

Kanesha C.

Alpharetta, GA

"Wonderful"

The pictures didn't do the cabin any justice! It looked amazing and everything was nicely in order. I will definitely recommend this place and become a returning guest.

Manager Response:

Kanesha, thank you for sharing your cabin experience with us. Living In Paradise appears to have exceeded your expectations compared to what you saw in the pictures! When you are ready to book your next stay, be sure to mention you have stayed with us before and you will receive 10% off your next stay!

Paula

Elkmont, AL

"Absolutely Wonderful Vacation!"

This home is wonderful! We loved the theater room on the lower level, and it was great that each of the three levels had its own seperate bedroom and bathroom. The property description and pictures ar

…

e accurate. The cabin is easy to find and close to both Pigeon Forge and Gatlinburg. It's not too far from either city, yet it's quite and peaceful and removed from the noise of both cities. We even had a mother bear and four cubs visit our cabin twice during our stay! The cabin was very clean and comfortable. We experienced no issues during our stay. I must give praise to Elk Srpings Resort Cabin Rental agency on our stay at this cabin. We experienced two family deaths just days prior to our expected arrival at the cabin, and Elk Springs so graciously worked with us to shift our vacation stay to accomodate our unexpected tragedy. We are so very thankful to the staff at Elk Springs for all they did to help us still be able to enjoy our vacation time! We will definitely recommend this rental company in the future, and we will be staying at this lovely cabin again in the future!

+ Read More

Manager Response:

Paula, we appreciate receiving a 5 star review from guests like you! Please accept our condolences on your recent losses. We are pleased that your cabin getaway was all you hoped for and what a treat to get to see some bears too! We look forward to having you back for many return visits to The Great Smoky Mountains!

Jeff E.

Eupora, MS

"The 2015 Ellis Vacation"

Had a wonderful experience at Living in Paradise. It was a very clean and maintained place. We did have some minor issues such as smoke detector with low battery but they were there ASAP to fix it.

…

The area was great since it was situated between Gatlinburg and pigeon forge along with being a nice height up the mountain. Wildlife was great as we got to see coons and a family of bears. I would highly recommend this place and the Elk Springs Resort company in general.

+ Read More

Manager Response:

Thank you for sharing your memorable experience with us! We appreciate you giving us another 5-star rating. This is what sets us apart from the others. We pride ourselves in our cabin cleanliness and excellent customer service. Maintenance response time is usually 30 minutes or less. We look forward to having you back as our guests in the future.

Lisa

Pandora, OH

"Great Place!"

We enjoyed our time. Pleasantly surprised that the cabin was exactly as the websites pictures portrayed. Good location, central to many things to do. The drive up the hill to the cabin was beautiful. Clean. We will be staying again!

Jennifer

Arlington Heights, IL

"Living in Paradise"

Cabin was very clean and in great condition when we arrived. We thoroughly enjoyed the hot tub, kitchen and large kitchen table. Great for a multi-family or large group stay. Would stay here again!

Chantelle B.

Louisville, KY

"AWESOME CABIN! "

I'll most defiantly be staying here again. High in the mountains. Privacy indoors and outside. Great layout. Open for plan for plenty of room to move around. I think the game room needs a little

…

bar table. Just so others can be apart of the festivities comfortably. BUT I STILL LOVED THIS CABIN.

+ Read More

Cori

,

"Great Cabin for family and friends"

We spent New Years at this cabin with 3 families. The kids had a great time playing in the theater room and game room with the pool table. Cabin was very clean and appreciated the extra step Elk Sprin

…

gs takes by cleaning all linens on the bed, including the comforter! Bed are very comfortable and I would recommend this cabin for your vacation in Gatlinburg.

+ Read More

Shane B.

Lowndesville, SC

"Love the cabin"

We really enjoyed the cabin we come 3-4 times a year and we will different be staying with yall again

Beth

Deleware, OH

"Truly Living in Paradise"

This is our second time staying with Elk Springs and it was fabulous! Loved this cabin. Very spacious and the location between Gatlinburg and Pigeon Forge was ideal. As with our previous cabin, it was spotless! Thank you for another wonderful stay!

Robert

Belvidere, IL

"We had a great stay at Living in Paradise"

I stayed in the house with my 11 year old son and 8 year old daughter. Plenty of room for only three people. We each had our own floor! The house was clean. The location was great for visiting Pi

…

geon Forge, Gatlinburg, or getting on the bypass to head to Great Smoky Mountains National Park. The kids loved the theater room. Blue ray, DVD and YouTube got a workout. We would definitely rent Living in Paradise again.

+ Read More

Pippa S.

Hartinsburg, KY

"Living in Paradise cabin - true to its name!"

The cabin was our getaway for extended family, including adults and middle sized children, to one toddler and an infant. There was enough room for everyone to sleep, get away from each other when des

…

ired, yet hang out together much of the time. The central kitchen, dining room and family room were almost as much of a hit as the theater room, decks and pool room!!! We all agreed it was everything we wanted and more! Located between Pigeon Forge and Gatlinburg, we could easily go either direction for fun. I would definitely like to stay there again.

+ Read More

tina l.

princeton, WV

"Awesome!!"

My husband and i were truly amazed by this cabin! We have been looking for a quiet place to get away from it all for a while now. this was perfect for us! Beautiful inside and out!! Very clean. Had ev

…

erything we needed. We loved the theater room. Amazing! There were 2 tv's that we couldnt get cable on but i think that was due to us not being technologically inclined. LOL! We had to us another entrance other than the front door when we went out. We should have called to have it checked but it was a minor inconvenience compared to this amazing cabin. Our stay was wonderful and much needed. thank you for allowing us to stay!

+ Read More

Samra

Roanoke, VA

"New home away from home"

Everyone in my group of 7 has a little bit of OCD and we all loved this cabin. It was very clean and spacious. We used all of the amenities and loved it all. The "theater" was a great addition. We had

…

a little one with us and he absolutely loved watching his cartoons on a big screen. However, it could benefit from a bigger grill and possibly a new pool table. Also the driveway was a little steep but plenty of room to turn around if you are not comfortable backing out. This will definitely be the cabin we all rent again.

+ Read More

Cory

Hixson, TN

"Amazing!"

This was a wonderful cabin at an even better rate. Had a great time and enjoyed the privacy!
Load More Reviews