Amenities:
Full Kitchen

Gas Grill

Honeymoon

Hot Tub

Iron / Ironing Board

Mountain View

Parking

Washer/Dryer

WIFI
Spectacular views of Mount LeConte, conveniently located in the Arts and Crafts Community, just 6 minutes from the Gatlinburg Parkway, minutes to the main entrance of the Great Smoky Mountains and Dolly wood - it's true - Life's A Bear!!! Just a perfect place to spend some time, Life's A Bear is a great combination of on sight luxury and convenient location to most attractions. Morning coffee on your balcony or deck with the mountains greeting you and evening fun in your hot tub on a starry night.
Cabin Bedrooms Layout
Master Suite 1

King Bed
Sleeps 2
Master Suite 2

King Bed
Sleeps 2
Great Room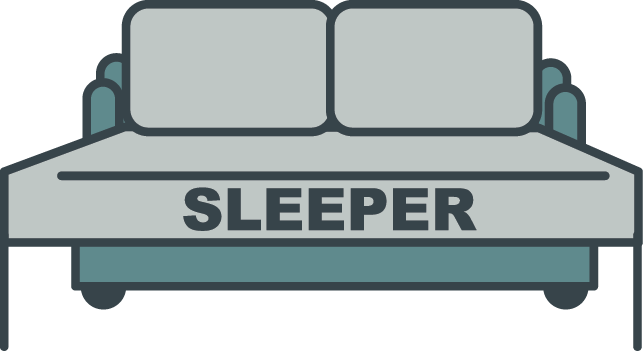 Queen Sleeper
Sleeps 2
Full Description
Enter this beautiful Gatlinburg Cabin Rental and note the dramatic Great Room with vaulted ceilings and walls of glass providing you with beautiful views. Comfortable furnishings encourage gatherings with a full sized sofa and love seat to comfortably seat 4-5 adults. The sofa converts to a queen sleeper sofa for additional sleeping spaces.

Relax in front of the gas fireplace as you enjoy Cable TV or a movie on the DVD player and flat screen TV. The fully equipped kitchen includes all the cooking utensils and dinnerware you will need as you plan full course meals or light snacks - and, don't forget the grill! Very comfortable dining space is provided with a beautiful round table and individual seating for 6 guests.

The first floor features a beautifully furnished king bedroom with a tub/shower combination bath with hallway access.

Head upstairs in this Gatlinburg cabin to the second floor king master suite which offers a private tub/shower combination bath for your convenience.

For your enjoyment and comfort, both bedrooms are equipped with cable TV and DVD players plus ceiling fans.

Just outside the second floor bedroom is the loft game room - not only a pool table but a pub table and chairs too. Ah, yes, Life's A Bear ? you'll be a cub by the time this getaway is over!
*** This Property is located 5 minutes from Elk Springs Resort!
Views of Mt. LeConte
Outdoor Firepit
Hot Tub
Pool Table
FREE High Speed Wireless Internet
2 King Master Suites
Charcoal Grill
Electric Fireplace
Washer/Dryer
Comfortable Dining seating for 6
Covered Deck / Porch
Full Kitchen stocked with Cookware and Utensils
4 TV's
3 DVD Players
6 Minutes to Downtown
5 Minutes to Greenbrier Entrance to the National Park
20 Minutes to Dollywood
2 Minutes to the Arts and Crafts Community


Calendar
Click your dates below to check in and check out
Available
Check In Only
Check Out Only
Selected
Unavailable
Photo Gallery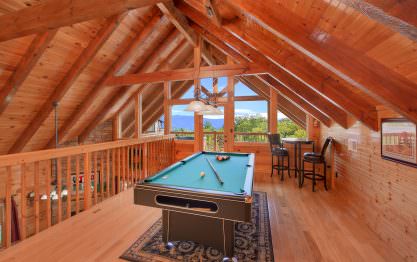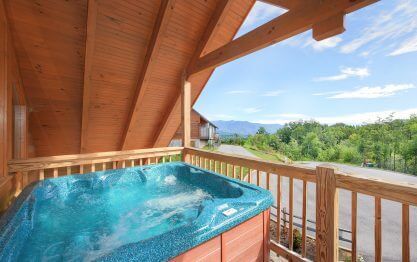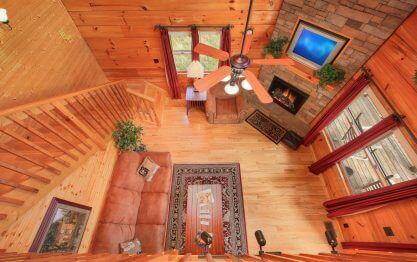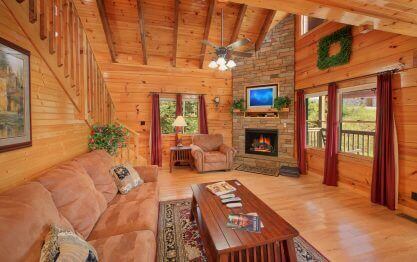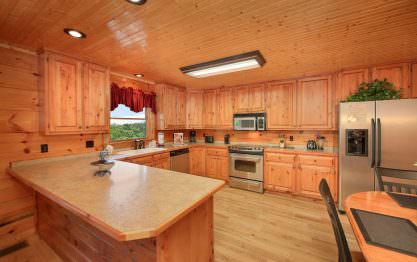 See All Photos
Reviews
Richard B.

Tuscola, IL

""Great Stay""

The cabin was more then we expected and made our stay in the area a memorable vacation experience.

Manager Response:

We are excited to hear we exceeded your expectations, Richard! You certainly chose the perfect cabin to experience a true dream vacation. We hope you will consider staying with us again during your next visit to our Great Smoky Mountains.

Angela T.

Jacksonville Beach , FL

"Life's A Bear- Exceeds Expectations"

The cabin was awesome. Clean and cozy. Plenty of space. We loved the fire pit!

Manager Response:

Thank you for your review! We are so happy that we exceeded your expectations. We hope that you come back to stay with us again! Please take advantage of our "return guest 10% discount" on all stays booked in the future.

Ivy S.

Daphne, AL

"We had a wonderful time and the cabin was perfect!"

Easy check in and out and handled all of our needs perfectly.

Manager Response:

Thank you for your wonderful review, Ivy! We are delighted to hear you enjoyed your stay. We enjoyed having you as our guest and hope you will make plans to stay with us again!

Tina P.

Sutherland, VA

"Awesome cabin & great location "

Two king beds was a plus with this cabin, enjoyed our stay very close to grocery store and just outside of Gatlinburg not too far from downtown. Loved the swings with fire pit outside another plus! Ju

…

st overall a great experience the staff was on top of things from the time we scheduled our stay until checkout stayed in contact to make sure we had everything we needed and texted back right away great communication! We will definitely be back to book another cabin with Elk Springs Resort and recommend them to all our friends ??

+ Read More

Manager Response:

We love our guests! Thank you for allowing us to be a part of such a wonderful experience, Tina. We are excited to hear how much you enjoyed your stay. We certainly agree, Life's A Bear was built to entertain! It is the perfect cabin to relax and enjoy all that nature has to offer. We hope you will make plans to come back and visit us often. Please keep in mind, as a returning guest you will enjoy 10% off future stays. Hurry back, the Smoky Mountains are calling!

Hassan T.

Jamaica, NY

"Wonderful stay"

Enjoyed every moment at this fantastic property

Manager Response:

We are delighted to hear you had such a wonderful stay, Hassan! We enjoyed having you as our guest and hope you will make plans to come back and visit us often.

Amy K.

Coatesville, IN

"Great Family Vacation!"

This cabin easily accommodated 4 adults and two children. There was plenty of room for all. We especially loved the outdoor firepit!

Manager Response:

We are delighted to hear you and your family had a wonderful visit with us, Amy! Life's A Bear is the perfect cabin to simply relax and get away from the demands of everyday life. We hope you and your family will make plans to come back and stay with us as often as you can. Hurry back, new memories are waiting to be made!

Emily A.

Dayton, OH

"A great 4th of July get away"

We had a great time, will def chose Elk R for our yearly Gatlinburg trip from now on :) ...... The keyless entry was great

Manager Response:

Thank you for allowing us to be a part of such a wonderful celebration, Emily! We are thrilled to hear you enjoyed your stay. We hope you were able to enjoy some of the exciting festivities going on in town during your visit. We are honored to hear you plan on making Elk Springs Resort part of your annual Gatlinburg tradition. Please keep in mind, as a returning guest you will enjoy 10% off all future stays. Hurry back, your next adventure awaits!

Sam H.

North Bend, OH

"Great Smokey Mountain Trip"

It was great! Everyone was kind and curtious. From Elk Spring to even the cab that we used. Had an amazing time ! We will definitely be back !

Manager Response:

Wow! We are excited to hear that you had an exceptional stay. We believe in providing you with a top-notch, luxury cabin, while extending our finest southern hospitality. We want you to feel at home during your visit. We hope you will take the opportunity to come back and visit with us as often as you can. Your next adventure awaits!

Travis H.

Arlington, TN

"LOVED Life's a Bear!"

My wife and I had a fantastic time! The cabin was easy to find, clean,very roomy and we had everything we needed. The hot tub and pool table are a nice touch. The location was close enough to town y

…

et just far enough away. Thank you so much for allowing us to use the cabin.

+ Read More

Manager Response:

Thanks so much for your review! We appreciate the positive feedback and always look forward to hearing from our guests!

Gloria E B.

Worth, IL

"Beautiful Getaway! "

Our cabin was all I expected and more. My family and I had a wonderful time on Life's A Bear cabin and can't wait to go back. Thank you Elk Springs Resort for making our stay magical!

Manager Response:

We are excited to hear that the cabin exceeded your expectations. We specialize in providing luxury cabins that you will fall in love with time and again. We hope you will consider making Elk Springs Resort part of your vacation plans when visiting our area. Come back and see us again soon!

William H.

Smyrna, GA

"Great weekend getaway"

Stayed in "Life's a Bear" which had a beautiful view and the property was very well-maintained.

Manager Response:

Thank you for your business and for sharing your 5-star review with us, William. We are pleased that you enjoyed your weekend getaway at this lovely cabin. We hope you are already planning your next vacation with us. Be sure to mention that you have stayed with us in the past and you will receive a 10% return guest discount!

Corey

Belmont, NC

"A Peaceful weekend getaway"

We loved how secluded and peaceful this location was. We spent most of our time in the hot tub and by the outdoor fire pit. Very spacious cabin, plenty of room for 4-8 people to stay comfortably.

Linda L.

Oliver Springs, TN

"The HENS 3 rd annual getaway"

This was the 3 rd time we had stayed in your cabin.
Of course we had a blast. I hope next year to get a cabin that blows
Out heat from the fireplace. Our microwave did not work. The kitchen…r/>Needs to be supplied with more dishes, etc. ( bowls,plates,pitcher,etc).
I slept in the bedroom downstairs. The mattress had a dip on my side,
Which caused my back to hurt. I can say the laughs,friendship
Of 6 girls of 58 years overcome Al of these issues! We made the
Best of it! We hope to meet again next year if it is the Lords will.

+ Read More

Jennifer

Flushing, ml

"Awesome Getaway"

We had a wonderful time visiting Gatlinburg and it was nice to come back to our spacious cabin that felt a little better than home.

Manager Response:

Thank you for the great review Jennifer! We pride ourselves in providing a home away from home for you with our luxury cabin rentals. We look forward to having you back again soon. Be sure to use your 10% repeat guest discount when booking your next stay with us.

Jennifer E.

TROY, AL

"Absolutely loved it! "

Wonderful location easily accessible from downtown gatlingburg. Clean and modern.

Elanna B.

Farmington Hills, MI

"Couples Getaway"

Beautiful! It looked just like the pictures. The cabin is well taken care of, clean, and spacious with nice appliances and furnishings.

Amanda T.

Troutman, NC

"Wonderful experience!"

we stayed at the Lifes A Bear cabin for a weekend and we had a fantastic time! The cabin was very clean as well as the hot tub. Clean up was super easy for us. Customer service was very helpful and friendly!

Shannett M.

West Memphis, AR

"Relaxing getaway"

Beautiful cabin and great customer service

Marie L.

Houma, LA.

"Life's a bear."

At Elks spring resort. We experience some wonder things. This was suppose to be a family vacation,but my stepson couldn't make it so he missed out. The cabin was nice in size since we were short a me

…

mber in our group. We did discover the homey feeling when we got there so that was a plus,the sz. of the rooms were great. Master being down stairs for me was a plus,but I missed out on the hot tub. But it all made up for it when to our surprise it snowed. Coming from the south we don't see much of that and that was one of the things we were looking forward to. But it took us by surprise when it did so we ran out about 11:30 are so it was really late but we didn't care. During the day we were 10-15 minutes from the cabin. But u will have go to get to experience of those the wonderful views. If I go again I'll be at Elk Springs because I was able to experience a special moment with my family that will last a lifetime and I'm great full for that. We were higher up in the mountains that we thought we'd be but it was worth it.

+ Read More

Johanna D.

Iron Station, NC

"A fabulous Last Minute getaway. "

The cabin was in a perfect location, close to a quick store run, as well as to the main entertainment of Tennessee. The cabin was emaculate with easy entry. The cabin was spacious and well laid out.

…

The pool table was great and hot tub fabulous. We will defiantly be returning soon.

+ Read More

Lane P.

Marietta, GA

"Very nice cabin and location."

Enjoyed our stay. Would go back.

Leon M.

Pensacola, FL

"Gatlinburg visit 2015"

Clean, comfortable and conveniently located. We wanted to be away from any noise and lights yet close enough to reach within minutes.

Aimee S.

Pooler, GA

"Serenity at its best"

We went to the mountains to celebrate a milestone birthday and take in some skiing. This trip will remain in our memories for many years to come. The cabin was nestled at the top of the mountain and a

…

ll we could see was snowy woods- absolutely beautiful. We will be back to enjoy this special place.

+ Read More

Tiffany L.

Thurmont, MD

"Two Thumbs Up, Five Stars, Excellent Stay, Beautiful View!"

Had a fantastic time. The house was beautiful! It was far enough away to get the, out of town feel, yet close enough to the city to experience that as well. Restaurants were great, tons of things to s

…

ee and do, cabin was perfect. Perfect romantic getaway OR fun for the family. The young ladies from Elk Springs were very nice and helpful and very attentive to our needs. They were a pleasure and really helped in booking a last minute getaway. I would recommend this cabin to anyone and everyone and have already done so!


+ Read More

Laura R.

Bardstown, KY

"Life's A Bear"

Beautiful cabin in the Arts and Crafts Community. Quiet with 2 other cabins on a dead end street. 10 minutes from town/grocery. Huge firepit with swings were a wonderful at the end of the day. The dec

…

ks are on the front of the cabin. Would have enjoyed having one on the back to enjoy the tree views. Customer service was outstanding! Loved not having to check in at an office. Our keycode was texted to us prior to arrival. I would stay here again on a future visit.

+ Read More

Tanya

Miami, FL

"breath taking experience "

I was amazed at the cleanliness and location of the cabin. My first time to the moutains so to say the least I was both scared and amazed at the awesomeness of God's had work. Another thing that stood

…

out to my family and I was the spirituality and Christianity of the residents. We ra rely entered a store that did not have something about God. Very patriotic community. Loved it but my children loved it more. Five stars from the flat land beacheck crew from Miami. We regret that we bib not know how to start a fire. Our fire lasted long enough to take a picture. We came home with our camp fire marshmellow kit. Hiking in the great smoky moutains was challenging and amazing. Every bone in my body was hurting the next day. I only wished that I could have stayed longer.

+ Read More

Kimberly L.

San Marcos, TX

"First time in the Smokey Mountains"

Peaceful and relaxing

Mark M.

Smithville, MO

"Life's a Bear"

Awesome except view

Pamela

Murfreesboro, Tn

"Life's A Bear relaxing weekend"

Thanks to your customer service for helping me find this cabin!! This place was perfect for our first experience in renting a cabin. With two bedrooms and two bathrooms this cabin was perfect for our

…

family plus one. The kitchen had all the cookware we needed for preparing our meals during our stay. We enjoyed the hot tub and the pool table during our stay. the cabin and furniture was clean and well maintained. Definitely would stay at this cabin again.

+ Read More

Kelvin V.

Manassas, VA

""Life's A Bear" Cabin Rental - Elk Springs Resort"

Elk Springs Resort is the best placed we have ever stayed and we've stayed in a lot of places! The 2 bedroom 2 bath cabin was rustic, large, and comfortable as well as luxurious. We had everything we

…

needed in the spacious kitchen and the outdoor hot tub was an extra bonus, along with the pool table in the loft area. You won't be sorry for staying with Elk Springs Resorts!

+ Read More

Jewel P.

Marietta, GA

"relaxing getaway"

The cabin was beautiful. Every amenity was provided. Staff was exceptional and provided excellent customer service. I would love to make Elk Springs Resort cabins an annual destination.

Norm K.

Ontario, Canada

"Best vacation ever!!!!"

Clean cabin , beautiful view. All the amenities of home plus more. Very near downtown Gatlinburg and entrance to national park . Can't wait to come back - 3 nights not long enough!! Do yourself a favo

…

ur - book with elk springs resort . This was the best family vacation we ever had . Quiet and private . Did I mention the view !!! My only wish is that there was a place to go for questions and reservation arrivals rather than all by phone. They were polite and helpful by phone though.

+ Read More

Charles Eric W.

Smiths Grove, KY

"Stayed at Life's a Bear and it was AMAZING!! "

The cabin was beautiful, everything worked properly, very clean...we loved it!!!

Mark T.

,

"Had a great time"

Cabin was clean, was centrally located, and had nice appliances and amenities. Would definitely stay there again.

John Paul

Nashville, TN

"life's a bear all relaxed now!"

Perfect

Hana I.

Nashville, TN

"Elk Resort Was Awesome!"

I was impressed wight he Cabin, the quality of the furniture, cleanliness and view of the cabin. As we arrived, the water the jaccuzzi was filled with warm water. The area was safe and had our own pri

…

vacy and security lock at the door. My parents were visiting and were impressed!

+ Read More

Phillip J.

Crestwood, KY

"Nice cabin, nice location, nice getaway"

My family and I had a wonderful stay. Very quiet and a very clean cabin. Only issue is that the hot tub is on the front balcony, could be located at a more private location.

Robyn S.

Dearborn, MI

"Great place!"

Perfectly awesome!

Ruth S.

Newburgh, IN

"Beautiful Smokies Weekend!"

The perfect weekend retreat. We were a bit apprehensive booking a mountain cabin in late February but the weather was perfect and the location was lovely. We enjoyed the fireplace and the hot tub eac

…

h night. We planned to eat in the first evening and had brought everything needed to prepare a meal. Although the kitchen included most things needed there were a few item missing that should have been available. Hot pads to get hot items from the oven and a nice bowl to serve a salad in would have been appreciated. Otherwise it was a very comfortable stay. We would like to return and would certainly book this cabin again.

+ Read More

John

Scottsboro, AL

"View to a victory"

The turn off was it was hard to locate. However, the beast was the customer service in helping us locate the cabin. It was clean, the view was great and we had a great time.

Shelly Z.

Blue Island, IL

"happy sleeper"

We enjoyed the view and location of our cabin. The main strip through town was not to far and the local grocery store was even closer. We would recommend it to family and friends.

Gail

Massillon, OH

"Life's A Bear Review"

The cabin was very clean, and it had a nice view. We enjoyed our stay, and we would recommend the cabin to our friends.

Jennifer

Kennedyville, MD

Shannon

Woodbridge, VA

"Elk Springs - FLAWLESS "

We have stayed with Elk Springs resort properties three times now and have never had any issue with the resort staff. The check-in is super easy and the responsiveness to questions is same-day which

…

is great - even for the trivial questions like internet access, etc. They even helped us when we were lost!

The property was gorgeous; the cabin was in great condition and the location was beautiful. We loved staying near the local crafts community and right outside of Gatlinburg - access to the park was a 10-minute drive.

+ Read More

Latonya S.

Talladega, AL

"Great Cabin!!!"

My family & I really enjoyed our stay in Life's a Bear.

James I.

Ocala, FL

"Vacation 05-13"

Very clean and specious. Beautiful scenery loved it, had a great time.

Wendy C.

Caledonia, MI

"Loved the cabin!"

We spent an enjoyable week at "Life's A Bear" cabin at Elk Springs Resort. The check in process was so easy and the cabin was spotless when we arrived. The views and amenities are great and we felt

…

the price was fair. The views from the front porch and deck were fantastic. We also like the location tucked up in the mountains, yet just a few minutes from restaurants, groceries and downtown Gatlinburg. I'd highly recommend Elk Springs!

+ Read More

Linda H.

Crestview Hills, KY

Troy T.

Beverly, OH

"Thanksgiving Weekend"

Renting from Elk Springs Resort was very simple. Actually I never did phsically speak to anyone, and everything went according to plan. I would highly recommend this resort property to anyone coming to the Gatlinburg area.

Jim

Wheatley, ON

"Stress free"

It was the most relaxing and enjoyable accommodations we have experienced. The cabin had everything we needed and more. We can't wait to return. Thank you so much.

Load More Reviews