Amenities:
Full Kitchen

Gas Grill

Hot Tub

Iron / Ironing Board

Parking

Sauna

Theater Room

Washer/Dryer

WIFI
A premier luxury cabin with home theater room and sauna. You'll enjoy 3 king suites each with a jacuzzi tub and 2 with rain showers. The kids will enjoy the queen over queen bunk room with private bath. This cabin is about family and gathering as it was designed specifically with 2 main spacious gathering areas where adults and kids can congregate together -or- spread out so the adults can have a space to themselves while the kids play in the lower level.
Cabin Bedrooms Layout
Main Level King Suite

King Bed
Sleeps 2
Upper Level King Suite 1

King Bed
Sleeps 2
Upper Level King Suite 2

King Bed
Sleeps 2
Lower Level Bunk Room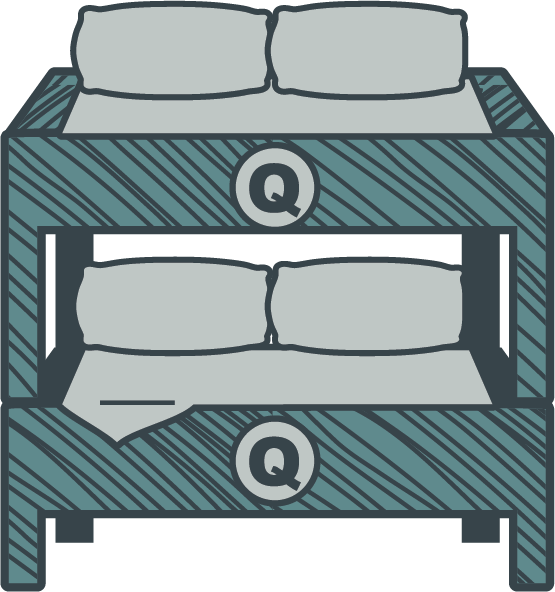 Queen Bunk
Sleeps 4
Lower Level Sitting Area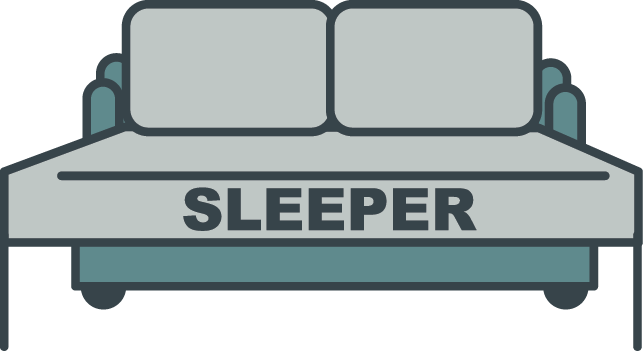 Queen Sleeper
Sleeps 2
Full Description
The great room with 28 foot floor to ceiling windows and center fireplace is the main area to gather in the Lazy Daze Lodge in Gatlinburg, TN. Plenty of room to spread out on the sectional couch as well as the adjoining dining area and breakfast bar. The fully equipped kitchen is perfect for preparing meals right in your cabin....and don't forget the gas grill just out the dining room door.

When you and your group are looking for some recreation, enjoy the the pool table and air hockey table, or relax in the indoor sauna on the lower level. Plus, there is a 9' screen in the theater room with theater seating and surround sound -- just another great addition to this 4 bedroom cabin. Enjoy the hot tub on the deck and sit in one of the 8 rockers on the decks surrounded by nature. Or maybe soothe the stress right of you in the sauna cedar lined sauna room.

The main level master suite has romantic decor complemented by the adjoining bathroom's jacuzzi, stand up shower and double sinks. The upper level has 2 king master suites with jacuzzi tub and rain showers. There is also a loft sitting area on the upper level tucked next to more beautiful windows so you can steal away and have some quiet reading time.

The lower level has 1 queen over queen bunk bedroom, a full bath, pool table, air hockey table, game table and wet bar plus a queen sleeper sofa. There is also a flat screen TV to watch while playing games or stretching out.

When you wake up each morning, you'll feel revived by the tranquil setting. Just sit back on one of the rockers on the covered wrap around deck to soak in the great smoky mountains. You can truly have lazy days while living in this luxury amongst invigorating surroundings.


Theater Room with 9' Screen
Dolby 5.1 Surround Sound
6 Reclining Theater Seats
Hot Tub
Sauna
3 Jacuzzi Tubs
Pool Table
FREE High Speed Wireless Internet
Gas Fireplace
8 Rocking Chairs
6 TV's
6 DVD Players
Washer/Dryer
Gas Grill
Calendar
Click your dates below to check in and check out
Available
Check In Only
Check Out Only
Selected
Unavailable
Photo Gallery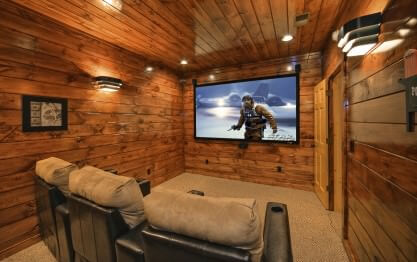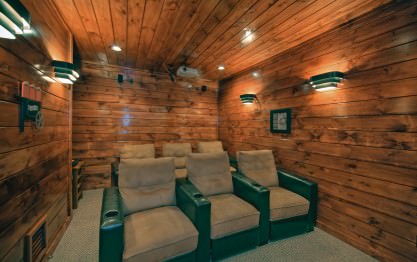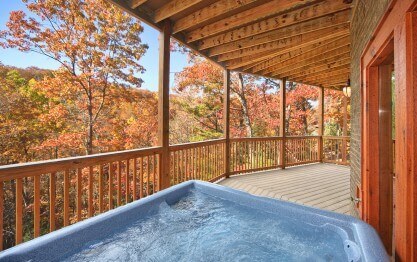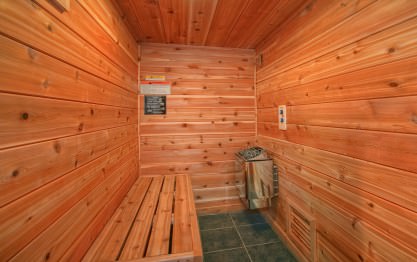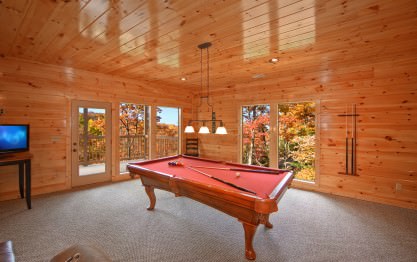 See All Photos
Reviews
Jason S.

Dalton, GA

"Great weekend getaway!"

A large, yet cozy cabin big enough for the whole family. Plenty of entertainment for the kids as well as adults. Great location, convenient to Gatlinburg and Pigeon Forge. Very clean and neat. Would definitely stay here again.

Manager Response:

Thank you for your wonderful 5 star review, Jason! We are pleased that you and your family enjoyed your stay at Lazy Daze Lodge. You certainly chose the perfect cabin to relax and create lasting memories together. We hope you will make plans to visit again very soon. Please keep in mind, as repeat customers you will enjoy 10% off all future bookings. Hurry back, new memories are waiting to be made!

Uday K.

Alpharetta, GA

"Clean and Neat"

It was very good property and we have enjoyed a lot. I will refer to my friends and family members. Thanks!!

Manager Response:

Thank you for your wonderful review, Uday! We are happy that you enjoyed your stay at Lazy Daze Lodge this weekend. We appreciate all recommendations and we hope you will join us again very soon!

Michael T.

Mason, OH

"Fall Retreat for the Family "

Everything was great this was our 5th stay with you. We really enjoyed it, we always will use you for our Gatlinburg getaways!

Manager Response:

Thank you for your loyalty to Elk Springs, Michael. We are so delighted that you and your family were able to join us again! Lazy Daze Lodge is definitely has plenty for the entire family to enjoy. We hope you will join us again very soon!

Elizabeth G.

,

"Gatlinburg Getaway"

Very nice time!!

Manager Response:

We are ecstatic that you had such a great time at Lazy Daze Lodge! We hope you will consider joining us again during your next visit to The Great Smoky Mountains!.

Calvin L.

Derma, MS

"Top Notch!!"

We've been visiting the Smokies for 25+ years and Lazy Daze Lodge is by far the best cabin we have rented. Will be back!!

Manager Response:

We love to receive reviews such as yours, Calvin! We strive to make each visit truly memorable by offering exceptional, luxury cabins along with extraordinary customer service throughout every aspect of your stay. We enjoyed having you as our guest and would consider it an honor for you to stay with us again. Please keep in mind, as a returning guest you will enjoy 10% off all future stays.

Sandreanie S.

Woodbridge, VA

"Amazing Daze"

I rented the Lazy Daze Lodge as a surprise to my fiancÚ for his birthday along with a couple of our closest friends. The pictures did not do the cabin justice. The space and environment was amazing. E

…

verything from the living area, to the kitchen, theater room and bedrooms were comfortable and beautiful. The Elks Spring Resort Representatives were very helpful and informative by calling, texting and emailing every step of the way before, during and even after we arrived.

The only downside to our whole weekend was the fact we did not stay long enough!

+ Read More

Manager Response:

Thank you for the nice 5-star review! We are pleased that your surprise trip for your fiance' turned out even better than expected. We hope you can return soon for a longer trip and bring along some more friends!

Dana P.

Germantown, TN

"Wonderful cabin. Plenty of space for 4 adults and 4 children. "

We had a wonderful time at the Lazy Daze Cabin. It was everything as described. Property was clean. Great customer service. We had to call for trash pick-up 2 times ( we cooked all meals so there

…

was an overflow of trash) and it was picked up within the time frame indicated. We loved it and will be back!

+ Read More

Manager Response:

Thank you for taking the time to share your wonderful experience with us, Dana! We love to hear how much you enjoyed your stay. We enjoyed having you as our guest and hope you will consider making Elk Springs Resort part of your holiday plans for many years to come! Please keep in mind, as a returning guest you will enjoy 10% off all future stays. Hurry back, new memories are waiting to be made!

Aaron

Bloomington, IN

"Lazy Daze Lodge Family Vacation"

We had a great experience. The staff started making sure we were ready for our vacation by sending us emails, texts and even phone calls to make sure we knew how to get to the cabin and that our stay

…

was going great; great customer service. The cabin was great for our family of 12 and everyone had their own space to take advantage of the relaxing time!

+ Read More

Manager Response:

Thank you for your 5-Star review, Aaron! We are excited to hear you enjoyed your stay. We take pride in providing exceptional customer service during each aspect of your stay. We enjoyed having you as our guest and hope you will consider staying with us again during your next visit to Gatlinburg. Please keep in mind, as a returning guest you will enjoy 10% off all future stays. Hurry back, new memories are waiting to be made!

Michelle

Birmingham, AL

"Great Cabin!"

Family getaway for Christmas in the Smokey Mountains! We had a great time and the house was perfect!

Manager Response:

Thank you for allowing us to be a part of your family vacation, Michelle! We certainly agree! Lazy Daze Lodge is a wonderful cabin and perfect for a family getaway. We do hope you will consider Elk Springs Resort for a future stay. Please take advantage of your 10% repeat guest discount at the time of your next booking! Hurry back, more memories are waiting to be made!

William R. M.

Corolla, NC

"Bill + Kids Vacation"

Excellent. Great hot tub, spa, and theater room.

Manager Response:

Thank you for choosing Elk Springs Resort as your vacation destination! We appreciate your business and positive feedback. Glad you enjoyed the cabin as well as all the amenities it had to offer!

Michael P.

Mableton, GA

"Awesome!!"

EVERYTHING was as advertised. I surprised my wife for her 30th Birthday with 10 friends that came from all over. We had a blast!!! FYI 2 days is not enough

Manager Response:

Thank you for the 5-star review! What a great birthday surprise, Michael! I think you made the perfect cabin choice for your wife's celebration. We are pleased that everyone had a great time. We would love to have you back for a future stay. Our repeat guests receive a 10% discount off their next stay with us!

Jeniffer

Chapel Hill, TN

"Lazy Daze Lodge"

The staff was great. Could have had a later check out time with the amount you pay to stay here.

Manager Response:

Thank you for your review, Jeniffer. Late check outs are available upon request and we are usually very accommodating with this by giving you an extra hour or two without an additional charge. Please understand that we have to have a set check out time in place to allow our housekeeping staff to have ample time to clean each cabin. Customer service is very important to us and we appreciate your feedback telling us that our staff was great and that you enjoyed your cabin vacation experience!

Gladys W.

Baton Rouge, LA

"Our stay was Great and the cabin was immaculate!"

The cabin was roomy, clean, spacious, immaculate and enjoyable!!!
The kids loved the theater room. The bedrooms were very spacious. The staff was very courteous. We are looking forward to another trip to Elk Spring Resort!



Manager Response:

We are delighted to hear you enjoyed your visit, Gladys! It's a beautiful day here in The Great Smoky Mountains and the perfect time to start thinking about a return trip to Gatlinburg. Please keep in mind, as a returning guest you will enjoy 10% off all future stays. We hope to see you soon!

Donna

Kingsport, TN

"loved our stay"

stayed alot in gatlingburg on of the nicest-great customer service will continue having my business

Robin S.

Wooster, OH

"great choice"

great cabin! kids loved the place! We loved the theater room and hot tub didn't want to leave.

Markida G.

Henning, TN

"A lovely getaway with the familey"

I loved the family feel to this cabin. It's spacious. The atmosphere is sooo relaxing. I will definitely be back.

Lester W.

Celina, TN

"Church Group Retreat"

Our group was quite content with Lazy Daze Lodge. We would have no argument whatsoever about staying here again.

Doug

Dallas, GA

"Weekend in Gatlinburg"

We had a great weekend. Unfortunately, we weren't there long enough to thoroughly enjoy all of the things the cabin had to offer.

Charlene V.

Fayetteville, GA

"Good"

Nice cabin all as described.

Joey

Liberty Township, OH

"Great place to stay"

Clean place with lots of room.

Kelly

Cypress, TX

"Great time with the teenagers!"

Cabin was big enough for both the grownups and the teenagers to enjoy their stay! Would go back.

Keith

Arlington Heights, IL

"Not your typical cabin!"

Stayed at Elk Springs Resorts Lazy Daze cabin in July, 2014. We never wanted to leave. The cabin was he best part of our trip. More room than we needed and the cabin was beautiful and clean. Best

…

parts of cabin were the fully stocked kitchen supplies, the washer and dryer and the media room. The location and view were good. Would go back in a heartbeat.

+ Read More

Nishanth

Newton, MA

"One of the best cabins"

Would definitely rent with Elk Springs again.

Trudy B.

Coral Springs, FL

"Family Reunion in Gatlinburg"

Went with 23 family members in 3 cabins. Had a great time. Can't wait until we return.

Candace

Silver Spring, MD

"Great Family Getaway"

We had a fantastic stay at Lazy Daze! The house was very clean. Elk Springs staff was very nice and very accomodating of all of our requests. We enjoyed all of the amenities and we are looking forward to staying again next year!

Maria

Pittsburgh, PA

"Lazy days at Lazy Daze"

Cabin was perfect for our family weekend. Lazy Daze was spacious enough for the 11 of us. We enjoyed the hot tub and the movie room plenty. Though there were other cabins nearby, it felt rather privat

…

e compared to some of the other cabins. Highly recommend.

+ Read More

Michael

Madison, AL

"Great spring break!"

We shared the cabin with 3 families and had a great time. Beautiful cabin and clean. The kids had a ball with the theater room, air hockey table and hot tub. Don't hesitate to book this cabin!

Karen B.

Monee, IL

"AMAZING "

Elksprings Resort Luxury cabin was just as I said AMAZING. What a wonderful get-away. When we arrived it was wee-morning, so it was very dark. When we entered the cabin (Lazy Daze) boy oh boy we were

…

truly impressed. The cabin was very clean and the decor was warm. we were there for 3 days and really regretted not being able to say longer. We made the very best of our time, had movie night every night in the theater room, got in the hot tub after breakfast, grilled out for dinner. We had a very relaxing stay. Most definitely would do this again. 2 thumbs up.

+ Read More

Robert V.

Greer, SC

"Wonderful Spring Break"

Cabin was great. Can't wait to go back.

Lester W.

Celina, TN

"A Really Good Time"

Our group had a wonderful time at Lazy Daze Lodge. We hope to return next year.

Judith

Metairie, la

"Mardi Gras Nola style"

Four famlies shared this cabin with room to spare. We gad a very enjoyable time. The cabin was clean and ready for us at check in. I would recommend this cabin the views were spectacular and it isn

…

't right on top of other cabins. My only complaint is that the air flow between the middle level and the lower level was not good. The lower level stayed very cold. The good thing was that the teenagers stayed down there.

+ Read More

Caris

Resaca, GA

"The Place to Stay!"

We absolutely loved our stay at Lazy Daze in the Elksprings property. The location is convenient...views are nice with altitudes and a drive that is easy on the tummy. The cabin itself was fabulous.

…

We will return to Elksprings properties next year and look forward to making this our home away from home in these beautiful Smoky Mountains. Thanks for a wonderful stay! The Roland Family

+ Read More

Gary A.

Charlotte, NC

"great retreat and even better anniversary"

We will definitely be returning to Elks Springs whether it's for a romantic getaway or a nice vacation for the entire family. From the moment we walked in we didn't want to leave. This place made my w

…

ife and I fall in love all over again and made the other 3 couples want to get married


+ Read More

Deanna

Mt. Juliet, TN

"Wonderful Weekend Getaway"

Spent the weekend here with my family.Lovely, new, spacious cabin with nice furnishings. Lots of open space for family to gather around the table to play games or watch TV. The only downside is there is not much of a view.

Yarimel L.

Columbia, SC

"Excellent family trip!"

The cabin is great. We loved it. We had a great time.

Carlos M.

Charlotte, NC

"Best family vacation"

It was a great staying and great vacation for kids because we had the best quality time together we all love it kids and adults

Verine

Vine Grove, KY

"Beautiful cabin"

The cabin was beautiful and very spacious. We rented the cabin and invited or closet married couples friends for our wedding vow Renewal. My husband and I renewed or vows in front of the fireplace. It

…

was really beautiful and intimate. Our friends loved our idea.

+ Read More

Peter D.

Lawrenceville, GA

"the best vacation"

The cabin was awesome

Carrie M.

West Palm Beach, Florida

"Gorgeous vacation "

This was an incredible location, the house was beautiful and the weather was perfect! The only problem was that the trip wasn't long enough! We will definitely be back at another time.

Theresa B.

Newport, TN

"Nice Fall getaway"

Enjoyed the cabin very much. Very nice amenities. The only criticism is that the cabins are very close together and doesn't feel very private.

Misty

Charleston, SC

"Incredible Girls Weekend!!!"

My friends and I had the most relaxing weekend at Lazy Daze Lodge cabin in Elk Springs Resort! It was beautiful and full of so many things to do, we stayed in the cabin all weekend! The cabin was cl

…

ean and the furnishings were beautiful! We decided to have our annual girls weekend with Elk Springs Resort!!

+ Read More

Wanda S.

Bargersville, IN

"What a wonderful time!!"

Lazy Daze cabin was the perfect cabin for our 4 couple get away! The living room and dining room were large enough to accommodate us all, and we each had our own bedrooms. The basement area was a bi

…

g hit as well! I had stayed in another cabin offered by another rental company a few years back, and although it offered the same amount of 'sleeping' space, it was MUCH smaller. Oh, the 'rain showers' were a big hit with everyone as well!! :) I would highly recommend Lazy Daze to anyone looking for a large place in Gatlinburg. The staff was always very helpful throughout the entire process!

+ Read More

Patricia A.

Apollo Beach, FL

"Lazy Daze"

My husband and I stayed for 3 nights and all I can say is warning...read the sign when entering the resort that states "caution you may not want to leave" because that is exactly what happened to us,

…

the stay was not long enough, we plan on returning shortly but for a much longer stay. Everything was great, I highly recommend this resort to anyone looking for a vacation spot, whether it be a family vacation, honeymoon, anniversary, or just a plain out relaxation get away, what ever the occasion may be you will not be disappointed.

+ Read More

Rickey A.

West Union, Ohio

"Lazy Lazy Daze!!!"

Lazy Daze was just what we have always wanted when coming to the Smokies. It is easy to get to and not a long long way away from town. It was just wonderful. We look forward to coming again soon!!

Allison T.

Houma, LA

"Great cabin"

Awesome cabin! My kids loved the media room.

Amelia

Andalusia, AL

"Awesome as always!!"

The reason we always stay with Elk Springs is because we know it will be clean and will be top of the line! Never disappointed!

Kept having to reboot wifi and gravel drive was slippery cause of r

…

ain, but other than those VERY minor things, it was GREAT!!

+ Read More

Kathy R.

Saucier, MS

"We would stay again."

The Laze Daze Lodge was a good location for our family get together. We enjoyed our stay and would stay again. The property is located in what I would call a vacation rental subdivision. The homes are

…

well spaced and well maintained. However, if you are looking for a secluded place, this is not it.

+ Read More

Chad C.

Rockmart, GA

"BEST CABINS IN THE SMOKEYS"

Well to start with this has become the only place I will stay at when I go to Gatlinburg Tenn. They are the best at everything and the cleanest cabins I've ever stayed in. This was my 2nd time staying

…

at Elk Springs Resort and I LOVED IT! I Highly recommend anyone to stay there. It's the best for the money. Thanks, and God Bless!! Chad Cole.

+ Read More

Suzzette M.

Lawernceville, GA

"This place is wonderful "

I enjoyed every minute at the cabin. If you want a top notch vacation, then this is
The place for you!

Timothy

Metairie, LA

"Nice Cabin"

Very relaxing and a fantastic cabin. Unfortunately not a good view, and about 5 miles or so away from main street of Gatlinburg.
Load More Reviews