Amenities:
Full Kitchen

Gas Grill

Hot Tub

Iron / Ironing Board

Parking

Sauna

Theater Room

Washer/Dryer

WIFI
If your family or group is looking for the ultimate luxury cabin experience then Knotty and Nice is definitely the perfect cabin for you! A wide open floor plan with plenty of room to gather plus 3 king suites with full baths, a main level half bath, a queen over queen bunk room....AND...your own private home theater room with 9 foot theater screen, theater seating and surround sound! Did we mention the hot tub, sauna, pool table and air hockey table? Warning! Most guests never want to leave this amazing cabin.
Cabin Bedrooms Layout
Main Level Master Suite

King Bed
Sleeps 2
Upper Level Master Suite 1

King Bed
Sleeps 2
Upper Level Master Suite 2

King Bed
Sleeps 2
Lower Level Bunk Room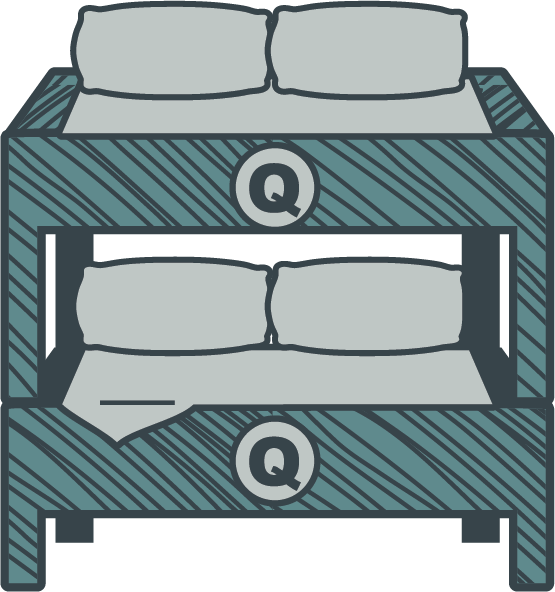 Queen Bunk
Sleeps 4
Game Room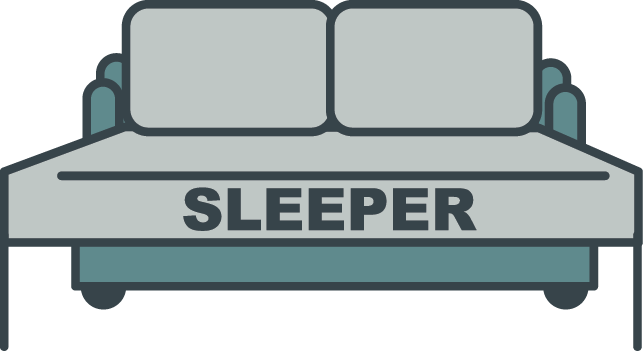 Queen Sleeper
Sleeps 2
Loft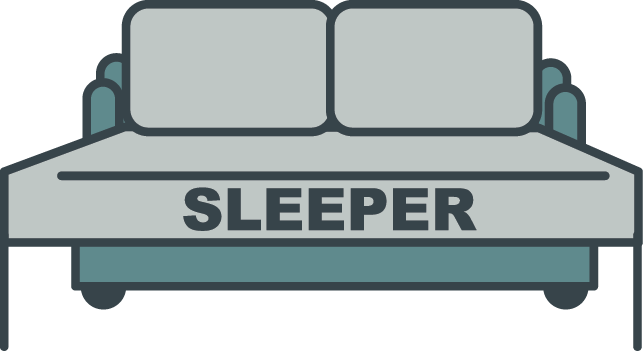 Queen Sleeper
Sleeps 2
Full Description
You'll enjoy and appreciate the upgraded decor and leather furnishings in this unique cabin. Enter on the main level and notice the floor to ceiling center fireplace surrounded by a wall of glass extending 28 feet to the vaulted ceilings above. You have arrived in the great room! Plenty of seating on a leather sectional sofa an rustic rocker for your group. The adjoining dining room features a cedar log dining table and breakfast bar for meal prepared in your upgraded and fully equipped kitchen with cherry cabinets and stainless steel appliances. A mixer, blender, toaster, microwave, ice maker and plenty of pots and pans are all standard.

A gas grill is located just outside the door on the deck if you plan on grilling out during your vacation. For your convenience there is a half bath with adjoining utility room with side by side full size washer and dryer.

The main master suite with king bed, walk in closet, jacuzzi tub and stand up shower is on the main level. You'll especially appreciate the hand made aspen log bed with upgraded mattress and bedding.

Head upstairs and kick back and read a book in the loft or perhaps watch a game in the loft TV area. 2 king master suites with full baths and upgraded mattress and bedding are located on the top floor with their own heating and cooling controls.

The lower level game room includes a pool table, air hockey, card table, a large sitting area with sleeper sofa and love seat. Just outside the game room is the lower level deck with 101 degree hot tub. What's a more perfect way to relax after a day of hiking? The Hot Tub? Probably...But this Gatlinburg cabin is also equipped with a sauna with custom heating controls.

One of the main features of Knotty and Nice is the tiered seating home theater room with 9 foot theater screen and surround sound. Finish off the level with a queen over queen bunk room with full bath.
Theater Room with 9' Screen and Surround Sound
Hot Tub
Sauna
Jacuzzi Tub in Main Level Master
3 King Master Suites
Loft Sitting Area
Pool Table
Air Hockey
1/2 Bath on Main Level
FREE High Speed Wireless Internet
Gas Fireplace
8 Rocking Chairs
6 TV's
4 DVD Players
Washer/Dryer
Gas Grill
Calendar
Click your dates below to check in and check out
Available
Check In Only
Check Out Only
Selected
Unavailable
Photo Gallery
See All Photos
Reviews
Phylicia

Douglasville, GA

"Wonderful!"

We loved the Knotty & Nice cabin! It was very large, clean, and comfy. We loved the theater room, spacious living area on the main level and the hot tub! Check-in and check-out was a breeze. I definitely plan to stay here again!

Manager Response:

We are delighted to hear we exceeded your expectations, Phylicia! We would consider it an honor for you to stay with us again. Please keep in mind, as a returning guest you will enjoy 10% off all future stays. We hope to see you again soon!

Benjamin

Cottonwood, AL

"Perfect for our group of 11"

The cabin was amazing. It was well furnished with an awesome layout. I could not think of anything that we could have needed that it didn't have. I took my Amazon fire stick and was able to hook it

…

up in the theater room. We enjoyed the sauna and hot tub. It was easy to find and had enough parking for two vehicles, we had three and made it work. If you want to book this cabin, you better hurry. I might be about to book it again.

+ Read More

Manager Response:

Thank you for the great 5-star review, Ben! We appreciate your business and are pleased that you enjoyed everything about your cabin stay. It is our pleasure to be able to provide enough accommodations for groups like yours where everyone can enjoy all of the amenities the cabin offers. We hope you will all return to stay with Elk Springs in the future!

A.J.

Louisville, KY

"Thanksgiving Tradition"

My family continues our Thanksgiving Tradition of spending Thanksgiving in a beautiful mountain cabin, awesome food and most importantly good family time.

We have appreciated the Elk Springs st

…

aff and cabins which have added to a week we look forward to where we can escape the pressures of day to day life. Our time allows us to focus on the importance of our family relaitionships and it teaches that lesson to our grandchildren at an early age.

+ Read More

Manager Response:

Thank you for allowing us to be a part of such a wonderful family tradition! It sounds like many wonderful memories were made! We enjoyed having you as our guest and hope you will continue to include us in your family holiday plans for many years to come.

Stacy

Carthage, MS

"Great vacation "

We had a large group and this cabin was perfect!! Loved the theater room and game area!! Floor to ceiling fire place was beautiful. Definitely recommend this cabin!

Manager Response:

Thank you! The best compliment we can receive is your recommendation. We enjoyed having you as our guest and hope you will consider making Elk Springs Resort your new home away from home when visiting The Great Smoky Mountains!

Anthony

Chicago, IL

"Knotty & Nice was very nice"

Very clean, and huge! Thoroughly enjoyed our stay. Would go again.

Manager Response:

Thank you for your kind review, Anthony! We are thrilled to hear Knotty & Nice exceeded your expectations. We hope you will come back and stay with us as often as you can. Hurry back, your next adventure awaits!

Joseph S.

Marlton, NJ

"Perfect. 10 Stars."

This has been my 6th visit to Elk Springs in 3 years. Each time it has been perfect. I have stayed in Mountain Magic, Mountain Laurel, Buck Wild, 2 times in Heavenly Views and the last time in Knotty and Nice. We all have loved every visit.

Manager Response:

Wow! This is the best compliment we could receive, thank you! We love to hear that you enjoyed your visit with us. Our goal is provide top-notch, luxurious cabins that will make you feel at home from that first moment you walk in the door. We hope you continue to choose Elk Springs Resort while visiting our area. With the variety of cabins we have to offer, we can certainly keep you smiling for many years to come. Come back and see us soon!

Nestor

Greenville, SC

"Amazing Cabin"

We absolutely loved our stay at Knotty & Nice cabin. It was everything we looked for and more. We were especially surprised to see that the kitchen had all the utensils you could think of for cooking.

…

You rarely see that in most cabins/ hotels. We definitely recommend it to everyone!

+ Read More

Manager Response:

We appreciate your kind review and hope you will consider booking all of your return visits to the Great Smoky Mountains with Elk Springs Resort! We have several luxury cabins to choose from with all sorts of amenities for every family member to enjoy. Be sure to check out our cabin selections on our new and improved website. If you still need help deciding, our professional sales staff would be happy to assist you in finding the perfect cabin to suit your needs!

John

Mobile, AL

"Snowed in. "

Escaped Mardi Gras in Mobile for a mountain get away and got to experience a week of snow and fun.

Manager Response:

John, thank you for sharing your experience with us! You never know when Mother Nature is going to offer some of her natural beauty to the mix! What a nice added bonus to be able to play in the snow and to have so much fun while on vacation. We hope you consider a future stay with us. The Great Smoky Mountains are beautiful any time of year, so hurry back to make some more memories soon!

Brooke

New York City, NY

"Perfect weekend getaway "

A group of women stayed in this cabin for a weekend getaway and it was perfect. We had the most amazing time and the staff at Elk Springs was a huge help. I highly recommend this cabin to anyone looking for a luxurious vacation.

Manager Response:

We are very pleased that your entire group found this to be an excellent cabin choice for a perfect weekend getaway. We love repeat visitors, so we hope you will come back for a future stay and take advantage of our 10% repeat guest discount! Thank you for your business and for your kind review.

Jennifer H.

Nebo, NC

"Awesome! "

We had a great weekend getaway at the Knotty a d Nice cabin. Cabin has a great layout, very clean, great location! Check-in and check-out process is super easy and convenient.

James D.

Portage, IN

"great cabin"

It was so nice and very peaceful.

Barbara V.

Peach Tree Corners, GA

"INCREDIBLE!!!!!!"

The cabin was immaculate and beds were very comfortable! The kitchen was well equipped with everything we needed to prepare great meals! Overall, great quite place to get away and relax!

Regina

Knoxville, TN

"KNotty and pretty nice"

Overall experience was good

Michelle C.

Evansville, IN

"Absolutely amazing place!!!"

We had so much fun. The cabin wayyy more beautiful than I had imagined. We didn't wanna leave!!! Is it for sale????

Leanne B.

fort worth, texas

"Glad I picked this cabin"

This cabin was awesome, the pictures online were exactly like the cabin was inside. the kitchen was fully stocked with everything(griddle,waffle maker,measuring cups, blender and more). Staff was impe

…

ccable with responding to maintenance request and very friendly. Theater room gets a A+, lower level game area was great too. gas fireplace was easy to use. I highly recommend this cabin and resort property

+ Read More

Bonnie

Portage, MI

"Fun Family Weekend"

We traveled 11 hours from Michigan to the beautiful mountains of TN. The cabin that we stayed in was amazing and perfect for our family. We loved it completely! The kids enjoyed the theater room an

…

d the game room. We loved the hot tub and sauna. There was plenty of room and the views were breath-taking. The only issue we had was the driveway was very muddy due to recent snow melting. However, maintenance was doing their best to plow all of the properties and honestly, we made it up and it was well-worth it!!!

+ Read More

Daily

Miami, FL

"Love it!!!!"

It was a really good place to visit.We are very happy with our is the perfect place to stay on vacation.

Beth

Marietta, GA

"Family getaway "

We had a great time!

Traci

Shelby, North Carolina

"Multi Generation Family Retreat"

Our multi generation family stayed at knotty and nice in January for a weekend getaway. Everything was just as pictured and we had a wonderful stay. The hot tub was hot and waiting for us upon arriv

…

al. There were enough dishes for all 12 of us in this luxurious cabin. The resort has cabins very close together however The location is close enough to downtown to enjoy but not as touristy as the downtown locations.

+ Read More

Nequosha

Apopka, FL

"Loved Our Stay in Knotty & Nice"

Loved our time here. My family enjoyed the amenities.

Arline

Columbia, SC

"CLATIC Explores Gatlinburg, TN"

Very spacious, well laid out cabin. Well maintained, clean and comfortable.

Martha G.

Farmingdale, NY

"Best place in the mountains."

This was my second stay in knotty & nice and hope to do it again and again. We were 11 family member enjoying Thanksgiving together.The cabin was fully equipt to handle our crowd . ,and large enough

…

to give us all our own space. Highly recommended ...!!!

+ Read More

Kerith

Glenside, Pennsylvania

"Cabin in the mountains"

Had an amazing time!

Mike & Cindy

St. Petersburg, FL

"Vacation 2014"

Wonderful,

The nicest Cabin ever rented.

PLEASE do not change a thing, could not have asked or expected for more. A special thanks to the inspector for aiding us in check in.

T-Mobile app

…

arently has limited service up there in the mountains of Tennessee.

+ Read More

Joyce

New Orleans, LA

"Family Vacation"

On each family vacation, I surf the internet for resorts/properties based on the description, reviews and pictures shown. Knotty and Nice went beyond our expectations. Upon entering the cabin, my fami

…

ly was overwhelmed by the layout, cleaniness and amenities. They loved the appearance of the log cabin look. The sauna did not work the 1st day; however, it was addressed/operable the following day. The next visit to Knotty and Nice will be adults only.

+ Read More

Brandi R.

Indianapolis, IN

"love love love"

Home away from Home. I love everything about my trip. My cabin was ready 2 hrs before check in. The staff was so friendly and prompt with any answers to my questions and service request. The cabin wa

…

s easy access and convenient to drive to downtown Gatlinburg. I just could go on and on how great my stay was. I'm already planning a second trip back this summer and will try to make this annual trip.

+ Read More

Cheryl B.

Marne, MI

"What an Awesome Vacation~"

We have two sons and their families that live a few hours from us, and a daughter and her family live in our town. We wanted to meet somewhere,and spend a week together, so that the cousins could hang

…

out and do things together. We could not have picked a better place to do that. We stayed in Knotty & Nice. It was beautiful~ We enjoyed every minute of our vacation. The cabin was perfect. So much room for everyone. The kids loved the theater room. Each family had a bedroom with plenty of room. We loved that we were able to grill out and eat at the cabin. It was one of the most relaxing vacations that we have ever taken. Gatlynburg is beautiful. Everything was centrally located. A grocery store within 5 minutes was also great. Check in was easy, as well as the check out. We loved sitting out on the deck in the rocking chairs with the sun shining on us. The hot tub was a hit at night. There was so much to do, but also plenty of time to relax and enjoy our vacation. We will for sure be back, and hopefully Knotty and Nice will be available because it was a perfect " home away from home". Everyone on the way home was talking about what we would do the next we will be back. Thank you for sharing a wonderful vacation place~

+ Read More

Gustavo

Miami, FL

"The best vacations!"

Excellent resort...

Jeanna S.

Laceys Spring, AL

"Perfect Family Vacation"

We rented the Knotty & Nice cabin for our family Thanksgiving vacation. The cabin was beautiful with plenty of room for everyone. We particularly enjoyed the sauna, theater and game room. The kitche

…

n was well equipped with dishes, pots and pans for me to prepare our Thanksgiving dinner. The view was nice and close to many attractions in Gatlinburg. We particulary loved that there was a grocery store 10 minutes from the cabin as well. The staff was very friendly and even made a courtesy call to make sure our stay was going well.

The only complaint we have was that the cabin had out dated TV's throughout. Our teenage boys wanted to play xbox on the gameroom TV but we couldn't find the remote so we were'nt able to get them connected.

All in all the cabin is beautiful and was the best family vacation we've had. The snow was a plus! We do plan on returning next year!

+ Read More

Ron

Bucyrus, OH

"Great stay! Family loved our cabin, Knotty & Nice!"

Family loved the cabin! We were made up of 4 adults, 2 teenagers, and 1 child. Once we walked into the cabin, everyone was in awe on how big it was. The view was great! We had a view of trees and

…

mountains. It was awesome watching the clouds roll in and out and how fast the weather can change in the Smokies. Cabin was close to area attractions, but far enough away to get away from the craziness. We had a cat visit us twice which my husband joked about cats can find me any where I go (I feed the stray cats that are around my neighborhood). The kitty was just making me feel at home. We make it back to Gatlinburg, we will most definitely stay here again.

+ Read More

Trevor F.

Louisville, KY

"Very clean and nice"

Plenty of room and it was very clean! Great location close to Downtown gatlinburg.

Linda A.

Lumberton, TX

"You Can't Go Wrong!"

Knotty & Nice is a fantastic home! There were 11 of us, and we all had our own personal space. Although it is close to other houses, the decks face the woods and it 'feels' secluded, plus there is a

…

good view of the mountains. We loved the hot tub and the kids enjoyed the movie theater. It was in a perfect location for our active family... on the outskirts of Gatlinburg on the same side of town as Climbworks ZipLine, our Nantahala white water rafting on the Pigeon River, and our Walk in the Woods guide trip at the Cosby entrance to the national park. Turn left and you are just minutes from the hustle and bustle of downtown Gatlinburg. We absolutely loved our vacation, and Knotty & Nice is the perfect home away from home when visiting the Smoky Mountains! You can't go wrong with this rental property!

+ Read More

Vickie W.

Jacksonville, AK

David

Cedar Park, TX

"Stay Here!"

They have a warning sign at the entrance, that you may not want to leave. 100% correct, we truly regretted leaving after a 6-night stay. The Knotty & Nice cabin is absolutely amazing. Great setup f

…

or families with kids. We were very happy with the property- tons of amenities, plenty of space, great furniture & decorations. Also very clean. It really feels like a home away from home. Nice view through the huge windowed wall / off the main porch. Likely other cabins in the property a little higher up will have an even more amazing view.

There are lots of cabins in the property, but doesn't feel like it when in the cabin. The location is relatively good, just east of the Gatlinburg 'strip'. If you plan to drive regularly to Smoky Mtns Park, you have to deal with getting through the slow Gatlinburg area, or go via the bypass. For groceries & supplies, I suggest Food City. It's very close, just be sure to get their savings card to save $$$. FYI, they sell TN fishing licenses there. Otherwise, there's a Kroger and WalMart in Pigeon Forge (20-30min away).

My only recommendation for Elk Springs is to upgrade TV's to flat-screen HD, and upgrade the theater room to HD projector & Bluray. Ideally, add HDMI input to allow guests to connect game system, PC (streaming video like Netflix), etc.

We'll definitely be back! Highly Recommended!!!

+ Read More

Kimberly

Zionsville, Indiana

"Fabulous Time"

WE have rented at Elk springs many time but this was our families favorite cabin! SO many bathrooms, beautiful living room, all of the beds and furniture were comfy and it was decorated so cute!

Guillermo

Chicago, IL

"Knotty & Nice, March 2012"

Great stay, loved the amenities and location of the cabin. I would recommend it to anyone looking to stay in Gatlinburg.

Doug L.

Mandaville, LA

"Awesome Stay"

We loved our vaction at this cabin and in Gatlinburg! The cabin was in great shape and very clean. We will be back for sure and bring friends.

Ardeana

Stone Mountain, GA

"My 40th Birthday Celebration"

I rented the Knotty & Nice cabin for my 40th birthday and shared it with some family and friends. I had the BEST TIME EVER!! The cabin was PERFECT!! Very nice, clean and comfortable. Everyone enjo

…

yed it and said that they would love to come back again. I was very pleased and would recommend this cabin to family and friends that did not get to experience it. Thanks Elk Spring...You guys are GREAT!!

+ Read More

Stephen W.

Simpsonsville, SC

"Great place to stay"

The location is in a great place. The cabins are very nice. Their was some parts of the cabin that might need to be updated. Newer TVs would be a easy upgrade from the ones that are there. It was time

…

to replace the air hockey table. It was worn next to the goals. The thermometer did not work on the grill as well. Other than that it was a real nice stay. This was our second time staying in this cabin. We have been going to elk springs sense 2008 and always enjoy it!

+ Read More

Barbara M.

Port St. Lucy, FL

"Wonder family vacation"

We had a wonderful time ....everything was perfect. The cabin was beautiful. We will be coming back for sure. I'd like to come back in the springtime.

Troave P.

New Orleans, Louisiana

"WONDERFUL"

Absolutely loved Knotty & Nice. Didn't want to leave & I'm already planning our trip back.

Charles D.

Lithia, FL

"Christmas getaway 2012"

This was a wonderful cabin great location and just had a wonderful time with our family and the cabin..loved the theatre room!Property management was very professional and would rent future cabins with them .

Miriam L.

Hialeah, FL

"The Best Christmas Getaway"

It was a gorgeous, breathtaking experience!!

Kendrick P.

Nashville, TN

"Absolutely Amazing!"

My wife's family and mine gathered here to celebrate Thanksgiving together for the first time and let me say that this cabin was not only spacious but also very clean and came with all the amenities a

…

nd extra cookware stated in our agreement ! We all abosutley enjoyed our stay so much that we are considering doing this every year at elk springs. Customer service was amazing and very prompt to return calls and simple fact that they called me to just make sure we had everything we needed on the weekend speaks volumes!
From the Pratt & Henry family we say thank you soooo much and look forward to staying here again, and again, and again..well you get the point! :)

+ Read More

Christina B.

Nolensville, tn

"Made some serious family memories!"

As beautiful as it looks in the pictures. Convenient to everything. Definitely will comeback!

Anatoliy R.

Asheville, NC

Mohit

Jasper, IN

"Excellent Property in a serene environment"

We were a group of 11 people and this property had ample space to accommodate all of us plus more. Location is a little out in the sticks but it's very peaceful and has forest views plus a peek into t

…

he mountains.

The indoor theater is amazing, pool table, ice hockey table, jacuzzi all add to the fun of staying in this location.

Check in / Check out is effortless.

Negatives - no cell phone reception, very patchy wifi network. And yes, the front door started beeping at 3am one day and woke all of us. It was fixed by 10 am. No, it wasn't beeping continuously, just every 30 mins or so

+ Read More

Claudia H.

Statesville, NC

"Awesome Cabin"

It was just a beautiful cabin with enough room for our entire party. The kids loved the theater and the hockey table and the adults played some pool and relaxed in the hot tub! We will definetely come back!

Kristy H.

Martinsburg, WV

"Perfect for a family vacation!"

As if the cabin, complete with home theater room, sauna, pool table, air hockey and hot tub wasn't enough, the resort is in a great location. Close enough to downtown Gatlinburg and Pigeon Forge that

…

you dont spend all day driving but far enough away tucked in the mountains enough that you are away from all of the hustle and bustle. It was a wonderful vacation and we will be going back.

+ Read More

Robert

State Line, MS

"Very nice!"

Our famuily enjoyed staying at knotty and nice. The kids loved thw game room and theater. I will be back.
Load More Reviews