Amenities:
Full Kitchen

Gas Grill

Hot Tub

Iron / Ironing Board

Mountain View

Parking

Sauna

Theater Room

Washer/Dryer

WIFI
What a great view of the mountains! Sitting on a private driveway with only one other cabin, Hilltop Hideaway is a great way to enjoy a quiet stay in the mountains. You will catch cabin fever while enjoying the pool table, theater room, sauna and hot tub in the luxury 3 bedroom cabin rental. And you are just 8 minutes to downtown Gatlinburg and 15 minutes to Dollywood (both with no traffic).
Cabin Bedrooms Layout
Master Suite 1

King Bed
Sleeps 2
Master Suite 2

King Bed
Sleeps 2
Bunk Room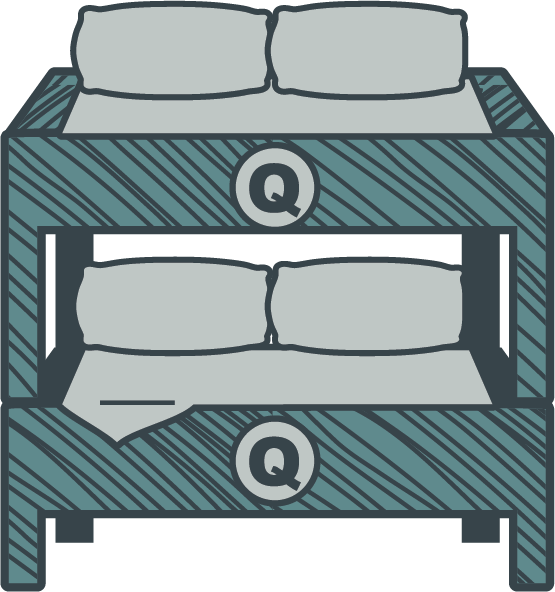 Queen Bunk
Sleeps 4
LL Sitting Area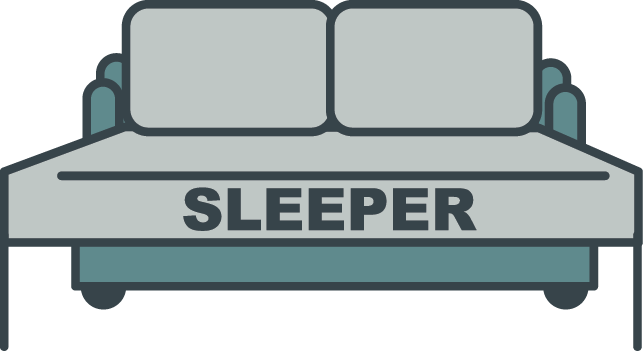 Queen Sleeper
Sleeps 2
Full Description
Enter into the Hideaway's lower level living space with sitting area, sleeper sofa and flat screen TV. You'll find the queen over queen bunk room perfect for 4 kids or 2 adults. You might stay in the cabin your whole vacation and enjoy movie in your own private theater room with 9' theater screen and surround sound. Or maybe you will enjoy a hot sauna in your own sauna room. A full bath adjoins the bedroom and sauna area. For your convenience a stack washer/dryer is included.

head up to the great room and kitchen where you have plenty of seating on the upgraded leather furniture. You can relax and enjoy a fire in the gas fireplace and watch TV on the flat screen TV. Or maybe admire the mountain views out the wall of glass extending 28 feet to the roof peak with loft over hang.

The adjoining dining room has plenty of seating including a breakfast bar with 3 bar stools. The full kitchen with upgraded cherry cabinets is fully stocked so you can prepare in cabin meals. You have all the utensils and cookware you need including a blender, mixer, toaster, coffee maker, microwave, ice maker and dishwasher. Just off the dining room is a covered deck with gas grill, rockers and hot tub with views of the Mt. LeConte and the smokies.

An adjoining king suite with full bath including a jacuzzi tub and rain shower finish of the mid level.

Head up the loft game room where you can shoot a game of pool or head out to the private covered deck for the best views. Another king suite with private jacuzzi bath and rain shower are also on the upper level. Each bedroom is equipped with a flat screen TV, digital cable and DVD player.
Mountain Views
Home Theater Room with 9' Theater Screen
5.1 Dolby Surround Sound
6 Reclining Theater Seats
Sauna
Hot Tub with Mountain Views
Wrap Around Covered Deck
Pool Table
FREE High Speed Wireless Internet
Gas Fireplace
6 Rocking Chairs
5 TV's
5 DVD Players
Washer/Dryer
Gas Grill
8 Minutes to Downtown Gatlinburg
15 Minutes to Dollywood
1 Minute to the Arts and Crafts Commnuity
Calendar
Click your dates below to check in and check out
Available
Check In Only
Check Out Only
Selected
Unavailable
Photo Gallery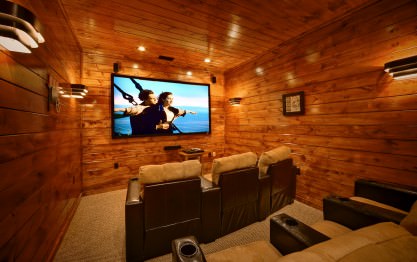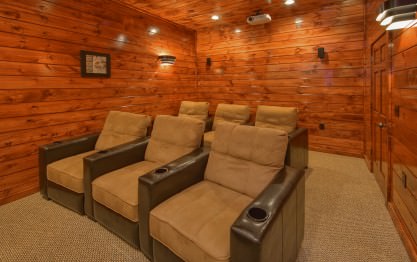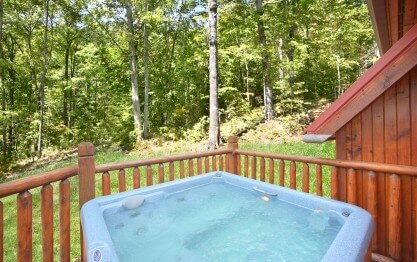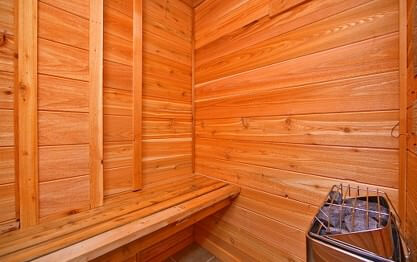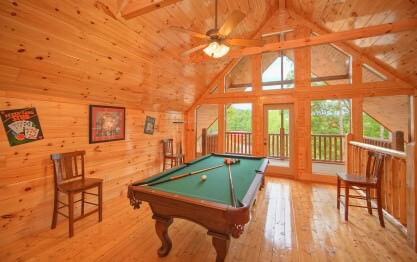 See All Photos
Reviews
Neormia

Asheville, NC

"Relaxtion Bliss"

Really nice and relaxing experience. Wish we had splurged for a pool but overall was in love with everything

Manager Response:

Thank you for your wonderful review, Neormia. We enjoyed having you as our guest! Please contact us when you are ready to start planning your next get-away. We offer a great variety of pool cabins that are sure to spoil! We hope to see you again soon!

Ranganadh

Charlotte, NC

"Excellent stay!!"

The cabin was excellent and exactly as described!! We enjoyed our stay

Manager Response:

Thank you for your kind review, Ranganadh! We are happy to hear you enjoyed your stay. Please contact us when you are ready to start planning your next get-away. We will be happy to assist you in finding a cabin that will exceed your expectations.

John

Bartlett, IL

"This is THE place where you want to stay ?"

Gorgeous views, clean and well maintained, very close to the attractions,easy check in and check out process.I would recommend this place to everyone who either wants to stay and relax on the porch or go out and explore beautiful mountains.

Manager Response:

Thank you for your 5-Star review, John! It was an honor to have you as our guest. We are excited to hear you enjoyed your visit with us and hope you will come back and stay with us often. We hope to see you soon!

Amanda B.

Tulsa, OK

"Great place for a family vacation "

Had me and my extended family in one cabin. 8 of us in total. 2 little kids and 6 adults. Had no problem getting rest. There was plenty of room and beds for everyone. Super comfortable and the view was amazing.

Manager Response:

Thank you for your 5-Star review! We are excited to hear you and your family had such a wonderful stay. We hope you will consider making Elk Springs Resort part of a new tradition when visiting Gatlinburg. Hurry back, your next adventure awaits!

Angela D.

Lake Orion, MI

"AMAZING!!!"

Our experience with Elk Springs was amazing!! We had originally booked a 1bdrm/2bath unit. There was a problem with it, and we were placed in this gorgeous cabin. This was an unexpected upgrade and

…

we couldn't have been more excited. Elk Springs customer service is exceptional..The cabin was exactly as pics show and beautiful!

+ Read More

Manager Response:

Thank you for allowing us to be a part of such a wonderful vacation, Angela! It sounds like wonderful memories were made during your visit. We appreciate your kind words and would consider it an honor for you to come back and stay with us again. Please keep in mind, as a returning guest you will enjoy 10% off all future stays. We look forward to your next visit!

Kim

Boynton Beach, FL

"Hilltop Hideaway review"

The cabin was great! Perfect location to town & activities. The view of the mountains from the cabin was gorgeous. The 3 bedrooms on separate floors worked out fabulous and we loved the theatre room!

…

We did white water rafting, ziplining, different hikes in the mountains, restaurants in Gatlinburg. So much fun for all!

+ Read More

Jaikishin C.

Dubai, dubai

"True to its pictures "

We had a great experience. Absolutely satisfied with the stay !!
It felt like home.

Manager Response:

Thank you for your wonderful review! We are happy to hear you had a great stay at Hilltop Hideaway. We take pride in providing cabins that will make you feel at home from the moment you walk through the door. We want each stay to be exceptional! We hope you will come back and see us as often as your schedule allows.

Nicole

Cincinnati, OH

"Amazing Experience"

This cabin was absolutely AMAZING!! I brought my children to Gatlinburg for a mini family getaway & they enjoyed themselves so much in the cabin itself!! Very clean, provided everything we needed, and

…

just beautiful. I would absolutely attend this resort again ?? Thank you.

+ Read More

Manager Response:

Thank you for your wonderful review, Nicole. We are happy to hear that you and your family had a great time. We have a large selection of cabins to choose from on Elk Springs Resort. We can surely provide a new adventure each and every time you visit. We would love for you to consider making us your new home away from home while visiting our Great Smoky Mountains.

Karen M.

Calhoun, GA

"Very clean, excellent customer service!!!! Best vacation ever!"

Very clean, awesome customer service, and enjoyed every moment! Cant wait to come back!!! 5 stars all the way!!!

Manager Response:

Thank you for your 5-Star review, Karen! We are happy that we exceeded your expectations. Our guests are our top priority. Our employees are trained to assist you in making every stay the best it can possibly be! We strive to provide luxurious cabins that will make you feel at home from the moment you walk in the door. Please contact us when you are ready to start planning your next vacation. Keep in mind, as a returning guest you will receive 10% off all future stays. We hope you will be able to come back and see us soon. Your next Smoky Mountain adventure awaits you!

Arleth C.

,

"Beautiful"

Thank you Elk Spring Resort!
Our stay was exceptional! Great location and the cabin was beautiful. Customer service was excellent.

Manager Response:

Greetings! Thanks for taking the time and reviewing Elk Springs Resort. We would like to invite you to come stay with us again! Remember all return guests will receive 10% off any future bookings! Come join us in 2017!

Danielle H.

Indianapolis, IN

"Excellent experience"

It was a wonderful and relaxing experience. We will vudit eith Elk Springs again.

Manager Response:

We are happy to hear you had a great stay. We strive to ensure that each visit is relaxing and stress free. Please keep in mind, as a returning guest you will receive 10% off all future stays.

Rodney

Knoxville, TN

"Couples' Time"

3 couples, from our church, enjoyed marriage dvds, fun, and fellowship. The home theater room was awesome, and the hot tub was wonderful with a view of Mount LeConte. We enjoyed the pool table, and t

…

he open kitchen, dining, and living space was a perfect place to cook, play games, and sit by the fire. Also, the customer service was better than any place I have stayed before. We had two problems that were quickly taken care of by the maintenance staff too.

+ Read More

Manager Response:

Thank you for sharing your experience with us, Rodney. We truly appreciate your business and the wonderful 5-star review. Customer service is very important to us and we are pleased that you mentioned the excellent service you received while you were our guest. We hope that you and your church friends are already considering a future stay with Elk Springs Resort. We love our repeat guests and offer you a 10% discount on all future stays, so hurry back soon!

Hsin

Charlotte, NC

"Mountain retreat"

very relaxing

Manager Response:

Thank you for your business! We hope you will continue to enjoy Elk Springs Resort's cabins for many years to come! We are running a great Groupon promotion right now. Feel free to check it out and book your 2017 vacation with us!

Renee

Athens, AL

"Family Vacation"

Good experience

Crisden M.

Erieau, ON

"Our stay"

Hi we love the cabins but there is definitely a lack of things in the kitchen such as a kettle! There is only one pot and when we used the BBQ there is nothing to clean it with! The down stairs carpet

…

is ripped to pieces near the sauna! It needs some desperate renos for sure. Otherwise we love the location

+ Read More

Susan M.

Indianapolis, IN

"Mid-Week Girl Time"

Hilltop Hideaway was everything we visualized and more. The location is perfect for avoiding the traffic in Gatlinburg. There are other cabins in this area, but plenty of space in between each one o

…

n the hill. Everyone had their own space and then some. The only complaint we had is that we didn't spend enough time at the cabin. We were out every day horse back riding, hiking, or shopping. We plan to return and never leave the cabin.

+ Read More

Manager Response:

Thank you for the 5 star review, Susan. We are so pleased that everyone found Hilltop Hideaway exceeded their expectations! There certainly isn't a shortage of things to see and do here in the Great Smoky Mountains. We look forward to your return visit and please remember to mention that you are a repeat guest to receive a 10% discount off your next booking!

Kellie C.

Lyndenwold, NJ

"Beautiful Place To Stay"

We had an outstanding time and loved Hilltop Hideaway. We will be sure to visit again.

Manager Response:

Thank you for the 5 star review, Kellie! We are pleased to hear that you had an outstanding time and loved your stay! We hope you will return and take advantage of your 10% repeat guest discount. We appreciate your business.

Nicholas C.

charleston, SC

"Hilltop Hideaway"

We had a total of 4 adults and 3 kids staying at the Hilltop Hideaway. The kids loved the bunk beds and movie room. The location is excellent and convenient to Gatlinburg with a grocery store very c

…

lose to the cabin. We will definitely consider staying here again in the future.

+ Read More

Manager Response:

We sincerely appreciate your business and thank you for taking the time to give us a 5 star review! Customer satisfaction is very important to us and we love to hear that everyone enjoyed their stay. Our repeat guests receive a 10% discount off all future stays, so hurry on back!

John S.

Bakersfield, CA

"A Great Family Vacation"

Excellent week in a great vacation house. Elk Springs is a nice cabin-only resort, house didn't give us the feeling like we were in someone's house and afraid to touch anything, yet well stocked. Gre

…

at customer service beginning with a call to check in with us shortly after arriving. We highly recommend Elk Springs for a family vacation. Next door to Gatlinburg and Great Smokey Mountains National Park.

+ Read More

Manager Response:

John, we greatly appreciate your 5-star review and for being our guest! It sounds like everything met your expectations and you made an excellent choice for your vacation with this cabin! We pride ourselves in providing exceptional customer service and your feedback lets us know that we continue to do a great job in all areas! Thank you for your business and hurry back for more Smoky Mountain memory making!

Rebecca

Marietta, GA

"Almost perfect"

Only thing I would add is more towel pegs in the bathrooms. One isn't enough. Check in was so convenient, great cabin.

Manager Response:

Thank you Rebecca. We will definitely add some more towel hooks in the bathrooms. We appreciate you bringing this to our attention and are glad that you enjoyed your cabin stay!

John H.

Gibbstown, NJ

"Perfect Vacation Location "

The cabin has a beautiful view in a perfect location and lived up to the pictures!!! Can't wait to go back.

Manager Response:

Thank you for the 5 star review John! We are pleased that everything met your expectations. Customer satisfaction is very important to us. We keep our website descriptions and photos up to date, so our guests know exactly what to expect upon arrival here. Often times, we hear that the pictures didn't do the cabin justice. We look forward to having you as a repeat guest in the future.

James

West Columbia, SC

"Great Trip"

Every thing was just like it looked on the web site. Everyone had a great time and we would stay with Elk Springs Resort again and again.

Manager Response:

Thank you for the 5-star review James. This is a great cabin to sit back and enjoy some relaxation with friends and family. We hope you will continue coming back to Elk Springs Resort for some more Great Smoky Mountain memories.

Kenneth

Flat Rock, MI

"Yes...I did not want to leave!"

On a recent trip to the Smoky Mountains, we stayed at Elks Springs Resort's Hilltop Hideaway cabin. Their warning as you entered the resort: "You may not want to leave!" Truer words were never spoke

…

n. My first impression was that the cabin was very clean. My family of six stayed in this 10-person cabin. We had plenty of room. It had three floors and provided an excellent view of the Smokies, especially from the third floor. This would be a big plus during the seasons when there is less foliage on the trees. All the starter amenities Elks Springs promised were there. This conveniently got us through the first day as we got settled. I liked the fact, too, that it was away from the city, that it gave us that cabin feel throughout our stay. Since we are big on arts and crafts I appreciated the cabin being right in the middle of the Arts and Crafts community. On our first day there, the management gave us a courtesy call to assure that everything was fine. After spending our days taking in the Smokies, we looked forward to coming back and doing some relaxing. This was the perfect place to do it. We took advantage of the hot tub, home theater room, sauna, and pool table. Everything satisfied our needs although the home theater system may need a little upgrade to allow something more than just showing movies. All in all, I was very pleased with our cabin. Kudos to Elk Springs for providing an excellent place to stay. Would I recommend this property to a friend or relative? Absolutely!

+ Read More

Jennifer K.

Louisville, Kentucky

"Great experience!"

We travelled to Gatlinburg for a long weekend, and had a great time! Only problem was we couldn't stay longer! The cabin was very nice. It appeared to be one of the more secluded cabins (off to the

…

side a bit more than some of the others) which we enjoyed. The cabin was clean and appeared to be well maintained. A short drive to downtown Gatlinburg, which was nice! The Company even called over the weekend to make sure we were enjoying our stay and everything met our expectations. Overall, great experience, and we will definitely go back!

+ Read More

Stephanie B.

Greensboro, NC

"Sister's Retreat"

My five sisters and I had a wonderful weekend stay at the Hilltop Hideaway cabin at this resort. It was in a beautiful location with a gorgeous mountain view. Everything inside the cabin was clean, up

…

dated, and ready for our fun weekend. It had all the comforts of home. Unlike a regular hotel room with little space to move, all six of us lounged between three floors with more than enough room to spare. This was also my first time experiencing the virtual check-in and check-out. It was great to just arrive at the cabin and let ourselves in and when it was time to check-out, just call in and we were on our way back home. Management called to welcome us and checked on us during our stay. The cabin was easy to find and I was very happy to see that it was private, but there were other cabins around us in view. So we were not alone in the woods. Being six women, the best part of the trip was we were only a few minutes away from great shopping, museums, shows and food. It was an excellent trip. We are now in the process of planning a time our entire family can visit. I have recommended this resort to family and friends.

+ Read More

Anthony D.

Troy, IL

"Family Getaway"

Loved the cabin, very clean and made use of all of the amenities. Great location for getting into town quickly. The only thing I would say is that the location of the hot tub on the deck is not idea

…

l and the water in it was overflowing to the lower lever by the doorway. This is our second time staying at Elk Springs Resort and we will be back for a third.

+ Read More

Joseph M.

Wake Forest, NC

"Top Notch Resort"

The Hilltop Hideaway and Elk Springs Resort exceeded our expectations. The cabin was spotless and they were quick to respond the one time we had an issue with the Jacuzzi. I will be staying there again with my family.

Brent W.

Hurricane, WV

"Hilltop Hideaway"

Great cabin. Will definitely stay here again!

Ashley Z.

Indianapolis, IN

"Spectacular cabin!"

From the moment we arrived at the cabin, it was breathtaking! The cabin was very clean, the amenities were awesome and the view was just heavenly!! The staff there was incredible. Although we never on

…

ce saw them, they called the day after we arrived just to check and make sure we were having a good time. I would come here every year!

+ Read More

Terry

Monroe, NC

"Perfect family reunion spot!"

The house was everything we wanted, ages 4 to 64! Our group of 40 chose this resort because of the multiple houses within close proximity. The beds were very comfortable; we made every use of the hot

…

tub, sauna, Jacuzzi, theater room, and porch. The staff was prompt with requests. Would love to return and just spend more time at Hilltop Hideaway. We loved it. Cozy yet spacious.

+ Read More

Dina W.

New Smyrna Beach, FLORIDA

"Great Stay at "The Hideaway!""

We really enjoyed our 2 days stay at Hilltop Hideaway. The cabin was very clean, and had all of the ammenities we needed. The view was spectacular and it was so relaxing to just sit on the deck and re

…

lax in the rocking chairs...and later in the hot tub! The home theatre was a real treat. Shopping was close by. It was a great visit! We'll be back!

+ Read More

Lisa B.

Williamston, MI

"Very nice"

The cabin was very nice. It had 3 floors with a bedroom on each floor. The check-in was easy. We had an issue with the theater system and it was fixed quickly. It was a very comfortable place to stay.

Wade S.

Miami, FL

"Shrimpin in Gatlinburg"

Hilltop Hideaway was exceptional in every way. What other ammenaties other than a butler could you ask for?

The flat screens should be bigger in bedrooms and especially in living room. Also need under cabinet lights in kitchen.

David E.

Nashville, TN

"Amazing Cabin! "

We had a great time at the Elk Springs Resort Hilltop Hideaway cabin! My wife and I and our friends really enjoyed the cabin. The cabin was very clean. We enjoyed watching movies in the theater room

…

and cooking breakfast. The views of the mountains were wonderful! Very fun and relaxing trip!

+ Read More

Casey H.

Rockwall, TX

"Off season vaca "

We absolutely loved the cabin. Will stay here again

Dustin

Brooklyn Center, Mi

"Excellent Stay"

The cabin was just as good as the pictures make it seem. Wonderful getaway spot.

Amy

Swanton, OH

"Great getaway"

We had a nice relaxing weekend.The shopping was good and the location was great.

Tianyu

GAINESVILLE, FL

"Enjoyed the cabin"

Wonderful experience!

David K.

Birmingham, AL

"Great time, nothing major, will be back."

Enjoyed the cabin only wish that we had more towels in the room, because everytime I thought to call for more, never got around to it.... Its not like a hotel where they come by every day and make up

…

the room. So with that being said I loved it. Even though it was something small, just food for thought... like I told the oyjer couples, if that's the only complaint I have then it was GREAT.

+ Read More

Marsha B.

Richmond, KY

"Fantastic Rental"

We stayed for a weekend - a bit too short, but still well worth it. The cabin was spacious with all the ammenties of home. The reason I didn't give it five stars across the board, there were a few c

…

osmetic details which weren't completed (no big deal - just curtain rods down and a few minor issues). I would definetly recommend this cabin, but book for at least a week!

+ Read More

Allen S.

Irmo, SC

"The great getaway"

We were very pleased with the cabin. I really enjoyed the media room. It was a great way to celebrate our one anniversary of marriage. I Will definitely recommend the resort to friends and family for a vacation choice.

Robert

Ridgeland, MS

"CAN'T WAIT TO RETURN!!"

Excellent property with excellent amenities. I have and will continue to recommend Elk Springs to everyone in need of a getaway. The view was superb and the movie theater was a magnificent bonus.

Sandra

Bucyrus, OH

"A Great Time!!"

When we come back to TN we will definitely stay at Elk Springs Resort again! The cabin and hot tub were very clean, the staff was terrific to work with and it is a great location. I would definitely recommend staying here!!

Mark T.

Scottsville, KY

"Great Cabin, Great Resort, Great Time"

The cabin and checkin/checkout process were so perfect it would be difficult to find any opportunity for improvement. The cabin was just perfect (woodwork, design, clean, pool table, showers, sauna,

…

rocking chairs, theater room, etc). It is a rare place were you could actually just spend your days in the cabin and be happy. It was that nice, especially the theater room! The cabin community was definitely secluded and peaceful. The checkin/checkout process was the best I have experienced. Very convenient. Will definitely stay with Elk Springs again.

+ Read More

Donald F.

Paris, TN

"Amazing first time experience. Will be back next year!"

Everything was right on par. The only negative thing I can say is the cinema room was very nice but we couldn't figure out how to watch a regular tv station.

Anil P.

Royal Palm Beach, FL

"Hilltop Hideway"

Best vacation

Matt M.

,

"Absolutely Amazing."

Stretched back in his plush, reclining movie theater seat, my friend Tommy took a sip of his cold beverage and pressed the pause button. We were watching one of our favorite action movies from the 80'

…

s on a massive 9' wide movie screen with pounding surround sound. He took a minute to compose himself and said, "Dude, when I'm in a REAL movie theater, I'll actually be dreaming of THIS place."

Tommy was right. Dream-worthy movie theater room aside, this cabin has everything you could possibly want in a mountain getaway?the amenities are ridiculously awesome. The hot tub, pool table and TVs in every room are always fantastic... but an overhead rain-down shower in a jacuzzi tub? Sauna? Movie theater? Who the heck puts this kind of stuff in a cabin?

One of my buddies re-finishes cabinets & does a lot of wood work, and he said the attention to detail & craftsmanship was the best he'd ever seen in a cabin. It wasn't just well put together... it was CLEAN. Nothing about this place screams cheap... even down to the microwave oven & silverware. All top of the line stuff.

You're also going to be dealing with one of the most courteous & professional staffs in the Smokies. The check-in process is unbelievably easy, and they called regularly to make sure we had everything we needed & made sure we were living it up right.

Needless to say, we had a weekend for the history books. I'm a local, and I've spent a lot of money with many different cabin companies over the years. I'll say with confidence that my experience with Elk Springs was the best I've had, hands down.

The only bad part about it? One weekend wasn't long enough to get through all our favorite Arnold Schwarzenegger movies in that movie theater. Seeing "Predator" on the big screen again was bliss... and you can bet "we'll be back" next year for that special edition "Total Recall" viewing.

I nearly cried when we had to leave, so be sure to pack some tissues just in c

+ Read More

Jeffrey

Atlanta, GA

"Guys weekend"

Excellent time. Great location. Very nice accomodations. Our original cabin became unaccessible due to weather - Elk Springs work with us quickly to accomodate our trip.

Marco G.

Birmingham, AL

"Just Great all Family realy Enjoy"

Just Great

Can you put Big waterheater when everbody are taking shower hot water are out.

Thanks.

Mark F.

Pensicola Beach, FL

"Hilltop Hideaway"

Our stay at Hilltop Hideaway was awesome. We travel to Gatlinburg every December for a family vacation and have never stayed at this resort. The experience was great in every way and we will definitely be back! Thanks for everything!
Load More Reviews