Amenities:
Full Kitchen

Gas Grill

Honeymoon

Hot Tub

Iron / Ironing Board

Mountain View

Parking

Washer/Dryer

WIFI
Incredible Views at an Incredible value. A 1 bedroom luxury cabin with pool table and foosball table with 2 full baths and amazing views that sleeps 8. You are getting an 8 person cabin with 2 full baths at 1 bedroom pricing!

The cabin was built to showcase expansive views of the Smoky Mountains and Mt LeConte while providing top notch conveniences and comfort. Unobstructed and expansive views are found throughout the cabin. This cabin offers more gaming options that the standard 1 BR on Legacy and there is a small bonus sleeping loft are that will be a hit with the kids and kids at heart. Legacy Mountain Resort also has it own zip line vendor on site!
Cabin Bedrooms Layout
Master Suite

King Bed
Sleeps 2
Great Room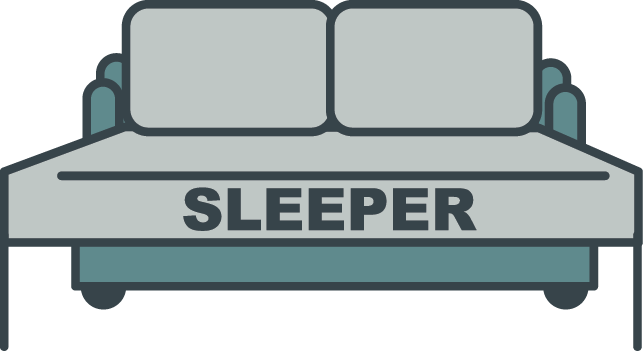 Queen Sleeper
Sleeps 2
Loft Futon - 1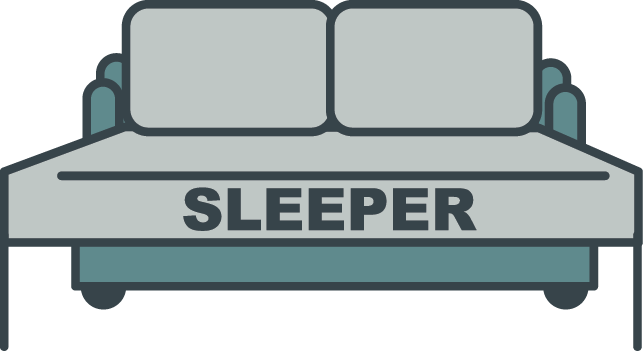 Queen Sleeper
Sleeps 2
Loft Futon - 2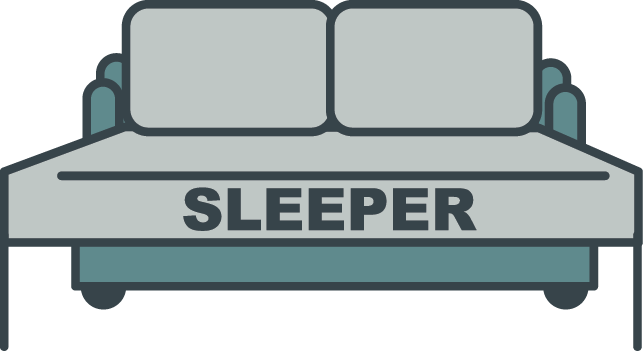 Queen Sleeper
Sleeps 2
Full Description
What an amazing cabin in an amazing location. You will find it hard to get board playing foosball and pool or even surfing the internet, playing in the hot tub or watching your favorite game on cable TV. If you do get bored you are just 10-15 minutes away from all the excitement in Pigeon Forge and Gatlinburg.

An open and fully equipped kitchen will provide you with everything you need to prepare in cabin meals. An adjoining dining room with dining table and 6 seats as well as 2 bar stools at your breakfast bar. Head out to one of the 2 covered decks and enjoy views of the mountains on a porch rocker or from your 100 degree hot tub.

The king master suite includes upgraded bedding, cable TV, DVD player and an en-suite master bath with Jacuzzi tub and stand up shower.

The great room includes a sleeper sofa and the loft area includes an additional full bath with shower and a sleeping nook with 2 futons that will sleep 4 guests (best suited for kids).

Free wireless internet, washer/dryer, charcoal grill are provided for your convenience.
*** This Cabin is located 15 Minutes from Elk Springs Resort ***
Zip Line Vendor On Site
Incredible Mountain Views
Pool Table
Foosball Table
1 King Bed
Jacuzzi Tub
1 Queen Sleeper Sofa
2 Futon Beds In Loft Sleeping Nook
2 Full Baths
Fireplace (Electric)
Charcoal Grill
Free WIFI
Full Kitchen
Washer/Dryer
8 Minutes to Dollywood
10 Minutes to Pigeon Forge
15 Minutes to Outlet Malls
15 Minutes to Downtown Gatlinburg
20 Minutes to National Park
10 Minutes to Grocery Store and Pharmacy
Calendar
Click your dates below to check in and check out
Available
Check In Only
Check Out Only
Selected
Unavailable
Photo Gallery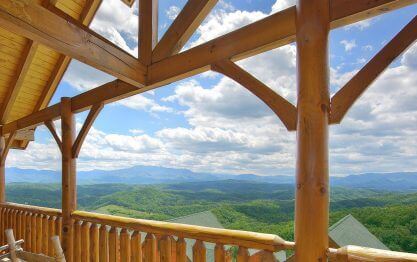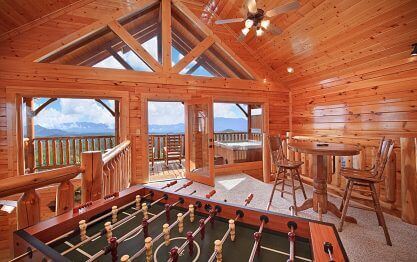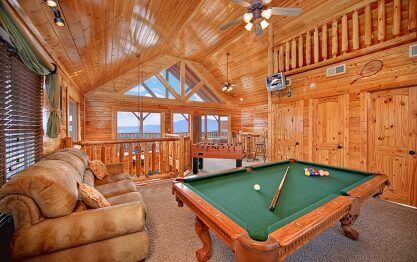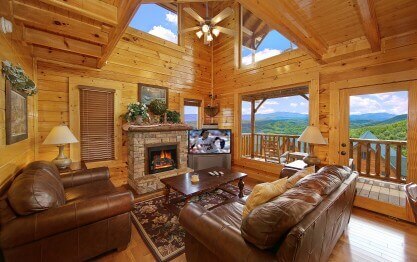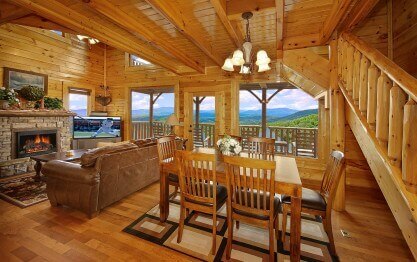 See All Photos
Reviews
Marcela

raleigh, NC

"perfect vacation spot"

Cabin was clean everything was nice it has a wonderful view family friendly

Manager Response:

Thank you very much for the 5-star review. We are always pleased to hear that our guests enjoyed everything about their cabin getaway experience. We hope you will be a guest of ours for many years to come!

Russell

Dickson, TN

"Great Getaway"

We had 2 adults, a 9 and ten year old and a 3 year old, and 18 month old. My fiancÚ and I took the bedroom and the kids slept in the loft/game room areas. We all had a wonderful time and enjoyed the c

…

abin and the balconies very much. We actually all sat down at the table and ate dinner together for the first time in a very long time. It was very clean and well taken care of. It exceeded our expectations. This was our second time staying with Elk Springs and we will use them again. Our youngest son got car sick on the drive, but luckily there was a washer and dryer in our cabin, along with a single use laundry powder! I was able to get his car seat washed and ready for our adventures the next day without a trip to the store to get laundry detergent. That may seem like a small thing, but with 4 kids, it was a huge relief for us! Also, any questions I had before the trip were answered in a friendly and prompt manner.

+ Read More

Manager Response:

Thank you for taking the time to share your wonderful experience with us! As a family based business, we enjoy having the opportunity to provide exceptional cabins, as well as the special touches that can truly make a difference to our guests. We care about the quality of your stay and want each visit with us to be the vacation you dream of reliving time and time again. We enjoyed having you as our guest and hope to have the chance to help you and your family create meaningful memories for years to come. Please keep in mind, as a returning guest you will enjoy 10% off all future stays.

Carla G.

Plant City, FL

"Lovely"

Awesome experience. The views from the cabin were amazing. Beautiful and very clean cabin.

Manager Response:

We are delighted to hear your stay was exceptional, Carla! We enjoyed having you as our guest and hope you will come back and visit often. Please keep in mind, as a returning guest you will enjoy 10% off all future stays. Hurry back, new memories are waiting to be made!

David T.

Miami, FL

"Heavenly Christmas at Heavenly View"

This is my second time. Do not be concerned if you stay at the Legacy Mountain location. The views are amazing. I drove into Gatlinburg four different times including Christmas Eve and Pigeon Forge ev

…

ery day. The beautiful, roomy cabins and phenomenal views of Mt Leconte were worth the 10 minute drive into each town. The customer support is responsive and efficient at problem solving. If you are looking for a memorable, relaxing and recharging vacation experience, this is it!

+ Read More

Manager Response:

We love our repeat guests, David, and appreciate you sharing your 5-star review with us. It sounds like you chose the perfect cabin to enjoy a little rest and relaxation in. These cabins are quite popular due to their close proximity to both Gatlinburg and Pigeon Forge, as you mentioned. It allows you the flexibility to enjoy amenities in both cities without wasting a lot of your precious vacation time driving there. We hope you will continue to enjoy one of Elk Springs luxury cabins for many future vacations!

Holly

C, TN

"Elk Springs Resort-Heavenly Views #97"

Relaxing. Scenic. Quiet. Clean. And convenient to local attractions.

Manager Response:

Thank you for your 5-Star review, Holly! We are delighted to hear your stay was exceptional. We hope you will come back and stay with us as often as your schedule allows.

Vicky

Winchester, KY

"Weekend getaway"

Excellent cabin. Great communication from staff.

Manager Response:

We are delighted to hear your stay was exceptional, Vicky! We certainly agree, Heavenly Views will spoil you with some of the best views offered in our area. We hope you will consider making Elk Springs Resort part of a new tradition when visiting our beautiful Great Smoky Mountains. Hurry back, your next adventure awaits!

Kristi C.

Reesville, OH

"Fabulous Vacation very family-friendly!!"

Our cabin was exactly as described and pictures was right on. Cabin was spotless and roomy enough for our family of 8. Beautiful views and close enough to all attractions! Loved every minute of our tr

…

ip and stay... Didn't want to leave. We will definitely return to this cabin or Elk Springs Resort. The upstairs was much bigger than we expected and even had a Jacuzzi Tub in the upstairs bathroom which was a pleasant surprise! We had me and my husband 2 of our adult children our 3 teenage children and our 9 month old grandchild it's a perfect cabin for those with kids. Thank you Elk Springs Resort for making this a wonderful vacation that none of us will forget!! Hope to see you soon!! We are already missing our peaceful cabin and Heavenly Views!!!!

+ Read More

Manager Response:

Thank you for your wonderful review, Kristi! We are delighted to hear your stay was exceptional. We enjoyed having you as our guest and would consider it an honor for you to stay with us again. Please keep in mind, as a returning guest you will enjoy 10% off all future stays.

Charles W.

Newark, OH

"Literaly Heavenly Views"

It was the most amazing vacation I have ever been on. The cabin was wonderful & the view was breath taking! There was so much to do in Gatlinburg, which was fairly close to the cabin. But, without

…

leaving the cabin it was still an amazing vacation. The cabin was very clean & well kept. I will definitely be staying again!

+ Read More

Manager Response:

The name definitely fits this cabin! Heavenly Views is an exceptional cabin, with top-notch amenities and views that will take your breath away . We agree! It offers the best of both worlds. You feel welcome as soon as you walk through the door. Yet, you don't have to travel far to get to the many attractions downtown. We hope you will consider staying with us during your next visit to the Great Smoky Mountains.

Justin

Lawrenceville, GA

"Best family Spring Break Vacation Thus Far"

My experience with your resort was great. Customer service, was a call away and they responded quick. Check in and check out was painless,the cabins were clean and gorgeous. I am already tell ING everyone Imknow about you guys.

Manager Response:

Thank you for your kind review, Justin! We here at Elk Springs Resort believe that your stay should be stress-free. We provide 24/7 guest assistance to ensure that should a need arise, we are ready to take care of you with the sense of urgency you will come to expect while staying with us. We love taking care of our guests! We appreciate your recommendation, that is truly a great compliment. We hope you will consider us your new home away from home when visiting our area. Please come back and see us soon!

Nick H.

Dayton, OH

"HEAVENLY VIEWS!!"

Fantastic bang for your buck! The cabins are exactly as pictured. Paved roads to the cabin. You will have no problem getting to them. GPS worked just fine. Perfect location to Pigeon Forge or Gatli

…

nburg. Make sure you drive over to Cades Cove National Park. The staff was easy to get ahold of. We only needed to call them 1 time to have them reset our digital code on the door. They called and asked how our stay was. The only place we will rent cabins from in the future. My 8 year old daughter DID NOT WANT TO LEAVE. She was thrilled and had the best time ever! I have already referred these cabins to three people!

+ Read More

Manager Response:

The views from Heavenly Views are simply breathtaking. We are happy to hear you enjoyed your Great Smoky Mountain get-away. We hope you can visit us again during the warmer months as well. There are picnic areas at Cades Cove National Park for the kids to enjoy. With the nature, history, and wildlife it is sure to become a favorite part of your visit. We hope to become a part of your vacation plans for years to come. Please keep in mind, as a returning guest you will always receive 10% off all future stays.

Melissa M.

Mclean, VA

"Heavenly Views Cabin really is Heavenly!"

It was a great Cabin, we had an amazing time. the view was more beautiful than we even expected. Everything was neat and the cabin gives that going away of the city type of feeling. is just an adorable place

Manager Response:

Thank you very much for your 5-star review, Melissa. It is our pleasure to provide you with a cabin to enjoy that home-away-from-home feeling. We are very pleased to hear that you had an amazing time. We would love to have you back for a future stay and want you to know that repeat guests receive a 10% discount!

Joseph S.

Marlton, NJ

"Heavenly Views"

The cabin was perfect in every way. 5+Stars.

Manager Response:

Thank you for the 5+ star review, Joe! We appreciate your repeat business and it is our pleasure to have you as our guest. We hope you will continue to choose one of our cabins for your vacation destination for many years to come!

Aldrin R.

Muncie, IN

"Weekend getaway"

Very nice cabin. The view was awesome.

Neeta G.

Thomaston, GA

"Good view"

Everything was good.

Manager Response:

Thank you very much for the nice review and for being our guest. We appreciate your feedback and hope you will return for another stay very soon.

David T.

Columbia, MO

"Beautiful views and room to spread out for a young family"

Everything in the cabin was very nice other than the carpet seems to have a fair amount of ground in dirt up the stairs, needs professionally cleaned or replaced. We would definitely go back.

Samantha S.

Greensboro, NC

"Heavenly Views"

This cabin definitely lives up to its name. The views are amazing. The cabin was exactly as shown. It was very clean and well maintained. The hot tub is a wonderful touch. Well worth every penny spent

…

. The only draw back was no pool access. Otherwise a great family vacation spot.

+ Read More

Scott V.

Fort Mill, SC

"Amazing!"

Heavenly Views was the perfect cabin for us. Spacious enough for a family of 5. Master bedroom fit a pack and play. The pool table and foosball table provided the older kids with entertainment. The ho

…

t tub was ready to be enjoyed when we arrived. Heavenly Views is located a short drive from both Pigeon Forge and Gatlinburg. What a wonderful vacation. We plan to return to Elk Springs Resort next month with family.

+ Read More

Natalie M.

Blaine, MN

"Beautiful"

Worry free and great views

Edward T.

Penrose, Colorado

"Great cabin"

outstanding

Danyelle P.

Indianapolis, IN

"RETURN CUSTOMER"

This was our second time staying with Elk springs resorts and it was an overall great stay. the only complaints that I had for this particular cabin was that it was not secluded at all so we had to ha

…

ve the blinds drawn most of the weekend. I later found out that my husband did not specify that he wanted a secluded cabin when he made reservations. The only other thing I would suggest is upgrading your TV's in your cabins to HD. Overall the cabins are always clean ,stocked very well and have great views. we will definitely return again.

+ Read More

Lisa F.

Bethel Park, Pa

"Relaxing and Amazing"

I thought the entire process from start to finish was exceptional!

Brian F.

Bellingham, MA

"Excellent Time"

The cabin was fantastic, the views were incredible. I would highly recommend staying here the next time you go to Tennessee

Deborah G.

Chattanooga, TN

"Absolutely Wonderful!!"

I generally don't give reviews but......This place is amazing!!! It was my first visit to this property. I loved it and look forward to going back. The property was exactly as the pictures on the w

…

ebsite. Every amenity was there and everything worked. The customer service was outstanding. We were able to check in at the indicated time, I got a couple of emails and a phone call after checking in to make sure that everything was OK. Although it was one bedroom there was ample space for the 8 of us. I'm a stickler who doesn't like hotels so I was skeptical but this place was neat, clean and well maintained. I HIGHLY recommend this property.

+ Read More

Parvin

Chicago, IL

"Much needed getaway weekend."

Absolutely perfect!

Khalid Z.

Tampa, FL

"Memorable Stay!"

Awesome......

Lamar

Avon, OH

"Magnificent"

There was a slight glitch with the original cabin but the staff was able to provide a substitute. We will definitely book another vacation.

Kendra

Lancaster, SC

"Awesome vacation!!!!!"

Heavenly views was a beautiful cabin with a fitting name! The reservation process through the check-out process was quick and easy. We thoroughly enjoyed our stay and will definitely book through Elk Springs Resort again!

Frank

Apex, NC

"family vacation"

Awesome

Mark

Lawrenceville, GA

"Heavenly Views Was Heavenly!"

Overall, we were very pleased with our cabin, Heavenly Views. The cabin was spotless and comfortable. My family and I enjoyed our stay very much!
Load More Reviews